The holiday resort of Monkey Mia along the Western Australia coast is well known as a wildlife destination, particularly to see the local dolphins who are fed on the beach each morning. But this destination is also surprisingly dog-friendly, so much that I've listed it as one of the most dog-friendly destinations in Australia.
Find out what to do, where to stay and other tips for visiting Monkey Mia and the dog-friendly Shark Bay region with your dog.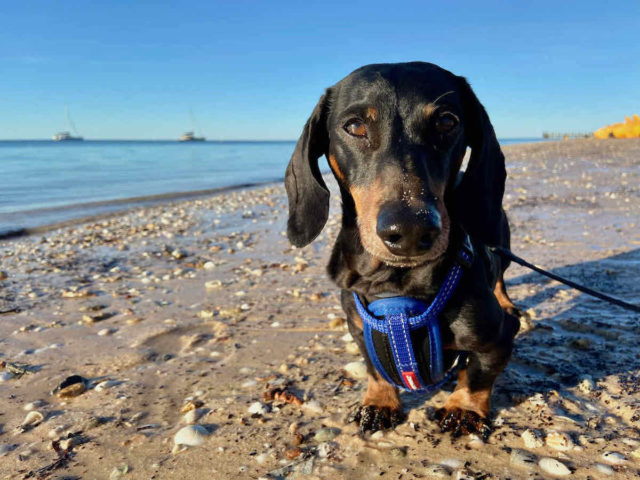 Dog-Friendly Sightseeing around Monkey Mia
There are a surprisingly number of dog-friendly sightseeing options both at Monkey Mia and in the surrounding Shark Bay region.
1. Watch the Dolphin Feeding
Each morning at Monkey Mia, the resident dolphins are hand-fed fish. These days the amount of fish fed to the dolphins is limited, with up to three feeding sessions taking place each day between 7:45am and midday.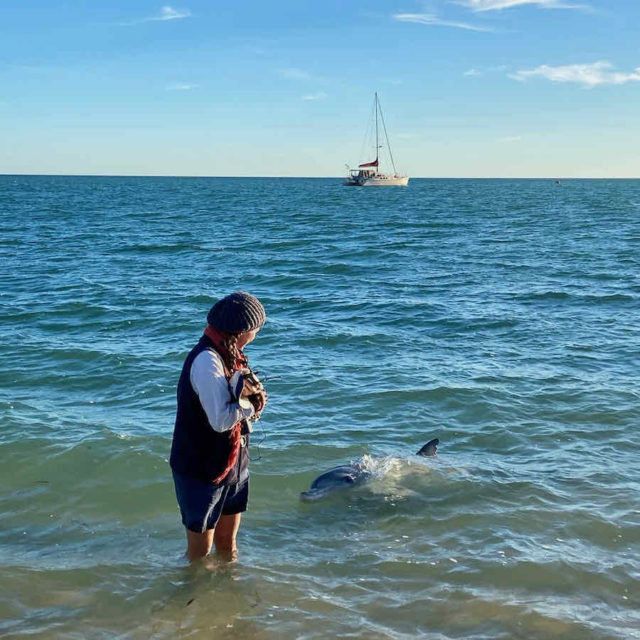 The most popular session is the 7:45am one, with many of the guests of the resort waiting to be led onto the beach by the local program volunteers. There is no guarantee that all three sessions will happen, with only two occurring each day during my visit in 2021.
Dogs are not surprisingly prohibited from the dolphin experience area on the beach, but it is fine to stand and watch with your dogs from either the jetty or the boardwalk behind the beach.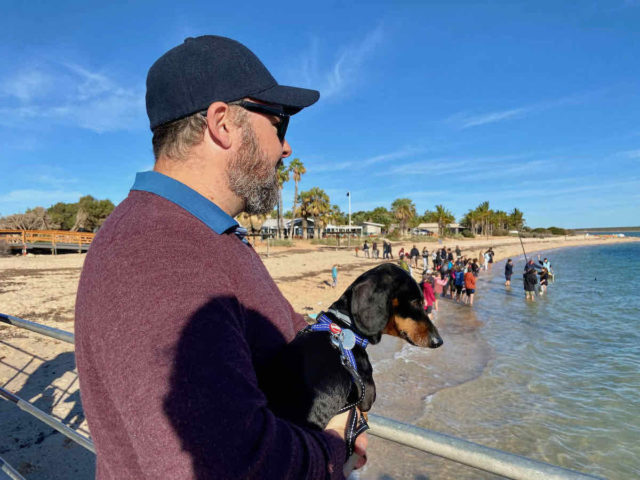 Note that an entry fee is payable for entry to the Monkey Mia area, $15 per adult for a day (or overnight stay at the resort) or $25 for up to 4 weeks. This charge is not covered by the national parks pass and permits are required to be produced when attending the dolphin feeding.
2. Go on a Catamaran Cruise
There's not many boat cruises in Australia that you can take your dog on, but luckily the catamaran cruises run by Perfect Nature Cruises on the Aristocat 2 are dog-friendly, with well-behaved dogs welcome to join you – for free!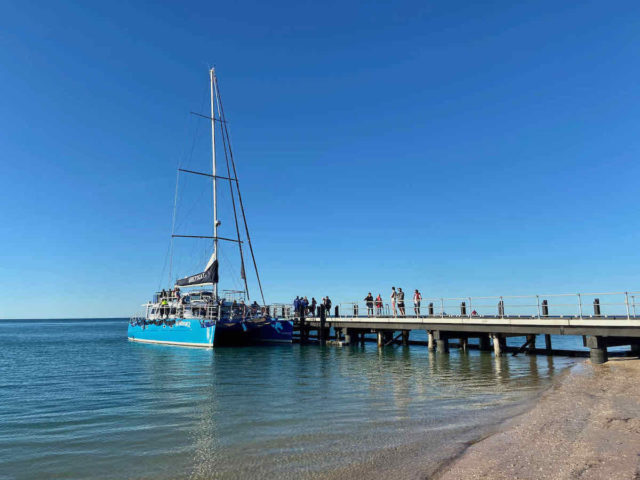 We went on the morning wildlife cruise, a 2.5 hour cruise out on the bay to see the local wildlife. We were lucky to spot a range of wildlife despite visiting in winter. (Many dugongs leave this part of the bay in winter due to the cold water.)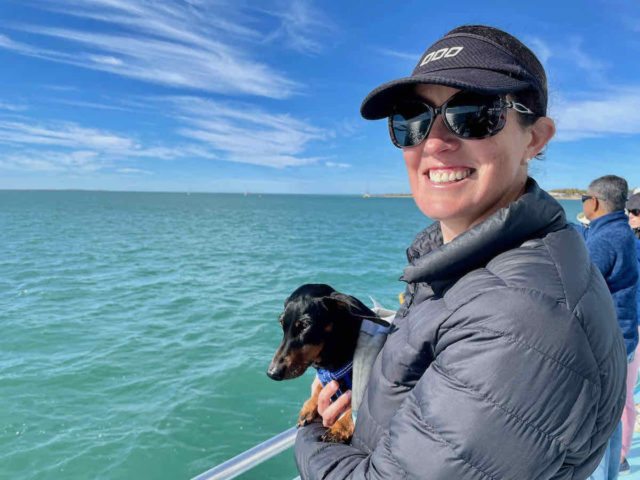 We cruised alongside a mother and child dugong pair and had an excellent sighting of a large loggerhead turtle, as well as seeing the local dolphins, dozens of cormorants and a brief sighting of a green turtle.
Perfect Nature also offer a 1.5 hour sunset cruise, a more laidback, leisurely option, if you're not that fussed about seeing wildlife. Also, if you're heading out on the longer wildlife cruises, I highly recommend taking a waterbowl for your dog, as well as a bottle of water with enough to share.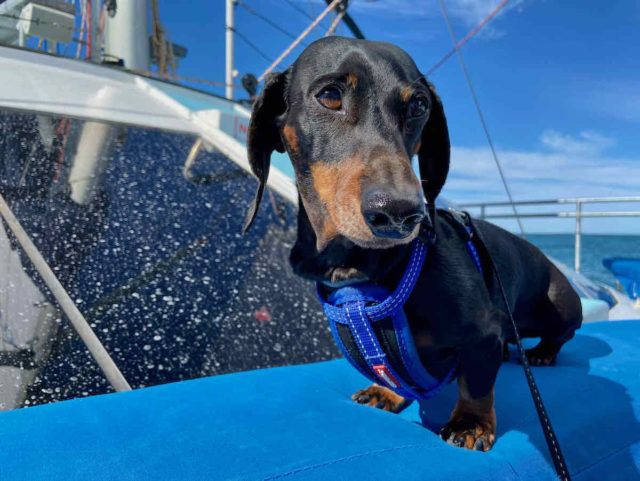 Find out about more dog-friendly boat cruises in Australia
3. Walk Along the Beach
Monkey Mia is situated right on a gorgeous beach, and luckily dogs aren't prohibited from joining you on the beach, except for in the fenced dolphin experience area.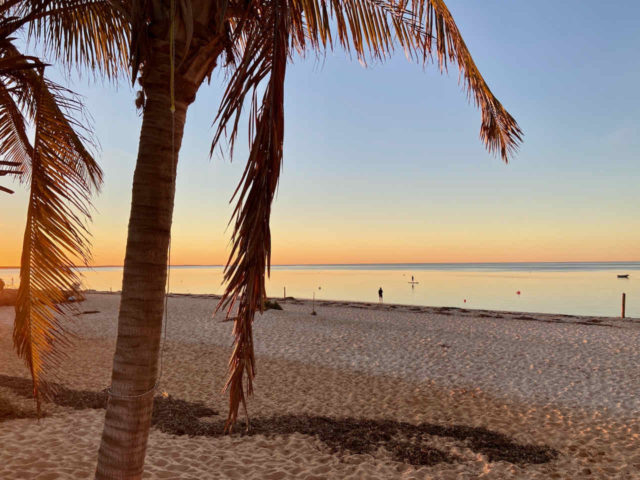 Like throughout the rest of the resort, dogs need to be on a leash on the beach. (For an off-leash dog beach, head to Little Lagoon or Denham, see below.)
While the most popular section of the beach is right in front of the resort, for a quieter section head to the other side of the dolphin experience area and the jetty.
4. Share a Kayak or SUP Adventure
Right on the beach at Monkey Mia is the Monkey Mia Kayak Safari and Beach Hire, hiring out kayaks, plus pedlos and SUPs by the half- or full-hour. The friendly staff are happy for your dog to join you, such as for a kayak ride or to chill on your SUP board. However, I don't believe they offer life jackets designed for dogs – best to bring your own if your dog isn't a good swimmer.
The hire stand also offers self-guided kayak and snorkel trip options, although discuss these first, as most head up towards the Francois Peron National Park, where pets are not allowed.
Check at the start of your stay or even before you arrive for when the calmest weather conditions are likely to occur. For instance, during winter it is usually windy and rough in the morning, but calm and ideal kayaking weather in the afternoon.
5. Head to Little Lagoon
Just east of Denham is the delightful Little Lagoon. This saltwater lagoon is connected to the sea by a small inlet and isn't actually that little (measuring over a kilometre across, although far smaller than the Big Lagoon to the north in the National Park). Dogs need to be kept under control, so that they don't disturb wildlife, but not necessarily on a leash.
The main carpark for the lagoon is on the Monkey Mia road. If you have a 4WD, there's also the option to drive around part of the lagoon, with additional BBQ shelters provided. Outside of the cooler winter months, it's a popular swimming spot, or just head out on a walk around the lagoon.
6. Visit Ocean Park Aquarium
As well as offering dog-friendly wildlife cruises, the Shark Bay area also offers a dog-friendly aquarium. Head to Ocean Park, about a 10km drive south of Denham, and your dog is welcome to join you, as long as they are on a leash.
With a focus on local species, including sea turtles, sharks, stingrays and stonefish, be guided around the aquarium on a one-hour tour. There's also hourly shark feeding. Onsite is the casual Oceans Restaurant, with dogs also welcome to join you at the outside deck.
Dog-Friendly Beaches around Monkey Mia
The beach at Monkey Mia resort is dog-friendly, outside of the fenced dolphin experience area, although dogs need to be on a leash. The same applies at the main foreshore area in Denham.
For an off-leash beach option, head to the southern end of Denham, where Netta's Beach is the local dog beach. The signs clearly indicate the start of the off-leash section. It's best to visit at low-tide, as the beach virtually disappears at some high tides. There's also a second off-leash dog beach at the northern end of Knight Terrace.
Another off-leash option around Monkey Mia is Little Lagoon and its beach, where dogs just need to be controlled so they don't disturb any wildlife.
Dog-Friendly Walks around Monkey Mia
There's a single walking trail at Monkey Mia, the Wulyibidi Yanayina walking trail. There is no rule against taking dogs on the walking path, although I don't think it's that popular – the trail is recommended for bird watching just after sunrise or just before sunset.
The walking trail starts at the Monkey Mia car park, in between the payment booth and the resort reception. There's both a shorter 1.3km walk as well as the longer 2.2km walk, that heads up onto the red sand dunes. Both then return along the beach to the south of the resort.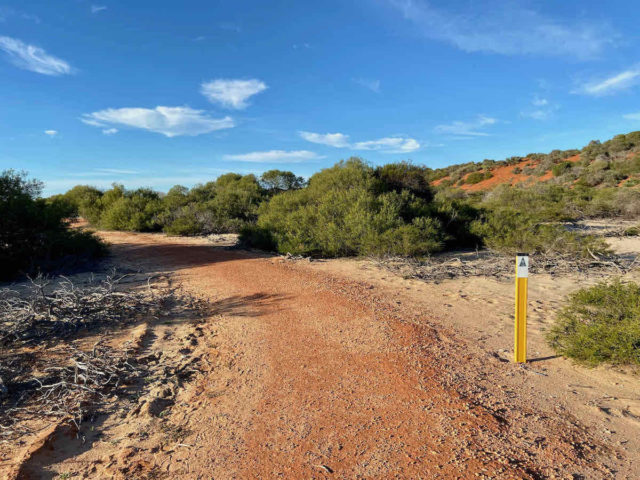 In Denham, there's a flat paved footpath along the waterfront, from one end of town to the other (about 700m), which makes for an easy stroll, although dogs are required to be on a leash. Dogs are allowed off-leash at the Town Oval, when not used for organised sport.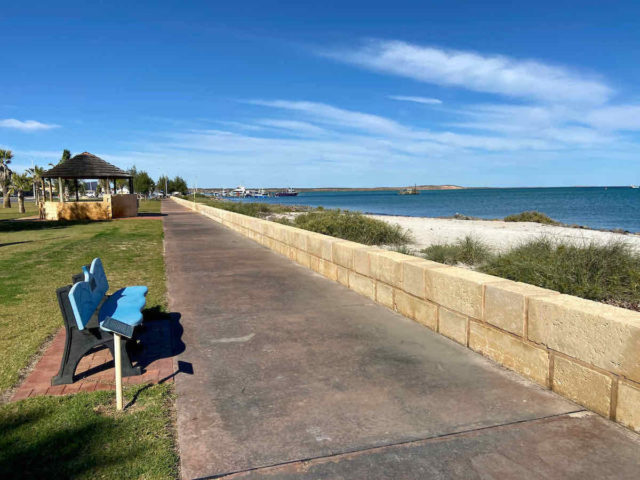 Areas Where Dogs are Not Allowed
There are a number of national parks in the Shark Bay area, where dogs and cats are prohibited. These include the Francois Peron National Park (just north of Monkey Mia), Dirk Hartog Island National Park and Edel Land National Park, including Steep Point.
Dogs are also not allowed at the stromatolite viewing area at Hamelin Pools, or on the beach at Shell Beach (but are okay in the Shell Beach carpark).
A Note on 1080 Baits at Shark Bay
Before visiting Shark Bay and Monkey Mia with your dog, you should be aware that 1080 baiting is used in the region.
As part of Project Eden, which aims to reduce feral animals and reintroduce endangered native animals in the region, there is a fence across a narrow section of the peninsula near Shell Beach. (Slow down when crossing the cattle grid on the road between the two fences to hear the pre-recorded barking noise, used to deter feral animals from crossing in this sole gap.)
Along with the fence, 1080 baits are also used on the peninsula on both sides, except for a couple of excluded areas. The two main buffer zones are around Monkey Mia resort and the township of Denham.
There is also a newer area where baits are not laid stretching south of Denham, including Eagle Bluff and the council-controlled campsites of Fowlers Camp and Whalebone Bay, but these places may still have baits from earlier baiting projects. Always keep an eye out for warning signs.
Baits are also used in the national parks, that you shouldn't visit with your dog.
Dog-Friendly Accommodation around Monkey Mia
It's easy to stay right at Monkey Mia with your dog, with the RAC Monkey Mia Dolphin Resort allowing pets on powered sites (except ensuite sites) and unpowered campsites, but not inside rooms and villas. The advantage of staying at Monkey Mia is having the resort facilities and the dolphin feeding right at your doorstep.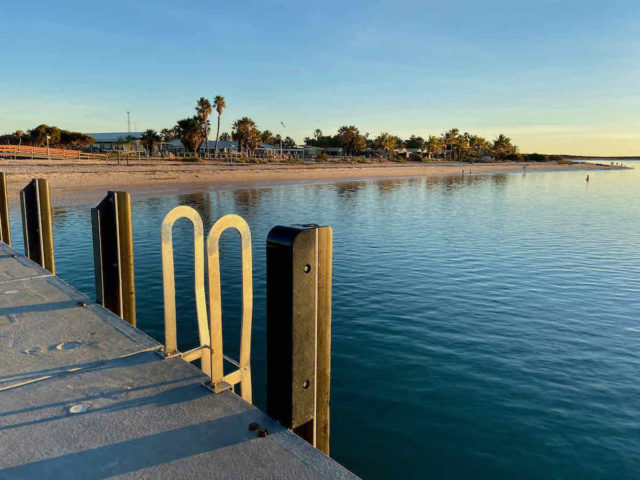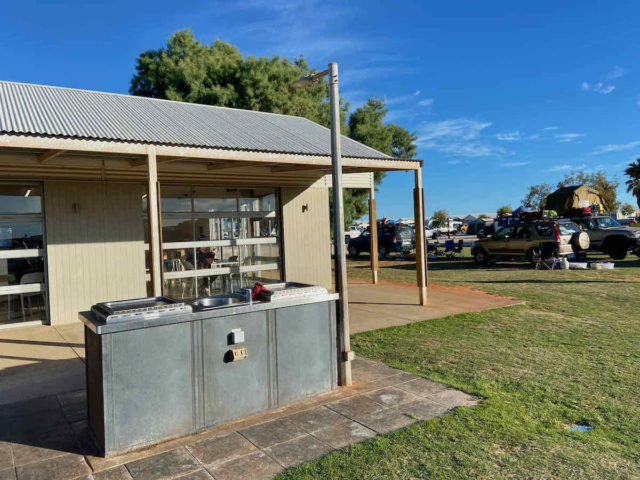 Alternatively, you can stay 25km west of Monkey Mia at Denham, the only town in the Shark Bay region. There are three caravan parks in town, each of which are pet-friendly, with pets allowed on sites. Dogs are also permitted at the Nanga Bay Resort and Hamelin Pool Caravan Parks, further south, back towards the main highway.
There are also four campgrounds operated by the local council, where it is permitted to camp for 24 hours for $15 per vehicle, with no facilities provided: Eagle Bluff, Fowlers Camp, Whalebone Bay and Goulet Bluff. Unfortunately, while these areas are no longer baited, there is still a risk of 1080 baits remaining from previous years, so carefully consider whether to stay with a dog.
If you are travelling without a caravan or tent, get in contact with Shark Bay Holiday Cottages to book one of their pet-friendly cottages.
Dog-Friendly Dining around Monkey Mia
The main restaurant at Monkey Mia is the Boughshed, open for breakfast, lunch and dinner daily, along with a popular happy hour. There's plenty of outside tables, with well-behaved dogs permitted to join you, although bookings are recommended at dinner time.
Also at Monkey Mia Resort is the Monkey Bar, which has a dog-friendly beer garden, accessible from the beach. As well as drinks, there are a range of light meal options on the menu.
Alternatively, head into Denham where both pubs (Shark Bay Hotel and the Waterfront Hotel) are dog-friendly, with dogs allowed in the beer garden at the former, and on the balcony at the latter.
Head Next To