When visiting Perth with my dog, we spent most of our time in Fremantle, or Freo as it's known to the locals. This port city perched on the edge of the Indian Ocean is often considered to be its own city, and is arguably the most dog-friendly part of Perth. Check out my top dog-friendly recommendations for Fremantle…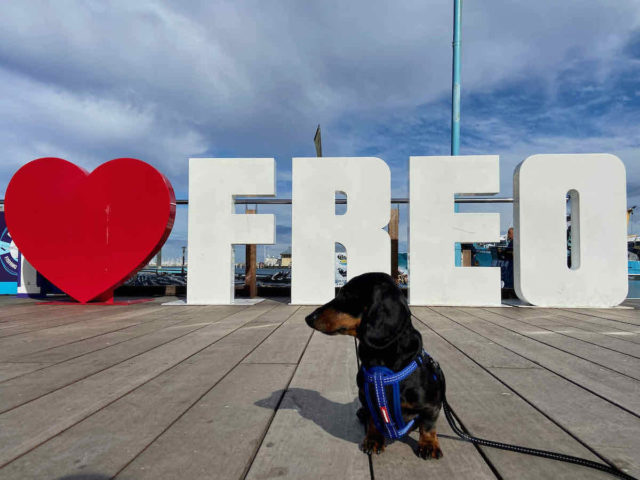 Dog-Friendly Sightseeing in Fremantle
While visiting Fremantle in Western Australia, make sure you add some of these dog-friendly sightseeing ideas to your itinerary.
1. Explore its Historic Buildings
Fremantle is home to many historic buildings dating back to its establishment as the commercial port of the Swan River Colony in 1829. In fact, it's renown for having one of the most intact 19th-century port city townscapes anywhere in the world.
It's a must to take a wander through the streets of Fremantle, especially along High Street and through Fremantle's West End, with your dog at your side. Check out the historic buildings built by merchants and shipping companies, some with informative displays, many beautifully restored. These days many of the buildings are used by the University of Notre Dame, so it's rather quiet on weekends.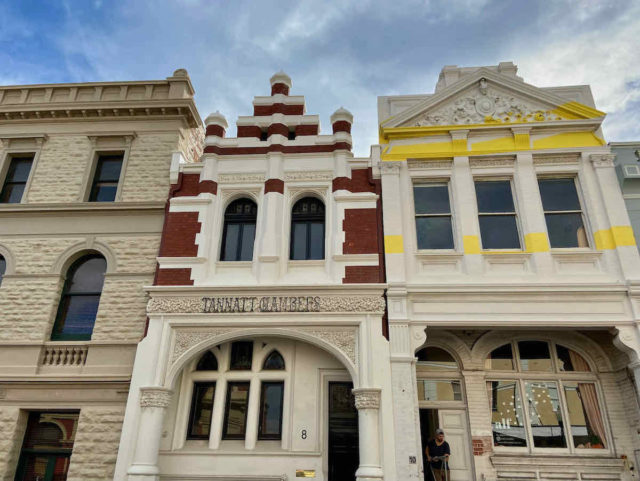 While you're in Fremantle, it's also worthwhile walking up past the historic Fremantle Markets, so that you can see the exterior of the Fremantle Prison, although dogs are not permitted to pass through the gate. (Dogs are also not allowed in the market buildings.)
Built by convicts in the 1850s, Fremantle Prison was only decommissioned in 1991 and is these days the only building in Western Australia included on the UNESCO World Heritage list.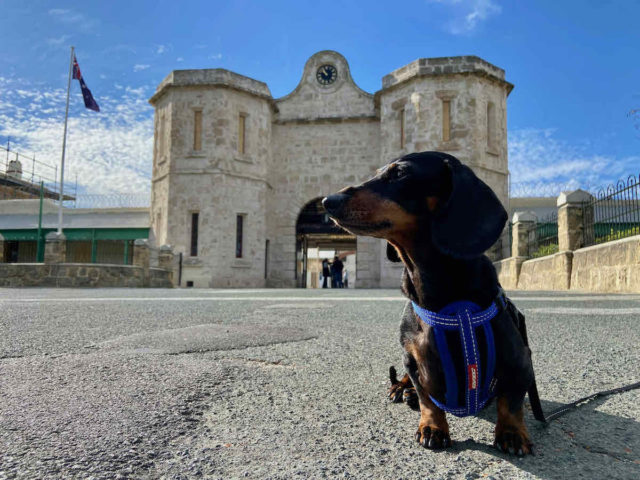 2. Visit the Fremantle Roundhouse
One of the other most significant buildings in Fremantle is the Roundhouse. It was built between 1830 and 1831 as the Swan River Colony's first civil gaol, and is these days WA's oldest remaining building.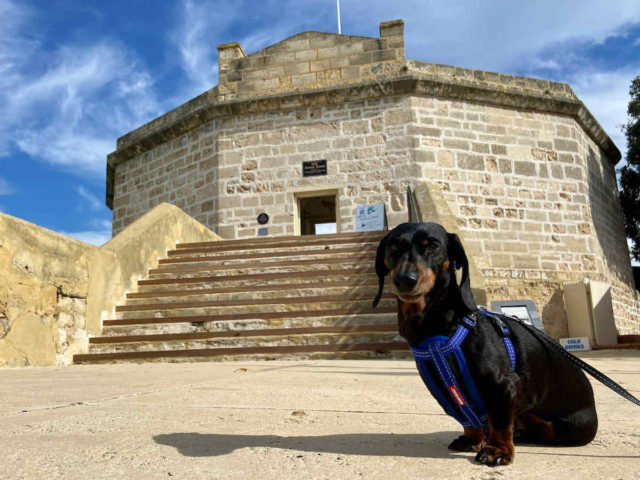 Staffed by volunteers, it's a gold coin donation to enter the basic interior, with pet dogs welcome to join you. It's worthwhile timing your visit to coincide with the daily firing of the canon at 1pm. Make sure you arrive at least 15 minutes early to enjoy the talk beforehand, and retreat a little for the sake of your dog's ears – it's very loud!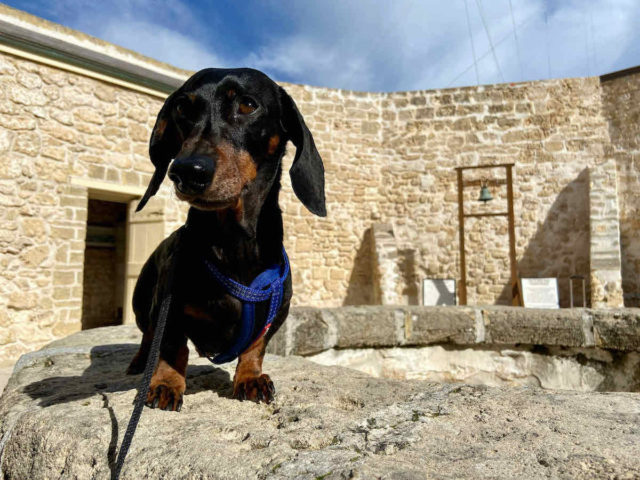 3. Walk Through the Whalers Tunnel
Not all of the historic remains in Fremantle are buildings. One of the most intriguing historic remains is the Whales Tunnel, built in 1837, that cuts through the rocky outcrop at the end of the West End, underneath the Roundhouse. After visiting the Roundhouse, walk back down to the West End side and use the Whales Tunnel to cut through to Bathers Beach.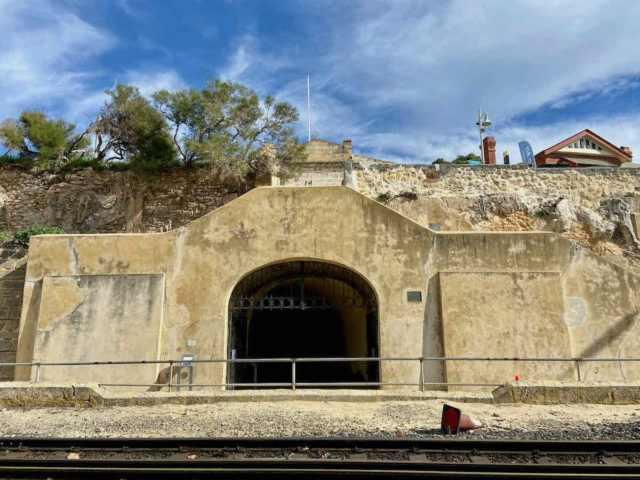 Bathers Beach is also a historic site, being the location where Captain Fremantle landed in 1829 and proclaimed the land as British territory. It's also a convenient beach to visit with your dog, with leashed dogs allowed on the sand.
4. Taste a Tray of Beers at Little Creatures
The Fremantle waterfront is home to the ever-popular Little Creatures Brewery. Established in 2000 with the aim of brewing an American-style IPA, the beers are still brewed onsite, in a building originally constructed to house America's Cup yachts, before briefly being a crocodile farm.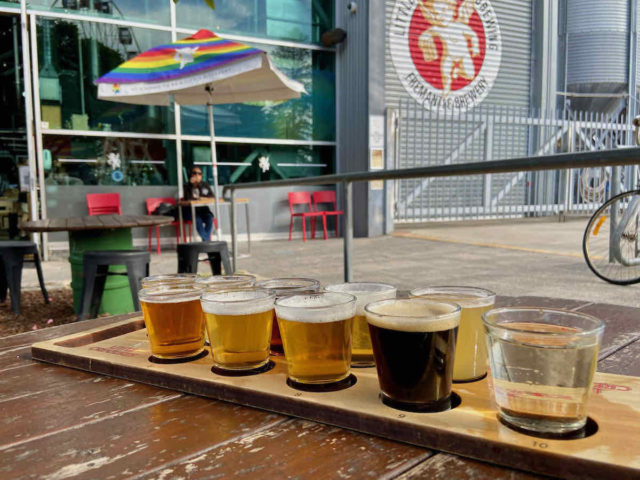 Fortunately, the beer garden outside the front of the Brewhouse is dog-friendly, with well-behaved leashed dogs welcome. Pull up a seat and order a tasting tray of beers, featuring their full range of beers, including some special brews only served onsite. There's plenty of food options on offer, including a range of wood-fired pizzas.
5. Take a Selfie with Bon Scott
Just outside of Little Creatures Brewery is a statue of Bon Scott, the lead singer of AC/DC and one of Freo's favourite sons. Don't miss getting a selfie or two, including with your pup!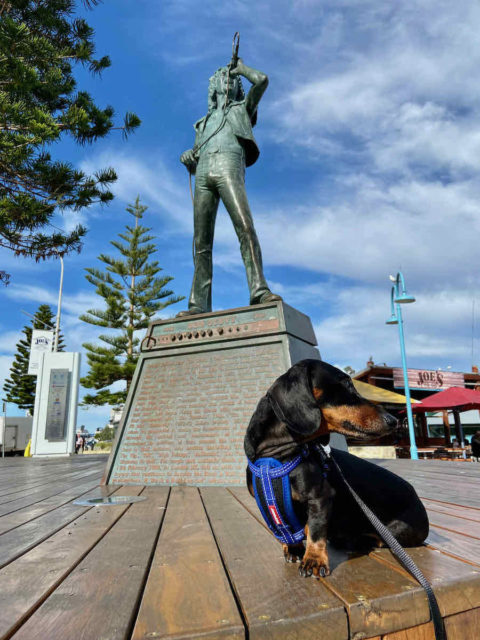 Dog-Friendly Beaches in Fremantle
Being situated right on the coast, Fremantle is home to a number of beaches, including multiple dog-friendly beaches that are popular with locals and visitors alike.
A couple of kilometres south of the centre of Freo is South Fremantle Dog Beach, probably the most popular off-leash dog beach in the area. Luckily, parking is fairly easy here, even on a busy Saturday.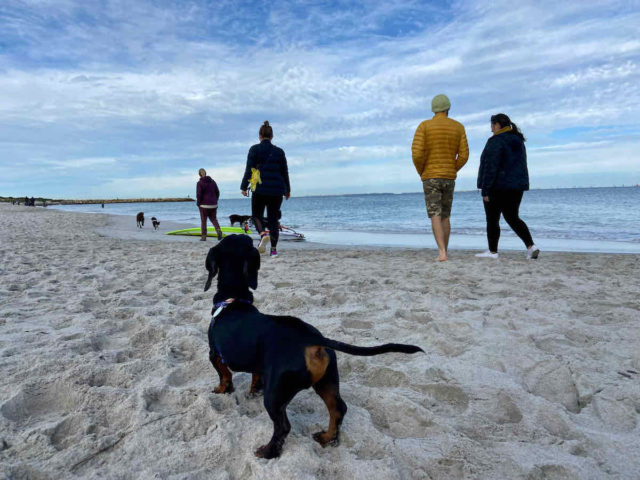 The off-leash section of South Fremantle Beach is at the northern end, extending south to Douro Road. While visiting the beach, don't also miss viewing the beautiful mosaic of dogs in the adjacent reserve.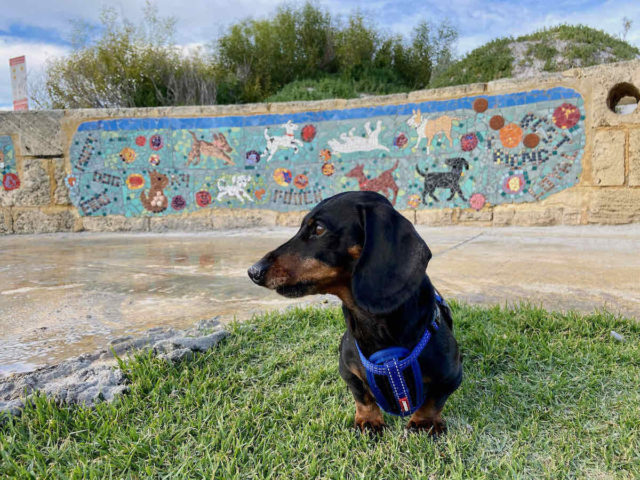 If you'd prefer a quieter beach visit for your pup, head a kilometre south to North Coogee Beach, just outside of the boundaries of the City of Fremantle. Dogs are also permitted off-leash but we found there to be far less dogs than at South Fremantle Dog Beach.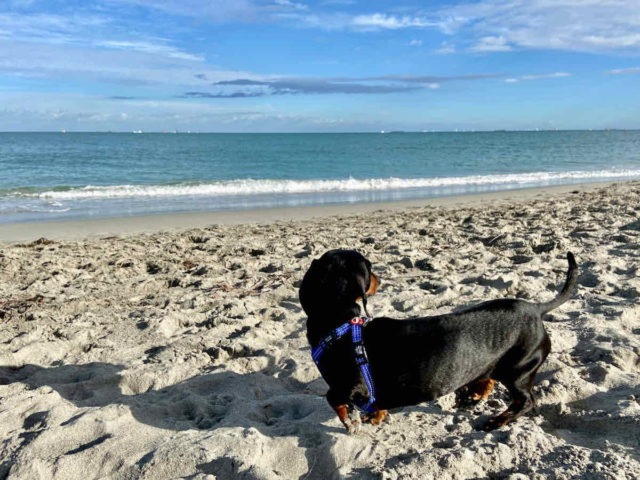 Other off-leash beach spots within the City of Fremantle area to visit with your dog include Leighton Dog Beach and Gilbert Fraser Reserve. Both are located in North Fremantle to the north of the Swan River.
Dog-Friendly Parks in Fremantle
In addition to the above off-leash dog beaches, there are also a variety of off-leash dog parks located in Fremantle.
If you're an early morning riser, head to The Esplanade in the centre of Fremantle, where dogs are allowed off-leash during the limited hours of 5am to 8am. Alternatively, dogs are allowed off-leash all day long at the following parks:
North Fremantle: Gilbert Fraser Oval, Rocky Bay Foreshore (except Rocky Bay Beach and Harvey Beach)
Fremantle: Beach Reserve, Fremantle Park, Gibson Park, Horrie Long Reserve, Knutsford Street Playground, Stevens Reserve
South Fremantle: Parmelia Park, Wilson Park
Beaconsfield: Bruce Lee Reserve, Davis Park
Hilton: Griffith Place Park, Grigg Place Park, Hilton Par
Samson: Sir Frederick Samson Park
Note that dogs will need to remain on-leash if a sporting event is taking place. For a map and further details, see the City of Fremantle website.
Dog-Friendly Dining in Fremantle
There's plenty of dog-friendly dining spots in Fremantle, especially at Fremantle Boat Harbour, with its many waterfront restaurants.
As mentioned above, the beer garden at Little Creatures Brewery is dog-friendly, with a wide-ranging menu from barramundi and burgers, to wood-fired pizzas and share plates. For non-beer-drinkers, there's also a long list of mainly WA wines to choose from.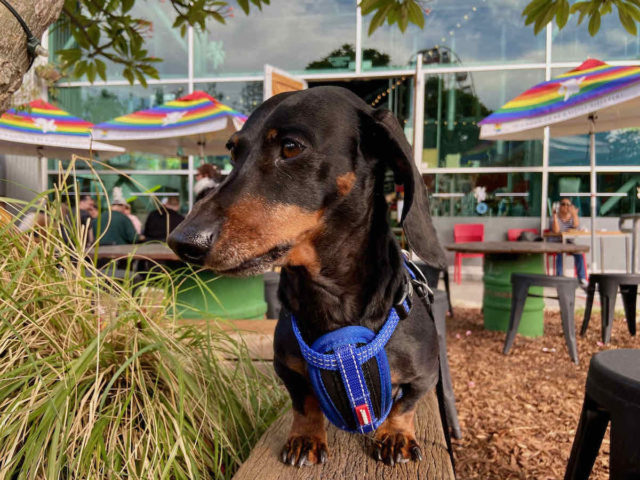 Another popular waterfront spot in Freo is the Bathers Beach House, just south of Bathers Beach. There's plenty of seafood options, from a full seafood platter to fish'n'chips and mussels. Plus you can watch the sunset from the outdoor dining area.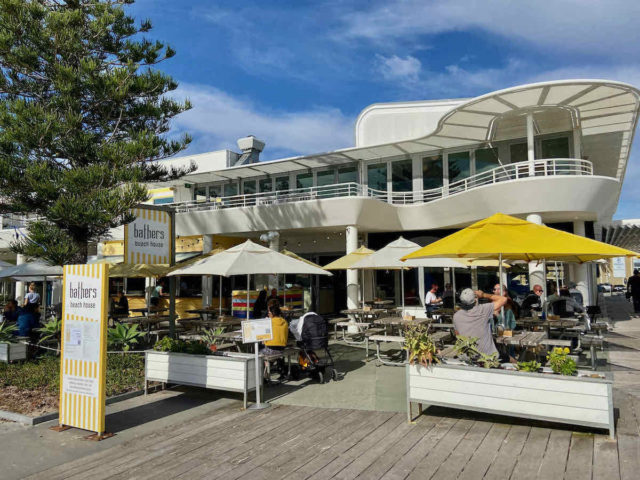 Next to the banks of the Swan River in East Fremantle, The Left Bank has a new dog-friendly alfresco area. Dine at the designated tables surrounded by grass, with river views. There's even a dog wash next door on selected Sundays!
Dog-Friendly Accommodation Fremantle
Note: This post contains affiliate links, which means I may receive commission if you make a purchase using the links. See my full disclaimer.
If you're travelling in a campervan or with a roof-top tent, I highly recommend heading to the Fremantle Village, a pet-friendly caravan park located a few kilometres south of the Fremantle CBD. As well as the convenient location and pets being allowed, there's a park within the park just for campervans. Each paved site surrounded by grass has its own table, plus there's an adjacent camp kitchen.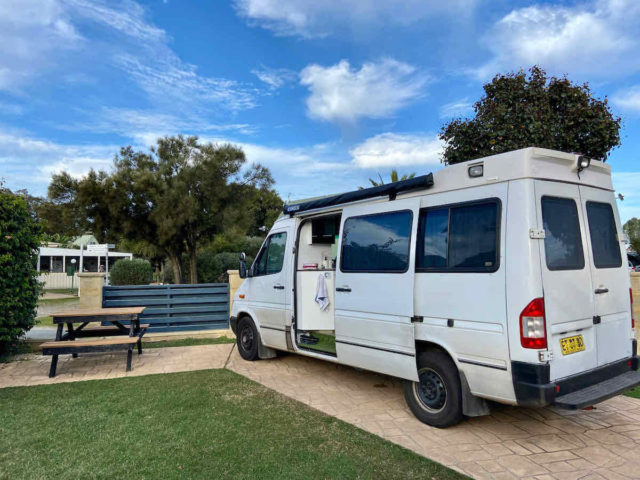 If you're instead after a pet-friendly hotel, consider the Pier 21 Apartment Hotel, located in North Fremantle. With a range of luxurious apartments and studios plus a long list of complimentary facilities, it's the perfect place for a relaxing getaway. Enquire directly about the fees for pets.
Another pet-friendly option is Quest Fremantle. Centrally located in the historic West End, just a short stroll from the many dog-friendly attractions and restaurants in Fremantle, this hotel has self-contained apartments ranging in size from studios up to two-bedroom apartments. Enquire directly about their pet fees and rules.
Head Next To