The Margaret River region is famous for both its incredible surfing beaches and world-class wineries. Luckily, when visiting the Margaret River region in Western Australia with your dog, it's possible to experience both, as well as many other highlights.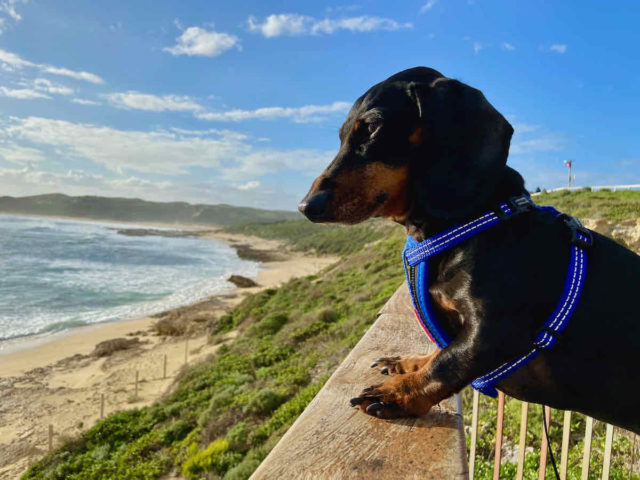 Dog-Friendly Wineries in Margaret River
There's a long list of cellar doors in the Margaret River region, many that are open daily to the public for wine tasting and many that are dog-friendly.
To find out the full list of dog-friendly wineries in the region, I recommend dropping into the visitors centre in Margaret River, who maintain an up-to-date listing of pet-friendly wineries, or search on the Margaret River website (scroll to the bottom and apply the Pet Friendly filter).
Unfortunately, neither listing mentions which wineries allow dogs inside. While some wineries give dogs free rein, other wineries only allow dogs outside. It's best to contact individual wineries to confirm.
One of the most dog-friendly wineries we visited was Swings & Roundabouts. This award-winning venue is very dog-friendly, allowing dogs inside. We even saw some dogs relaxing next to their owners in the semi-enclosed dining area. Although the beautiful outdoor area including its distinctive swing seats would be hard to pass over on a beautiful day. There's also a cute dog drinking station outside.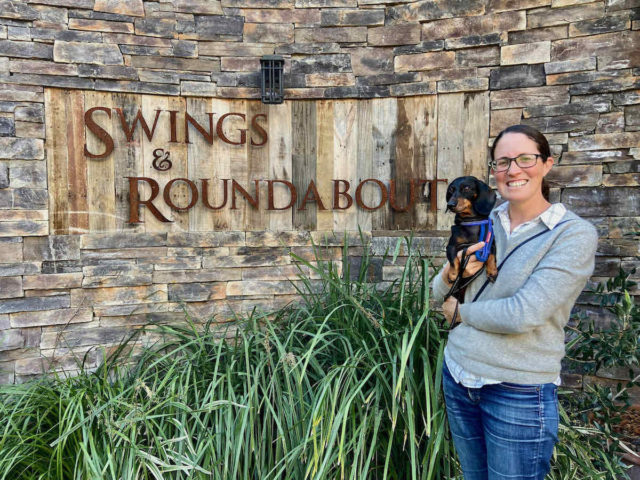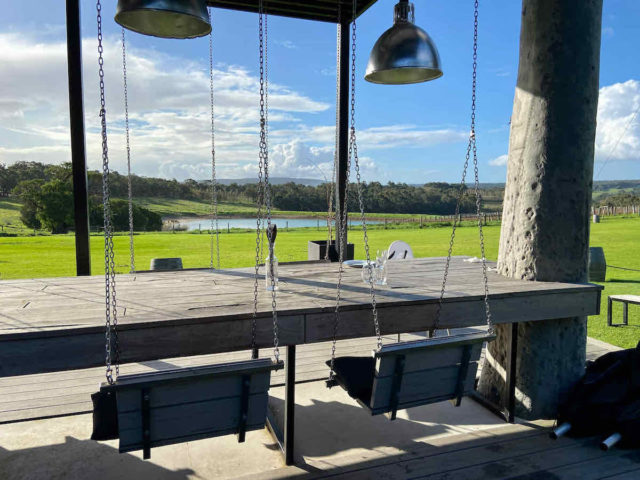 During our visit we also went to Cape Mentelle. However, while the winery is listed as dog-friendly, dogs are not allowed inside where tastings generally happen. We were given the option of doing our tasting outside at a picnic table, but that would have been a hassle with the long list of wines on the tasting list.
Another winery that reportedly allow dogs to join you inside the cellar door is the award-winning Stella Bella Wines, which is also terrific for BYO picnics. Naturally, dogs should be kept on a leash and be well-behaved.
If you're interested in taking a winery tour with your pup, contact Grape Escape to find out about their private Pawesome Tours.
Dog-Friendly Beaches in Margaret River
The Margaret River is equally renown for its surfing beaches, and in this regard dogs haven't been overlooked. While dogs are strictly forbidden from the beaches that lie within Leeuwin-Naturaliste National Park and the main swimming beaches, there are also off-leash beaches dotted throughout the region.
One of the best dog-friendly beaches in the Margaret River region is Prevelly Beach. This beach is the closest off-leash beach to the town of Margaret River – it's just a few kilometres west and close to the popular Surfer's Point.
Dogs are allowed off-leash on the northern section of the beach, north of the Georgette Way beach access footpath. Dogs are also allowed off-leash in Riflebutts Reserve behind the dunes, except in the playground.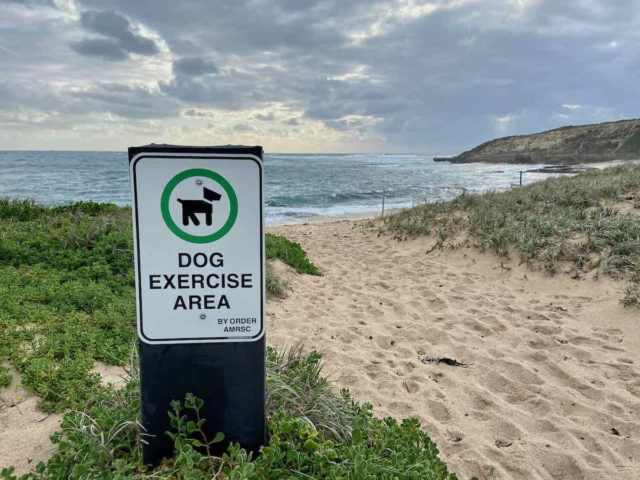 Another off-leash beach is located at Gracetown, the next town north. To access the off-leash section of the beach (dogs are prohibited from the main swimming stretch at the northern end), look for the dirt access road just before Percy Street.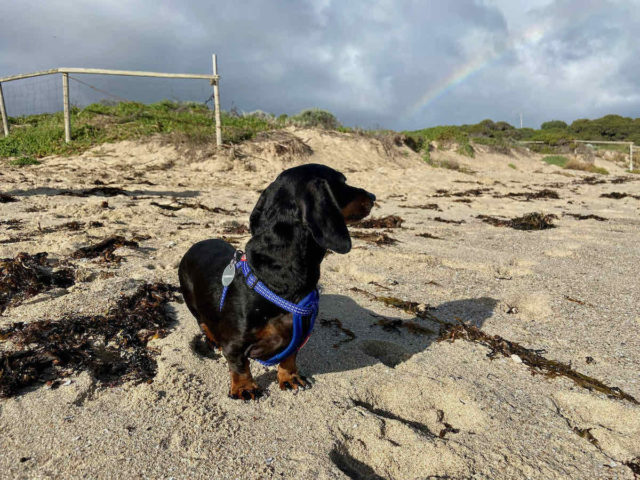 Dogs are also allowed on the northern part of Yallingup Beach, north of the Dawson Drive beach access path. There's also off-leash beaches in Augusta and around Dunsborough, on the calm waters of Geographe Bay. Check out my full guide to dog-friendly beaches near Margaret River.
Dog-Friendly Sightseeing in Margaret River
Your dog-friendly sightseeing options in the Margaret River region aren't limited to just wineries and beaches, with many other fun dog-friendly options available.
1. Check Out the Surf
It wouldn't be a visit to Margaret River without checking out its renown surfing breaks!
One of the most famous spots is Surfer's Point, in Prevelly, immediately west of the town of Margaret River. Head to the lookout, just keeping your dog on a leash, and check out the action on the breaks down below.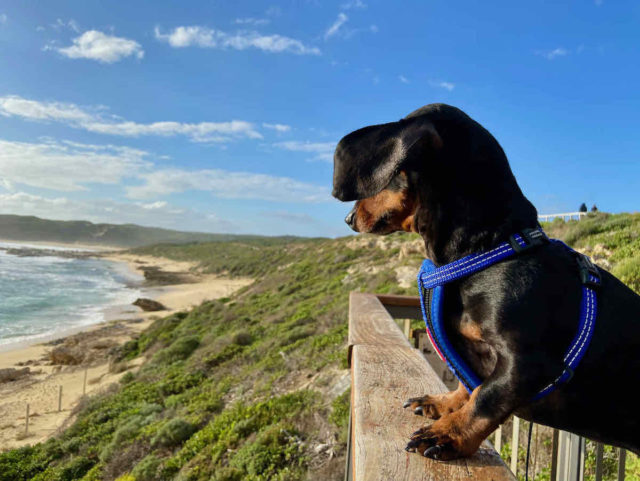 The point is also a great spot to watch the sunset, and on busy days food vans often pull up here from late in the afternoon.
2. Stroll Through Cowaramup
While the town of Margaret River is quite chic, with a strip of upmarket restaurants, cafes and boutiques, the town of Cowaramup to the north retains its country charm.
Take a wander along its main street, stopping in at some of its excellent food stores selling products ranging from handmade chocolate to preserves to locally roasted coffee. While pet dogs aren't allowed inside, there's often water bowls outside.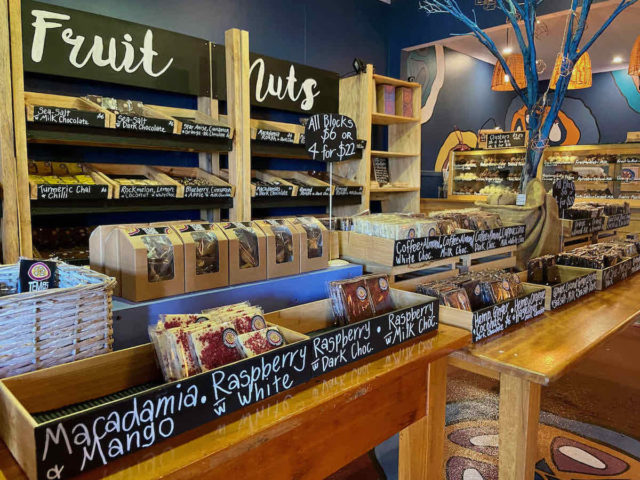 Along the way, spot the sculptures of cows that dot the town – partially in reference to the town's name, plus a nod to the significant milk production of the surrounding farms. There's also some beautiful murals to check out, including the bird wings at the Cowaramup Agencies building.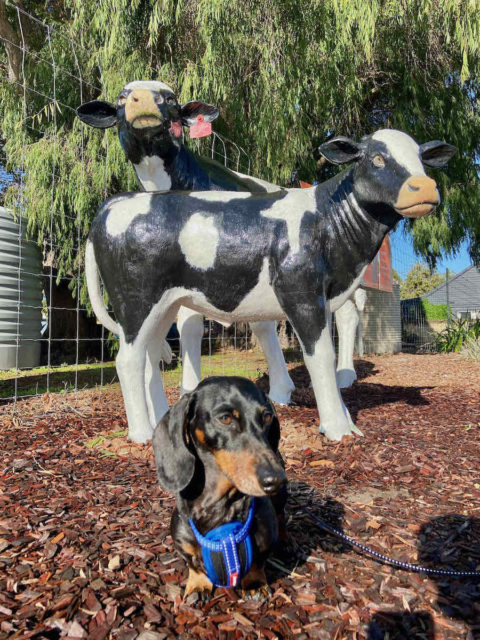 3. Relax with a Local Beer
If you prefer to relax with an ale instead of sip a wine, you'll be delighted to find a growing number of breweries dotted throughout the Margaret River region. And luckily, nearly all of the breweries are dog-friendly. On the list provided by the visitors centre at the time of our visit in 2021, seven breweries were listed as dog-friendly, although sometimes just in certain areas.
We made a late afternoon stop at Wild Hop Brewery in Yallingup. Catching plenty of afternoon sunshine while looking out over the dam, it was a great way to wrap up the day. Dogs are permitted on the deck at the brewery, including the enclosed section, plus the grass, with the staff very welcoming to dogs. The brewery offers ten taps of batch-brewed beer with the option to choose your own tasting paddle.
Another dog-friendly brewery option is Beerfarm in Metricup. Dog-friendly both inside and out, and with a designated off-leash area, enjoy one of their beers accompanied by smoked meats. Bookings are required.
4. Drive Along Caves Road
While there's a highway that passes through Margaret River and down to Augusta, the more scenic alternative is Caves Road, particularly the southern section. Along this stretch the road passes through magnificent stretches of jarrah, karri and marri forest, particularly at Boranup Forest.
While most of this section lies within Leeuwin-Naturaliste National Park, with pets not allowed, its fine for pet dogs to be in your vehicle along the main road, as long as you don't stop inside the park boundaries.
5. Watch for Whales
During the cooler months of the year whales can often be seen off the coast of the Margaret River region, so head to a coastal lookout with your dog and see if you can spot any.
Southern Right Whales can often be seen around August between the months of June to August, migrating north. Some of the best locations to watch for whales lie along the dog-friendly Whale Trail walking path (see below).
From September to early December, you'll have a better chance of spotting whales at Geographe Bay near Busselton and Dunsborough, when the whales returning south enter the bay to rest and nurse their young.
6. Buy Some Local Venison Dog Treats
One of the more unusual food outlets that you can visit in the region is Margaret River Venison. While naturally pet dogs are not allowed to enter the store with you, they'll be certainly glad that you do!
As well as a range of salamis, sausages and steaks for humans, there's also options for your pup. Rolls of pet-grade meat are available, plus check out the range of venison bones sitting on the counter, intended for pet treats.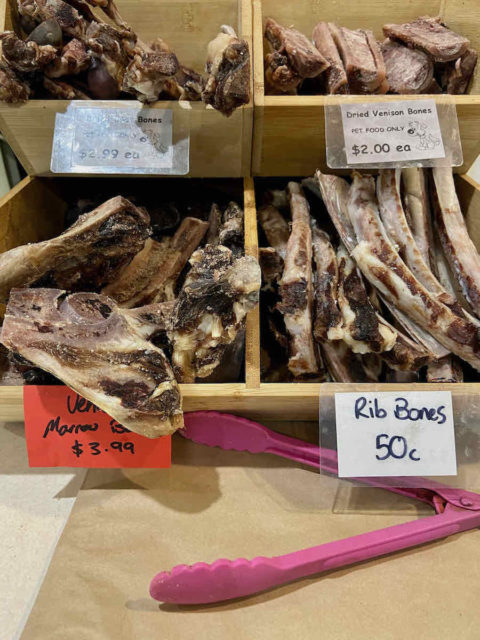 Dog-Friendly Walks in Margaret River
A long walk or two is handy for burning off the fine food, wine and beer that it's easy to indulge in while visiting the Margaret River. One dog-friendly option close to Margaret River is the combined cycle-pedestrian path linking Margaret River township to Prevelly, which also conveniently passes right by some wineries.
If you head down to Augusta, along the foreshore runs the Whale Trail. Starting at the Blackwood River mouth near the Lions Park, the trail runs for 6km, all the way to the August Boat Harbour. The first section of the walk passes along the off-leash section of beach in Augusta.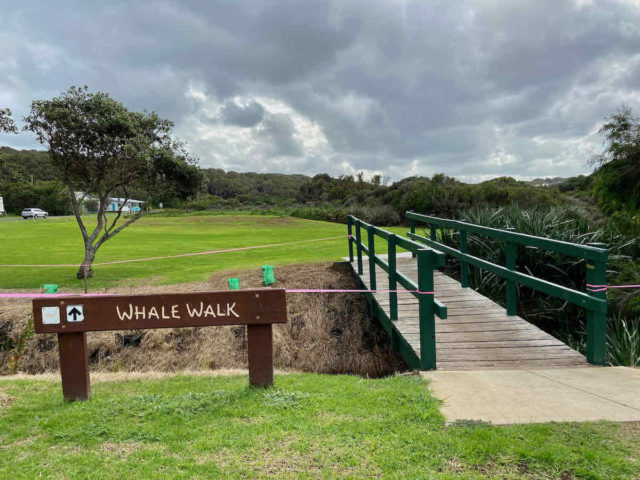 Dog-Friendly Parks in Margaret River
In addition to off-leash dog beaches, there are also plenty of off-leash dog parks scattered throughout the Margaret River area, with a number of new areas established in 2022 and more areas to be reviewed in 2023.
In the Margaret River township itself, an enclosed off-leash dog exercise area was recently established at Brookfield Reserve, located on the corner of Bottlebrush Drive and Leschenaultia Avenue. For a full list of areas, see the Shire of Augusta Margaret River website.
Dog-Friendly Dining in Margaret River
With so many wineries and fine food outlets abounding in the region, there's no shortage of wonderful restaurants and cafes to dine out, and luckily many of them permit dogs, at least in their outdoor areas.
As I mentioned above, one of the most dog-friendly wineries around is Swings & Roundabouts, that permits dogs inside, including in their outdoor and semi-enclosed dining areas. There's both a pizza menu and full menu on offer.
Another great dog-friendly option is The Berry Farm, tucked into the hills to the east of Margaret River. Star of the menu are their own jams, chutneys and more, which you can also buy at the onsite cellar door. I highly recommend the scones with delightfully thick strawberry jam.
There's plenty of outdoor tables that are dog-friendly, along with water bowls for four-legged guests. Plus ask about the homemade dog treats available to buy.
Another option to consider is Olio Bello. A producer of fine organic olive oils, their menu is heavily Italian, featuring their own olive oil, alongside a range of farm product. Make sure you book an outdoor table, with dogs permitted both in the outdoor garden seating area and on the deck, with dog water bowls provided.
Finally, I've also heard great reports of Yardbyrd and Rustico at Hay Shed Hill. Yardbyrd in Witchcliffe is a highly-rated cafe, open daily for breakfast and lunch or just a coffee. Alongside a reasonably priced menu, they have a relaxing outdoor area and plenty of bowls for four-legged guests.
On the other hand, Rustico is famous for their five-course degustation menu, optionally with matching wines. Allow plenty of time (and make sure your dog has been tired out beforehand!) Located at the dog-friendly Hay Shed Hill Wines, other visitors report they have dog-friendly tables, plus dog treats on offer. Double check when making a booking.
Dog-Friendly Accommodation in Margaret River
There's a wide variety of pet-friendly accommodation options in the Margaret River, including some in nearby Dunsborough and Busselton. No matter if you want to camp or want a little more luxury, check out these options…
Pet-Friendly Caravan Parks in Margaret River
At the time of our visit in 2021, the Margaret River region seemed to have a higher proportion of caravan parks that didn't allow dogs than elsewhere in WA. However, there are still quite a few pet-friendly options if you have your own caravan or tent, with one of the most dog-friendly options being Southern Stars at Dunsborough.
At Southern Stars, dogs owners are actually encouraged to bring their pets. A highlight are the handful of fenced powered and unpowered sites (for an extra charge), perfect for parking up your caravan or pitching tent, and not worrying about keeping your dog leash. There's also an enclosed off-leash area for all canine guests and they can provide a list of local dog-sitters, in case your need to leave your dog behind one day.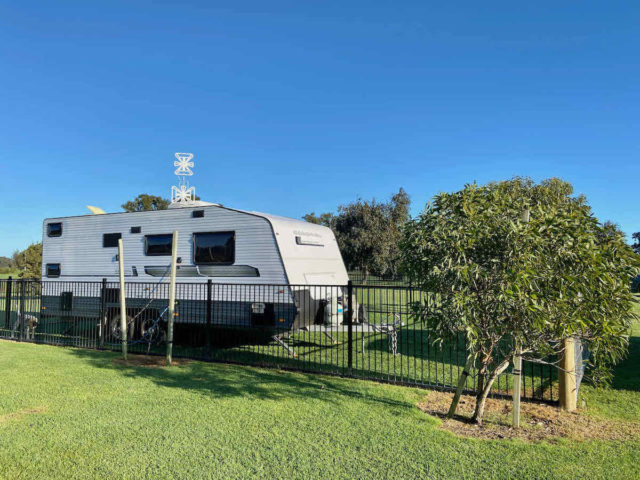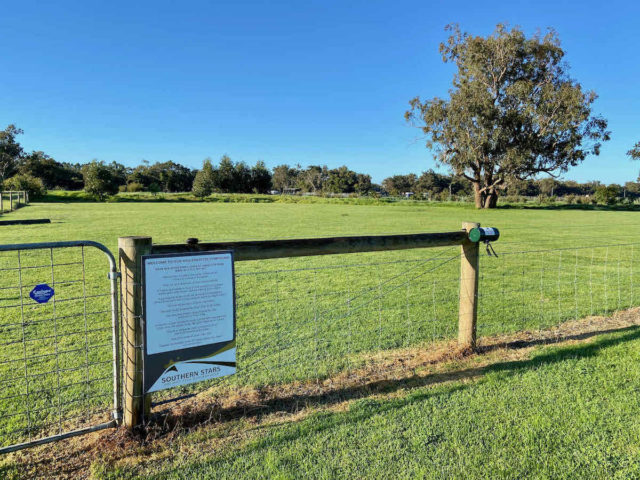 While the park is a little more expensive than other options, there's also terrific amenities for humans, including a large camp kitchen, lounge, and ensuite-style bathrooms, all very new and modern, plus the owners and managers are extremely friendly.
Another centrally-located pet-friendly caravan park in the Margaret River region is the Margaret River Tourist Park, within the town of Margaret River. Note that dogs are only allowed in the camping areas, at the manager's discretion, not in the cabins.
Another fun alternative that we didn't check out is Big Valley Campsite, a family-owned sheep farm 10-minutes southeast of Margaret River. With its casual, family-friendly atmosphere, there's also the option to hire camping equipment, including tents.
Pet-Friendly Cottages in Margaret River
If you're looking for something fancier, one of the best dog-friendly accommodation options in the Margaret River is Petra Olive Oil Estate, who have five dog-friendly luxury chalets on the estate. There are some conditions for dogs to stay (they must be vaccinated, desexed and at least one year old), for an additional charge of $25 per night. Generally only one dog is permitted per chalet.
While the Yallingup Lodge & Spa Retreat to the north of Margaret River is adults-only, it's dog-friendly. Choose between staying the night in their glamping tent or their special Pet Suite. The queen spa suite has its own sunroom and private garden, plus a king size spa on the verandah. While you enjoy the day spa, you can book your pup in for their own grooming treatment, while dogs will be given a morning treat when you enjoy breakfast. Direct bookings are required.
For a more rustic stay, consider Karridale Cottages, about halfway between Margaret River and Augusta. The three studios and both two-bedrooms cottages are all dog-friendly (just not the homestead), with an additional charge of $30 per dog per stay. Dogs are allowed inside and there's a dog exercise area as well as a bushwalk through the property.
Another terrific dog-friendly option are Harmony Forest Cottages. Enjoy a secluded stay in one of their cottages surrounded by nature, along with the luxury of a spa bath. Your dog is allowed to join you, including inside, for an additional charge of $50 per stay. Note that dogs need to be kept leashed and no cats are allowed due to the wildlife.
Pet-Friendly Resorts in Busselton
Just north of the Margaret River region proper, there are two great resort options in Busselton that permit pets in some of their accommodation options.
Enjoy a stay in one of the gorgeous glamping tents at Busselton Villas & Glamping Village. Pets are allowed in selected glamping tents and park cabins, although not in the villas, open from late September to June each year.
Pets are allowed inside but not on furniture or beds, with up to two small-medium or one large dog permitted. There is an additional charge of $20 per dog per night, with beds, bowls and pet blankets provided.
Alternatively, book a stay in one of the pet-friendly units at Broadwater Resort, with pets permitted outside the peak summer and Easter holiday periods (check the exact dates on the website). Up to two pets are allowed, depending on the size of the unit.
There is an additional supplement of $33 per dog per night, plus an additional pet bond is held. Dogs are allowed inside but not on the beds, with their own bed, blanket and bowl provided. The onsite Stilts Beer Garden is also pet-friendly.
Head Next To