Despite being a big city, Perth, the capital of Western Australia, is still a fairly dog-friendly destination, with a range of options to choose from if you're visiting Perth with a dog. Find out more about dog-friendly sightseeing options available in Perth, plus where to stay with your pup.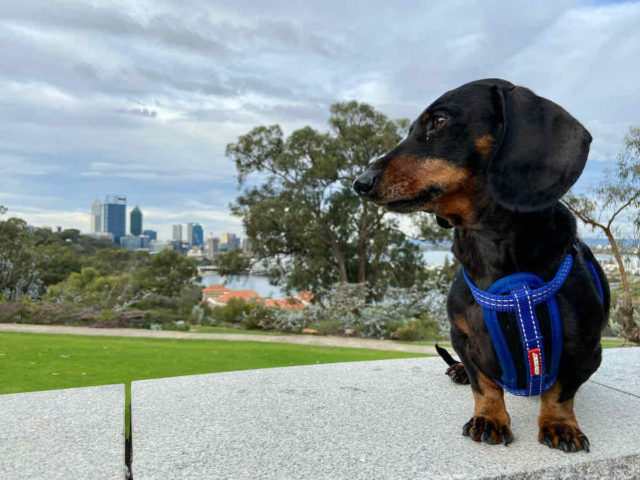 Dog-Friendly Sightseeing in Perth
While visiting Perth, make sure you add some of these dog-friendly sightseeing ideas to your itinerary.
1. Go for a Stroll in Kings Park
Right on the door step of the Perth CBD is the massive Kings Park. Measuring in at over 400 hectares, it's no wonder this is such a popular destination. With views of the CBD and Perth Water, the park contains the Western Australian Botanic Garden, as well as natural bushland.
Leashed dogs are allowed to join you in Kings Park. Choose a spot and head for a walk – Roe Gardens is particularly popular, or head to the Water Garden Pavilion. It's also a delightful spot for a picnic – just keep your pup away from anyone else's.
Note though that dogs are not allowed in certain areas, namely along the elevated section of the Federation Walkway and in the Naturescape Park, as well as within 10m of playgrounds. Pet dogs are also not permitted to attend the Kings Park Festival, Australia Day, ANZAC Days and summer events.
2. Head to the Beach
Perth is blessed with many beautiful ocean beaches, perfect for swimming (nearly all year round), taking a walk or just enjoying the West Coast sunsets. During your visit to Perth, it's a must to catch at least one of these sunsets at the beach, with your pup at your side.
Luckily, there's plenty of dog-friendly beaches to choose from along the coastal strip, whether you're in Perth or Fremantle, or further north or south. See my recommendations below for some of the closest dog-friendly beaches to the city centre.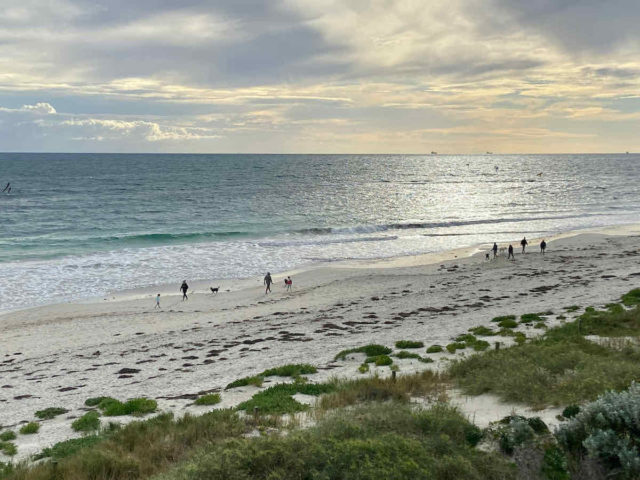 3. Visit Fremantle
Traditionally considered a separate city to Perth, Fremantle or Freo as the locals call it, is just a 30 minute drive away from the centre of Perth. During our visit to Perth with our dog, we spent quite a bit of time in Fremantle, arguably the most dog-friendly part of Perth.
There's a wide variety of dog-friendly things to do in Fremantle with your dog. For starters, take a walk with your dog down High Street and through the West End. Fremantle is renown for having the most intact 19th-century port city townscape anywhere in the world.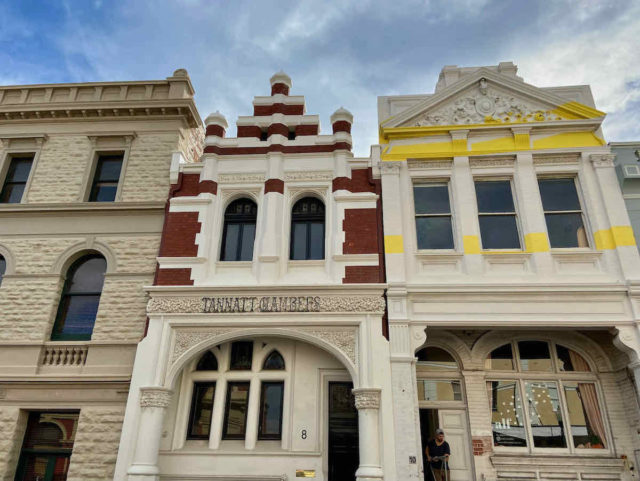 While dogs aren't allowed inside the historic Fremantle Prison or Fremantle Markets, they're fine to visit the Fremantle Roundhouse. Built between 1830 and 1831 as the first civil gaol, these days it's WA's oldest remaining building, with entry to the basic interior by gold coin donation. Try to time your visit for the 1pm canon firing.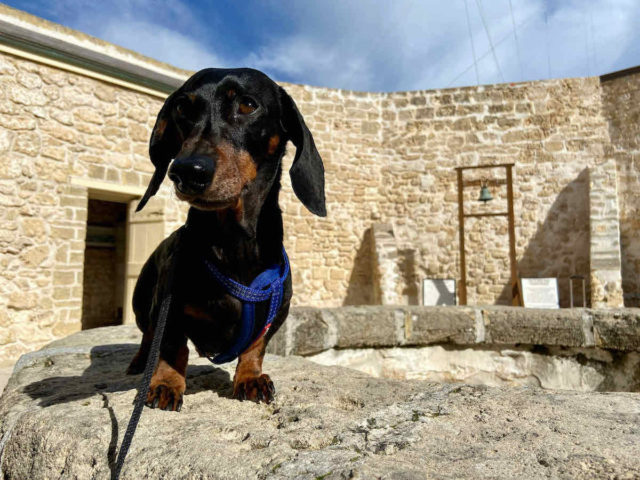 While in Fremantle, also visit the dog-friendly beer garden at Little Creatures Brewery, enjoy lunch at the brewery or one of the other dog-friendly restaurants at Fremantle Boat Harbour, and get a selfie with the Bon Scott statue.
Find out more about visiting Fremantle with your dog
4. Head to the Swan Valley
On the western fringes of Perth is the Swan Valley, WA's oldest wine region. Vineyards have been planted here since 1829, nearly 200 years ago.
With a wide variety of cellar doors, breweries, distilleries and local produce stores, there's plenty of dog-friendly options. Ask at the visitor centre for tips on dog-friendly wineries, or check directly with the wineries that you plan to visit.
Don't miss out on enjoying lunch at one of the many attached restaurants. Also make time to take a wander through the village of Guildford, established in 1829 and one of only three towns in Perth on the National Trust register.
Dog-Friendly Beaches in Perth
Perth is home to a huge number of dog-friendly beaches. At a glance, it seems that nearly every second beach along the coast is dog-friendly, far more than in many other Australia cities.
One of the most popular off-leash dog beaches in Perth is Leighton Dog Beach, also known as Mosman Beach. The area of the beach where dogs are permitted off-leash is a huge stretch, from South Cottesloe south to the railway overpass, as clearly indicated by the regular signs.
Another popular off-leash dog beach is South Fremantle Dog Beach. Not far south of Freo (but with easier parking!) this beach was very popular on the Saturday morning we visited. Alternatively, head further south to North Coogee Beach, which is also dog-friendly, but quieter.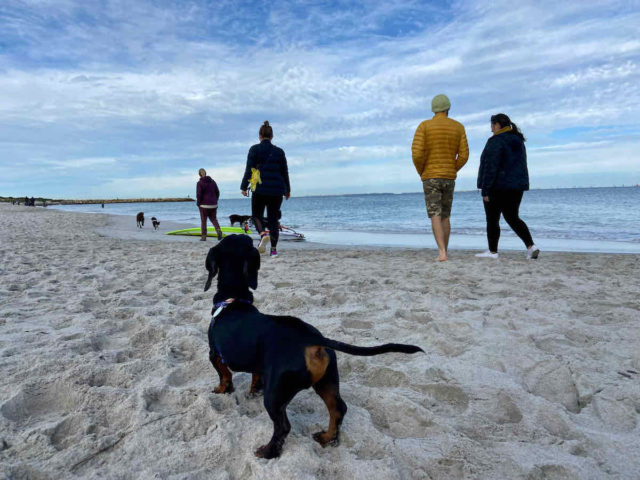 Looking for a great dog-friendly beach further north? Check out the sparkling clear waters of Hillarys Dog Beach, in the City of Joondalup. While dogs need to be kept on a leash during the morning from Monday to Saturday, they are allowed off-leash during the afternoon and all day long on Sunday.
Dog-Friendly Parks in Perth
If you'd prefer to head to a park, one of the most popular dog-friendly parks in Perth is Riverside Gardens. This large grassy expanse is located not far east of the city centre, on the Swan River in Bayswater.
There's off-leash areas on both the west and eastern sides of the park, including a fenced area, plus a dog beach along the river and dog drinking fountains. Just stay out of the bird sanctuary area, where dogs are not allowed except on leash on the footpaths. On weekends, there's even a convenient coffee van and food truck.
For more great fenced dog parks to visit with your pup, check out my recommendations or this guide to some of the best fenced dog parks in Perth. Alternatively, the very dog-friendly Slate Cafe has an enclosed dog playground – see more below.
Dog-Friendly Walks in Perth
There's no shortage of dog-friendly walks in Perth, with many of the walking trails around the city welcoming on-leash dogs (plus a few permitting dogs to be off-leash), whether close to the city or further out, along the river, beaches or through bushland.
For plenty of great dog-friendly walking on the doorstep of the city, head to Kings Park. There's a range of walking trails, with multiple carparks for easy access. Just keep in mind that dogs are not allowed along the elevated walkway section of the Federation Walkway.
Another convenient option is to drive 20 minutes east of the city to Ashfield Flats. This urban bushland reserve in Bassendean is the largest remaining river flat in the Perth metropolitan area, and is popular with dog owners and walkers.
For more dog-friendly bushwalking options around Perth, check out this great list put together by the RAC.
Dog-Sitting Options in Perth
While visiting Perth, we had our hearts set on visiting Rottnest Island, but this popular tourist spot is strictly off-limits for dogs. But considering there was perfect weather for an island day trip, we instead organised for our dog to stay in a kennel for the day.
There's a wide variety of pet-sitters and kennels available in Perth, with many of the kennels concentrated around Canning Vale, east of Jandakot Airport. We left our dog for the day at The Paw House Boarding Kennels in Canning Vale. Owner Leigh was terrific to deal with, and the prices were very reasonable. Note that there's a separate kennel area for smaller dogs, with most of the guests being larger dogs.
Dog-Friendly Dining in Perth
With its relaxed lifestyle and beautiful weather, there's no shortage of outdoor dining areas in Perth that welcome dogs to join you.
One of the most pet-friendly spots in Perth is Slate Cafe, on the eastern edge of Perth in Bennett Springs. This cafe not only has a large grassed outdoor area where dogs are welcome to join you, but also a fenced dog playground (and one for human kids). Each Sunday two breed-specific play dates are held – check their website for the latest listings.
Alternatively, head to the northern beaches of Perth and grab a table at Union Kitchen in Mindarie. Open for breakfast and lunch daily, dogs even have their very own menu. Choose from a Puppiccino or Mutt Shake, perhaps with a Dogs Bark-fest. On hot days, the Pupsicle is a welcome treat.
Alternatively, head Fremantle for a wide selection of dog-friendly waterfront restaurants. A popular dog-friendly spot is the beer garden at Little Creatures Brewery, which has a wide-ranging menu, beer tasting paddles and a list of mainly WA wines for non-beer-drinkers. Or watch the sunset while dining on seafood at the Bathers Beach House.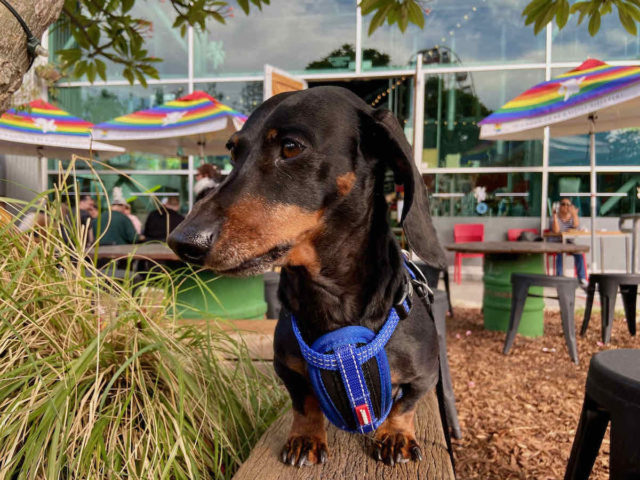 Dog-Friendly Accommodation in Perth
Note: This post contains affiliate links, which means I may receive commission if you make a purchase using the links. See my full disclaimer.
If you're after a five-star stay in Perth with your pup, make a booking with QT Perth. Their Pup Yeah! packages includes a pet-friendly room with your pup's own bed and a dog-friendly mini bar. Note there's a limit of one dog per room, with a maximum weight of 20kg, and an additional cleaning fee is charged.
Five Quest Apartment Hotels across Perth are pet-friendly, including their East Perth, Fremantle, Innaloo, Joondalup, and Midland locations. Each hotel offers up a variety of self-contained apartments, ranging in size from studios up to three-bedroom apartments, ideal for families. Enquire directly about pet-friendly rooms.
Generally a small fee plus a refundable deposit is charged, but in return your dog will be provided with a bed, food and water bowls, toys and treats. Rules such as the number of pets permitted vary from property to property.
Another pet-friendly apartment hotel is the Citadines St Georges Terrace, in the centre of Perth. Book a PAW-fect staycation package, staying in a studio, one- or two-bedroom apartment. Your pup will be spoilt with their own bed, bowls and a welcome pack, with a treat, toy and gift.
Alternatively, if you're after more affordable dog-friendly accommodation in Perth, consider the Banksia Tourist Park, in the eastern suburbs of Perth near the airport and Swan Valley. The park has a variety of pet-friendly cabins, ranging from budget to deluxe, as well as pet-friendly caravan and camping sites.
Let them know you're bringing a pet when you book, with generally two small pets or one large dog permitted. There's also an on-lead dog exercise area and doggie day care on offer – double check it's currently available in advance.
Head Next To