When travelling around Europe with my dog, one of my favourite things to do is explore all the wonderful cities in Europe. From historic city centres to amazing modern architecture to sprawling city parks and countless cafes and restaurants, there's so much to see in many European cities.
However, how dog-friendly cities are in Europe varies, especially when it comes to fun things to do together with your dog. Rather than look at how dog-friendly various cities are when it comes to living in the city, I've put together a list of the most dog-friendly cities in Europe to visit.
In particular, I've focused on what dog-friendly activities you can do together with your dog, as well as other relevant aspects as public transport, cafes and the number of hotels that allow pets. In no particular order, this is my selection of the most dog-friendly cities in Europe…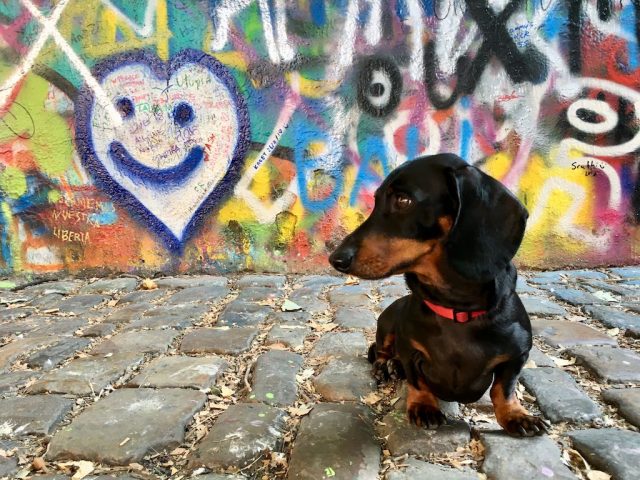 #1 London, United Kingdom
London and dog-friendly aren't usually two terms that you hear together, but I found London a delightfully dog-friendly city to visit, both times that I stayed here for an extended period with my dog.
Top of the list of dog-friendly attractions in London are the many delightful pubs and street food markets, that are generally welcoming to dogs. Take a stroll along the Thames, walk through Hyde Park, check out the street art in Shoreditch, even visit the iconic Tower Bridge, with dogs on a leash welcome.
While many hotels in London don't welcome dogs, there's enough hotels in the city for plenty of dog-friendly choices, albeit on the expensive side. And dogs of all sizes are allowed on the underground, plus often on London buses.
Find out more about visiting London with a dog.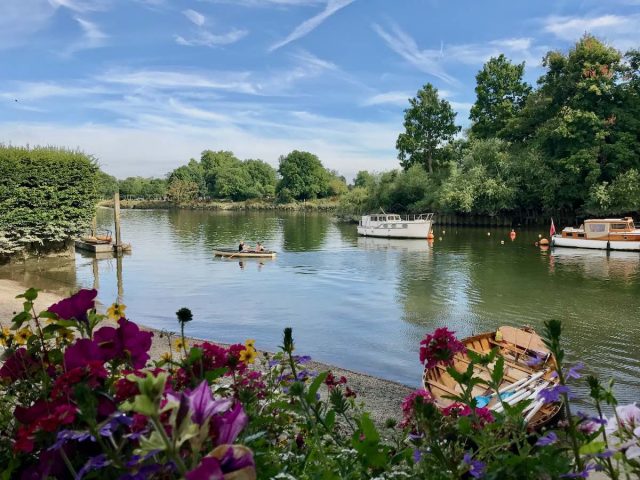 #2 Milan, Italy
Italy, in particular northern Italy, has a reputation for being extra welcoming to dogs. After all, there aren't many parts of the world, even in Europe, where sometimes dogs are allowed in grocery stores.
When visiting Milan with your dog, you'll have to just check out the beautiful cathedral from its exterior, but make sure you go for a wander through the beautiful Galleria Vittorio Emanuele II shopping arcade next door. I also spotted numerous small fenced dog parks while visiting Milan with my dog.
Milan is also a great jumping off point to the Lake Como and the other lakes in northern Italy, a beautiful area to spend the summer months, with plenty more dog-friendly attractions.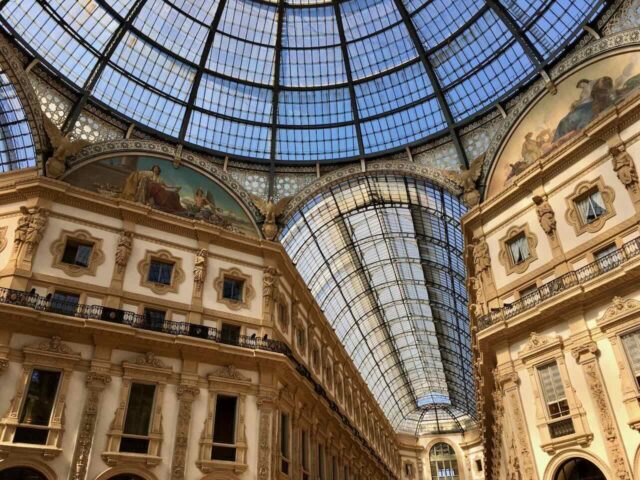 #3 Berlin, Germany
Germany similarly has a reputation for being quite dog-friendly, and a visit to Berlin will convince you that it's one of the most dog-friendly cities in Europe. There's plenty of dog-friendly hotels and restaurants throughout Berlin, and if you buy a day ticket for the public transport you can bring along a dog of any size for free.
When visiting Berlin with your dog, don't skip taking a long walk past the city's many historic sites, from the Brandenburg Gate to the East Side Gallery, along part of the former Berlin Wall. Also make sure you visit Sanssouci Park and its palaces at Potsdam, easily accessible by train.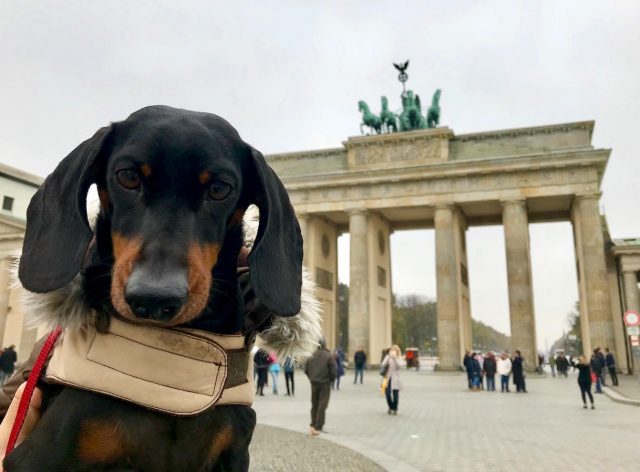 #4 Nice, France
Paris is the epicentre of France and the main destination for tourists, but I'm going to go out on a limb and nominate Nice as a more dog-friendly city in France to visit. Although I think part of the charm of our visit to the city was visiting outside of the busy summer period, but still during delightful sunny weather.
The star attraction in Nice is the 7km-long Promenade des Anglais, the perfect place for a stroll with your pooch. Don't also miss exploring the city's historic centre and parks, recently listed as a World Heritage Site for being the "winter resort town of the Riviera".
Keep in mind that dogs are unfortunately not allowed on most of Nice's beaches, although the rules tend to be relaxed during the winter. There are however two dog-friendly beaches in the city, Lenval and La Lanterne.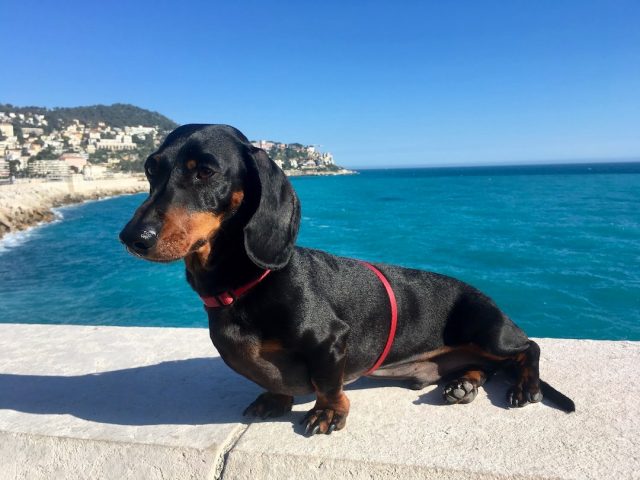 #5 San Sebastien, Spain
Another delightful beach city in Europe that I recommend you visit with your dog is San Sebastien, in northern Spain. In fact, I nominated the entire Basque region as the most dog-friendly part of Spain after our visit.
When we visited San Sebastien in April, dogs were still allowed on the beautiful beaches that line the city. The city is also famous for its many pintxos bars, many that allow dogs inside, unlike regular restaurants in Spain. We also enjoyed taking the funicular up to the headland above San Sebastien, with a special ticket for dogs.
Find out more about visiting San Sebastien with a dog.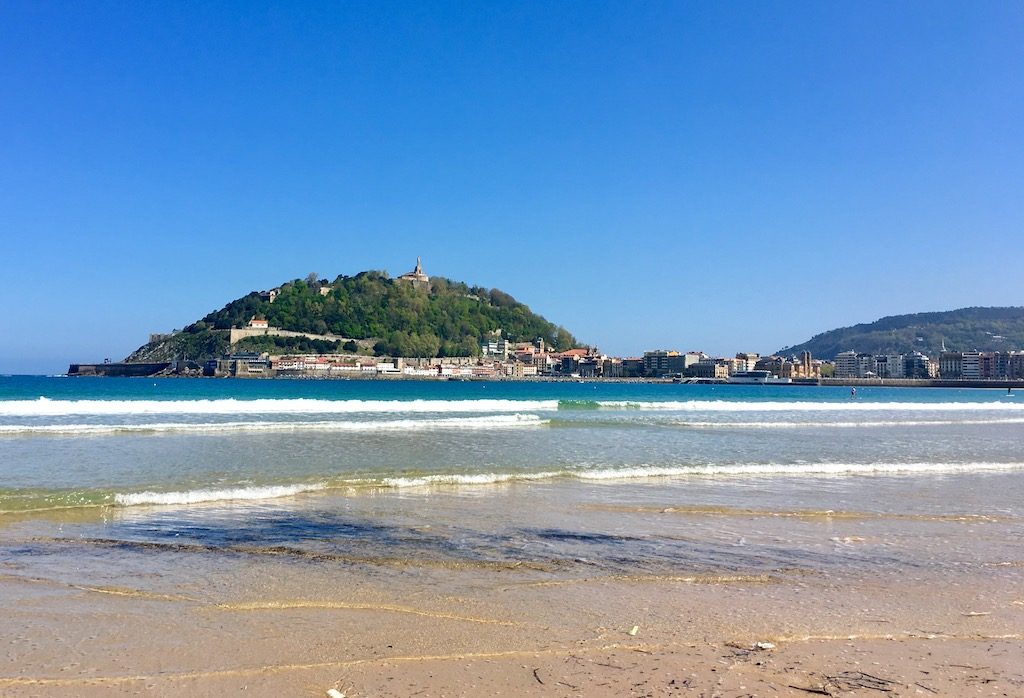 #6 Prague, Czech Republic
It's no surprise that Prague is such a popular destination in Europe, thanks to its beautiful historic city centre. And it's a great city to explore on foot with your dog at your side. Don't miss visiting the Old Town Square and walking across Charles Bridge, detouring to the Lennon Wall just after.
Dogs are also allowed to join you in visiting the grounds of the Prague Castle, just not inside any of the buildings or the gardens, as long as they are wearing a leash and muzzle. Note that generally larger dogs not in a carrier bag are expected to wear muzzles on public transport in the Czech Republic – be prepared.
If visiting Prague in summer, the city can get very crowded during the day, so I recommend going out for an early morning stroll with your pup.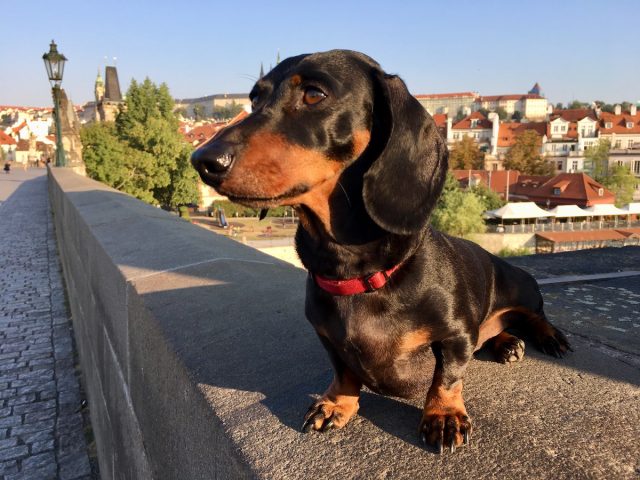 #7 Bruges, Belgium
The charming city of Bruges in Belgium is also very popular thanks to its well preserved historic centre, and I also found it a delightfully dog-friendly place to visit.
Our dog was welcome to join us at the many restaurants lining the main town square, plus inside cafes elsewhere – I particularly recommend the one next to the small lake. It's delightful to wander past its many canals and cute shops. For a quieter moment, stroll through the World Heritage listed Beguinage at the southern end of the city.
To best enjoy a visit to Bruges with your dog, I recommend staying overnight, rather than just visiting on a rushed day trip. There's plenty of dog-friendly accommodation, including this luxury dog-friendly B&B.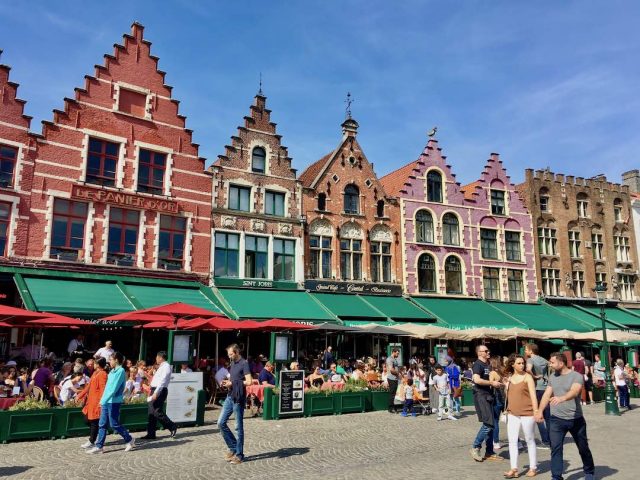 #8 Amsterdam, Netherlands
While some attractions of Amsterdam are off limits to your dogs (the world-class art museums, of course!), it's still a fabulous city to visit and explore with your dog by your side.
Amsterdam is a great city to explore on foot, strolling alongside its endless canals and pretty houses, which is my top recommendation to do with your dog. I didn't investigate canal tours, but dogs are likely able to join you onboard. Dogs are also welcome on board public transport within Amsterdam for free, either on your lap, in a bag or on a short leash.
Amsterdam is also well placed for day trips to the surrounding Dutch countryside, after all the Netherlands is quite small. I recommend heading to the cheesy town of Edam, or its not far to Keukenhof when the tulips are in bloom.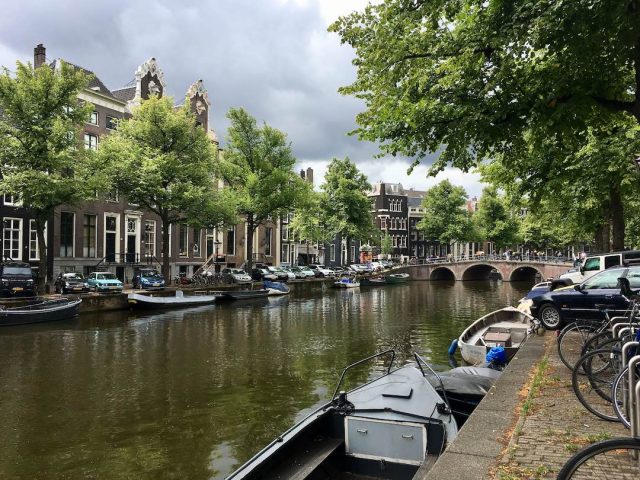 #9 Tallinn, Estonia
One of my favourite weeks in Europe with my dog was spent relaxing in Tallinn during the summertime, with my dog by my side. This compact historic city is charmingly dog-friendly, from the cafes to the trams to the people – we were even allowed to visit inside one museum with our dog in our arms!
Don't miss heading up Toompea Hill for the best views of the historic city centre. Toom Park, just to the west of the Old Town, is also a great spot to visit – it even has an off-leash dog park. Also make some time to relax in the Telliskivi district, at its many cafes and bars.
Find out more about visiting Tallinn with a dog.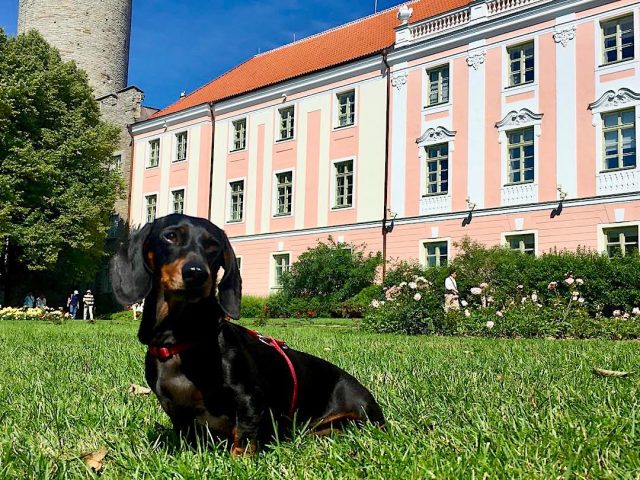 #10 Naples, Italy
The Italians are great lovers of dogs, and this is also the case in the southern city of Naples. Although I must admit it also has the biggest issue with dog poo underfoot out of any European city (forget the old stories about Paris!)
The best way to enjoy an afternoon in Naples is to go for a wander through its alleyways, in between its towering buildings that look like they've been built in every century of the last two millennium. There's no need to sit down at a restaurant (although most will welcome dogs inside), with plenty of street food options, from arancini to baba au Rhum.
Plenty of other locals will also be out and about with their dogs. Perhaps stop off at the Santa Chiara Monastery complex, also home to an off-leash dog yard, so your dog can enjoy a play with the locals.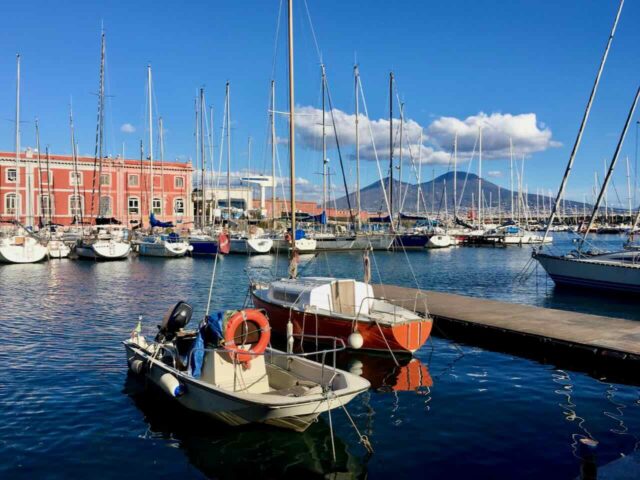 #11 Graz, Austria
While the Austrian capital of Vienna is home to countless museums, I found much of the charm of the smaller city of Graz in its outdoor spaces, where dogs are welcome to join you.
Head to its beautiful Old Town, home to many buildings from different eras – there's even some wonderful modern architecture. Don't miss taking the elevator to the top of the Schlossberg, with dogs also allowed in the elevator. Once the site to a fortress, enjoy a wander through its lovely gardens.
And of course it wouldn't be fitting to visit Graz, without enjoy a hearty meal at one of the many traditional restaurants in its Old Town.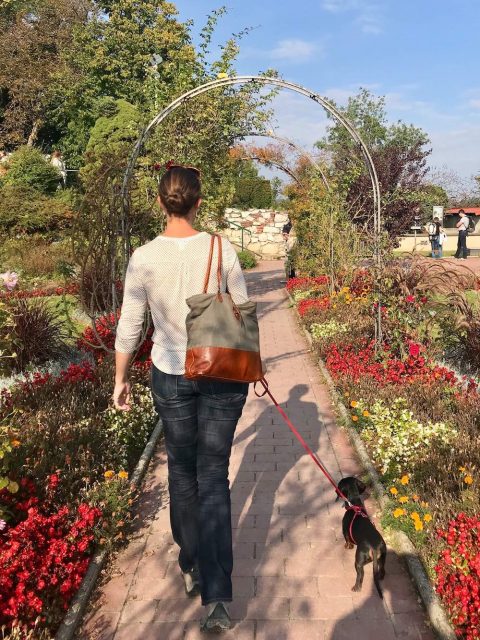 #12 Copenhagen, Denmark
There's no shortage of fun things to do with your dog on a visit to Copenhagen, the Danish capital. When the weather is sunny don't miss taking a boat ride out on the harbour, with operators generally welcoming small dogs onboard – ask at the docks at Nyhavn whether your pup is allowed onboard.
Dogs are welcome at the outdoor areas of the Roskilde Viking Ship Museum, just a short train trip outside of Copenhagen. Another popular day trip by train is to Helsingør, believed to be the setting of Hamlet. Copenhagen is also home to some gorgeous parks, most that welcome dogs on a leash.
While many cafes in Denmark don't allow dogs inside, we enjoyed a great lunch at the Torvehallerne market, eating at the outdoor tables with our dog.
Find out more about visiting Copenhagen with a dog.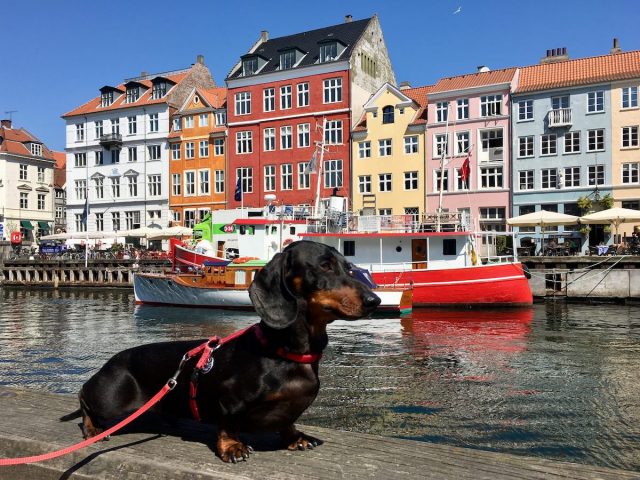 #13 Helsinki, Finland
Out of the Nordic countries, I found that Finland is generally the most dog-friendly, at least when it comes to allowing dogs inside restaurants and on public transport. Its relatively small capital city, Helsinki, is a wonderful destination to explore with a dog.
When investigating the percentage of dog-friendly hotels in different European cities, I was surprised to discover that Helsinki cam out on top. Dogs are allowed on public transport in Helsinki, although you'll need to avoid selected carriages on the Metro and commuter trains where dogs are prohibited.
If the weather is good, consider heading to Suomenlinna Fortress, a group of fortified islands just off the city that is a World Heritage Site. Dogs are allowed nearly everywhere on this popular day trip destination, including in the most of the cafes and restaurants. Or go for a wander through the city's compact historic centre.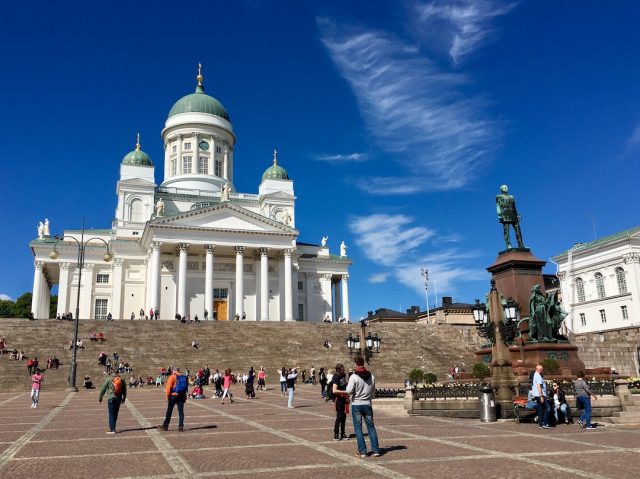 #14 Stockholm, Sweden
While Scandinavia isn't as dog-friendly as many other parts of Europe, in particular when it comes to visiting restaurants with dogs, Stockholm is still a wonderful city in Europe to visit with your dog, with plenty of dog-friendly things to do.
Don't miss enjoying a walk through the historic streets of Gamla Stan, taking the train or ferry to the Drottingholm Palace (there's free entry to the grounds for both humans and dogs, plus an off-leash dog park), or enjoying a cruise on the harbour.
Dogs of all sizes are welcome to travel for free on public transport in Stockholm, although sit in the rear of buses and trams, plus pets are usually only permitted in every second train carriage.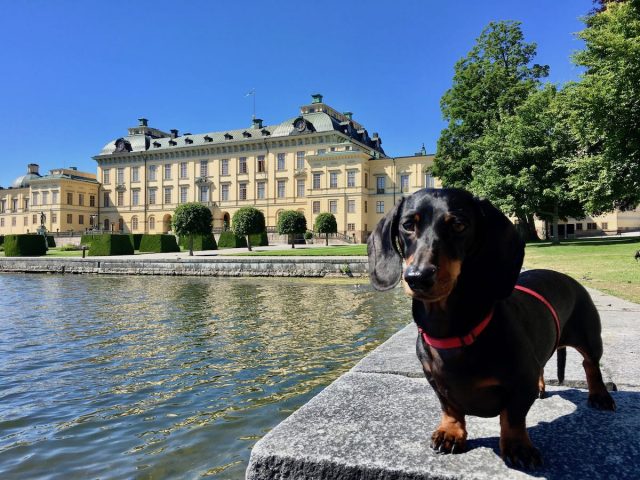 #15 Edinburgh, United Kingdom
Finally, I couldn't resist including Edinburgh as one of the most dog-friendly cities in Europe to visit. Although dogs aren't allowed to visit the famous Edinburgh Castle with you, there's still plenty more to do with your dog.
Enjoy a walk with your dog along the Royal Mile, linking the Palace of Holyrood and Edinburgh Castle. If you're feeling energetic, ascend to the top of nearby Arthur's Seat for views across the city and surrounding countryside. Dogs are even welcome on many sightseeing buses, plus inside the Camera Obscura and World of Illusions.
If the weather is fine, consider heading to one of the nearby dog-friendly beaches, including some where dogs are allowed on the sand year round.
Find out more about visiting Edinburgh with a dog.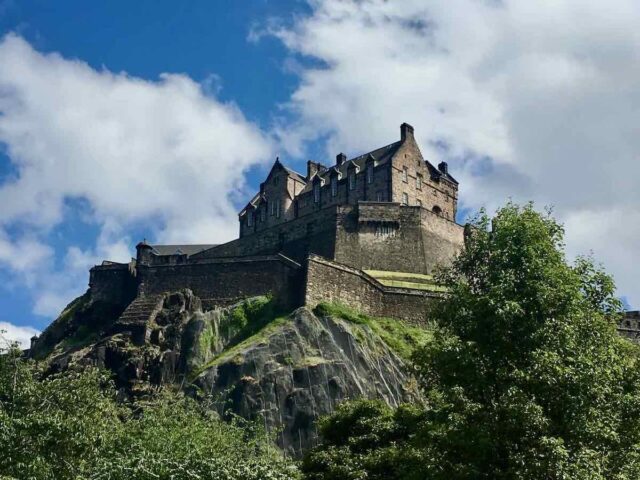 You May Also Like