Located amongst the tall forests of southwestern Western Australia, about a four hour drive south of Perth, the small town of Pemberton is a popular destination for tourists looking for scenic forests, cool-climate wines and truffle hunts. Find out what to do and where you can stay when visiting Pemberton with a dog.
Dog-Friendly Sightseeing in Pemberton
The town of Pemberton is surrounded by national parks, which are off-limits if you are visiting with a dog. This includes the popular Gloucester Tree with its lookout point, located just outside of the town in the Gloucester National Park.
However, there are still dog-friendly things that you can do in Pemberton with your pup…
#1 Stroll Through the Big Brook Arboretum
While many of the forests that surround Pemberton are located within national parks, there are still a number of state forests that it is possible to visit with your dog. One of these is the Big Brook State Forest, the site of the original timber mill that led to the town being established, which has regenerated since the 1920s.
Within the Big Brook State Forest, don't miss visiting the Big Brook Arboretum. This arboretum features a variety of exotic tress that were planted to see how they would grow locally, including stands of American redwoods and conifers.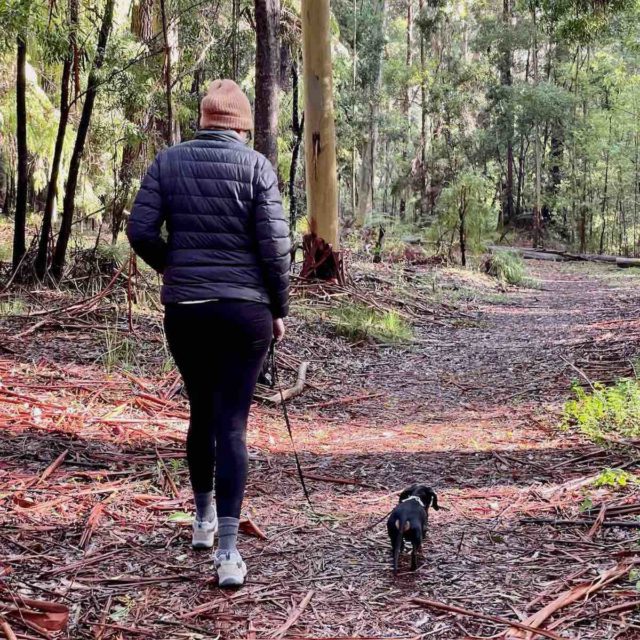 It's a short stroll through the forest, adjacent to a picnic area and the campground (see below). Just keep your dog on a leash. The final 3km stretch of road to the Arboretum is unsealed, but well-maintained and suitable for 2WD vehicles.
#2 Walk Around Big Brook Dam
When driving to the Big Brook Arboretum, you'll also pass the Big Brook Dam. While the dam was only built during 1986 as a local water supply, it is surrounded by forests that date back to the 1920s and 1930s. The sealed road from Pemberton finishes at the information bay at the dam.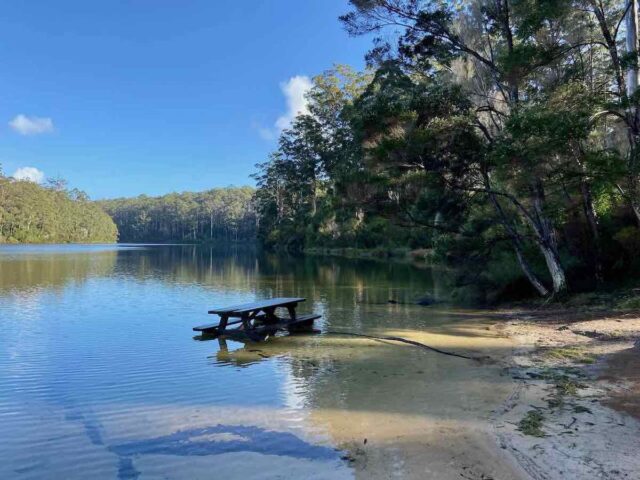 There's a 4.2km-long walking path that loops all the way around the Big Brook Dam, which is handily paved so it's suitable even for strollers, plus mud-free. There's also a walking trail that links the western edge of the dam with the Arboretum.
Dogs are welcome at the dam on a leash, except for at the beach area and in the water, so skip the temptation to paddle in the dam's chilly waters with your pup. The dam is also a popular spot for trout fishing in season.
#3 Follow Part of the Karri Forest Explorer
Many of the attractions that surround Pemberton are linked together by the 86km-long Karri Forest Explorer. While parts of this drive pass through Gloucester, Greater Beedelup, Warren and Hawke National Parks, that you'll need to skip (other than driving through on the highway and not stopping), there are some attractions along the way that are outside of national parks.
After visiting the Big Brook Dam and Big Brook Arboretum, continue on the unsealed road that leads on from the camping ground to Channybearup Road and Manjimup. The forest road is well-maintained, so no issue in a 2WD vehicle in my experience.
Firstly, stop off at Warren River Cedar. A short boardwalk passes through this stand of cedar, with dogs on a leash allowed to join you. It's an easy, pretty walk through natural surroundings.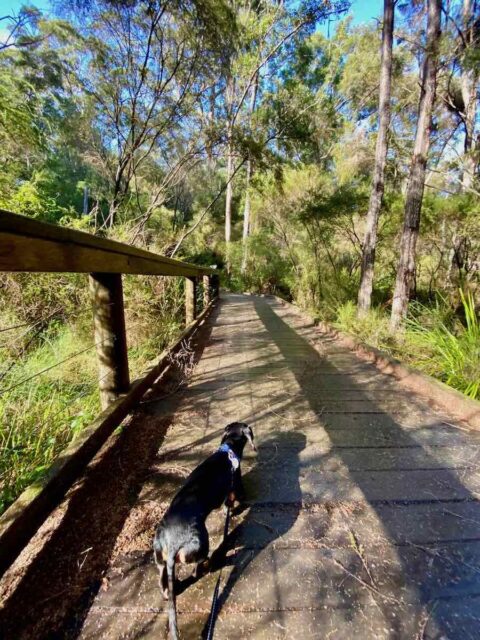 Soon after, you'll reach the Big Karri. This gigantic 300-year old tree is a magnificent sight to behold, and is right next to the carpark. Once again, keep your dog on a leash at this attraction.
#4 Ride the Pemberton Tramway
After closing for much of 2023, the Pemberton Tramway re-opened in July 2023 under new ownership. And yes, they're still dog-friendly!
Enjoy a ride along the tramway through the beautiful kauri forests surrounding Pemberton. The 75 minute return trip starts in the heart of Pemberton and then journeys to the delightful Cascades, crossing three bridges. After spending 25 minutes at the Cascades, you'll then be returned to Pemberton.
Currently, the tramway operates twice daily on weekdays except Wednesday, then three times on Saturdays. It also operates on some Sundays during school holidays. Tickets can be booked online or at the ticket office.
#5 Sample Some Cool-Climate Wine
The Pemberton wine region is one of the many wine-growing regions that dot southwestern Western Australia. This relatively small wine region around Pemberton and Northcliffe is best known for its cool-climate wines, including pinot noir and chardonnay.
There are a number of cellar doors that are open to the public, particularly on weekends. One of the dog-friendly cellar doors is Hidden River Estate and Restaurant, on the way to Big Brook Dam. Open from Wednesday to Sunday, with wine tasting free if you are dining, dogs are allowed at the outside tables.
It's best to contact wineries in advance to confirm if dogs are allowed, or ask at the visitor centre for recommendations.
Dog-Friendly Accommodation in Pemberton
There's a wide range of dog-friendly accommodation available in Pemberton and the surrounding region, perfect for a weekend away or if you're visiting the area on a road trip with your dog.
If camping in Pemberton with a dog, the best place to stay is at the Big Brook Arboretum Campground. It's a beautiful location surrounded by forest, and particularly peaceful during the depths of winter (based on my own experience!)
The basic campground only has toilets, BBQs and picnic tables. Bookings are not possible, with a fee of $11 per adult per night charged for camping ($7 for concession card holders, $3 for children). There are no restrictions on dogs, other than they need to be leashed.
When I last visited Pemberton, due to the heavy rain that was falling, we instead stayed at the Pemberton Caravan Park in town. The park is dog-friendly on sites outside of long weekends and school holidays. If arriving after 5pm, it is important to pre-book, otherwise an additional fee is charged.
If you're looking for something more luxe, a wonderful option is Stargazers, halfway between Pemberton and Nannup. Choose between six cottages, most with their own private spa, or the wonderful glamping tents. Request permission in advance for your pet to join you, with an additional fee of $50 applying.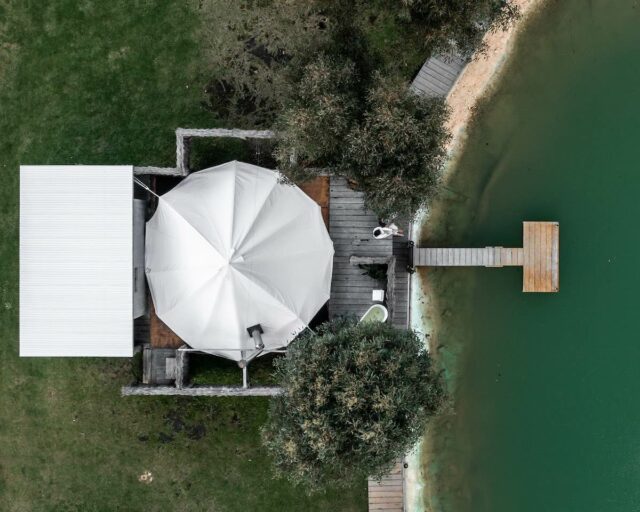 Head Next To
About the Author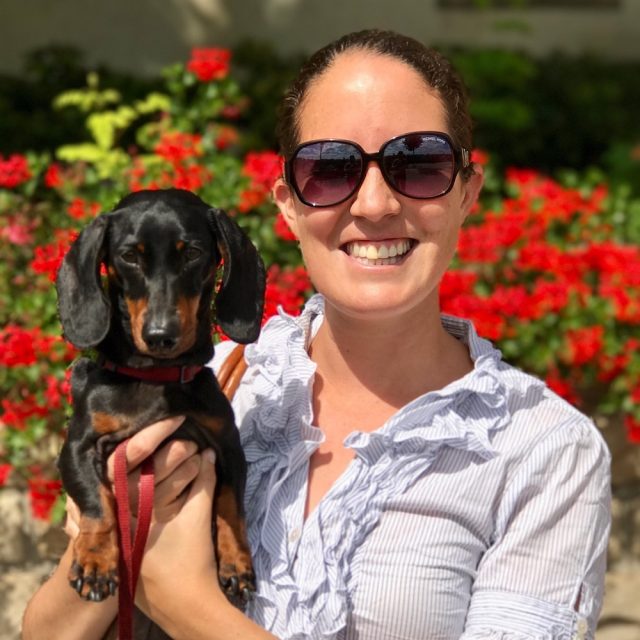 Shandos Cleaver is the founder of Travelnuity: Dog-Friendly Travel. She has travelled extensively with her Miniature Dachshund, Schnitzel, including to 33 countries across Europe, every state and territory of Australia except Tasmania, and 10 of the United States. She's passionate about providing inspiration and information to others wanting to travel with their dogs, whether close to home or internationally.