Dunsborough in southwestern Western Australia is the northern gateway to the Margaret River wine region, plus a terrific seaside destination in itself. Find out what you can do when visiting Dunsborough with your dog, plus more tips on where to stay and dine out.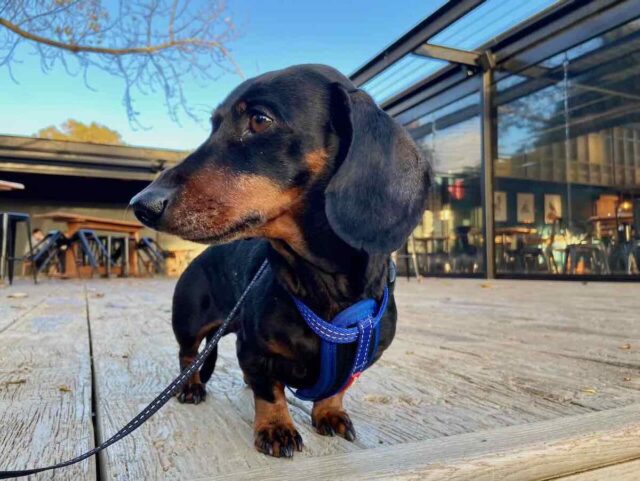 Dog-Friendly Beaches in Dunsborough
Dunsborough is located on the calm waters of Geographe Bay, and luckily there's plenty of off-leash beaches where your dog can enjoy a paddle or just a run on the sand, both in town and along the coastline east and west of the town.
Firstly, dogs are allowed off-leash along much of the Dunsborough Foreshore. From east to west, dogs are allowed off-leash year round:
Between the beach access path west of Tulloh Street and the Centennial Park carpark beach access path
Between the Gifford Road beach access path and the Burt Circuit beach access path
Between the end of Vincent Street and the end of Bay View Crescent
Dogs are also seasonally allowed off-leash on the beach between the Burt Circuit beach access path and the end of Vincent Street, but are prohibited from the sand between 9am and 5pm over the summer, between 1st December and 28th February. Dogs are prohibited year round from the beach in between the Gifford Road beach access path and the Centennial Park carpark beach access path.
For a clearer overview of these regulations, check out the map in this brochure. Alternatively, check the local signage.
Heading east of Dunsborough, dogs are allowed off-leash year-round or at least seasonally along most of the foreshore, alongside Quindalup, Marybrook, Siesta Park, Abbey and Broadwater. The one exception is along Locke Nature Reserve, where dogs are prohibited. See the local signs or the map in the above brochure.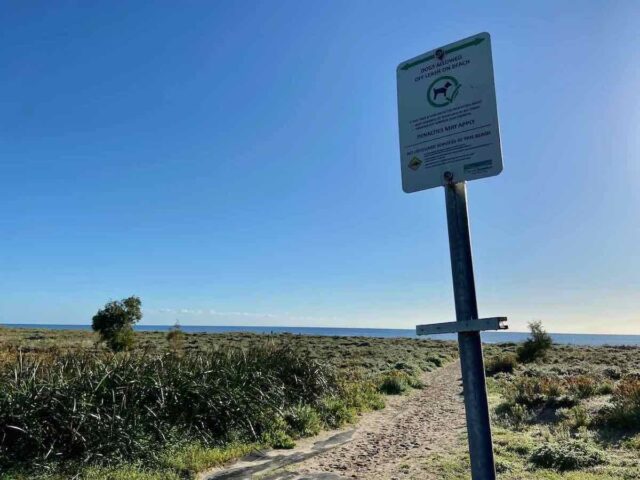 Dogs are also allowed off-leash year-round at these beaches west of Dunsborough:
Eagle Bay, in between the public access way and 450m north of Jingarmup Brook
Bunker Bay, in between the Bunker Bay Cafe access track and the national park boundary
Smiths Beach, north of the Dawson Drive beach access path
If visiting the beaches during the spring time, in between September and early December, keep an eye out for whales in Geographe Bay. Whales returning south often enter the bay to rest and nurse their young.
Dog-Friendly Parks in Dunsborough
The default rule for dogs in the City of Busselton council area surrounding Dunsborough is that dogs are allowed off-leash on all grassed areas in the city's parks and reserves. However, there are a few exceptions to this rule, which are generally signposted.
Dogs need to remain on-leash along the grassed reserve at the Dunsborough Foreshore, in between Gifford Road and the Centennial Park carpark. Dogs also need to stay on leash in Lions Park and Seymour Park. In Yallingup, dogs need to stay on leash in the grass reserves in between the coast, Yallingup Beach Road, Valley Road and Dawson Drive.
Dogs are prohibited from the Meelup Regional Park to the west of Dunsborough, except for the Eagle Bay dog exercise beach and on-leash in Dugalup Brook Reserve. They are also prohibited in the nearby Cape Leeuwin-Naturaliste National Park.
Dog-Friendly Wineries near Dunsborough
Dunsborough is quite close to the Yallingup area in the Margaret River wine region, with plenty of local cellar doors that welcome dogs to join you when tasting wine, including some that allow dogs inside.
One of the most dog-friendly wineries in Yallingup, in fact in the entire Margaret River region, is Swings & Roundabouts. As well as a beautiful outdoor area, including its distinctive swing seats, we also noticed that some dogs were sitting inside the semi-enclosed dining area with their owners. Look out for the cute dog drinking station outside!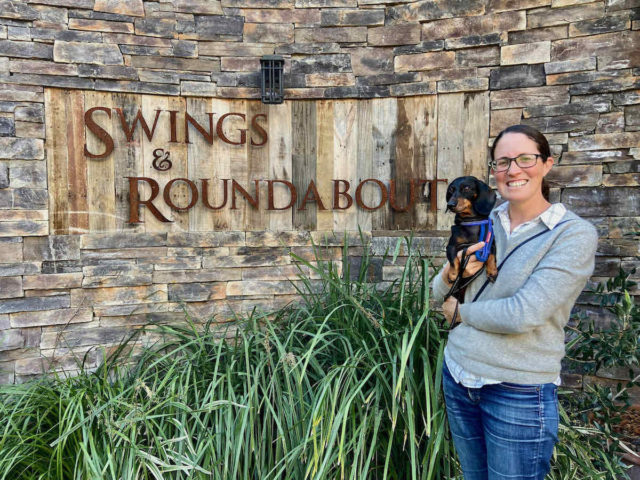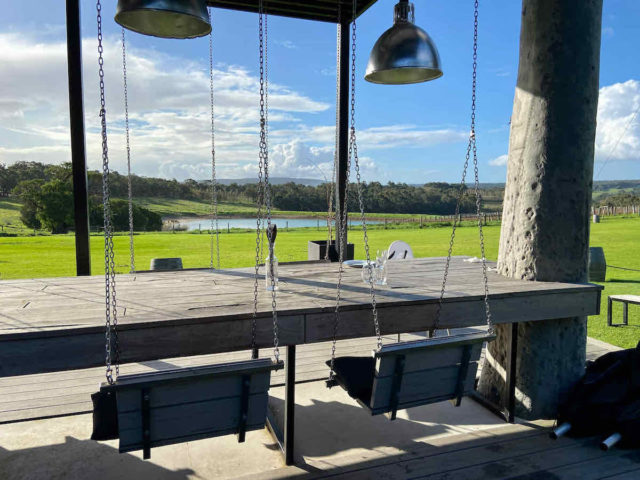 Another dog-friendly winery nearby is Woody Nook Wines in Wilyaburp, also home to the acclaimed Nookery Cafe. The cellar door is open daily. Alternatively, head to Flametree Wines, just east of Dunsborough. Dogs are welcome to join you on their large lawn with picnic tables and dog water bowls provided.
For more dog-friendly wineries, search on the Margaret River website – just apply the pet-friendly filter. A list of dog-friendly wineries can also be picked up if you drop into the visitors centre, although it doesn't specify whether dogs are allowed inside.
If you're more of a beer drinker, I recommend that you drop into Wild Hop Brewery in Yallingup. Dogs are permitted on the deck at the brewery, including in the enclosed section, plus on the grass, overlooking the picturesque dam. Choose your own tasting paddle from the ten taps of batch-brewed beer.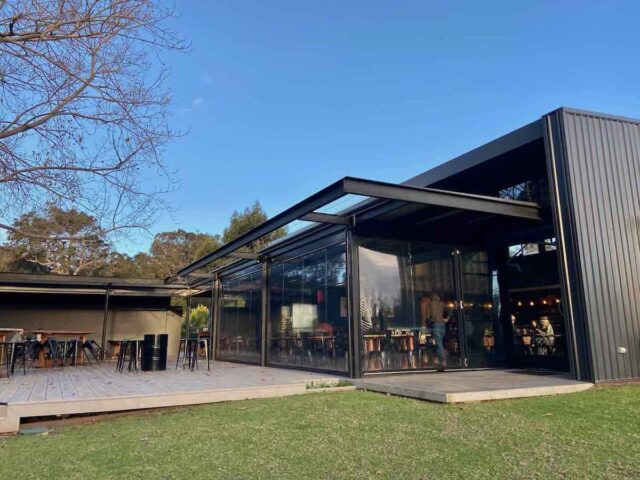 And whether you're visiting wineries or breweries, consider having someone else do the driving. The recently launched Boozey Bus Rides service in Dunsborough can offer winery drop-off and pick-ups or all-day tours, with dogs welcome as well as they're better behaved than their owner!
Dog-Friendly Dining in Dunsborough
Dunsborough and the surrounding area is home to plenty of cafes that will welcome your dog to sit by your side.
One of the most popular dog-friendly cafes in Dunsborough is Conscious Craves Cafe, with its beautiful relaxing garden. Open daily for breakfast and lunch, the cafe has an excellent list of toasties, plus plenty of plant-based food options. Not to mention the staff warmly welcome dogs!
Dogs are also welcome to join you at Artezen, another cafe in the centre of Dunsborough. Open from Tuesday to Sunday, the cafes has plenty of dog-friendly outdoor seating out the front.
Alternatively, including if you're after a meal in the evening, head to the beer garden at Occy's with your pup. Open until 8pm from Tuesdays to Saturdays, choose between a long list of pub favourites and pizzas, plus their range of in-house brews.
If you'd like to brunch outside of town, head to Goanna Bush Cafe. This dog-friendly cafe is a rustic establishment surrounded by bush, serving up creative breakfast and lunch dishes. Bookings are recommended on weekends.
Finally, dogs are welcome to join you when picking up an ice-cream from Simmos Ice Creamery, the highly-rated local ice-cream store in Quindalup. Just as well, as it may be a hard decision – they offer over 60 flavours!
Dog-Friendly Accommodation in Dunsborough
One of the most dog-friendly caravan parks in all of Western Australia is located just outside Dunsborough, Southern Stars. Dog owners are actually encourage to bring their pets to this caravan park, which has excellent facilities for dogs.
The park contains multiple fenced sites, both powered and unpowered, meaning that you can allow your dogs to roam around your site off-leash. There's also a fenced off-leash area that all pups staying at the park can enjoy. And if you're heading out to the local national parks, the reception can provide you with a list of local dog-sitters.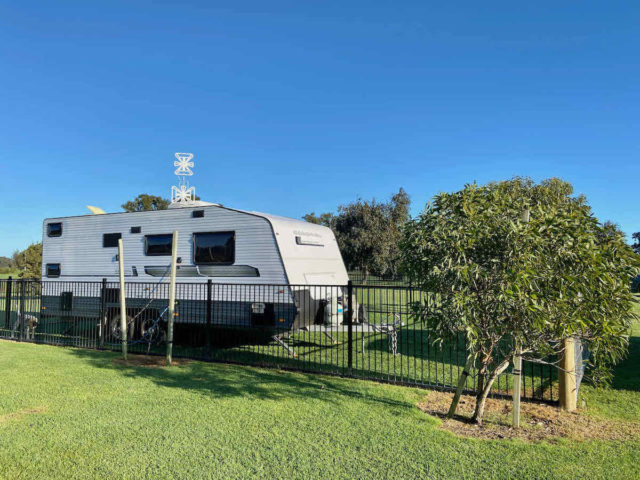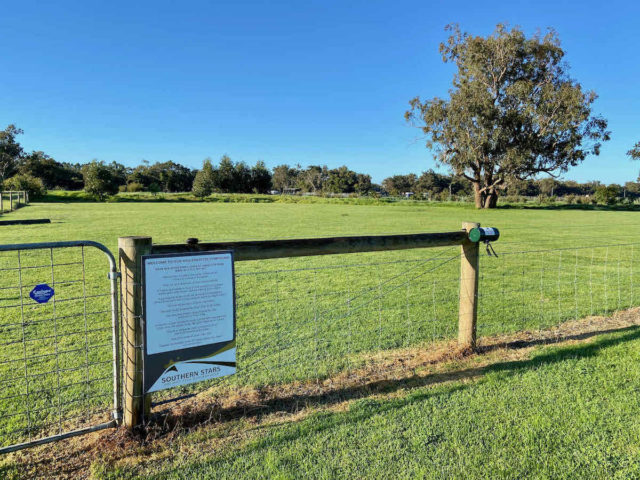 There's also terrific amenities for humans at the caravan park, including a large camp kitchen, lounge, and ensuite-style bathrooms. Not to mention everything is very new and modern.
Dogs are also allowed to stay year round at the Four Seasons Holiday Park on Caves Road and at the Dunsborough Lakes Holiday & Caravan Park. At the Four Seasons, selected cottages are dog-friendly (although no linen is provided in these), plus there is a DIY dog spa – an essential after long days at the local off-leash beaches!
Note that the Tasman Holiday Parks at both Yallingup Beach and Yallingup Caves only permit dogs on sites outside of peak season (which lasts from December to April at Yallingup Beach!)
For more dog-friendly accommodations nearby, head just north to Busselton where there are two great resort options that allow pets to join you, without needing to bring a caravan or tent.
Pets are permitted in selected glamping tents and park cabins, but not villas, at Busselton Villas & Glamping Village. Pets are allowed inside, with up to two small-medium or one large dog permitted. An additional charge of $20 applies per dog per night, with beds, bowls and pet blankets provided. Note the village is only open between late September and June.
Pets are also welcome to stay in pet-friendly units at Broadwater Resort outside of the peak summer and Easter holiday periods. Depending on the size of the unit, up to two pets are permitted. Dogs are allowed inside, with their own bed, blanket and bowl provided. An additional fee of $33 per dog per night applies, plus a pet bond is temporarily held.
Head Next To