The town of Merimbula is a delightful destination on the Far South Coast of NSW, including if you're visiting with a dog. Find out more about the dog-friendly beaches, walks and cafes to choose from, plus the pet-friendly accommodation options around Merimbula.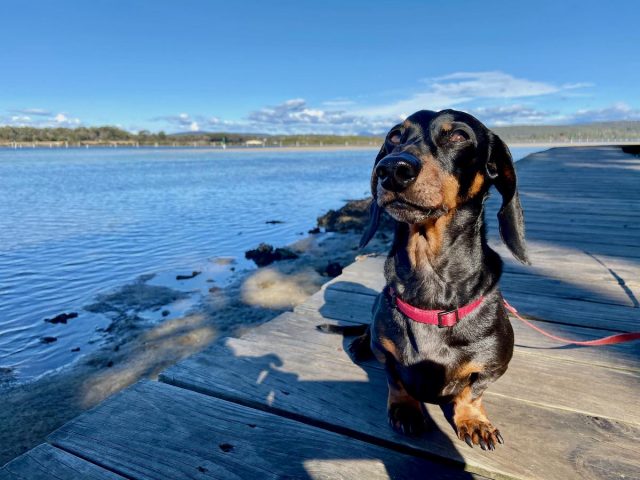 Dog-Friendly Beaches in Merimbula
There are multiple dog-friendly beaches in around Merimbula where dogs are allowed off-leash by the local council.
For starters, the Merimbula Main Beach is dog-friendly along most of its length, except for the northernmost section. The off-leash section of this long sandy surf beach starts at Dunns Lane and extends south of Merimbula Airport.
For a more sheltered beach outing in Merimbula with your dog, head instead to Bar Beach. The off-leash section starts immediately in front of the Bar Beach Kiosk and extends about 200m towards Spencer Park. However, during the warmer months between December and April dogs are prohibited from the beach between 10am and 4pm – head there early or late in the day.
Just north of dog-friendly Merimbula, there is an off-leash section of the large and sandy Tura Beach. The off-leash area starts from the carpark off Pacific Way, accessible between houses 204 and 204, and extends to Short Point Beach Carpark, just south of the golf course.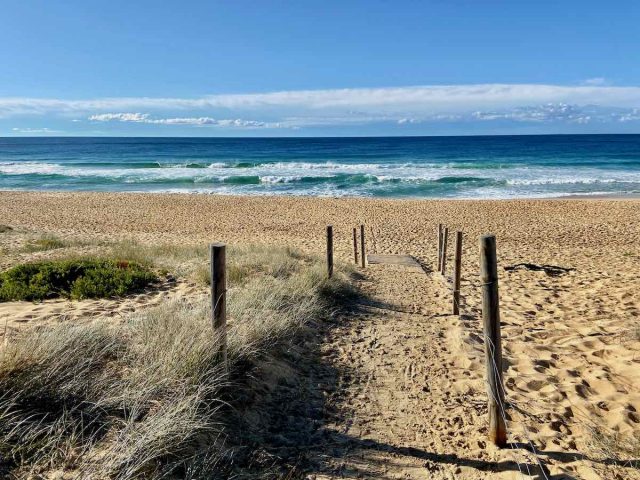 Alternatively, head south to Pambula Beach, where part of Lions Park Beach is off-leash. Dogs are allowed off-leash north of the pedestrian access path to this beach, located adjacent to the Lions Park. It's a fairly safe spot to let your dog off leash, with no easy access except for the one walkway.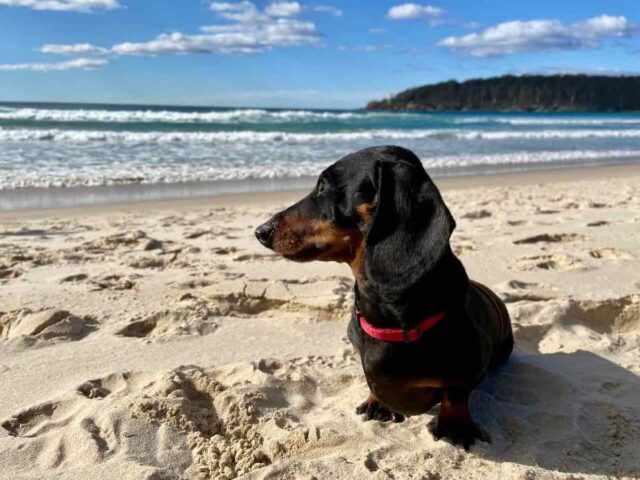 Dogs are also allowed on-leash on most other beaches in the region (outside of national parks), except for the seasonal prohibition at Bar Beach, plus within 100m of patrolled areas at Main Beach, Short Point and Pambula Beach. Note that the sand flats in front of Spencer Park are on-leash only.
Dog-Friendly Sightseeing in Merimbula
In addition to visiting the multiple off-leash beaches located around Merimbula, there's a number of other fun things to do in Merimbula with dogs.
#1 Walk the Merimbula Boardwalk
One of the most popular walking paths around Merimbula is the Merimbula Boardwalk. This boardwalk follows the northern edge of Merimbula Lake, on the western side of the bridge.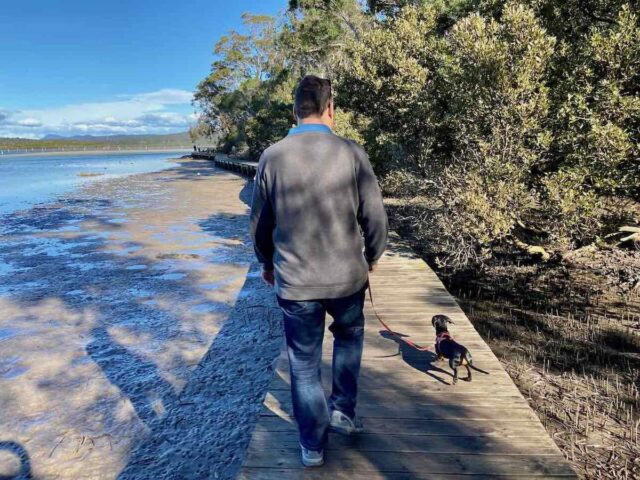 About 2km long in each direction, connected by a few shorter sections of footpath, along the way you'll pass some of the local oyster farms. There's also signs about the local marine life and vegetation.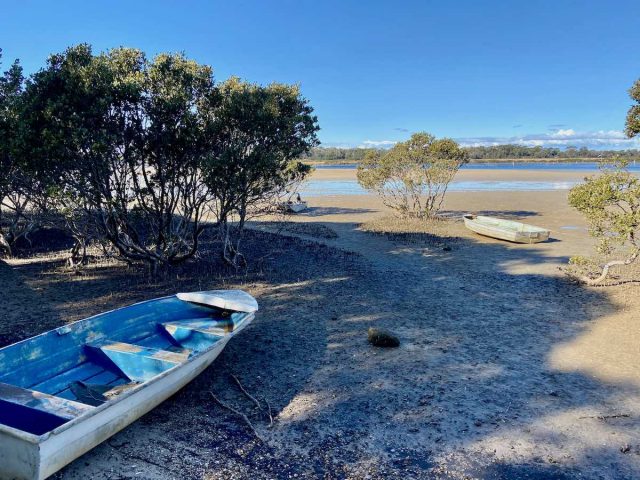 To access the walk, park either on the western side of the bridge or in the carpark on Lakewood Drive. Note that dogs need to be kept leashed at all times on the boardwalk and adjacent areas. Allow about 1-2 hours for a leisurely stroll (with plenty of stopping to sniff).
#2 Taste the Local Oysters
Speaking of oysters, Merimbula Lake is home to some of the tastiest oysters on the South Coast of NSW. To sample some of the local product, there are multiple places you can visit with your dog.
For a fancier experience, head to Wheeler's, just south of the Airport. While dogs are not allowed inside the proper restaurant, leashed dogs are welcome both at the Takeaway area, plus the al fresco Oyster Bar. Enjoy a plate of oysters or choose from the other snacks on the menu, accompanied by a glass of wine or cocktail.
Another place to pick up oysters at a great price is McKay's Oysters, a little further down the road. Don't expect any lemon on the side and it was cash only when I visited, but the freshly shucked oysters were very tasty.
#3 Follow the Mundooi Walk at Tura Beach
Another dog-friendly walk close to Merimbula is the Mundooi Walk at Tura Beach. Named after a local Aboriginal term meaning "to walk with your feet", start this walk from the carpark at the northern end of the off-leash dog area on Tura Beach, located in between houses 204 and 206 on the Pacific Way.
Follow the walk south for 1.8km to Short Point. Along the way you'll pass through some dense stands of melaleuca, even a patch of rainforest, before climbing over the sand dune to finish. Return by the same route, or alternatively return along the beach. Dogs are allowed off-leash between the Short Point Beach Carpark and the carpark at the starting point of the walk.
Note that dogs should be kept on a leash, and try to keep quiet to increase your chance of seeing some local wildlife. You might spot yellow-tailed black cockatoos, smaller nectar feeders and even goannas.
#4 Head to Longstocking Brewery
Don't miss heading south of Pambula to the Oaklands complex. In addition to a garden centre and cafes, it's also home to Longstocking Brewery.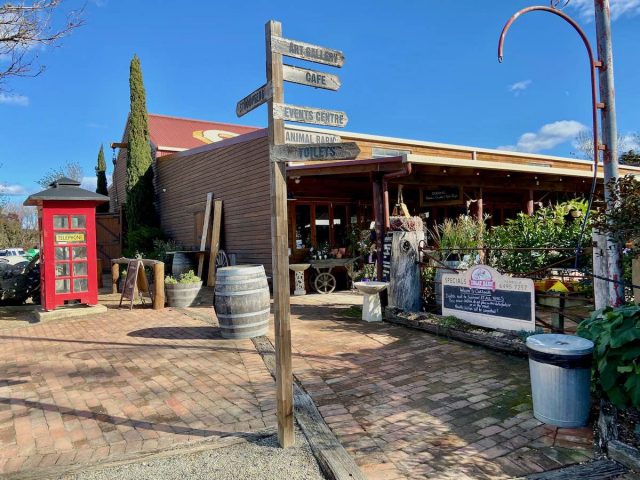 At the brewery, enjoy a small or large size tasting paddle from their rotating selection of beers and ciders, all brewed on site. Takeaway bottles are also available if something takes your fancy.
In addition to beers, they also have a oyster bar and a gin bar, featuring locally distilled gin. Wood-fired pizzas are available daily at lunchtime, plus for dinner on Thursdays, Fridays and Saturdays. Dogs are welcome to join you.
Dog-Friendly Parks in Merimbula
If you'd prefer some off-leash time with your dog at a park rather than a beach, there's one off-leash dog park close to Merimbula. A section of Short Point Recreation Reserve, at the end of Short Point Road, has been designated off-leash, between the holiday park and the cliffs.
During the winter months, also keep any eye out for migrating whales!
Dog-Friendly Restaurants in Merimbula
There's plenty of dog-friendly dining options in and around Merimbula. As mentioned above, head to Longstocking Brewery for wood-fired pizzas or the oyster bar. Oysters are also on the menu at the dog-friendly al fresco Oyster Bar at Wheeler's, alongside seafood and cheese platters.
In the centre of Merimbula, one of the best cafes to visit is the Waterfront Cafe. Their large outdoor seating area is dog-friendly and very popular with both local and visiting dog owners. The cafe is open daily for breakfast and dinner.
Pet-Friendly Accommodation in Merimbula
There's a wide range of pet-friendly accommodation options in and around Merimbula, whether you're wanting to stay at a caravan park, or in a pet-friendly holiday unit. Check out these options for your dog-friendly holiday to Merimbula.
Note: This post contains affiliate links, which means I may receive commission if you make a purchase using the links. See my full disclaimer.
Dog-Friendly Holiday Units in Merimbula
A great pet-friendly option in Merimbula are the Top of the Lake Holiday Units, at the top end of Merimbula Lake. There are multiple one- and two-bedroom holiday units, each with an enclosed balcony and courtyard. Dogs of any size are welcome, for no additional charge. Dogs are allowed inside, plus there is a grassy lawn to share.
Another terrific pet-friendly holiday rental near Merimbula is Heaven No 1 at Pambula Beach. The owner has truly made this two bedroom cottage extra pet-friendly, with a dog-proof six-foot high fence and extras including pet bowls. Recently renovated with aircon, it's just a short walk from the off-leash Lions Park Beach.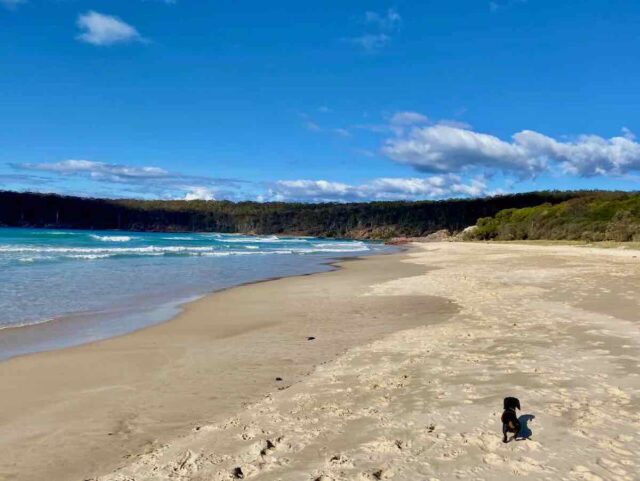 Before booking other holiday rentals, always double check the rules for dogs, especially whether dogs are allowed inside, before booking.
Dog-Friendly Cabins & Caravan Parks in Merimbula
Two pet-friendly caravan parks in Merimbula are the Sapphire Valley Caravan Park and Merimbula Lake Holiday Park. The Merimbula Lake Holiday Park allows pets year round on its many powered and unpowered sites, although there is a limit of one pet per site. At Sapphire Valley pets are allowed outside of the Christmas school holidays, both on powered sites and in the pet-friendly Hideaway Cabins.
Another park offering pet-friendly cabins is Beach Cabins Merimbula, at Short Point. As the name suggests, the park consists entirely of cabins. Other facilities include a swimming pool, BBQs and outdoor dining area.
Pets are welcome in selected cabins most of the year, outside of the peak Summer school holidays and Easter periods. Pet-friendly cabins range in size from one- to three-bedrooms and must be booked directly, with an additional cleaning fee of $30 per pet. The cabins are right next to the local off-leash exercise area and close to the off-leash section of Tura Beach
Head Next To