An idyllic spot on the South Coast of NSW, Narooma is a great spot to head to for a chilled getaway with your dogs. The small town is located on the Wagonga Inlet, halfway between Batemans Bay and Bega.
There's plenty of dog-friendly options around the town, from walks to beaches to camping grounds, plus other dog-friendly sightseeing options, like the gorgeous historic villages of Tilba. Read on to find out more…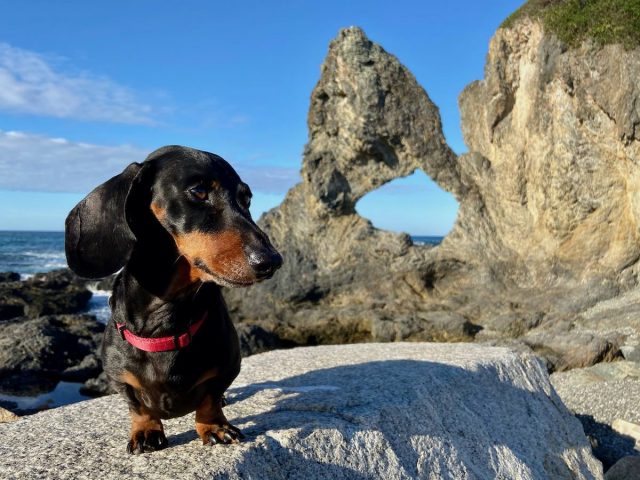 Dog-Friendly Accommodation in Narooma
Two of the best dog-friendly campsites around Narooma are Dalmeny Campground and Mystery Bay Campground. The camp sites are run by the Eurobodalla Council, and while offering only basic facilities (don't expect swimming pools or jumping pillows!), both are beautifully located next to the beach. Plus, they both welcome dogs year round, provided they are on a leash and well behaved.
We stayed the night at Mystery Bay Campground, which is about 10 minutes south of Narooma. The campground is next to Mystery Bay Beach, a timeshare beach, although dogs are allowed off leash all day long during the winter months, like when we visited. Just don't head with your dog past the end of Mystery Bay Road, into the area within the Eurobodalla National Park.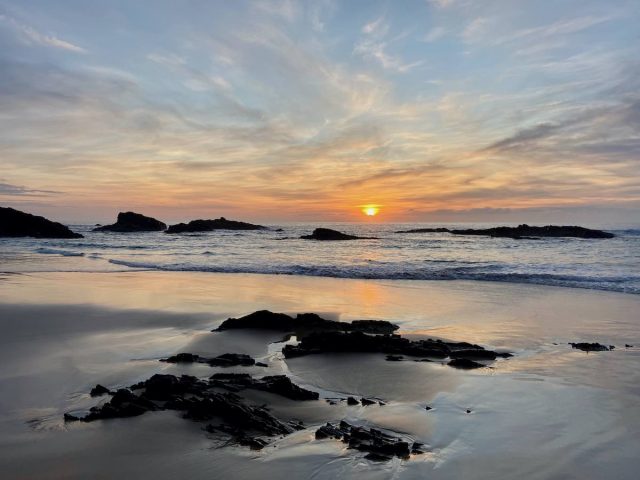 Facilities are very basic at this dog-friendly beachfront campground, with only pit toilets and cold showers, plus no powered sites. However, this is reflected in the affordable rates of $18 per adult during the few peak periods (Christmas holidays, Easter long weekend, October long weekend). It's $12 per adult during the rest of the year, plus there's cheaper rates for pensioners and children. Previously not taking bookings, it's now possible to book online.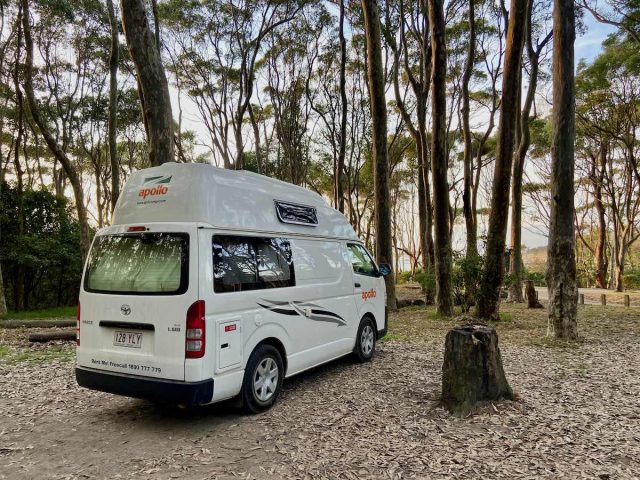 Dalmeny Campground is 10 minutes north of Narooma and offers more facilities, such as proper toilets and hot showers, along with powered sites. Site rates for powered sites including two adults are $31 per night during the off-peak period, from May to mid-September, increasing to $37 in shoulder season and $56 in peak season. Unpowered rates are cheaper.
Dalmeny Campground is the starting point of the dog-friendly Dalmeny Coastal Walk. It's also close to the off-leash Dalmeny Reserve and the timeshare off-leash Josh's Beach. Note that you can't take dogs on the boardwalk to the beach north of the creek, as it is part of Eurobodalla National Park.
If you'd prefer to stay closer into Narooma, perhaps in a cabin, your best option is Surf Beach Holiday Park. The park is pet-friendly outside of the Christmas school holidays, plus the Easter, June and October long weekends. (See their full pet policy.) Pets are allowed on all sites plus inside selected cabins, just not on furniture or beds. The nearby northern end of Surf Beach is 24-hours off-leash.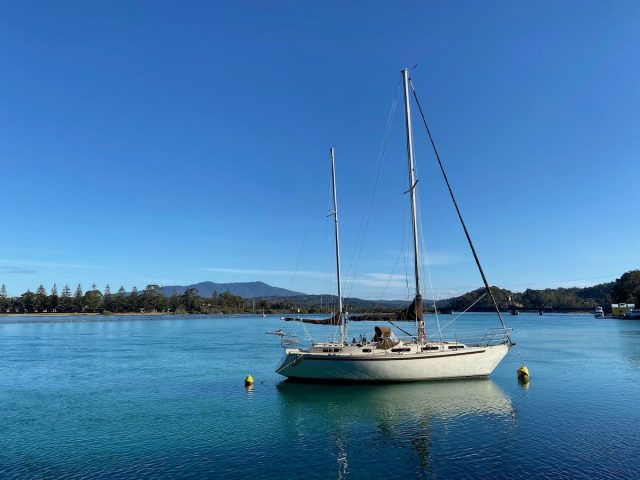 Alternatively, there's a variety of pet-friendly holiday rentals around Narooma. Buena Vista 62 is situated in North Narooma, with views across to Narooma Bar and Australia Rock. Sleeping up to eight guests, there's a well-equipped kitchen and even a fireplace for the cooler months.
The back deck and yard is fenced, and it's just a short walk to the Mill Bay Boardwalk and off-leash Narooma Bar Beach. (There's even an outdoor shower for afterwards!)
Dog-Friendly Cafes in Narooma
There's plenty of relaxed cafes around Narooma that welcome dogs in their outdoor seating areas.
One of my favourite spots in the area, although not in Narooma itself, is the Tuross Boatshed & Cafe. Located in Tuross Head, about 35 minutes drive north, the cafe is absolute waterfront, on the wharf next to the lake, perfect for chilling out with your dog at your feet.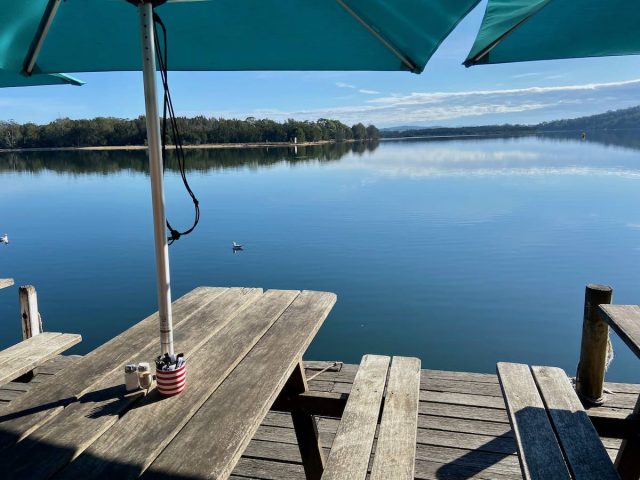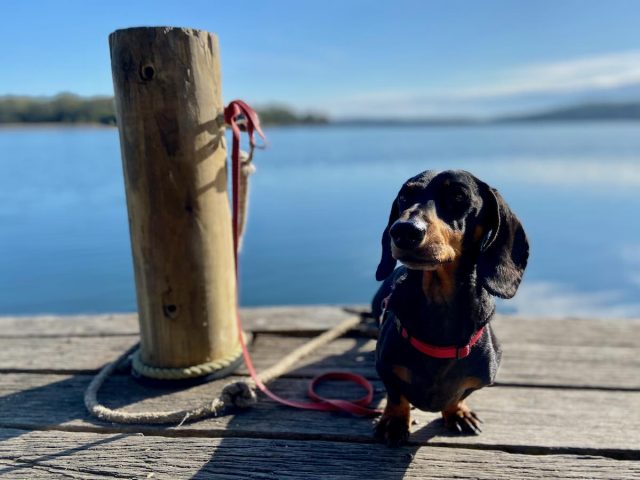 As well as coffees and beers, the cafe also has an affordable food menu with standard fare such as fish 'n' chips and burgers. Just be warned it usually closes at 4pm, except for on Fridays and Saturdays when it stays open until 7pm.
Right next door is the Pickled Octopus Seafood and Thai Cafe, which is also dog-friendly out on the deck. The highly-rated cafe is open for both lunch and dinner, except on Mondays and Tuesdays.
Within Narooma, a highly-rated option is salt, located directly on the inlet and focused on local produce and sustainability. They're open for breakfast and lunch except on Wednesdays, with dogs welcome on the deck.
Other dog-friendly cafes in Narooma include Surfbeach Cafe, Casey's Cafe and Raven Cafe & Grill – just double-check in advance that dogs are still permitted, and for the latest opening hours.
Dog-Friendly Beaches in Narooma
Around Narooma there are plenty of dog-friendly beaches, divided into 24-hour off-leash beaches and timeshare beaches. With timeshare beaches, dogs are only permitted on the beach before 9am or after 5pm, whether on- or off-leash, plus all day long from May to October. There's also a handful of beaches that prohibit dogs, that are clearly signposted.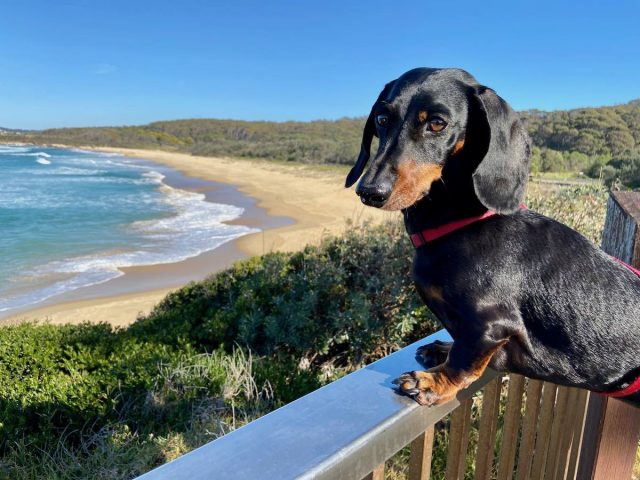 Some of the 24-hour off-leash beaches around Narooma include, from Tuross Head in the north and south to Wallaga Lake:
Coila Beach, Tuross Head: Dogs are allowed along the southern section of this long surf beach, until the national park boundary, except in the shorebird nesting area behind the dunes on the northern side of the lake. Dogs are also allowed on Plantation Beach and One Tree Beach North in Tuross Head on a timeshare basis, but dogs are prohibited from One Tree Main Beach
Jemisons Beach, Potato Point: The small community of Potato Point is surrounded by national park but dogs are allowed off-leash on this beach, from the headland south to the national park boundary. Dogs are also permitted on a timeshare basis on Potato Point Beach, north of the headland, until the national park boundary.
Duesbury Beach, Dalmeny: This small-ish surf beach on the south side of Dalmeny is a quiet off-leash option. It's a great spot to visit with your dog while walking along the Dalmeny to Narooma Coastal Walk. Dogs are also permitted on Josh's Beach on a timeshare basis, but are prohibited from Yabbara Beach.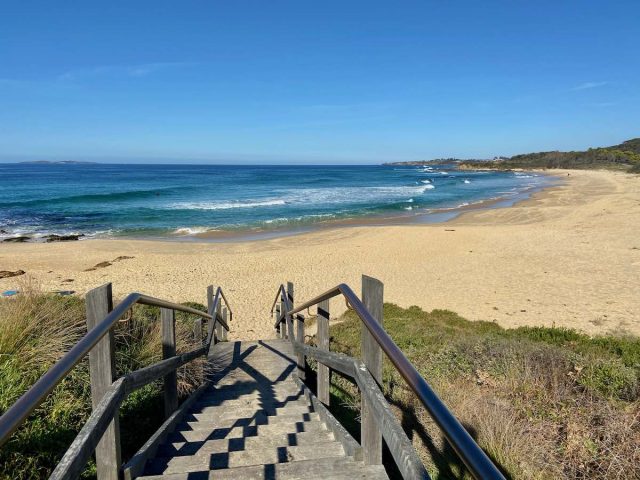 Kianga Reef Beach, Kianga: This long sandy beach is great for dog walking, with many dogs and their owners taking advantage of the lovely weather on the day we visited. Unmarked on Google Maps, it runs from Lakeside Drive south to the side road and parking area near Viewhill Road. Kianga Main Beach, to the north, is a timeshare beach, while Carter Beach prohibits dogs.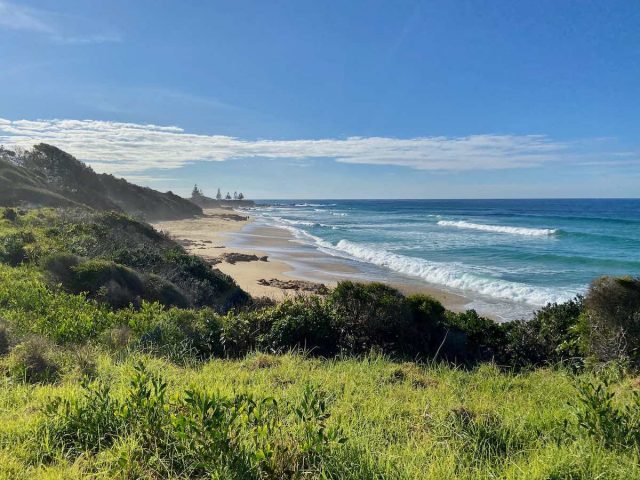 Bar Beach, Narooma North: Located immediately north of the Narooma Bar, dogs are allowed off-leash on this beach 24-hours, starting from 100m north of the break-wall (from the walkway). Note that dogs aren't allowed on either the north or south break-walls, the netted beach just inside the break-wall (also called Bar Beach South), and along the inlet foreshore (a shorebird nesting area). Be careful in the water – this beach can be quite rough.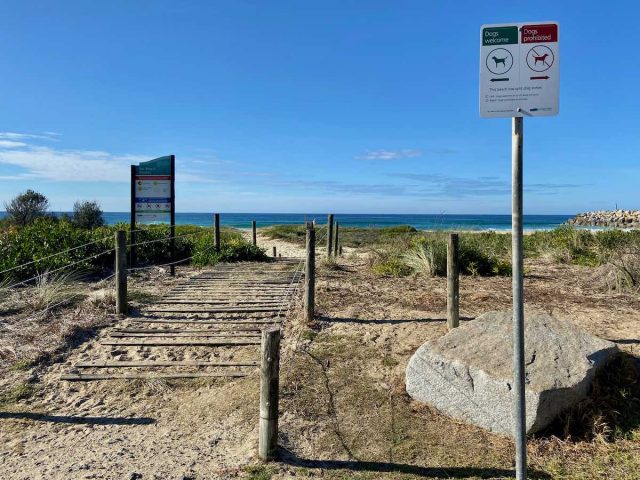 Narooma Main Beach, Narooma: Dogs are permitted 24-hours off-leash on the rocky northern section of this beach, from the end of the walkway. Dogs are prohibited on the rest of the beach.
Cemetery Beach, Narooma: Dogs are permitted 24-hours off-leash on the entire beach. Access is difficult, best attempted from a narrow, steep path next to the cemetery, at the northern end of the beach. At the southern end of the beach is the Glasshouse Rocks formation. It's not clear, but the off-leash area probably extends along the next few small coves further south.
Bullengella Lake Beach, Narooma: This beach is immediately north of Handkerchief Beach, behind Bullengella Lake. The northern section of Handerkerchief Beach, from the carpark north, is dog-friendly on a timeshare basis, while dogs are prohibited on the southernmost section.
Wallaga Beach, Wallaga: Just over 20 minutes drive south of Narooma, the whole of Wallaga Beach, stretching for a few kilometres north of Wallaga Lake, is 24-hour off-leash.
We also visited Mystery Bay Beach, which is a timeshare beach, except for past the end of the Mystery Bay Road where dogs are prohibited. The beach has lots of interesting rocky outcrops to explore, although isn't that safe for swimming.
For a full listing of beaches in the area check out the council website, which includes a handy map and printable one-page list.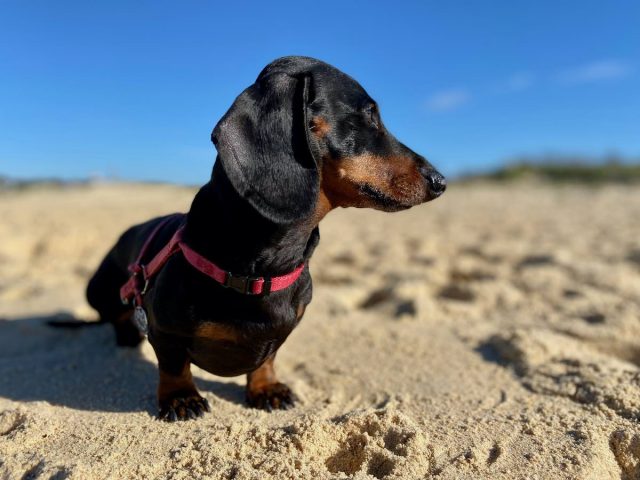 Dog-Friendly Parks in Narooma
The majority of the off-leash areas around Narooma are beaches, but there are also some off-leash parks available.
In the centre of Narooma, head to the NATA Oval, where dogs are allowed 24-hours off-leash, except during authorised events. The reserve is mostly (but not fully) enclosed, has water facilities and is popular with locals.
There's also a 24-hour off-leash reserve in Dalmeny, the un-named grass reserve on the northern side of the Mort Avenue and Thompson Parade roundabout. Unfortunately though, the area is quite small and it's near the main road.
Dog-Friendly Walks in Narooma
Narooma has a great selection of dog-friendly walks, where leashed dogs are welcome.
The highlight has to be the Mill Bay Boardwalk, on the northern side of Wagonga Inlet at Narooma. The 350m long boardwalk runs between the Apex Park and Riverview Road, and is an easy walk, especially if you regularly stop along the way to look for stingrays and fish.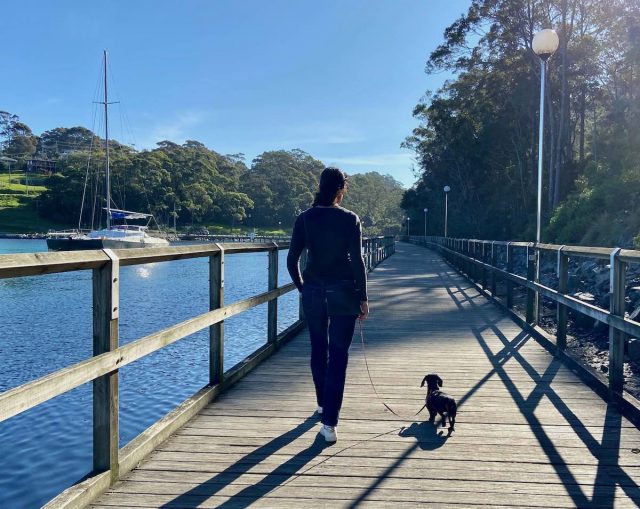 For a longer option, walk all or part of the dog-friendly Dalmeny to Narooma Coastal Walk. This shared pathway runs for 9km from Dalmeny Campground south to Bluewater Drive in the heart of Narooma, with the final section including the Mill Bay Boardwalk and the bridge across the inlet. The entire length is either paved or boardwalk.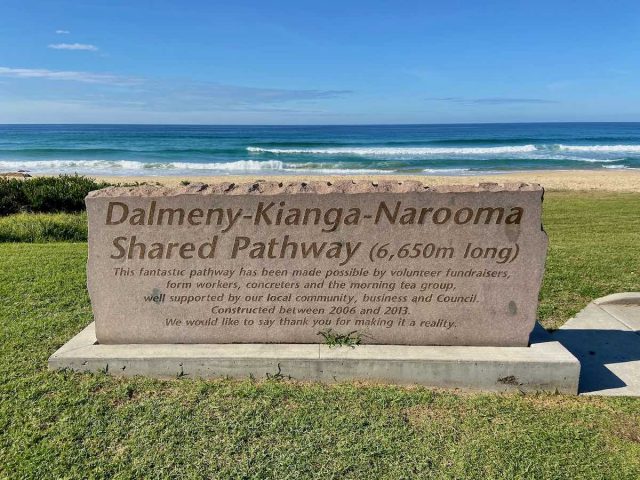 Along the way there's the option to walk instead along some of the dog-friendly beaches north of Narooma. Dogs are allowed 24-hours off-leash on Duesbury Beach, Kianga Reef Beach and Bar Beach North. Dogs are also allowed on a timeshare basis (24-hours in winter, but only before 9am or after 5pm in summer) on Josh's Beach and Kianga Main Beach, although they are prohibited from Yabbara Beach and Carters Beach.
There's plenty of car parks located along the length of the pathway, so there's always the option to park and just walk one section of it. The many signs provide information on the local natural environment, plus local history and Aboriginal culture.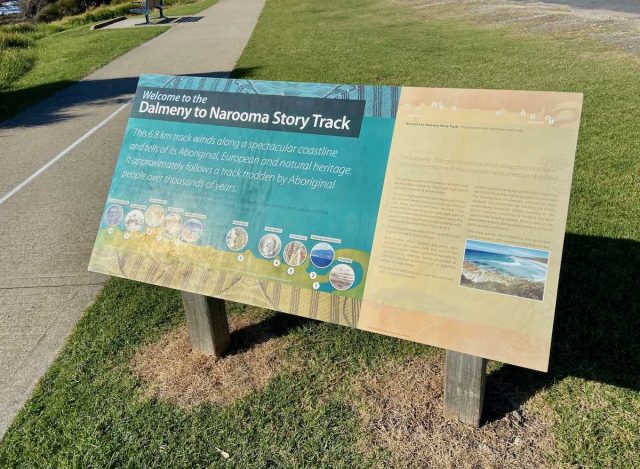 Dog-Friendly Sightseeing Around Narooma
For some more dog-friendly sightseeing around Narooma, consider these options.
1. Visit Australia Rock
Just near the southern break-wall in Narooma is a "window" through the rocks that looks like a map of Australia. It's a must-visit photograph spot.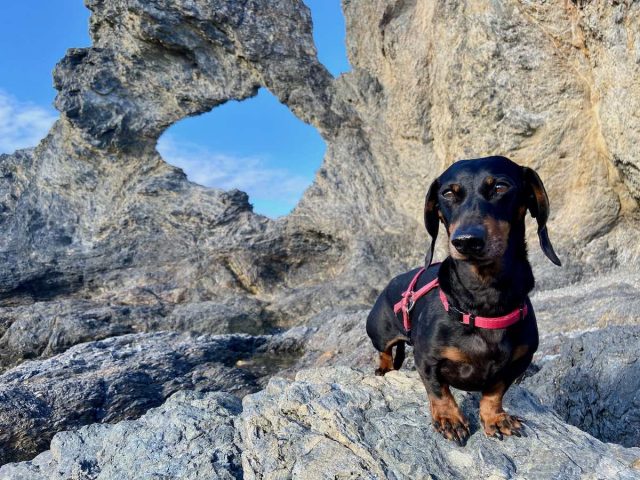 While there, dogs aren't allowed out onto the break-wall, but instead head to Bar Rock Lookout, located just above, for some great vistas out towards Montague Island. Also keep an eye out for seals in the area.
2. Stop at Apex Park
Apex Park near the northern break-wall is a must-visit stop in Narooma. As well as being next to the off-leash Bar Beach and one end of the Mill Bay Boardwalk, it's also worthwhile stopping off at the New Boat Ramp.
You're sure to spot plenty of pelicans and cormorants hanging around at any hour of the day, but particularly when fish are being cleaned at the fish cleaning station. Also keep an eye out for the seal who regularly comes to visit and the gigantic sting rays cruising close to shore.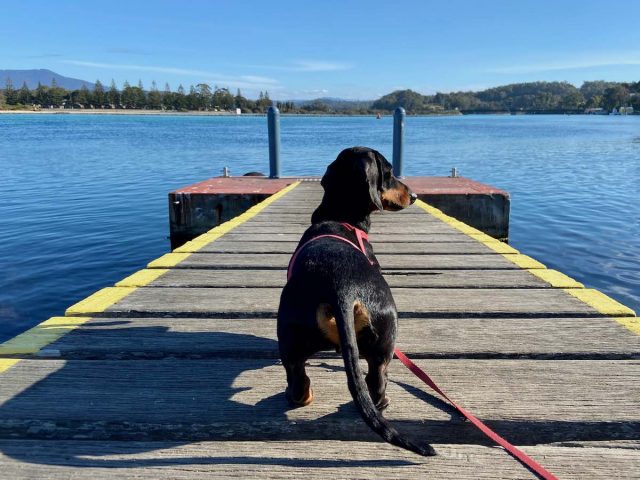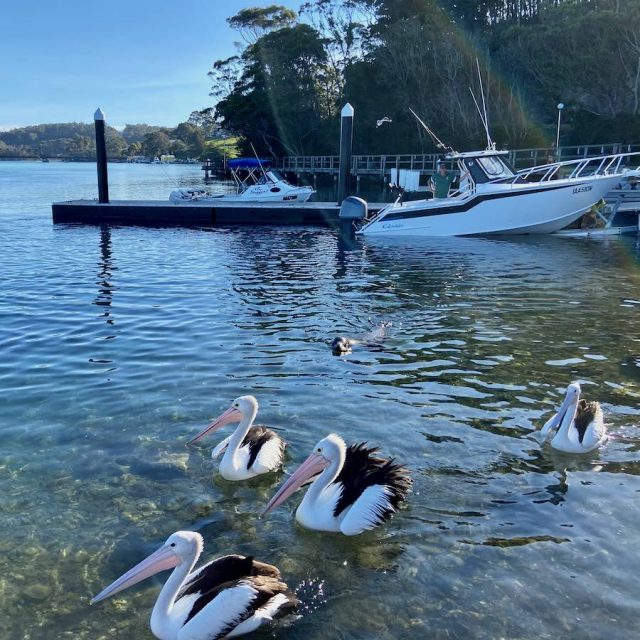 Note however that dogs are not allowed on the break-wall, the netted beach, nor along the inlet foreshore (which is a protected shorebird nesting area).
3. Head to One Tree Point Lookout
This popular lookout point in Tuross Head does indeed just have a single tree growing on it. It's a great spot to watch for whales during migration season, or just sit and enjoy the view of the sea. Dogs are allowed to join you, as long as they remain on a leash.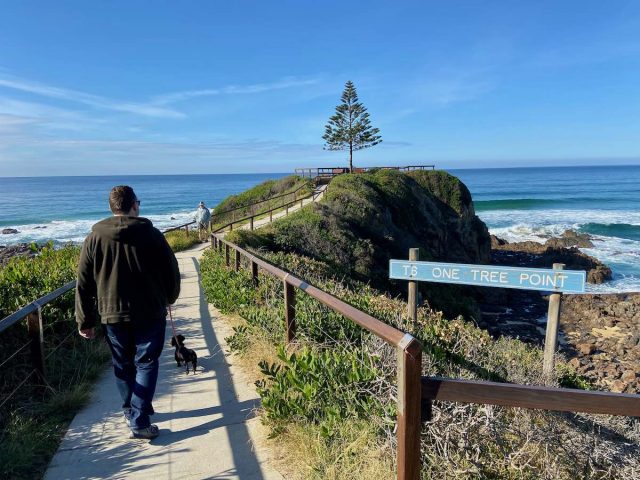 4. Visit Central Tilba and Tilba Tilba
Tucked away in the hills south of Narooma, less than a 20-minute drive way, are the historic villages of Central Tilba and Tilba Tilba. Originally settled by dairy farmers, the district briefly boomed during the late 1800s and early 1900s when gold was discovered nearby, but was quickly depleted.
Since then the villages have managed to retain many of their historic buildings and charm, and the district was classified by the National Trust in 1974.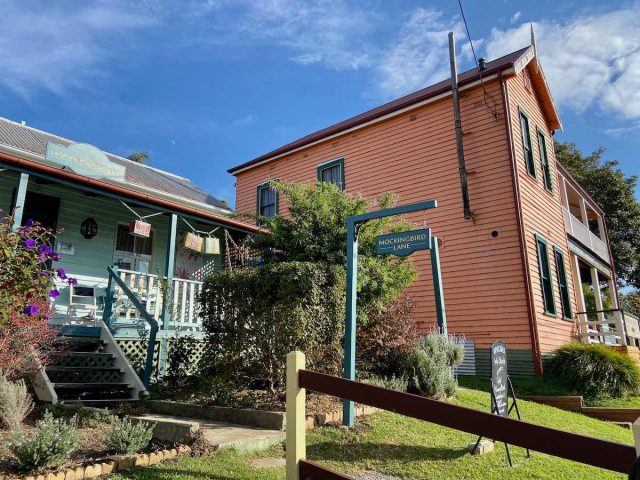 Central Tilba is the larger of the two and has many shops and cafes to visit. Take a stroll along the main street with your dog, although dogs will need to be left outside most shops, especially at the well-known ABC Cheese Factory. (I highly recommend the local halloumi cheese.) Other shops sell leathercrafts, wood turning, gifts and even local chocolates.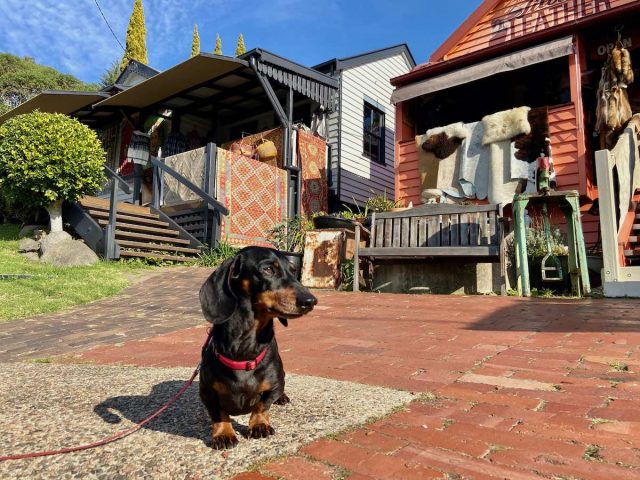 5. Drop into Tilba Valley Winery & Ale House
Just north of Central Tilba, down a short unsealed road, lies Tilba Valley Winery & Ale House. Wine has been produced here for over 40 years, with currently 10 acres of vines producing a mix of red and white varietals.
We didn't manage to pass by during opening hours, but their website declares that they are pet-friendly. Drop in to taste some wine, enjoy a Ploughman's Platter for lunch, or enjoy the live music on weekends, relaxing with your dog on the lawn.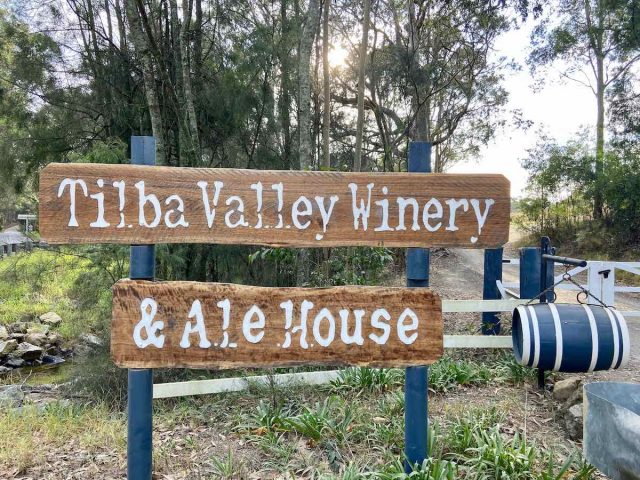 Head Next To
Inspired? Pin this to your Pinterest board!