Not surprisingly, Miami is one of the top vacation spots in the United States, especially over the winter months, when it's still sunny and warm. But what about if you want to visit Miami with your dog? Find out what you can do with your dog in Miami, including tips for dog-friendly beaches, plus where to dine out and stay with your dog.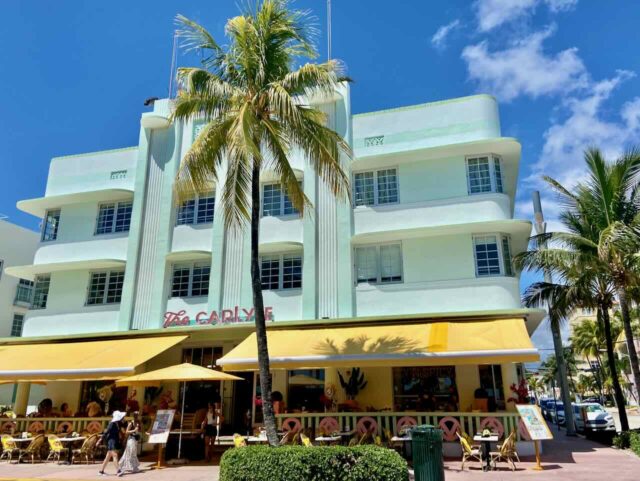 Can You Visit the Everglades National Park with a Dog?
The World Heritage listed Everglades National Park covers a huge expanse of southern Florida. It's a popular day trip from Miami, whether you enter the park at Homestead and head down to Flamingo, visit Shark Valley and its tram, or head to the Gulf Coast.
However, while it's technically possible to visit the Everglades National park with a dog, I wouldn't recommend it. Inside the park, pets are only permitted on paved roads, at roadside campground and picnic areas, at maintained grounds surrounding public facilities and residential areas, and on private boats.
Pets are not allowed on any walking trails in the Everglades National Park, not even boardwalks and paved footpaths. They are also not allowed on unpaved roads or the Shark Valley Tram Trail. This means that if you visit the Everglades with your pet you are very limited as to what you can do. Instead consider visiting Oleta River State Park, see below.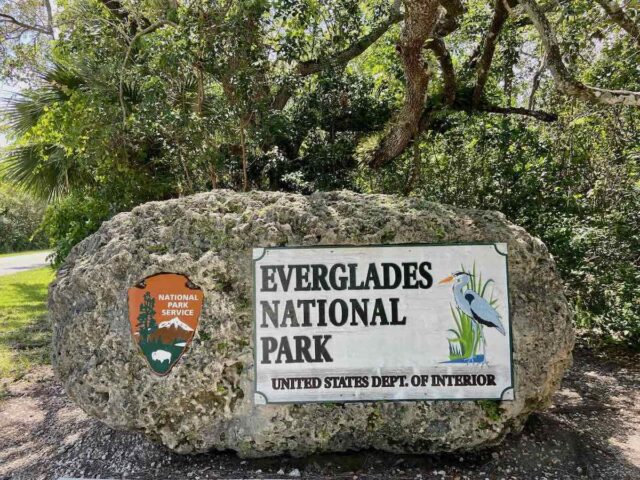 Dog-Friendly Sightseeing in Miami
While I wouldn't recommend visiting the Everglades National Park with your pet, there are plenty of other fun attractions that you can visit with your dog around Miami. Consider ticking off these dog-friendly sightseeing options in Miami…
#1 Stroll Past Art Deco Buildings
One of the highlights of a visit to Miami is checking out the plethora of art deco buildings that dot Miami's South Beach. The best way to take in this treasure trove of architecture is by walking along the streets, and your dog is welcome to join you, on a leash of course.
The Art Deco District is located between 5th Street and 23rd Street, along Ocean Drive, Collins Avenue and Washington Avenue. Some of the top buildings are highlighted in this article.
To learn more, consider visiting the Art Deco Museum at 1001 Ocean Drive, although naturally dogs are not allowed inside it. There are also a wide range of walking tours on offer, some of which likely allow dogs to join you.
Note that while dogs are allowed to walk on the paved Beach Walk through Lummus Park, adjacent to Ocean Drive, they are not allowed onto the sand at South Beach.
#2 Check out the Street Art in Wynwood
A decidedly more modern type of art is on display if you head to Wynwood. This hip and happening district to the north of Downtown is home to countless murals dotting its walls.
At the heart of Wynwood is Wynwood Walls. Miami's original street art museum, it was established in 2009 and is globally renown. Originally just a couple of walls, it has expanded over the years and now also has a few indoor galleries, plus these days charges an entry fee.
When I recently visited (unfortunately on a trip without my dog), I was told that dogs are allowed in the outdoor areas at Wynwood Walls, but I've also seen some mixed information on this. Double check the latest rules before buying a ticket.
In any case, there's also plenty of street art covering the walls on surrounding streets, perfect for a stroll with your dog, and a selfie or two or three…
#3 Visit Nikki Beach
Nikki Beach is a chain of luxury beach clubs and resorts, located around the world from Saint Tropez to Koh Samui. But the very first location was right in Miami at South Beach, Nikki Beach Miami Beach.
Open year round, claim a day bed or cabana for the day, or take a seat at the bar and restaurant, serving up a light and breezy menu, plus of course champagne and cocktails. Best of all, your pup is welcome to join you, with selected outdoor tables designated as pet-friendly.
#4 Head to Oleta River State Park
Oleta River State Park is Florida's largest urban park, over a thousand acres in size. Just 30 minutes from Downtown Miami, it's a great spot to visit for some outdoor fun with your dog. Dogs are allowed in most parts of the park, except on the beach, in the primitive group campground and in the cabins.
Take a stroll on the 3-mile long paved trail through the park. Kayaking and paddleboarding are also popular – check with the park concession if dogs are allowed on their equipment, if you don't have your own. Note that a small entry free applies to the park.
#5 Drive to Key West or Key Largo
For an epic road trip from Miami, consider driving all or part of the way to Key West. At 159 miles long, this drive along the Overseas Highway can be done in about 3 hours each way when there's no traffic, but is best appreciated by taking a few days.
For ideas of what to do when you get to Key West, check out the Dog Friendly Key West Instagram account. Hotels, bars, restaurants, boat trips and more are included.
If you don't get as far as Key West, an easier day trip is just to Key Largo, about 90 minutes south of Miami. Don't miss heading to Rowell's Waterfront Park, one of the best dog parks at Key Largo, and about the only spot dogs can swim.
Dogs are technically meant to be on leash, but are quite commonly let off leash. The park is currently being upgraded and there are plans for a fenced off-leash dog park in the future.
Check out more dog-friendly things to do around Florida
Can You Take an Airboat Ride with a Dog?
Another popular tour around Miami is taking an airboat tour. It's a fast and exciting way to experience the Everglades, plus there's the chance to spot alligators in the wild.
Some of the airboat tour companies allow you to bring along your dog, although sometimes it may depend upon the driver, plus how full the boat is. However, I don't recommend taking a airboat tour with your dog.
The main reason why? These boats are extremely loud! The driver wears earmuffs and most companies offer earplugs for sale before the ride. Unless your dog is used to very loud boat rides, they would be terrified. It's best left for a visit without your dog.
Dog-Friendly Beaches in Miami
A visit to Miami wouldn't be complete without some beach time, ideally with your dog at your side. While dogs are not allowed on the sand at popular South Beach in Miami Beach, there are some dog-friendly beaches close by, whether you head north or south.
Haulover Park is a 25 minute drive north of South Beach. Dogs are allowed onto the section of beach in between lifeguard towers #2 and #3, between the hours of 8am and 4pm. You can let your dog off-leash, but you need to maintain control over them. There's also two enclosed off-leash areas for small and large dogs on the other side of the carpark.
For another dog-friendly beach in Miami, head to Hobie Island Beach Park, on the way to Key Biscayne. Dogs are allowed off-leash without any restrictions. Plus as it's facing the bay, the water is very calm. Parking is free and come evening, it's a popular spot to watch the sunset.
Dog-Friendly Dining in Miami
Miami is home to plenty of alfresco restaurants. If you walk along Ocean Drive at South Beach, countless tables spill out onto the pavement opposite the park. And luckily, a growing number of restaurants in Miami allow pet dogs to join you at their outdoor tables.
We enjoyed an excellent lunch at Starlite Cafe, which allows dogs at their outdoor tables, located on Ocean Drive in between 7th and 8th Streets. They have an extensive menu, ranging from seafood to salads to Cuban sandwiches, plus there's a long list of cocktails – keep an eye out for their happy hour!
Front Porch Cafe at the northern end of Ocean Drive is also dog-friendly, plus offers an all-day breakfast. Or alternatively head to the legendary Monty's Raw Bar in Coconut Grove. Open daily until late, it also welcomes dogs.
Dog-Friendly Accommodation in Miami
Note: This post contains affiliate links, which means I may receive commission if you make a purchase using the links. See my full disclaimer.
Kimpton Hotel have multiple pet-friendly hotels at Miami Beach, all with no pet size restrictions and no pet fees. You'll also enjoy complimentary access to WAG! Premium.
Choose between the Kimpton Angler's Hotel at the heart of South Beach, with its rooftop pool and sundeck, the playful beachfront Kimpton Surfcomber Hotel, or Kimpton Hotel Palomar South Beach, on the edge of Sunset Harbour.
For a touch of Spanish flare, look no further than the Casa Faena Miami Beach. Located just a block from Mid-Beach in the heart of the colourful Faena District, this boutique hotel is pet-friendly, with pets welcome for an additional charge of $125 per stay.
Alternatively, for the ultimate luxury vacation, make a booking with the W South Beach. Newly renovated, this oceanfront hotel features a private balcony in every suite and studio. Treat your pet to the same luxury with the Pets Are Welcome (PAW) program, including a custom pet bed, welcome kit and turndown treat.
At W South Beach, up to one pet no larger than 40 pounds is welcome, for an additional fee of $25 per night and a one-off cleaning fee of $100.
You May Also Like