Whether you already live in the USA or are heading there from overseas, the USA is an amazing country to travel around with your dog. It's such a huge country and has so much on offer: from spectacular natural scenery to world-class cities, from sunny tropical beaches to mountains covered in snow.
While it's not as dog-friendly as most of Europe, it's still very easy to travel around the USA with a dog, whether you're road-tripping across the country or visiting for a quick break.
During late 2018, I travelled to the USA with my dog, a Miniature Dachshund called Schnitzel, and spent 7 weeks travelling around the country. We flew into New York to hit up the cities of New York, Philadelphia and Washington, D.C. Then we flew across the country to Los Angeles, spending 5 weeks road-tripping around the south-west of the country and living up in LA. We were meant to return in 2020, but not surprisingly those plans were cancelled.
If you're also interested in travelling around the USA with your dog, I've put together this guide to help you in your travels.
First time travelling with your dog? Check out my guide on how to travel with a dog for lots of tips!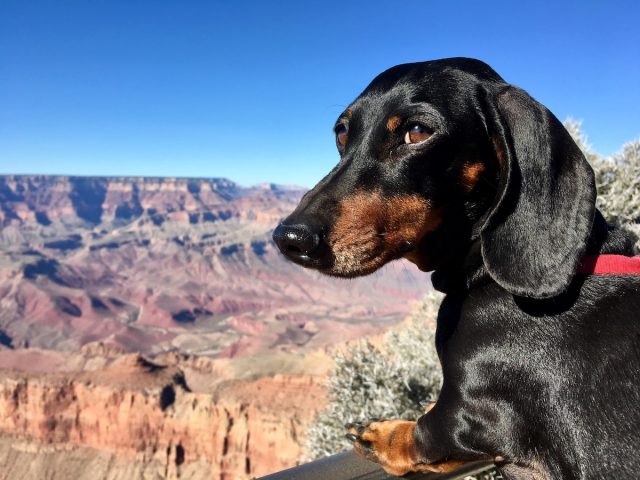 Paperwork for Travelling to the USA with a Dog
The regulations for travelling to the USA with a dog are quite simple, as long as you don't currently reside in a high-risk rabies countries, and you're not heading to Hawaii or Guam.
For most export countries, dogs are just required to be healthy, though no formal check is performed. Dogs should also be vaccinated against rabies, although there is no federal requirement for a rabies certificate, although it is recommended and individual states may require one.
If you're travelling from a high-risk rabies country, since 2021 it's been trickier, due to restrictions on the import of dogs into the USA from these countries put in place by the CDC. These restrictions apply until at least the end of July 2024, but seem indefinite.
The easiest scenario to import a dog to the USA from a high-risk rabies country is if you still have a valid rabies certificate issued in the USA for your dog. Alternatively, you may be able to apply for a CDC Dog Import Permit or if you are travelling with three or more dogs be assessed at a CDC-approved animal care facility on arrival.
For more details, including the possible need for a certificate that your dog is free of screwworm and state regulations, read my post on the vaccines and paperwork you require to travel to the USA.
Paperwork for Travelling Between the States with a Dog
Technically, paperwork may be necessary to travel to some of the states in the USA with a dog. However, excepting Hawaii and Alaska, when I reviewed the details for many states, this is mainly for permanent moves of dogs, not just dogs travelling through a state.
Additionally, discussing this with other people who have travelled in the USA with their dogs, this is not something they had done, other than always travelling with a rabies certificate for their dog.
I travelled between 11 of the lower 48 states with my dog, including flying from coast to coast, without anything being required or checked. To double check the state you are visiting, head to this page on the APHIS website.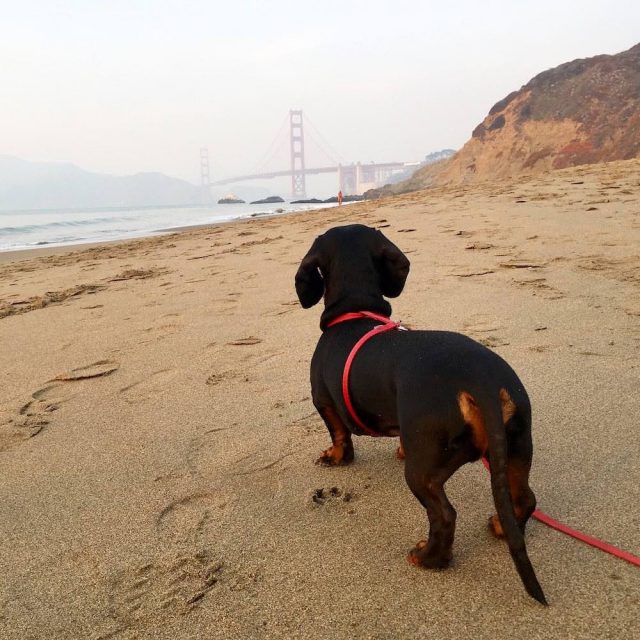 The main exceptions are Hawaii and Alaska. As an island state, Hawaii has managed to stay rabies-free. This means that a more complicated process is required, including quarantine either on arrival in Hawaii or lots of preparation in advance.
Read my guide on how to prepare your dog to travel to Hawaii (and avoid quarantine). Make sure you start preparations at least two months in advance!
The rules to take your dog to Alaska are somewhat simpler. Your dog will require a health certificate issued within 30 days of arrival, including a rabies vaccination if they are three months of age or older. For full details on the health certificates accepted, click here.
Long-Distance Transport in the USA with a Dog
Flying with a Dog in the USA
As a large country, one of the easiest ways to get around the USA is by flying. Luckily then, dogs are allowed to fly with all of the main airlines.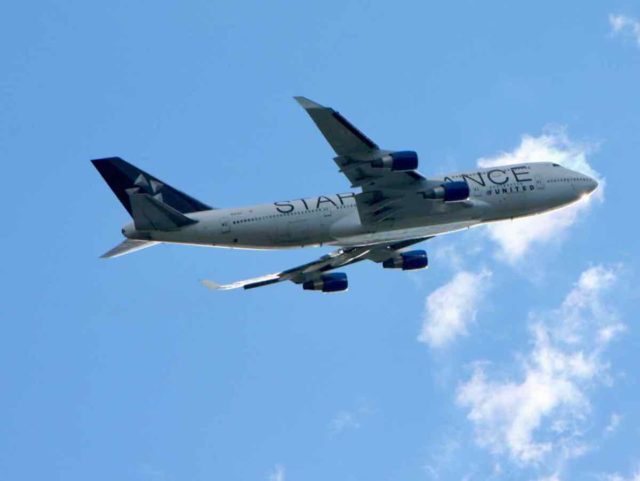 Some airlines only allow small dogs and cats (and sometimes other species) to travel in the cabin, while other airlines also transport pets in the hold, whether as excess baggage or cargo, although options for pets travelling in the hold have been limited in recent years.
If looking to travel with your pet in the USA, check out my guide to the pet policies of the major US airlines. I've also compiled information specifically on the inter-island flight options in Hawaii, including pet transport.
The rules for whether pets can travel in the cabin are generally more flexible than in Europe, with often only a maximum carrier size specified. Even when a maximum weight is specified, often this is very generous, such as the astounding maximum weight of 40 pounds (18kg) for Spirit Airlines. The typical fee to fly with a pet in the cabin is about $95-$125.
Read my guide on buying the best carrier bag for flying with your dog
Our Experience Flying with a Dog
During our time in the USA, we flew with Alaska Airlines from Washington Dulles Airport to Los Angeles Airport, a 5 1/2 hour flight. Small pets are accepted in the cabin by Alaska as long as they are small enough to fit in a soft-sided carrier that is a maximum of 17" long x 11" wide x 9.5" high (or 7.5" high for hard-sided carriers), for a fee of $100 USD.
A maximum of 5 pets are allowed in the cabin, so we firstly checked that there was availability on the flight, then booked out tickets online, then called up to add our pet to our booking. We didn't have to pay the pet fee until check-in. Click here to read the full Alaska Airlines pet policy.
Pet Relief Areas at Airports in the USA
One big plus about flying with a dog in the USA rather than Europe, is that airports are a lot more pet-friendly than the airports in Europe.
At Washington Dulles Airport we made use of the pet-relief areas after travelling through security. It was well-sign-posted, as well as listed on the website, so you can plan in advance.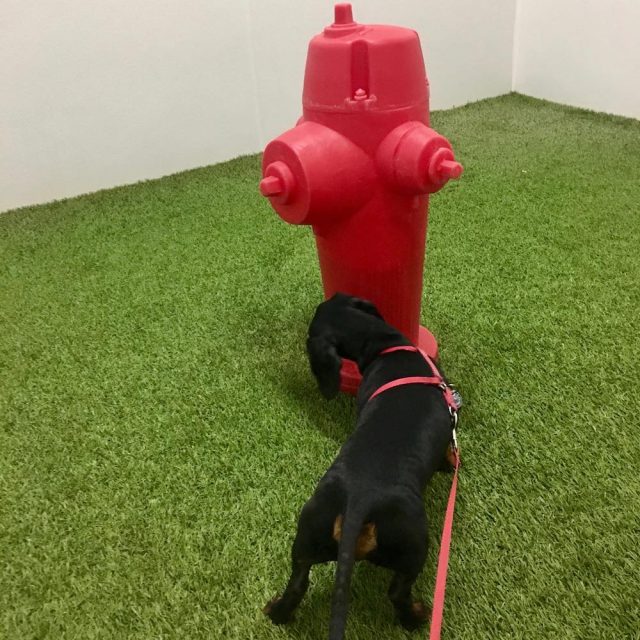 I recommend checking out the locations of pet relief areas in airports that you'll be flying to, including whether they are before or after security.
Catching Long-Distance Trains in the USA with a Dog
If you're travelling with a small dog, an alternative to flying shorter distances is to instead travel by train. As of a few years ago, Amtrak started allowing small pets to travel on their trains. However, before counting on bringing your pet along for a train journey, it's best to first review the rules.
Despite a generous maximum size for your pet carrier (19″ long x 14″ wide x 10.5" high), there is a maximum weight of 20 pounds (9kg), although this wasn't checked on the two train trips I took. Pets are also only allowed on trips up to seven hours duration, and there are a few train services that still don't allow pets. At least the pet fee is cheaper than flying: only $29 USD or $39 USD.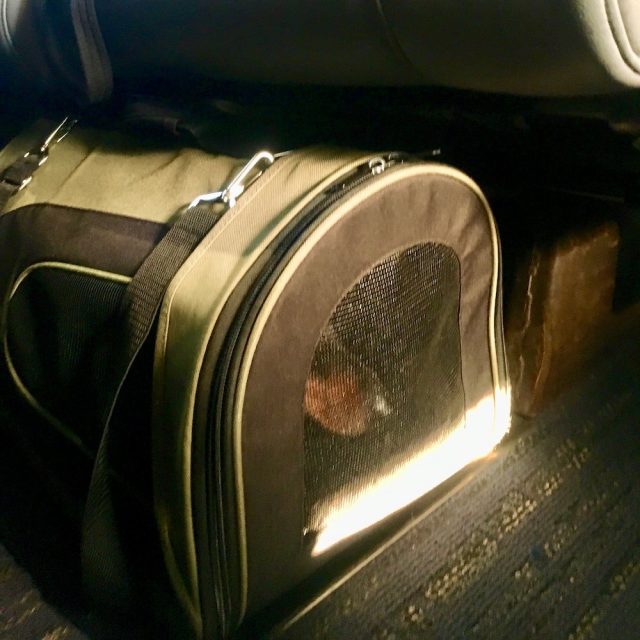 Read my comprehensive post for a full explanation of the rules and more about our experience travelling with our dog on Amtrak. We travelled both from New York City to Philadelphia, then onwards from Philadelphia to Washington, D.C., and found it quite comfortable.
Can You Catch Long-Distance Buses in the USA with a Dog?
Despite being named after a dog, the Greyhound long distance buses in the USA don't allow pet dogs onboard, only certified service animals. This is similar to most long distance buses in Europe.
Local Transport in the USA with a Dog
Whether you can use local transport in the USA with your dog depends on the size of your dog. While we were visiting New York City and Washington, D.C., multiple times we caught the subway or bus with our pup. However, our dog is quite small and we firstly read up on the rules.
In both cases, we had to carry our dog in an enclosed bag, including within the subway station. Disconcertingly, at the entrance to the subway stations in Washington, D.C., there is a sign that indicates that dogs are forbidden. I quickly double-checked their website while waiting for a train to confirm my dog in a carrier bag was really allowed!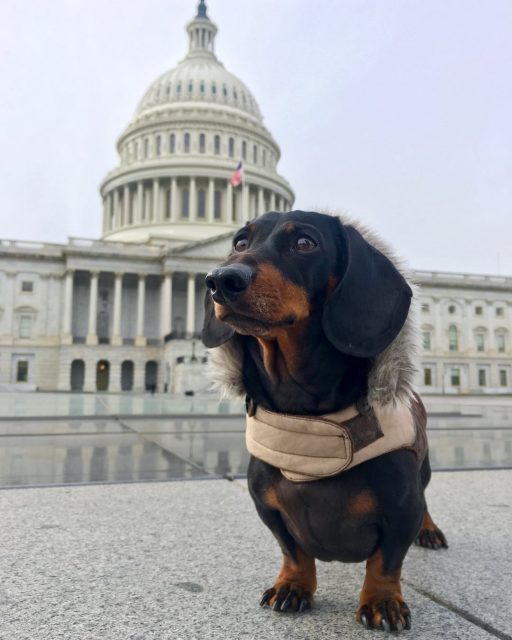 In each case, a small dog in a carrier bag travelled for free. Most large cities in the USA have similar rules, but always check first.
If you dog is too large to travel on local transport, or there isn't anything on offer, a good alternative is Uber or Lyft. We used these services multiple times in the USA and each time our driver had no issues with our dog, although he was usually in a carrier bag.
Send a message to your driver in advance and ideally have a blanket for your dog, if they aren't in an enclosed carrier. Some cities offer the UberPet option, with a guarantee your pet will be allowed in return for a higher rate.
Hiring a Car in the USA with a Dog
Naturally, the easiest way to get around most places in the USA is by car. Additionally, there's plenty of charm in road-tripping in the USA, whether it's in addition to flying around or if you're planning on driving from coast to coast. During my time in the USA, going on road trips was my favourite way of travelling with my dog in the USA.
When hiring a car, there's a lot less rules to worry about. Most car rental companies in the USA will have a pet policy on their website, but for most companies (including Avis and Thrifty, the two companies I used) the main rule is to return the car clean, free of pet hair and pet odours.
I recommend using a pet bed or blanket so that you pet isn't sitting directly on the seats, plus vacuum-cleaning the car before you return it if your pet sheds a lot.
Rules for whether your pet needs to be restrained vary from state to state, plus between rental car companies. However, it's always a good idea to always restrain your dog when travelling in a car, for the safety of both your pet and other occupants of the vehicle.
When looking into hiring an RV (an option I didn't go through with), I noticed that the rules for whether pets are allowed vary greatly between companies. Some companies ban pets, others decide on a case-by-case basis, while other companies are pet-friendly.
In particular, I noticed that Cruise America are particularly pet-friendly, just requesting that you return the RV in its original condition.
Dining Out in the USA with a Dog
If you're looking to dine inside with your dog in the USA, you're out of luck. While some parts of the country do allow pets to dine with you at restaurants and cafes, you'll be restricted to the outdoor patios.
The rules for this vary from state to state, and sometimes even county to county, so investigate first or ask the restaurant. Asking is always a good idea, as it's also up to the discretion of individual restaurants.
This is fine if you're visiting during the milder months of the year, but come wintertime dining outside isn't an option in much of the USA. Alternatives to dining out with your dog include hitting up the drive-through or getting takeaway (and then dining in your vehicle or in your accommodation), or looking for somewhere with outdoor heating.
If you are allowed to dine on the patio with your dog, check whether they offer a pet menu. Alternatively, I always make sure that I have some treats on hand (long-lasting chews work best) to keep my dog occupied while I'm eating.
Dog-Friendly Accommodation in the USA
Luckier it's easier to find dog-friendly accommodation in the USA. There's plenty of dog-friendly hotel options no matter what part of the USA you're visiting, although the number of pet-friendly hotels varies between different cities.
In particular, if you're looking for affordable yet dog-friendly options available right across the USA, generally without any additional pet free, I mainly stayed at and recommend three pet-friendly hotel chains: Motel 6, Red Roof Inn and La Quinta.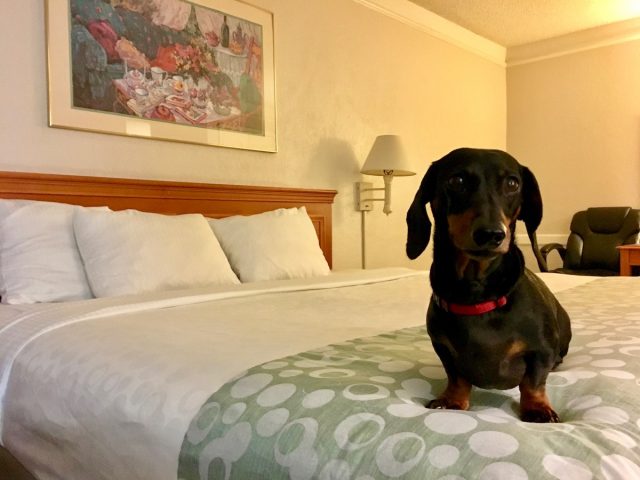 I compare what they're like and review their pet policies in this post. In particular, most of these hotels are located on the outskirts of cities with free parking, ideal if you're on a road-trip.
If you can't find a suitable hotel, the other option that I turned to in the USA was Airbnb. In particular, this is a good alternative if you're staying in the centre of a city and don't have the budget to splurge on a high-end hotel. (I often found it was the fancier city hotels that allow pets, and are often quite pet-friendly, but for a price, of course!)
Most pet-friendly Airbnbs that I stayed at in the USA were a private room in a household that already had a pet.
Alternatively, considering RVing around the USA with your dog. This is quite a popular option with pet owners, although always check first with your rental company that dogs are permitted in the vehicle and the rules for individual camp sites.
Dog-Friendly Sightseeing in the USA
If you're not planning on spending your USA vacation visiting museums and the like, there's plenty of dog-friendly sightseeing options available. In particular, if you're mainly wanting to experience the beautiful natural scenery the country has on offer, there's always some dog-friendly options.
Some of the highlights of my seven-week trip around the USA with my dog included visiting the lookouts of the Grand Canyon, driving through Joshua Tree National Park, running along the beach in San Francisco and walking across Brooklyn Bridge in New York.
If you'd like to visit national parks in the USA, check the website of the specific national park first. Dogs are allowed in all national parks in your vehicle, on paved roads and other developed areas, plus in many campgrounds, perfect if you're in RVing with your dog.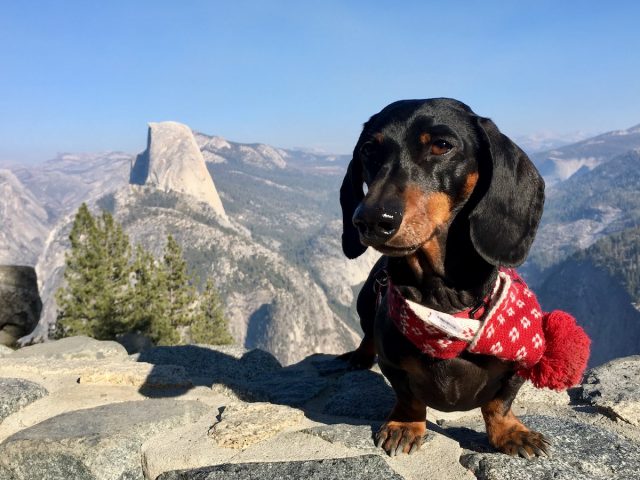 Some national parks also allow pets on specific hiking trails. For instance, when visiting the Grand Canyon National Park, dogs are allowed to join you (on a leash, of course) along the South Rim trail. Also pay attention to whether shuttle buses operate in the national park, especially during the peak summer periods, as only service dogs are allowed on shuttle buses.
These dog-friendly options are some of my recommendations for travelling in the USA with your dog in the eastern United States:
The western United States:
And all around the United States: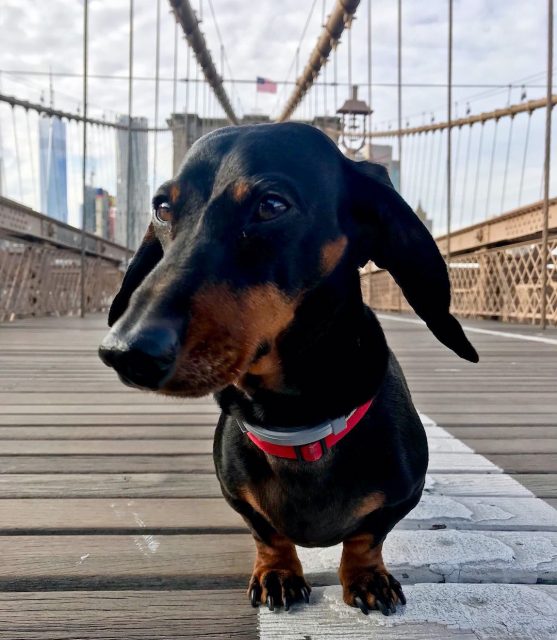 If you do decide to visit somewhere that doesn't allow dogs, there are plenty of options to make it work. For starters, some attractions have pet kennels where you can leave your pet during your visit. This was the case when I visited Disneyland, although their kennel has since closed. There are also kennels at or near many national parks – check the pet policy for the national park.
Alternatively, consider a nearby doggie day care, making contact with a local dog sitter through one of the online websites, or leaving your dog behind in your accommodation, such as if your Airbnb host is fine with looking after your dog for the evening. Check out my guide to options when visiting non-dog-friendly attractions.
Dog-Friendly Guides to US Cities
Looking for more details on visiting a specific city in the USA with a dog? Along with some awesome guest bloggers, I've put together these guides on different cities: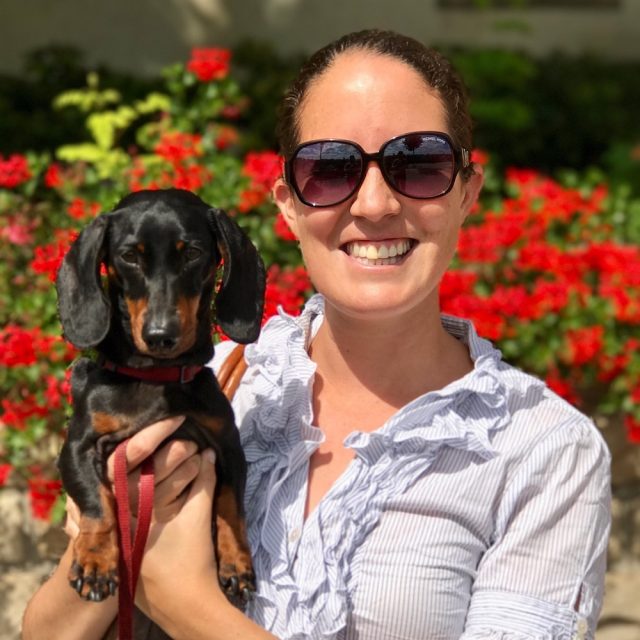 Shandos Cleaver is the founder of Travelnuity: Dog-Friendly Travel. She has travelled extensively with her Miniature Dachshund, Schnitzel, including to 33 countries across Europe, every state and territory of Australia except Tasmania, and 10 of the United States. She's passionate about providing inspiration and information to others wanting to travel with their dogs, whether close to home or internationally.
Inspired? Pin this to your Pinterest board!