When you think of Florida, you immediately think of warm, sunny weather and beautiful beaches. And there's no need for your dog to be left out in the cold, with plenty of fun dog-friendly activities that you can all enjoy together in this part of the United States.
Whether you live locally or you're visiting Florida with your pup, make sure you tick off some of these top dog-friendly things to do in Florida, from the north of Florida all the way south to Key West…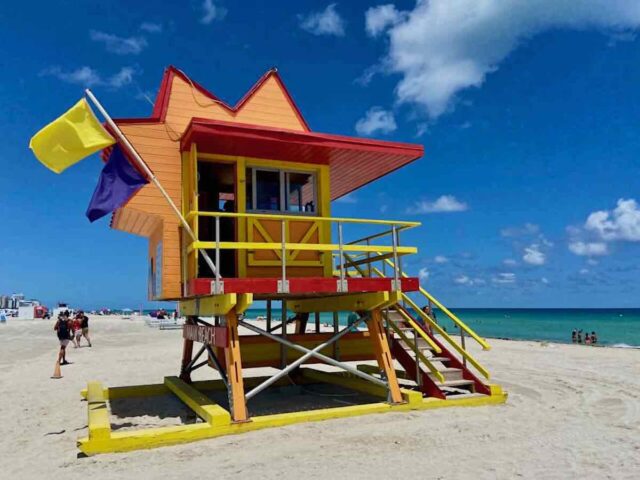 #1 Take an Amelia River Cruise
Contributed by Stephanie of History Fan Girl
If you've ever wanted to take your dog on a river cruise, head to Amelia Island! The Amelia River Cruise is a pet-friendly excursion that will be the highlight of your Amelia Island weekend (or week)!
The cruise has multiple itineraries, though the sunset cruise is particularly spectacular. The cruise leaves in the evening so that you can experience sunset on board. You'll travel down past Fort Clinch State Park and cross over so that you see Georgia's Cumberland Island before returning.
During the journey back, you'll be able to enjoy spectacular marine wildlife. Dolphins and rays are among the animals that pop their heads out of the water as the sun goes down.
Another option is the Cumberland Island tour, which is perfect for animal lovers as you'll get to see the wild horses that live on the Cumberland Island National Seashore.
Cruises sell out early, so make sure to reserve your spot before your trip.
#2 Go Camping in Grayton Beach State Park
Contributed by Trijit Mallick of Dog Travel Buff
Grayton Beach State Park, located in the Florida Panhandle, is a popular destination for dog-friendly camping in Florida and a top destination to visit with your dog in Florida.
The park boasts over 2,200 acres of stunning scenic beauty, including pristine white sand beaches, crystal clear emerald waters, and lush vegetation. With its stunning natural beauty and endless outdoor activities, it's no wonder that this park is a popular destination for campers, including those who travel with their furry companions.
The park offers a variety of camping options, including traditional camping sites, cabins, and even RV hookups. Whether you're looking to rough it in a tent or enjoy a more comfortable stay in an RV, Grayton Beach State Park has something for everyone. Additionally, the park is dog friendly, so you can bring your furry friend along for the adventure.
When camping with your dog in Grayton Beach State Park, there are a few things you should keep in mind. First, be sure to keep your dog on a leash at all times, as this is required by park regulations. Secondly, be mindful of the wildlife that inhabits the park, including raccoons, opossums, and other animals that can be dangerous to dogs.
Finally, always clean up after your pet and dispose of waste properly, so that the park remains clean and healthy for all visitors, including future generations of campers and their dogs.
In conclusion, Grayton Beach State Park is a fantastic destination for dog-friendly camping in Florida. With its breathtaking beauty, variety of camping options, and commitment to preserving the natural environment, this park is sure to provide you and your furry friend with memories that will last a lifetime. So pack your camping gear, grab your dog, and head to Grayton Beach State Park for an unforgettable camping adventure.
#3 Head to Panama City Dog Beach
Contributed by Roshni of TheWanderlustWithin.com
One of the top beach destinations on the Florida Panhandle is Panama City Beach. It is known for its crystal quartz sand that is derived from the Appalachian mountains, and lucky for vacationers there are 27 miles of pristine white beaches that make up this destination.
However only one section of this coastline allows dogs. The aptly named Dog Beach is located opposite one of the most popular things to do in Panama City Beach, Pier Park.
This stretch of beach is great for four legged friends or dog lovers who just want to play with pups. There are however some important rules, however.
Firstly, all dogs must stay within the confines of Dog Beach – there are signs posted. Also, all dogs must be up to date on their shots, wear ID tags and be kept on a leash or under voice command. There also cannot be more than three dogs per person.
#4 Go Canoe Camping on the Suwanee River
Contributed by Staci of Gator and Nuthin
Florida is famous for its beaches but canoeing on the Suwannee River is one of Florida's most underrated treasures. Most of the river bank is public land which means you can bring your furry little friend.
The Suwannee River is a blackwater river that runs over 200 miles through northern Florida. The Suwanee is famous for its unique rust colored hue. This is caused by decaying vegetation releasing tannins into the water.
The river is broken into three regions – the Upper, Middle, and Lower. The most popular section of the river is the Middle Region because of the many crystal-clear natural springs and white sandy beaches.
There are several outfitters along the river that rent canoes and offer shuttle rides. If you like camping, multiday trips are also available. You will need to bring camping gear for you and your dog.
There are several options for camping: State Parks, private campgrounds, and primitive camping. State Parks and private campgrounds have amenities such as bathrooms, showers, fire rings and potable water. The State Parks are free, but are first come first serve and the private campgrounds cost around $20 per night.
Our favorite option is primitive camping. Just pick a spot on the river that looks beautiful to you, set up a tent, start a fire, and enjoy.
#5 Visit Eola Park in Orlando
Contributed by Victoria of Florida Trippers
Located in the heart of Orlando, Lake Eola Park is easily one of the best dog-friendly things to do in Florida. After all, the park features a 0.9-mile-long sidewalk that encircles the lake and that is the perfect place for dogs and their owners to go for a walk.
Just be sure to keep your dog on a leash since off-leash dogs are not allowed here. Then, you can bring your pet to a local restaurant since many eateries are dog-friendly as well, like The Stubborn Mule.
Now, once you've gone for a fun walk with your pup you can visit the Sunday market or just relax and take in the impressive views of the Orlando skyline. Just try and time your visit for sunset since this is when the views are the best.
Alternatively, you could rent swan-shaped paddle boats, for just $15.00 for 30 minutes, before enjoying a concert, movie, or play in the Walt Disney Amphitheater. Because a trip to Lake Eola Park is always one of the best things to do in Orlando.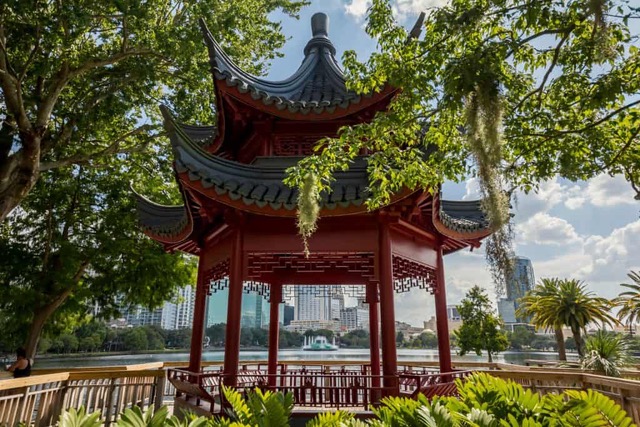 #6 Enjoy the Breweries at Winter Garden
Contributed by Erin of Super Simple Salty Life
Winter Garden is a growing town in Central Florida, just minutes from the Orlando theme parks. Established in 1903, what was once huge fields of orange groves is now a booming area complete with wide paved trails, local restaurants, and great craft breweries. Several of these establishments are pet-friendly so your pup can enjoy a beautiful Florida afternoon in the shade while you sip on crisp local brews.
The historic downtown of Winter Garden is home to boutiques, a weekend farmer's market, and the Crooked Can Brewing Company at Plant Street Market. This craft brewery has been around since 2014 and is a local favorite hangout.
Located under huge moss-covered oak trees, the outside patio and lawn area create the perfect oasis for an afternoon outdoors with your (leashed) dog. And if you get hungry, the Plant Street Market offers foods of all varieties from pizza to sushi, made-to-order donuts and crispy empanadas. It is easy to spend the better part of a day here.
Home State Brewing Co. is a newer and much anticipated addition to Winter Garden. The lawn area is complete with a stage for live music, tons of picnic tables for seating, and Adirondack chairs for lounging away from the crowds under shade trees.
Pets are allowed on a leash and there are several dog water bowls outside. It is the perfect place for an afternoon out with your best furry friends!
#7 Head to Honeymoon Island State Park
Contributed by Paula of Paula Pins the Planet
I have been living in Florida for 17 years now, and one of the reasons I love it here is that it is a very dog-friendly State. If you love nature and are looking for a pristine beach area with options for plenty of other activities to keep everyone happy, I really recommend visiting Honeymoon Island and enjoying this paradise in Florida.
Honeymoon Island is in the stunning Gulf of Mexico, with 4-miles of pristine beaches with white sand, and it offers natural trails and abundant wildlife. But what I love the most about Honeymoon Island is that it is the favorite place in the world for Pingo and Cooper, my dogs.
There is an amazing dog beach here, one of the top dog beaches in Florida, if not, in the country! Here, the dogs have their own beach, and it sounds like heaven on earth to spend time with my puppies at this gorgeous place.
This is the most beautiful beach on Honeymoon Island in my opinion, and it is nearly empty too. Just make sure you keep your dog on the leash and clean up after your dog. Aside from this, the only other rule here is to have fun and enjoy the best life with your dogs!
#8 Take the Ferry to Caladesi Island
Contributed by Candice of Exploring the Gulf
Nothing is better than taking your best friend along on vacation. Especially if that best friend has four legs and is furry. Caladesi Island is a great place to explore when planning a dog-friendly trip to Florida.
If you are looking to escape the crowds in Tampa and Clearwater, take the ferry out to beautiful Caladesi Island State Park. It is full of opportunities for relaxing at the Caladesi beach, enjoying the nature trails, Caladesi Island shelling, and swimming. We visited it during our road trip around Florida and consider it to be one of our favorite beaches in Florida.
Dogs are permitted but must be leashed when exploring Caladesi Island State Park. No pets of any kind (including dogs) are allowed on the beach, but they can explore all other portions of the park as long as they remain under their owner's control. Soak up the sun and have fun exploring the park with your dog!
There is a small cafe on the island but no other amenities. There are lots of pet-friendly hotels in Clearwater, just a few minutes away from where you get on the ferry.
#9 Visit the Bok Tower Gardens
Contributed by Lanie van der Horst of Make More Adventures
Located in Lake Wales in Central Florida, Bok Tower Gardens is a 250-acre garden with walking trails, a nature playground, and a Singing Tower, where an instrument called a carillon that has 60 bells is played.
Leashed dog-friendly and people-friendly dogs are allowed into Bok Tower Gardens for $5 a day. Bok Tower membership includes entry for up to two dogs. All dogs must stay on the trails and lawns, though digging up the lawn is not allowed.
Dogs are not allowed inside Hammock Hollow, the children's natural play area. Dogs are also not allowed into Palmetto Cafe, Alexander Discovery Center, El Retiro at Pinewood, or The Shop at Bok. And of course, dog owners must pick up and properly dispose of dog poo.
Palmetto Cafe does offer outdoor seating, and visitors are welcome to bring food into Bok Tower Gardens and have a picnic. Picnic tables are also located outside near the parking lot.
Bok Tower Gardens is a beautiful place to wander along the paths, play in the fields, and listen to the Singing Tower Carillon Concert. In addition to the paths inside the gardens, admission includes a 3.5-mile Pine Ridge Reserve hiking trail.
#10 Spend the Day at Fort De Soto
Contributed by Nina of Where in the World is Nina
Visiting Fort De Soto while exploring Florida will make for a fun-filled day. There's a host of activities, sites, beaches, and more here to enjoy. In fact, you may want to stay longer than a day, which is fine because there's even camping here too! If you have your pup in tow, no worries, Fort De Soto is dog friendly.
Fort De Soto has around 7 miles of trails you can walk, jog, run, or bike. If you want to rest your legs for the day, there are plenty of ways to do that too. You can bring your kayak or bring a few bucks so you can rent one and get out on the water for the day. You can head to the area between the bay pier and the Gulf pier on the north side of the road to find the kayak rental shack.
For the history buffs, you'll love wandering around the historical fort here. It was completed in 1900 and was used for military defense and communication.
Lastly, you may have been wondering about the beaches. We are talking about Florida, after all… And here, you'll find miles of sandy beaches to bask and laze on for as long as you like (or until you turn into a lobster).
If you have a dog, the best beach is the Fort De Soto Dog Beach. It's one of the only beaches in the area that's open to dogs and even allows them to be off-leash. You and your furry friend can both freely enjoy the sandy shores! If the off-leash beach isn't for you, just up from the beach, you'll find two fenced-off areas for large and small dogs to run around in.
For the rest of the activities mentioned above, your dog is welcome as long as they are well behaved and leashed.
#11 Or Head to Keewaydin Island
Contributed by Lori of Naples Florida Travel Guide
The southwest Florida city of Naples has an abundance of beautiful beaches on the Gulf of Mexico that not only draw tourists, but are essential for nesting sea turtles, ground nesting birds, and foraging sea birds.
To protect this fragile ecosystem, only one beach in Naples Florida is dog-friendly, but it's a good one. Our four-legged friends can go with us to Keewaydin Island, one of the most beautiful beach settings in Florida.

Located between Naples and Marco Island, the only way to get to Keewaydin Island is by boat. The 8-mile-long beach doesn't see the crush of seasonal crowds like others, and with over 80% of the island undeveloped, it is one of the most amazing natural environments in southwest Florida.
There are several tour companies that will take you there, anchoring just off the beach. Experienced boaters can rent a boat for the day, but a good alternative is to take the Hemingway Water Shuttle which operates from Marco Island. Be sure to confirm ahead with any tour boat if they will allow your buddy on board.
On the island your dog must be kept on a leash no more than 8-feet long, and of course you must clean up after them on the beach.
#12 Explore the Art Deco Heritage of Miami
Contributed by Shandos Cleaver of Travelnuity: Dog-Friendly Travel
Checking out architecture may not be the first thing you think of when you consider dog-friendly things to do in Florida. But Miami is home to a superb collection of art deco buildings and exploring it on foot is a fun way to spend the morning or afternoon with your dog.
Most of the Miami's art deco buildings are located along Ocean Drive, Collins Avenue and Washington Avenue in South Beach, in between 5th Street and 23rd Street. Ocean Drive runs alongside the beachfront Lummus Park. Dogs are allowed on leash along the paved Beach Walk, but not onto the adjacent sand at South Beach.
I recommend heading out in the morning, before the dog heats up too much, especially during the warmer months. Along the way, stop off at one of the many cafes and bars with outdoor seating, many of which are dog-friendly.
There's also a wide range of art deco walking tours on offer – check with the operator whether they will allow your leashed pup to tag along.
#13 Head to the Everglades
Contributed by Victoria of Guide your Travel
Going to the Everglades in dog-friendly Florida with a dog might seem like a challenge, but it can be a fantastic trip for you and your furry friend. Just make sure to stick to the rules and consider whether your dog would enjoy their time there.
The park is definitely not suitable for very reactive dogs who might disturb wild life or nervous dogs who could be scared. Make sure to keep your dog on a leash and research individual campsites and other locations to find out if you'll be allowed to bring them.
Depending on your own dog, you might enjoy an airboat tour, which takes you into the park on the water. Keep in mind that the airboats are loud though, which could be an issue. In our experience, it's a fun way to spend the afternoon though and you'll get to see a lot along the way.
Keep in mind that dogs are not permitted on trails in the national park, but most campsites allow them.
#14 Join a Lazy Dog Adventure
Contributed by Charles McCool of US Gulf Coast Travel
One of the most dog-friendly and fun businesses in all of Florida is Lazy Dog Adventures in Key West. Sue Cooper founded Lazy Dog Adventures after escaping a corporate executive job and desiring to do something on the water with her dog.
The Lazy Dog business evolved from a kayak company in 1997 to selling t-shirts to now having the largest number of paddleboards in the Florida Keys. Sue wrote the book, Millionaire in Flip Flops, in 2012.
Lazy Dog Adventures hosts memorable SUP and kayak tours in the southern Florida Keys, along with boat rentals. Not only are dogs permitted on their equipment but they are encouraged! When checking in for your paddling tour, you will surely see at least one dog in the area. Hopefully your tour guide and at least one other guest will have brought their dogs.
The basic paddle tour (kayak or SUP) is an eco-tour between the Gulf of Mexico and the Atlantic Ocean (so cool that you are so close to both!) and through a few mangrove tunnels. Along the way, the guide will point out where sharks hide (amazing that they are always in plain sight) and pass around a jellyfish. There are other adventures and surprises you will just have to experience yourself. Bring your dog!
#15 Head to Islands Dog Bar in Key West
Contributed by Nausheen of Globe Gazers
When you're traveling in Key West, Florida with your furry best friend be sure to visit Island Dogs Bar. The motto at this bar is, 'come as you are,' and this inviting atmosphere extends to pups as well.
Enjoy live music, build-your-own hot dogs and delicious drinks at Island Dogs Bar, located conveniently just off Duval Street. Customers love being surrounded by adorable dogs at Island Dogs Bar, the doggie paraphernalia, the casual atmosphere and the great food. When you visit, try the Salty Dog cocktail and key lime pie martini!
Don't forget to purchase a souvenir on your way out — a soft t-shirt for yourself and an adorable bandana for the doggo. If you're seated out on the patio, be sure to keep an eye on your pup and perhaps keep them on a leash for safety, in case they're tempted to run out onto the busy sidewalk.
#16 Relax at Zachary Taylor Beach & Park
Contributed by Victoria of My Australia Trip
Fort Zachary Taylor Park in Key West, Florida is a fantastic place to spend an afternoon with your dog, going for a walk by the water and enjoying the views.
Yor dog will have to stay on the leash and has to be well behaved, which you need to keep in mind. Admission is $6 per vehicle which can include up to eight passengers and pedestrians cost $2.50 per person.
You can sit at one of the picnic areas or grab a snack from the small kiosk. The early mornings when not too many other people are around are highly recommended.
Keep in mind that you can't go onto the beach itself with your dog, which is a rule meant to keep it clean. This is a downside of coming to this park, but you can still enjoy the paths and surrounding greenery with your pet at this dog-friendly destination in Florida.
You May Also Like