The second largest inland city in all of Australia, Toowoomba is a relatively undiscovered tourism gem, especially for those travelling with dogs. With many dog-friendly attractions and its proximity to Brisbane, just an easy 90 minutes drive west, it's perfect for a quick weekend away or for an inland stop of a trip around Southeastern Queensland. Find out more about visiting Toowoomba with a dog…
Dog-Friendly Gardens in Toowoomba
Toowoomba is known as the "Garden City", with the city home to over 250 gardens and parks. Luckily, many of the gardens, including some of the stand-outs, are dog-friendly.
Probably the most well-known gardens in Toowoomba are the Queens Park Botanic Gardens, part of the centrally located Queens Park, the largest park in Toowoomba. The heritage-listed botanic gardens were established in the 1870s and are still a highlight of the city.
Take a wander around the gardens and enjoy the formal garden beds, stately trees and memorials. Each year during September, the gardens are the focal point of the annual Carnival of Flowers, with a magnificently colourful display.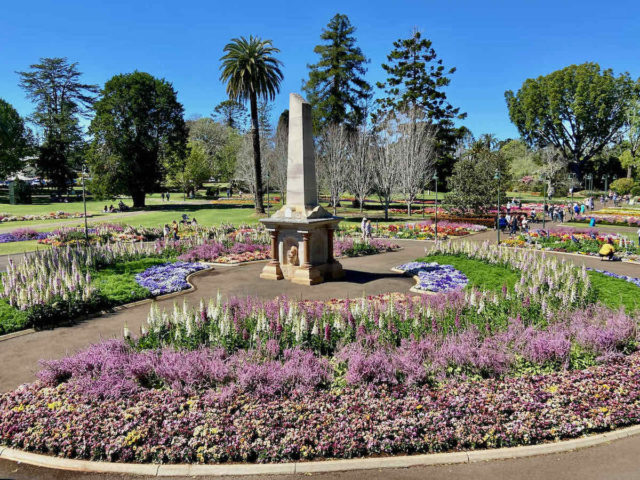 Dogs are welcome to join you on leash in the gardens, plus in the adjacent Queens Park, with its expanses of lawn and large shady trees. Best of all, there's also an off-leash area in Queens Park, not far from the edge of the Botanic Gardens, so your pup can have a run around after wandering through the Botanic Gardens with you.
On the western side of Toowoomba's town centre, Laurel Bank Park is another beautiful garden in Toowoomba that is dog-friendly for dogs on a leash. Less formal than the Botanic Gardens, this park contains many interesting features, including beds of bulbs in the Spring, a Wisteria arbour, a scented garden, and a topiary Thomas train, a favourite with children.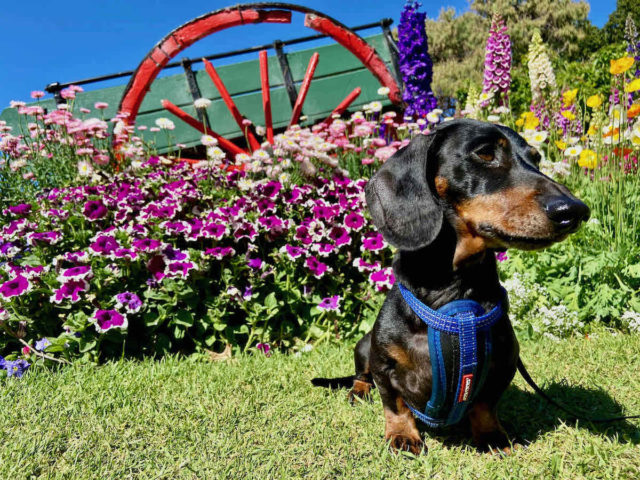 For something different, head to the southern part of Toowoomba and Ju Raku En, Toowoomba's Japanese garden, part of the University of Southern Queensland. Entry to these gardens is also free, with dogs on a leash permitted. It's a pleasure to take a stroll across the many red bridges crossing the water features. In particular, this garden would be a delight to visit in the Autumn months, when the leaves change colour.
Another delightful dog-friendly garden in the Toowoomba area is Peacehaven Botanic Park, 15 minute north of Toowoomba and home to many native plants.
Visiting the Carnival of Flowers with a Dog
Each year during September the city of Toowoomba celebrates the spring season with the Carnival of Flowers. There's mass plantings of flowers in many of its gardens, plus other events, including a Floral Parade through the streets and a Festival of Food and Wine.
Dogs are warmly welcome to join you at the festival, with the organisers in recent years putting together a Petals and Pups program, including suggested itineraries for four-legged attendees, plus information on dog-friendly accommodation and cafes.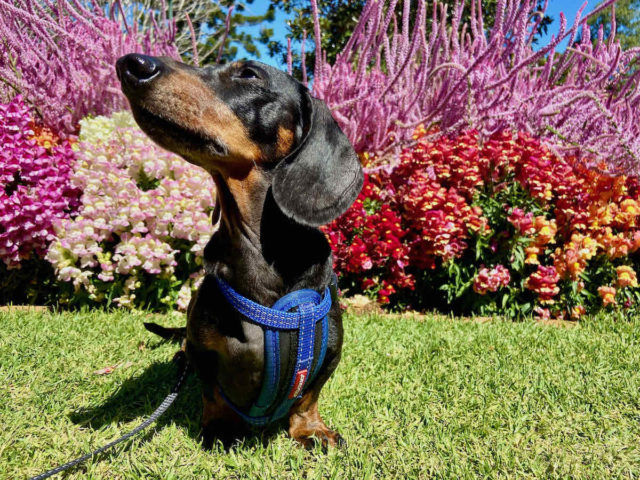 If attending the Toowoomba Carnival of Flowers with your dog, make sure you visit some of the beautiful dog-friendly gardens and admire their floral displays, also the perfect spot for some photos with your pup.
Note that dogs are sadly not permitted in some of the featured gardens, including Spring Bluff Park and Boyce Gardens, plus likely the private exhibition gardens (although you can always ask). Dogs are also not permitted inside the Festival of Food and Wine when it takes over part of Queens Park for the weekend.
More Dog-Friendly Sightseeing in Toowoomba
Gardens aren't the only dog-friendly sightseeing options in Toowoomba. Also consider ticking off some of these sights…
1. Head up Picnic Point
As well as being great for picnics, Picnic Point Parklands in Toowoomba is a great spot to visit with your dog to take in views of the Lockyer Valley and Main Ridge, plus enjoy a dog-friendly walk or two.
There's three bushwalks on offer, varying in length between 900m and 2km one-way, plus a bridle trail. Perhaps follow the Pardalote Walk that connects the main lookout point and the lookout at the end of Tobruk Memorial Drive.
While at Picnic Point, don't also miss the bronze statue of Puppy, the first canine ambassador of Toowoomba. There's also a pretty waterfall, situated on the opposite side of the lookout from the cafe.
2. Explore the Local Street Art
Many of the building walls in inner city Toowoomba are covered in beautiful street art murals. Some of them date from the street art festivals held between 2014 and 2017, but there's also more recent additions that regularly pop up. And as they're located outside, this is one type of art that it's perfect to view with your dog at your side.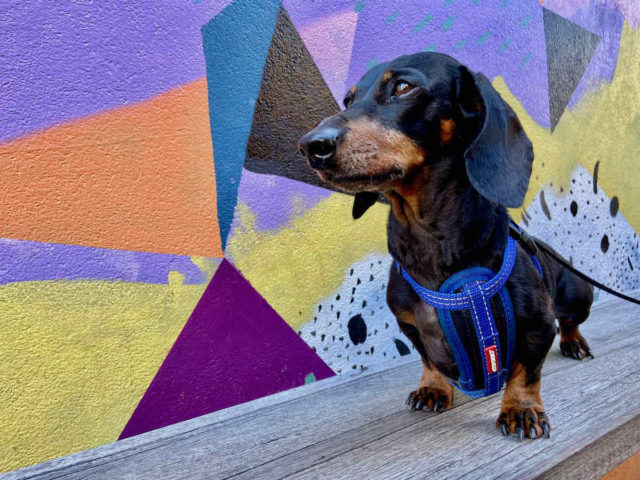 Some of the works that you can't miss include the stunning Indigenous work by Adnate, on the edge of the Neil Street Carpark, near the Empire Theatre. Also head around the corner to Union Street, just off Ruthven Street, to check out the elephant mural by Fintan Magee.
Other highlights include the colourful Aboriginal mural on the wall of the Toowoomba Regional Art Gallery (also check out the sculptures in the park), and the many works along Domestic Lane. Check out this interactive map, pick up a brochure from the local visitors centre, or just head out for a wander and see what you discover.
3. Check out the Historic Buildings
Toowoomba isn't just home to grand old gardens, with many well-preserved historic buildings also dotted around the city.
One of the most impressive old buildings is the Empire Theatre. Built in the art deco style in the 1930s, the building was extensively renovated in the late 1990s after years of neglect, but with most of its original art deco elements retained. It's now the largest regional theatre in Australia.
To view more historical buildings in Toowoomba, follow the Russell Street Historical Walk, which passes the Toowoomba Railway Station, Clifford House, Post Office and more.
Alternatively, head to the southwestern edge of Toowoomba, where the first building in all of Toowoomba, the Royal Bull's Head Inn is still standing. First established in 1847, it predates the town. It's now owned by the National Trust and is a museum showcasing life back in the 1870s.
Dog-Friendly Parks in Toowoomba
Toowoomba and the surrounding villages are home to 27 off-leash dog exercise areas, with all locations conveniently listed in this map on the council website.
The majority of the dog off-leash areas are unfenced, such as the area in Queens Park. There's a few small signs around the edge of the areas, warning when you are entering or leaving an off-leash area, and highlighting the rules for dogs being off-leash.
At the time of my visit, one of the only fenced dog parks within Toowoomba was Clearview Street Park. This hillside expanse of fenced grass has double gates, a picnic shelter and water fountains, although not much shade. For a shady walk, instead head to the off-leash area of Black Gully Park located across the street, with its tall eucalypts and meandering path.
More recently, three more off-leash dog exercise areas have been fenced. North Ruthven Reserve on the northern edge of Toowoomba is an excellent facility, with large separately fenced areas for small and large dogs, plus plenty of shady trees. There are also two fenced dog parks in the southern suburbs, Thiess Dog Park in Darling Heights and Carly Hibberd Park.
Another great unfenced off-leash park to visit in Toowoomba is Garnet Lehman Park. Dogs are allowed off-leash in nearly all of the park that surrounds a lush creek. It's popular to walk a circuit around the park, following both a paved walking path and a dirt path. Note that dogs are not allowed in the Toowoomba Waterbird Habitat opposite.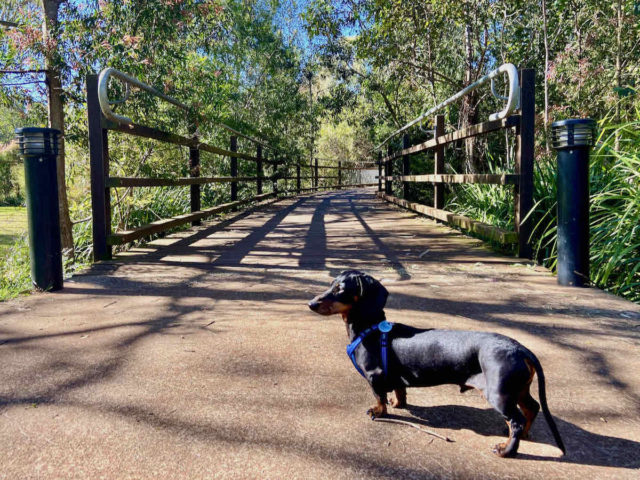 Dog-Friendly Dining in Toowoomba
There's plenty of dog-friendly cafes scattered throughout Toowoomba, with one of the most comprehensive listings on the Carnival of Flowers website.
We enjoyed visiting Ortem Cafe, on the northern side of the city centre, which has plenty of outdoor tables and will offer your dogs a water bowl. Open for breakfast and lunch daily, it's also just a terrific destination for coffee or chai.
While walking around the city centre exploring the street art, a convenient cafe to stop at is Ground Up Espresso. Its tables are spaced down a narrow alleyway full with street art murals.
Another popular dog-friendly destination is Park House Cafe, located opposite Queens Park on Margaret Street. There's plenty of outdoor tables with large umbrellas for dining with your pup. It's open from 6am to 5pm daily.
In the evening (or at lunch time), a great dog-friendly spot to head is Monty Brewing Co. Just north of Toowoomba in Highfields, the brewery is open from Wednesday until Sunday till late, with a restaurant onsite serving an all-day menu.
Dog-Friendly Accommodation in Toowoomba
Note: This post contains affiliate links, which means I may receive commission if you make a purchase using the links. See my full disclaimer.
With many of its streets lined with gorgeous old cottages, consider staying in one of them while visiting Toowoomba. One dog-friendly option is Banksia Cottage, a two-bedroom cottage built in 1898, within walking distance of the town centre. Up to two quiet, well-behaved dogs over 12 months old are allowed with prior approval. There's a fully fenced backyard, plus a kennel and dog bowls are provided.
Another highly rated pet-friendly property is Ruthmor Villas in South Toowoomba. Two of the one-bedroom self-contained apartments are pet-friendly. Both are suitable for one pet and have a fully enclosed courtyard. It's a must to book directly, plus ensure you declare your pet at the time of booking.
Alternatively, if you'd prefer to stay in a hotel, check out the Quest Toowoomba. There are range of self-contained rooms varying in size from studios to three-bedroom apartments, and selected rooms are pet-friendly for a small additional fee. Call the reception directly to enquire about full details and make a booking.
If you're bringing along your caravan or motorhome, a convenient place to stay at the edge of town are the Toowoomba Showgrounds. Facilities are basic, but the prices are very reasonable, with no pre-booking required. Note that no tents are permitted at the showgrounds, plus there are annual closures for the show.
If you're just staying the one night, another alternative option for self-contained vehicles is the short term rest stop at Federation Park, south of Toowoomba. There's a paved walking path throughout the park, perfect for dog walks.
Head Next To