The Granite Belt is one of the only wine regions in Queensland, and fortunately it's a great destination to visit with your dog. Centred around the town of Stanthorpe, the coldest town in all of Queensland, there's a huge list of dog-friendly wineries to visit, not to mention dog-friendly walks, cafes and accommodation options. Read on to plan your dog-friendly getaway to Stanthorpe and the Granite Belt…
Dog-Friendly Wineries in the Granite Belt
There's over 40 wineries located in the Granite Belt wine region, situated both north and south of the town of Stanthorpe. Luckily for dog owners, many of the wineries are dog-friendly, with some even allowed dogs to join you inside the cellar door.
The first winery that we visited was Summit Estate, located about 10 minutes north of Stanthorpe. There's a sign at the door letting you known that they're "fur baby friendly" and to bring them in!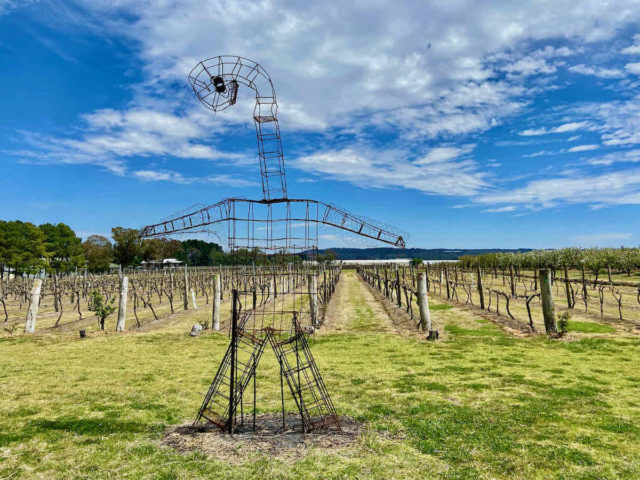 We enjoyed a tasting of many of their white, rose and red wines, although sadly the sparkling was out of stock. There's a small charge for wine tasting, which is waived in return for purchasing a bottle. In addition to opening from Friday to Monday (double check the latest opening hours), they often stay open late on Friday and Saturday evenings for sunset sessions next to the vines.
We also enjoyed our visit to Hidden Creek Winery and Cafe. Bookings are a must at this cellar door, which is only open on Saturdays and Sundays. Dogs are welcome to join you for a tasting on the green lawn overlooking the dam.
Currently they offer a tasting of four of their wines, of your own choice, for a small charge. It's also possible to order a grazing platter. Picnic baskets can also be ordered to be enjoyed anywhere around the property, such as on the other side of the dam or amongst the vineyard.
Some of the other dog-friendly cellar doors in the Granite Belt wine region include Ridgemill Winery, Robert Channon Wines and Balancing Heart Vineyard. Note that the latter two have resident dogs, so it's best if your dog is relaxed around other dogs. For a more extensive listing of the latest dog-friendly wineries, ask your accommodation or check out this listing, which details which wineries allow dogs inside or outside.
If you'd prefer to try some beer instead, head to Granite Belt Brewery. Surrounded by beautiful bushland, dogs are allowed at the tables on the lawn, plus quiet dogs are allowed up on the tables at the back verandah. Order a tasting paddle, with two sizes of glasses on offer, or just one of their many beers and ciders. If you don't want to leave, some of their cabins onsite are pet-friendly.
Dog-Friendly Walks Around Stanthorpe
The Granite Belt region is named for the distinctive granite boulders that dot the landscape. Many of the most famous granite outcrops are found in Girraween National Park, located to the south of Stanthorpe. However, the park is of course off-limits to dogs.
One of the best outcrops around Stanthorpe that can be explored with a dog is Donnelly's Castle. This reserve is about 20 minutes drive north of town. Note that the final few kilometres of the road is unsealed, whether approaching from the south or north, although at least the gravel road was in good condition when we visited.
At Donnelly's Castle there are two short walks: the 55m walk to the caves area or the 100m walk to the lookout, located at the top of a huge boulder. There's also picnic facilities onsite. There's no signs relevant to dogs, but its advisable to keep your dog on a leash, given the drop-offs.
If your time is limited, there's also plenty of granite boulders to check out in town. For example, head to Jardine Street on the southern edge of town. About halfway along the road on the left-hand side is a short 200m walk, starting at the Land for Wildlife sign, through a cluster of boulders, known as Sentimental Rocks.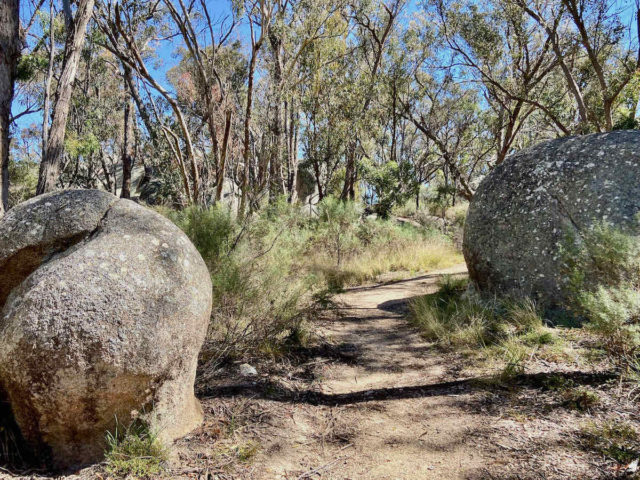 Another beautiful walking option in Stanthorpe are the concrete paths alongside Quart Pot Creek. This lush vein meanders through the centre of town, dotted with wetland areas and edged by parks. Perhaps walk along the section adjacent to the Off-Leash Dog Park. Or head further south to Heritage Park and follow the path to Red Bridge, an historic railway bridge. Dogs need to be kept on leash.
Don't also miss heading to the top of Mt Marlay, home to a lookout with panoramic views across Stanthorpe. At the mountaintop there's also an unsignposted walking trail around the summit, on an easy path, with dogs on a leash permitted.
Dog-Friendly Parks in Stanthorpe
There's one off-leash dog park located in Stanthorpe. It's located on Connor Street, on the southern side to the west of Talc Street. The park is fully fenced, with picnic benches, chairs, poo bag dispensers and bins within the area, plus a water fountain just outside.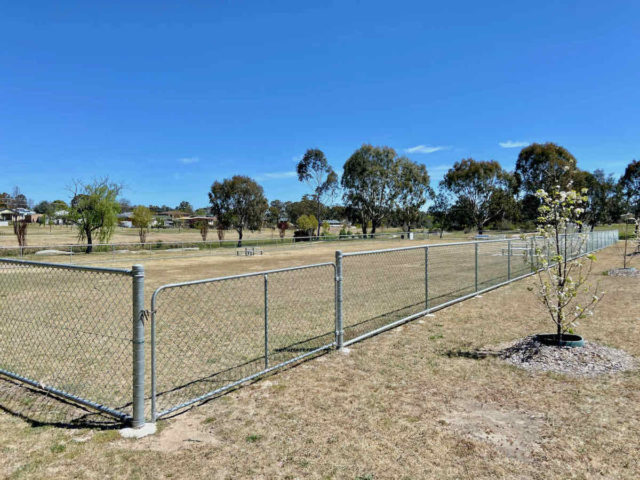 It's probably best to visit early or late in the day, with not much shade until the nearby trees mature. Also some dogs may not be impressed by the number of bindis within the grass.
The park is adjacent to Quart Pot Creek and the pedestrian paths that run along the creek, including a recently constructed bridge across the creek. Perhaps combine a visit to the park with a walk along the creek.
Dog-Friendly Dining Around Stanthorpe
Many of the best dining options in the Granite Belt region are located outside of Stanthorpe, with many of the wineries having onsite cafes, plus a wide variety of local food outlets.
At the Balancing Heart Cellar Door, 25 minutes south of Stanthorpe, much of the focus is on their cafe. Their wood-fired pizzas smelled delicious when we visited for a wine tasting (just after lunch unfortunately!) Dogs are welcome both on the verandah and the tables next to the lake, as well as inside the cellar door. Expect a warm welcome from their resident German Shepherds.
As well as pizzas, there's a range of platters at lunchtime, plus their wines by the glass or bottle. They're open for lunch seven days a week, plus for sunset pizzas from Friday to Sunday nights. Bookings are essential.
A lunch option where bookings aren't required is Stanthorpe Cheese and Jersey Girls Cafe, located a 15 minute drive north of town. I recommend paying the small fee for a tasting of their cheese range, which you can enjoy on the outside picnic tables with your pup, before ordering a ploughman's platter, with a choice of their cheese. If you're only peckish, they also offer cheese toasties.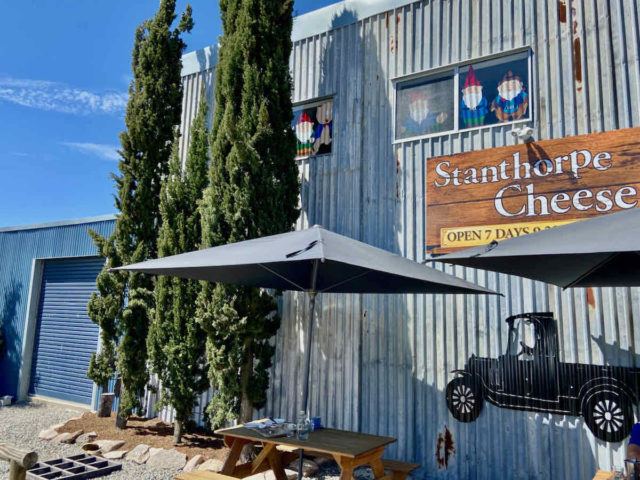 While you're in the village of Thulimbah, don't miss stopping in at Sutton's Juice Factory. Their famous apple pie, served in a big wedge with spiced apple cider ice cream, cream and apple syrup, is unmissable. While dogs aren't allowed inside or in the main outdoor area, there's a "dog parking" area just before the main door, with multiple tables for dogs and their owners.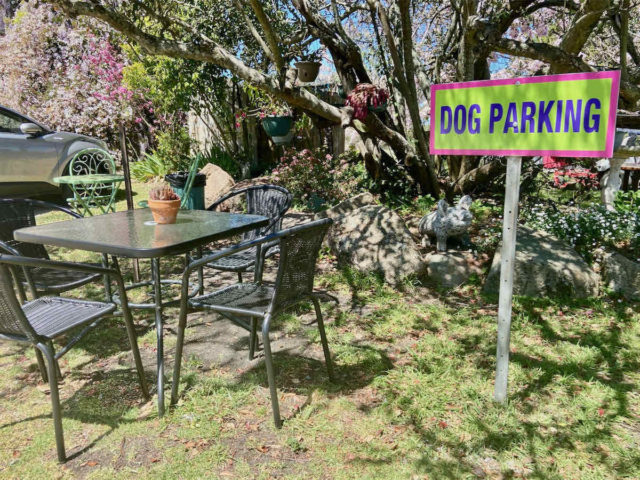 Back in Stanthorpe, a great spot to dine in or grab a take-away lunch is Zest Pastries. They bake a wide range of high-quality gourmet pies – we both loved their cider pulled pork pie. Their sandwiches also looked delicious. Outside the bakery is a few tables and a dog bowl, or head to one of the local parks.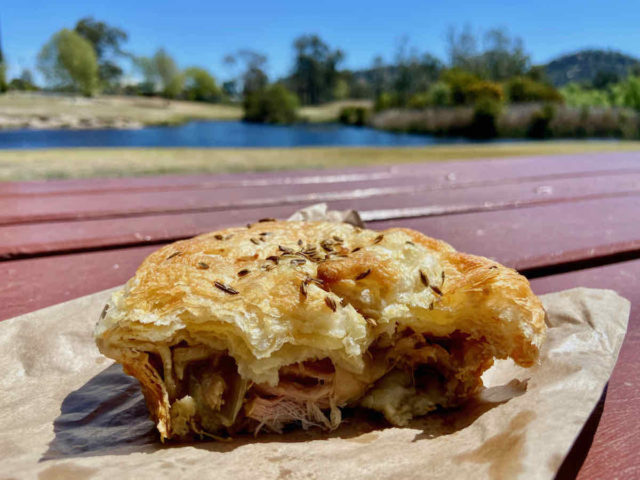 Dog-Friendly Accommodation Around Stanthorpe
There's a wide range of pet-friendly accommodation options in and around Stanthorpe and the Granite Belt wine region.
For a touch of luxury, consider a stay with your pet at Alure in the countryside south of Stanthorpe. With prior approval, your dog is welcome in one of their luxury villa, with their own bathrobe, a plush cocoon dog bed, bowls, and a gift bag of toiletries and gourmet treats to take home. There's an additional charge of $100 per pet per stay.
Another farm stay just outside of Stanthorpe is Straw House B&B. They have two luxurious cottages constructed out of straw, with well-behaved dogs welcome to join you for an additional fee. Don't miss out on their famous breakfast, or meeting their menagerie of animal – perfect for those with children or still a child at heart.
Back in town, the Top of the Town Tourist Park is popular with pet owners for their range of accommodation options. As well as powered and unpowered camp sites, perfect if you have a caravan or tent, there's also affordable pet-friendly standard and family cabins.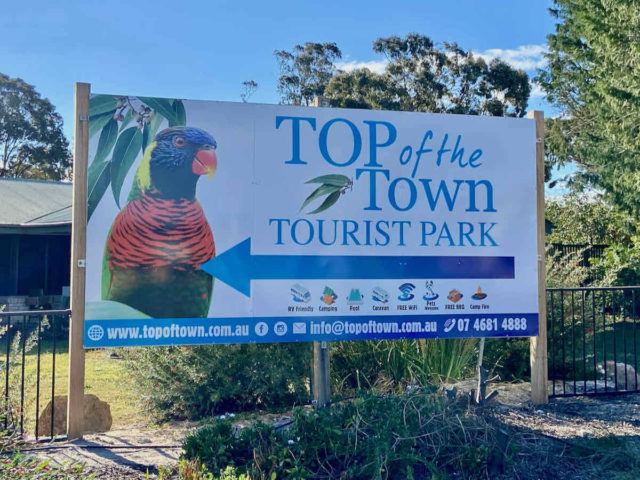 Another pet-friendly campground near Stanthorpe is Foxbar Falls, about 15 minutes northwest out of town. Each site has its own fire-pit, and the site fees include the use of kayaks and the laundry. Two dogs are permitted at most campsites, although Rock View campsites are pet-free and it's best to call and discuss the best option if you have a large dog. Dogs are also permitted on the walks and in the dam, but need to stay leashed.
Head Next To