Yosemite National Park in California is one of the most spectacular national parks in the United States. While your options are limited if you are visiting Yosemite with a dog, there's still plenty to see and do, as long as you're happy to skip most hiking trails. Find out more about what you should do when visiting Yosemite with your dog, plus where to stay and dine.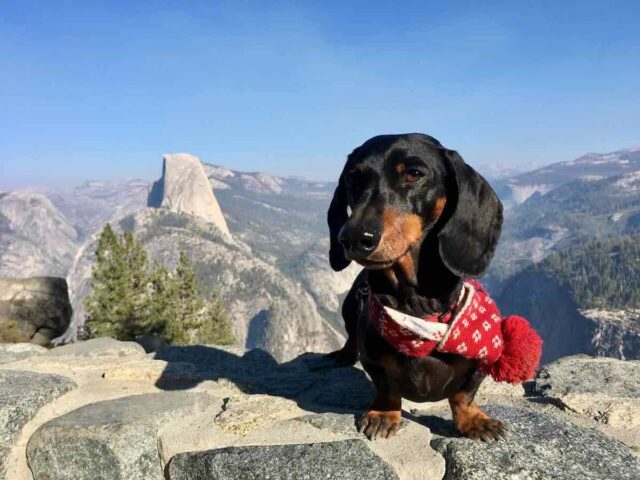 Where Are Dogs Allowed in Yosemite National Park?
Pet dogs are only allowed to accompany you in certain parts of Yosemite National Park, like when visiting all national parks in the US. Pets are only allowed in developed areas of the park, on fully paved roads, sidewalks and bicycle paths (except if otherwise signposted) and in the regular campgrounds (not walk-in or group campgrounds).
On the other hand, dogs are not allowed on any hiking trails in the park, including the trail to Vernal Fall (even the paved section), except the Wawona Meadow Loop. Dogs are also not allowed on shuttle buses, inside buildings, in lodging areas, and in undeveloped and wilderness areas, including meadows.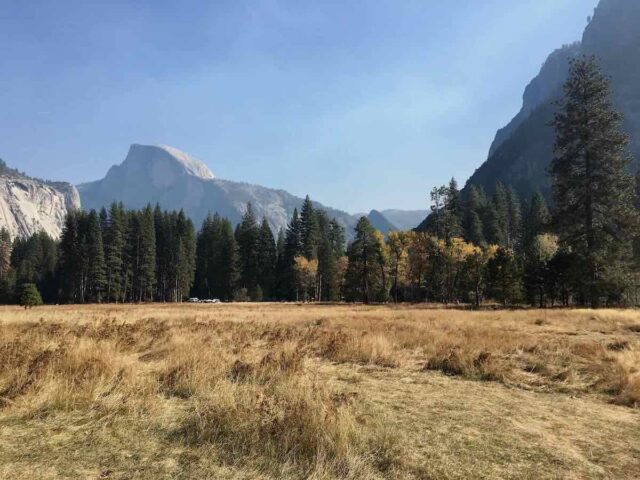 While visiting Yosemite National Park with your dog, they should be kept on a leash, no longer than six foot, and not be left unattended.
If you would like to kennel your dog while visiting Yosemite, there is a kennel available at Yosemite Valley Stable near the Wawona Hotel. Generally the kennel only operates over the summer, from mid-May to mid-September, with advance reservations recommended.
Written proof of vaccinations is required and small dogs under 20lbs are only considered if they are crated. While the kennel was closed in 2022 for renovations, the kennel should be open in 2023.
Kennels and dog-sitting is also offered at Tenaya Lodge, see below.
Dog-Friendly Lookouts at Yosemite
One of the highlights of a visit to Yosemite with your dog will be driving through the park and taking in the beautiful vistas, one of the reasons Yosemite is one of the most popular national parks in the United States.
The loop through Yosemite Valley is particularly impressive, with views of the magnificent El Capitan and multiple waterfalls, depending on the season.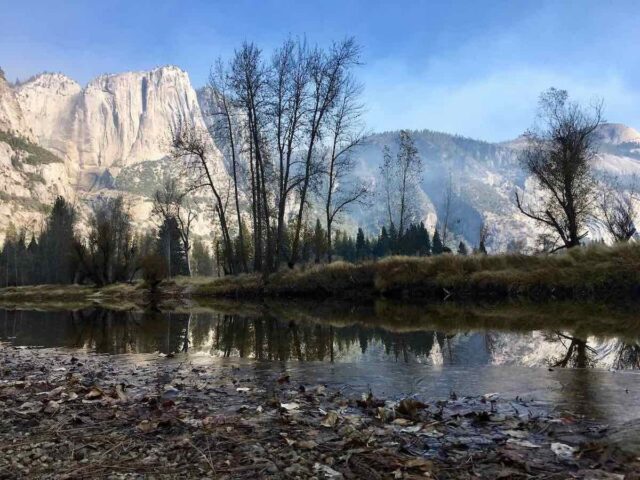 Make sure you stop and get out at Bridalveil Fall, with the viewing point reached by a short paved path, which dogs are allowed to accompany you on. The falls are at their best in early Spring, however, they can be flowing year-round thanks to the wetland area above the falls.
Nearby on the road are multiple beautiful viewpoints for the majestic El Capitan, towering over the Yosemite Valley. Almost 3000 feet tall from base to summit, sometimes rock climbers can be seen attempting the near vertical rockface.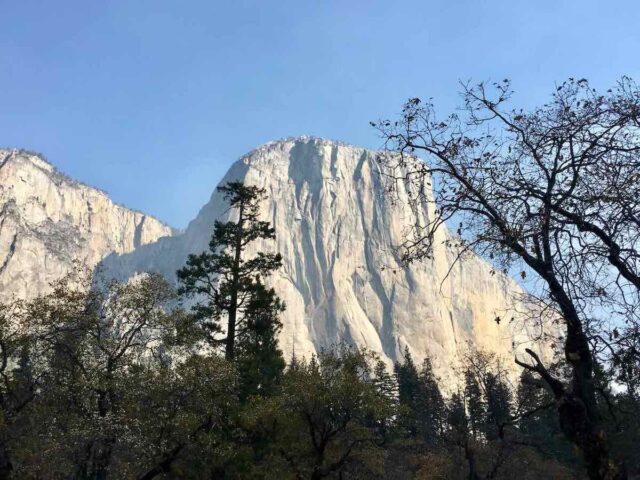 When leaving Yosemite Valley, whether heading to Glacier Point or Wawona, stop and take in the view from the Tunnel View Lookout. The lookout is located just before the Wawona Tunnel and offers views of the entire Yosemite Valley.
After being closed during 2022 for road maintenance, the road to Glacier Point will again re-open in 2023, although delays are expected during the Spring months. This long winding road will reward you with magnificent vistas over vast areas of wilderness and Half Dome.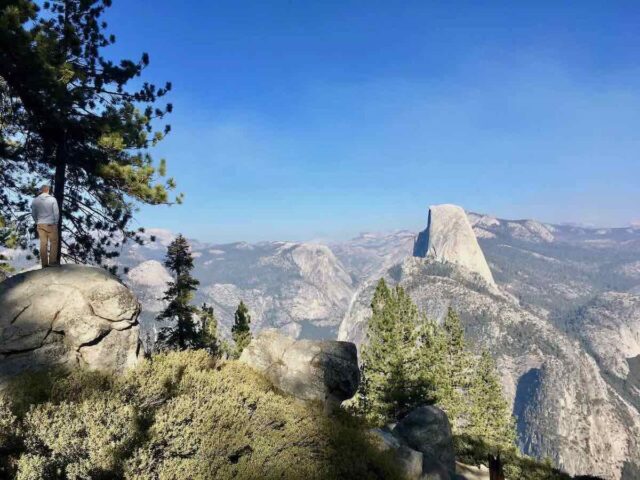 Dogs are allowed to accompany you on the short walk at the lookout point. Don't forget to get plenty of photos, especially if the weather was as sunny and clear as on the day we visited!
Dog-Friendly Walks in Yosemite
In addition to driving and stopping at lookouts, there are also a small number of walks that you can do with your dog at Yosemite. Remember to keep your dog leashed at all times, on a leash no longer than six foot.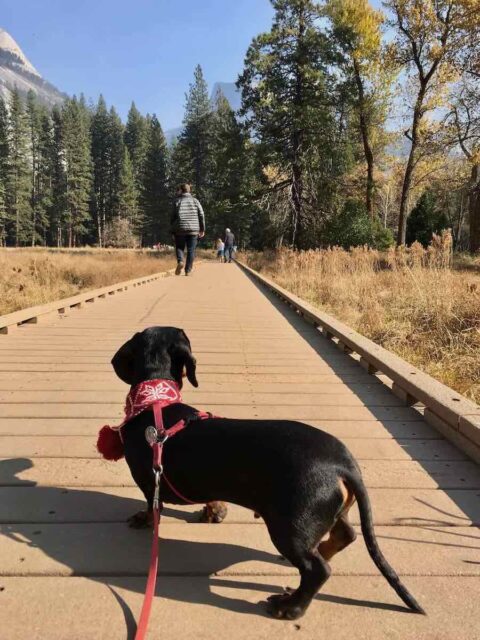 #1 Lower Yosemite Falls Trail
Probably the most popular dog-friendly walk in Yosemite National Park is the walk to Lower Yosemite Falls. Despite the falls being dry for part of the year, including when we visited in November, it's still a pretty spot, and the path passes through gorgeous groves of trees.
An easy, flat walk that starts near the Yosemite Valley Visitor Center, the track is only 1 mile long and takes about 20 minutes to complete, not including time for photos. The paved walking track is also accessible to wheelchairs and strollers.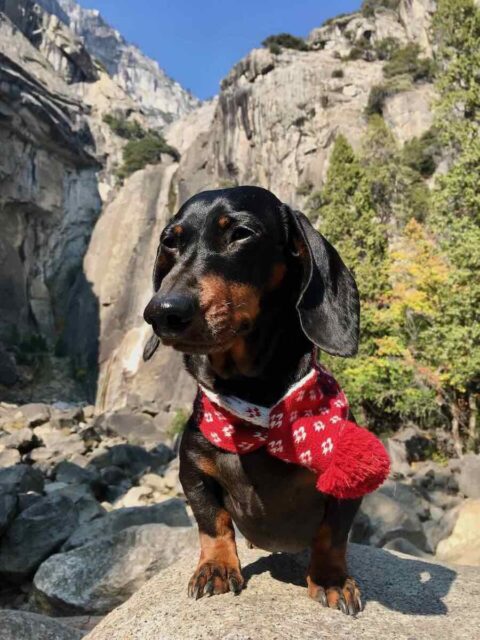 Extend the walk with a stroll on the boardwalk through Cook's Meadow, as well as more views of Yosemite Falls, the tallest waterfall in North America, there are also views of Half Dome and Sentinel Rock.
#2 Mirror Lake Paved Trail
Another walking track that is dog-friendly in the Yosemite Valley is the Mirror Lake Paved Trail. Dogs are welcome on the initial paved section of this trail, which is also popular for bicycle riding. Return once you reach Mirror Lake, with the return walk just over 2 miles in length.
#3 Wawona Meadow Loop Trail
In the southern section of Yosemite National Park, near the Wawona Visitor Center, is the Wawona Meadow Loop Trail. This trail is the only unpaved hiking trail that dogs are allowed on in the park.
The 3.5 mile trail is relatively flat and circles around one of the largest meadows in Yosemite. The trail is particularly beautiful in Spring, when wildflowers blossom, plus during the Fall when the trees change color.
Can Dogs Visit the Mariposa Grove?
In the southern part of Yosemite National Park one of the top attractions is the Mariposa Grove of Giant Sequoias, home to the Giant Grizzly and other towering Sequoias. Unfortunately, this attraction is off-limit to dogs. If you're wanting to visit, it's best to leave your dog behind for the day or take turns to visit.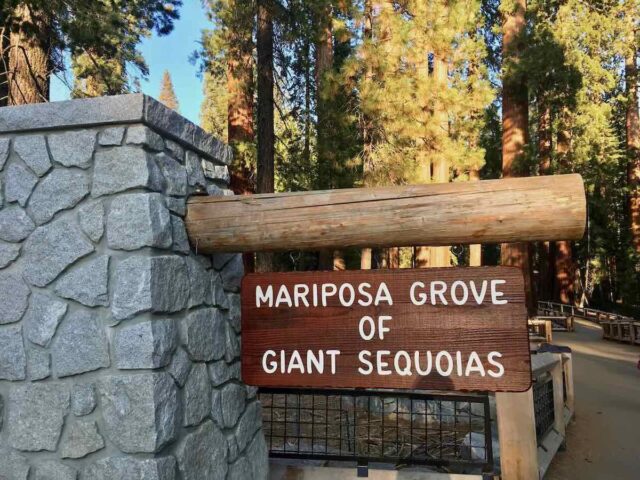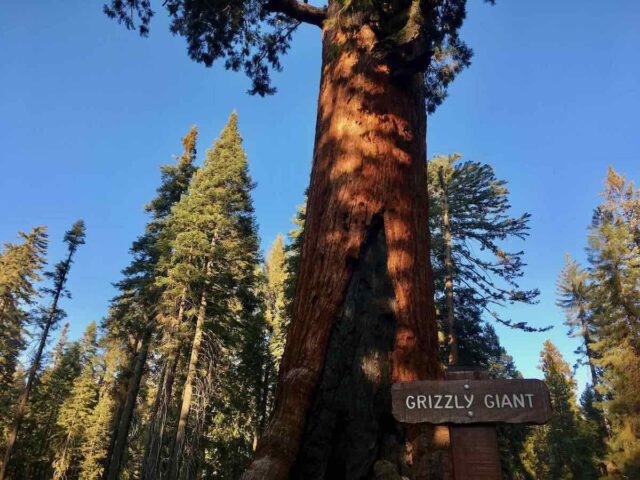 Dog-Friendly Dining at Yosemite
If you don't bring along your own picnic lunch when visiting Yosemite, one of the dog-friendly dining spots in the Valley is the Village Grill. Located in the Yosemite Village and with a large outdoor deck, the restaurant is open seasonally – double check whether it will be open when you visit.
An alternative spot that is open January to November and during holidays is the Curry Village Pizza Deck. This restaurant also has a large outdoor deck, but double check that pets are allowed. Both whole pizzas and pizza by the slice is available. Be prepared for long queues in the winter months due to limited options being open.
Outside of Yosemite, 1850 Restaurant is located in the town of Mariposa. Open for lunch and dinner from Wednesday to Sunday, it has a covered outdoor patio where dogs are welcome. Also onsite is a brewery, offering up a range of flagship and seasonal brews.
Dog-Friendly Accommodation at Yosemite
There are a wide range of dog-friendly accommodation options available at Yosemite and just outside of the park, from camping to resorts. There are also a number of pet-friendly cabins to rent.
Dog-Friendly Camping at Yosemite
Yosemite National Park contains multiple campgrounds, and except for the walk-in (including Camp 4) and group campgrounds, pet dogs are allowed to stay with you in all of them.
Different campgrounds have different opening dates and facilities. Most but not all require reservations, with North Pines operating an early access lottery. If camping in Yosemite, make sure you are careful to properly store pet food the same as human food.
Tenaya Lodge at Yosemite
While none of the lodges in Yosemite allow pets, instead consider staying at the upscale Tenaya Lodge at Yosemite, just outside the South Gate entrance. Book a Fido Friendly Room package, which includes accommodation in a Premium Lodge Room or Cottage Room, the one-time pet fee of $100 for up to two dogs, and a dog bed and dog bowls for use during your stay.
Direct bookings are essential. Generally only two well-mannered dogs are permitted per room, with special permission required for dogs over 70 pounds. A onsite kennel is available, plus selected tables in the restaurants have been designated as dog-friendly.
Yosemite Bug Rustic Mountain Resort
Another more rustic option for staying near Yosemite with your pet is the Yosemite Bug Mountain Rustic Resort. Just north of Mariposa, it's a 45 minute drive from the resort to the Yosemite Valley.
We stayed in one of the tent cabins at the resort, an affordable option near Yosemite. Selected regular tent cabins and superior private rooms have been designated as dog-friendly. Look for the rooms designated as "Dog Friendly" when booking.
An additional one-off fee of $60 applies. Only one dog is permitted per room, with dogs not allowed on the furniture or to be left unattended.
You May Also Like