San Francisco is a very liveable city in the United States, and this extends to life for its many dog residents. We've previously covered the dog-friendly places in San Francisco, from parks to restaurants, but what about tourist attractions? What dog-friendly sites are there to visit in San Francisco if you're visiting with your dog?
Luckily, I recently visited the city along with my dog, and ticked off as many of the sights as possible. So, here are my top recommendations of dog-friendly things to do in San Francisco!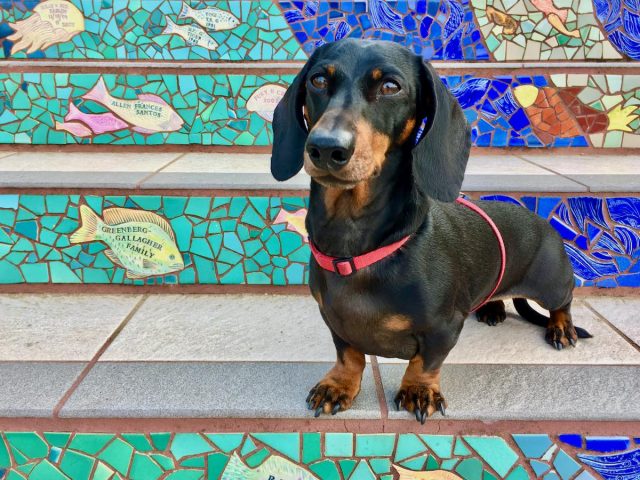 1. Visit the 16th Avenue Tiled Steps
This wasn't even on my list of things to do at first, but I was luckily alerted to these steps by a local, and they were one of my favourite places in San Francisco. A series of steps leading up to Grandview Park in Inner Sunset have been tiled in beautiful designs.
The steps are outdoors so of course your dog is welcome to join you. I recommend visiting earlier in the day, as they become progressively busier as the day goes on. I loved taking photos of my dog in front of the different sections, while we had the steps entirely to ourselves.
Also nearby are the equally colourful Hidden Garden Steps, in between Kirkham Street and 16th Avenue.
2. Stroll Through Haight-Ashbury
San Francisco is synonymous with the Hippie Era of the 60s and 70s, and that vibe can best still be captured in the Haight-Ashbury District.
This district is located around the intersection of Haight Street and Ashbury Street. It's home to an eclectic range of shops and cafes, plus there's plenty of street art to check out. Go for a stroll through the area with your dog!
3. Check Out the Murals in the Mission District
My favourite area though in San Francisco for checking out the street art with my dog by my side was in the Mission District.
Make a beeline to Balmy Alley for a laneway lined with a diverse range of murals. Many of the murals reflect the historic Latino links of the area. Plus there's some great works that have 3D touches.
The artworks are constantly changing, so it's worthwhile revisiting even if you've visited this laneway before.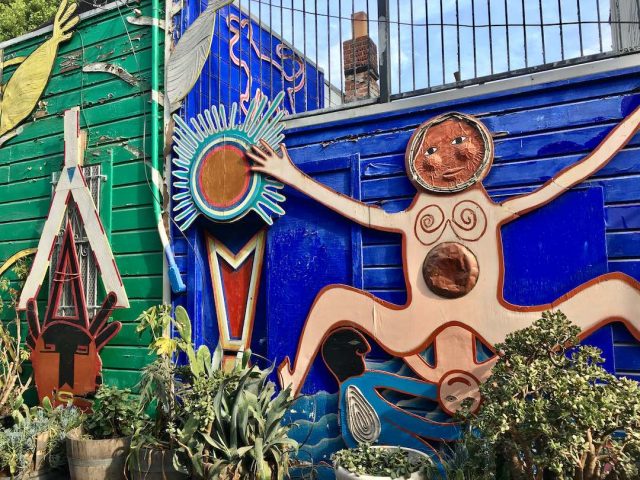 4. Go For a Ride on the Cable Cars
One of my big disappointments from our time in San Francisco is that the cable cars weren't running, due to the bushfire haze engulfing the city. The trams are a traditional (albeit expensive) way to take in the city, including riding to Fisherman's Wharf.
And luckily dogs are allowed to join you on public transport in San Fransisco, including the cable cars, outside of peak hours (5-9am and 3-7pm, from Monday to Friday).
Note that only one pet is allowed per vehicle and they will be charged a fare the same as your own. Dogs must be leashed and muzzled and either ride on your lap or under your seat.
5. Check Out the Sea Lions at Fisherman's Wharf
Even if you don't catch a cable car, head to Fisherman's Wharf to check out the resident sea lions at Pier 39. We skipped on the overpriced restaurants in the area, but it was fabulous to see such a huge group of sea lions close by on the docks!
If visiting with your dog, I advise you to use caution and common sense. We kept our dog firmly on his lead, and if any sea lions had been closer than about 10m across the water away, we would have kept our distance. As it is, I don't think our dog was even that interested in the honking noise!
6. Visit the Painted Ladies
Another famous spot in San Francisco are the "Painted Ladies". However, these aren't real women, but rather a series of beautiful houses opposite Alamo Square Park. If you ever watched the TV show Full House, you would have seen shots of these in the intro.
While the Ladies themselves are only worth a few quick photos, with or without your dog, the next block is entirely taken up with the Alamo Square Park. The entire western half of the park (the opposite side from the Painted Ladies) is an off-leash dog area, and it's a popular spot for locals to visit with their dogs for some exercise and socialising.
7. Take in the Bridge from Baker Beach
Finally, what's a visit to San Francisco without taking in some of the best viewpoints of the Golden Gate Bridge? While some of the best places to snap a photo are on the northern side of the bridge, back on the city side head to Baker Beach for a different view.
The great thing about going to Baker Beach is that it's a dog-friendly beach, with dogs allowed off leash, except for the small section of the beach to the south of Lobos Creek. It's great for a run on the sand, particularly during good weather, and maybe a play with other friendly dogs.
As well as views of the Golden Gate Bridge, it's also a good spot to watch the sun set into the Pacific Ocean, as the end of a fun day sightseeing in San Francisco with your dog.
You May Also Like
Inspired? Pin this to your Pinterest board!