Whether you're a Golden State dog owner or are visiting California from out of state, dog-friendly California offers no shortage of activities to do with your dog. From the mountains to the sea, and the cities to the country, check off these fun dog-friendly things to do in California.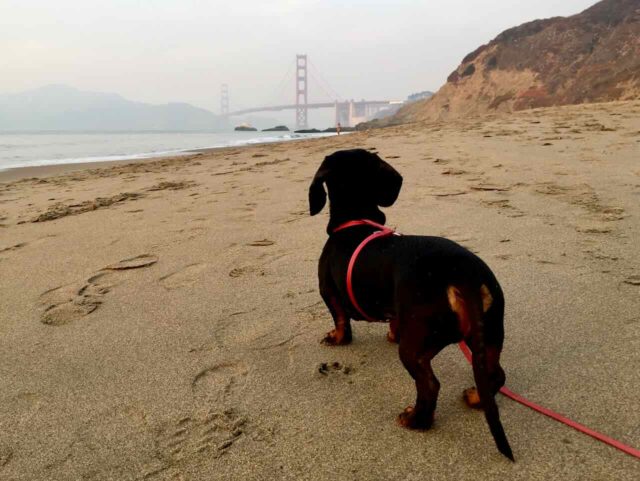 #1 Drive Along Big Sur
One of the most epic American road trips, a drive along Big Sur shouldn't be missed by anyone visiting northern California. This 90 mile stretch of Highway 1 hugs the coastline between Carmel-by-the-Sea and San Simeon, with plenty of beautiful stops along the way – allow at least a day!
Before setting out, don't miss exploring Carmel-by-the-Sea, rated one of the most dog-friendly towns in the United States. Just double check what other stops along the way do or don't allow dogs – Point Lobos State Natural Reserve prohibits dogs, even from the carpark.
Note that Highway 1 does regularly close due to landslides, so check the conditions in advance. On the rainy day we attempted to drive it, a section closed pre-emptively in case of landslides, meaning that we needed to make a long back track to our hotel for the night.
#2 Check out Half Dome
Yosemite National Park is one of the most beautiful national parks in the United States, located high in the Sierra Nevada mountains, home to towering sequoias, waterfalls and vistas. One of the most beautiful views is Half Dome, a distinctive granite dome at the eastern end of Yosemite Valley.
The best views of Half Dome are from the Glacier Point lookout, accessed by a short walking trail, one of the few dog-friendly walks in the national park. It's the perfect spot to get a classic selfie in the park with your pup.
While the road to Glacier Point has been closed in recent years for repairs, it will re-open in 2023, although expect delays on the road early during the year.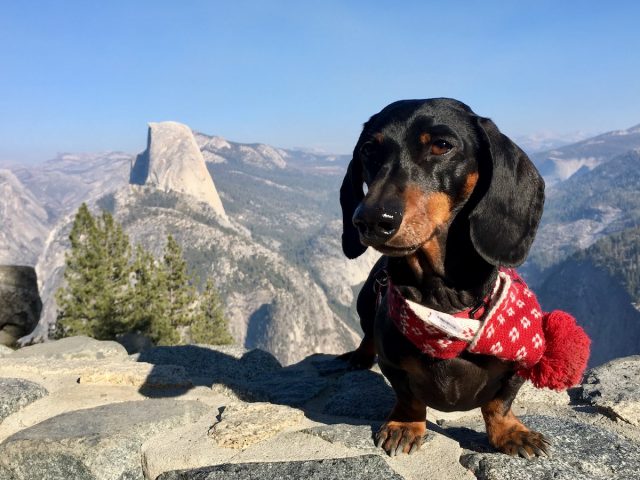 #3 Taste Wine at Napa Valley
California is home to multiple wine growing region, with the Napa County region to the north of San Francisco one of the most prestigious. But that doesn't mean that you need to leave your dog behind – there's plenty of cellar doors that welcome well-behaved pups to join you, not to mention restaurants and hotels.
To find out which wineries allow dogs, including many both inside and out, check out this list of pet-friendly wineries in Napa. Raymond Vineyards offer a shady, outdoor dog suite, complete with a wine barrel dog bed, for your pup to while away the time. Or time your visit for the annual Pamper Your Pooch Day at V. Sattui Winery or the Harvest Hounds event at HALL Wines.
#4 Gaze up at the Golden Gate Bridge
A visit to San Francisco isn't complete without stopping at one or more of the viewpoints for the spectacular Golden Gate Bridge. There's some great spots to take in the view from the northern side of the bridge, but for something different head to Baker Beach.
Dogs are allowed off-leash along nearly all of Baker Beach, except the small southern section south of Lobos Creek. Combine a walk along the beach and a play on the sand with the chance to take some photos looking up at the bridge. It's also a fabulous spot to watch a West Coast sunset.
Check out more dog-friendly things to do in San Francisco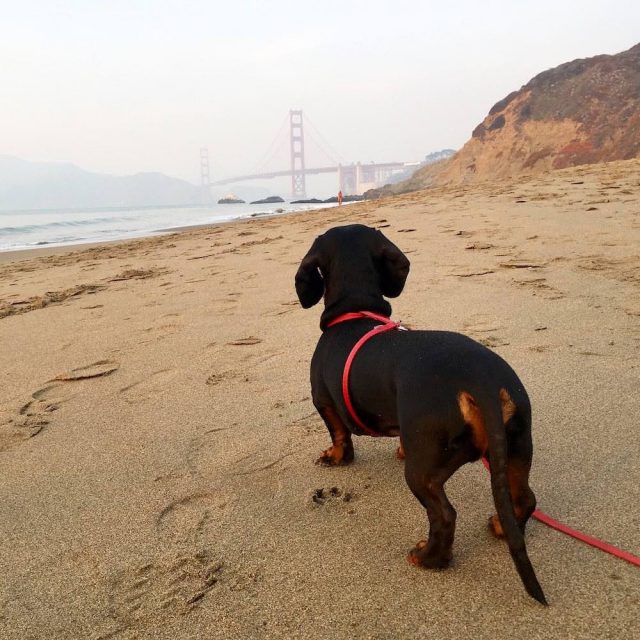 #5 Hit the Beach
How could a visit to California be complete without visiting some of its wonderful beaches? And while many beaches are off-limits to dogs, there are still plenty of excellent dog-friendly beaches along the state's 840 miles of Pacific coastline.
As well as Baker Beach in San Francisco, two other dog-friendly beaches in the city are Mile Rock Beach, near Lands End Lookout, and Fort Funston Beach, in the southwest corner of the city near the Zoo. While if you're visiting San Diego, head to Ocean Beach and the "Original Dog Beach", or out to Fiesta Island.
One of the best dog-friendly beaches in California is Huntington Dog Beach, a terrific 1 1/2 mile stretch of gorgeous sand and water south of Los Angeles. There are multiple car park located along the beach, along with drinking fountains and dog waste bags. Another alternative nearby is Rosie's Dog Beach in Long Beach.
#6 Explore Redwood Forests
California is home to some of the largest and tallest trees in the world. There are two species of these giant redwoods, the Giant Sequoias that are found in the Sierra Nevadas, as well as Coastal Redwoods, found along the coast of North California and crossing the border into Oregon.
Multiple national parks contain impressive groves of redwoods, but often the trails are off limits to dogs. For instance, Mariposa Grove in Yosemite National Park is home to the Grizzly Giant, but dogs are not allowed in the grove.
Dogs are also not allowed on any trails in the Redwood National and State Parks in Northern California. Instead, the park recommends that if you want to walk through old-growth redwoods with your pet, to follow Cal Barrel Road in Prairie Creek Redwoods State Park or Walker Road in Jedediah Smith Redwoods State Park – in both cases keeping your dog on a leash.
If you want to visit more giant redwoods with your dog in California, check out these recommendations for dog-friendly redwoods around San Francisco. In these parks dogs are allowed to join you on trails.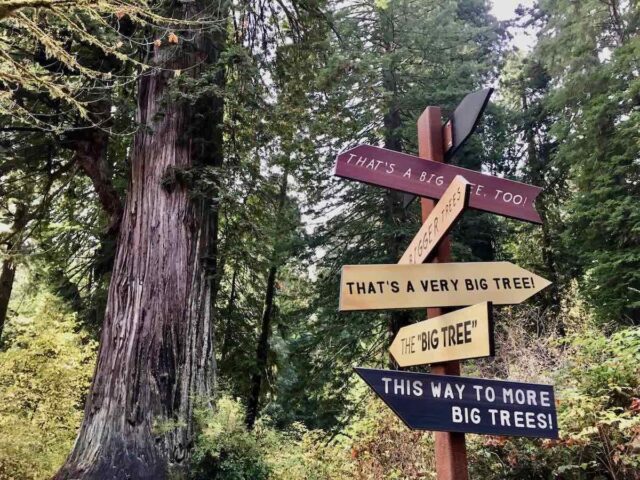 #7 Drive Through Joshua Tree
While Joshua Tree National Park is not an especially dog-friendly national park, it's still possible to visit the park and see many of its highlights with your dog.
While pets are not allowed on hiking trails or in the backcountry, they can join you driving through the national park. Pet dogs are allowed anywhere within 100 feet of roads (including unpaved roads) and picnic areas, meaning there's plenty of opportunities for taking selfies of the famous Joshua Trees. Pets can also join you on the paved Oasis of Mara and Keys View trails.
If you'd like to spend more than one day in the park, dogs are welcome at the many campgrounds, plus within 100 feet of them. Just make sure that your dog stays on a leash, that is 6 foot or less in length.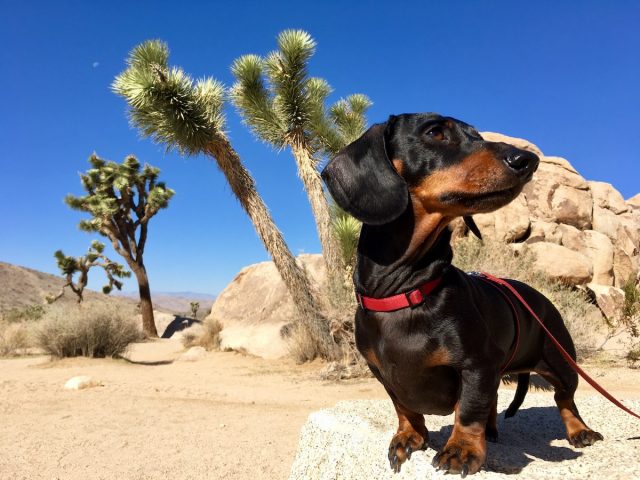 #8 Relax at Palm Springs
Not far from Joshua Tree is the desert city of Palm Springs. Once a popular destination for movie stars, it's still a wonderful place to relax and enjoy the mild weather during winter, with almost a guarantee of sunshine.
Palm Springs is also a great spot to relax with your pup. Plenty of locals have dogs, so there's no shortage of dog-friendly cafes and restaurants, plus stylish boutiques just for dogs. Take a wander around town and enjoy the mid-century architecture that the city is renown for.
Alternatively, head out of town to the Mission Creek Preserve, in the transition zone between the Sonoran and Mojave deserts. The preserve is home to a gorgeous 3-mile long hiking trail with leashed dogs permitted. If you're after a long hike, the trailhead for the 2600-mile Pacific Crest Trail is not far away!
#9 Enjoy a Taste of Denmark at Solvang
To enjoy a taste of Denmark without needing to fly to Europe, you can instead head to the California town of Solvang. Located in the Santa Ynez Valley, 40 minutes drive northwest of Santa Barbara, the town is a slice of Denmark, plus one of the most beautiful small towns in the Western United States.
Solvang is also an incredibly dog-friendly destination. One of the top things to do in Solvang is just to stroll through the village, past its pretty houses and shops (complete with windmills!), centred on Mission Drive. Don't also miss the free (and dog-friendly) Hans Christian Andersen Museum.
Make sure you stop off at some of the bakeries and wineries, most with dog-friendly outdoor seating. We enjoyed a simple but tasty lunch at the Copenhagen Sausage Garden, where our dog was welcome at the outdoor patio. This being California, there's also vegan sausages available.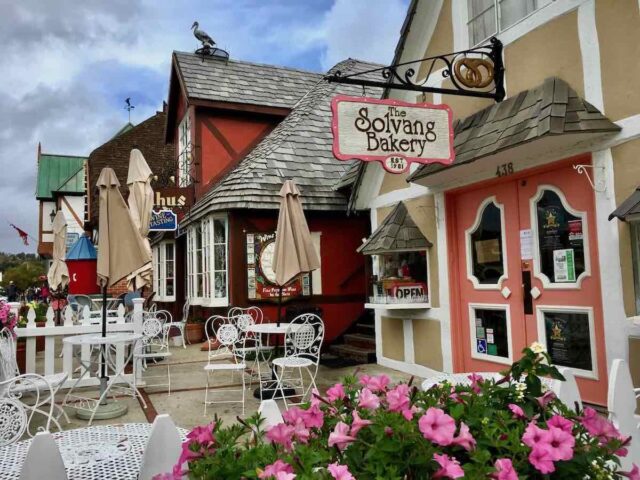 #10 Go for a Hike
California is home to countless dog-friendly hikes. While most hikes will require your dog to be on kept on a leash, there are also some amazing off-leash dog hikes to choose from.
If you're in Los Angeles, head no further than Runyon Canyon. This park just north of Hollywood Boulevard allows off-leash dogs in over half of it, a massive 90 acres. There are multiple walking trails, many with expansive views over the city below. It's also a popular destination for local dog-owning celebrities.
Parts of the Lands End Trail in San Francisco also allow dogs to be off-leash, or head north across the Golden Gate to the Marin Headlands, where the Rodeo Beach, Miwok Trail, and Coastal Trail offers up beautiful views and is also partially off-leash.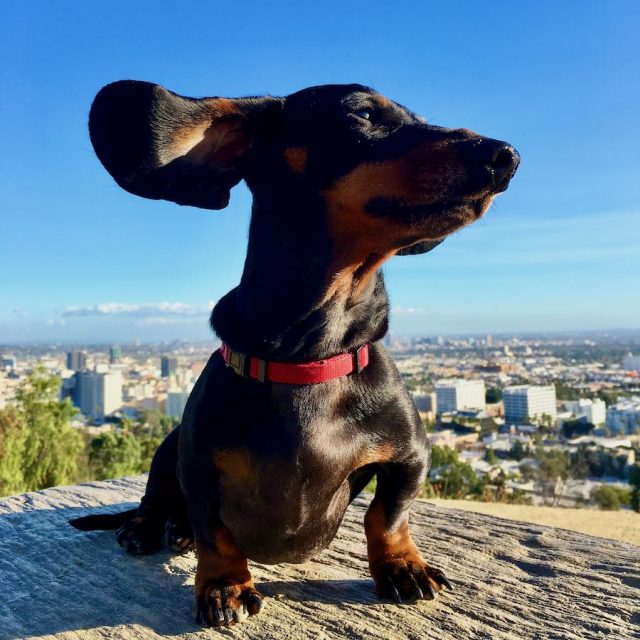 You May Also Like