The best way to road-trip in Australia, especially with a dog, is in a campervan. By travelling with your dog in a campervan or motorhome you have access to the many dog-friendly camping sites in Australia, without the hassles and gear needed to camp. And it's far more affordable and flexible than trying to find dog-friendly cabins or holiday rentals in many parts of Australia.
While not all campervan hire companies in Australia allow pets to travel inside their vehicles, I was delighted to discover in early 2020 that Apollo offers pet-friendly campervan hire. Once travel restarted and a road trip with our dog around the state beckoned, I immediately knew that an Apollo campervan would be the perfect option.
Note: The author received a discounted rate from Apollo.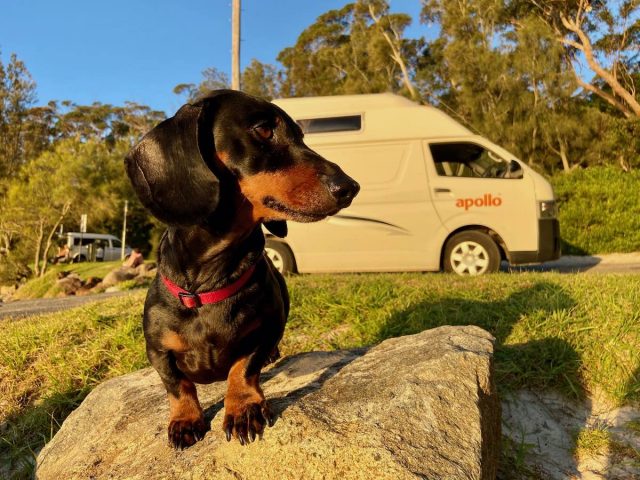 Hiring a Pet-Friendly Campervan from Apollo
The easiest way to book a pet-friendly campervan with Apollo RV Holidays is to call up the reservations department on 1800 777 779. They'll be able to tell you which vehicles at your closest branch are pet-friendly, along with the latest deals available. There are Apollo branches in all capital cities of Australia, except for Canberra, plus Alice Springs, Broome and Cairns.
Note that pets are not allowed in the StarRV camper vehicles (the top of the range vehicles), but many of the Apollo, Cheapa Campa and Hippie campervans and motorhomes allow pets. If you're not ready to book immediately, take a note of which pet-friendly vehicles are available. Then it's easy to later request a quote and book online, making sure you tick the box to add the pet fee.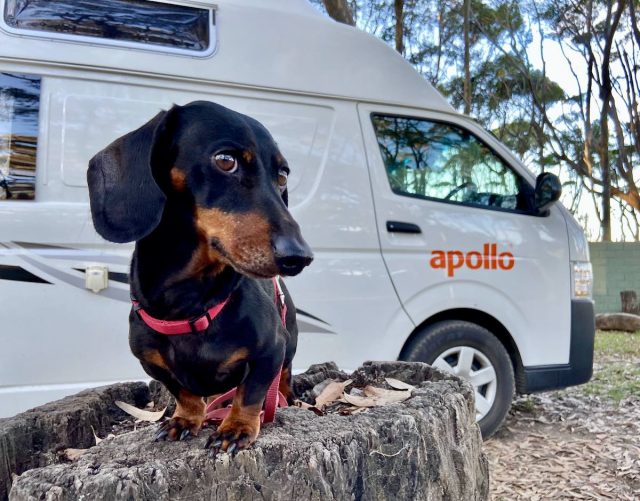 There is an additional fee of $200 charged if you have pets in your vehicle, to cover additional cleaning costs. But on a one-week hire, that's under $30 per day, less than you would spend on a kennel for your dog. And for longer hires, like our road trip, the cost per day works out to be even smaller.
Note that when picking up your vehicle, pets are generally not allowed inside branch locations. It's best to leave a member of your party outside with your dog, while you finalise the paperwork.
Or else if you live near the branch, I recommend leaving your dog and luggage at home, and swinging by with your newly rented camper to load up. It's also a great way to take along any bulky items you don't want to lug to the branch, whether it's wine and beer for the fridge or extra pillows.
Keep in mind that dogs should never be left alone in campervans, especially in the hot weather we have in Australia. If you're wanting to visit an Australian national park or other non-dog-friendly attractions, organise a pet sitter for the day.
Safely Restraining Your Pet Inside Your Campervan
Just like when you travel with your pet in your car, you need to safely restrain your pet in your campervan or motorhome. There's a few options available depending on what model camper you have.
For starters, if you have a spare rear seat in your camper, you could just put your dog's bed on the seat like you would in a regular vehicle and secure them with a seat belt attachment and harness. If you don't have any spare seats though, such as in our two-seater campervan, this may not be an option.
We choose to attach our dog to the leg of the table set up in the rear of the campervan. We put his bed on the floor just in front of the table leg, then tied his leash to the table leg using a Round Turn and Two Half Hitches knot, keeping his leash relatively short.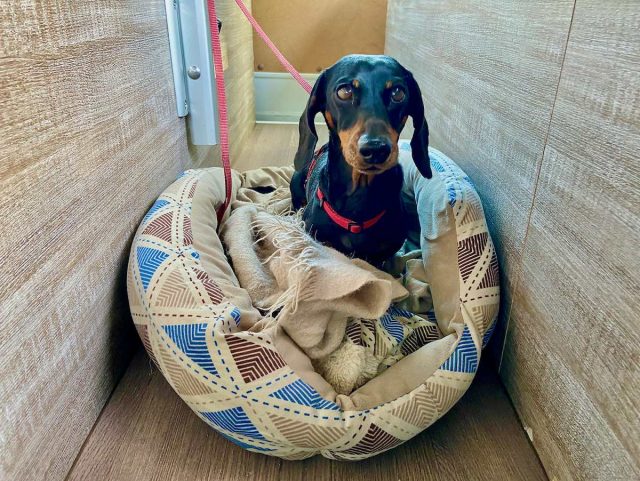 Another alternative would be to take along a crate for your pet, and attach that in the rear of the vehicle. However, for more compact model campers, there is little room to store a metal or plastic crate when it isn't in use. Check the layout of your camper first before going down this route, especially if it would be too big to fit on the front seat.
Choosing the Right Campervan for Your Trip
Apollo offers a large range of campervans, motorhomes and 4WD campers. Some are suitable for couples, while others seat up to four or six people. Some campervans and motorhomes offer an onboard toilet and shower, while other campervans are more compact and require you to use the facilities at a caravan park or campground.
On our 2020 campervan trip with our dog, we hired the Apollo Hitop Camper, which has now been replaced by the Hitop Ultra. This is the most economical campervan on offer under the Apollo brand, and is just large enough for a couple. In the rear is a gas stove, fridge, sink and cupboards, along with a table area that converts to a large double-bed overnight.
We've previously travelled in a larger campervan with a shower and toilet, but for this trip we were happy to use the facilities at the caravan parks we stayed at, in return for a smaller vehicle size.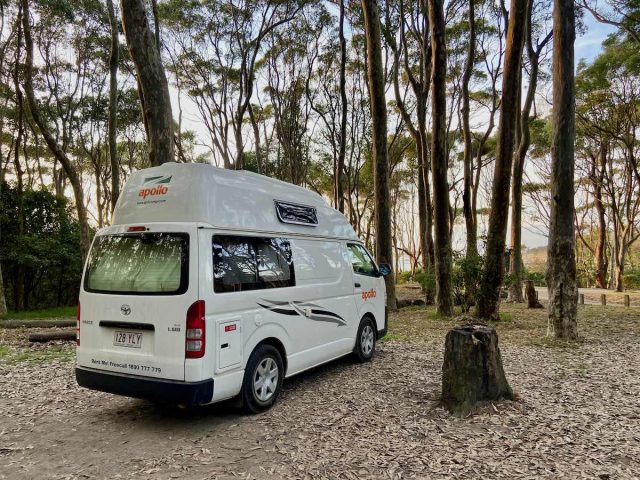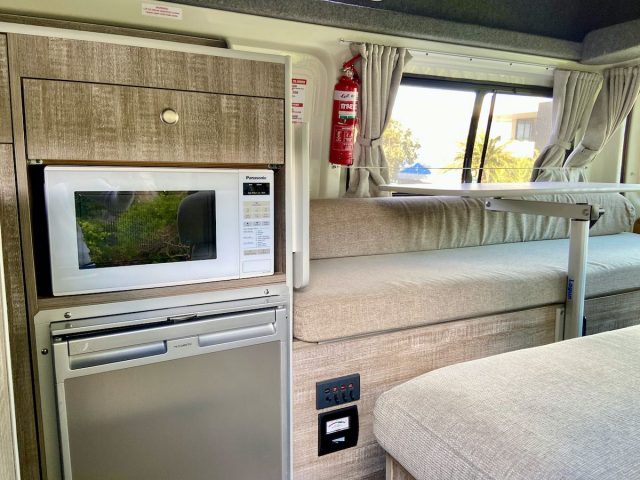 If you're travelling with a dog, you should also take the size of your dog into consideration when choosing a campervan to hire. When you're spending a lot of time during the evening inside of the campervan, like we did while travelling in winter, I recommend only a small or medium size dog inside the Hitop Camper. There's not that much room, especially when you set up the bed overnight.
If you have a larger dog, it might be best to consider a larger campervan, such as the 4-berth Endeavour Camper or the 2-berth Euro Tourer (which also has a shower and toilet). Check out the floor plan and photos of the campervan you're considering hiring, to get an idea of the space inside.
Keep in mind the likely weather on your trip, too. If it's balmy and warm you'll likely spend more time outside (make sure you hire or take along camp chairs and a table), and less time in the van.
Also plan where your pet will sleep at night. When the beds are set up at night, often there's not much floor space left in the smaller campervans, except for under the bed. Our dog is used to sleeping on the bed, although we always made sure he was dry and clean when entering our camper, taking along a towel just for him that was kept next to the door.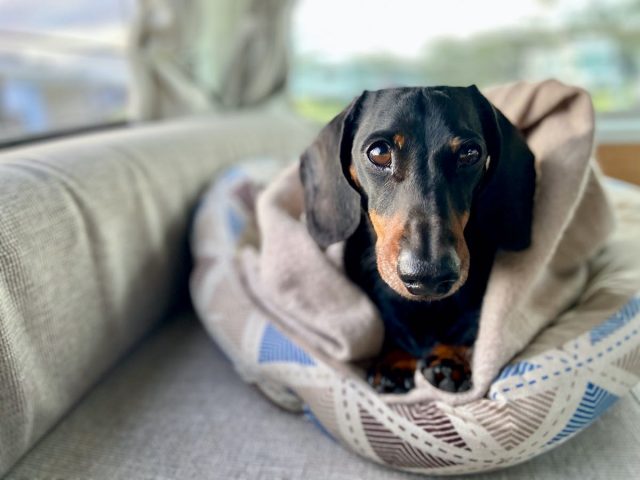 Apollo doesn't have a strict maximum number of pets, but recommends taking no more than two pets. Again, keep in mind the size of the vehicle and the space required by your pets. There is no additional charge for a second pet. Caravan parks may also restrict the number of pets.
Tips for Travelling in a Campervan with Your Pet
If your dog is anything like ours, their first trip in a campervan will be an adventure for them as well as you. Our dog wasn't quite sure about this new vehicle where he travelled in the back, and was especially puzzled when we converted the table area to a bed the first night.
Keep in mind these tips for a smooth first trip in a campervan with your dog:
Pet Gear Storage: Store your pet's gear in the same place every day. It'll help them get used to the new living space and adjust to the change of life on the road.
Pet Food: It's easiest to feed your dog dry food while on a campervan road trip, at least in more compact campervans like the one we rented. The fridge was smaller than a typical home fridge, not leaving much room for dog food needing refrigeration. (Larger motorhomes come with larger fridges.)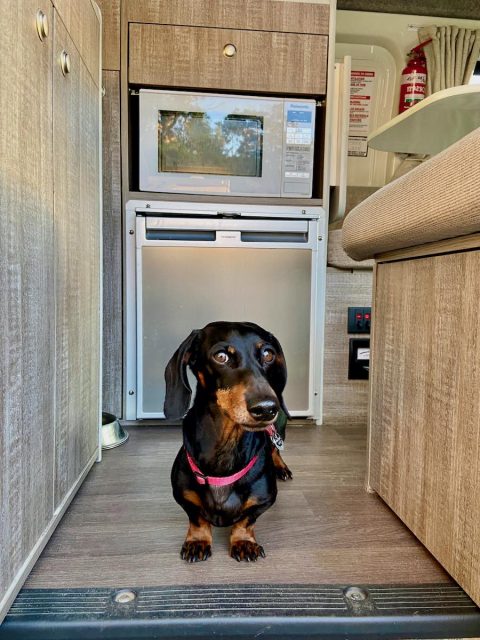 Water Bowls: Consider getting a no-spill bowl. This way you won't need to fill up your dog's water bowl every time you stop, then tip out whatever is left before driving off again. Check out the K9 Cruiser Bowl.
Comfort Breaks: Make sure you stop regularly on the way. As well as keeping the driver alert, your dog will enjoy the chance to stretch their legs and do their business. And after all, isn't the journey just as important?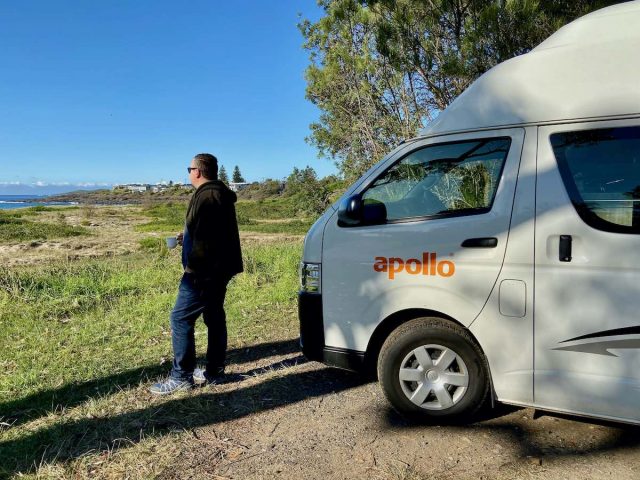 General Tips for a Campervan Trip in Australia
Regardless of whether you are travelling with your dog this time or not, these are my top tips for taking a campervan trip in Australia:
Packing Your Gear: Pack soft bags, instead of hard suitcases. The packing spaces available in your vehicle are likely not large enough for suitcases (and you don't want a suitcase taking up valuable floor space), while soft bags can be squished down.
Don't Overpack: There can be a lot of storage space in some campervans, but it depends on the model. You want to be able to easily pack everything away, especially to keep the benches free. Also keep in mind the fridge is likely smaller than your one at home.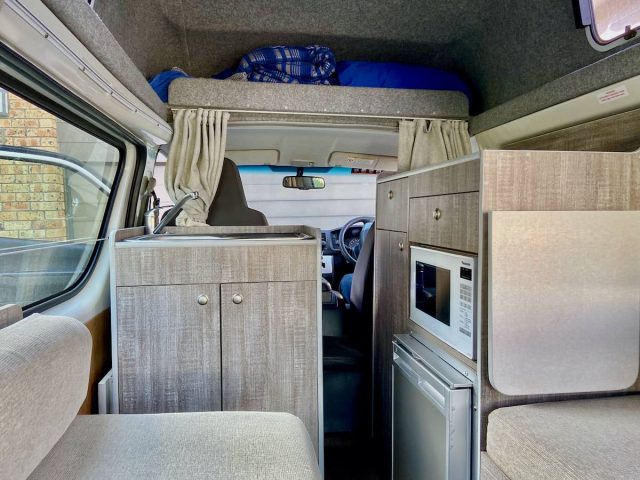 Pay for a Powered Site: Regularly stay at powered sites at caravan parks. Most campervans require hooking up to power to recharge the battery, about every second night.
Plus, if you're not connected to power, you can't use the microwave (if installed) or the power points to plug in the toaster, your mobile phone or a heater on cold nights. Air-conditioning, if available, usually only works if you're plugged in, too. Alternatively, a portable solar power station can be of great use in these instances.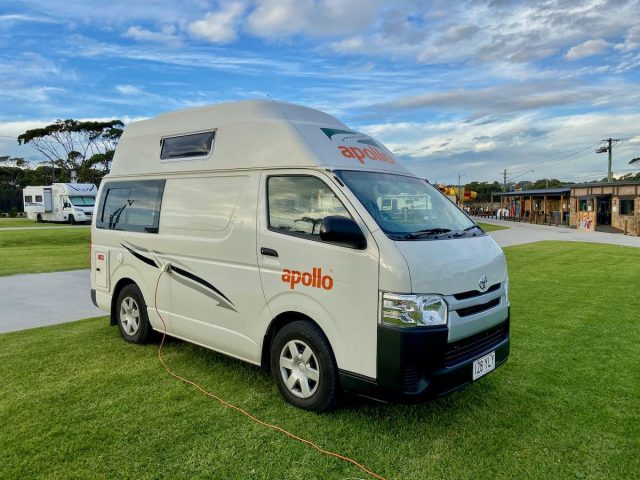 Meal Planning: Keep your meals simple, and tailor them to the appliances you have available in your campervan. On the other hand, you can also make use of the many free BBQs around Australia or the camp kitchens in most caravan parks, some even with ovens.
Buy Local Food and Beverages: Make sure you stop along the way at everything from breweries to seafood outlets and put your goodies straight into the fridge. Local oysters before dinner tonight, anyone? I also loved stopping at country bakeries and buying fresh bread for lunch.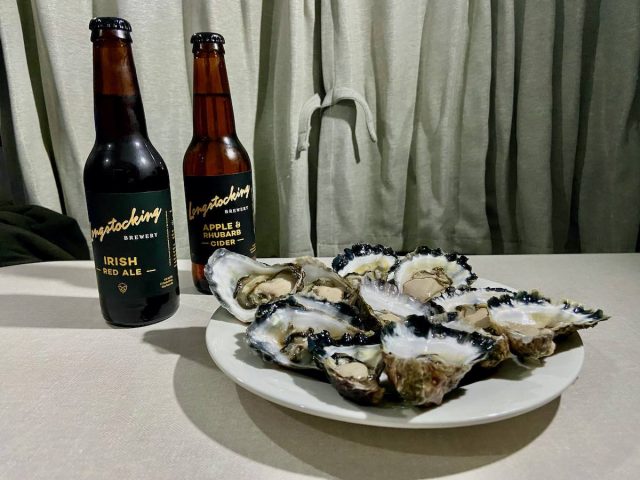 Outback Travel: If you're travelling to remote areas, take extra precautions. Make sure you have plenty of fuel, check the oil level first, and pack additional supplies, such as a large bottle of emergency drinking water. Note that hire 2WD campervans have restrictions on travelling on unsealed roads.
You May Also Like
About the Author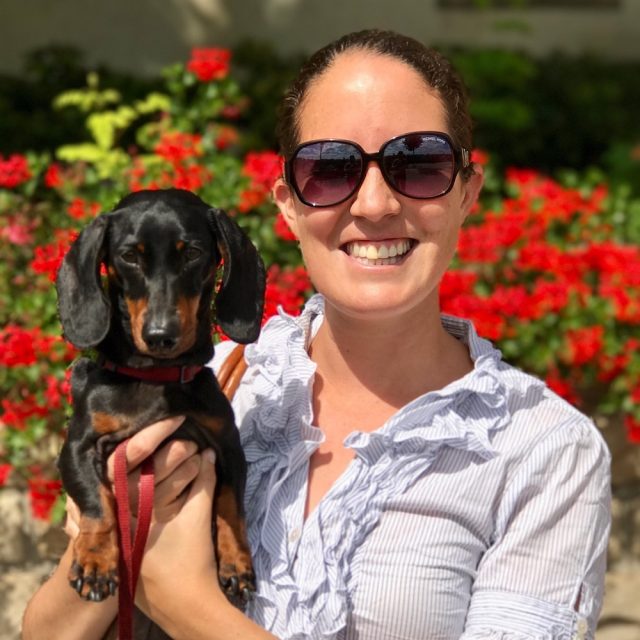 Shandos Cleaver is the founder of Travelnuity: Dog-Friendly Travel. She has travelled extensively with her Miniature Dachshund, Schnitzel, including to 33 countries across Europe, every state and territory of Australia except Tasmania, and 10 of the United States. She's passionate about providing inspiration and information to others wanting to travel with their dogs, whether close to home or internationally.
Inspired? Pin this to your Pinterest board!