Australia is home to a large number of caravan parks. However, if you're travelling with your dog, unfortunately not all caravan parks accept pets. Find out how to find pet-friendly caravan parks in Australia, plus the typical rules and regulations for staying at a caravan park with your pet.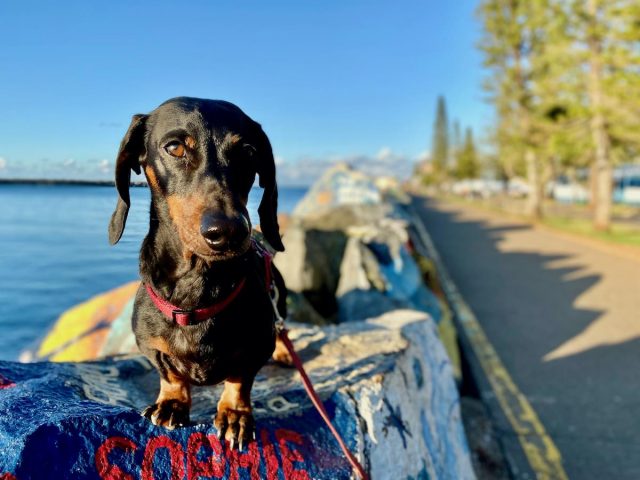 How Many Caravan Parks Allow Pets?
It's hard to count the number of caravan parks in Australia that allow pet. Typically, around half of caravan parks allow pets, but this is higher in some areas as well as lower in certain circumstances.
This is because not all caravan parks are pet-friendly in the same way. While some caravan parks permit pets year round, a large number of caravan parks, particularly in coastal areas, don't allow pets during the peak Christmas and Easter periods.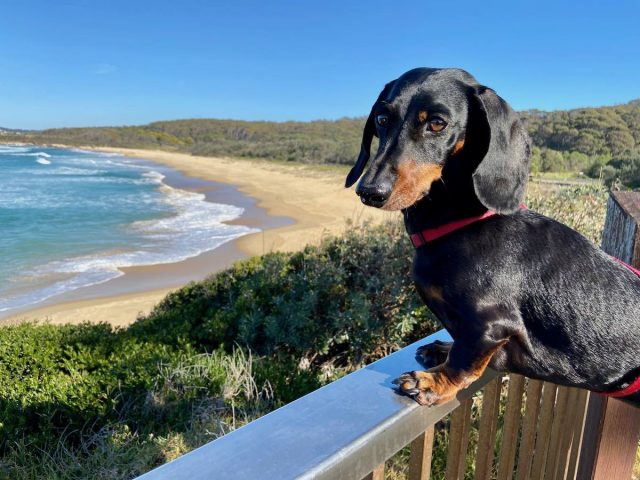 Then there's the rules about what is meant by "pet-friendly". Many caravan parks are only dog-friendly, while other caravan parks also allow cats, birds and other types of animals, although generally not pet snakes.
It's quite common for there to be restrictions on the number of pets per site, often just one pet or sometimes two pets permitted, which makes it difficult if you have two or more dogs. Plus sometimes there's size restrictions and breed restrictions for dogs.
Pet-friendly caravan parks most often allow pets to camp with their dogs, whether on all caravan and camp sites or just in a certain section of the park. A growing number of caravan parks have some pet-friendly cabins, including these fabulous cabins in Forster, but this is less common.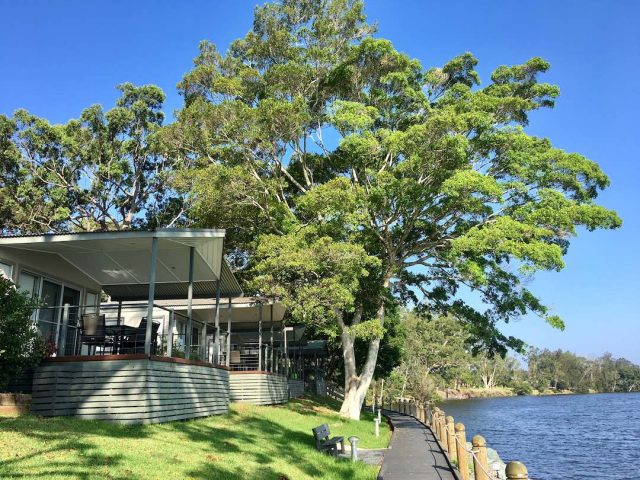 For this reason, it's always essential to double check the rules at the specific caravan park you want to stay at, whether on their website or by calling up. Bookings with a pet often need to be done over the phone or via email.
Finding Pet-Friendly Caravan Parks in Australia
While it's always best to check with an individual caravan park for their full pet policy, it would be tricky if you had to investigate individual caravan parks to find pet-friendly options! Luckily, there's a few easier options…
Pet-Friendly Locations in Park Networks
One of the easiest ways to find pet-friendly caravan parks all around Australia is to check the listings for the various caravan park networks. Each of the networks has a listing on their website showing which of their parks allows pets. This is particularly handy if you have a membership card for one of these chains.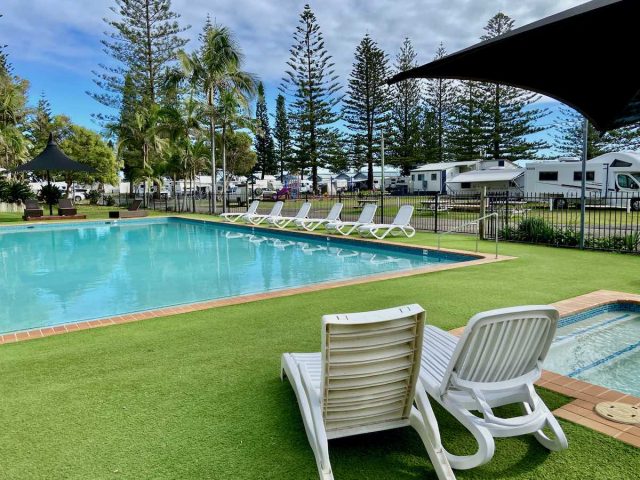 Here's the pet-friendly listings for the main caravan park networks in Australia:
Keep in mind though that the pet policies can and do widely differ between caravan parks in the same network, so always still check the pet policy for individual caravan parks.
Use the WikiCamps App
On my recent road trip around NSW, I used the WikiCamps Australia app to find pet-friendly caravan parks. As well as listing free camp sites and picnic areas, the mobile phone and Windows app also lists caravan parks around Australia.
If you're just interested in staying at actual caravan parks, you can switch on the filter "Cost". Then choose between two filters to display dog-friendly caravan parks.
On my road trip during the winter months, I set the filter "No Dogs Allowed" to "Hide". This displays both caravan parks that allow dogs year round, plus seasonal pet-friendly caravan parks.
However, if you're wanting to head away during the peak summer or Easter seasons, it's better to instead set the filter "Dogs Allowed" to "With". This way you only see the caravan parks that are pet-friendly year round.
By checking out the user submitted reviews, you can gauge an idea of how pet-friendly the caravan parks are, plus nightly site fees. Sometimes the description will list details of the caravan park's pet policy, including whether they have any pet-friendly cabins, but it's best to click through to their website for full details.
It does cost to purchase the app (around $8), but it saves a lot of time, particularly if you're on a road trip and looking for multiple caravan parks to stay at.
Check with the Local Tourism Board
If you're going to just one particular region, looked after by a single tourism board, that tourism board can be a great source of information for travelling with your dog. The majority of tourism boards in Australia will have a page on their website devoted to pet-friendly visits.
For instance, if you're travelling to the Coffs Coast region, head to the pet-friendly page on their website, which includes accommodation listings. If you're travelling around Tasmania, pick up a copy of the latest Tasmanian Holiday Guide put out by Carvanning Tasmania, which lists dog-friendly caravan parks by region.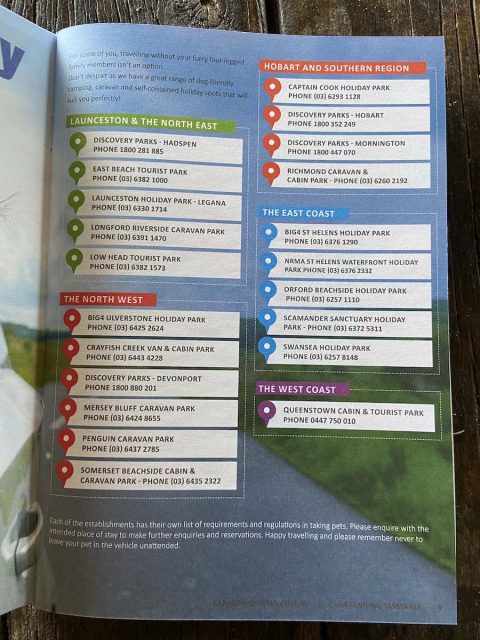 The pet-friendly listings of the local tourism board might also suggest some dog-friendly activities to do during your stay, plus dog-friendly dining venues. At the least, they should provide details on the local dog parks, or link to the relevant council websites, which make the rules for parks.
Caravan Park Rules for Pets
Most caravan parks have a long list of rules that apply to pets. These rules might be displayed on their website, but most often you'll find out the exact rules when you're handed over a sheet of paper to sign at check-in.
The rules at caravan parks vary, but often include:
Number and size restrictions: Many pet-friendly holiday parks have restrictions on the number and size of pets that can stay. A lot of parks typically only permit one or sometimes two pets on a site. Some caravan parks only permit small pets; luckily this is only a minority. When it comes to pets, some parks welcome different types of pets, while in others its dogs only.
Register your pet: Just as you need to specify how many people are staying at your site or cabin, you also need to register pets on arrival, if not beforehand when you make a booking. Your pet's name and breed might be required.
Waivers and papers: Many caravan parks require you to read and sign a waiver for staying with pets. This is especially likely at caravan parks that are part of a network or run by the local council, not so often with smaller independent caravan parks. Some parks will need to sight your dog's registration and/or vaccination papers. I like to be prepared with a copy on my phone that I can email to reception when requested.
Healthy pets: Pets are often required to be in a healthy condition when staying at a caravan park. For example, dogs should be free of fleas and worms, and not currently sick.
Stay on leash: Nearly all caravan parks require your dog to stay on a leash at all times, unless they have a fenced off-leash area.
Don't leave unattended: Most caravan parks prohibit dogs from being left unattended, even inside your caravan. If you need to go somewhere without your dog, whether the supermarket or a tourist attraction that isn't dog friendly, ask the reception for recommendations of pet sitters or other options.
Stay outside: Dogs are generally prohibited from entering inside amenity blocks and camp kitchens at caravan parks. Dogs are also usually prohibited from playgrounds and BBQs areas, like at council reserves.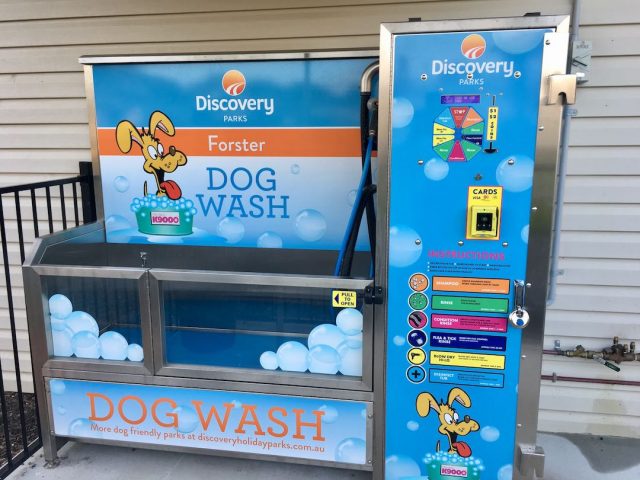 Dog washing: Needing to washing your dog or their bedding? Most caravan parks prohibit this at their facilities. Luckily an increasing number of caravan parks have dog washing facilities. I've also seen photos of a caravan park with a washing machine for dog beds and towels, but this is very rare.
Clean up: Naturally you're expected to clean up after your dog. Some caravan parks may provide you with poop bags when checking in or have dispensers, but always be prepared with your own. Put the bags into the appropriate bins.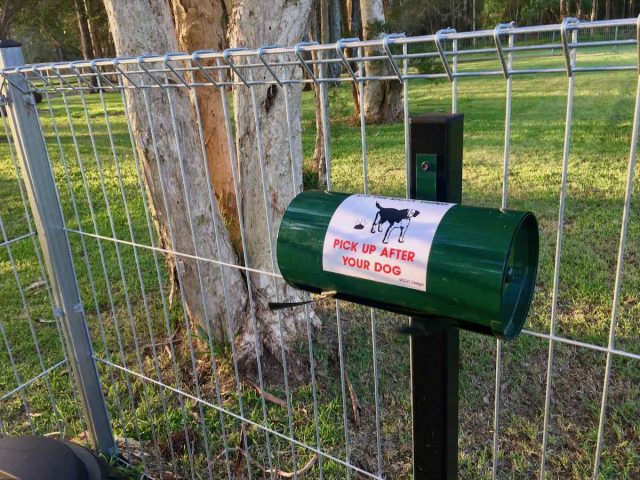 Avoid excessive noise: While dogs aren't expected to remain completely quiet at a caravan park, make sure your dog doesn't bark non-stop or excessively, especially at night. Everyone is trying to relax on their holiday.
Even if these rules aren't displayed at a caravan park, many of these rules are good etiquette for staying at a caravan park with your dog. Always be a responsible dog owner and help keep dog-friendly caravan parks dog-friendly!
Inspired? Pin this to your Pinterest board!