Lake Bled in northern Slovenia is a fairy-tale destination that's increasingly popular with visitors from around the world. Even if you haven't heard of it, you've probably seen photos of this small lake with its tiny island, topped by a centuries old church.
And the delights of this area don't stop there: there's also many incredible day trips available to enjoy the surrounding nature in the Julian Alps, recently ranked one of the top tourist regions in the world.
Best of all? This is one of the most dog-friendly regions I've visited in Europe, with every activity we did allowing dogs. Pack your own and your dog's bags for Slovenia and enjoy these dog-friendly things to do in Lake Bled!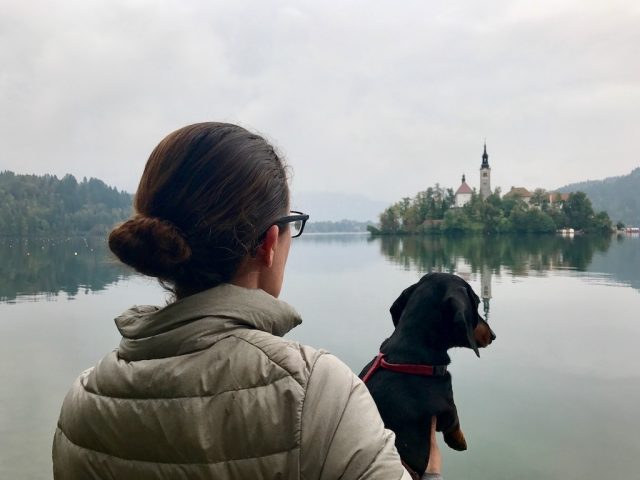 Dog-Friendly Sightseeing around Lake Bled
There's plenty of dog-friendly sightseeing options located in Lake Bled and the surrounding region. In fact, everything we wanted do allowed our dog to join us! Consider adding some of these to your itinerary…
1. Walk Around Lake Bled
The walk around Lake Bled is the quintessential activity to do at Lake Bled, plus a delightful dog-friendly walk.
There's a virtually flat footpath all the way around the lake, usually right next to the shoreline. With a total length of 6km, it usually takes about 1.5 hours to walk, or 2 hours if you're stopping for lots of photos (like we did).
Feeling peckish along the way? There's plenty of cafes and restaurants not far from its shoreline, with the local Bled cream cake a must-try during your visit (but definitely not dog-friendly!)
2. Take a Boat Trip to Bled Island
One of the other must-do activities at Lake Bled is taking a traditional pletna boat out to Bled Island. These boats have been rowed on Lake Bled for centuries, with the job passed down through families. And while I wasn't expecting that dogs would be allowed, they're actually welcome on the boats, free of charge!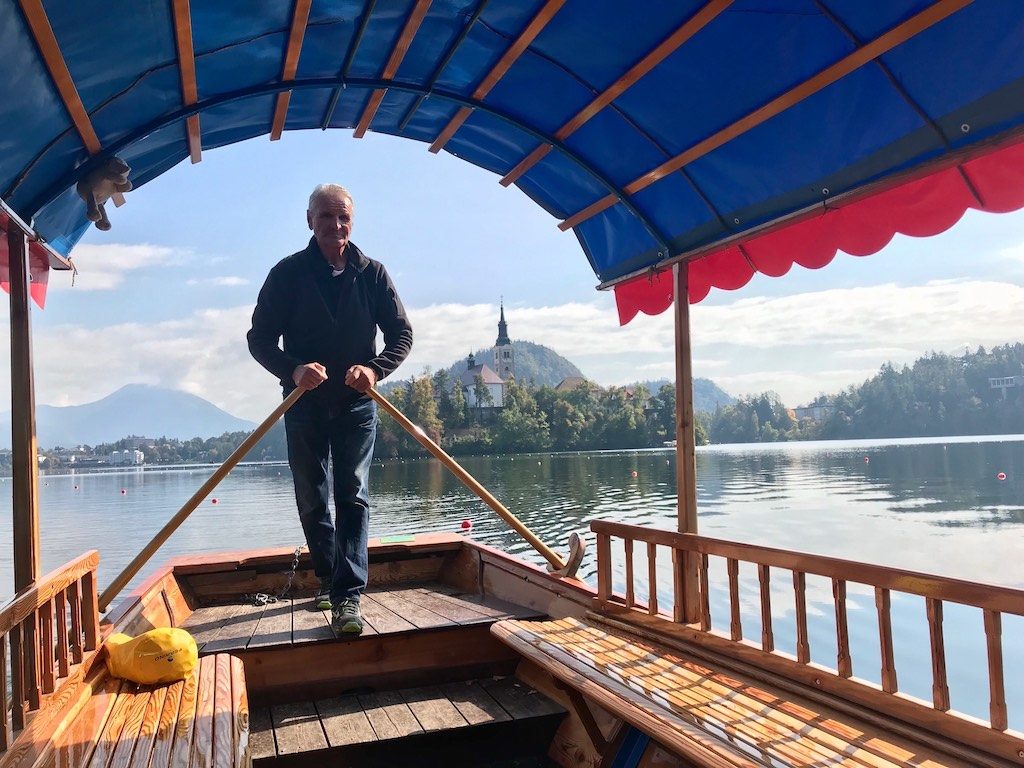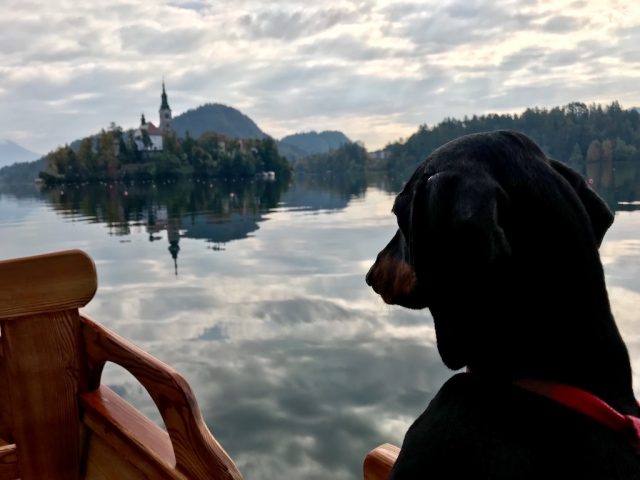 The pletna boats leave from about six wharves around the island, so there's one close to you no matter where you're staying. The standard charge is around €15 per adult, with your visit to the island lasting about 40-45 minutes.
On the island, while visiting the church is not dog-friendly, you're ashore for just the perfect amount of time to stroll around the small island, then enjoy a drink at the cafe.
Alternatively, row boats are available for hire if you're happy to row yourself (and your dog), or are interested in a longer boat trip on the lake.
3. Walk Through Vintgar Gorge
Vintgar Gorge is one of the most beautiful sights near Lake Bled. The gorge cuts between the nearby hills, narrowing to only a few metres at some points. The water is aquamarine in colour and so crystal clear that feeding fish are easily spotted.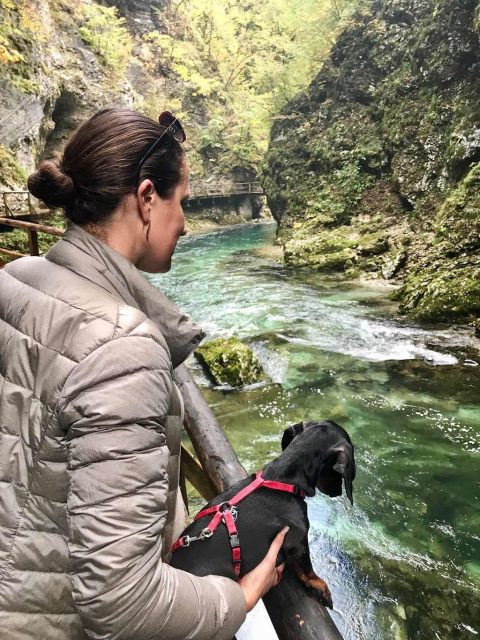 The walking track through the gorge is 1.6km one way, with a thundering waterfall at the far end. Sometimes it is literally just a boardwalk above the river. Entry to the track is €10 per adult, with dogs allowed on a leash for an additional charge of €3. The best time to visit for the best photo opportunities is just after it opens, at 9am. Note that the gorge closes during winter.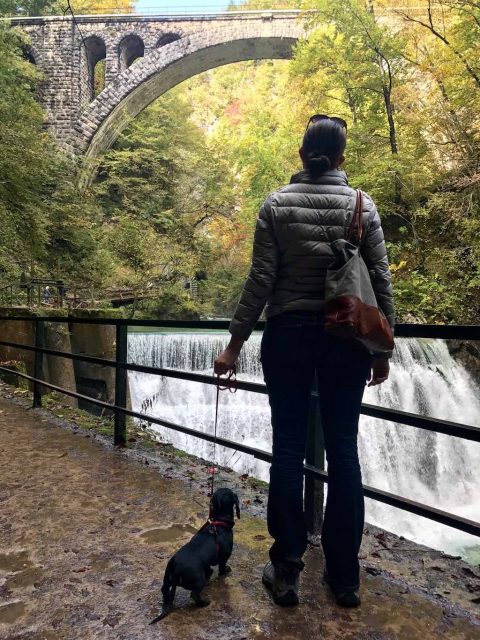 At the time of my visit, you returned along the same route to the starting point. However, the gorge walk now operates as a one-way route, although there are some suggested circular hiking routes to return to your starting point.
It's possible to drive the short distance from the township of Bled, although parking now costs. Alternatively, walk the 4km distance from Bled, potentially with an alternative route to return from the end of the gorge.
4. Visit Lake Bohinj
If Lake Bled is a little too bustling for you, make a beeline for Lake Bohinj. It's just a 30 minute drive away, or accessible by local bus. But despite being so close to Lake Bled, it's far quieter.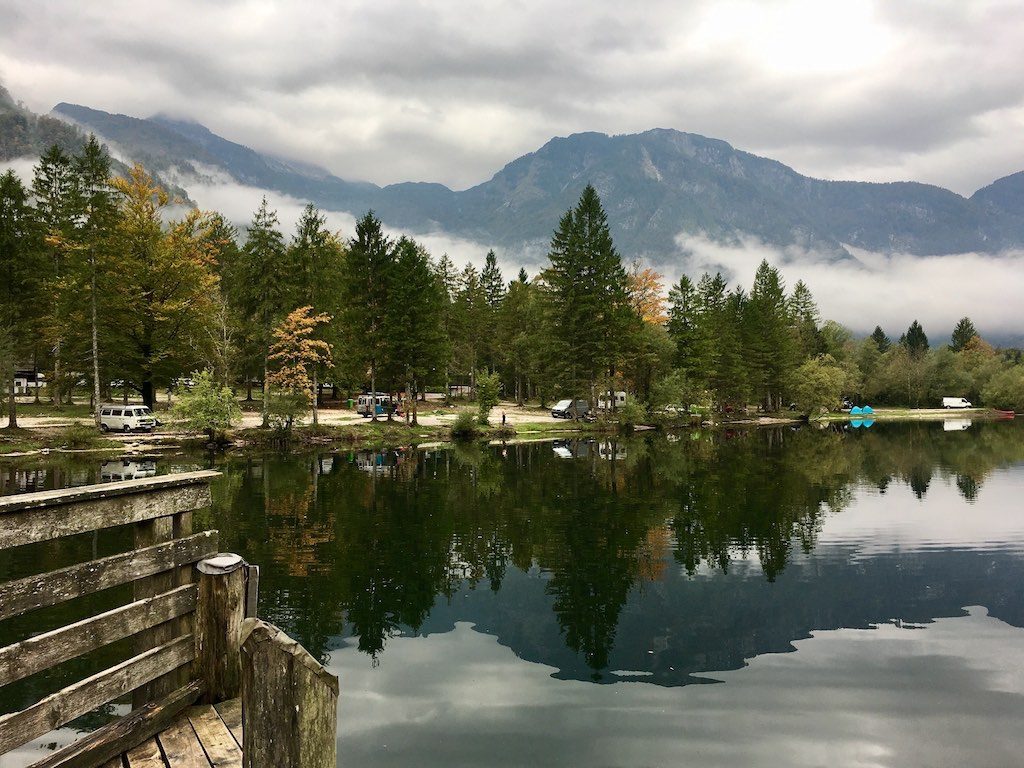 As the lake is larger, there's a shuttle boat that loops around the lake regularly. Alternatively, the road continues along one side of the lake, or there's plenty of walking tracks right around it, all dog-friendly. Just keep them on a leash near some of the very noisy and hungry ducks!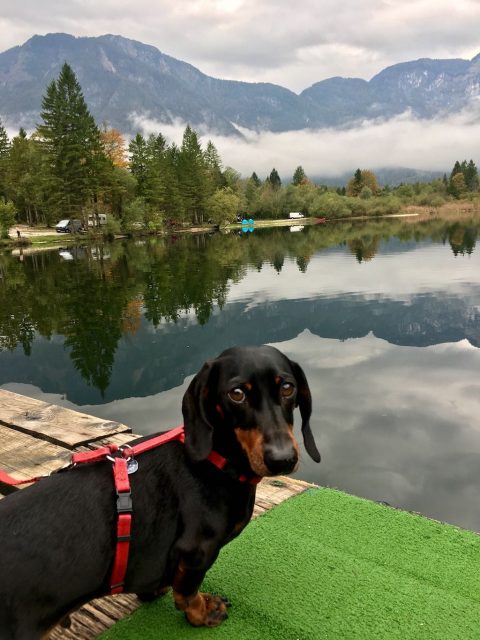 5. Hike Up to Savica Waterfall
While you're visiting Lake Bohinj, don't miss out on seeing Savica Waterfall. Located just a short drive past the end of the lake, this is the most popular waterfall in Slovenia, as well as the most powerful I visited.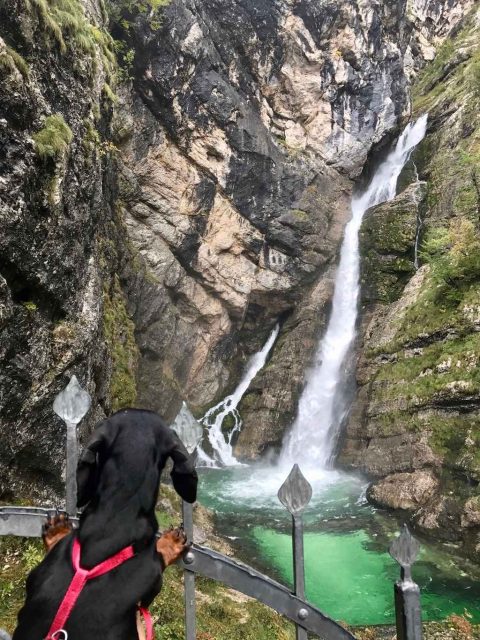 It's a 20 minute walk up-hill through the forest, with some lovely views also back down into the lake valley, and dogs on a leash are welcome. Car parking is €3, plus there's a €3 entry fee per adult, with dogs admitted for free.
6. Cross Vrsic Pass
Wanting a full day trip adventure near Lake Bled? Then head for Vrsic Pass, at least during the 7 months of the year (outside of winter) that it's open. It's the highest pass in Slovenia and makes for a fun and scenic drive, with your dog in their car seat. There's 24 bends (all numbered!) on the road up to the top of a pass, with a handy restaurant at the top, then a further 24 bends down the other side.
Along the way stop at the beautiful green-hued Lake Jasna, perfect for a 30 minute stroll with your dog. Don't also miss the Russian Chapel just after bend 8, a touching monument built by the Russian prisoners-of-war who constructed much of the road.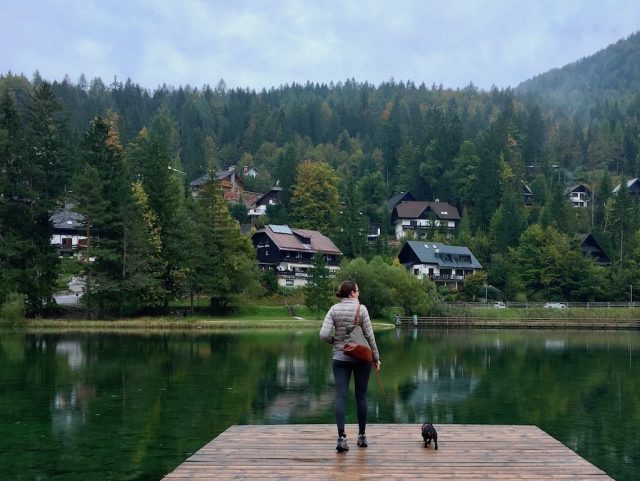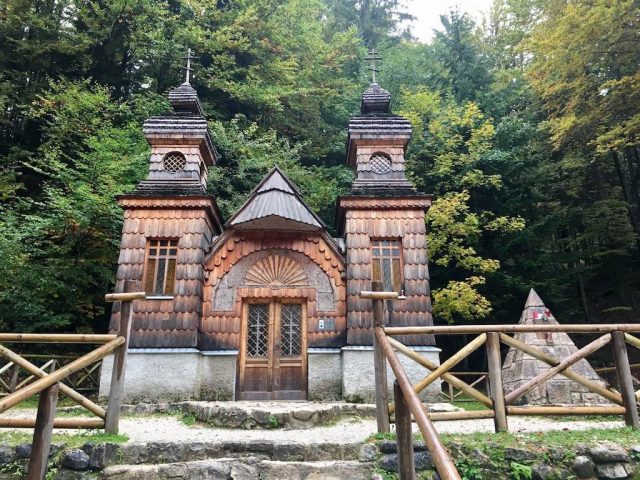 When we visited Lake Bled in 2017 the pass was unfortunately closed just after bend 9, due to road works. Look out for road closure signs at either end, as I'm not sure how frequently this occurs. If you're wanting a break from bends, there's a longer but slightly quicker alternative route back to Lake Bled by crossing the border into Italy near Bovec.
7. Explore the Soca River
Just over the other side of Vrsic Pass (or alternatively accessed through Italy), is the Soca region of the Julian Alps. This is the adventure capital in Slovenia, with white-water rafting on the beautiful but thundering Soca River being the highlight.
If you're visiting with your dog (or aren't the adventurous type like me), there's also plenty of hiking or just viewpoints to park your car. The most impressive sight is the section of the Soca River just south of the township of Soca. Here the emerald green river passes through a 750m canyon, tens of metres deep but at times less than 2m wide!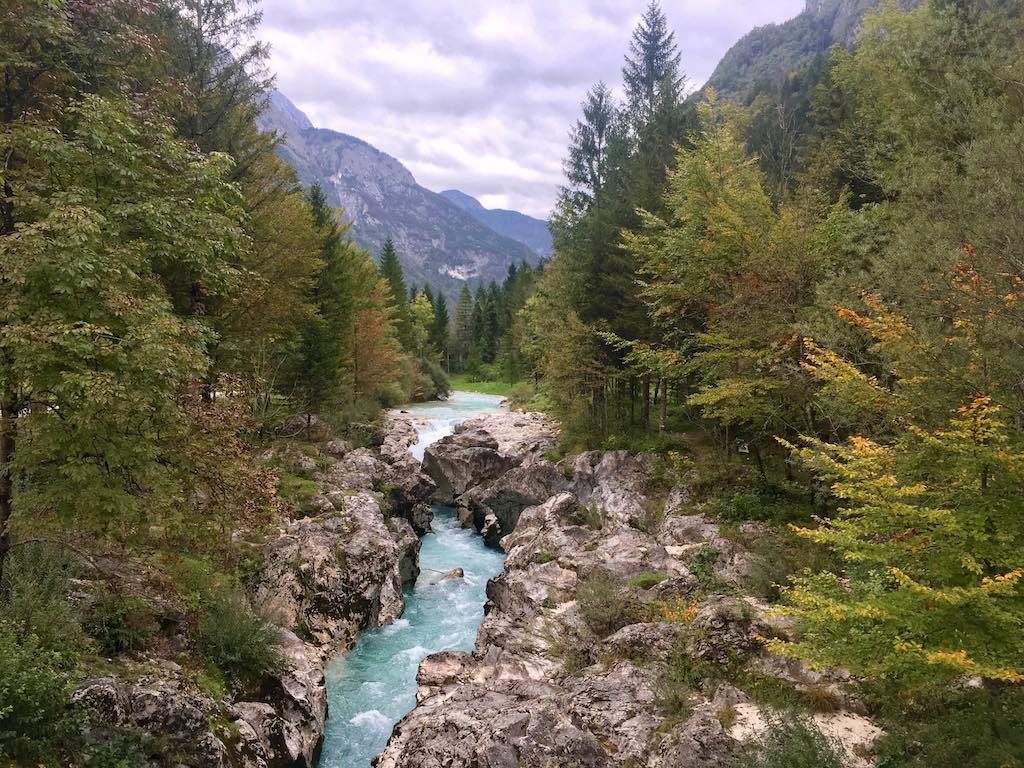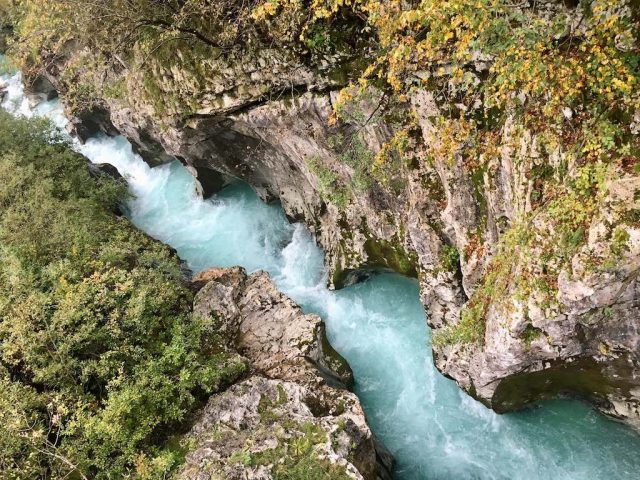 8. Visit Virje Waterfall
Not far past Soca and the larger regional town of Bovec is Virje Waterfall. It wins the award for the prettiest waterfall that I saw in Slovenia, thanks to the surrounding forest and the stunning pool at its base.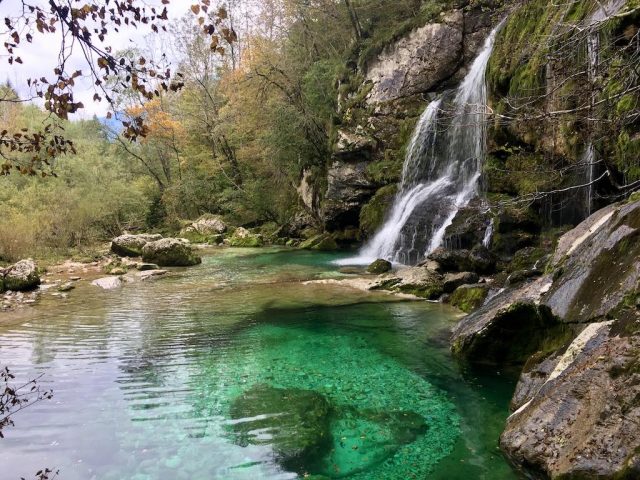 It's probably a popular swimming hole in summertime, however it felt rather chilly in Autumn and the information sign stated its average temperature is a numbing 14C! In a quiet location, it's completely free to visit with no restrictions on dogs, and is just a short 10 minute walk from a tiny carpark.
9. Visit Historic Bled Castle
Just one final adventure for your Lake Bled trip, closer back to Bled and at a more sedate pace. Towering above Lake Bled on a rocky outcrop is Bled Castle. The castle was first mentioned in 11th century documents, although the current buildings date from the 16th century.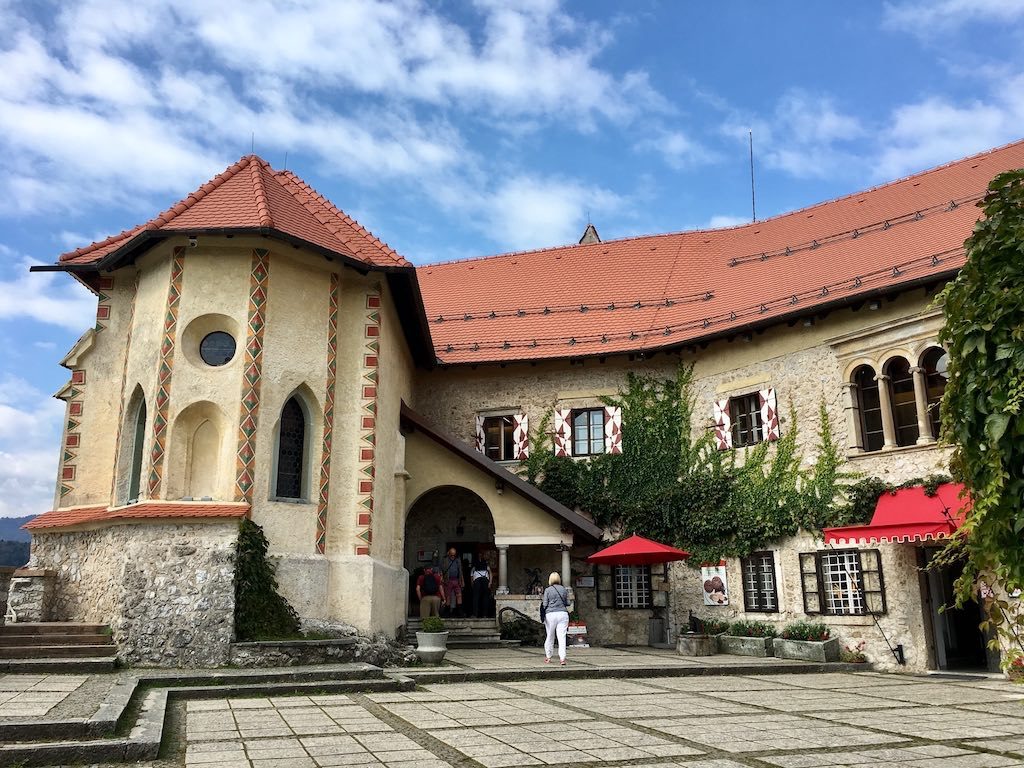 It's accessible through either a hike up above the lake (be prepared for a lot of stairs!) or by driving to the carpark. I was surprised to find that dogs are allowed inside, albeit not in the museum section or up on the castle wall. The view back down to the lake is superb, and there's both an outdoor restaurant and cafe from which to enjoy it.
Dog-Friendly Dining at Lake Bled
While travelling in Slovenia, we found about half of restaurants allowed dogs inside. Check at the entry whether there's a sticker stating no dogs are allowed, or ask a member of staff.
We dined multiple times with our dog at Restaurant Pension Mlino. Located on the southern side of the lake, near Villa Bled, they have an extensive menu of Slovenian specialities and traditional favourites, with reasonable prices.
Alternatively, if the weather is pleasant, there's many outdoor dining terraces.
Dog-Friendly Accommodation at Lake Bled
Note: This post contains affiliate links, which means I may receive commission if you make a purchase using the links. See my full disclaimer.
There's numerous Airbnb options available at Lake Bled that allow dogs, although there are usually minimum stays over at least the summer period.
We stayed at a wonderful Airbnb apartment on the western side of the lake near the Rowing Club. The studio apartment was bright and modern, and it even had a bath that made it easy to wash our dog after he got muddy on a few of the walks. However, pets are no longer permitted in this property.
If you're interested in splurging, consider staying at Penzion Berc. Located just outside of Bled in a rustic farmhouse from 1843, this hotel is highly rated by past guests. Its surrounded by lovely gardens and has been renovated with quality inclusions including air-con, flat-screen TVs and free wi-fi.
The breakfast and on-site restaurant are of excellent quality, with a focus on local produce. E-bikes are also available for guests for free. Pets are allowed in all classes of rooms, although charges may apply.
The Best Time of Year to Visit Lake Bled
The peak time of year at Lake Bled is summer, with the waters of the lake a popular swimming spot.
However, considering that dogs aren't allowed in the bathing areas, the best time to visit with a dog is probably during the shoulder spring or autumn periods, when it's also less busy and accommodation is cheaper.
We visited in late September and loved the changing colours of the trees.
You May Also Like
About the Author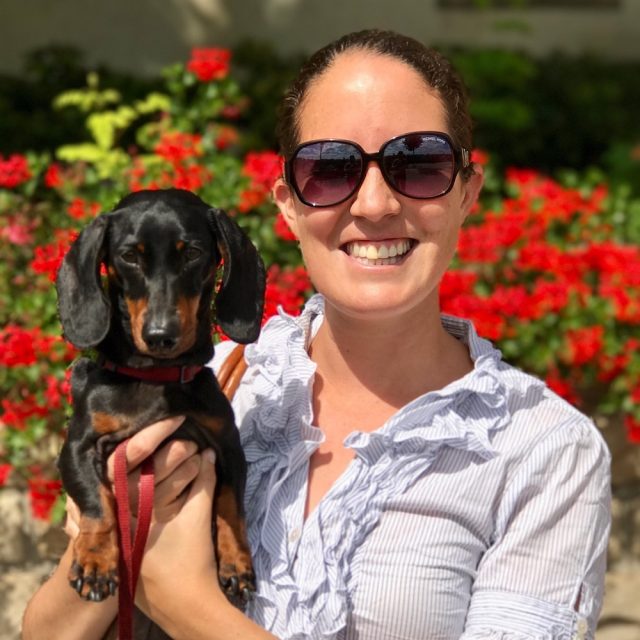 Shandos Cleaver is the founder of Travelnuity: Dog-Friendly Travel. She has travelled extensively with her Miniature Dachshund, Schnitzel, including to 33 countries across Europe, every state and territory of Australia except Tasmania, and 10 of the United States. She's passionate about providing inspiration and information to others wanting to travel with their dogs, whether close to home or internationally.
Inspired? Pin this to your Pinterest board!