The country of Slovenia is one of the hidden gems of Europe. Tucked away in between Italy and Croatia, it's one of our favourite countries in all of Europe.
There's beautiful mountain scenery, plentiful history and a sliver of coastline, not to mention it's more affordable than the surrounding countries (yet most young people speak English). Plus, it's a wonderfully dog-friendly country! Make sure you head to Slovenia with your pup!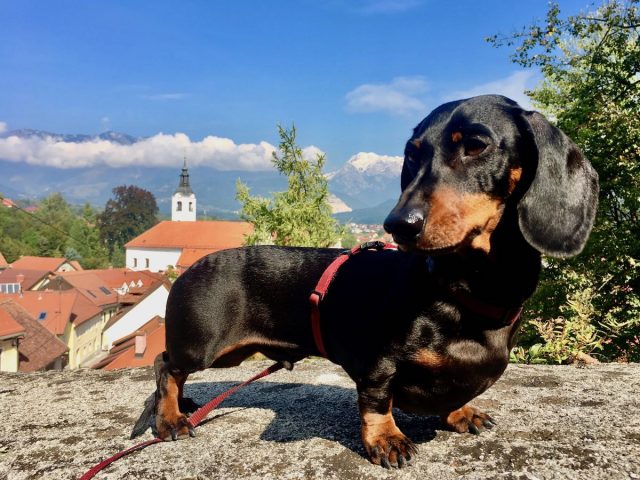 Travelling to Slovenia with a Dog
The standard EU rules apply to travelling to Slovenia with your dog. If you are travelling to Slovenia from another EU country, your dog will need to be microchipped, have a pet passport and a valid rabies vaccine, given at least 21 days before crossing the border. However, pet passports are rarely if ever checked when driving into Slovenia.
If you are flying to Slovenia from outside of the EU, as well as a microchip and valid rabies vaccine, your pet will require an EU health certificate and in some cases a rabies titre test. Check out my full guide to the requirements for travelling to Europe with a dog.
Dining Out in Slovenia with a Dog
We dined out multiple times in Slovenia with our dog without any issues, dining inside restaurants in both Lake Bled and in Ljubljana. There's no rules against dogs joining your inside a restaurant or cafe, but always check for a sticker or ask a member of staff first – some restaurants don't allow dogs inside.
Of course, there's also plenty of outdoor terraces to sit at, especially in the summer months.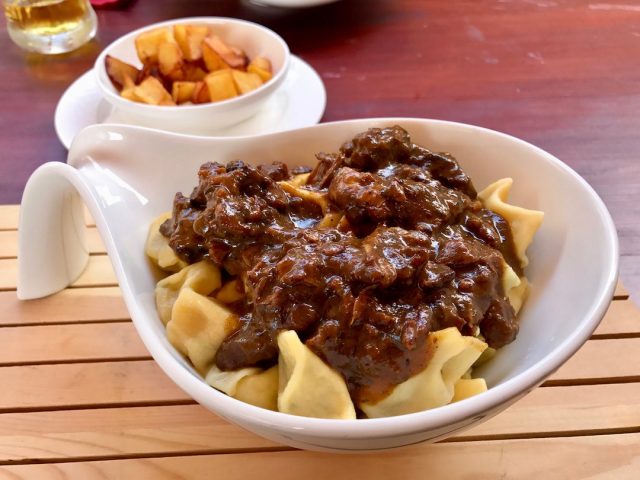 We found dining out in Slovenia to be quite affordable, often with hearty options on the menu. Our favourites include zlikrofi (a type of dumpling, often served with meat), the trout from the Soca River, and the deer and boar on the menu during the Autumn hunting season.
For a quick take-away lunch, borek (a flaky filled pastry) is often available in bakeries.
Taking a Dog on Public Transport in Slovenia
There's no issues with taking dogs on public transport in Slovenia, although we largely got around by car (thanks to a very cheap rental car we picked up, with no one-way rental charge from Koper from Ljubljana).
Dogs on Trains in Slovenia
The rules for dogs on trains in Slovenia are similar to the rest of Europe. Smaller dogs in an enclosed carrier or merely on your lap can travel for free. Larger dogs need to have a half-fare, plus be on a short leash and wear a muzzle. Dogs are also allowed in sleeper cars and couchettes, but only if you are alone or have purchased the entire compartment.
If travelling with a larger dog, you also need to get consent from your surrounding passengers. If this isn't forthcoming, you are meant to contact the conductor or another staff member who will take care of your animal for the rest of the journey (or I would recommend moving seats if possible).
The one caveat is that dogs are not allowed on the InterCity Slovenia (ICS) tilting trains, the fastest domestic trains. But we had no issues with taking our dog on an international train from Ljubljana to Graz in Austria.
At the time of our visit to Slovenia, there was no train connection between Italy and Slovenia. We travelled by train from Venice to Trieste near the border, but the only option to continue on to Koper to pick up our hire car was an infrequent bus, so we paid about €50 to take a taxi across the border. However, there are now multiple trains connected Trieste and Ljubljana – check out the latest at Man in Seat 61.
Dogs on Public Transport in Ljubljana
In Ljubljana, dogs are allowed on the city's buses, except for during the peak hours of 6:30am to 9:30am and 1pm to 5pm. They don't require a ticket but do need a muzzle.
Many taxis in Ljubljana are also happy to transport pets, see the list on this page. However, we found Ljubljana to be quite compact and mainly got around on foot.
Dog-Friendly Accommodation in Slovenia
We had no trouble finding dog-friendly accommodation in Slovenia. In my survey of how many dog-friendly hotels there are in different European cities, Ljubljana came in 10th place, with just over half of all hotels allowing dogs, although there may be some restrictions.
Many Airbnbs in Slovenia also allow dogs, although our Airbnb at Lake Bled did charge an additional small fee.
If you're looking for dog-friendly hotels in Ljubljana, check out this listing. I've also recommended some dog-friendly places to stay around Bled at different price points.
Dog-Friendly Parks in Slovenia
If you're visiting the Slovenian capital of Ljubljana, there are two dog parks in the city centre that you may want to consider. Dogs are required to be on a leash throughout the rest of the city, so these will give your dog the chance to run around off-leash.
The first dog park is at Železna cesta, part of the North Park. The second option is at Pesarska cesta in Štepanjsko naselje.
Dog-Friendly Sightseeing in Slovenia
With plenty of outdoor sightseeing options to tempt you in Slovenia, it's easy to bring your dog along and join in your adventures when travelling in Slovenia. Consider adding some of these options to your itinerary…
1. Visit Picturesque Lake Bled
It's no surprises that Bled is one of the most popular places to visit in Slovenia, with its picturesque lake containing a small island with a little church perched upon it, along with a castle on the cliffs above the lake.
The must-do with your dog is to walk around the lake, on the 6km footpath. Although dogs are also permitted on the boats out to the island and inside the castle up above. I've written a whole post about dog-friendly things to do in Lake Bled, including the dog-friendly sightseeing options on day trips around the area.
2. Climb up to Ljubljana Castle
One of the most popular attractions in the small capital city of Ljubljana is the Castle on the hill above the city, which has stood for 900 years. While dogs aren't allowed inside the castle buildings, I highly recommend heading up to the courtyards with your dog.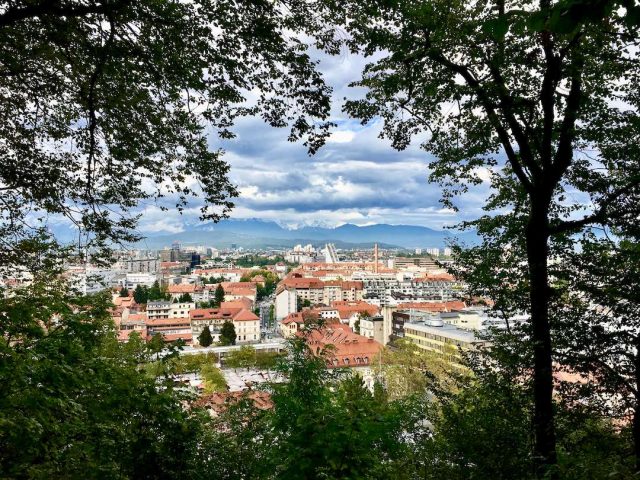 We took the funicular up the hill: dogs ride for free, but need a muzzle (which can be provided by the staff). Coming back down we walked along the pleasant walking track that winds around the hill.
While in Ljubljana, don't also miss strolling through the old city centre, alongside the river. Keep an eye out for the dragon statues on one of the bridges and the many historical buildings.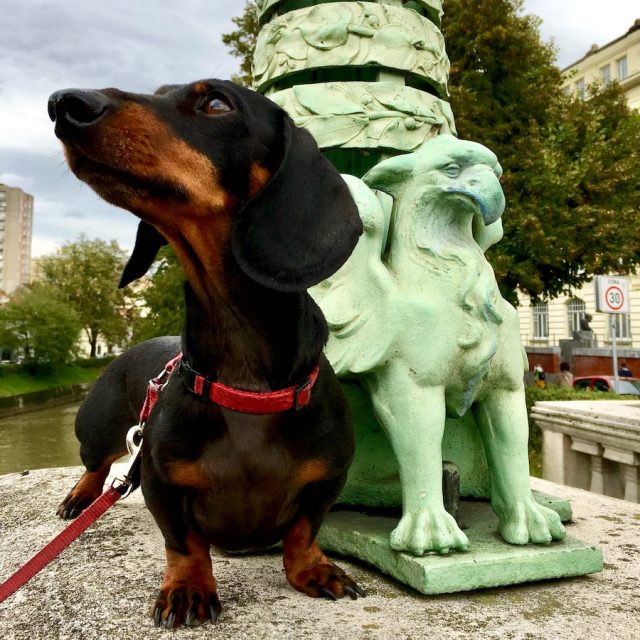 3. Head to Ljubljana Zoo
I would have loved to do this while visiting Ljubljana if I knew! While most zoos don't allow you to bring along your own four-legged friend, Ljubljana Zoo actually allows pet dogs to visit.
Naturally they need to be well-behaved and on a leash, plus there is a €3 charge, but think about the experience for your pup!
4. Stroll Through a Medieval Town
Slovenia is home to a number of beautiful medieval towns scattered throughout the country, worthwhile of a visit on your travels around the country.
Skofja Loka is considered the best preserved medieval city in Slovenia. It's located 30 minutes drive to the north west of Ljubljana, not far off the highway to Lake Bled and a worthy detour.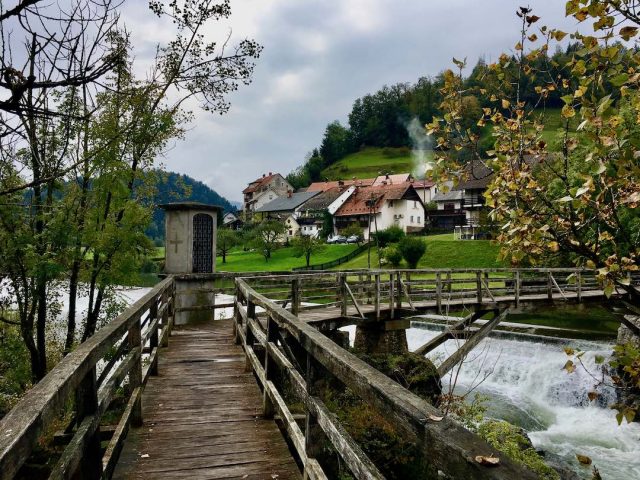 Alternatively, head to Kamnik, about 30 minutes to the north of Ljubljana. I thought this town was particularly pretty. Climb the small hill to Mali Grad (the small castle), for beautiful views of the town and the distant mountains.
5. Go Waterfall Hunting
Slovenia is quite mountainous, so it's no surprise that it also contains many waterfalls.
Not far from Lake Bled is the Savica Waterfall, a short drive past the far end of Lake Borinj. The most popular waterfall in Slovenia, it was also the most powerful one we visited. Accessible on a 20 minute walk, there is an entry fee of €3 per adult, except during winter, with dogs on a leash welcome for free.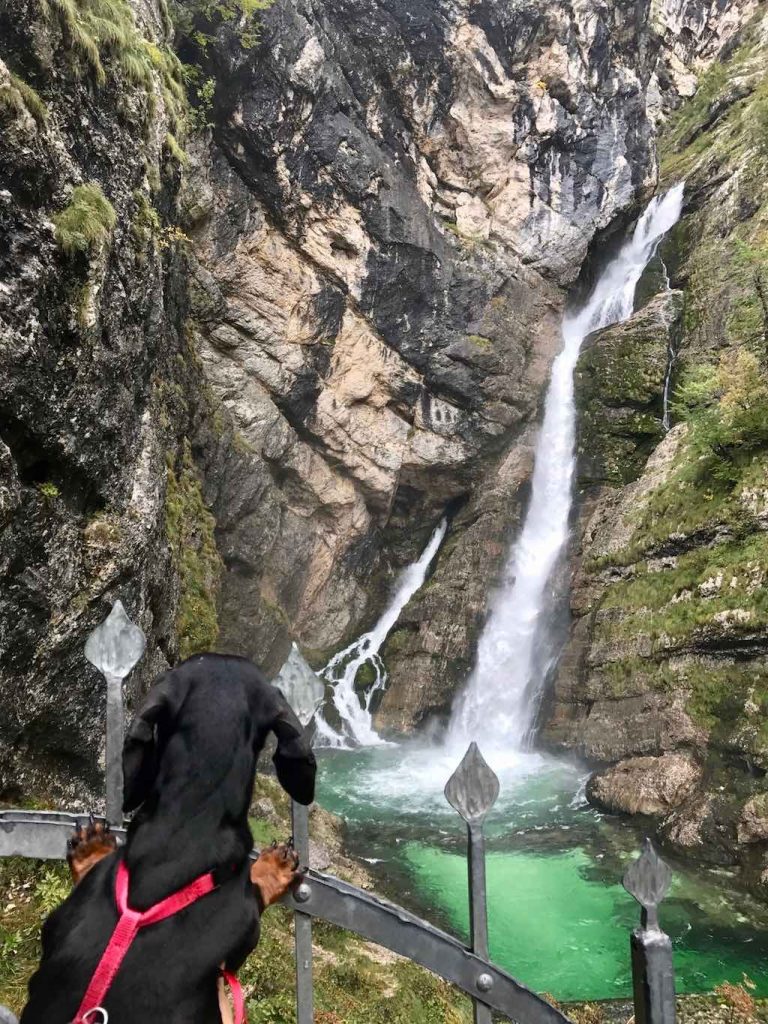 Alternatively, head north to the Logarska Dolina, or Logar Valley, in the north of the country. Down the end of the road passing through the Logar Valley Landscape Park (€7 entry per car) is a short walk to Rinka Falls. This waterfall is the highest single and unbroken waterfall in Slovenia, and a cafe is conveniently located next to it.
6. Head to the Seaside
Slovenia is also home to a small stretch of seaside, in between the Italian and Croatian coastlines. We wanted to spend some time relaxing there at the end of summer, but alas the weather turned cool and rainy when we arrived.
If you have better weather, I recommend heading to the historic town of Piran, a resort city on the coast, well known for its Venetian architecture and long pier. I've heard reports that dogs are allowed on the pebble beach that runs between Piran and Fiesa.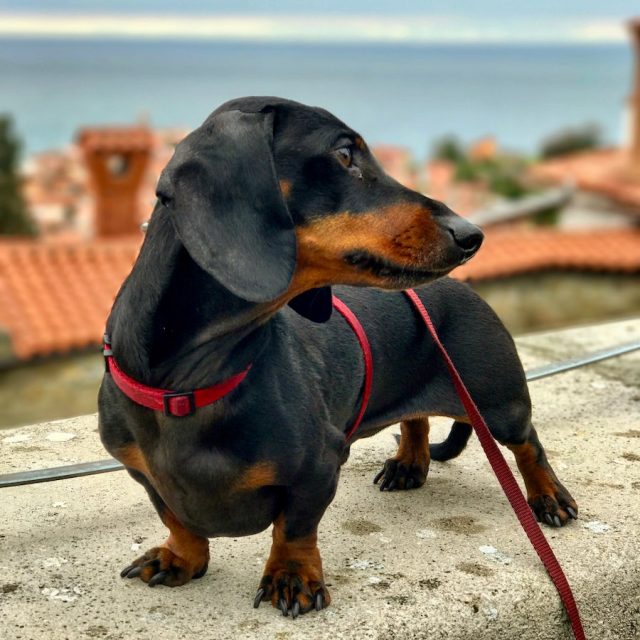 Alternatively, head to the nearby town of Izola and look on Google for the beach called "Pasja Plaža Izola". This is the only official dog beach in Slovenia.
You May Also Like
About the Author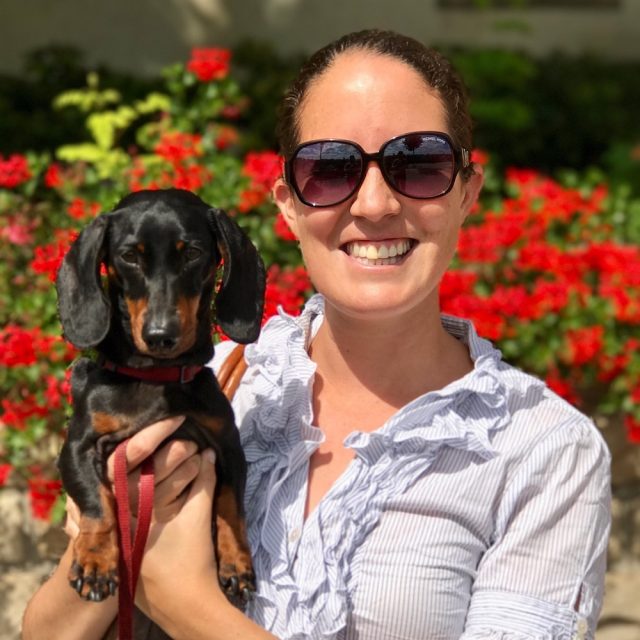 Shandos Cleaver is the founder of Travelnuity: Dog-Friendly Travel. She has travelled extensively with her Miniature Dachshund, Schnitzel, including to 33 countries across Europe, every state and territory of Australia except Tasmania, and 10 of the United States. She's passionate about providing inspiration and information to others wanting to travel with their dogs, whether close to home or internationally.
Inspired? Pin this to your Pinterest board!