This is a guest post from Monika Kucich.
Opatija is a small town and seaside resort on the Kvarner Bay in Croatia. Its mild Mediterranean climate makes this town a popular summer destination but also a great place to visit in winter as it is not too cold compared to elsewhere in Europe.
Whichever time of the year you choose to visit this town, you'll have something to see and experience together with your dog. Keep in mind that it can get a bit crowded during the July and August so if you don't like to visit while there's a lot of tourists, I suggest you visit in spring or fall.
Here are some of the things to do in Opatija with your dog on your visit!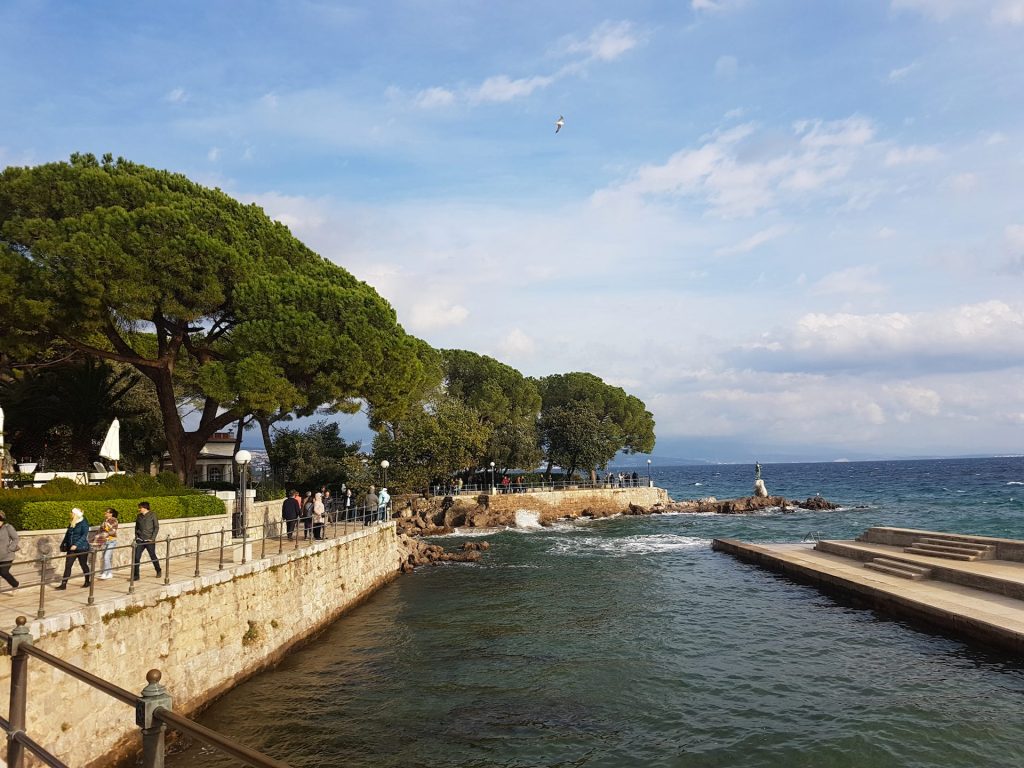 1. Take a Walk on the Promenade By the Sea
Opatija is famous for its 12 kilometers long promenade that connects Volosko (a part of Opatija known for great restaurants that has a Venice feel to it), the centre of Opatija and Lovran, a small nearby town. If you're visiting during July or August, it can get a little bit crowded on the promenade but I'm sure you'll enjoy it anyway.
There's a beautiful view of the whole Kvarner Bay for you to enjoy while walking, and a fresh sea air that will clear your mind.
2. Visit Veprinac
Veprinac is a small ancient town near Opatija. It is located on the hill so if you want to enjoy a stunning view of the Adriatic sea and nearby islands, as well as connect to the beautiful nature and enjoy some fresh air, I suggest you take that short trip and visit Veprinac.
If you're going by car, you can be in Veprinac in 10-15 minutes. I wouldn't recommend taking your dog to Veprinac with a bus because the local transportation company has some really strict rules about pets in buses and would only give you a hard time.
But if you have no car and don't want to pay for the taxi, you can take a walk to Veprinac, which brings us to the next point in this list.
3. Walk from Opatija to Veprinac
A mountain trail connects Opatija and Veprinac, so if you want to take your dog on a small hike, I'd suggest this trail. The entire loop to Veprinac and back to Opatija is 9 km long.
It will probably take you about 2 hours and a half or 3 hours for the entire route. But it is totally worth it when you get to see that stunning view, charming old houses and a beautiful ancient church.
You can see and download the exact map here.
4. Swim at a Dog-Friendly Beach
If you're visiting during summer or spring, you can take your dog for a refreshing swim in the sea. Opatija and nearby towns have many beaches to choose from but you're not allowed to take your dog to most of them. But there are two beaches where dogs are allowed.
A beach on Punta Kolova – this pebble beach is located between Opatija and Ičići, so take a walk on the Lungomare promenade and before you get to Ičići, you'll see a beach with 'dogs allowed' sign.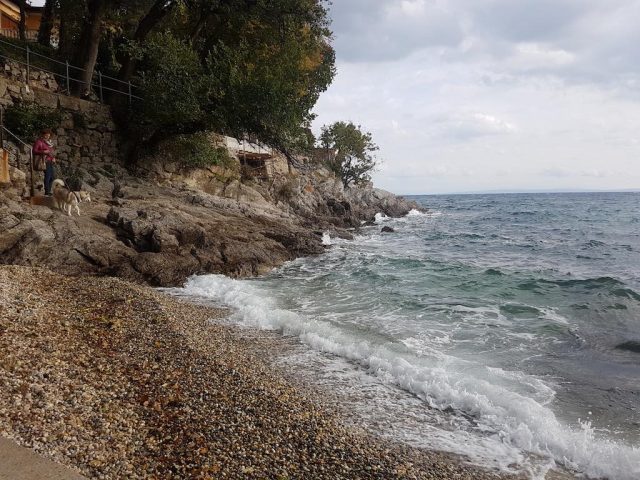 A beach under Villa Frappart in Lovran – this pebble beach is not really in Opatija but the town Lovran is very close. While you take a walk on Lungomare from Opatija to Lovran, as soon as you pass the small village called Ika, you'll notice this dog-friendly beach under the promenade.
5. Hike the Učka Mountain
Just above Opatija, there's a mountain and nature park called Učka. Učka is a perfect place to go hiking, to spend your dog's extra energy and enjoy a beautiful view of the sea and the surrounding islands while you inhale fresh mountain air.
The mountain peak called Vojak holds a small tower that you can climb to see the most amazing view of the Kvarner bay on one side and the green Istrian peninsula on the other side.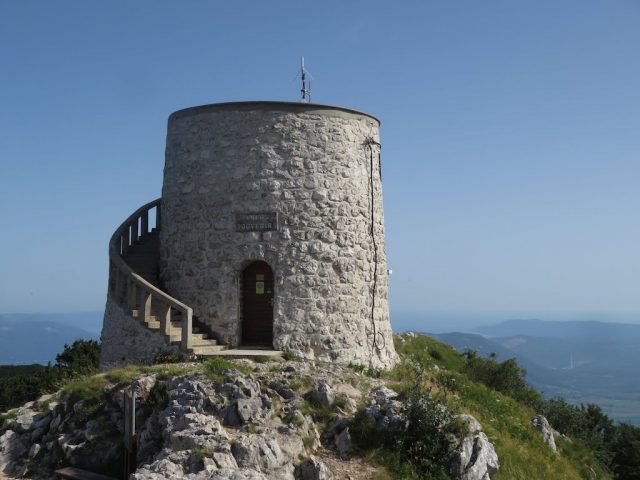 6. Visit Colorful Parks
There are three parks in Opatija that I recommend you visit with your dog. They are in the center of Opatija so you won't miss them.
The first one is park Angiolina, located next to the Lido beach and close to the hotel Kvarner. This horticultural monument is known for a huge number of different plant species from all around the world, around 150 of them.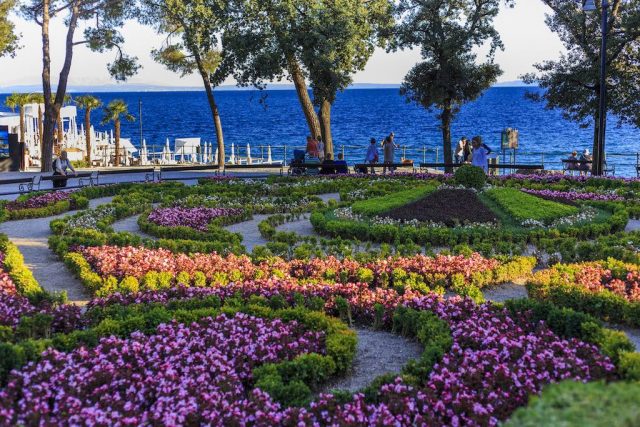 Park Jakov is located next to the oldest building in Opatija, St. Jakov Church, and it is also full of different kinds of beautiful flowers and trees.
The third park is not as beautiful as the previous two and it is not located by the sea so it won't be as many people taking a walk there. This park is called Margarita and it's a great place to take your dog for a walk in a more private place.
7. Take Your Dog on a Dinner Date
Opatija has many great restaurants that serve all kinds of foods – fresh seafood that comes right from the Adriatic Sea, Mediterranean food, grilled food, pizzas, pasta and much more. If you want to take your dog on a dinner date, try some of these dog-friendly restaurants.
Bevanda Lounge Bar is located on the Lido beach and the dishes they serve are top notch. The restaurant has huge glass windows so you can enjoy the beautiful view while enjoying the food. This restaurant is on the pricey side.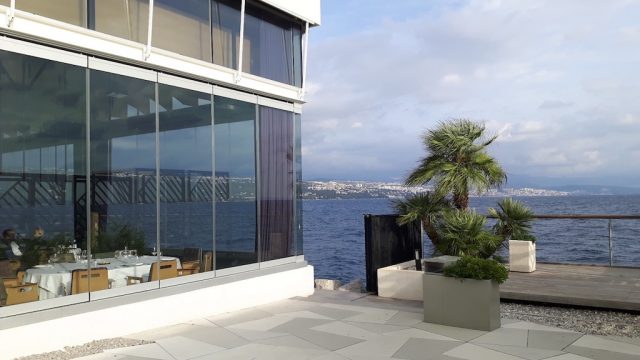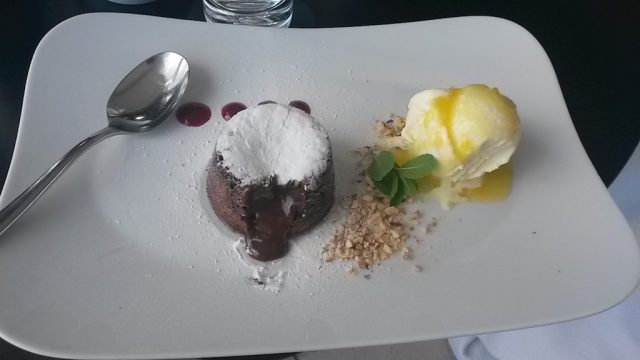 Roko restaurant allows small dogs in the restaurant. I usually eat pizza there because they have excellent pizzas. I haven't tried other food but most people say that it's delicious there.
Skalinada in Volosko is another great restaurant with phenomenal food and atmosphere and a great selection of wines, with a fair price. I definitely recommend this place.
I hope you have a great time staying in Opatija, the pearl of the Adriatic. It is a small town but surrounded with beautiful nature, beaches, ancient towns and green hills that you can enjoy with your dog.
Author Bio
Monika Kucich is a Croatian girl and the owner of a pet blog called Animallama, where she writes about pet care and shares her love for pets.
You May Also Like
Inspired? Pin this to your Pinterest board!