Malta was the 22nd European country that I visited with my dog, just over a year after we arrived in Europe, in early 2018. We were in need of some sunshine and warmth at the end of winter, and Malta in winter is a great destination.
Despite being part of the European Union, Malta is one of the trickier countries in Europe to travel to with a dog, thanks to extra requirements for a vet inspection on arrival, plus a worming treatment beforehand.
The night before our flight, I was a bit worried (both because it would be my dog's first flight in 10 months and there was a potential hiccup with our paperwork), but it all ended up going quite smoothly, luckily! Here's the steps we went through to travel to Malta with our dog.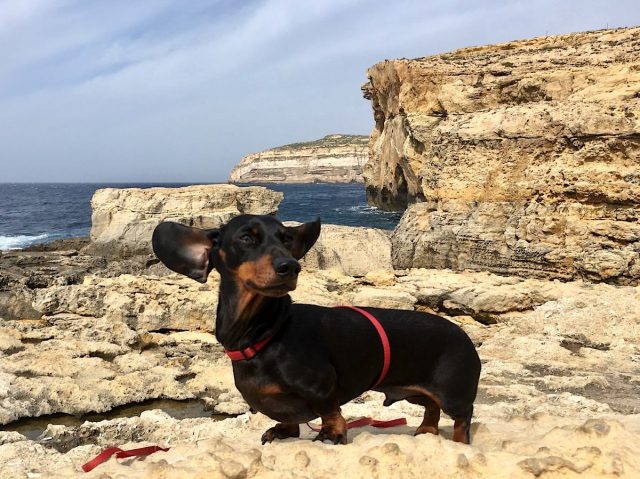 Paperwork for Travelling to Malta with a Dog
Just like other European Union countries, to travel to Malta with your dog they'll require an EU pet passport (or other paperwork from your country of origin), showing your dog's microchip number and proof of rabies vaccination.
Additionally, Malta is one of the countries that also requires your dog to be wormed by a vet, between five days and 24 hours before arriving in the country.
Then there's an extra special step just for Malta. Malta also requires you to notify them of the arrival of your pet, at least three working days before arrival. This is so your pet can be inspected on arrival by a veterinarian (at the airport or ferry terminal).
The form is available online. The form requires your arrival details (flight or ferry), plus more details including your dog's passport number, microchip number and rabies vaccination date. Once submitted, you receive an email with a number to go back and edit details if required.
Dog-Friendly Transport Options to Malta
There's multiple ways to travel with your dog to Malta, including taking a ferry from Sicily or flying directly to Malta.
Taking the Ferry from Sicily to Malta with a Dog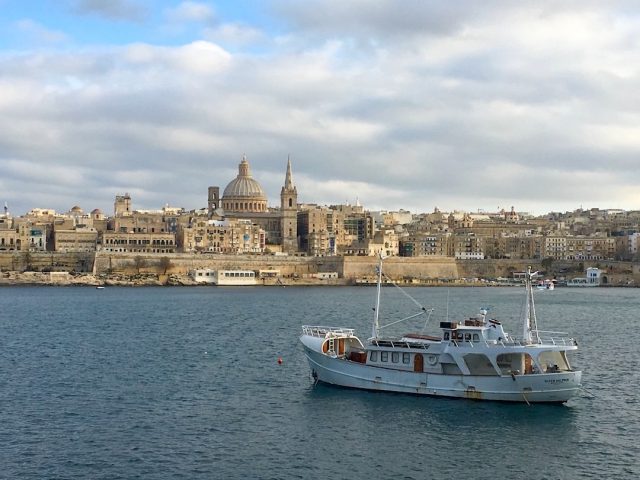 Our initial plan to travel to Malta with our dog from Sicily was to take the ferry operated by Virtu Ferries. The ferry crossing only takes a couple of hours and there are four options for pets available:
Pets in Vehicles: If you're travelling with a car, you can leave your pets in your car with the window open. Your first three pets travel for free, then €12 for each subsequent pet.
Pet Cabin: Alternatively, your pets can travel in the "pet cabin", an air-conditioned and insulated room located on the vehicle deck with individual cages for pets. There is a charge of €25 and pre-bookings are essential.
Pets on Outside Deck: You can also travel with your dog or cat on the outside deck, in an allocated area, as long as you supply your own leak-proof pet cage, up to 70 x 50 x 51.5cm in size. Note that this isn't possible during inclement weather, in which case an alternative location is provided. A charge of €15 applies.
Small Pets in Passenger Areas: Finally, if you have a small pet pet in a leak-proof pet cage, no larger than 48 x 35 x 35cm, they can travel by your seat in the passenger areas. Naturally they are not allowed outside. A charge of €15 applies.
However, the ferries principally depart from Pozzallo, a small town on the southern coast of Sicily, where there are no hire car offices (to drop off a hire car) or easy public transport connections. The location is fine if you're travelling with your car, but otherwise rather difficult.
Selected ferry services connect with a coach service from the large city of Catania, but dogs are not allowed on the coach, only guide dogs.
Alternatively, since our visit to Malta in 2018, there is now the option to book transfers from selected cities, either in a car or minivan, with dogs potentially allowed, as least small pets in a carrier.
Flying to Malta with a Dog
We ended up choosing to fly to Malta with our dog with AirMalta. AirMalta is a very pet-friendly airline, allowing pets to fly in the cabin, as well as in the hold as checked baggage or as cargo.
For pets in the cabin, they have a generous weight allowance of up to 10kg including carrier bag, although the maximum dimensions of the carrier are a small 40 cm x 34 cm x 20 cm. There is a flat fee of €70, regardless of flight duration. Pet strollers can even be carried for free!
We booked to fly out of Catania Airport, where we could easily pick-up and drop-off a hire car for our stay on Sicily. Its a very short flight from Catania to Malta: it was scheduled to take 40 minutes, but in reality we spent under half an hour in the hour!
Note that bookings for pets on AirMalta can't be done online, instead you need to call up to book (which we did immediately after booking our own tickets). Additionally, AirMalta states in their pet policy that your pet should have a health check from a vet noted in their passport within three days of the flight.
(One side note for UK readers: When flying out of the UK, AirMalta allows your dog to fly in the cabin, just not when returning to the UK.)
Our Adventure Visiting a Vet in Sicily
The next step to organise was a visit to the vet in Sicily, which would be extra tricky as neither my husband or I speak more than a smattering of Italian. We'd previously visited vets in Paris and Nuremberg, where a quick Google search for English speaking vets turned up plenty of options, but a similar search didn't turn up anything on all of Sicily…
Complicating things, we only had a narrow window of time to visit the vet. Our dog needed the worming treatment between 5 days and 24 hours before the flight. And the health check for the AirMalta flight was required within 3 days of the flight. Meaning, the vet visit needed to be done within a 48 hour window.
And as our flight was on a Tuesday at 1:30pm, that meant from Saturday 1:30pm to Monday 1:30pm. Although preferably not on the Monday morning, as we wanted to do a trip up Mt Etna that day. Meaning, ideally on Sunday or else the Saturday afternoon! And as expected, not many vets in Sicily are open on a Sunday…
I ended up just searching on Google Maps for vets which listed opening hours and were open on Sunday, in between the town of Milazzo and the city of Catania (the area we would be travelling through that Sunday). I found a 24-hour clinic in Catania with an email address and sent an email (prepared with Google Translate), but didn't receive a reply.
The reviews also weren't that great, so I cajoled my husband into calling a vet near Milazzo. Success: appointment made with our pre-prepared Italian phrases and a little English!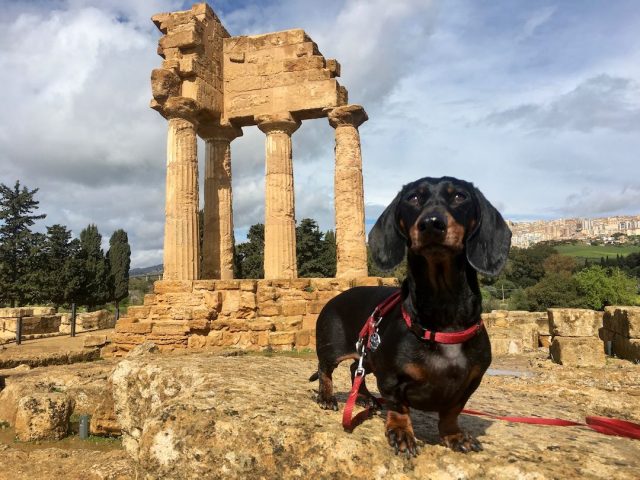 I hoped when arriving at the vet that he would be able to speak some English, but that wasn't the case. He also didn't seem overly familiar with the EU Pet Passport. He was working in a small town, not a big city, I guess.
He gave our dog the worming tablet and then filled in the relevant section. But when we said we needed the health check filled out, he didn't seem to understand what we needed (and we didn't have enough reception to use Google Translate on our phones), so he wrote a letter instead. We paid the bill (just €30) and hoped it was all good.
Our Experience Flying and Arriving in Malta
The night before our flight, I started to worry. As well as the fact the health check wasn't actually written in the passport (and could be an issue for either the flight or our arrival in Malta), I also suspected that our dog's carrier bag was probably a touch larger than the requirements specified by AirMalta. Not that I could check, as I didn't have a ruler.
When booking, the lady had asked the measurements, and my husband said he didn't know but we'd used it for flying before, so just said it was the maximum. Although it is soft, so could be squished down, if necessary – but only if we got past the check-in desk!
Also, I'd written down that it might cost €50 for the vet inspection on arrival in Malta, but now I couldn't find anything about a fee.
Checking in at the Airport
The next day, we arrived at the airport with plenty of time to spare. At the check-in counter, the lady at asked for our pet's passport and quickly glanced at it. (I don't think she even looked for the health check I had worried over, I think she just made sure our dog had one.)
And just like the last time we flew in Europe with our dog in the cabin, she barely glanced at him in the bag, didn't check the size or weight. We were through!
After a final lunch of arancini and cannoli, it was then time for boarding. Our dog's carrier bag fitted under the seat, no problems. (Although given the lack of foot space left for my husband, he was glad it was just a quick flight).
Arriving in Malta
When we arrived at the airport in Malta, we headed for the baggage carousel, as we'd checked in luggage. While waiting for it to appear, a man approached us with an official badge. He was the vet, and while I waited for the luggage, my husband went off with the vet.
He checked our dog's microchip, looked at the pet passport and the letter from the vet, didn't charge a fee, and it was all over in a couple of minutes. No issues about the separate letter, rather than the health check in the passport. It was over, and we were officially in Malta with our dog!
Do I Recommend Travelling to Malta with a Dog?
My recommendation for if you're travelling to Malta with a dog? Yes, the paperwork can be a worry. But just make sure you complete all the requirements, especially the worming, and it should all go smoothly, just like it did for us.
You May Also Like
About the Author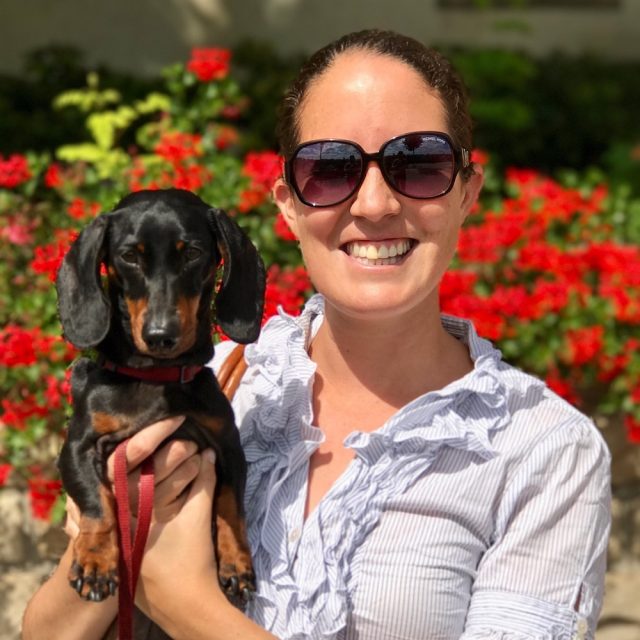 Shandos Cleaver is the founder of Travelnuity: Dog-Friendly Travel. She has travelled extensively with her Miniature Dachshund, Schnitzel, including to 33 countries across Europe, every state and territory of Australia except Tasmania, and 10 of the United States. She's passionate about providing inspiration and information to others wanting to travel with their dogs, whether close to home or internationally.
Inspired? Pin this to your Pinterest board!