One of the easiest ways to travel with a dog is in your own vehicle on a road trip. You're no longer limited to staying in accommodation or visiting places accessibly by public transport. And that's assuming your dog is even allowed on public transport!
Plus it's tough work lugging all your luggage around on public transport, along with your dog. But what about if you don't have your own car or are heading overseas? Can you hire a car with a dog?
During my trips around the world with my dog, we've hired a car many times. We've hired vehicles to travel with our dog in multiple countries, from Europe to the USA to Australia. While the rules differ from place to place, here's how to hire a car when you have a dog.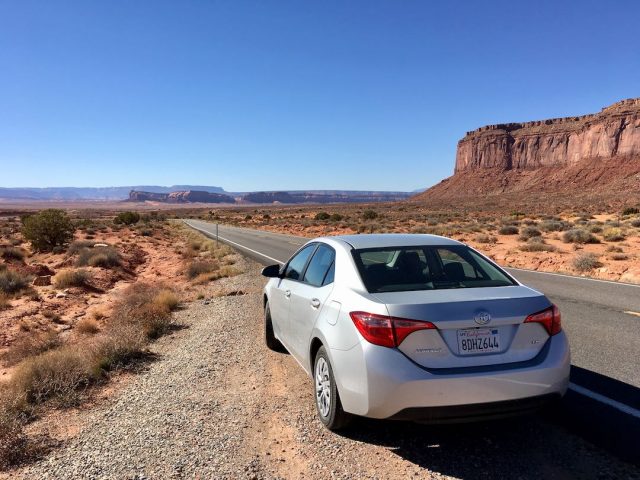 Are Dogs Allowed in Rental Cars?
Whether your dog is allowed in a hire car depends on the country where you are hiring the vehicle and the individual car rental company.
Before renting a car and heading out on a dog-friendly road trip, it's best to check the company's terms and conditions, which should state their rules related to travelling with pets, or speak directly to the branch you will be hiring from.
Dog-Friendly Car Hire in Europe
In Europe, we found that most rental car agencies were fine for our dog to travel in the car. We actually forgot to check most of the time, and were nearly caught out in Denmark, where we only discovered at the rental counter that dogs weren't allowed. Luckily the staff just warned us to not get any dog hair on the seats, with the "no dog" sticker next to the "no smoking" sticker reminding us during the rental.
The Scandinavian countries tend to be more restrictive when it comes to pets in rental cars, similar to their restricted areas for pets on public transport.
For instance, Hertz in Sweden doesn't permit pet dogs in rental vehicles, unless you advise them at the time of booking and organise to rent this option with protection grilles installed, at an additional cost.
Dog-Friendly Car Hire in the USA
In the United States, the policies of car hire companies are variable but often pet-friendly. Some rental car companies always permit dogs, albeit with warnings of additional cleaning fees if the vehicle is not returned free of pet hair. While the policy of other rental car companies depends on the location you are hiring the vehicle from.
For an excellent summary of the policies of different rental car companies, including which ones are the most pet-friendly car hire companies, check out this guide from GoPetFriendly.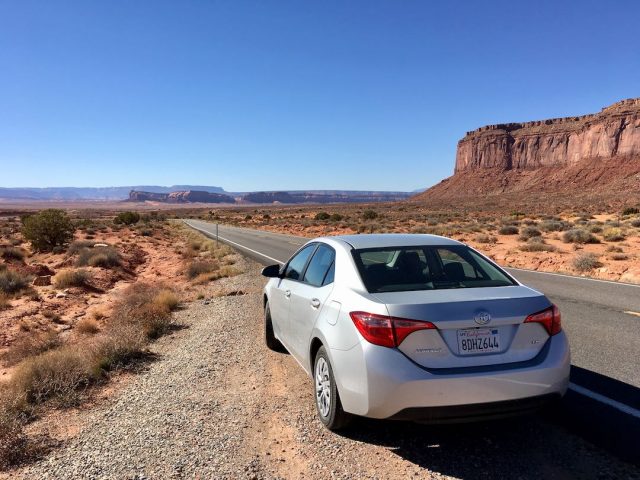 Dog-Friendly Car Hire in Australia
In Australia, car hire companies tend to be less dog-friendly. There are multiple car hire companies that flat-out don't allow dogs in any of their vehicles. On the other hand, for other companies the policy comes down to the location.
It's tricky to determine which Australia car hire companies will permit your dog in their vehicle, so I emailed all the major car hire companies and put together this guide to which Australian car rental companies permit dogs. Interestingly, one of the more pet-friendly care hire companies in Australia is one of the least pet-friendly in the USA!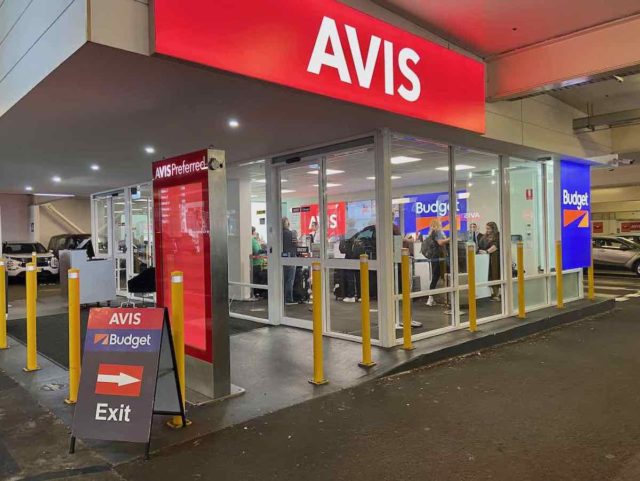 In Australia, another alternative to hiring a car if you only want it for a short trip is to use a car sharing company. Most of the car sharing companies in Australia are fairly pet-friendly. For instance, GoGet allows pets in selected pet-friendly vehicles, while Popcar allows pets in vehicles as long as you clean it afterwards.
Dog-Friendly Campervan Hire
If you'd like to hire a campervan or motorhome rather than just a car, luckily there's plenty of dog-friendly campervan hire companies available.
In Australia, we hired a pet-friendly campervan from Apollo. In the United Kingdom, check out Spaceships campervans and motorhomes. While in the USA, check out Cruise America, who are well-known for their distinctive decals featuring dogs!
These are just some of the pet-friendly options available, check with each campervan and RV hire company. Note that an additional cleaning fee or daily fee often applies.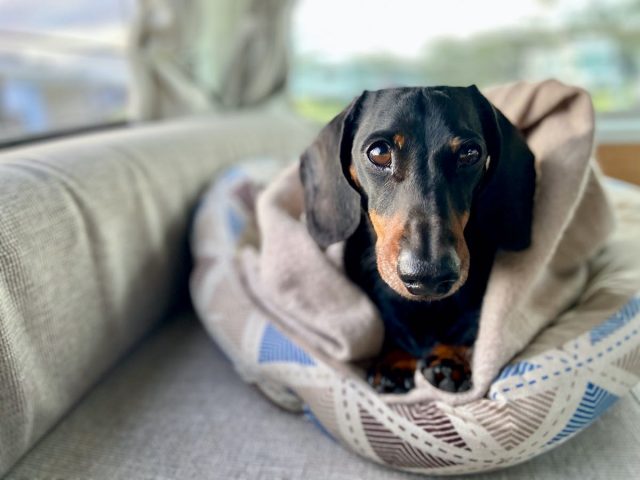 What are the Rules for Dogs in Rental Cars?
Even if a rental car company permits dogs inside their vehicles, they may have rules that you need to follow.
The most typical rule for pet-friendly car rentals is that the car needs to returned free of pet hair, as well as free of other damage. A dusting of pet hair throughout the vehicle is not treated as typical dirtiness!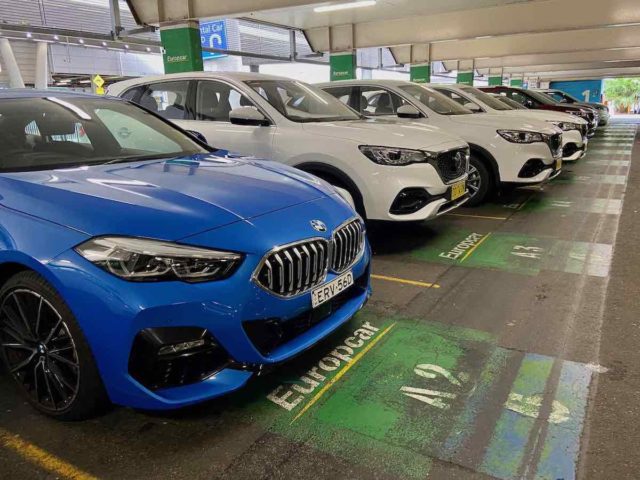 Some other dog-friendly rental cars may require your dog to remain in a carrier or be crated when they are inside the vehicle. This stops your pet from coming into contact with the seats, as well as providing a secured ride for your pet, as long as the carrier or crate is secured. See above for my example from Hertz in Sweden that only permits pets to travel in vehicles with a protective grille.
Keep Your Pet Secured in Your Rental Vehicle
Pets in rental vehicles also need to abide by the local road rules of the country or state where the vehicle is being driven. The most common road rule applying to pets is that they need to be secured in the vehicle, or at the least not distract the driver.
For instance, in the UK, it is a requirement of Rule 57 of the UK Highway Code that dogs need to be suitably restrained, whether with a seat belt harness, pet carrier, dog cage or dog guard. In Australia, the rules differ by state.
Even if the local rules don't require securing your dog, it's best to do so, to prevent injure both to your pet and the other occupants of the vehicle in the advent of an accident. Additionally, it's best to skip transporting your dog on the front seat, as dogs can be injured or even killed by exploding air bags.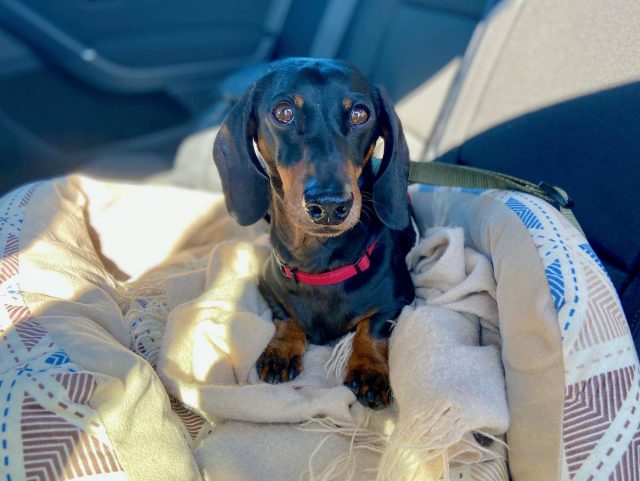 The easiest way to restrain your dog is with a seat belt attachment that can be attached to your dog's harness, or else a specially designed car harness. Either option can be easily carried with you to the rental car company depot. Alternatively, if you are flying with your pet, you may be able to use their carrier from the plane.
For more recommendations on how to secure your dog and what to pack for your dog, check out my guide to taking a road trip with your dog.
Clean Your Vehicle Before Returning It
Even if the rules from the car rental company don't specifically mention it, it's best to return your rental car free of pet hair, as if your dog was never in the vehicle.
To minimise the amount of amount of dog hair on the seats, pack a dog seat, dog bed, blanket or old towel to place on the car seat, for your dog to then sit on. Don't allow your dog to sit directly on the car seats, if possible.
Always make sure your dog is dry and clean before getting in the car. Muddy paw prints can be impossible to clean off. This is another time that one or more old towels will come in handy!
Before returning your car, check it over for pet hair. If necessary, stop at a garage or car wash, where you can use a vacuum cleaner to clean off pet hair. This is essential if you have a pet dog that sheds a lot of hair!
More Tips for Hiring a Car
As always, it pays to be careful when hiring a car and follow these tips to avoid any unexpected charges.
Book in Advance
Sometimes you can get away with hiring a car last minute. But usually it means that you pay a sky-high price, and that's if they've even got the car you want (a 7-seater van for two people?) This particularly applies in smaller cities or odd locations.
Book a hire car as soon as possible, even before you book accommodation, especially if only some car hire companies permits dogs in the vehicle.
Automatic or Manual?
In Australia and the USA, most rental cars are automatic. However, in Europe and the UK, most rental cars are manual.
If you want to hire an automatic, forget about the cheap specials you've seen advertised and make sure you book in advance. Ideally, be prepared to drive either or pay the extra cost if you're not comfortable driving stick, especially on the opposite side of the road.
Read the Booking Conditions
The deposit required for hire cars varies greatly, and is usually even higher for a campervan or motorhome.
Make sure you have the available balance on your credit card. Sometimes you can use a debit card, but always check the paperwork in advance for deposit requirements.
You might also be required to bring a paper copy of the paperwork to the depot – double check!
Consider Insurance
Most car hires come with a basic level of insurance. However, the excess is generally high. Usually the hire car company will try and sell you additional insurance, to reduce the excess, possibly down to as little as $0. Sounds great? But it costs: often as much per day as your hire charge. And sometimes there's still exclusions.
Double check with your travel insurance for whether they cover hire car excess. Generally they do, up to a certain amount (which will cover most hires, except for luxury vehicles). And then be prepared to say no, no matter how much the service staff encourage you to buy it.
Alternatively, look into a stand-alone car hire excess insurance policy. CarInsuRent offers hire excess policies globally, with a wide range of cover and benefits compared to buying the excess waiver offered by some car hire companies. This kind of policy may even reimburse damages not usually covered, such as windscreen, tyres and undercarriage.
Take Photographs
When picking up your rental car, carefully check over the inspection document and make sure everything is thoroughly documented. Even better, take photos of the car, proving the state it was in when you hired it. These are especially handy if there's already some pre-existing damage.
Be Extra Careful about Speeding and Parking
No-one likes to get a fine in the mail for a speeding ticket or parking fine, but it's twice as bad if you're in a rental car.
Most companies will add on an administration fee to cover their costs in handling the fine. Such costs vary from company to company (check the fine print of your contract), but in many cases it can easily double the fine.
You May Also Like
Inspired? Pin this to your Pinterest board!