The easiest way to travel with your dog is to go on a road trip together. But if you haven't yet taken a road trip with your dog, it can still be quite daunting. How do you keep your dog secure and what can you do if your dog gets car sick? I take through all the tips you need to have a fun and enjoyable dog-friendly road trip.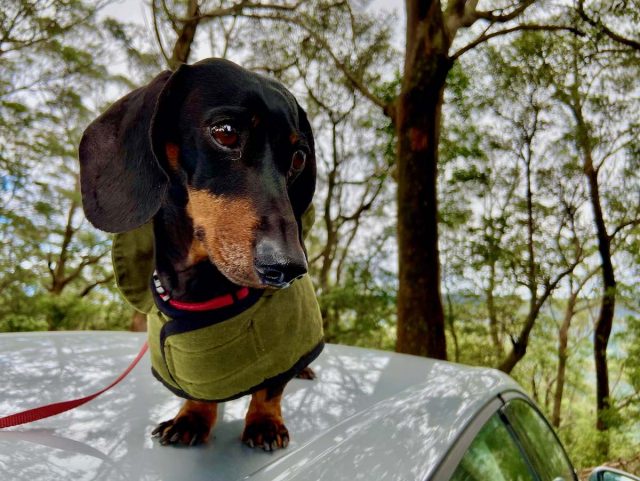 Choosing a Vehicle for Your Road Trip
The easiest vehicle to take on your road trip with your dog is your own vehicle. Your dog will already be familiar with the vehicle, and so will you! But what if you don't have a car or your vehicle isn't suitable for a road trip?
You might instead consider hiring a vehicle for your road trip. If you are hiring a car and plan to take your dog in it, double check in advance that the car rental company allows pets in their vehicles. Depending on where you are in the world, not all do. For instance, many car hire companies in Australia don't allow pets in their vehicles.
Alternatively, you might be interested in hiring a campervan or RV for your road trip. There are many advantages to having your own RV, including having your own accommodation, with no need to find pet-friendly hotels! Find out more about RVing with your dog and tips on hiring a pet-friendly campervan in Australia.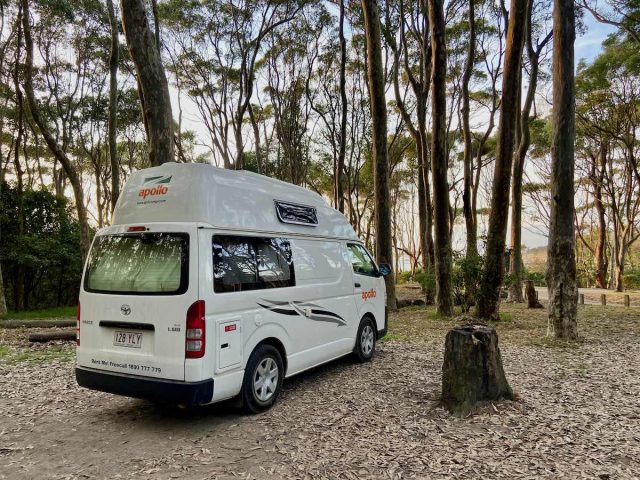 Make sure you carefully look after your rental vehicle. Ideally use a bed, blanket or car seat for your dog to sit on and protect the seat upholstery. Clean the vehicle of any dog hair before returning it.
Where to Stay on Your Dog-Friendly Road Trip
Most commonly when travelling with a dog, you'll hunt down pet-friendly hotels to stay in. However, on a road trip with your own wheels, you have a lot more flexibility.
One of the best options for a dog-friendly road trip is camping, whether in your own campervan, in a tent or staying in pet-friendly cabins. Caravan parks are much more likely to be dog-friendly than other forms of accommodation, especially if you have your own tent or caravan.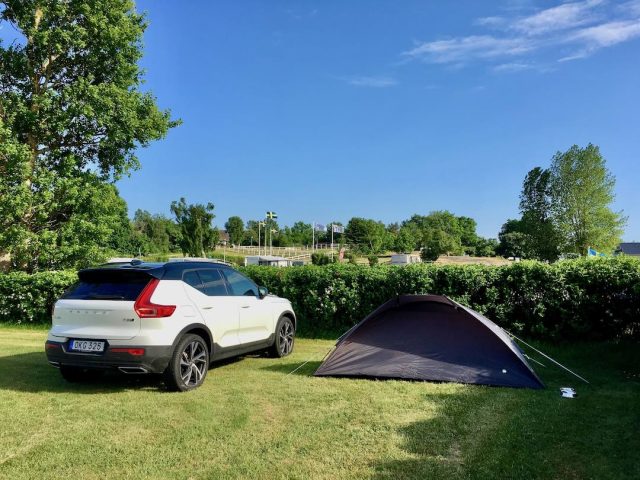 Another option is to stay at pet-friendly Airbnbs. Not relying on public transport opens up a lot more Airbnb options, whether it's a spare bedroom in a suburban house or a cabin in the woods.
Depending on your form of accommodation, it may or may not be necessary to book in advance. In general, I advise booking accommodation when travelling with a dog in advance, due to the limited number of pet-friendly options. This applies in particular if you are staying in hotels or cabins, or travelling during peak periods.
However, if you've got your own campervan or tent, and are travelling outside of peak periods, you can usually get away without booking in advance. I've done this on road trips through Scandinavia and when travelling around Australia. It's liberating to have the flexibility of deciding each day where to set up camp!
Keeping Your Dog Secure In Your Vehicle
It's important to keep your dog safe and secure in your vehicle. As well as preventing your dog from being injured or causing injury to others in your vehicle, it's also a road rule of many countries and states.
For instance, in the United Kingdom, Rule 57 of the UK Highway Code says dogs should be suitably restrained when travelling. In Australia, the rules differ by state. In general, it's prohibited to ride with your dog on your lap or in a situation that causes the driver to be distracted. Across the United States, rules are set by individual states and municipalities and differ widely.
There's multiple options available to safely restrain your dog in your vehicle. One of the most popular options is to buy a dog car seat. There are a wide variety of car seats for different sizes of dogs, that can be attached in different ways – check out the options available.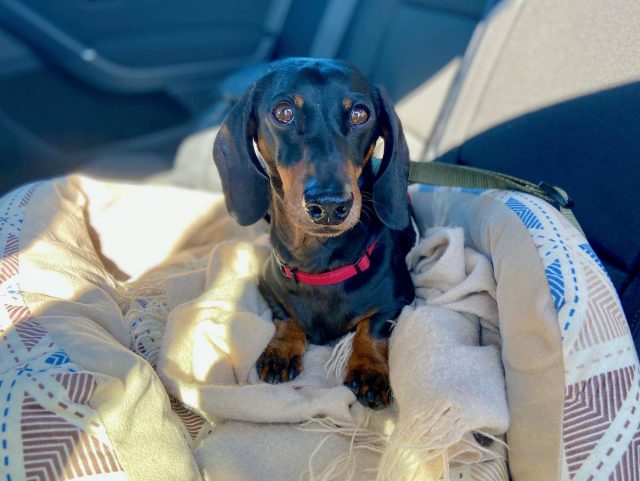 Another easy option is to buy a seatbelt attachment for your dog's harness, available in most pet shops. You might consider investing in a special harness for your dog that has been specially designed for use in the car and crash-tested.
Alternatively, consider securing your dog in a carrier or crate, that is then secured to the car. For larger dogs, you'll probably need to place them in the boot area in their crate. A mesh divider for the rear of the vehicle is another great option for big dogs.
It's best to avoid travelling with your dog on the front passenger. Although it is tempting and many dogs love to travel in this spot, dogs are at risk of injury if the air bag goes off, even for a minor rear-ender.
For more tips, check out this guide to keeping your pet safe in your car.
What If My Dog Gets Car Sick?
Unfortunately, some dogs are prone to car sickness. This is especially common in puppies, with many dogs growing out of it once they are fully grown. But some dogs need additional help or suffer from motion sickness for life.
Before going on a road trip with your dog, it helps to know if your dog suffers from travel sickness. Make sure you've taken your dog for some shorter trips close to home. Acclimatising your dog with short car trips at first can also help some dogs grow out of car sickness.
There are many treatments to try to help your dog overcome car sickness. For instance, make them comfortable, by bring along their bed or buying them a car booster seat. Open a window to provide them with a cool breeze. Don't feed your dog immediately before hopping in the car, or consider giving them ginger or a calming product to help calm their nerves and stomach.
For more information, check out my complete guide on the best remedies for dog travel sickness.
What to Pack for Your Dog on a Road Trip
It helps to have a packing list of all the things that you'll need to pack for your dog on a road trip. Consider bringing along the following.
Dog Bed
Whether it's for sleeping in your accommodation at night or just keeping comfortable on the back seat of your car, your dog will greatly appreciate having their own bed while you're driving from place to place.
Food and Water Bowls
Some accommodation might provide bowls for your pup, but it's always best to bring along your own. Luckily there's plenty of room in a car!
In particular, make sure you've got something for your dog to drink from during the day. Collapsible water bowls are easy to pack or put a spill-proof water bowl in your car or campervan. In Australia, the K9 cruiser bowl is a well regarded spill-proof bowl.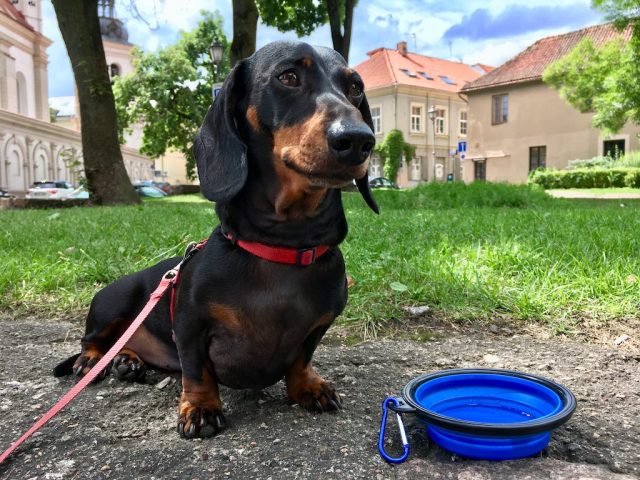 Bring along water bottles with water for both yourself and your pups. Consider freezing one the night before so it stays nice and cool even during hot weather. Try to pack enough dog food for the entire trip.
Dog Car Seat, Harness or Crate
As I mentioned above, it's important to make sure that your dog is secure in your vehicle. There's a wide range of options to choose from. Either a dog car seat, car harness (or seat beat attachment for a regular harness) or a crate may be suitable.
A wide range of dog car seats tailored to suit the specific needs of different dog parents and different size dogs is available from Jubilee's, a small business specializing in pet travel supplies. All products come with a lifetime warranty, a 30-day free return policy and free shipping to a range of countries.
A crate may also be handy when you get to your destination. Many dogs feel more secure when inside their crate. Also, if you are leaving your dog behind in a hotel room, if permitted, you might be required to crate your dog.
Vaccination and Registration Records
It's a must to bring along your dog's vaccination and registration records when on a road trip with your dog. Some caravan parks and hotels might require proof when checking in with a pet.
Also, if you are leaving your dog at a kennel while visiting a non-dog-friendly attraction, they generally require proof of vaccines.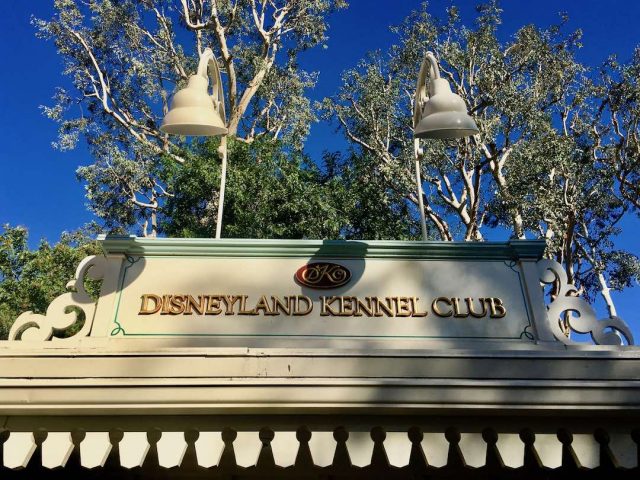 Collar with ID and Leash
The easiest way for your dog to be re-united with you if they go missing is by attaching an ID tag to your dog's collar. Make sure it is inscribed with the number of a mobile phone you'll be travelling with.
Keeping your dog on a leash will generally be required when travelling, except in designated off-leash areas. Most caravan parks and accommodation will require dogs to be leashed when in public areas. Be responsible and keep your dog leashed when asked.
Tick Prevention Treatment
If you're heading into the countryside where ticks are an issue, make sure your dog is up-to-date on their tick treatment and bring along more if required. Also consider bringing along a dog insect repellant to keep away other biting insects.
In Australia, paralysis ticks are an issue along the east coast, while there has recently been an outbreak of Ehrlichiosis, transmitted on brown dog ticks, in northern WA, the NT and northern SA. Find out more about keeping your dog safe while travelling in Australia.
In the United States, be aware of Lyme disease. While in Europe, see my tips on keeping your dog safe from Leishmaniasis, transmitted by sand flies, that are also usually repelled by tick treatments.
Other Things to Pack
Some other things that you might consider packing, depending on your dog and your plans, include:
For more tips, see my recommended dog travel packing list, with suggested purchases.
Planning Your Road Trip with Your Dog
When road tripping with your dog, you also need to keep in mind the needs of your dog. It's similar to taking a road trip with children for the first time .
It's important to stop for regular breaks, generally every two hours. This will give your dog (plus everyone else) a chance to stretch their legs and toilet. If you're travelling with an energetic dog, also try and enjoy some short walks or even a game of fetch. Look for dog parks or interesting sites to stop at along the way.
You'll also need to consider where you stop for lunch. As not all restaurants are dog-friendly, make sure you stop somewhere where your dog is allowed. Consider stopping for a picnic (especially if you have a fridge in your vehicle and can bring along plenty of supplies). Or stop somewhere with an outdoor dining area.
Dogs should never be left inside a warm vehicle, even with the windows opened. Plan in advance to make sure you don't endanger your dog by leaving them in your car.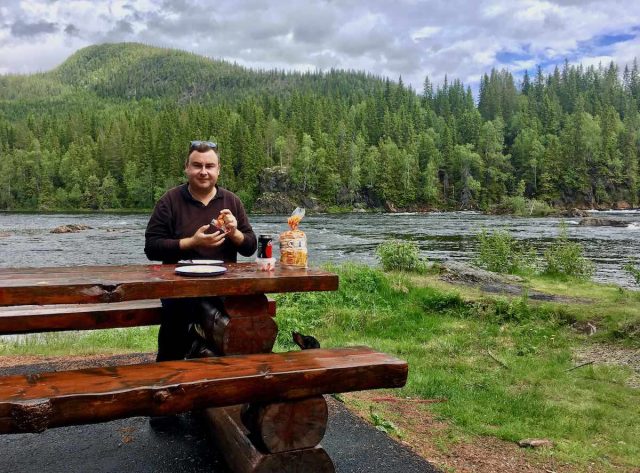 Ideas for Dog-Friendly Road Trips
There's no shortage of ideas for dog-friendly road trips, it's only limited by your imagination! These are some of my favourite road trips that I've taken with my dog.
Dog-Friendly Road Trips in Europe
One of my favourite road trips with my dog was in Scandinavia. We spent a month driving north through Sweden, as far north as above the Arctic Circle, then heading back south through Norway. We bought a tent just for this road trip, and camped along the way at the many dog-friendly camp grounds.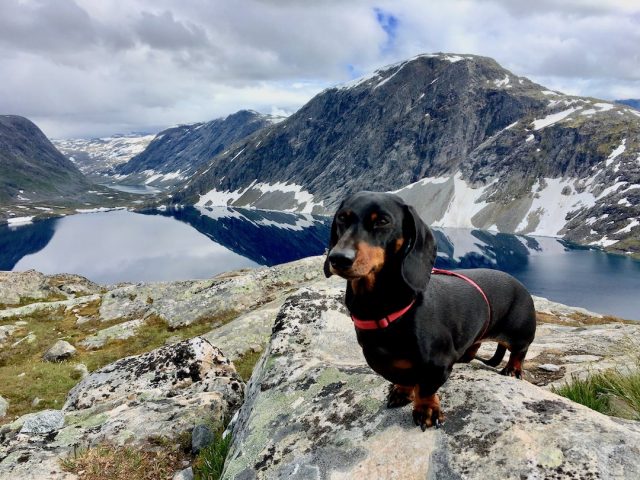 Alternatively, another favourite road trip was driving around Northern Ireland and the Republic of Ireland. After taking a dog-friendly ferry over from Great Britain, we drove north to the Causeway Coast, then around the coastline of the Republic of Ireland. A highlight was the Ring of Kerry.
Dog-Friendly Road Trips in United States
Visit one of the many dog-friendly national parks in the United States on a road trip with your pup. An easy road trip from Los Angeles is to head east to Palm Springs and drive through Joshua Tree National Park. While dogs have restricted access in the park, they're still allowed along the roads and at picnic grounds, plus in the camp ground.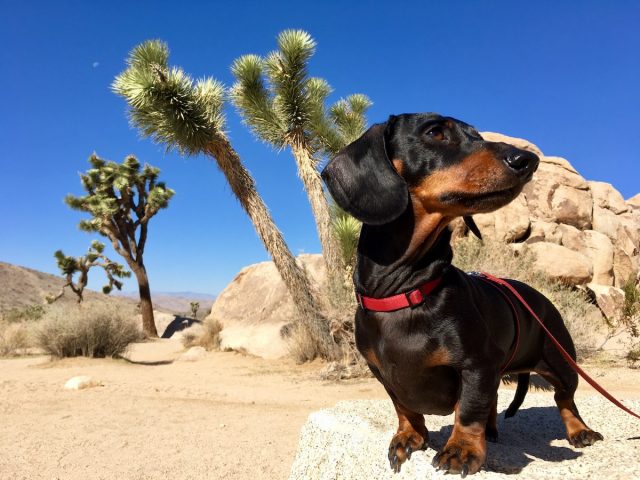 Alternatively, head further afield to the Grand Canyon and the other wonders of Arizona. Drive through Monument Valley with your pup, or stop off at Horseshoe Bend and take a dog-friendly hike through a slot canyon.
Dog-Friendly Road Trips in Australia
When taking your dog on a road trip in Australia, it's best to avoid the national parks, where dogs are generally prohibited. However, there's still plenty of dog-friendly road trips, and many pet owners bring along their dogs on a lap around Australia.
For a shorter road trip, if you're in Victoria, I've put together this guide for driving the Great Ocean Road with a dog, including where dogs are and aren't permitted.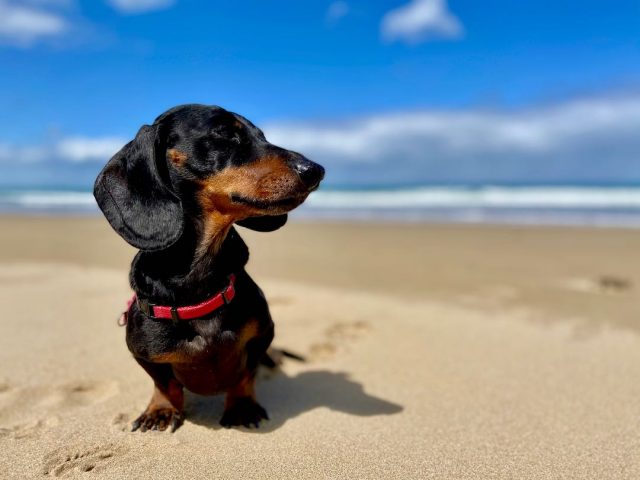 In New South Wales, I recommend taking a road trip along the North or South Coast, or both. Along the way, make sure you tick off some of the beautiful dog-friendly beaches in NSW.
Looking for tips for surviving some of the long, boring drives in Australia? Check out my guide to driving the Hume from Sydney to Melbourne with a dog, or driving across the Nullarbor.
You May Also Like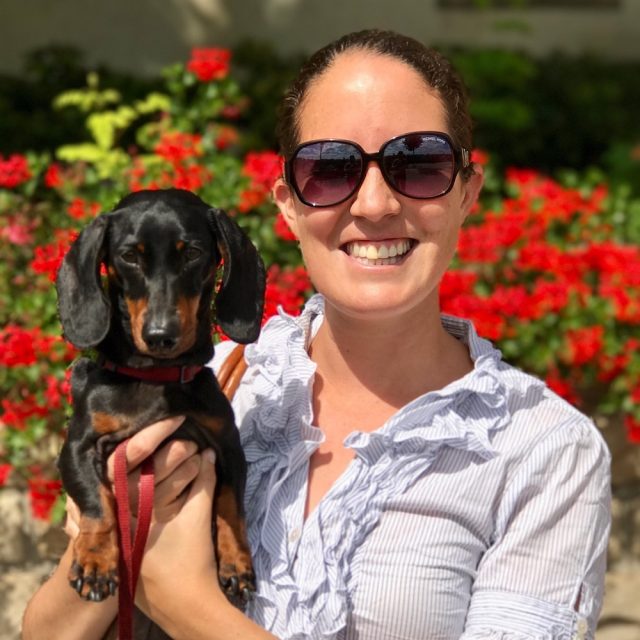 Shandos Cleaver is the founder of Travelnuity: Dog-Friendly Travel. She has travelled extensively with her Miniature Dachshund, Schnitzel, including to 33 countries across Europe, every state and territory of Australia except Tasmania, and 10 of the United States. She's passionate about providing inspiration and information to others wanting to travel with their dogs, whether close to home or internationally.
Inspired? Pin this to your Pinterest board!