One of the best ways to introduce your dog to a lifetime of travelling, and ensure they love it as much as you, is by starting when they're still young, when they're just a puppy. It's a great opportunity to train them. However, there are complications and considerations you should keep in mind. Follow these tips for travelling with a puppy…
#1 Wait to Finish Their Puppy Vaccinations
Generally, if you take your puppy home when they're only 8 or 10 weeks old, they still haven't finished their initial round of vaccinations. This doesn't usually occur until they are 12 or 13 weeks old.
Until this happens, it's generally recommended that you don't take your puppy to dog parks or to places where there might be other dogs, as they are susceptible to contagious canine viruses such as parvovirus. Check with your vet or breeder for more precise recommendations.
Perhaps take them on short car trips or introduce them to the dogs of your friends, who you know are fully vaccinated and healthy. But hold off on too many adventures until it's safe for them.
#2 Start with Short Trips
Before or after your puppy has finished their vaccinations, it's ideal to start with short trips close to home, before any long trips if you can help it.
Puppies are more prone to other dogs to suffering from travel sickness, especially from car rides. Find out how they handle being in the car and slowly increase the duration of trips in the car, before you consider a long road trip with your puppy.
It's also best to keep trips to a short length, such as staying overnight with family or friends nearby. Travelling to a new place can be overwhelming for a puppy – they'll be grateful to return home and snooze like a log for the next day!
#3 Crate Train Your Puppy
Crate training dogs is sometimes controversial, but I recommend it if you plan to travel with your dogs. We were lucky to crate train our dog from an early age and it helped immensely when we later travelled with him, whether in the cabin of planes or just on trains.
A crate should never be a place of punishment that your dog is locked up inside, but rather a safe place that your dog can relax in. We crated our dog overnight while he was a puppy, putting it next to our bed, and taking him out to toilet during the middle of the night when he couldn't yet last the whole night.
Encourage your puppy to enter their crate with treats and toys, and allow them to choose when to spend time in it. Particularly if you ever plan to fly with your dog, crate training will ensure they are a lot more relaxed and not traumatised by the experience.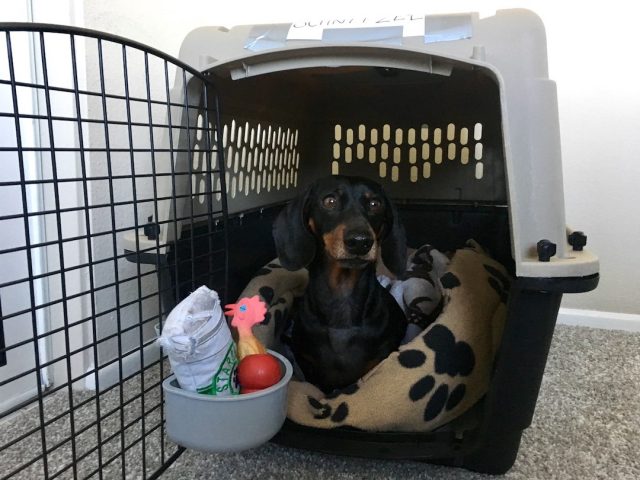 #4 Try to Prevent Accidents
Until your puppy is toilet trained, regularly give them the option to go to the toilet, whether you are travelling in a car, eating out at a cafe or staying somewhere together.
When taking a road trip with your puppy, schedule in regular stops, whether at dog parks or just regular rest areas where you can walk them on a leash. Before visiting somewhere such as a cafe, give them the option to toilet.
Even once your puppy is toilet trained, they might not be as good at holding on as other older dogs. When travelling overnight, a crate is a good option to ensure that they don't wander off and have an accident during the night.
#5 But Be Prepared for Accidents
Although it's always best to try and prevent accidents with your puppy, be prepared that accidents may occur.
Along with everything else that your puppy needs, pack something to help clean up after an accident, whether an old towel or a roll of paper towel, maybe also a specific cleaner for dog urine.
And always be prepared with plenty of poop bags – you don't want to run out!
#6 Stop Often for Zoomies
Even once your puppy is toilet trained, it's still a good idea to stop regularly when taking a road trip with your dog, so that they can burn off some of their energy.
Puppies and young dogs are quite energetic, and spending hours cooped up in a car isn't their idea of a fun time. Your stops don't need to be that long, just enough for a short walk or play. Fenced dog parks along your route are handy options.
Check out my recommendations for fenced dog parks in NSW
#7 Keep Your Puppy Leashed
Until your puppy is older and can be reliably recalled, keep them on a leash. This applies even if you visit an off-leash dog park, unless it's fenced, especially if you are travelling away from home.
I'm sure I don't need to stress that having your puppy run off in a foreign place, where they don't know the way home, is the worst nightmare of all pet parents. There's also the danger of cars on the road.
Just in case, it's always a good idea to have a collar with a tag on your puppy, including your mobile phone number. A microchip with up-to-date contact details can also help reunite a missing dog.
#8 Check for Restrictions
When travelling with a dog, there are often restrictions, such as limits on the number of dogs that can stay with your or weight limits. There are also restrictions that may sometimes exclude puppies.
Some accommodation options may have a minimum age limit, such as six months or one year. Alternatively, some places may require that dogs are house-trained, or have already been desexed. Restrictions may also apply to kennels or doggie day care.
It's best to abide by the rules, and find somewhere else that can accommodate a young dog. After all, we know how much mess and damage that puppies can create, and it's better than dogs being completely prohibited.
#9 Flying with a Puppy
One other area where there may be restrictions stopping puppies is flying. Often airlines have minimum age limits for flying dogs.
If flying on Delta, pets must be at least 10 weeks old for domestic travel, 15 weeks old if flying internationally to the European Union or 16 weeks old if flying into the United States.
If flying on Air France, pets flying in the cabin generally need to be at least 15 weeks old and up-to-date on all their vaccinations. The one exception is when flying within Metropolitan France and to certain French territories.
Keep in mind, that when travelling with a puppy on a plane, they are more likely to have an accident in their carrier or crate, rather than holding on like older dogs.
If crossing international borders, whether flying or driving, requirements for rabies vaccinations may also restrict younger dogs.
You May Also Like