If you have a small pet, either a dog or cat, one of the easiest ways to get around Europe with them is by flying, together with them in the cabin, in a carrier bag underneath the seat in front of you. While this may seem daunting if you've never flown with your pet before, the process is actually quite simple.
So if you're planning on flying with your pet soon, here's my guide to flying with a pet in the cabin in Europe, taking you through all the steps.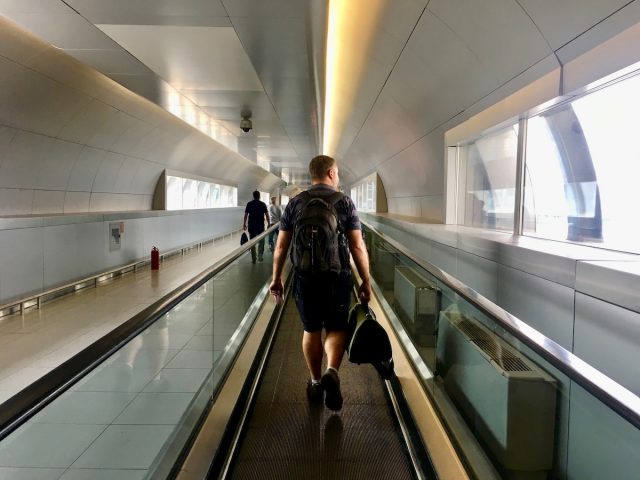 1. Where Are Pets Allowed in the Cabin?
In most of Europe, pets are allowed to fly in the cabin. However, there is a country where this doesn't apply: the United Kingdom.
On flights within the UK, the only animals that are allowed in the cabin are service dogs, generally "recognised guide and assistance dogs". (Check the individual airlines for further specifics.) Regular "pets" are not allowed.
This also usually extends to pets not being allowed to travel as check-in baggage. Instead, pets flying within the UK usually need to travel as cargo, with airlines who offer this option (not all do), often booked through an animal transport company or the airline's cargo division.
However, this doesn't extend to flights leaving the UK. Some airlines allow pets to fly in the cabin or as checked baggage on flights leaving the UK.
2. Finding Pet-Friendly Airlines in Europe
So if you're not travelling to the UK, your first step is to find a pet-friendly airline that flies your route. Thankfully many European airlines allow pets to fly on board, including small pets in the cabin. However, there are some airlines that don't allow pets, plus the rules differ from airline to airline.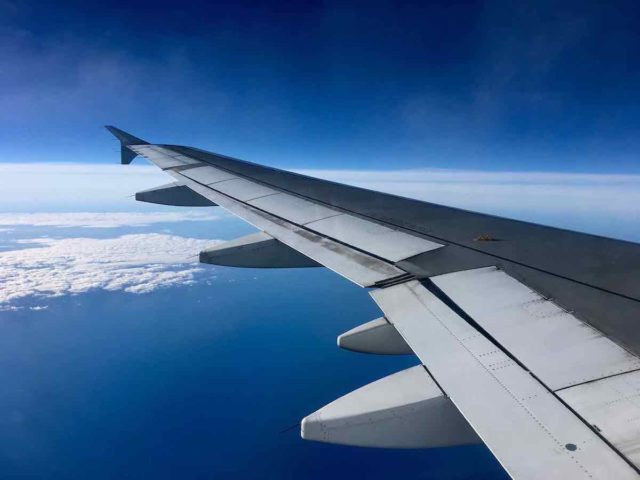 Not surprisingly, many of the budget airlines don't allow pets. This includes the popular budget airlines of Ryanair and Easyjet. To help you out, I've put together this list with the pet policy of all European airlines, listing whether they allow pets in the cabin.
Just as important as finding an airline that allows pets in the cabin, is to also check the rest of their pet policy. This should include details on:
Maximum weight of pet (usually 8kg, including carrier bag)
Maximum dimensions of carrier bag
Excluded breeds (including dangerous breeds or snub-nosed breeds)
Any other restrictions (e.g. pets may not be permitted on flights to certain countries)
Applicable charges (generally around €50-70 on international flights within Europe)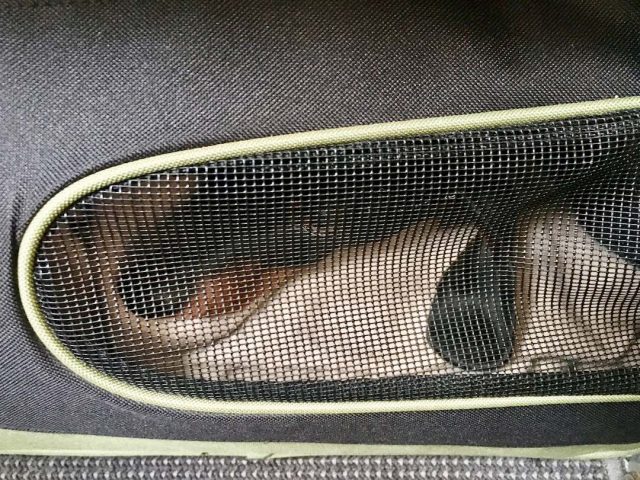 When flying with my dog, usually I first research the route and date that I'm flying, using a website such as Google Flights or Skyscanner. I identify possible airlines, taking note of the time of flights and prices, then check the pet policy for each individual airline, if I'm not already familiar with it.
It's usually easiest to find the pet policy for an airline by googling their name plus "pet policy".
Need to buy a carrier bag to fly with your dog in the cabin? Check out my guide to buying the best carrier bag
2. Booking Your Pet on the Flight
Now that you've selected the flight, it's time to make a booking. The easiest way to book your pet on a flight is when you can do it as part of your own booking. Some airlines allow you to add your pet when you are booking online, just like adding a piece of luggage. (I've been able to do this with Vueling and Aegean Airlines.)
In this case you can expect your pet is allowed on the flight (as sometimes airlines only allow pets on specific flights, plus often there's a limit of around 2-3 pets in the cabin per flight) and you pay for your own flight and your pet's airline ticket in one payment.
However, for many airlines you need to both check your pet is okay to travel on the flight and make their booking separately, over the phone. (Some airlines allow you to book pets at the airport, but considering they may not have room on board and often this is more expensive, I've always booked in advance on the phone.)
Usually my process has been:
Investigate and select my preferred flight online
Call up the airline's call centre and check there's availability for booking your pet on the flight
Complete my booking on the airline's website
Call up the airline's call centre again, provide them with my booking number and add my pet to the booking
Pay for my pet's airline ticket, either over the phone or more often by clicking on the email I receive
This process can be shortened if you virtually complete booking your own flights in step #1, except for clicking on the final "Pay" button, and if the call centre staff member is happy to wait a moment for you to click and finalise the booking while on the phone. (Although some airline websites are a bit too slow for this, or your booking times out if you end up on hold.)
Additionally, when booking over the phone, it's common for the call centre staff member to enquire after the weight of your pet and carrier, plus the dimensions of the carrier, to ensure it meets their guidelines. So make sure you have this handy.
The other advantage of booking for your pet in advance is you know for certain the airline allows pets to fly in the cabin. One time I started booking my flight for an airline, then realised part way through the booking my pet wouldn't be allowed on the flight, as I had misread the airline's pet policy.
3. Arriving at the Airport
If you're flying with a pet, it's a good idea that you arrive in plenty of time at the airport. For starters, many airlines don't allow bookings incuding a pet to be checked-in online. Even if you don't have any other baggage, you are still required to line up at the check-in counter and check-in.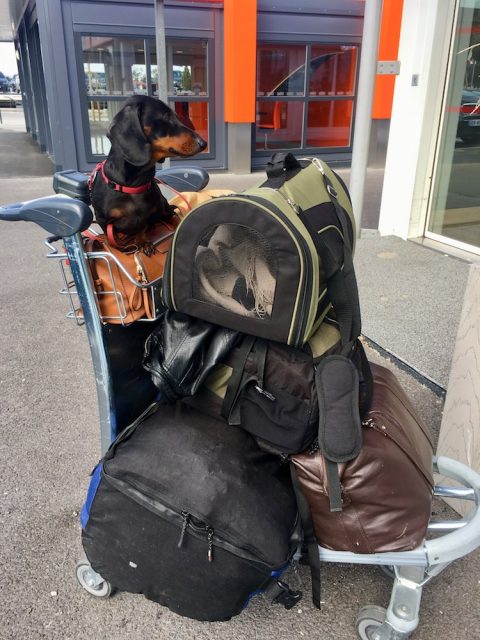 The one case when I was flying with my dog and I checked in online, the airline didn't issue my boarding pass (only my husband's boarding pass), so I had to still go to the check-in counter. So it's a must to allow time for this.
At the check-in counter, your pet will often be virtually ignored. About half the time my pet has been weighed. Discussing this with other people online, other people have also sometimes (but not always) had their pet weighed. This is why it's important that your pet and its carrier doesn't exceed the maximum weight stipulated by the airline.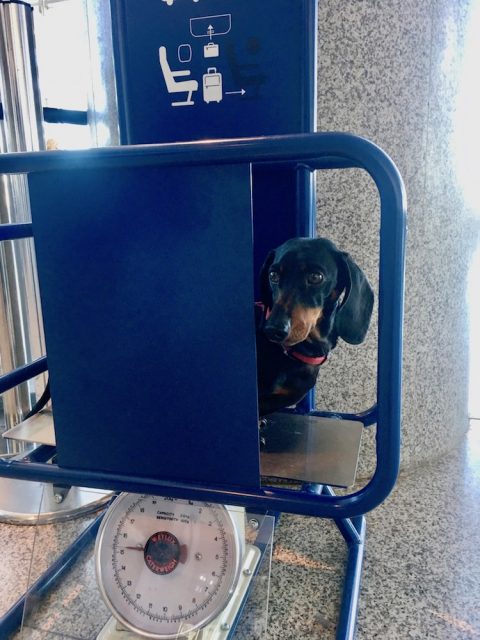 A slight leeway may be allowed (e.g. if you pet is just 100g or 200g over). However, the only person I know whose dog was not allowed to board, was trying to fly with a dog that weighed 12kg when the limit was 8kg. They may have probably gotten away with it if the airline didn't weigh the dog, but in their case their dog and carrier was weighed.
At the check-in counter, also be prepared to show your pet's EU Pet Passport. (Or alternatively the certificate you used to enter the EU, if you're travelling around the EU using it. Remember it's valid for up to 4 months, as long as the rabies vaccination doesn't expire, although staff may not be as familiar with this paperwork and rules.)
I believe I've only once had to show my pet's EU Pet Passport, perhaps when we were travelling to the Canary Islands. Additionally, one time the staff asked whether my pet was comfortable in the carrier. However, I've never had airline staff check the dimensions of the carrier, although this may be a possibility if your carrier looks too big.
In January 2023, IATA (the International Air Transport Association), introduced a new In-Cabin Live Animal Acceptance Checklist, that may be reviewed and completed by the airline agent at the check-in counter. I recommend reviewing this and ensuring everything can be checked off ahead of time, although as of May 2023 it still doesn't seem to be commonly used.
4. Heading Through Security and Passport Control
Another reason for arriving at the airport in plenty of time is to allow enough time to pass through security with your dog. When you're also juggling removing liquids and laptops from your bag, having a dog as well means that it's good to not be in a rush.
It's also ideal to firstly head outside to allow your dog to relieve themselves, as you'll unlikely find something on the other side of security at the not so dog-friendly airports of Europe.
When passing through security with your dog, take your dog out of its carrier bag and carry your dog through the metal detector. (Put the carrier bag on the conveyer belt to go through the x-ray machine.) In one case, the staff also requested that my dog's harness and collar was removed, although usually this hasn't been requested.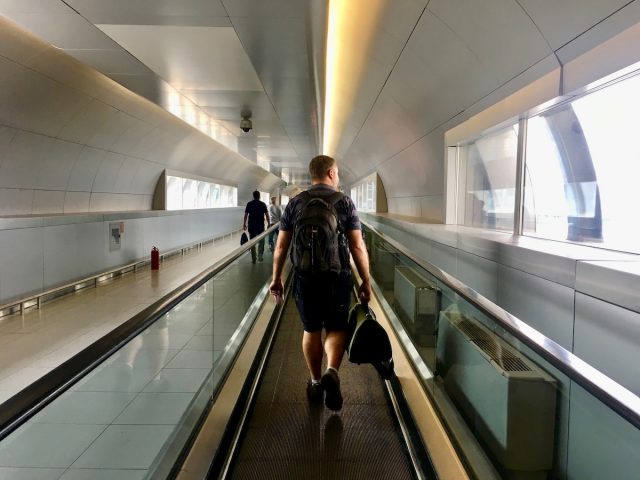 If you need to pass through passport control before your flight, there's no need to show your dog's passport. The same also applies with passport control if applicable after your flight.
If there's regulations for the entry of dogs to your destination country (if you're not simply travelling within the EU and related countries), the relevant check-points are the check-in counter then customs at the destination airport.
While at the airport, I've generally always kept my dog in his carrier bag, except perhaps while he sits on my lap while waiting, mainly because he's calmer inside the bag in the noisy environment of an airport. Some airports allow dogs to walk around inside of them, but note that some European airports, such as Riga Airport in Latvia, stipulate dogs need to remain inside their carrier at all times.
5. Boarding Your Flight
It's a good idea to board your flight as early as possible. This is in case the flight is particularly full and the overhead lockers fill up. Most other people can stow their cabin bag at their feet in this case, but when travelling with a pet, this spot is already occupied by your pet in their carrier bag. So you'll likely need to stow your cabin bag in an overhead locker elsewhere on the plane, which is annoying.
Before your board the plane, and also before you board a bus if needed to take you to the plane, put your pet into their carrier bag. Once you've arrived at your seat, I try to move out of the aisle with my dog as quickly as possible, to stop blocking other people. Most airlines will book someone flying with a pet on the window seat (or someone in the party on the window seat).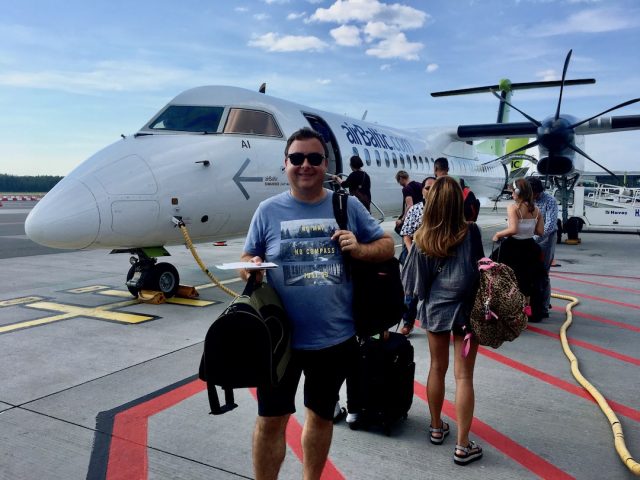 As soon as I'm at my seat, I put my dog's carrier bag underneath the seat in front of me. Airlines often recommend soft carrier bags, as these have a little more wiggle room to fit underneath low seats.
6. On Board the Flight
On the flight, say goodbye to having much legroom, particularly if you have long legs or you're flying with a budget carrier. Usually I cross my fingers that my row ends up having an empty seat, so that myself and my husband can spread out and both have a decent amount of legroom, with our dog in front of the free seat.
While on flights in Europe, it's generally the rule that you keep your dog's carrier bag zipped up the entire time, and don't allow them out, including on to your lap. It's tempting to unzip the bag a little, but I know my dog can then be very stubborn at pushing his way further out!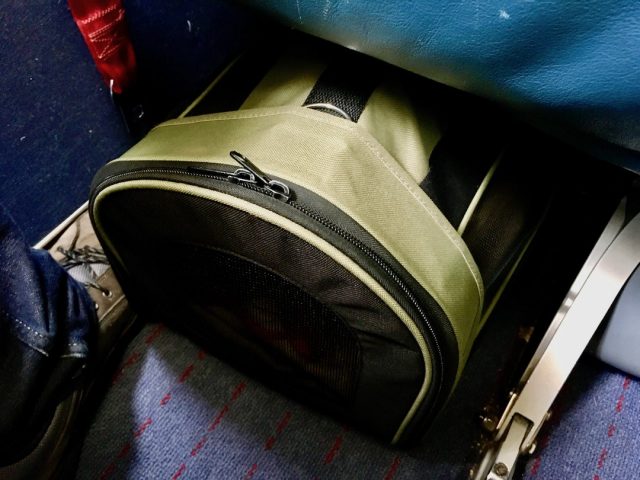 Usually most flights within Europe aren't too long – no more than 3-4 hours. Even our flight to the Canary Islands from Barcelona was only around 3 hours. This means your pet should be okay with staying inside their carrier bag for the whole time, with no rest breaks required.
It's always good to take them outside the airport terminal before or after checking in, to be certain. If an emergency situation does come up, I would recommend taking them to the onboard toilet.
If your dog is comfortable and familiar with their bag, hopefully they'll travel on the flight without making a peep. My dog sometimes barks while travelling on trains with us, probably because he knows we'll let him sit on our lap, but after flying over 10 times in the cabin, he's only let out a bark a couple of times.
6. Airline Reviews and Recommendations
Unfortunately, I've only flown with my dog on a handful of airlines in Europe, so I can't compare the experience flying with all airlines. These are the airlines we've flown with and my thoughts:
Vueling: Flown six times (from Barcelona to Paris, Malta to Barcelona, Barcelona to Canary Islands, Canary Islands to Malaga, Malaga to Marseille, Paris to Copenhagen). Vueling has been our favourite airline to fly, because of the cheap prices and because we can book our dog online. Read more about our experience flying with a dog on Vueling.
Aegean Airlines: Flown two times (Bucharest to Athens, Athens to Paris). Aegean Airlines has been the fanciest airline that we've flown within Europe (although bags still cost extra to check-in), and it definitely offered the most legroom despite my dog being on the floor in front of me. Aegean also enables pets to be booked online.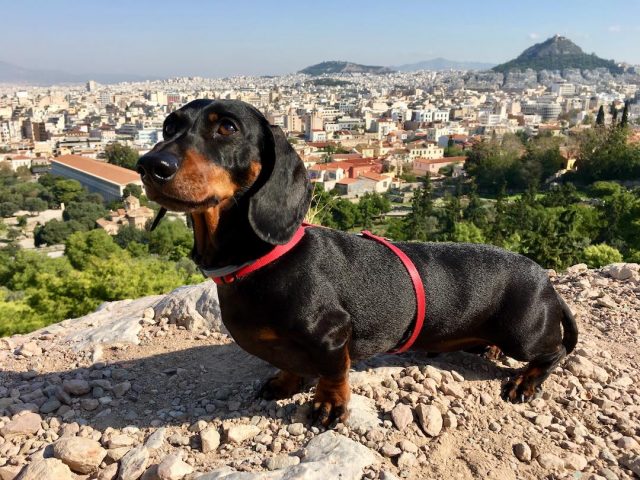 AirMalta: Flown one time (Sicily to Malta). Read more about our experience flying to Malta with our dog. This is the only airline where we were required to get a health certificate for the flight, although I'm not sure the check-in desk actually looked at it.
airBaltic: Flown one time (Riga to Warsaw). Considering the lack of train connections within the Baltic region, Air Baltic is a great option to get to and from, or move around in, the Baltic region.
Czech Airlines: Flown one time (Prague to Bucharest), with no issues.
You May Also Like
Inspired? Pin this to your Pinterest board!