When holidaying with your dog, there's frequently occasions when what you want to do either doesn't welcome dogs or isn't enjoyable for a dog to visit. However, there are some dog-friendly attractions that are an ideal outing for both of you.
One such attraction that I visited during my travels around Europe were the Kinderdijk windmills, near Rotterdam in the Netherlands. Visiting Kinderdjik makes for a great day out with your dog in the Netherlands!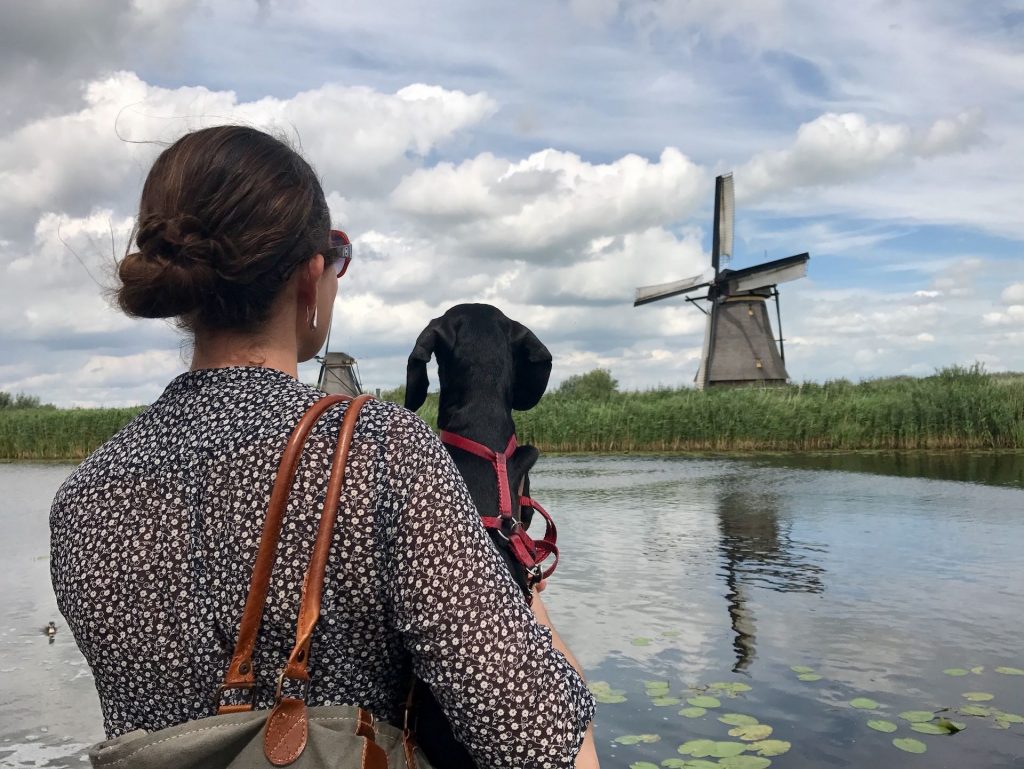 What is Kinderdijk?
Kinderdijk is a village located near Rotterdam, best known for its iconic 18th-century windmills. If you've seen photographs of Dutch windmills, particularly multiple ones close together, it's probably from Kinderdijk.
These windmills are such fine examples of Dutch water management that they've even been listed on the UNESCO World Heritage list. And it's very easy to organise visiting Kinderdijk with a dog.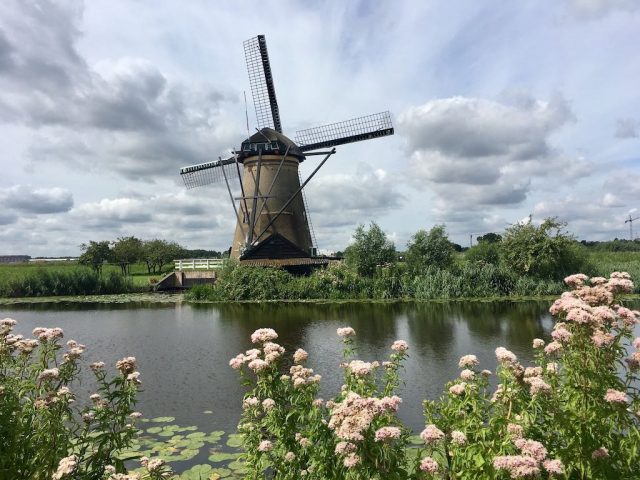 How to Get to Kinderdijk from Rotterdam
There's a number of options for getting to Kinderdijk, including driving a car or taking a bus, but the most enjoyable option is to take the Waterbus from the Erasmusbrug wharf in Rotterdam.
Between May and October, a direct waterbus runs every 45 minutes, taking you directly to the entry to Kinderdijk. Over the winter months, the waterbus frequency drops to every 1 1/2 hours. The journey takes just 34 minutes and costs €8.98 return per adult. Tickets can be bought on board, or you can buy an e-ticket online or use an OV-chipkaart (for a discount).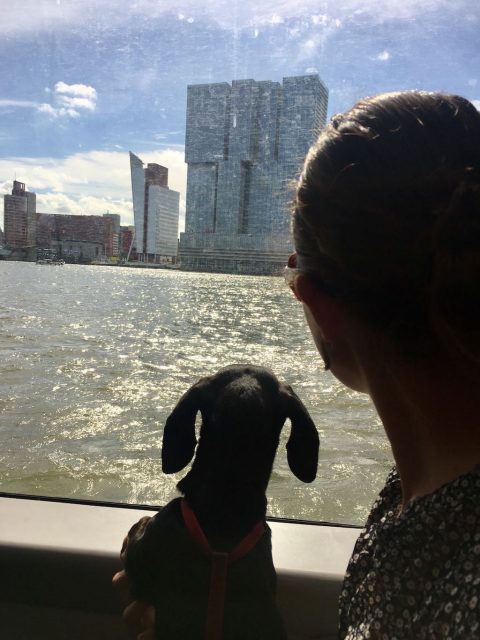 What we liked best about this transport option is that you get to have a scenic trip along the river, seeing more of Rotterdam along the way. Dogs are welcome on board as long as they are on a leash and even travel for free.
Kinderdijk Entry Costs and Hours
To walk (or cycle) around Kinderdijk, there is no entry charge. In fact, the walking and cycling path are open 24 hours per day. However, there is an entry fee if you want to go inside the two museum windmills, visit the Wisboom pumping station, see the introductory film at the information centre, and board the tour boats.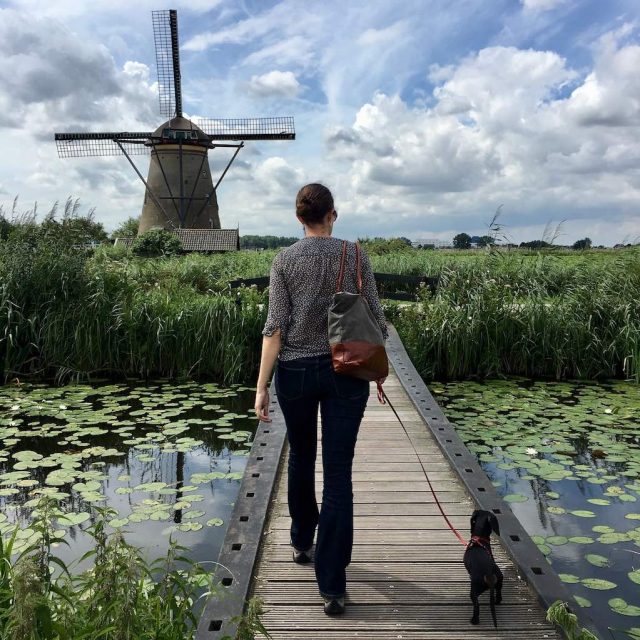 The entry ticket costs €16 per adult or €18.50 on weekends, and its best to book online in advance. Tickets are only valid on the date that you select online. If buying tickets at the grounds, make sure you purchase them at the entry, not down at the windmills. There's no entry fee for dogs.
Kinderdijk is open from 9:30am to 5:30pm for most of the year, 7 days per week, with shorter hours of 10:30am to 4:00pm during the winter months.
Walking around Kinderdijk
The great attraction of visiting Kinderdijk with a dog, is that it's a lovely walk to do together, walking along the flat path with canals and windmills on either side. If you're visiting with a dog, you may just want to walk along the path and skip buying the museums ticket.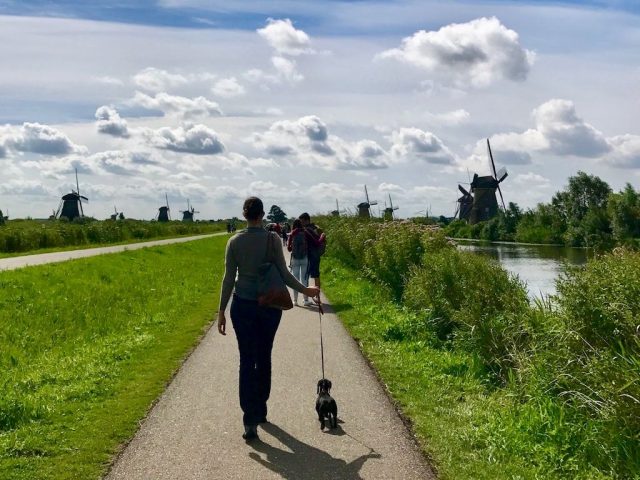 The main walking path is about 1.5km long from the entry to the second museum windmill. We turned around not long after this windmill, but I think you could keep on going for quite a distance. We saw plenty of other dogs with their owners enjoying the scenic paths.
Boat Tours at Kinderdijk
As well as being able to take a boat trip to Kinderdijk, it's also possible to take a boat tour on site. Previously, there was a separate ticket to board the tour boats, but the boat fare is now included in the overall Kinderdijk ticket.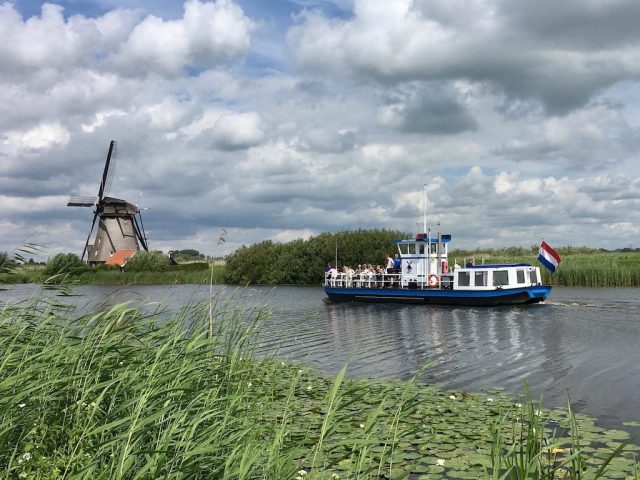 The tour boats are particularly good if you're not wanting to walk the full distance, although I think most dogs would be happiest going for a walk instead. Dogs are welcome on board as long as they are leashed, and don't require a ticket.
Visiting the Museum Windmills with a Dog
At the time of my visit to Kinderdijk, dogs were not allowed inside the two museum windmills, plus the film room at the information centre. However, the number of places that don't allow dogs has now been reduced to the catering facilities in the Visitor Center and at Blokweer Museum Mill, according to the FAQ.
This means it's still worthwhile purchasing a ticket to visit the museum windmills, which provide a wonderful insight into what life was like for the inhabitants of the windmills.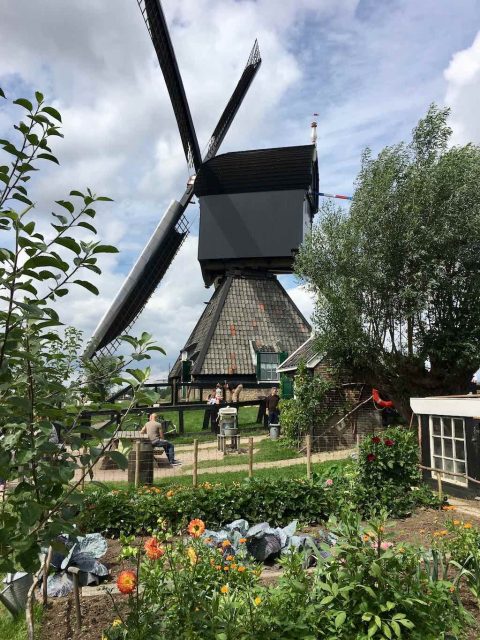 Despite dogs no longer being prohibited inside the museum windmills, it still might be best to take turns visiting the interiors, particularly if they are crowded, if there are two of you.
In particular, the first windmill museum, Nederwaard Museum Mill, contains multiple floors connected by steep stairs, more like ladders, which would be difficult for most dogs, unless they're small enough to be carried. It can easily become cramped if a tour group visits.
The interior of the Blokweer Museum Mill is quicker and easier to visit, as there's just two small rooms on a single level. There's also more fun displays in the grounds immediately around the windmill, including clog shoes to try on.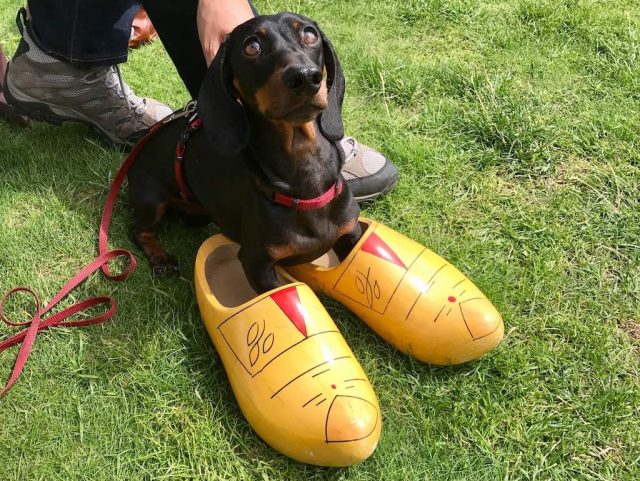 Lunch & Snack Facilities at Kinderdijk
If you're visiting in the middle of the day, like we did, you're sure to want to have lunch somewhere. Alternatively, if you bring a picnic, there's plenty of places to sit and eat it throughout the site.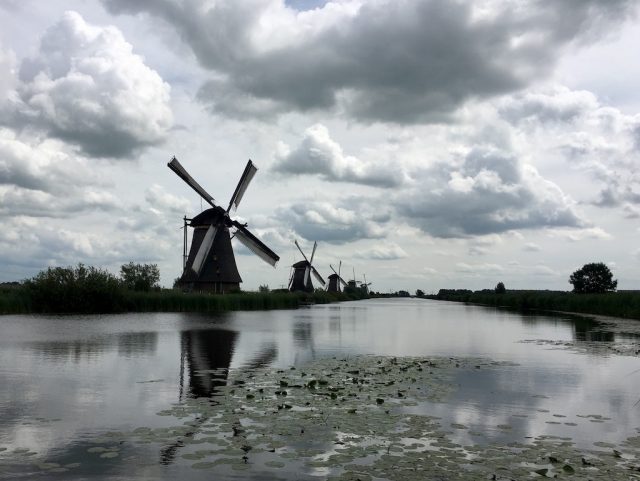 There's a small cafe at Blokweer Museum Mill. At the time of our visit it mainly served drinks plus toasties, although the toasties had already sold out. Instead, just down the road, we bought some hot dogs off a van that had just set up. There were also a few other vendors selling Dutch pancakes and ice creams around the site.
Back at the entrance, there was the main cafe next to the ticket booth, selling a slightly larger range of drinks and toasties. There was also another cafe just outside the entrance and a restaurant just down the road, not far from the ferry wharf.
While dogs are not allowed inside any of the cafes onsite at Kinderdijk, all of these eating options also had large outdoor terraces that were dog-friendly.
You May Also Like
Inspired? Pin this to your Pinterest board!