The Netherlands, especially Amsterdam, is a popular destination in Europe to visit for all types of travellers. And if you're thinking about bringing along your dog, don't be worried, as it's quite a dog-friendly destination.
Just as long as you're not hitting up the clubs or spending all day at the museums, because even in anything-goes Amsterdam dogs still aren't permitted in those kinds of places.
But if you're wanting to stroll the canals of Amsterdam, visit one of the cute towns or be wowed with the annual displays of tulips, your dog will make the perfect companion. Here are my tips for travelling to the Netherlands with your dog…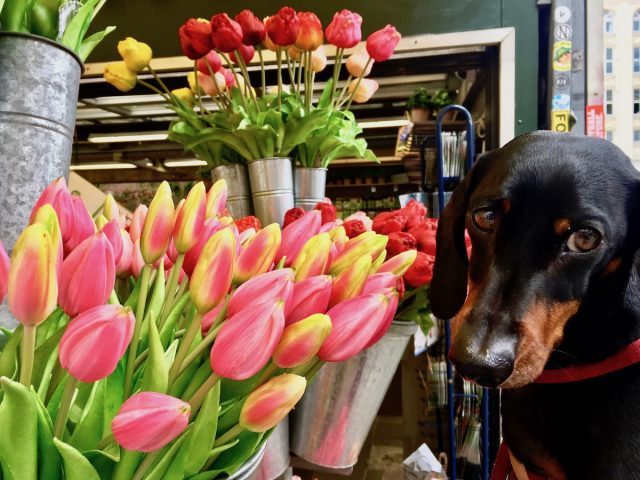 Travelling to the Netherlands with a Dog
The standard EU rules apply to travelling to the Netherlands with your dog.
If you are travelling to the Netherlands from another EU country, your dog will need to be microchipped, have an EU pet passport and have been vaccinated for rabies at least 21 days before crossing the border. However, pet passports are rarely if ever checked when crossing the border by car or train.
If you are flying to the Netherlands from outside of the EU, as well as a microchip and valid rabies vaccine, your pet will require an EU health certificate (also known as the Annex IV) and in some cases a rabies titre test. Check out the full details on travelling to Europe with a dog.
If you are travelling to the Netherlands from the UK without a car, note that there three dog-friendly ferry options to the Netherlands that permit foot passengers to bring along a dog.
Firstly, there is the Stena Line ferry from Harwich to the Hook of Holland. Secondly, there is the longer P&O ferry from Hull to Rotterdam. Finally, the longest crossing is the DFDS ferry from Newcastle to Amsterdam. All three ferries now have pet-friendly cabins, although advance bookings are a must.
Find out more in my guide to crossing from the UK to Europe.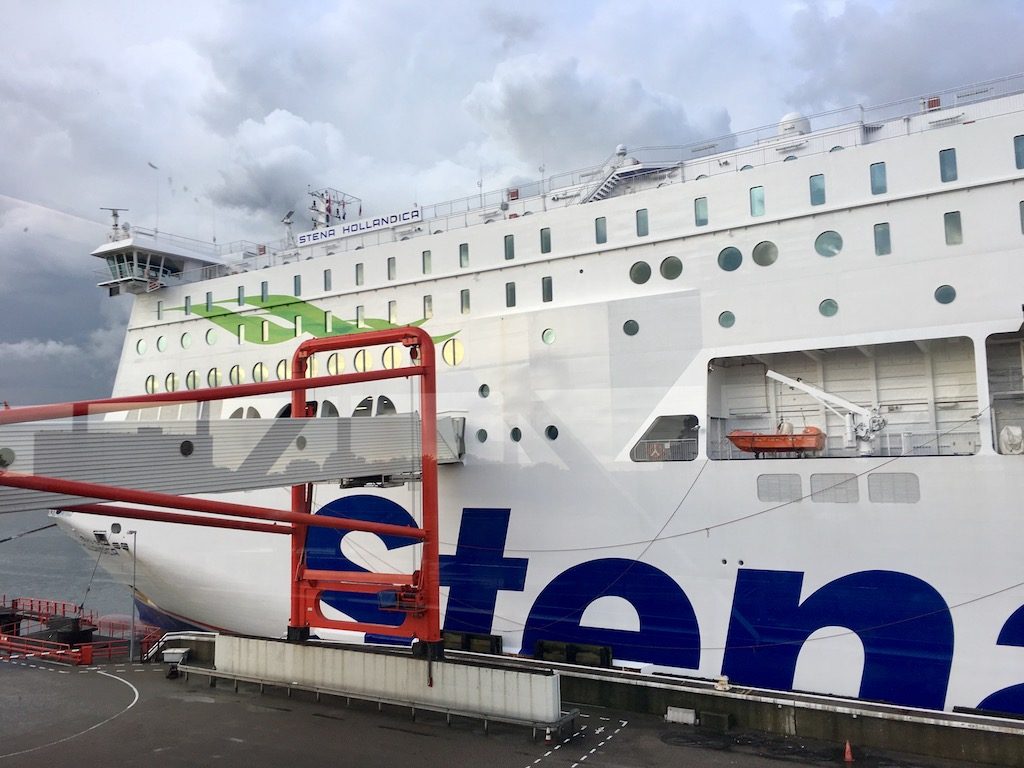 Dining Out in the Netherlands with a Dog
In the Netherlands, many restaurants will allow your dog to dine with you inside. Your best bet will be more casual bistros and cafes, as long as it's not too busy.
Check whether there is a sign indicating dogs are definitely allowed (a dog symbol surrounded by a green circle) or not allowed (a dog surrounded by a red circle). Or just ask before you enter, in case the answer is no.
Alternatively, dine outside on one of the many outdoor terraces. Dogs will usually always be allowed to dine with you outside, and many terraces have a roof or awning to shelter you from the fairly frequent rain. This is the option we generally stuck to during our visit in summer (albeit a rainy summer).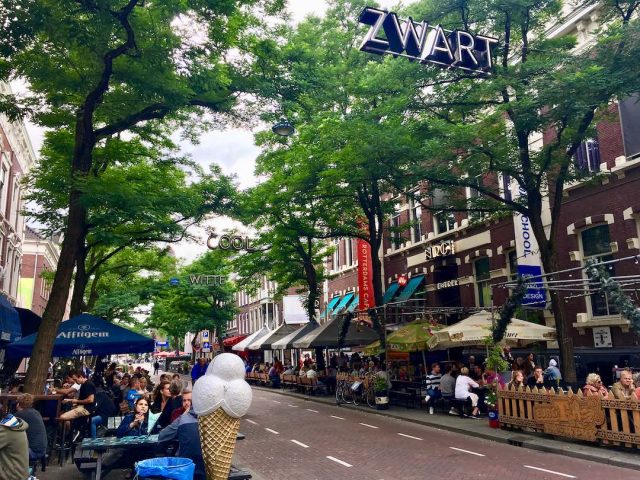 And while dogs are usually welcome in most bars, I'd recommend staying away from the local "coffee houses" with your pup.
For some recommendations for dog-friendly restaurants in Amsterdam, check out the list on this post by an expat (which also lists some dog-friendly parks in Amsterdam).
Taking a Dog on Public Transport in the Netherlands
Dogs are generally allowed on all forms of public transport in the Netherlands, although the rules vary as to whether a ticket is required for dogs.
In Amsterdam, where the public transport is run by GVB, the rules are quite generous. Pets travel for free, although they are required to be in a bag, on your lap or on a short lead. The same rules apply on the buses, trams and metro run by RET in Rotterdam.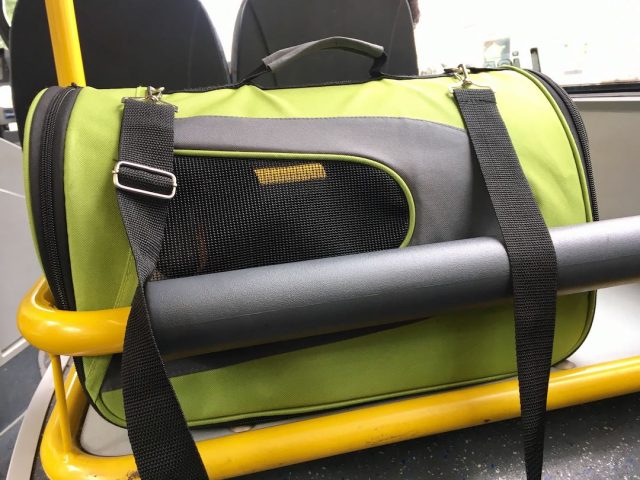 On the domestic trains run by NS, the pet policy is that small pets travelling in a carrier bag or on your lap ride for free, while larger dogs require a "dog ticket" for the small charge of €3.30 per day. There's a limit of one larger dog per passenger, and the dog must be on a leash.
On international trains to and from the Netherlands, the rules vary depending on the service. There are a few trains that don't allow dogs (the Eurostar, plus the Sun Thalys and Ski Thalys), but generally small dogs in a carrier bag travel for free, while a ticket is required for larger dogs, plus a leash and muzzle. For details on each train service, see this page.
Dog-Friendly Accommodation in the Netherlands
Whether you're wanting to stay in a hotel, an apartment or at a campground, there's plenty of dog-friendly options in the Netherlands.
Additionally, I recommend looking into the possibility of a house-boat stay in this country of canals. We stayed on a house-boat just outside of Amsterdam (to save money on accommodation costs), and were surprised by how homely it was plus how much it was like a normal house!
Here are some recommended dog-friendly hotels around the country…
Note: This post contains affiliate links, which means I may receive commission if you make a purchase using the links.
Kimpton De Witt Amsterdam
The luxurious Kimpton chain is renown in the US for their very pet-friendly policy, and the Kimpton De Witt Amsterdam is just as pet-friendly. There is no charge for pets and no size restrictions, and beds, bowls and treats are provided.
The hotel was highly recommended by A Bulldog Abroad after their stay, who noted that "each night there is complimentary wine in the lounge area and pets are welcome to join in the fun."
Find out more and check the latest rates
Inntel Hotels Rotterdam Centre
While visiting Rotterdam, we enjoyed staying at the Inntel Hotels Rotterdam Centre. Our dog Schnitzel was warmly welcomed and our room was quiet, despite the hotel being busy.
The hotel is located a short five minute stroll from the Erasmus Bridge waterbus stop (perfect for heading to Kinderdijk), plus it's just a short walk from Witte de Withstraat, home to many cool restaurants and bars with outdoor terraces spilling out onto the street.
Note there the current pet fee per night is €25 per pet (as of 2022).
Find out more and check the latest rates
Dog-Friendly Sightseeing in the Netherlands
So, now that you're got the practical aspects of a trip to the Netherlands with your dog sorted, what you should spend your time doing? Here are my top recommendations for sightseeing with your dog.
1. Wander the Canals of Amsterdam
The highlight of our visit to Amsterdam was spending most of a day wandering along the historic canals and laneways of the inner city. Most of the city is well preserved, and there's many gorgeous historic buildings, usually very narrow and not always that straight!
No matter what time of year it's a must-do, and best of all it's perfect to do with your pup on a leash.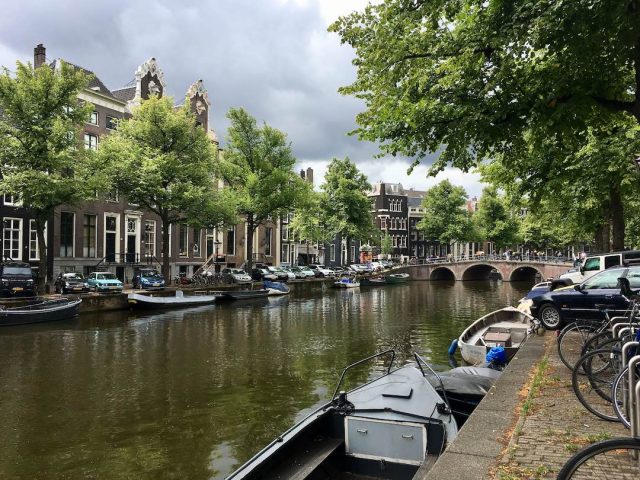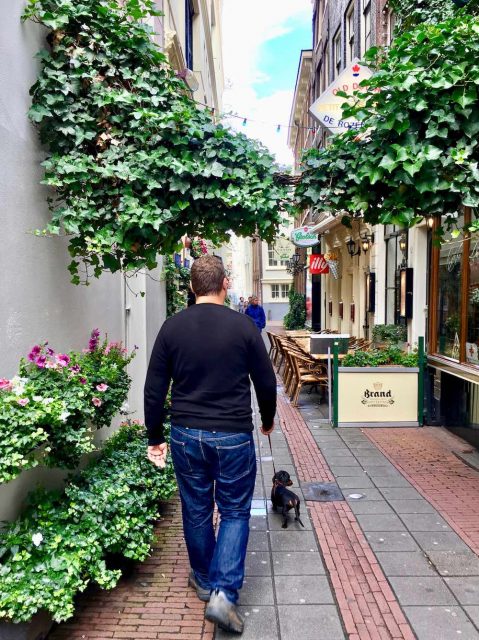 2. Visit the Tulips at Keukenhof
The Netherlands is famous for its tulips and if you're visiting during the Springtime, don't miss out on visiting the tulips at Keukenhof Gardens. The gardens are usually open from late March to late May, depending on the year.
I was quite disappointed that I was too late by a long shot when I visited in July, especially when I found out that dogs can join you for free. For more information on visiting with a dog, check out this review on GoPetFriendly.
3. Take a Waterbus to Kinderdijk
The Netherlands is also synonymous with windmills, built in bygone centuries to pump water from the low-lying lands. These days most of the windmills have been replaced by modern pumping stations, but many of the old windmills remain as landmarks, including the UNESCO-listed windmills at Kinderdijk.
The windmills are easily visited from Rotterdam by taking the waterbus, with dogs allowed on both the waterbus and at Kinderdijk. Read more about my trip and how to visit.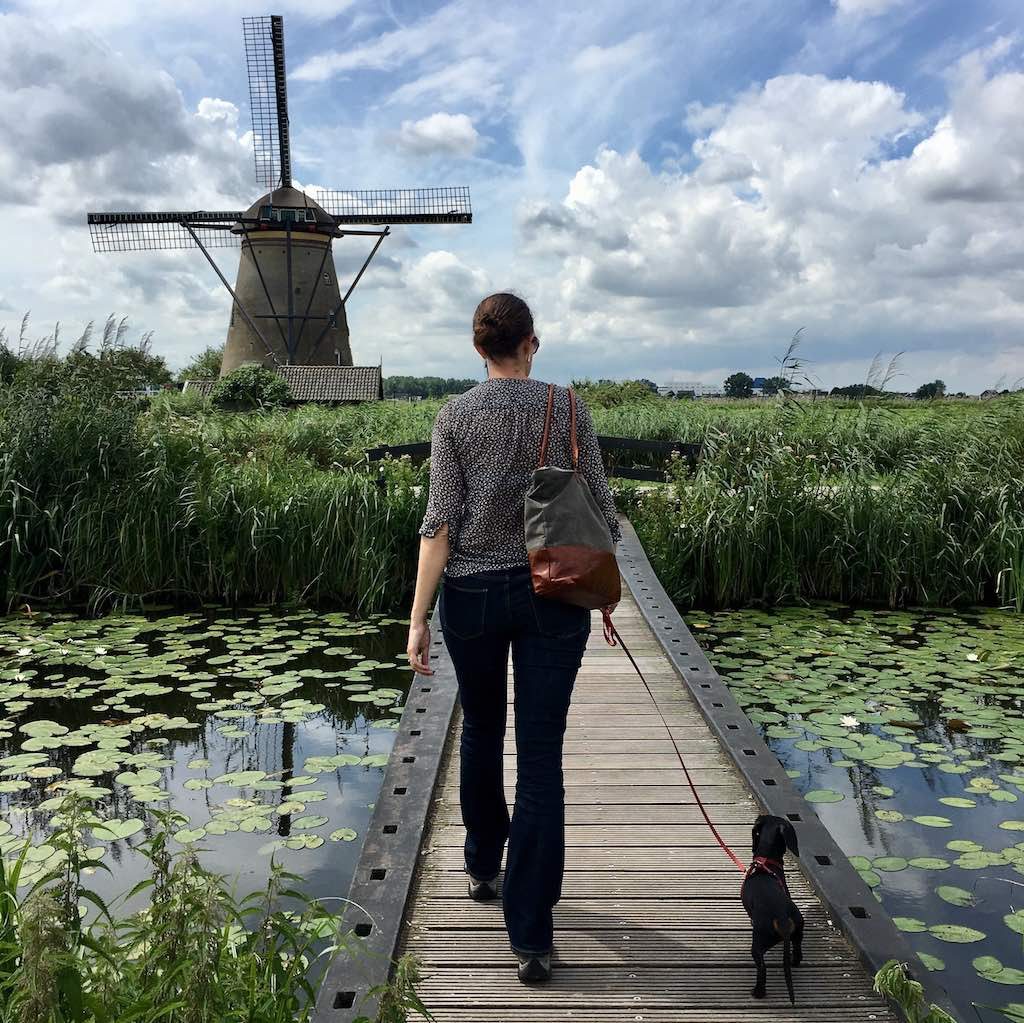 4. Visit the Cute (and Cheesy) Town of Edam
The Netherlands is home to many cute towns, of which my favourite was Edam. Best known for the cheese named after the town, you can still see a re-enactment of the historic cheese market on Wednesdays during the summer.
Otherwise, just go for a wander around the cute streets of the town, with many delightful spots for photos with your pup. It takes about 30 minutes to travel from Amsterdam to Edam by car or bus.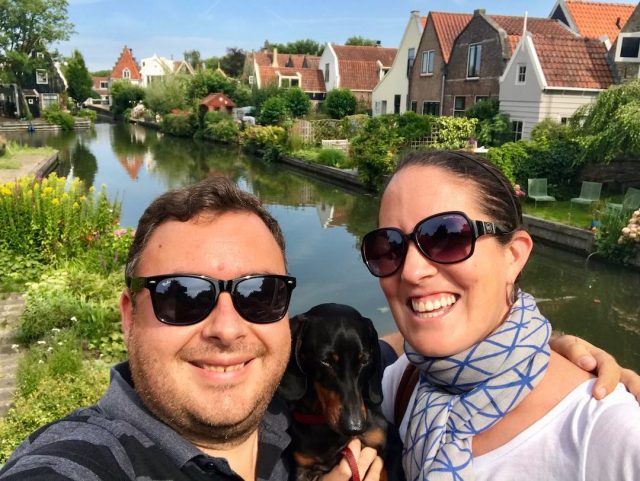 5. Go For a Bike Ride
I regret not taking my dog for a bike ride while in the Netherlands! It's easiest to bring along a small pup on your ride, as long as you have a basket on the front and they're calm enough to ride inside it.
Otherwise, look into hiring a trailer for your bike or the cargo bikes, which have a large box for transporting everything from luggage to children. Just make sure you use a bike lock, as bike theft is common, especially in Amsterdam.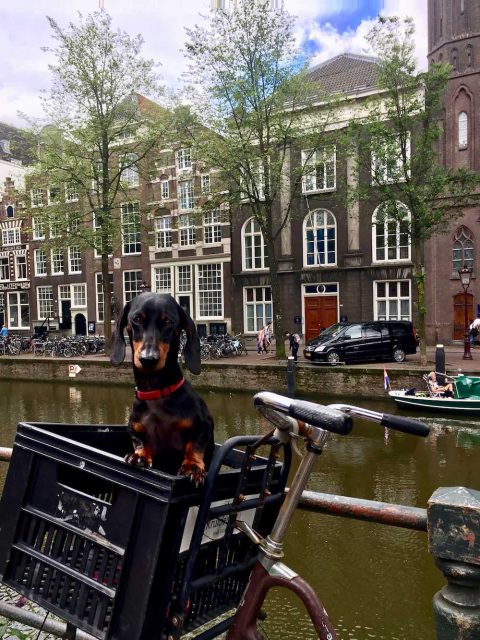 You May Also Like
Inspired? Pin this on Pinterest!