If you're travelling between continental Europe and the UK with a dog, there's not many transport options available, in particular if you're travelling on foot without a car.
I've previously written about the only ferry option available to foot passengers with a dog between France and England. Another popular alternative for foot passengers heading to Europe with a dog is the Stena Line ferry between Harwich and Hook of Holland in the Netherlands.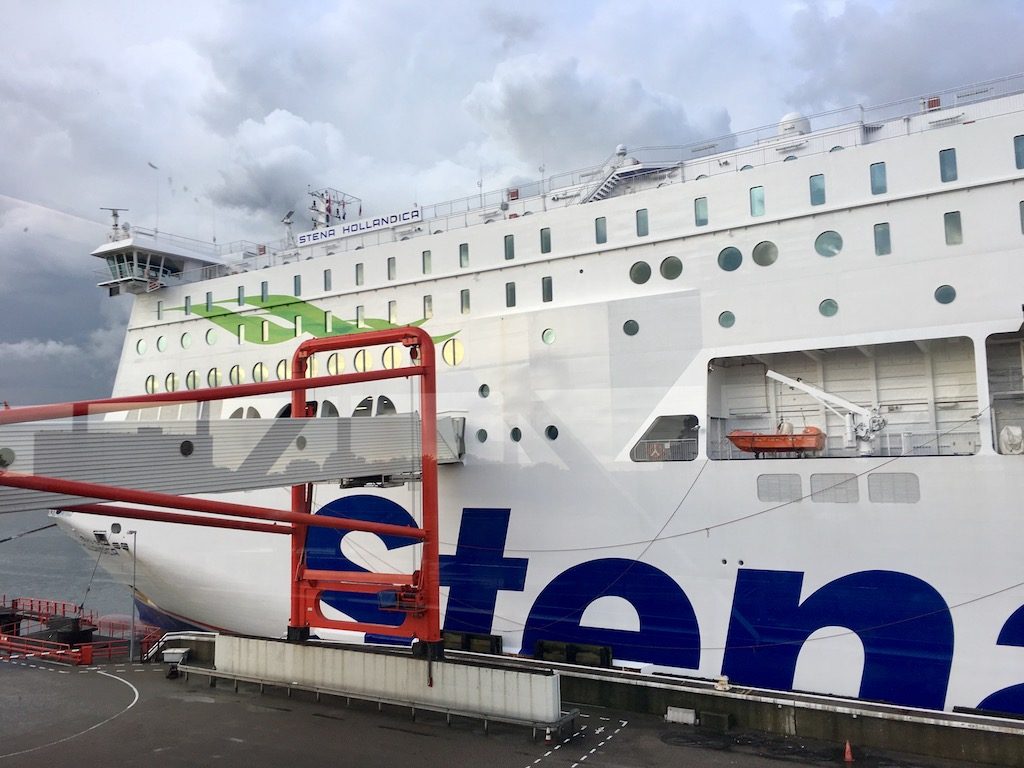 Note: This post contains affiliate links, which means I may receive commission if you make a purchase using the links.
Why We Choose the Stena Line Ferry
The Stena Line Ferry to Hook of Holland in the Netherlands has always been a popular option with dog owners, travelling both in car and on foot. The ferry that we travelled on had a least 25 kennels, and many of them were occupied on our crossing.
While this crossing is longer than the crossing from Dieppe to Newhaven (from 6.5hr to 9.5hr instead of 4hr), the quality of the kennel facilities are higher. Dogs stay in one of two kennel rooms (not directly on the car deck). It's possible to visit the kennels during the journey or just monitor them from your room on a special TV channel. Plus there are now pet-friendly cabins available.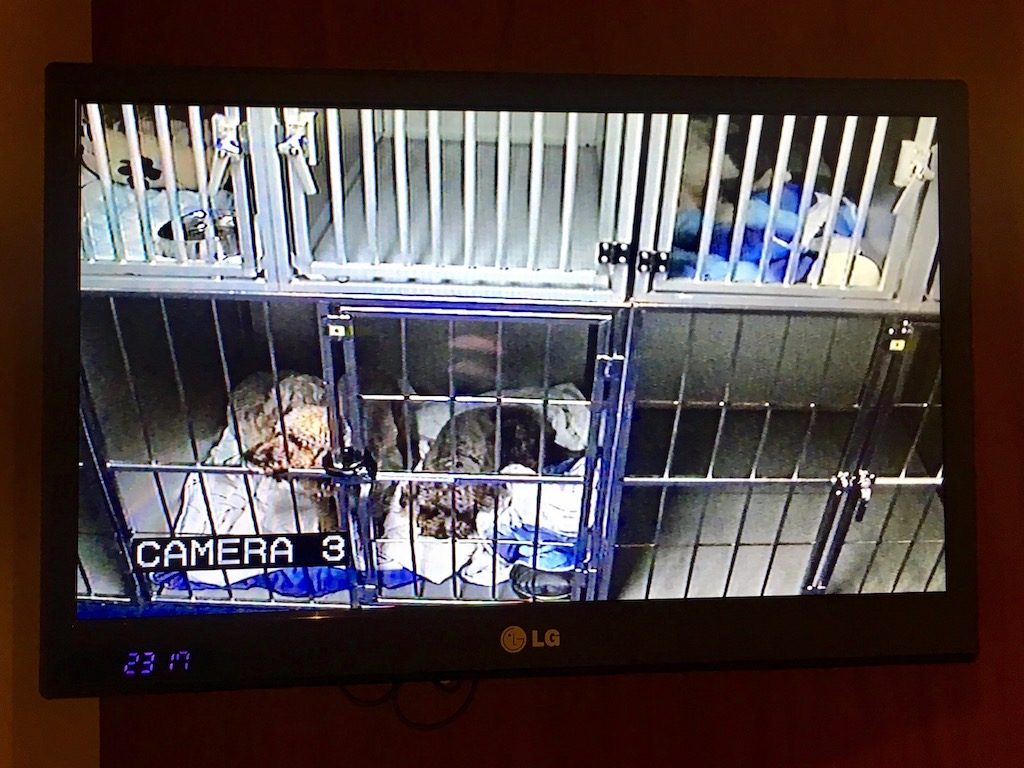 When we returned from the UK to Europe with our dog in July 2017, the Stena Line ferry to Hook of Holland was the perfect option for us to continue our travels through the Netherlands and Belgium. It's also a good option for people travelling onwards to Germany.
The New Pet-Friendly Cabins on Stena Line
Since we took the Stena Line Ferry from Harwich to Hook of Holland with our dog, these ferries now have pet-friendly cabins available, which is sure to increase their popularity with dog owners even more.
There are three types of pet-friendly cabins. There are two-berth inside and outside cabins, both with bunk beds. There are also five-berth cabins that can accommodate up to four adults and one child, with a window. All cabins have an ensuite.
Each of these cabins can accommodate up to three small pets, up to 15kg each, two medium-size dogs up to 30kg, or one larger dog over 30kg. Pets are only permitted inside the cabin, plus the nearby designated pet area out on deck.
While there are no additional fees for pets if they travel in a pet-friendly cabin, the cabins are more expensive. It's possible to book these cabins online
, plus still book kennels for pets online.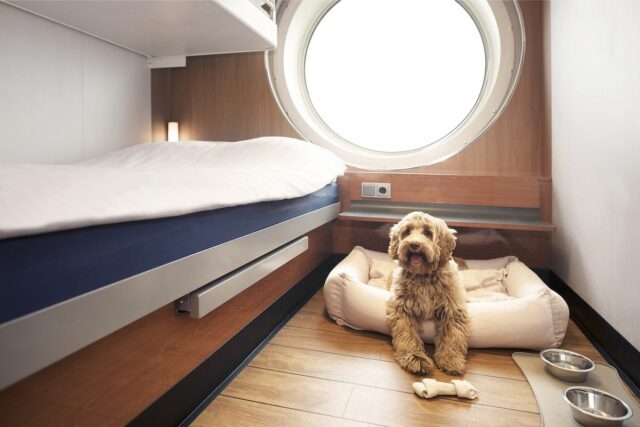 Our Experience in 2017
We caught the Stena Line ferry from Harwich to Hook of Holland in July 2017, departing London and continuing on to Amsterdam. Although some details have since changed, my review of our experience can give you a good idea of what to expect.
Catching the Train to Harwich
Leaving from London at the end of our holiday in the UK, we were meant to catch a train to connect with our ferry about 7pm from Liverpool St station, with a connection along the way.
Ideally, we would have caught a later express train from Liverpool St station that lined up with the nightly ferry departure. However, if you're travelling with a dog, it was recommended to us to arrive at least 2 hours before our ferry's departure time of 11pm.
We ended up having a lot of dramas, due to a signal failure along the line, which meant none of the trains were leaving from Liverpool St station. There was a lot of confusion all around and panic (at least for us), but we finally made it onto the first train to depart, and arrived around 9:30pm.
Even if you aren't required to arrive earlier due to travelling with a dog, I recommend arriving and boarding as early as possible. For starters, once you board the ship the clocks are set to Central European time and it's already an hour later. Additionally, it's nice to have some time to enjoy the ship's facilities.
Boarding the Stena Line Ferry
The train station at Harwich International is right next to the ferry terminal, meaning it doesn't take long from the train arrival until you board the ship. Our late arrival with a dog didn't end up causing a problem.
In fact, we don't recall that Schnitzel's pet passport was checked at all, unlike when travelling the other direction. (Of course, post-Brexit, this has now changed.) Once onboard, we headed to the reception, were assigned a kennel number and took him down to settle in for the night.
The kennels on board our Stena Line ship (Stena Hollandica, but presumably also the second ship operating the route) were split into two rooms, each of them accessed only upon entering a code. Schnitzel was in a small kennel on the top in the larger room.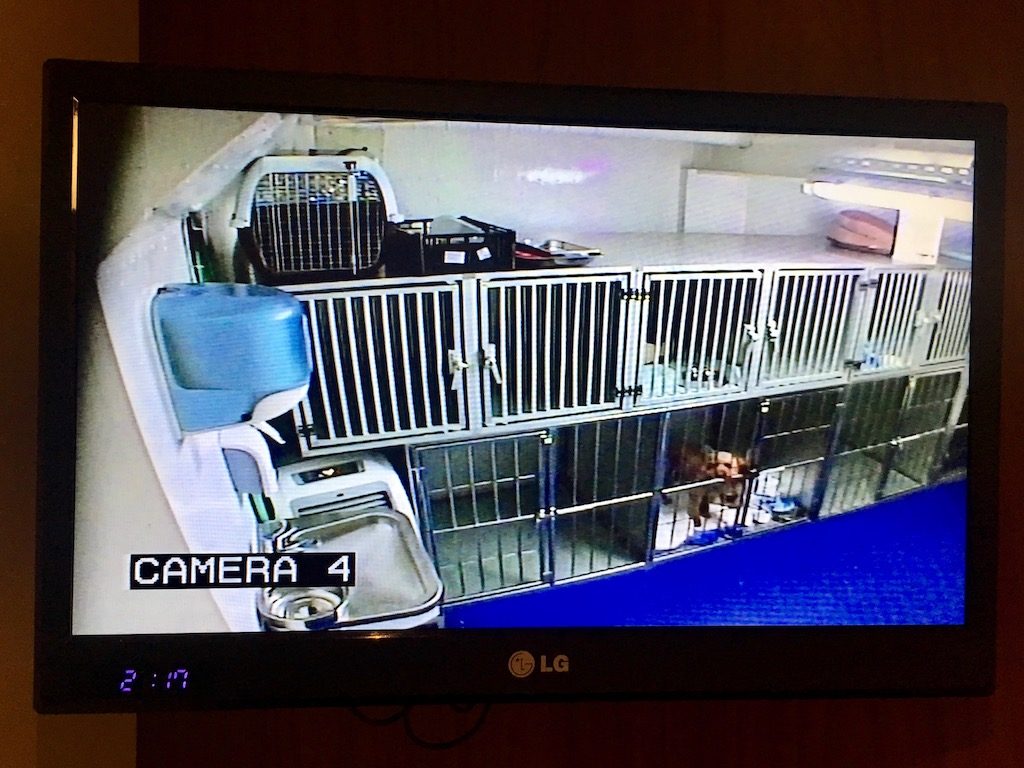 The row of kennels reminded me of the cages for dogs at our local vet's. A duvet per dog was provided, for optional use. We folded it up in the kennel, then added Schnitzel's bed and his water bowl. He had already eaten before leaving London. Then we headed upstairs to our cabin.
Our Cabin Onboard the Stena Line Ferry
As we didn't book that far in advance, the mid-range cabins were already sold out and we ended up splurging on a Captain's Class cabin, complete with window, double bed and complementary mini bar. The cabins were quite nice, better than I expected, and we were very comfortable.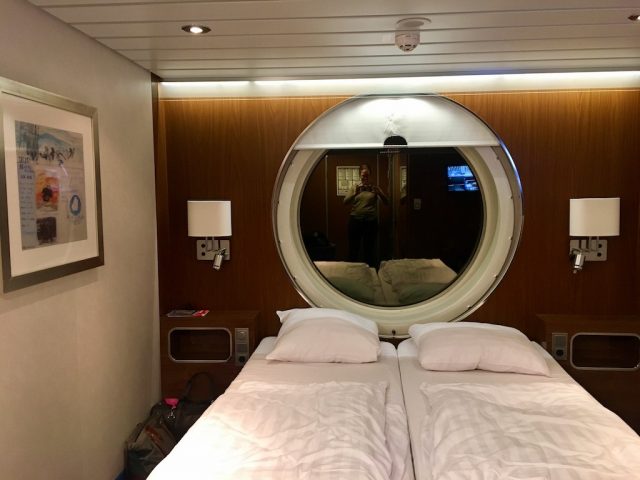 Inside our cabin, we switched on the TV and changed to the channel showing the kennels, while having a glass of champagne. The TV channel is a security-type set-up that alternates between about six different cameras.
Unfortunately (or luckily?) no sound is broadcast, but it's still fairly easy to tell if the dogs are barking or settled. We had planned to return downstairs to check up on Schnitzel again, but realising from the TV channel that we would disturb both him and all of the other dogs upon entering the room, we decided against it.
We fell asleep quite awhile after the ship departed at midnight (Central European time).
Morning on the Ferry
The morning on the ferry before we docked was quite rushed. After a short night's sleep, my alarm went off at 6:30am. This was almost immediately followed by an announcement over the ship's speaker system – a way to ensure everyone was up and had breakfasted before the ship docked at 8am!
As we also wanted to head downstairs and check on Schnitzel, we rushed through having showers and then the buffet breakfast we had paid for in advance.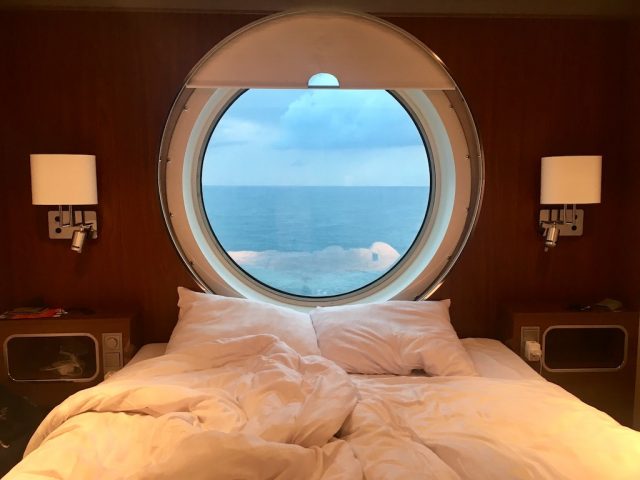 Arriving downstairs at the kennels, Schnitzel seemed quite fine. We're not sure whether having the other dogs around him helped (or hindered, if they barked or fretted).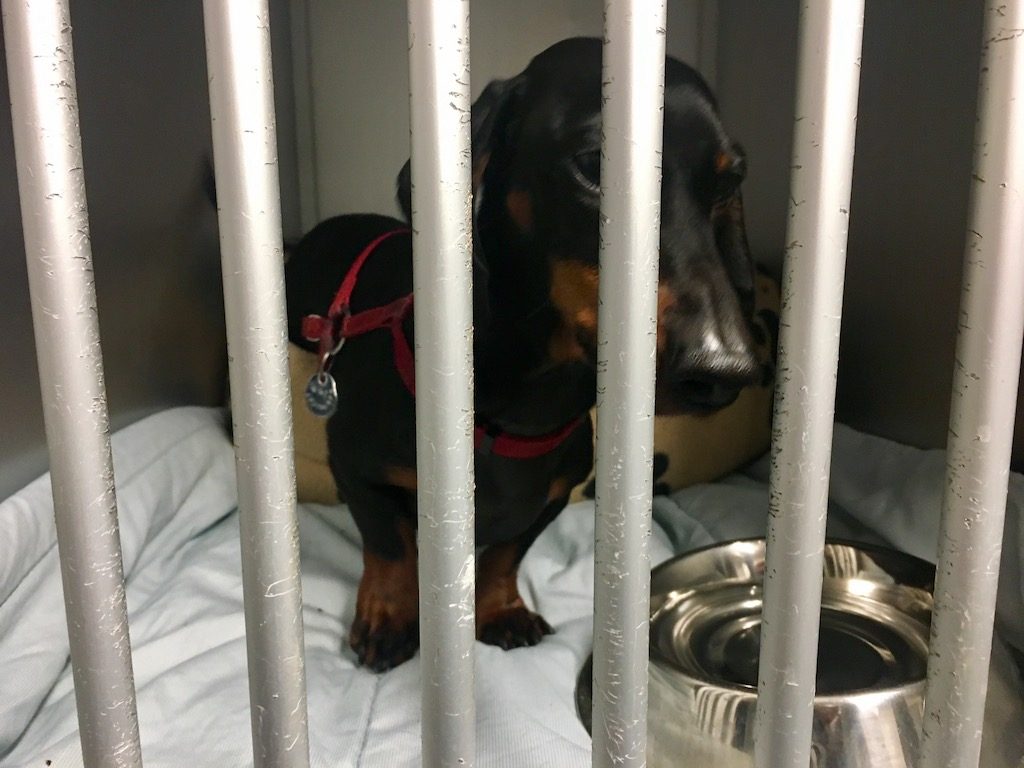 We packed up his stuff and then headed downstairs to the dog exercise area for his morning business. Unfortunately though, at least at the time of our crossing, it was just a small section of bare deck, with no artificial grass, and there was no way he was doing anything unless he really needed to.
So, we headed back upstairs with Schnitzel to await the time to disembark. A tip – only do this after you're fully packed up and ready with your luggage, as no, you can't take your dog along to your cabin!
Disembarkation at Hook of Holland
As we were travelling with a dog, we disembarked before all the other foot passengers, meaning that there were no queues for the immigration desk. Schnitzel was able to work straight out into and through the arrival hall.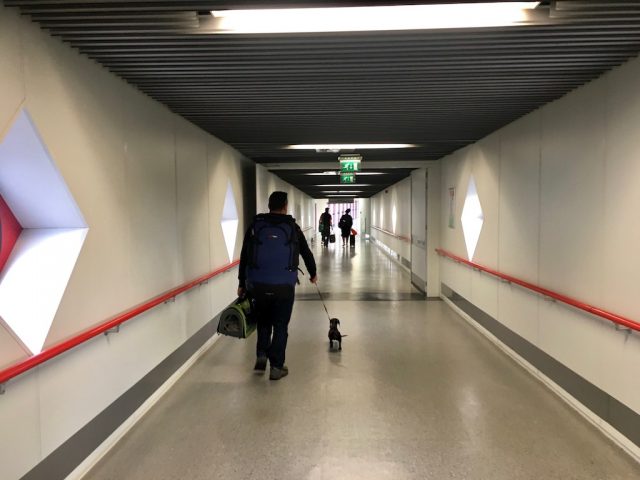 It was a short walk to the waiting bus, included in our ticket, which transport us to Schiedam train station, just outside of Rotterdam. (This has now been replaced by a Metro.) From Schiedam train station, we then took two further trains, arriving at Amsterdam train station around 10am.
Everything went smoothly and quickly, and we were ready to explore Amsterdam with our pup. If like us it's not possible for you to check into your accommodation early, it's possible to leave luggage at the station for €10 for a large locker.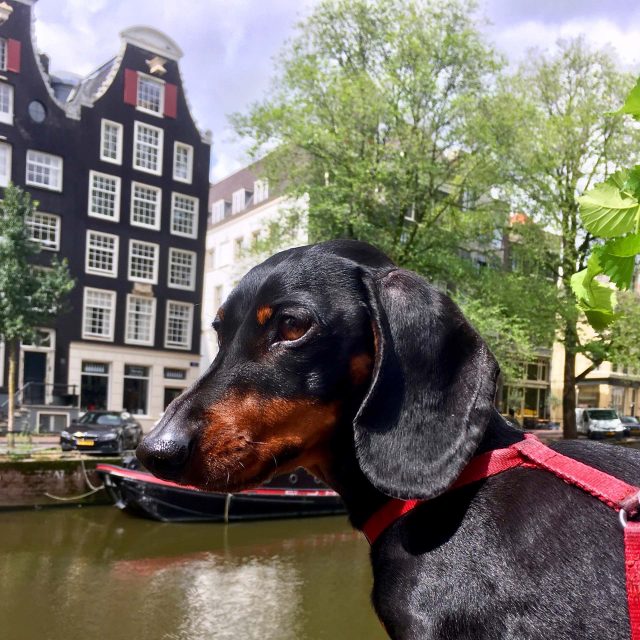 Overall Cost of Our Journey
If travelling via this route, you could previously buy a convenient single ticket for all the transport (the train from London, the ferry, then all transport to anywhere in the Netherlands). This was temporarily suspended, but you can again buy a Dutchflyer Rail & Sail tickets, with a catch – only the train to Harwich and the ferry is included. You need to separately buy tickets for the Metro and trains in the Netherlands.
Our combined ticket for 2 adults was £110 (in 2017), although the fare varied depending on the date. Additionally, the fee for a dog at the time was £16, meaning that the cost of £126 was actually cheaper than our fare on the Dieppe-Newhaven ferry (in the same year).
However, as it was an overnight ferry, it was compulsory to book a cabin. Our Captain's Class cabin cost an extra £139, meaning the total cost of our journey was £265. However, there are also inside cabins that are far cheaper, and still include the all-important TV to watch your dog.
Alternatively, there is a daytime crossing, which is quicker. The base fare is usually the same for both crossings, but there is no need to book a cabin during the day. You could also visit your dog multiple times during the day, although if all the dog owners did that, it would mean a lot more disturbances for the dogs.
Click here for more information about travelling with a dog on Stena Line
You May Also Like
About the Author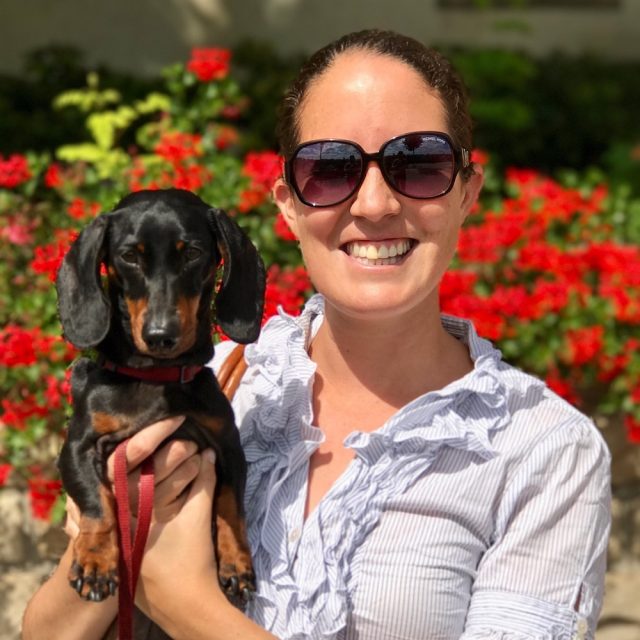 Shandos Cleaver is the founder of Travelnuity: Dog-Friendly Travel. She has travelled extensively with her Miniature Dachshund, Schnitzel, including to 33 countries across Europe, every state and territory of Australia except Tasmania, and 10 of the United States. She's passionate about providing inspiration and information to others wanting to travel with their dogs, whether close to home or internationally.
Inspired? Pin this to your Pinterest board!