Waikiki is tourist central, so don't head here for a holiday expecting to find cheap prices. And that's before you even start hitting the shops! To keep your Hawaiian holiday on budget and have a cheap Waikiki vacation, consider the following money saving tips for Waikiki.
Additionally, you may also want to consider using a free budget template so that you can track your holiday expenses and plan for any extras in advance.
1. Book a Package
Try to book a package deal for your Hawaiian vacation, including airfares and hotel, especially if you plan to just visit Waikiki.
Hotel rates are quite expensive in Waikiki, especially when you compare stand-alone prices to the package deals on offer. A package deal is a great way to afford a vacation in Waikiki.
2. Take Advantage of What Your Hotel Offers
Check to see what your hotel offers guests for free. Many hotels offer beach towels, or even complementary beach seats – a great idea for lounging away the afternoon at the beach.
Come evening time, many hotels have complementary drinks once a week with the managers. Alternatively, if you have a fridge and kitchenette in your room, hit up the closest ABC Store for drinks and snacks, then enjoy them on your balcony for a cheap evening.
3. See a Free Hula Show
You can't visit Hawaii without catching a hula show, but you don't need to splurge on an expensive evening out to do so.
There's a free hula show held multiple times per week at Kuhio Beach, near the bronze Duke Kahanamoku statue. Currently the show is only held once a week on Saturday nights, starting around sunset at 6:30pm (or 6pm in November, December and January), except if there are parades or street fairs.
Starting with the lighting of torches and the blowing of a conch shell, the hour-long show features authentic Hawaiian music and hula dancing by some of Hawaii's finest hula troupes. Just make sure you get there early to get a decent spot on the grass, or else you'll have to stand!
Previously the show was held multiple times per week – double check the website for the latest performance times, or call 843-8002.
Want more ideas for free or cheap things to do? Check out this list of 10 free or cheap things to do on Oahu
4. Book Your Car Hire Before Leaving Home
Something that's more of a splurge is renting a Mustang convertible for a day trip around the island. But make sure you get the best prices, rather than expensive last minute rates, by booking your hire car rental before leaving home.
We rented our car through Discount Hawaii Car Rental. One extra trick we noticed for foreigners is that the price was even cheaper when we viewed them back home in Australia.
To make sure we received the cheaper price (when leaving the booking until the night before), including the option to include insurance, we used a VPN to pretend we were still booking from Australia. It's easier to just book in advance when you find a great deal!
5. Find a Cheap Meal
We were surprised that there weren't many places to eat in Waikiki (compared to the number of hotels and tourists), and the prices weren't that cheap. For instance, our "cheap" Mexican meal one night ended up being far from cheap, especially once we added on drinks and tips.
If you know where to look, there are a few cheap spots to eat in Waikiki. For instance, Marukame Udon on Kuhio Avenue offers up authentic Japanese udon noodles at rock-bottom places – just be prepared to wait!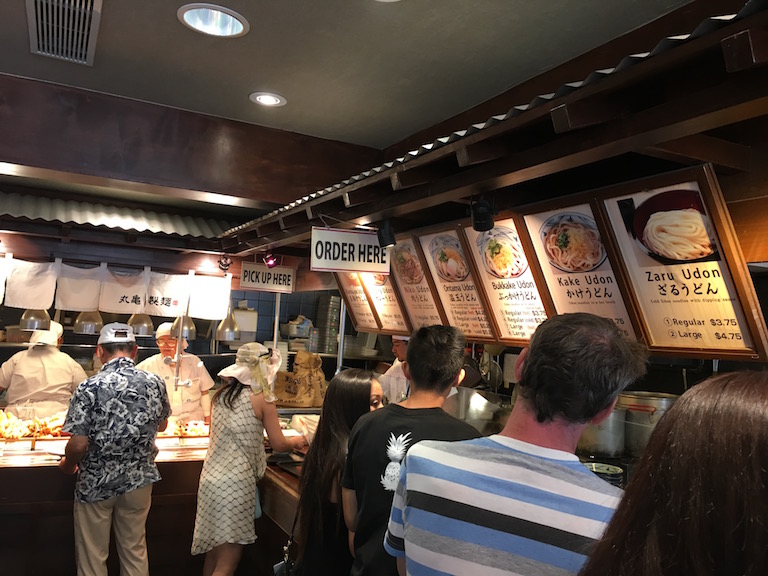 It's also worthwhile to head away from the beach area towards Kapahulu Avenue for restaurants frequented by the locals.
6. Or Eat Big at Lunchtime
When dining at both Duke's Waikiki and the Cheesecake Factory, I noticed cheaper menus or specials for lunchtime dining. Many people head out on day trips away from Waikiki, so if you're spending the day hanging at the beach, have your big meal at lunchtime.
Duke's previously offered a great lunchtime buffet, although this is currently off the menu. While a lunchtime visit to the Cheesecake Factory will also mean shorter or even no queues.
7. And The Best Things in Life are Free
Finally, remember that it's completely free to laze on the beach, swim in the lagoon, stroll along the sand and enjoy the sunset each night! And isn't that mainly what you're staying at Waikiki for?
Plus a final cheap treat: if you're in Waikiki on a Friday night, keep an eye out for the firework show put on at 7:45pm by the Hilton Hawaiian Village Beach Resort.
Do you have any other money saving tips for Waikiki? If so, share them below!
You May Also Like
About the Author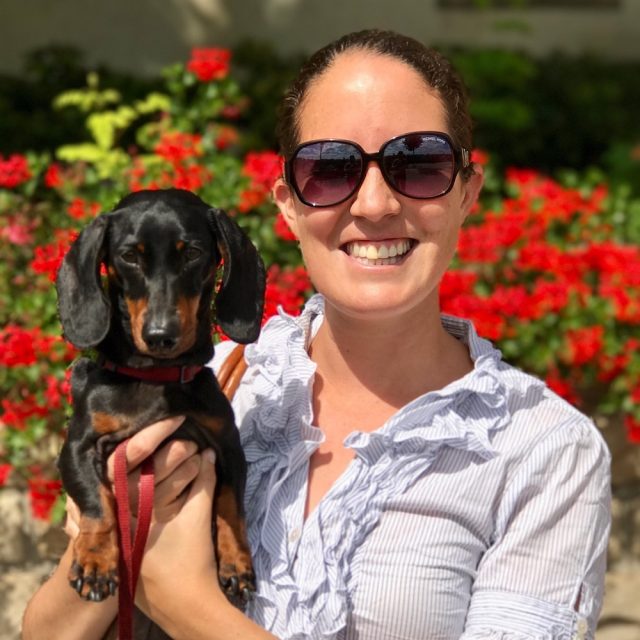 Shandos Cleaver is the founder of Travelnuity: Dog-Friendly Travel. She has travelled extensively with her Miniature Dachshund, Schnitzel, including to 33 countries across Europe, every state and territory of Australia except Tasmania, and 10 of the United States. She's passionate about providing inspiration and information to others wanting to travel with their dogs, whether close to home or internationally.
Inspired? Pin this to your Pinterest board!