If you're planning on flying with your dog in the cabin, it's essential that you buy a pet carrier bag for your dog, suitable for use in the cabin. Only a couple of airlines around the world will supply you with a carrier (such as Aegean Airlines, who can supply a disposable cardboard carrier), with the vast majority of airlines expecting that you will supply your own.
A dog carrier bag can also be useful in other situations, such as taking the train with your dog or other forms of public transport. In some countries, only small pets in a carrier are permitted on board. Finally, many dogs find the comfort of a carrier or crate that they can retreat to a reassuring presence, especially while travelling and staying in strange environments.
So, with so many carrier bag options available for your dog, how do you choose the best dog carrier bag for plane travel in the cabin?
Check the Dimensions of the Carrier Bag
Generally, airlines that permit dogs to fly in the cabin will provide guidelines for the dog carrier bag that you are required to use, which they may also refer to as a crate, kennel or similar. Typically, the carrier needs to be well ventilated and leak-proof. Additionally, the airline will usually specify the maximum dimensions of the carrier bag.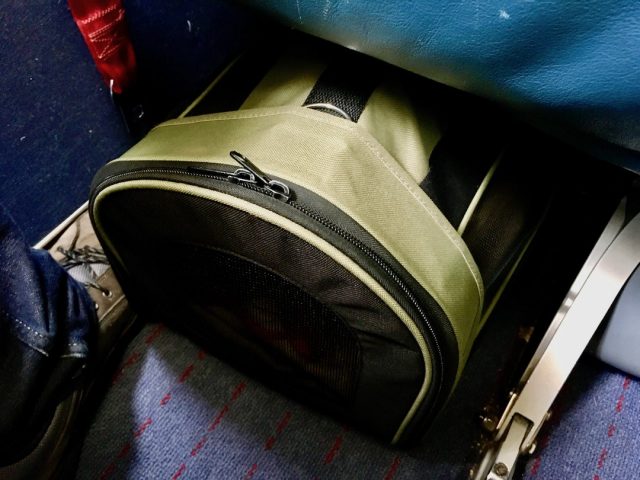 The maximum dimensions of carrier bags permitted for flying a pet in the cabin of a plane varies between different airlines. For instance, these are some of the dimensions I have come across (length x width x height):
Air France: 46 x 28 x 24 cm / 18 x 11 x 9 in
Vueling: 45 x 39 x 21 cm / 18 x 15.5 x 8 in
Alaska Airlines: 43 x 28 x 24 cm / 17 x 11 x 9.5 in (for soft-sided carriers)
Some airlines, such as Alaska Airlines and Air Canada, specify a slightly larger maximum height for soft-sided vs hard-sided carriers. Alaska Airlines permits soft-sided carriers to be up to 9.5 inches tall instead of 7.5 inches tall for hard-sided carriers. Additionally, some American airlines don't specify a maximum size, just that the carrier needs to fit under the seat in front.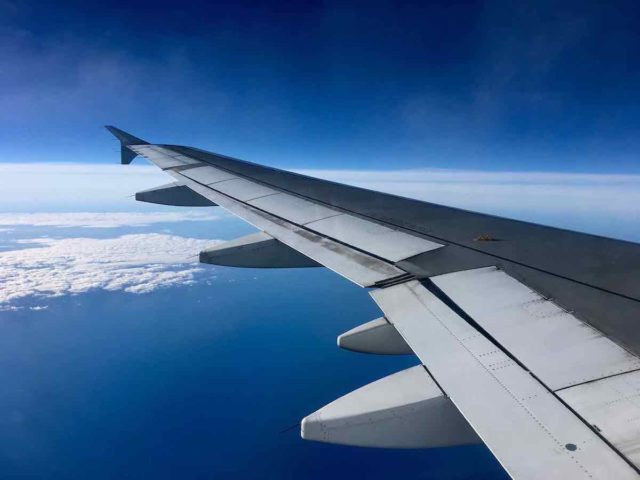 If you compare the maximum heights specified by airlines in particular to the heights of actual bags, you'll find that not many bags are short enough!
This is additionally compounded by the often stated rule that your pet needs to fit comfortably in the carrier bag, including standing up and turning around inside. And of course we want our pet to be comfortable on the flight, especially longer flights.
(If possible, test your dog in different sized bags in store, so that you can see what they are comfortable inside.)
In my experience, airlines don't actually check the exact measurements of your bag when you check-in at the airport, although some airlines will ask the dimensions when you make a booking.
Additionally, the difference sizes specified by different airlines don't correspond to different sized spaces on their planes. Most airlines operate multiple types of planes, each with slightly difference sized spaces under the seats.
Funnily, in the Air France Shop amongst their branded luggage, up until recently they had two pet carriers for sale that had heights of 28cm and 27cm, greater than their maximum height listed above.
In general, I have found from personal experience and discussing with other travellers that as long as your bag is soft-sided and is roughly the dimensions specified by the airline, that you will be okay.
Airline staff are sometimes instructed to only measure the dimensions of hard-case carriers. Your soft-sided carrier will be fine to fit underneath the seat of your plane, perhaps with some wiggling or squishing down of the top.
If in doubt, speak to the airline staff. I know of someone who spoke to staff at Lufthansa and Austrian Airlines, and was told that taller soft carrier bags are okay, as long as they can be pushed down to fit.
What About the Weight of the Carrier Bag?
If your pet is close to the maximum weight permitted to fly in the cabin, you will want to carefully consider the weight of the bag that you choose. Note that the permitted weight includes both your pet and their carrier bag.
In Europe the maximum weight for a pet in the cabin is typically 8kg (17.6 pounds). There are some airlines that have a higher allowance of 10kg (22 pounds) (such as Air Malta, TUI Fly and Vueling), but there are also some airlines that have a lower maximum, most commonly 6kg (13 pounds).
American airlines often don't have a maximum weight, just the expectation that the pet fits comfortably in the carrier.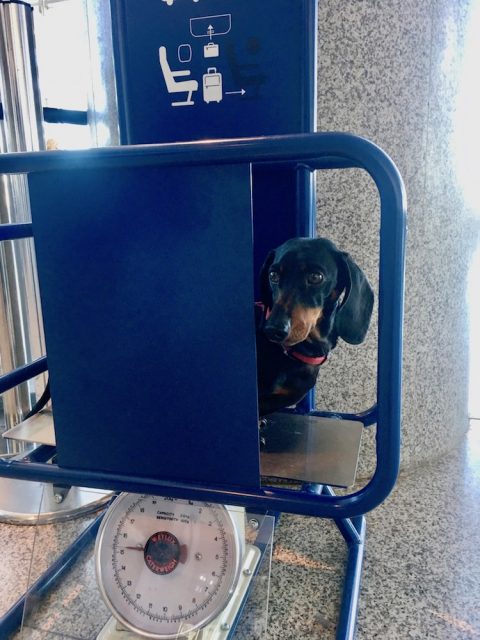 In my experience, airlines often check the weight of your pet and their carrier bag when you check in for your flight. This has happened to me about 50% of the times that I've flown with my pet in the cabin. Be prepared by ensuring that your pet plus their carrier bag is less than the maximum specified, or at least in the vicinity of the maximum.
I doubt they would reject a pet for being a few hundred grams more. Although I once heard from a man whose pet was not allowed to fly when it weighed in at 12kg, far over the airline's maximum of 8kg!
Even if your pet is not close to the maximum weight, it still may be beneficial to have a lighter carrier bag. Depending on the airport, you may be expected to carry your pet in their bag while inside the terminal. (This is the case as Riga International Airport.)
Additionally, it might be easier or your pet's preference to stay in the carrier bag at certain times and be carried. In this case, a lighter bag will be easier to carry. The trade-off though might be in sturdiness.
The NEW IATA Checklist
In January 2023, IATA (the International Air Transport Association), introduced a new In-Cabin Live Animal Acceptance Checklist. This checklist may be reviewed and completed by the airline agent at the check-in counter, although as of May 2023 it doesn't seem to be commonly used yet.
One concerning aspect is that the guidelines state that the container must have ventilation on four sides, while many of the below bags only have ventilation on three sides or it is indeterminable from the photos. More details of the latest container guidelines are specified in this document, although note there are some exemptions listed at the start for in-cabin containers.
I know someone that emailed SturdiBags about this requirement, and received a reply stating that "at the last IATA meeting that I attended, soft-sided carriers were recommended to have ventilation on 3 sides, that all SturdiBags do". Which contradicts that latest IATA documents!
For now, this requirement doesn't seem to usually be enforced, but it may be, and I know someone caught out while checking into a flight in Greece. Double check the requirements listed on your airline's website. I will soon update the list of bags below to ensure they all have mesh on four sides, unless the requirements change again.
My Dog's Carrier Bag
I often get asked about the carrier bag that I use for my dog, Schnitzel. My carrier bag is a fairly simple and common design that I bought in Europe for about €40, and I've been quite happy with, especially given the price.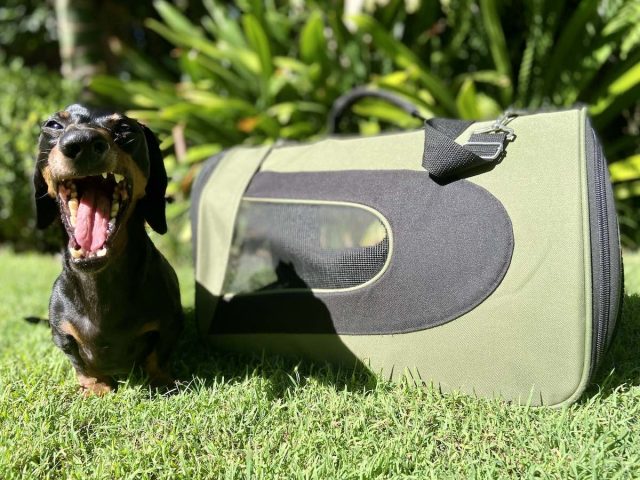 My current carrier bag is from the AniOne brand, the in-house brand of the large German pet shop chain Fressnapf. I previously had almost the same bag, just a slightly different colour, that I bought in Spain. (Unfortunately, Schnitzel decided to chew on its zipper one day when left alone with it.)
My carrier bag has the following features:
Dimensions: 45 x 28 x 26 cm / 18 x 11 x 10.25 in
Weight: 1.2kg (2.6 pounds)
Carry handle plus detachable carry strap
Ventilation mesh on three sides
Zipper can be positioned at either the mesh or closed end, plus it can be completely unzipped and flattened
Clip inside of bag to attach to pet collar, plus detachable liner
Velcro strip on bottom of the bag
Interestingly, you'll notice that the height of the bag is higher than the maximum heights listed above, especially for Vueling. However, we've flown with Vueling six different times around Europe without having an issue, other than the velcro strip on the bottom getting in the way of sliding it under seats.
Unfortunately, it's not possible to buy this exact bag online. Go into any large pet store in Europe and you'll likely find a very similar bag, though! Instead, I recommend a similar model below in the list of the best dog carriers for plane travel.
The Best Airline Pet Carrier Bags
So, now you know what you should consider when buying an airline pet carrier bag, especially in regards to dimensions and weight. But what are some of the best carrier bags for you to buy for your dog? These are my top recommendations, based on my own experience and recommendations from fellow pet owners.
Note: This post contains affiliate links, which means I may receive commission if you make a purchase using the links. As an Amazon Associate I earn from qualifying purchases. See my full disclaimer.
Similar to My Carrier: Pet Magasin Airline Approved Pet Carrier
While I can't link to a bag exactly the same as my own current carrier bag, this Pet Magasin Pet Carrier is very similar. While primarily marketed as a cat carrier, it is also suitable for puppies and small dogs. It has the following features:
Dimensions: 45 x 28 x 26 cm / 18 x 11 x 10 in (the same as my bag)
Weight: 2.2 pounds (1kg) (even less than my bag)
Constructed from waterproof material, leak-proof
Plenty of ventilation with mesh on three sides
Soft sides and padded floor
Has both a suitcase-style handle and a removable padded shoulder strap
Can be unzipped to fold flat for storage
Four colours available: Blue, orange, black, pink
Highly Recommended: Sherpa Original Deluxe Carrier
I've heard a lot of recommendations from other dog owners for the Sherpa Original Deluxe Carrier. In particular, they are impressed with the quality and durability of the carriers, as well as their price. Owners do however warn that they are a bit heavier than other carriers, so you'll need to carefully check the weight limit for your airline.
There are three different size options. Firstly, the small carrier:
Dimensions: 38 x 25 x 22 cm / 15 x 10 x 8.5 in
Weight: 3.4 pounds (1.5kg)
Guaranteed On Board most US airlines (American Airlines, AirTran, Alaska Airlines, Southwest, US Airways, United, WestJet)
For pets up to 8 pounds (3.6kg)
Secondly, the medium carrier:
Dimensions: 43 x 28 x 27 cm / 17 x 11 x 10.5 in
Weight: 4.2 pounds (1.9kg)
Guaranteed On Board some US airlines (American Airlines, United)
For pets up to 16 pounds (7.25kg)
Finally, the large carrier:
Dimensions: 48 x 30 x 29 cm / 19 x 11.75 x 11.5 in
Weight: 4.7 pounds (2.1kg)
While this carrier is not guaranteed on board, owners have reported it will still work on many US airlines, as it can be squished down
For pets up to 22 pounds (10kg)
Each of the carriers shares the following features:
A patented spring wire frame that allows the rear end of the carrier to be pushed down several inches, conforming to under-seat dimensions
Both top and side entry
Mesh panels for ventilation
Locking zippers
Padded hand carry straps and adjustable, no-slip shoulder strap
Machine washable faux lambskin liner
Seatbelt / luggage strap
Four colours available (black, brown, plum, gray)
Highly Recommended: Sturdibag Large Flexible Height Pet Carrier
The other carrier bag that I've heard multiple recommendations for from different dog owners is the Sturdibag Large Pet Carrier. This carrier bag is lighter than the Sherpa carriers (at 2.6 pounds), although some remark that it isn't as comfortable or tough.
This carrier bag has the following features:
Dimensions: 46 x 30 x 30 cm / 18 x 12 x 12 in
Weight: 2.6 pounds (1.2kg)
Adjustable 4-point padded shoulder strap and leather hand grip
Retractable privacy flaps on all mesh windows
Interior fleece pad secured by Velcro
Zipper security clips plus a tether included
Most suitable for small to medium size dogs up to 25 pounds (11kg), although it can safely carry up to 40 pounds (18kg)
I would be a bit concerned that this bag is considerably taller than many airline height limits. However, owners have reported that due to the flexible structure, it hasn't been a problem.
If your dog is a smaller breed, I recommend instead looking into the Sturdibag Small Pet Carrier, which is only 10 inches (25cm) high. This smaller bag is recommended for cats and toy breed dogs up to 10 pounds (4.5kg), although it can safely carry up to 30 pounds (13.6kg).
Highly Recommended: Smiling Paws 4-Way Expandable Carrier
Recently, another carrier that I've come across recommendations for is the Smiling Paws 4-Way Expandable Soft-Sided Pet Carrier.
What stands out about this bag is that it can expand on all four sides, plus the zip opens at the top, meaning that you can ensure your pet has plenty of room. Despite this, it is still short enough (23cm or 9 inches high) to fit the dimensions specified by many airlines.
This carrier bag has the following features:
Dimensions when constructed but all sides closed: 43 x 28 x 23 cm / 17 x 11 x 9 in
Dimensions when all sides expanded: 86 x 63.5 x 23 cm / 34 x 25 x 9 in
Weight: 3.04 pounds (1.38kg)
Can be expanded on all four sides, whether on the flight or waiting to board
Internal leash and soft machine washable pad
Safety self-locking zippers and reinforced rotating metallic clips
Thickly padded shoulder and handle holders
Suitable for dogs that are at least 2 inches smaller on all dimensions
Designed to comply with TSA and IATA requirements (including Southwest Airlines, American Airlines, Alaska Airlines, United Airlines, Air Canada, JetBlue, Delta Airlines and Spirit Airlines)
You May Also Like
Inspired? Pin this to your Pinterest board!