One of my favourite airlines to fly with my small dog in Europe is Vueling. This low-cost airlines based in Barcelona is one of the most dog-friendly airlines in Europe, when it comes to small dogs flying in the cabin, with its high weight limit, low fees and easy booking process.
During 2017 and 2018, I flew with my dog in the cabin on Vueling flights six times. Find out more about what it's like to fly with Vueling with a pet in the cabin…
Note: This post contains affiliate links, which means I may receive commission if you make a purchase using the links. See my full disclaimer.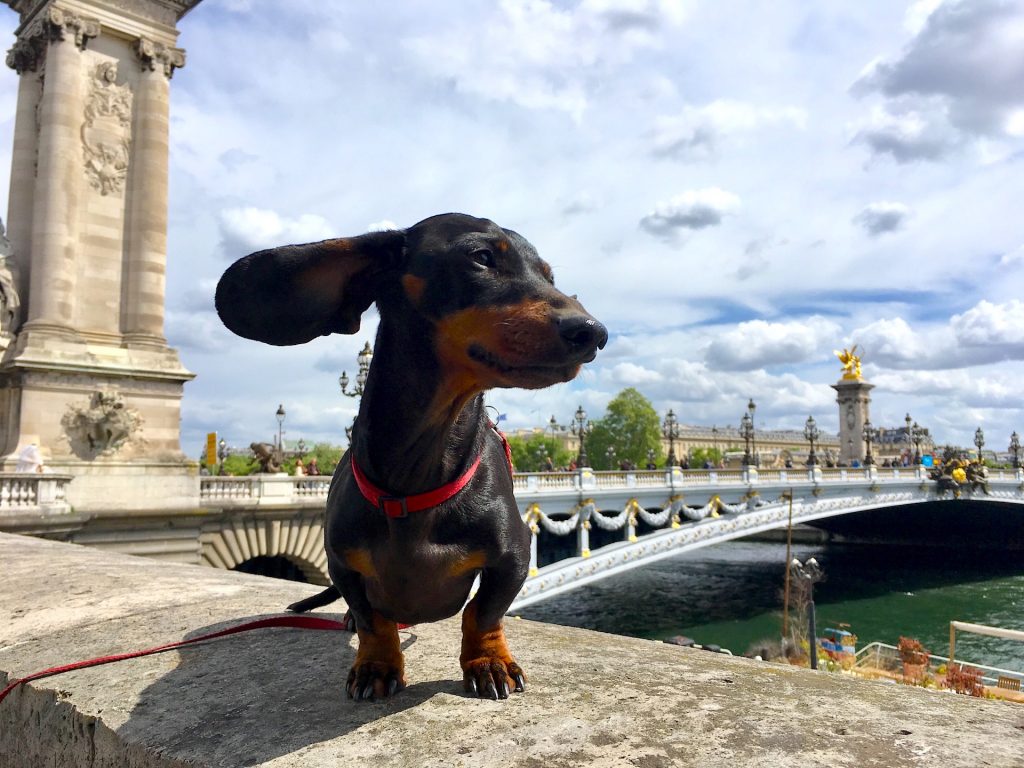 Can My Dog Fly with Vueling?
Whether or not your dog can fly with Vueling largely depends on size. Vueling cannot handle the flying of larger dogs in the hold, only pets small enough to fly in the cabin are permitted on Vueling flights.
As well as dogs, Vueling also permits cats, birds (excluding birds of prey) and turtles/tortoises to fly in the cabin. Note that rodents, rabbits and ferrets are not permitted. (Plus on GetJet operated flights, only dogs and cats are permitted.)
All small pets also need to meet the following criteria.
Maximum Weight and Carrier Dimensions
For pets flying in the cabin with Vueling, there is a maximum weight limit of your pet plus their carrier of 8kg, recently reduced from a limit of 10kg in June 2023. Your pet needs to fly in an approved, non-rigid pet carrier that doesn't exceed 45 x 39 x 21cm in size.
In reality, the soft pet carrier bag that we have usually used for flying our dog, Schnitzel, is slightly taller than the maximum height specified, 21cm. (And you'll find most pet bags are.) However, generally the check-in staff have barely looked at his carrier, let along measured its size.
Find out more about buying a pet carrier for your pet to fly in the cabin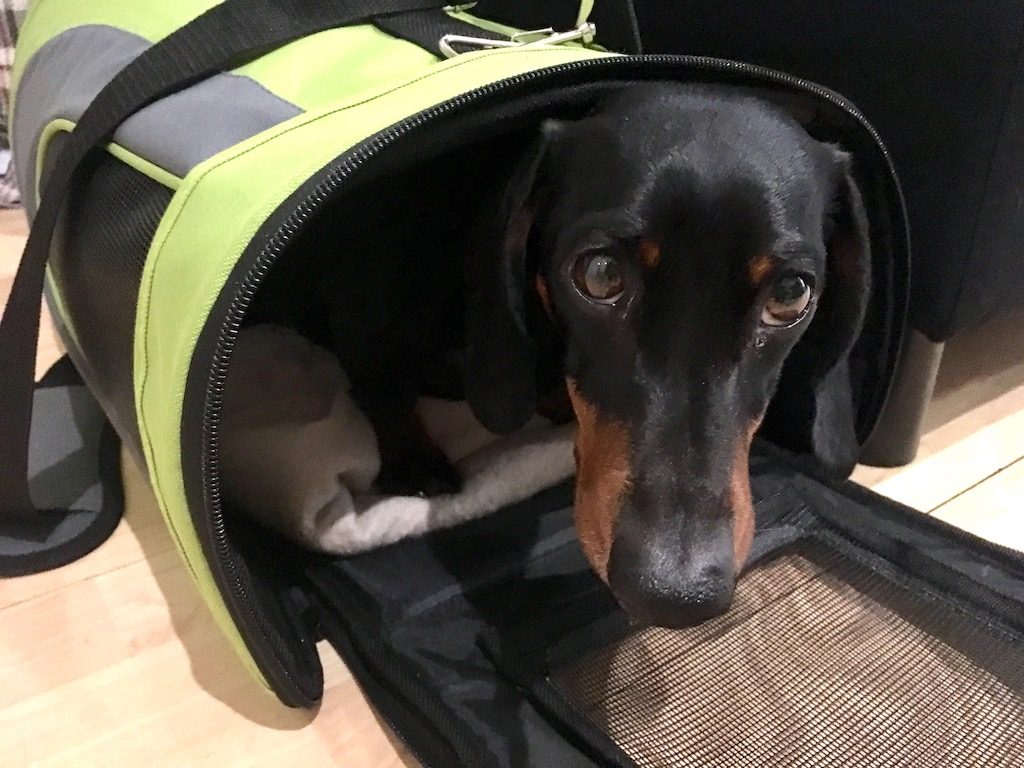 Other Requirements
It's also a requirement of the Vueling pet policy for cats and dogs to be microchipped and travel with a passport issued by a vet, which records that they were vaccinated for rabies at least 21 days before the flight. Additional requirements apply for flying to Ireland.
Again in reality, in our experience this wasn't always checked. It's probably more likely to be checked if you are flying in or out of the EU.
The Cost to Fly a Pet with Vueling
The ticket prices for pets to travel with Vueling are quite low and straight-forward. On domestic flights, a single flight per pet costs €50. On international flights, as well as flights to and from the Canary Islands, a pet costs €60.
How to Book Your Pet to Fly with Vueling
One of my favourite things about flying Vueling with my dog is how easy it is to book his flight. Unlike most airlines, there is no need to call up the call centre to book your pet's flight. Instead, you can book their flight online, although there's also the option to call up if you'd prefer.
Make Sure You Select a Basic Fare
One important note while booking your Vueling flight, is you have to book a Basic fare (the cheapest fare). This is probably because with an Optima fare (the next most expensive one), seat selection if included. With a Basic fair, only an underseat piece of luggage is included, up to 40 x 30 x 20cm in size.
When flying with a pet on Vueling, you cannot select your seat in advance or check-in online: you have to check-in at the airport in person, with an appropriate seat selected by check-in staff.
Adding Your Pet to Your Booking
To book your pet on your Vueling flight, start your booking like normal. Then at the "Customise your flight" step, where you can also select to add a Flex Pack or special luggage, select to add your pet to your booking.
At the bottom of the page there is the option to add pets, with the applicable price listed. Just click the button to add a pet and select the passenger for them to fly with. Only a single pet is able to be added per passenger.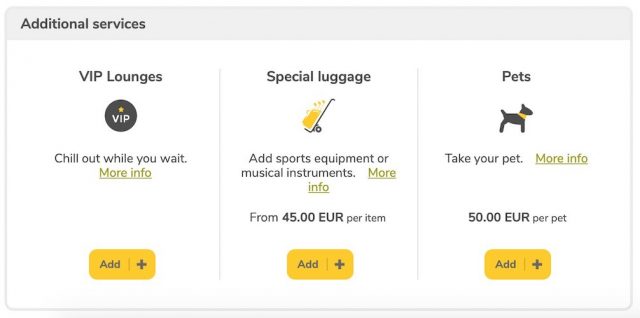 Book a Vueling flight for you and your dog
Maximum Number of Pets per Flight
Note that only five pets are allowed per flight, or two on Iberia flights. Luckily I haven't come up against this limit when flying my dog, but I recommend booking in advance or being prepared to be flexible about the exact flight.
Booking an Extra Seat
When booking with Vueling, you have the option to book an Extra Seat, such as for greater comfort. So, you could book an extra seat so your dog can travel underneath the seat next to you, rather than taking up your leg room.
Arriving at the Airport for Your Flight
As noted above, when flying with your dog on Vueling, you'll need to check-in in person at the airport. Because of this, make sure you arrive at the airport with plenty of time before your flight.
At the check-in counter, appropriate seats will be allocated. Your dog in its carrier may also be weighed and their pet passport checked. However, I have not always had this happen when flying with Vueling.
When passing through the security check, you will need to take your pet out of their carrier bag and either carry or walk them through security. Their carrier bag needs to go through the screening machine. You may also be asked to remove your dog's leash and collar, depending on the airport.
Onboard a Vueling Flight with a Pet
While your dog may be allowed to walk around the airport on their leash, on Vueling flights they need to stay in their carrier bag at all times – this is emphasised in their pet policy.
If your dog isn't already in their carrier bag, just before boarding put your pet in their bag and zip it up. Don't unzip the bag until you have disembarked.
Onboard the flight, place your pet in their carrier bag on the floor, under the seat in front of you – this is the reason for the small maximum dimensions of pet carriers.
When flying with my dog on Vueling, we've been most comfortable when the flight hasn't been full, and my husband and I have been able to take advantage of a spare seat, so neither of us loses our leg room. However, we've also flown on full flights and have made do, although it is a bit cramped.
If you're concerned the flight will be full and you will be cramped, there's the option now to book an extra seat, as I mentioned above.
Our Experiences Flying with Vueling
The first time we flew with Vueling, we were trying to get from Barcelona to Paris in 2017. Our first plan had been to take the train (about a 6 hour journey), but all the 2nd class seats were sold out, and the 1st class seats were quite expensive. It was a lot cheaper to fly with Vueling, and the flight was only two hours.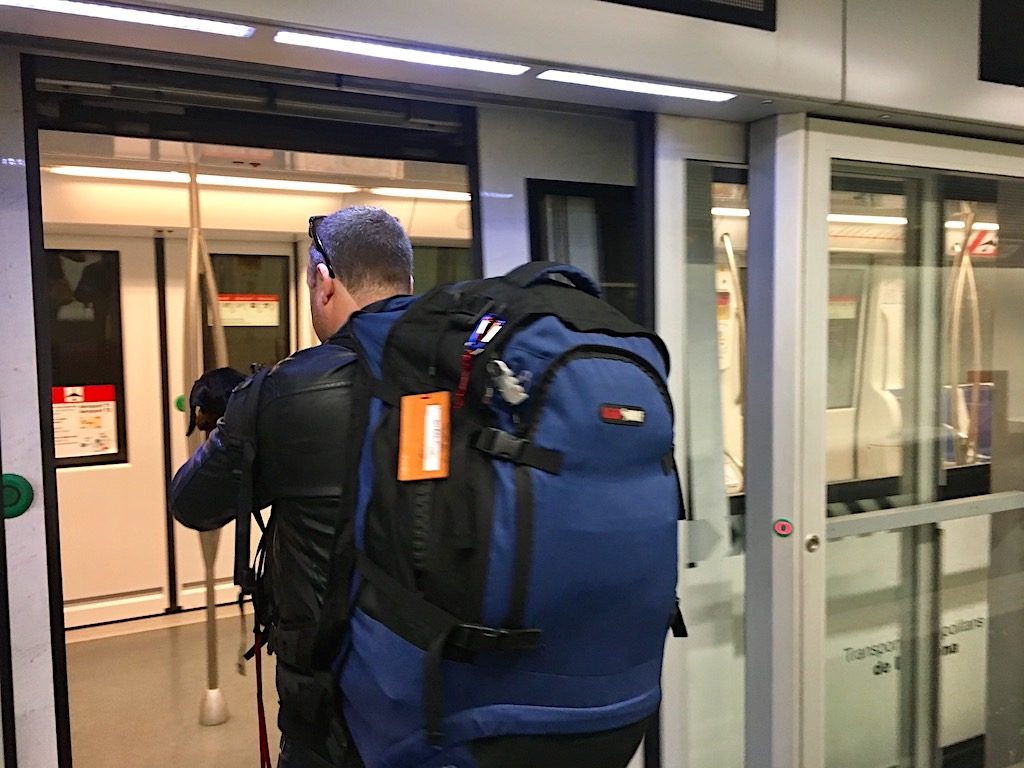 It was the first time that we flew with our dog in the cabin, but the whole experience from booking the flight to onboard the flight went quite smoothly. Barely anyone even knew our dog was on the flight, as he only let out a single bark!
Since then, we flew with Vueling five more times in 2017 and 2018. We flew with our dog on Vueling flights from Malta to Barcelona, Barcelona to Canary Islands, Canary Islands to Malaga, Malaga to Marseille, and Paris to Copenhagen. As you can see, we enjoy flying with our dog on Vueling!
Want to fly with your dog on Vueling? Book a flight
You May Also Like
About the Author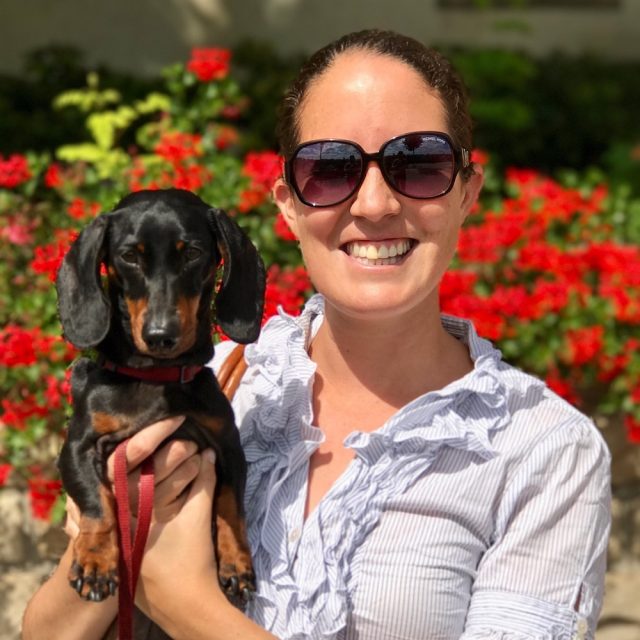 Shandos Cleaver is the founder of Travelnuity: Dog-Friendly Travel. She has travelled extensively with her Miniature Dachshund, Schnitzel, including to 33 countries across Europe, every state and territory of Australia except Tasmania, and 10 of the United States. She's passionate about providing inspiration and information to others wanting to travel with their dogs, whether close to home or internationally.
Inspired? Pin this to your Pinterest board!