The sleepy tourist town of Agnes Water is best known for having the northernmost surfbreak on the Queensland coast. Along with the adjoining Town of 1770, they're both increasingly popular destinations with dog owners thanks to an abundance of pet-friendly accommodation. Find out what it's like to visit Agnes Water and Town of 1770 with your dog.
Where Dogs Aren't Permitted in Agnes Water
Firstly, just a heads up that there's a number of locations around Agnes Water and Town of 1770 where dogs aren't permitted, so you'll need to visit them without your pup or skip visiting them completely.
There's two national parks close to Agnes Water, where naturally dogs are not permitted. To the northwest is Eurimbula National Park, while to the south is the 4WD-only Deepwater National Park.
Closer to town, on the northern edge of Town of 1770, much of the headland is contained in the Joseph Banks Conservation Park. The park includes the popular Captain Cook Monument and Bustard Bay Lookout. Just like a national park, pets are forbidden, with multiple no pet signs around the park.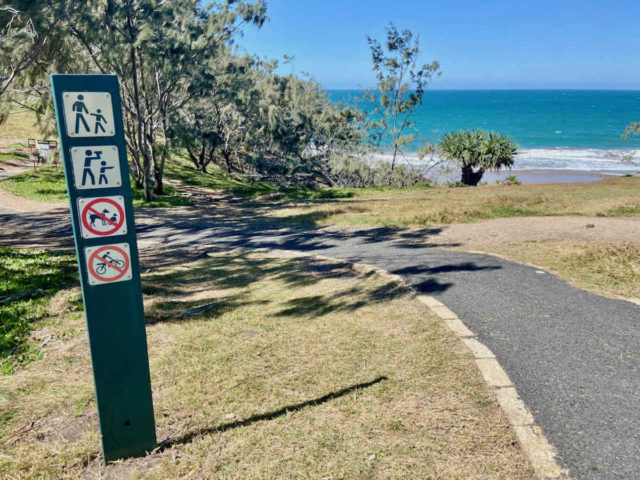 Finally, dogs aren't allowed at the popular Paperbark Forest Walk, located in the Reedy Creek Reserve. It's not that clearly signposted, but if you closely read the sign about the reserve, it's noted that pets are prohibited. Not that many dogs could handle the stepping stones on the trail!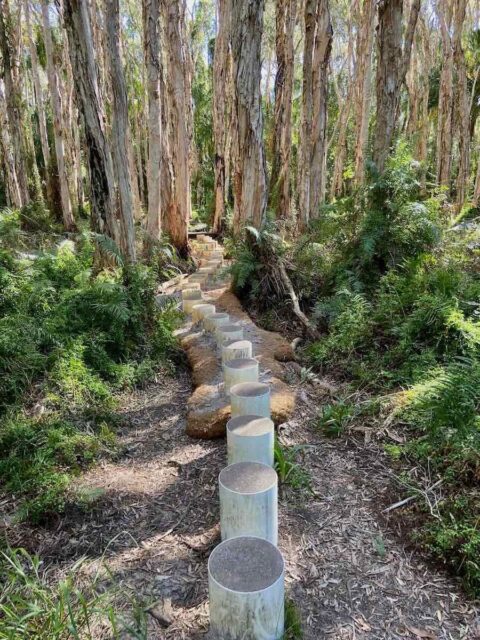 Dog-Friendly Sightseeing in Agnes Water
So, now that you know where dogs aren't permitted when you are visiting Agnes Water and Town of 1770, what dog-friendly sightseeing options do you have?
1. Hit the Beaches
Naturally, the beaches are the main attraction of Agnes Water and luckily these are not off-limits to dog owners. Your best option is to head to Agnes Water Beach. While dogs aren't allowed on the sand in the bathing area at the southern end, dogs are allowed on the rest of the beach.
If you walk onto the beach from the pathway at Tom Jeffrey Park, dogs are allowed on-leash on the beach immediately to your left. After about 2km, from Surf Club Avenue where there's an access point and carpark, dogs are allowed off-leash, right to the northern end of the beach, kilometres further.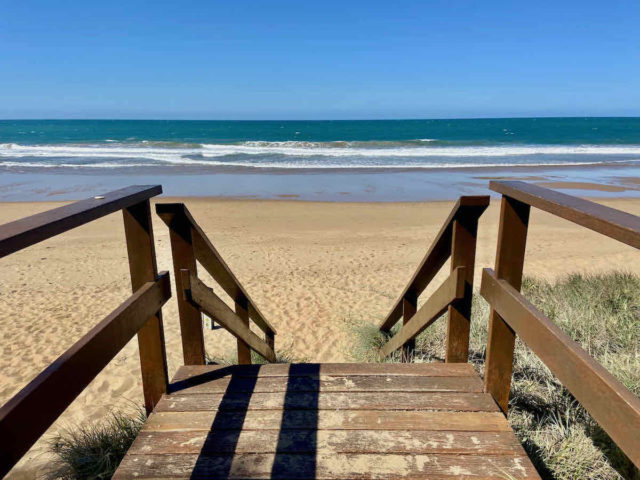 On the other side of the peninsula, along the calm protected shore at Town of 1770, dogs are allowed on the beach, but must remain on-leash (the default rule for beaches in the local government area).
Note that dogs are restricted from some beaches in the region. As well as being prohibited from national park beaches, two other beaches should be noted.
At both Chinamans Beach and Spring Beach, immediately south of Agnes Water, dogs are prohibited from November to April, during turtle nesting season. Outside of this period, dogs are allowed on-leash only. (On the council website, it's stated dogs are allowed off-leash in other months at Chinamans Beach, but the sign at the beach states otherwise, which I would follow – double check what it states.)
There's an access road into Chinamans Beach, although caravans and trailers are not recommended, due to the steep incline down to the beach. The access road into Spring Beach is quite a rough trail, only suitable for 4WD. Otherwise, park at the small carpark for the Paperbark Trail and walk along the road.
2. Learn to SUP with your Pup
While learning to surf, a popular pastime at Agnes Water, is probably beyond most dogs, instead consider learning to stand-up paddleboard with your dog.
Local dog whisperer and SUP pioneer Chris de Aboitiz runs Stand Up Paddle Town of 1770, taking place on the protected waters at Town of 1770. Previously, one of the hire options was a one-hour SUP lesson with your dog, where you learnt to put your dog on the board, then paddled out to the sandbar.
While this option is no longer available, SUP board hire still includes an intro lesson – ask for tips on paddling with your pup.
3. Or Hire a Dog-Friendly Kayak or Boat
If your dog isn't the keenest swimmer, consider instead the more sedate option of kayaking. 1770 Liquid Adventures welcomes customers to bring along their dogs when hiring a kayak, although dogs are not permitted on the guided tours. Check out the tips for taking your dog along on their website.
Another dog-friendly option I've recently heard of is Cruising Round 1770. These round picnic boats seat up to ten people, and have the option to be hire with a BBQ and esky. Choose to hire one for just an hour or the day. Double check in advance they still allow well-behaved dogs onboard.
4. Take a Stroll Through 1770
Agnes Waters and Town of 1770 are connected by a combined cycle/foot path, a popular option for local cyclists, runners and walkers. It's possible to walk the entire length with your pup, but the most scenic section for dog walking runs through the Town of 1770.
From the marina to the camp ground it's about 1km of largely flat footpath, including some sections of raised boardwalk. Running alongside the foreshore and passing through both the Air Sea Rescue Park and Endeavour Park, it's a pretty walk, with plenty of options for stopping along the way.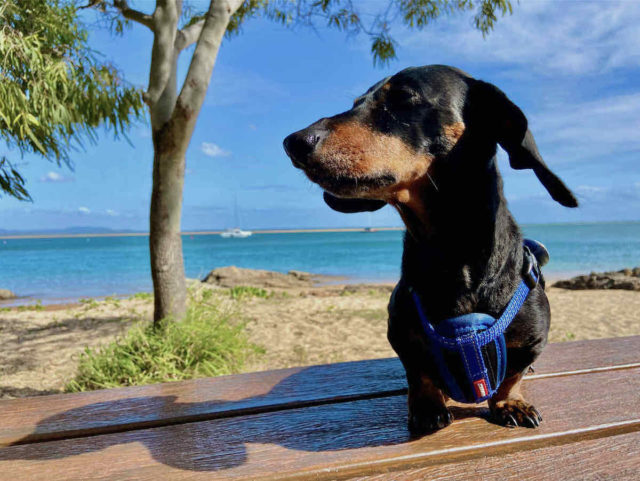 Dogs need to be on leash along the entire length of the footpath, including this section. It's not possible to continue past the campground as the walking track beyond lies within the Joseph Banks Conservation Park, with dogs prohibited.
5. Follow the Discovery Trail
While most of the bush walks in the area are contained within national parks or reserves where dogs are not permitted, there is one short option available right at Agnes Water, the Discovery Trail.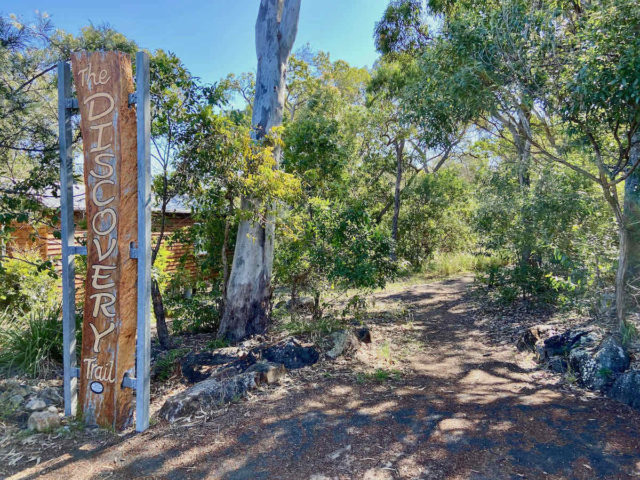 The Discovery Trail starts next to the Agnes Water Museum and meanders 800m through the bushland, not far removed from houses, to a lookout over Workmans Beach. There's also a few other paths that lead to the Workmans Beach campground (which is currently closed to camping). There's plenty of signposts at each intersection.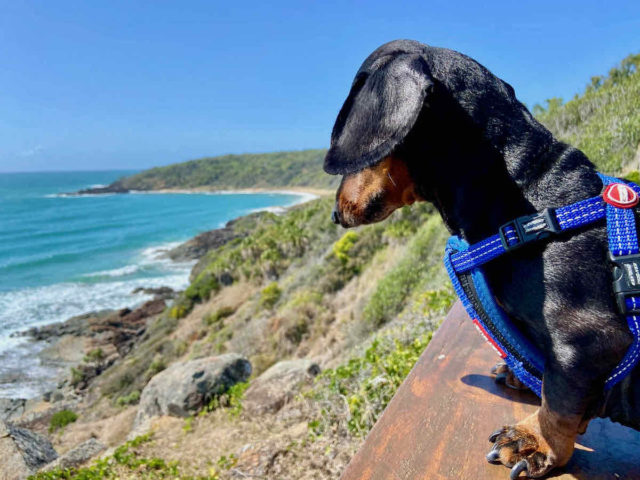 Dogs need to stay on-leash on this walk. While there's limited parking at the museum, only for museum visitors, head further up the hill to the larger carpark.
6. Watch the Sunset at Town of 1770
As well as being famous for being the second place Captain Cook landed in Australia in 1770, Town of 1770 is also famous for being one of the few places in Queensland where it's possible to watch the sun both rise and set over the ocean.
To experience a rare Queensland sunset over the water, head to any of the parks or the marina in Town of 1770 as the afternoon light begins to fade.
We went to the marina, where there's tables and chairs set up around the shoreline perfect for sunset viewing. It's right next to the Rusty Pelican take-away, with many spectators ordering some fish'n'chips, or enjoying a BYO beer. Dogs are welcome to join you.
Dog-friendly Parks in Agnes Water
In addition to the off-leash beach, there's also an off-leash exercise area at Town of 1770. It's located at the SES Grounds along Captain Cook Drive, where the Sunday morning markets are held. Note that it is unfenced, and it's probably best to leash your dog during the markets and other events.
Dog-Friendly Dining in Agnes Water
The majority of cafes around Agnes Water are dog-friendly, as long as they have outdoor seating. Close to Agnes Water Beach, head to Holidays Cafe (at the caravan park) or Codie's Place (next to Tom Jeffrey Park).
At the shopping centre, Latino Cafe and Cafe Discovery are both dog-friendly. Alternatively, head to the lush surrounds of Getaway Garden Cafe, part of 1770 Getaway, on the edge of Agnes Water.
At Town of 1770, a popular dog-friendly option is the 1770 Beach Hotel, opposite the foreshore. It's another great spot to watch the sunset with a drink, with dogs allowed at the front verandah area.
Dog-Friendly Accommodation in Agnes Water
Note: This post contains affiliate links, which means I may receive commission if you make a purchase using the links. See my full disclaimer.
One of the most dog-friendly options around at Agnes Water is The Summit 1770, which specialises in dog-friendly accommodation. There are three gorgeous one-bedroom cottages with ocean views on the rural property, just a few minutes from the town centre.
Dogs are allowed inside, just not on the furniture. There are kennel facilities on site, as well as two fenced dog runs and the recent addition of doggy daycare.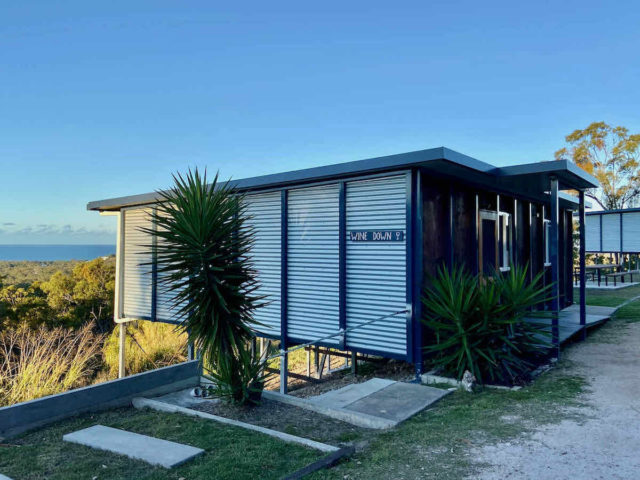 This property isn't the only dog-friendly holiday home option in the area. Another pet-friendly option is Sunbird Gardens, a one-bedroom villa in the heart of Agnes Water, ideal for couples. The villa is pet-friendly by request. Note that the property is not fenced, so only house-trained pets are permitted. For more options, check out Gibson's Pet Friendly Accommodation.
Alternatively, for something completely unique (and quite affordable!), check out the quirky Boat in the Bush on Airbnb. Yes, it really is a sailing boat, surrounded by bushland, and accomodating up to two guests plus your pup.
If you have your own caravan or campervan when visiting Agnes Water, there's also no shortage of pet-friendly options. For starters, The Summit 1770 recently started offering powered and unpowered sites, with an amenities block and camp kitchen on site. As well as two fenced dog runs for everyone to use, three of the powered sites now have private 3m by 3m fenced dog pens behind them.
Alternatively, for a more central option, head to Captain Cook Holiday Village, within walking distance of the 1770 Marina. Pets are permitted on sites, but not in cabins. The park has it's own walking trail to the northern end of Agnes Water Beach. The 900m long track leads to the off-leash section, where you and your dog will likely have the stretch of sand all to yourself. Unfortunately though, I can't recommend the unpowered sites, which are mainly not level.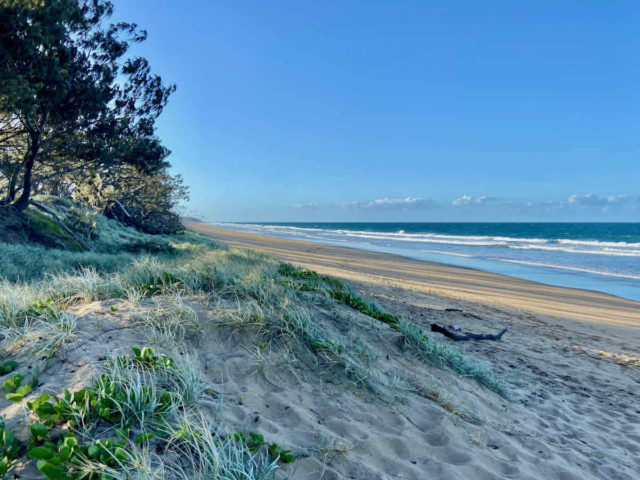 Note that dogs are not permitted at the 1770 Camping Ground. Plus the Workman's Beach Camp Ground remains closed, with no planned re-opening date. Some of the campgrounds on the road leading into Agnes Water don't have laundry or water connection facilities – check in advance if you require this. Seasonal restrictions may also apply at some caravan parks, so double check before making plans.
Head Next To