There's more to Bundaberg than Bundaberg Rum. As well as a thriving farm gate-to-plate foodie scene and cellar door trail, this area of Queensland is also home to some beautiful stretches of coastline. And if you're visiting with a dog, there's no shortage of dog-friendly things to do in Bundaberg. Read on to find out more about the options available, from beaches to walks to where to stay…
Dog-Friendly Beaches in Bundaberg
While Bundaberg is close to a wonderful stretch of coastline, unfortunately the beaches aren't that dog-friendly, thanks to their importance as turtle breeding grounds. As listed on the council website, many of the local beaches prohibit dogs, particularly the shoreline at Mon Repos, home to a conservation park.
If not signposted otherwise, the default position is that dogs are allowed on leash on beaches around Bundaberg, all day long, with no off-leash periods. This includes the following dog-friendly beaches around Bundaberg, from north to south:
Moore Park Beach – North of Palm View Drive and south of Lassig Street
Burnett Heads – The northern end of Oaks Beach and Sharkies Beach
Bargara – Sections of the Bargara Foreshore accessed from the Esplanade (although I noticed at least one section signposted as no dogs), Archie's Beach and Rifle Range Beach
Innes Park – Innes Park Foreshore and Innes Park Inlet
Elliot Heads – Dr May's Island, but only 1st May to 30th August
There is also a confusing situation regarding the Elliot Heads sand flats, next to the Elliot River. The sand flats are somehow not controlled by the council, but by the state government, so they have been designated off-leash. However, the council refuses to signpost this. There is currently a community consultation ongoing.
According to the council, the only off-leash beaches in the Bundaberg area are two sections of the beach at Woodgate Beach. Dogs are allowed off-leash at the northern end of the beach (from 350m north of the boat ramp to Theodolite Creek) and the southern end of the beach (after the southernmost houses), as well as on-leash in between.
Dog-Friendly Sightseeing in Bundaberg
While visiting Bundaberg with your dog, also fill your days with some of these dog-friendly sightseeing ideas.
1. Taste a Local Tipple
While the two most famous tasting experiences in Bundaberg, Bundaberg Rum Distillery and Bundaberg Brewed Drinks, not surprisingly don't allow dogs to join you inside, they aren't the only drinks being brewed or distilled in Bundaberg.
Bundaberg is also home to other local tipples, including Kalki Moon Distilling Company (producing gin, vodka and liqueurs), Ohana Cider House and Tropical Winery (with fruit wines and a variety of ciders) and local craft brewer Bargara Brewing Co (now part of the Ballistic Beer Co Empire).
While the Kalki Moon Distillery doesn't allow pets, instead head to Ohana Cider House, not far away from Bundaberg Rum Distillery. Enjoy a tasting paddle or a local cheese platter, with no bookings required. Leashed dogs are welcome to join you, and the staff can provide your pup with a water bowl or top up your own, although they will demand cuddles in return!
According to reviews, Ballistic Bargara – The Brewhouse is also dog-friendly, although when we visited we discovered it's only in an unofficial capacity. They'll seat you just inside the open roller shutter and bring over a dog water bowl so your pup doesn't go thirsty.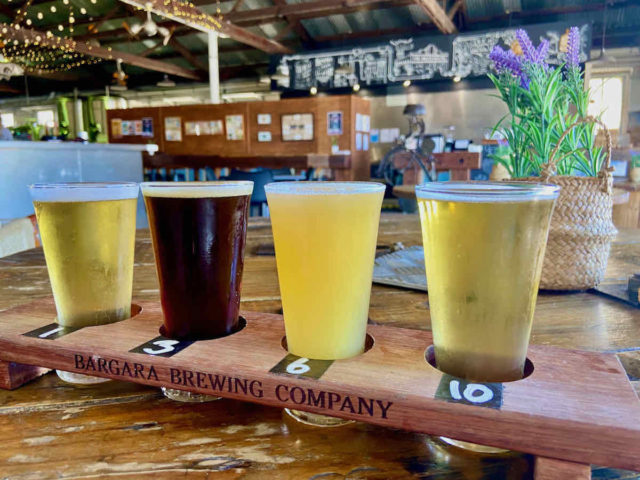 2. Stroll Around the Bundaberg Botanic Gardens
Just like many other cities along the Queensland coast, Bundaberg is home to its own botanic gardens. The gardens are home to multiple museums, including the Hinkler Hall of Aviation, Fairymead House Sugar History Museum and Bundaberg Historical Museum, that dogs are not allowed inside. However, on-leash dogs are allowed throughout the gardens.
The centrepiece of the Bundaberg Botanic Gardens are its lakes, home to a huge number of waterbirds, as well as water dragons, turtles and eels. Follow the paths around the lakes, keeping a firm hold on your dog's leash, perhaps taking the boardwalk section above the water.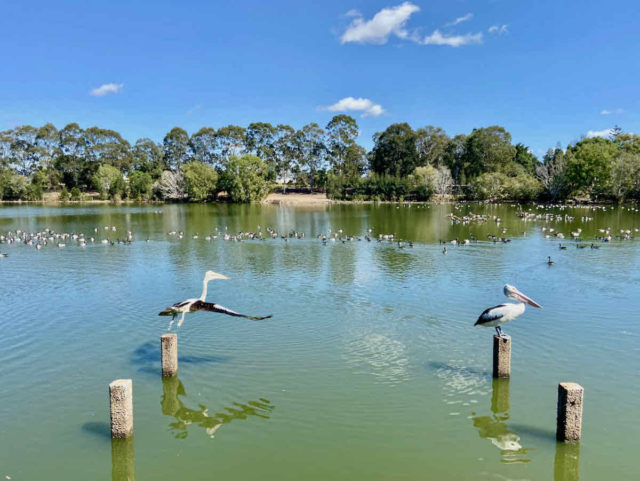 Don't also miss the themed Chinese and Japanese gardens. Both are quite small, but pretty, especially the Chinese garden with its gateway, bridge and teahouse.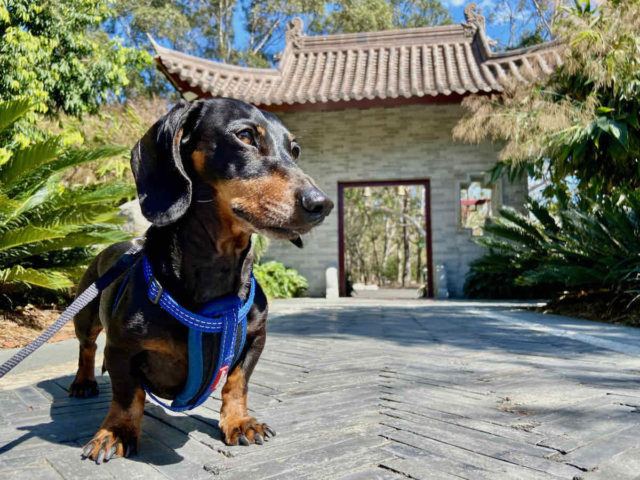 Another highlight of the gardens is the Australian Sugar Cane Railway, which follows a 2km loop around the gardens. The train usually operates on Wednesdays and Sundays, plus extra days during school holidays. (Double check the calendar, including whether the diesel or steam train will be operating.) Tickets cost just $5 cash for adults, $2 for school-aged children, with well-behaved dogs also allowed on board.
3. Explore Baldwin Swamp
For more birdlife watching opportunities in Bundaberg, head to the Baldwin Swamp Environmental Park. This large expanse of wetlands just outside the city centre is criss-crossed with multiple walking trails.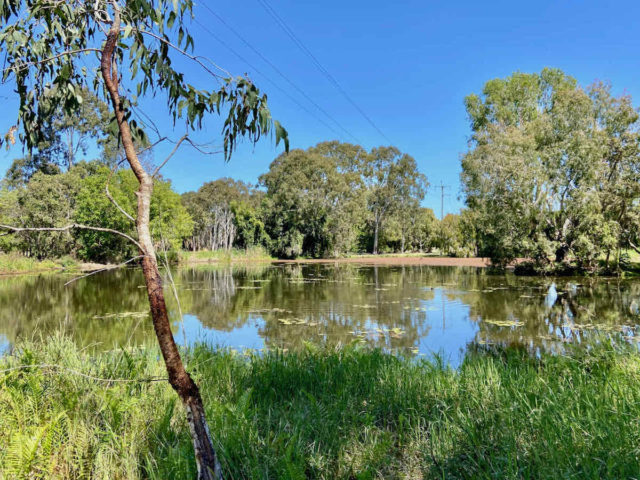 A good place to start is near the large shelter shed, located just past the carpark off Steindl Street. Signs throughout the park will direct you back to the shelter shed, although it's also a good idea to take a photograph of the map board. Not surprisingly, dogs need to stay on a leash. However, it's a peaceful, shady area to walk, especially on weekdays.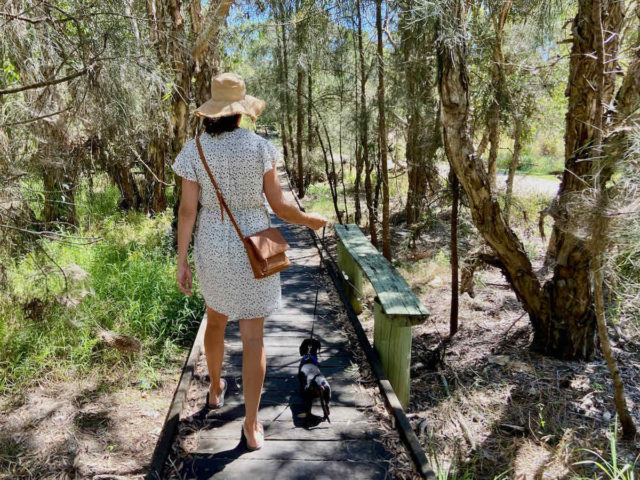 4. Head Up The Hummock
To see the vast patchwork of farmland that surrounds Bundaberg, head to The Hummock Lookout. It's situated on the highest hill around, halfway between Bundaberg and Bargara, the remnant of volcanic activity millions of years ago.
Close to the lookout are some walking trails in the section of remaining Woongarra Scrub, although I can't confirm whether they are dog-friendly.
5. Go Strawberry Picking
During the height of the strawberry season it's a lot of fun to pick your own strawberries, and there's a farm just outside of Bundaberg that allows you to do that, with a dog in tow, after a fashion.
Tinaberries permits dogs to visit, but due to their own protective kelpies, your dog will need to stay in the "dog parking area", a fenced enclosure with shade and water. Considering other strawberry farms I checked in Queensland didn't allow dogs at all, it's a good compromise, if your dog will be happy to be left.
Pick-your-own is generally available during September and October, but check in advance if you want to be certain. Over the winter months their own strawberries are available for sale, just not for picking, and year round they have delicious fresh fruit ice cream available to enjoy in their beautiful garden.
6. Follow the Coral Coast Pathways
Although the beaches closest to Bundaberg aren't available for off-leash fun for your dog, there's no shortage of coastal pathways to follow with your dog. The entire collection of coastal pathways has been dubbed the Coral Coast Pathways, with on-leash dogs generally welcome.
The longest path runs from Burnett Head to the southern side of Bargara, about 10km long, with the central section dubbed the Turtle Trail Path. However, it's part of the Turtle Trail Path, that passes through the Mon Repos Conservation Park and Environmental Park that dogs aren't allowed along. Instead, stick to the northern end to Oaks Beach or the southern section around Bargara.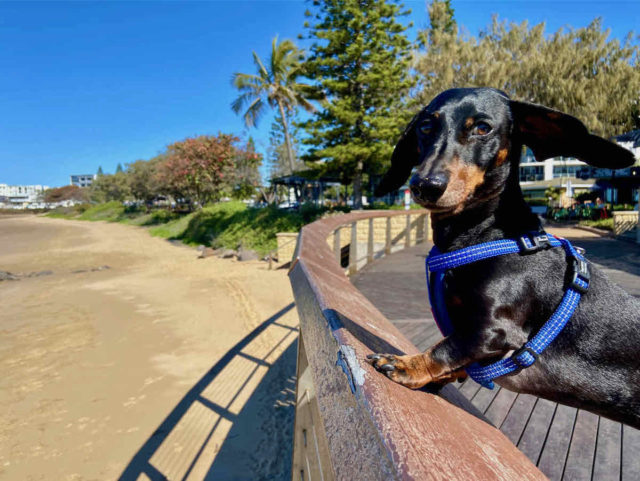 Along the other paths, dogs are allowed on-leash along the entire length. There's paths at Moore Park Beach, between Innes Park and Coral Cove, at Elliot Heads, and at Woodgate Beach. Any option will offer up easy walking with lots of coastal views, plus pass by on-leash dog beaches.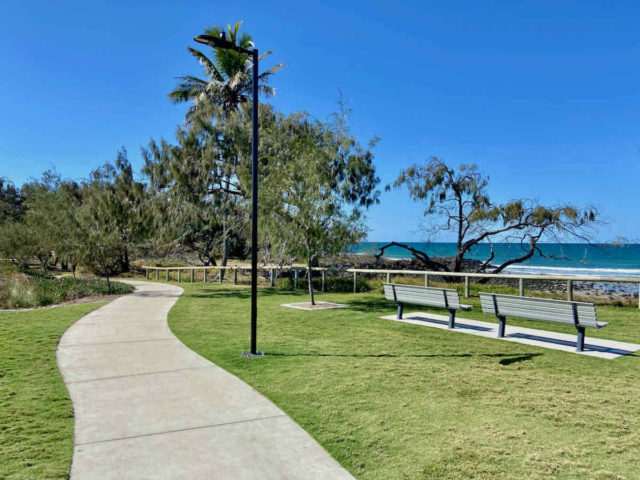 7. Explore Historic Childers
Bundaberg is home to some grand old historic buildings, such as the School of Arts. But for a more concentrated dose of historic Queensland head 40 minutes south to Childers.
The highway passing through Childers is lined with many beautiful, old masonry buildings, many dating back to the 1890s. If you want some brief details on what to look out for, pick up the Historical Childers Street Walk from the information centre at the Palace Building.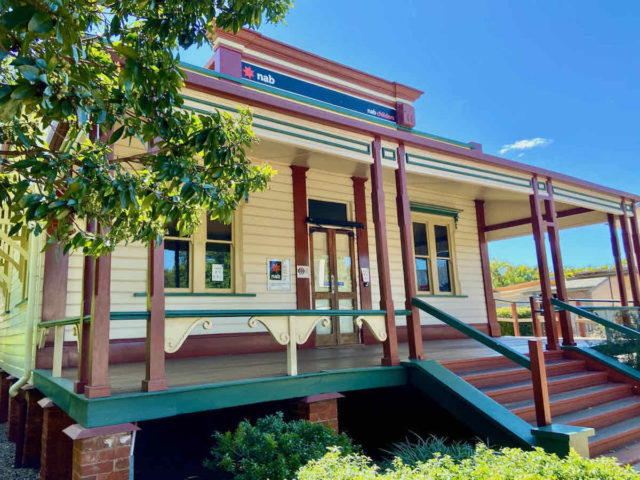 Don't miss stopping outside the Old Pharmacy Museum. Although dogs aren't allowed inside, there's a detailed display of old photographs and information.
A handy dog-friendly place to stop for lunch is the historic Grand Hotel, which was relocated to the site in the 1880s. As well as a convenient dog water bowl out the front, they have a cute sign welcoming pups to join you in the beer garden out the back.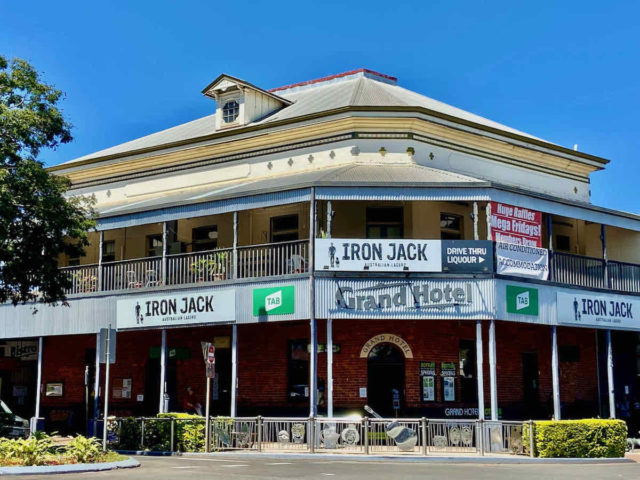 8. Head to Woodgate Beach
For a completely relaxing day or afternoon, head 40 minutes south of Bundaberg to Woodgate Beach. This long beachside village is home to beachfront holiday homes stretching for almost 5km, but only a couple of shops.
Perhaps walk along part or all of the coastal walkway, with dogs on leash permitted along the length, as well as the adjacent beach. Best of all though, Woodgate Beach is home to the only two off-leash sections of beach near Bundaberg.
At the northern end of the town at the most northerly residence (about 350m north of the Woodgate Boat Ramp) and stretches to Theodolite Creek. The beach near Theodolite Creek is difficult to traverse due to trees, but there's a handy small carpark and access path along Theodolite Creek Drive where it bends closest to the beach.
The other section of off-leash beach is at the southern end of town. It starts 50m south of the most southerly pedestrian beach access and extends until 200m north of the Burrum River entrance. Don't expect to see signs marking the start of it.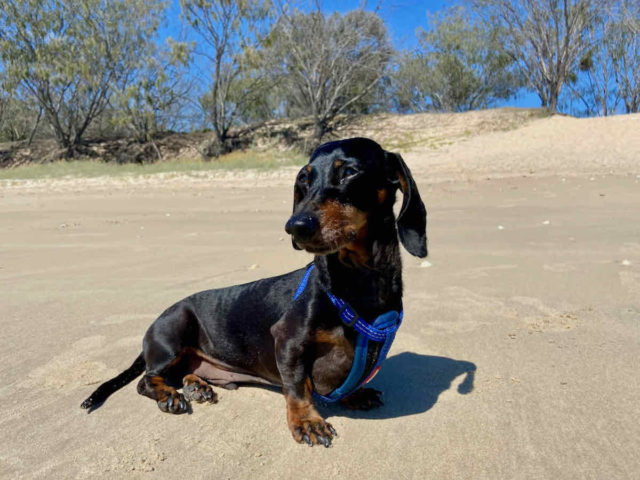 Note that Woodgate Beach is adjacent to the Burrum Coast National Park, where dogs aren't allowed, including on the Banksia Boardwalk.
Dog-Friendly Parks in Bundaberg
To let your dog stretch his or her legs off-leash around Bundaberg and Bargara, head to one of the off-leash dog parks.
In Bundaberg, there's two options: the Edina Street Park in North Bundaberg and Daph Geddes Park in East Bundaberg. In Bargara there's also two options: the Nielson Park Dog Park, at the northern end of Fred Coutice Avenue, and Mary Kinross Dog Park on Woongarra Scenic Drive, at the southern end of Bargara.
Each of the parks is fully fenced, although a common theme seems to be a lack of shade. I checked out the Daph Geddes Park, which had a double-gated entry, agility equipment and a single picnic shelter.
Dog-Friendly Dining in Bundaberg
There's multiple cafes around Bundaberg that welcome pets. One extra dog-friendly option is the Spotted Dog at the Railway Hotel in North Bundaberg. Open throughout the day and into the night, past visitors report their dogs being given water and treats.
Another highly-rated option is Oodies Cafe in North Bundaberg, not far from the Edina Street off-leash dog park. It's open daily for coffee, breakfast and light lunches. Alternatively, head to the outdoor seating at River Cruz Cafe.
If you're close to Bargara, head to The Windmill. It was recommended to me by multiple people as super dog-friendly, but unfortunately we missed out on visiting before it closed for the day. Open daily for all-day breakfast and lunch from 11am, with options ranging from fish'n'chips to acai bowls.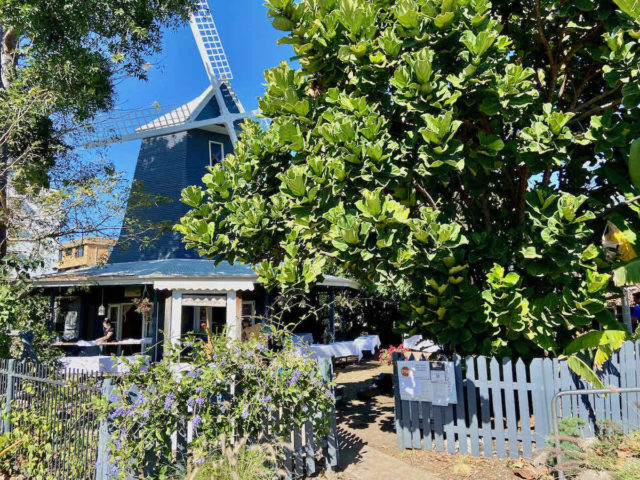 Dog-Friendly Accommodation in Bundaberg
Note: This post contains affiliate links, which means I may receive commission if you make a purchase using the links. See my full disclaimer.
Many visitors to Bundaberg choose to stay along the nearby coastline, such as at Bargara. One particularly dog-friendly park is the BIG4 Breeze Holiday Parks – Bargara. They have a number of dog-friendly options available, including designated pet-friendly one- and two-bedroom cabins. It's also just metres from the off-leash Nielson Park Dog Park.
Other dog-friendly beachside options include the Moore Park Beach Holiday Park, the Absolute Oceanfront Tourist Park in Bargara, plus both parks at Woodgate Beach. NRMA Woodgate Beach Holiday Park even provides a doggy welcome pack at check-in, complete with a dog-friendly map, dog biscuits and the all important poop bags.
Alternatively, if you'd prefer to stay in Bundaberg, the Bundaberg East Cabin and Tourist Park is one of your best options, with pet-friendly sites and cabins.
If a motel is more your style, check out the Chalet Motor Inn. This motel is in walking distance of the centre of Bundaberg, and has great facilities including a swimming pool, BBQ area and self-service laundry. There's both twin and triple pet-friendly rooms, plus the resident Frenchies are very welcoming. Make sure you notify the motel in advance.
Another pet-friendly option is the Moore Park Beach Motel, to the north of Bundaberg. The motel is located just 200m from the beach and has a saltwater swimming pool. Let the property know you intend to bring a pet at the time of booking.
Head Next To