Situated less than four hours north of Brisbane, the small coastal city of Hervey Bay is best known to tourists as the jumping off point for tours to Fraser Island and whale watching cruises. With neither of these options welcoming dogs, what dog-friendly things are there to do when visiting Hervey Bay in Queensland with your dog?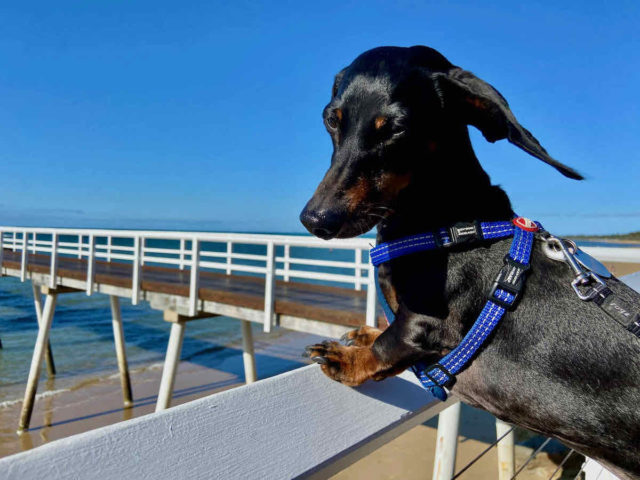 Dog-Friendly Beaches in Hervey Bay
There's kilometres of beautiful, protected coastline in Hervey Bay, particularly between Point Vernon and Urangan Boat Harbour. Fortunately, part of is dog-friendly, a great option for fun days with your pup.
By default, on-leash dogs are allowed on Hervey Bay beaches, except for areas where dogs are prohibited. There are also a decent number of off-leash beaches in Hervey Bay. Some beaches are off-leash all day long, while others only off-leash at designated times.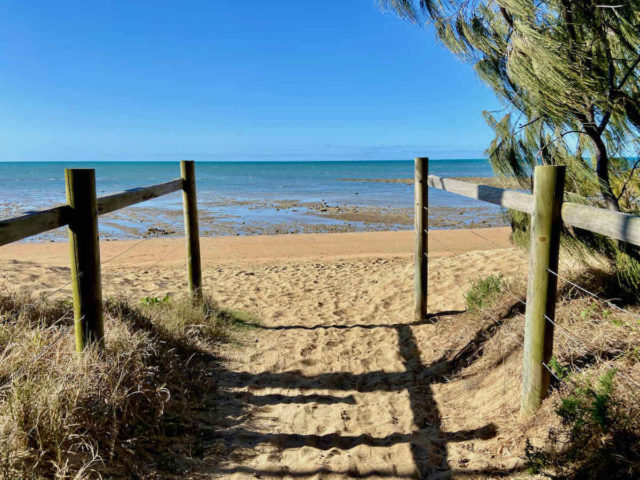 Two of the most popular 24-hour off-leash beaches in Hervey Bay are at the Point Vernon Foreshore and Urangan Foreshore.
There's actually three 24-hour off-leash sections along the Point Vernon Foreshore. The largest extends from the end of Spence Street to Ansons Road in Dundowran, a long stretch of mangroves, sand and mud flats.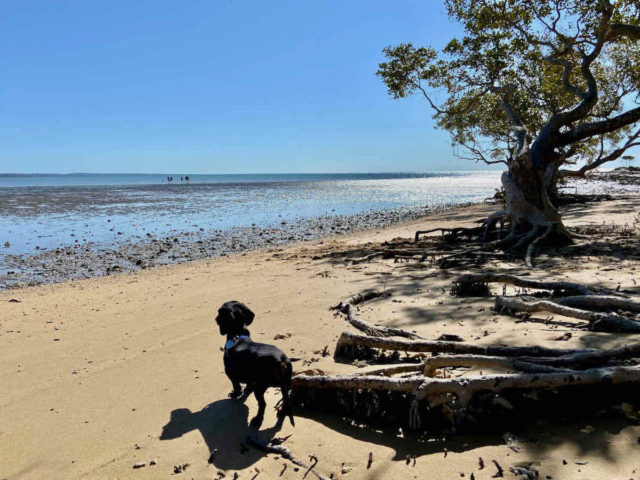 The next off-leash foreshore section starts 300m west of the Gatakers Boat Ramp at beach marker PTV20 and goes to 100m west of the playground at ESA Park. There's also a section in between Aplin Street and the Pines Park.
The 24-hour off-leash beach at the Urangan Foreshore is located in between the Margaret Street and Churchill Street groynes. Further along the shore, the beach between the Urangan Pier and the Aquarium is off-leash from 3pm to 8am, along with the foreshore from the rock wall south of the harbour to Pulgul Creek.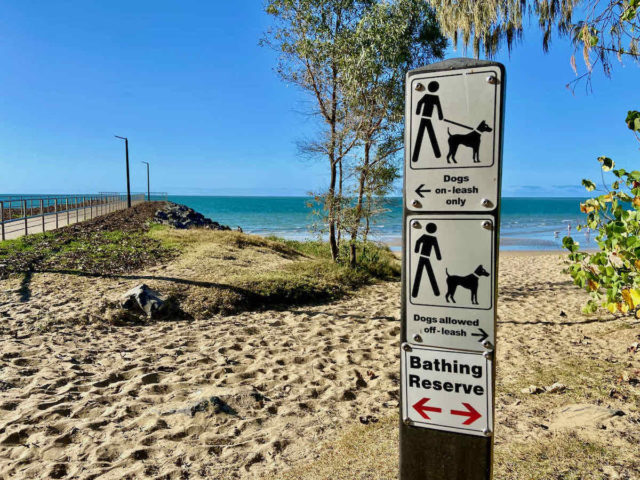 There's also 24-hour off-leash beaches at Burrum Heads and Toogoom, as well as time-limited off-leash beaches at Burrum Heads, Toogoom, Dundowran Beach and Pialba. For a full listing, see this great map.
Dog-Friendly Sightseeing in Hervey Bay
Other than beaches, there's not that many dog-friendly sightseeing options available to visitors with dogs in Hervey Bay. Note that dogs are not allowed anywhere on Fraser Island. I've dug up these few options instead…
1. Follow the Esplanade Trail
The Esplanade follows the main stretch of beaches in Hervey Bay. And lying in between the roadway and the beaches is the Hervey Bay Esplanade Trail, a nearly 16km footpath and cycleway between Gatakers Bay and Urangan Harbour.
Park up and follow a section of the path with your dog at your side, perhaps close to one of the off-leash or on-leash sections of beach. Just remember to keep your dog on-leash on the path, and keep an eye out for the many cyclists. I believe dogs are permitted along the full length.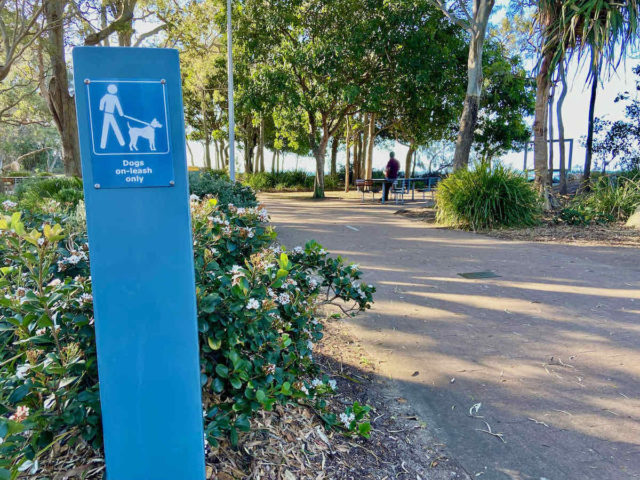 Note that dogs aren't allowed to accompany you out on the 868m long Urangan Pier, nor the shorter Torquay Jetty.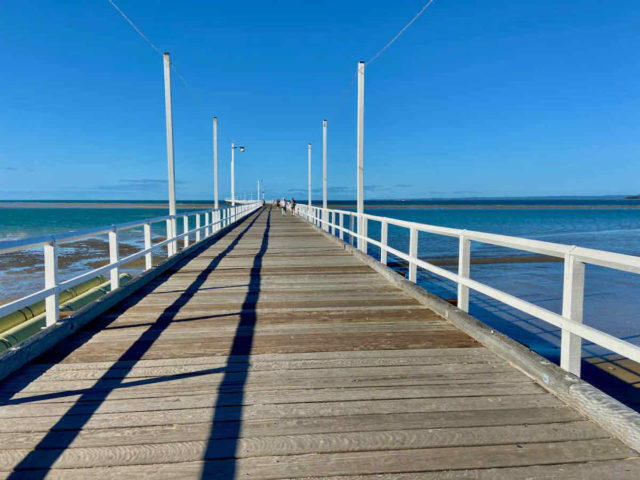 2. Walk at Arkarra Lagoons
If you're wanting a change for coastal views, head to Arkarra Lagoons for a walk with a different type of water view.
This small remnant of wetlands has been luckily preserved in Dundowran Beach, just a short drive west of the centre of Hervey Bay. There's two trails to choose from: the 600m Wetlands Circuit and the slightly longer 840m Lagoon Circuit. There's no signs restricting access by dogs, but of course keep your pup on a leash.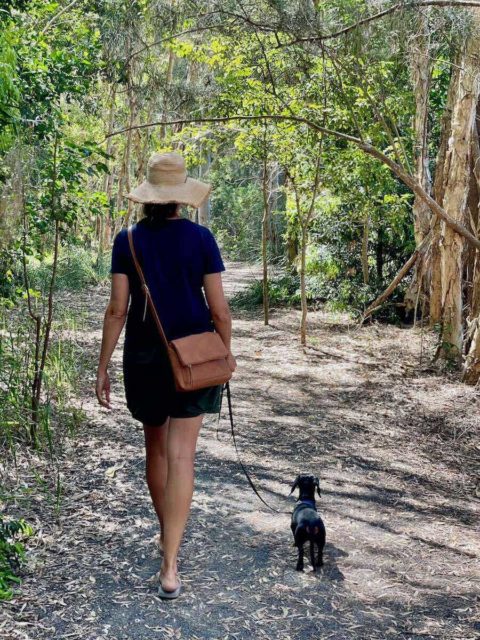 Don't miss stopping at the pavilion at the edge of the lagoon, and looking for the many turtles in the water below. You'll also likely spot eels, fish and a wide variety of birdlife. Afterwards, considering enjoying a coffee at the adjacent Arkarra Gardens Cafe Restaurant.
3. Discover Historic Maryborough
For a change of pace, drive 25 minutes south of Hervey Bay to the historic city of Maryborough. The boom times have left Maryborough behind, and with it a collection of lovely colonial buildings. Pick up a self-guided walking trail brochure from the visitor information centre.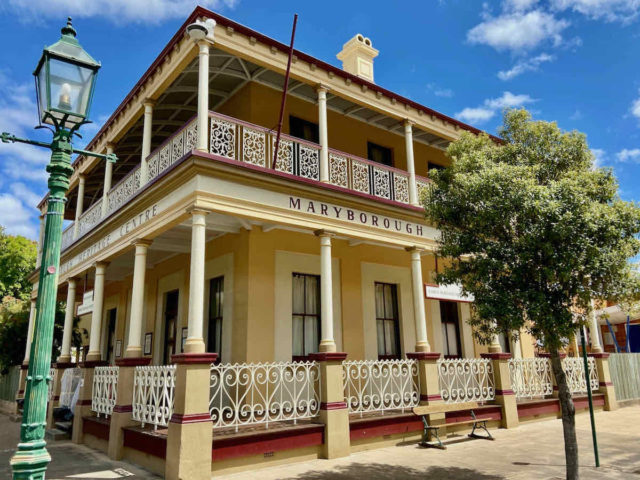 Unfortunately, dogs aren't allowed in the heritage-listed Queens Park, which includes the fantastic Gallipoli to Armistice Memorial. Dogs are also not allowed inside The Story Bank Museum, the birthplace of P.L. Travers, the author of Mary Poppins, there's still plenty of fun Mary Poppins sights that you can explore with your dog.
Stop and take a photo with the statue of Mary Poppins outside The Story Bank, and don't forget to look up at the Poppins-themed pedestrian light signals. There's also murals, bronze pavers and story columns to see along "Cherry Tree Lane", as well as signs to read.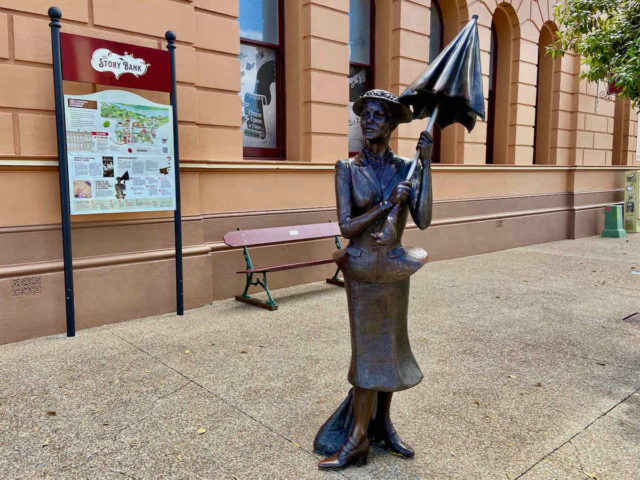 Another fun attraction is the Mary Whistler Steam Trail. Offering 15 minute rides for $5, this train is also pet-friendly. Note however that it only runs on Thursday mornings and the last Sunday of the month.
Dog-Friendly Parks in Hervey Bay
There's a large number of off-leash exercise areas for dogs in the Hervey Bay region, including five fenced dog parks and nine off-leash parks.
Two of the most central dog parks are the Augustus Estate Dog Park, not far from the Hervey Bay Visitor Information Centre, and the Urraween Dog Park, on Julie Ann Street. We visited the former. The one large fenced area contains agility equipment, a picnic shelter, water fountain and bin, although it's lacking in other shade.
There's also a fenced dog park in Urangan, just off Vista Street. For a full list of the off-leash parks around Hervey Bay, check out this listing on the council website, along with this handy map.
Dog-Friendly Dining in Hervey Bay
One of the best pet-friendly cafes in Hervey Bay is Enzo's on the Beach, located right next to the sand in Scarness (although sadly a stretch where dogs are not permitted). It was certainly popular with dog visitors of all sizes on the Sunday morning that we visited!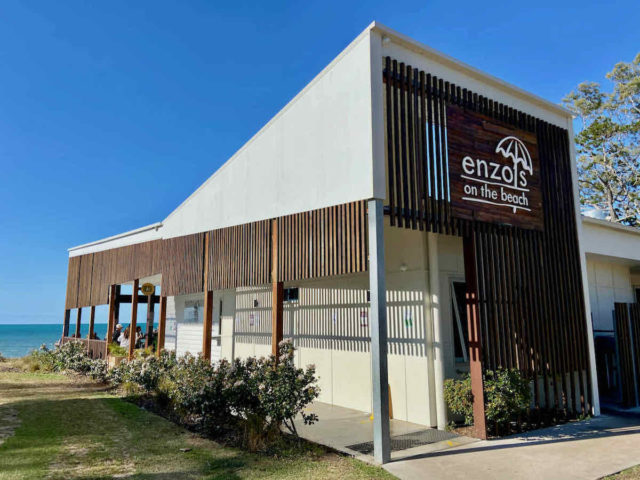 Open from 6:30am daily, their brunch menu is offered right through to 2:30pm, with additional options added from late morning. After 2:30pm the more substantial dishes from the menu remain, including seafood platters for one or two. The restaurant is fully licensed, with sunset cocktails a popular option, and is open late over the weekend. Bookings are recommended.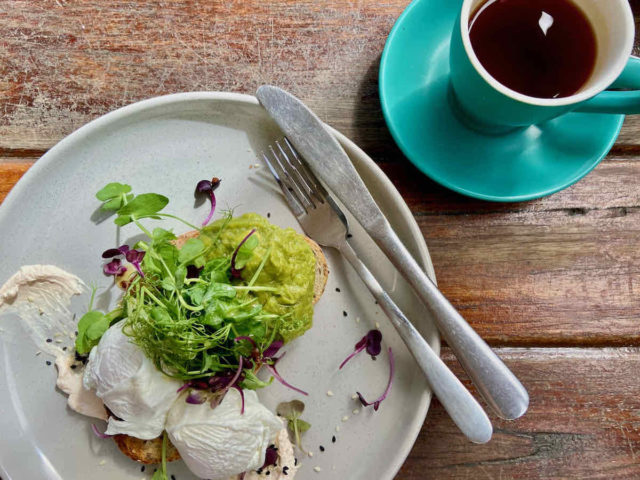 Another popular dog-friendly spot is Cafe Balaena, located at the Hervey Bay Marina. The cafe is open for breakfast, lunch and dinner daily, except for Sundays when it closes at 3pm and Wednesdays when it is closed.
Dog-Friendly Accommodation in Hervey Bay
Note: This post contains affiliate links, which means I may receive commission if you make a purchase using the links. See my full disclaimer.
Hervey Bay is home to a huge number of caravan parks, most of which are dog-friendly. They're quite popular year round, so it's best to book in advance, double-checking that dogs are allowed.
We stayed just south of town at the Fraser Coast RV Park. Surrounded by beautiful bushland, most of their sites are dog-friendly, plus Bertha the Aussie Van. We stayed at the Dogs Corner area, which was conveniently close to the excellent camp kitchen and charming amenities blocked, topped with a water tank!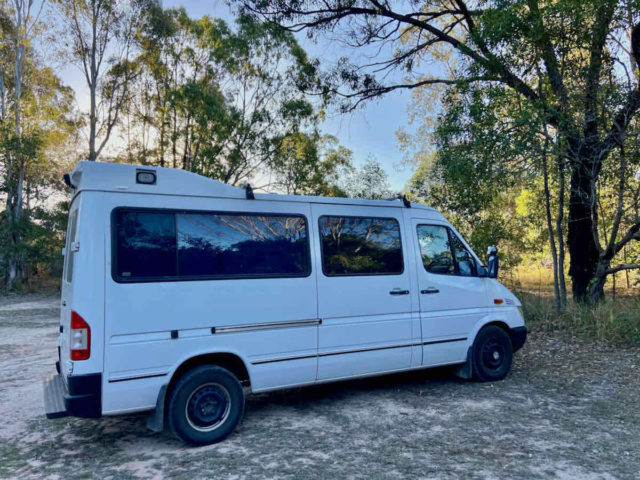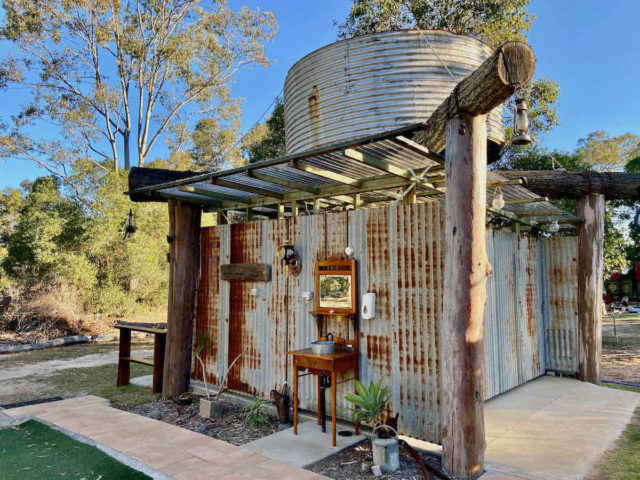 The park owners offer pet-minding for $50 per day, perfect for if you're heading over to Fraser Island for the day from the nearby ferry terminal. Just enquire in advance, as it does get booked out. Also be warned that you'll likely encounter midges in the area. The best defence is covering up, although sprays may also help.
If you're after a fancier option for a pet-friendly stay in Hervey Bay, one of the best options is The Grange Resort. Just 200m from the beach, this 4-star resort offers an outdoor lagoon pool with swim-up bar. Some of its three-bedroom townhouses are pet-friendly, double check their availability when booking. Up to two pets are permitted, generally only up to 20kg, with a pet fee depending on the duration of your stay.
Alternatively, check out the Shelley Beach Motel, a more laidback option directly across from the beach. They have two pet-friendly room available for a small additional charge. Enquire directly at either property for full details and to make a booking.
Head Next To