The centre of the Capricorn Coast, Yeppoon is a terrific dog-friendly beach destination to visit with your dog. Situated a 30 minute drive away from Rockhampton and less than 8 hours north of Brisbane, find out about what's on offer when visiting Yeppoon in Queensland with a dog.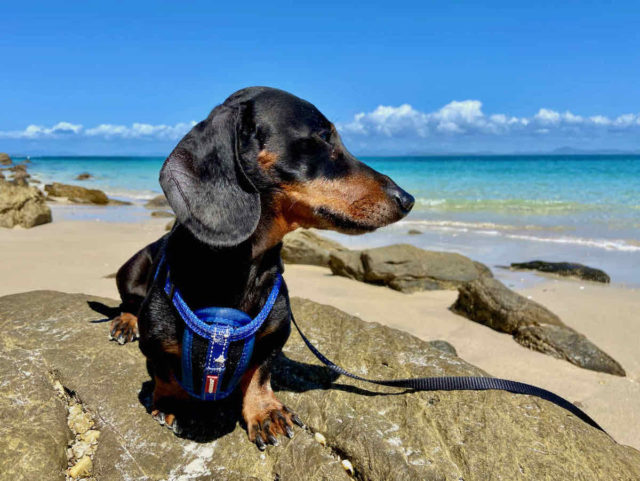 Dog-Friendly Beaches in Yeppoon
One of the key attractions of Yeppoon and the Capricorn Coast are the many beautiful beaches, spread out between Yeppoon and Emu Park to the south.
Luckily, the default rule for beaches in the local Livingstone Shire is for dogs to be allowed on-leash on all beaches, plus off-leash before 8am and after 4pm, unless otherwise signposted. So nearly all beaches in the area are dog-friendly!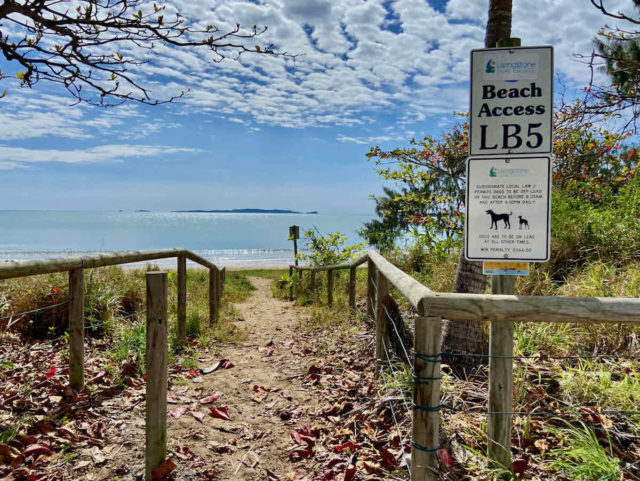 In my explorations, I didn't come across any beaches where dogs are not permitted, although the beaches in the Byfield National Park to the north are of course off-limits.
At the time of my visit in 2021, the local tourism website mentioned dogs were not allowed on Yeppoon Main Beach, Emu Park Beach and Cooee Bay Beach. However, I can confirm that Cooee Bay Beach had the standard signs stating dogs allowed off-leash before 8am and after 4pm, while neither Yeppoon Main Beach or Emu Park Beach had any signs prohibiting dogs. With the latter two, dogs are probably allowed on-leash, but stay clear of patrolled areas.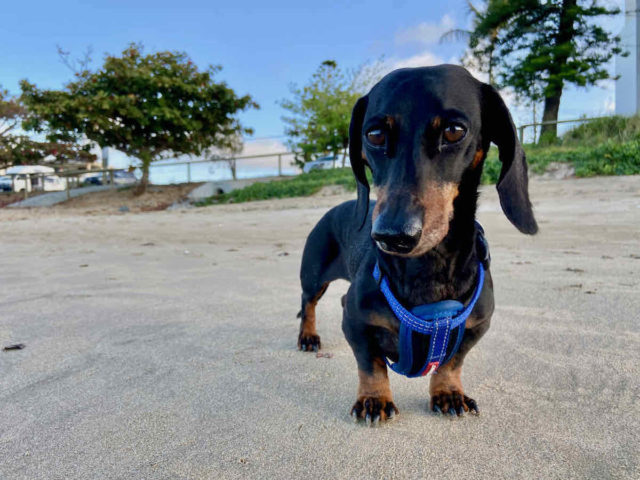 There are two beaches with different rules: Farnborough Beach at Bangalee and Fishermans' Beach at Emu Park. At both beaches, dogs are allowed off-leash all day long, but not on weekends or public holidays, when they need to stay on-leash.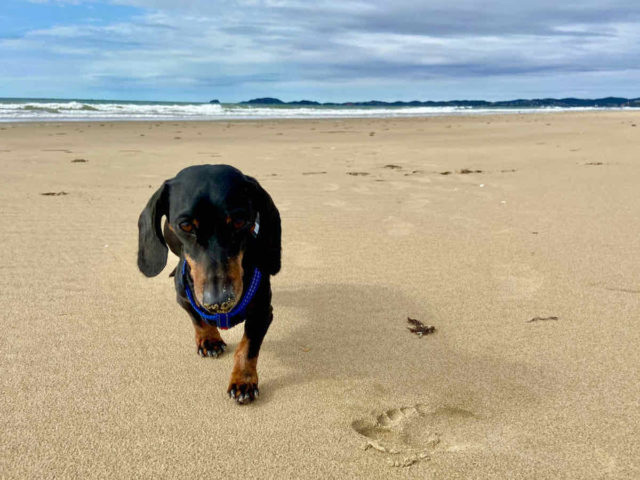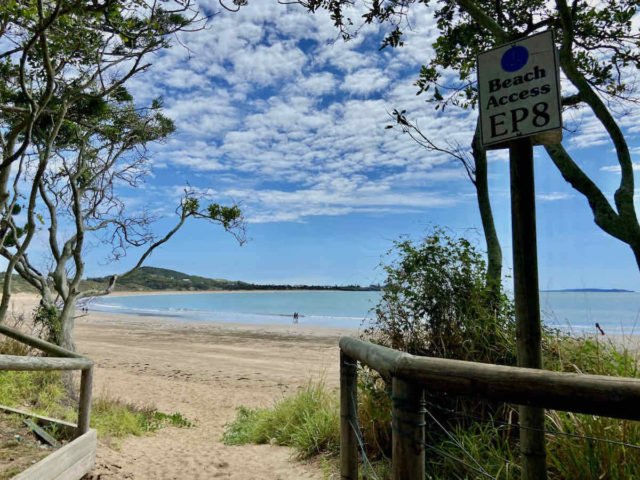 The off-leash section at Farnborough Beach is between Bangalee Boat Ramp and Barwells Creek, with the easiest access at Hinz Avenue, adjacent to the 4WD access. At Fisherman's Beach, the off-leash section starts 150m north of the boat ramp, with on-leash access allowed beforehand that point.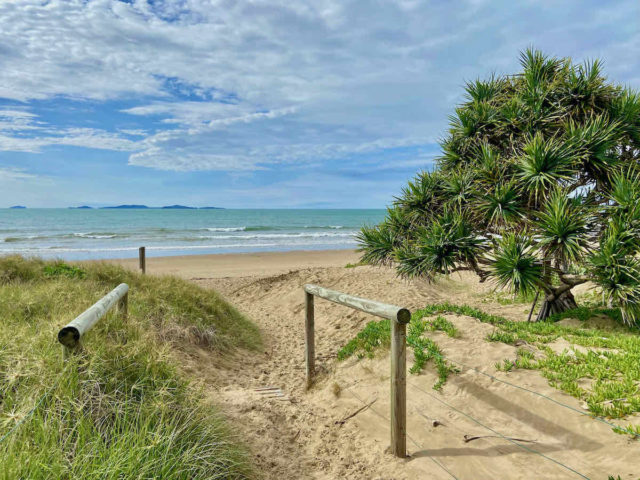 While crocodiles are rarely an issue this far south, marine stingers may be a risk during the summer months, and keep alert during turtle nesting season from October to March. If turtles are around, keep your distance and dogs on a leash, or completely off the beach.
Dog-Friendly Sightseeing Around Yeppoon
As well as hitting up the local beaches, consider these dog-friendly sightseeing ideas for your holiday in Yeppoon…
1. Take a Day Trip to Great Keppel Island
One of the highlights of visiting Yeppoon is heading across to Great Keppel Island. With its spectacular beaches, swimming and snorkelling, it's a great day out for the whole family, and luckily dogs are welcome to join you.
There's two ferry options for travelling to Great Keppel Island, both that are dog-friendly. We travelled with Keppel Konnections, who allow dogs on board for free. There was no requirement for our dog to wear a muzzle, unlike on the ferry to Magnetic Island.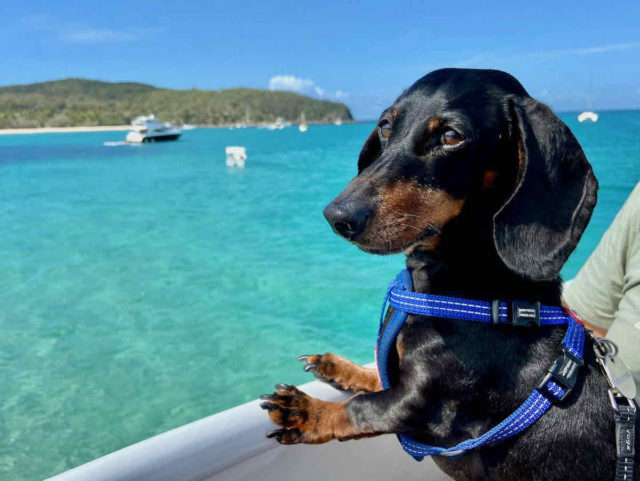 There's also the larger Freedom Fast Cats, who charge $5 for small dogs and $10 for large dogs. Both ferries take 30 minutes and operate similar schedules.
Once you arrive on Great Keppel Island, you'll notice there's no signs at the beaches about whether dogs are or aren't permitted. However, the island is part of the Livingstone Shire, the same as Yeppoon, so presumably the same default of dogs being allowed on leash on beaches, plus off-leash before 8am and after 4pm, applies here. There's no mention of Great Keppel Island on their website.
The ferry will drop you right onto the sand of Fishermans Beach, the hub of the island. I recommend strolling along to the southern end of the beach, where a short track starts to the nearby beaches, including Shelving Beach.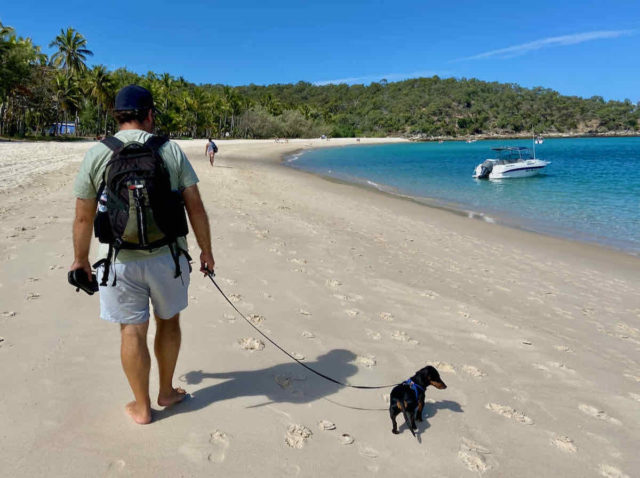 Shelving Beach is one of the most popular snorkelling beaches on the island and certainly the easiest to visit, if you don't have your own boat. It's a 5-10 minute walk away, although the last part of the track is quite rough, especially if you're wearing thongs, like we were! There's sections of reef on either side of the beach. We preferred the area on the left, which became easier to reach as the tide went out.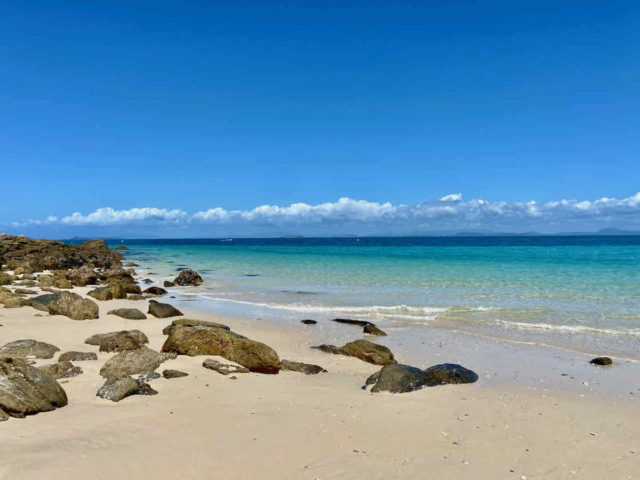 If you've brought your own picnic lunch, I recommend making a circuit of Shelving Beach, Monkey Beach and Long Beach. Monkey Beach reputedly has even better snorkelling, but we ran out of time to visit. We did however make it to Long Beach, a beautiful, long and calm swimming beach. We almost had the beach to ourselves (and may have let our dog off leash). The eastern end is actually a nudist beach, although was empty when we visited.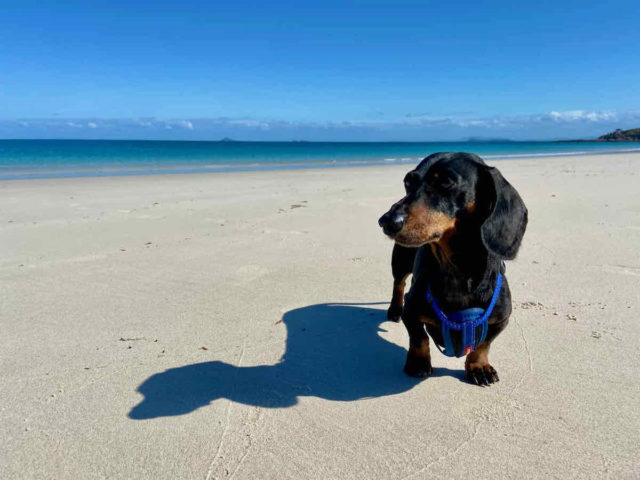 Note that the walking tracks around Great Keppel Island aren't that well maintained, due to the main former resort on the island lying closed for many years. It's probably best to stick to the tracks starting at the end of Fishermans Beach, or ask the local staff for directions.
If catching the Keppel Konnection ferry to the island, it's possible to add on lunch and a drink at the Great Keppel Island Hideaway. It's great value and our burgers and chips were tasty. However, walking to the bistro at the northern end of Fishermans Beach is time-consuming if you want to maximise your time exploring the island.
The bistro at Great Keppel Island Hideaway is mainly outdoors and dog-friendly, with plenty of water bowls. Although I noticed a no dogs past this point sign when leaving – I'm not sure what area that referred to.
Unfortunately, the majority of accommodation on Great Keppel Island doesn't permit dogs, so it's generally best to visit on a day trip only. If you are set on staying a night or two, investigate whether any holiday homes currently permit dogs.
2. Stroll Along the Yeppoon Foreshore
If you want to enjoy the beautiful coastline of the region without getting your feet sandy, a popular walk for both humans and dogs is along the Yeppoon Foreshore. Take your time, with plenty of picnic benches and sun lounges along the way, not to mention the many cafes opposite the beach, that are usually dog-friendly.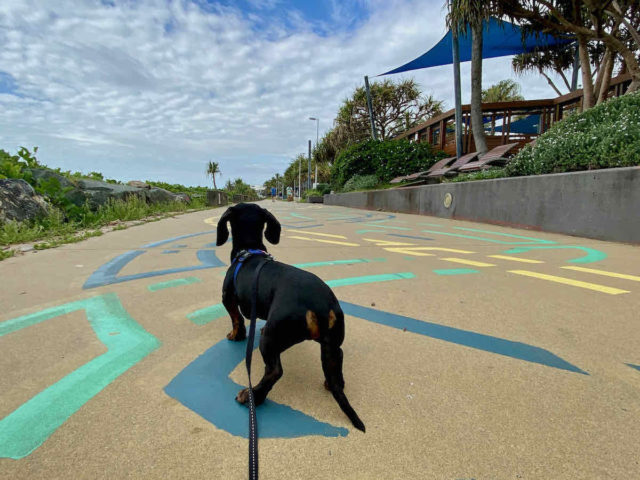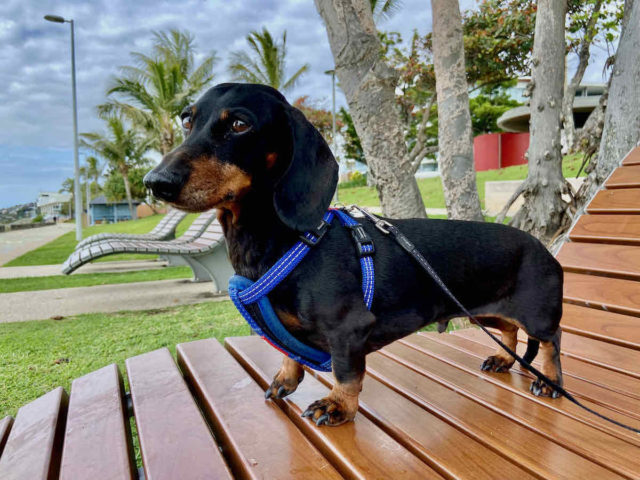 Dogs are required to stay on leash, plus there's copious reminders to pick up after your dog, with plenty of bins and poo bags available. Note that dogs are not allowed at Yeppoon Lagoon (but are fine to walk behind it) and the Keppel Kraken waterplay area.
Unfortunately, many of the other coastal walks in the region, such as the Bluff Point Scenic Walk and the track to Fan Rock Lookout are within the small sections of the Capricorn Coast National Park.
3. Visit the Anzac Memorial Walk and Singing Ship in Emu Park
Emu Park is just a 15 minute drive south of Yeppoon. As well as the largely off-leash Fisherman's Beach, it's also home to two historical sites. Up on the hill above the jetty is the Singing Ship sculpture, a memorial to Captain Cook erected in 1970. Listen for the sound of it singing when the wind blows.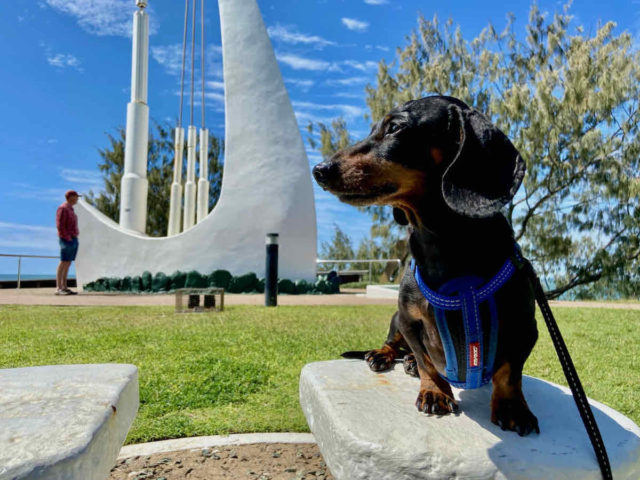 Adjacent to the Singing Ship is the more recent Anzac Memorial Walk. This memorial and short section of boardwalk was erected to coincide with the centenary of WWI and is a poignant spot to visit. Underneath a large shelter are information panels about key battles, plus the involvement of local Queenslanders.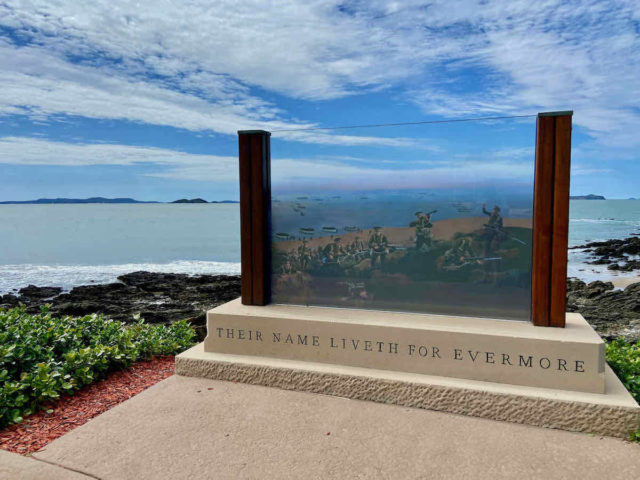 Dogs on a leash are welcome along the boardwalk and in the surrounding park, although treat the site with the respect that it deserves.
4. Explore Rockhampton's Historic Side
If you're interested in history, it's also worthwhile heading inland to Rockhampton. One of the earliest cities in central Queensland, the city is home to an impressive collection of historic buildings.
Some of the key buildings to check out are Customs House, the Criterion Hotel, the Rockhampton Post Office and the multiple Court buildings. Most of the heritage buildings are located along the riverfront Quay Street, while the Post Office and Court buildings are a block behind on East Street.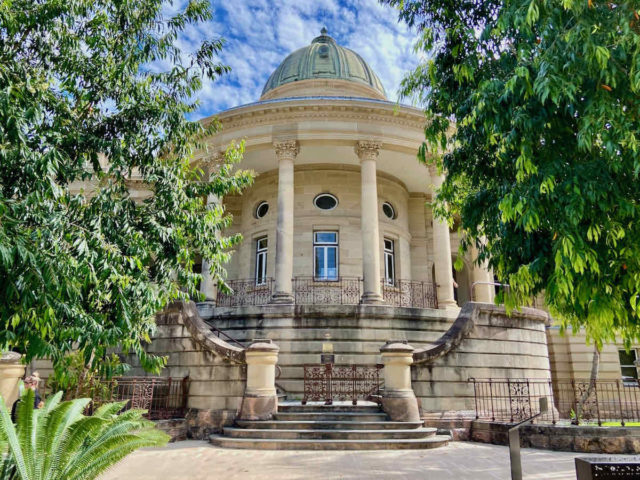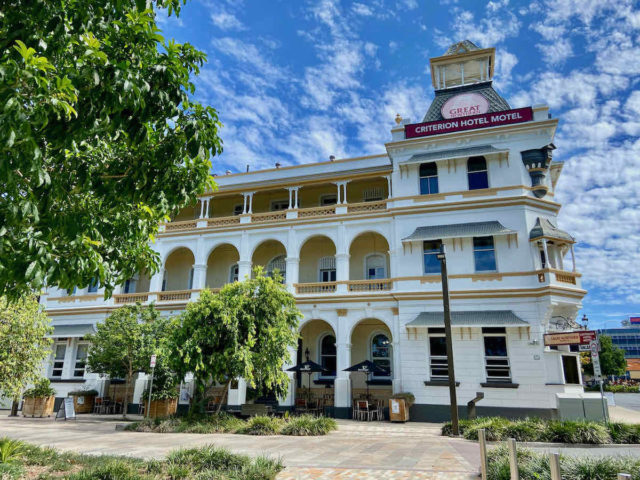 The Riverbank Precinct alongside Quay Street has recently been revitalised and it's a lovely spot for a stroll along the Fitzroy River, with plenty of shady trees. Just keep your dog on a leash.
5. Visit Kershaw Gardens
Unfortunately, dogs are not allowed in the main Botanic Gardens in Rockhampton, plus not surprisingly the adjacent free zoo. However, head to Kershaw Gardens in North Rockhampton where dogs are welcome.
The highlight of the gardens is the Waterfall area, with multiple man-made waterfalls beautifully cascading into a pool below, surrounded by lush palms. The Waterfall area is closest to the High Street Car Park.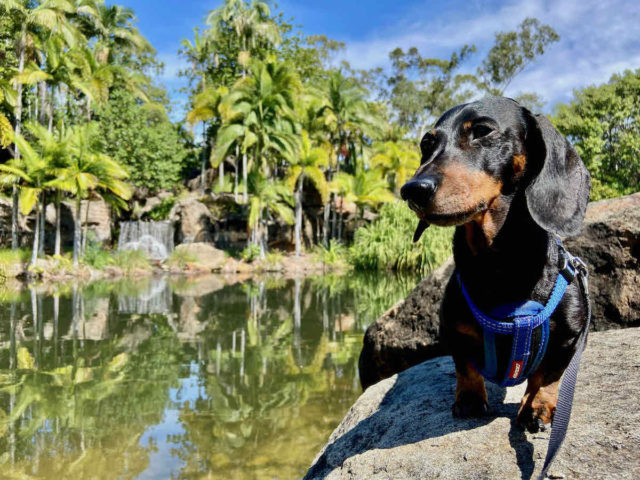 Unfortunately, some other parts of the garden such as the Wetlands area are still in need of revitalisation, after the gardens were majorly damaged by a cyclone.
Dogs are allowed on-leash in Kershaw Gardens. There's a dog off-leash area close to the Dowling Street Car Park, which we didn't have a chance to check out, plus a small fenced off-leash park with agility equipment at the Charles Street Car Park.
Dog-Friendly Parks in Yeppoon
In the Yeppoon area there's one off-leash dog park, Olive Dorey Park on Clayton Road in Lammermoor. It has three separate fenced areas, with one containing agility equipment. The other two areas have plenty of shade and seating.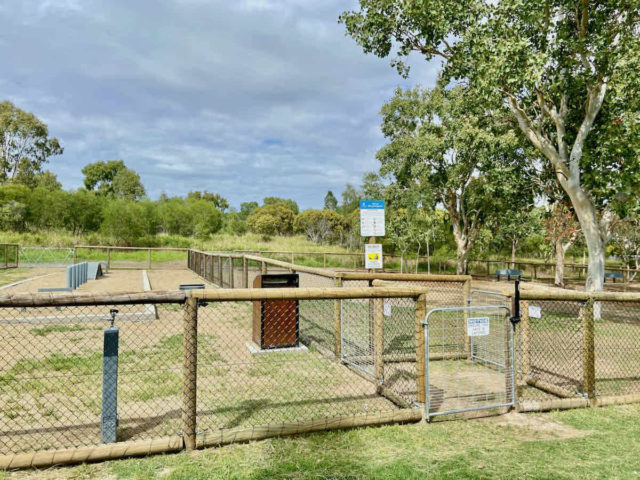 If you're visiting Rockhampton, there's a variety of off-leash dog parks scattered around the city, some of which are also fenced.
Dog-Friendly Dining in Yeppoon
There's plenty of cafes with outdoor dining lining the streets of Yeppoon, most that are happy for your dog to join you.
Along the waterfront drop into Lure Living, open daily for coffee and brunch. There's a variety of outdoor seating. Staff members love to welcome pets, but ask that you keep them outside and off the lounges – ask instead for a pet bed.
Alternatively, head around the corner to The Alley. A new incarnation of old favourite Pie Alley Blues, these days it is open daily for breakfast and lunch, plus until late on Fridays and Saturdays, sometimes with a side serve of live music. There's a street art decorated alleyway section where your pup is welcome to join you.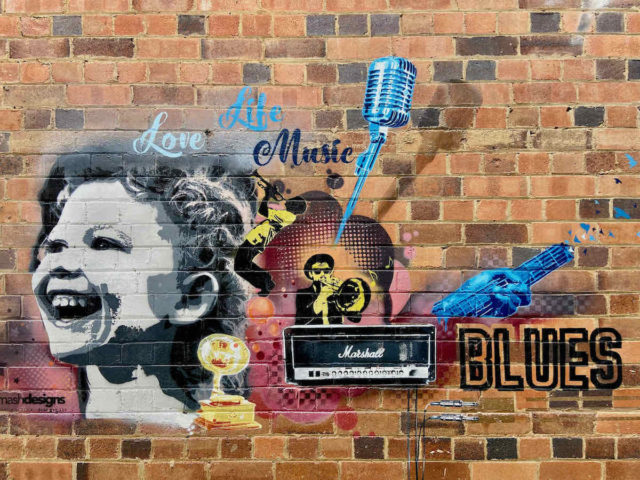 Other pet-friendly cafes in Yeppoon include Vue Wine Bar & Restaurant, Poppies Beachside and The Bungalow.
For something a bit special, head to the award-winning The Waterline Restaurant, located at the Keppel Bay Marina, not far from ferries departing for the island. As a large sign proclaims, they also offer pet-friendly dining, with a section of outdoor tables reserved for owners dining with their pets.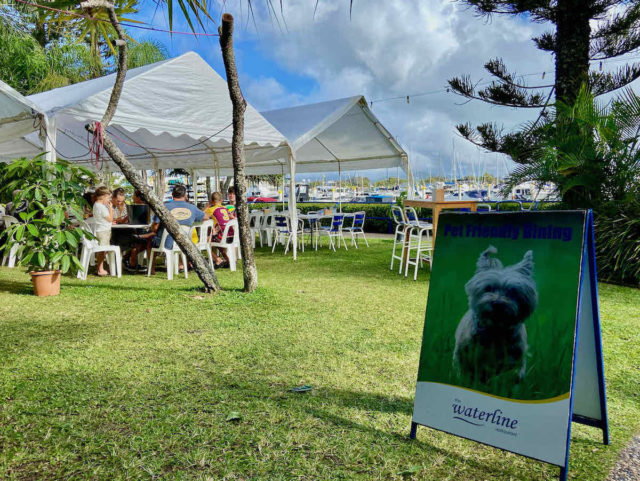 Dog-Friendly Accommodation in Yeppoon
Note: This post contains affiliate links, which means I may receive commission if you make a purchase using the links. See my full disclaimer.
As at the time of writing, seven out of the nine caravan parks along the coastline between Yeppoon and Emu Park are pet-friendly, although always check for any rules and restrictions during peak season.
We stayed at the Poinciana Tourist Park, just south of Yeppoon. A great small park, it's only a short walk to Cooee Bay Beach, which is off-leash before 8am and after 4pm – a terrific spot to walk your dog! Pets are only allowed on caravan and camping sites only, unfortunately not in the new glamping tents. However, the other amenities are also in the process of being updated.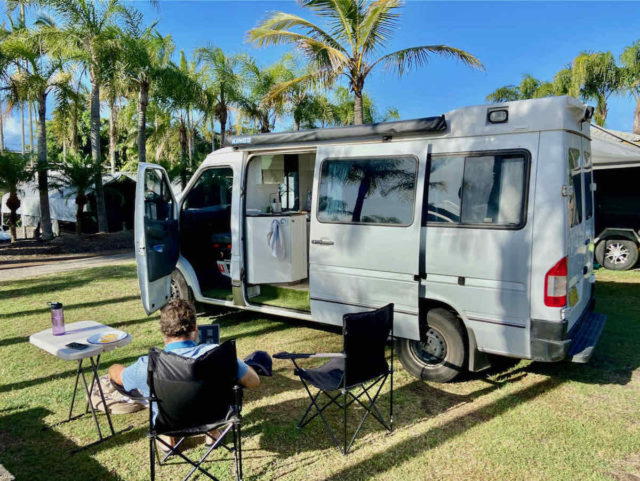 Another popular dog-friendly caravan park in the area is Fishermans Beach Holiday Park at Emu Park. It offers pet-friendly cabins, with dogs permitted inside but not on furniture. Bring your own dog bed or ask for bedding to be provided, with up to one dog permitted per cabin.
Also in Emu Park, the Emu Park Motel is pet-friendly, subject to prior approval and availability. There's an additional charge of $10 per night for pets.
Head Next To