One of the most renown wine growing regions in South Australia, the Barossa Valley is also only an hour's drive from Adelaide, making it perfect for an easy weekend getaway or even a day trip. If you're planning on visiting the Barossa Valley with your dog, find out about the many dog-friendly options available, from dog-friendly wineries to where to dine and stay.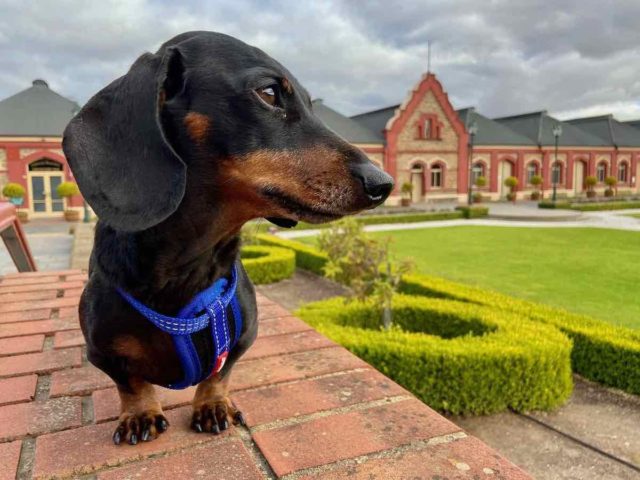 Dog-Friendly Wineries in the Barossa Valley
A visit to the Barossa Valley wouldn't be complete without a visit to at least one winery. For the latest listing of dog-friendly wineries in the valley, see the pamphlet put together by the local tourist organisation.
As noted on the pamphlet, some of these wineries have their own dogs, so it's best if your dog is sociable. Alternatively, check in advance when you make a booking, including what parts of the winery that you dog is allowed in.
One of the most dog-friendly wineries in the Barossa Valley is Levrier Wines. Your pup is likely to meet their resident wine dogs, Daphne and Georgie (so all visiting dogs need to be vaccinated). This winery has its own off-leash dog park complete with toys outside the cellar door, perfect for keeping your pup occupied while you make your way through their wines, or they can join you inside.
Some other pet-friendly cellar doors in the Barossa Valley include Langmeil Winery, St Hallett and the grounds of historic Chateau Yaldara. These three cellar doors are each open seven days a week, but advance bookings are preferred – let them also know you also plan to bring a dog.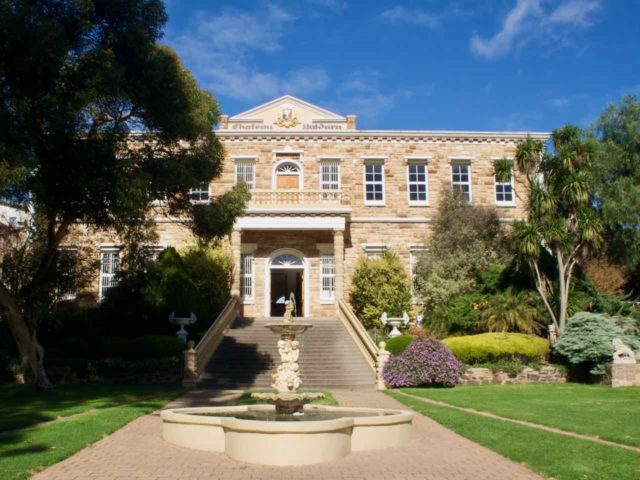 Dog-Friendly Sightseeing in the Barossa Valley
Wine tasting isn't all that there is to do in the Barossa Valley. There's also plenty more things to see and do, along with your pup. Consider these dog-friendly sightseeing options…
1. Head to the Barossa Sculpture Park
Overlooking the town of Tanunda to the east is the Mengler Hill Lookout. As well a great spot for views, adjacent to the lookout is the Barossa Sculpture Park. A wide range of imposing stone sculptures are scattered around the hillside, linked by paths. Leashed pups are welcome to join you for a walk.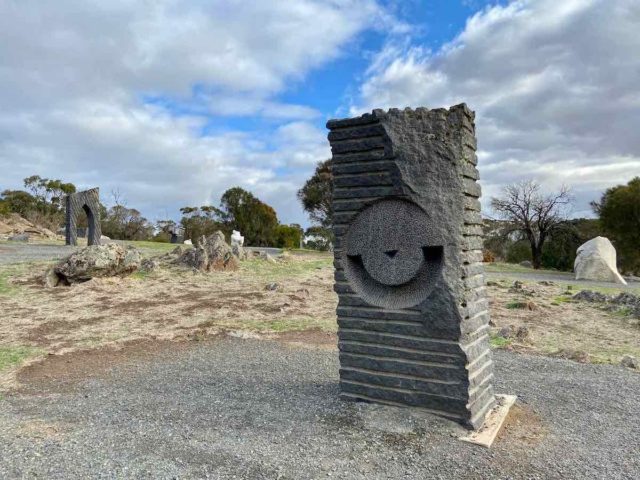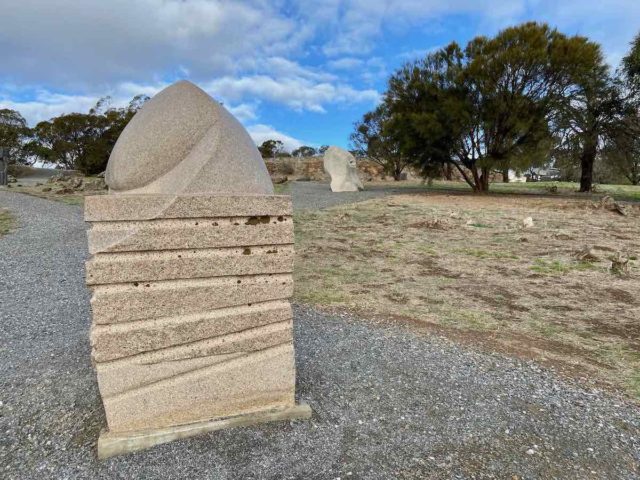 2. Stroll Through the Barossa Bushgardens
Dogs on a leash are also welcome at the Barossa Bushgardens in Nurioopta. Showcasing many of the native species found in the region, take a stroll on one of the nature walks through the different gardens or explore the 13-metre Labyrinth. There's a water fountain for dogs next to the Old Gum Tree.
3. Visit a Lavender Farm
Just outside of Lyndoch is the Lyndoch Lavender Farm. Ideally visited during the summer months when the lavender is in full bloom, leashed dogs are welcome. You might also meet the resident farm dog, Daisy.
As the lavender fields at this farm are rather small, it's best to visit on the weekend when the cafe is also open, in addition to the farm and shop. Enjoy a serving of lavender scones, lavender ice-cream or the other locally produced delights at one of the outdoor tables.
4. Go Bike Riding in the Barossa
It's possible to ride your bike right through the Barossa Valley on the 40km-long Barossa Trail. The 27km section from Gawler to Tanunda is mainly a dedicated shared-use trail, shared with pedestrians, while the 13km stretch from Tanunda to Angaston is a bitumen rail trail.
Dogs are allowed to join you along the entire length of the trail, whether on foot or in a bike trailer. There are multiple companies that hire out bikes, including trailers for children – perhaps enquire about dog trailers?
5. Take a Walk Through Tanunda
To find out more about the history of the historic town of Tanunda, located in the heart of the Barossa Valley, follow the Tanunda Town Walk. This 2.5km walk starts at the Barossa Visitor Centre and follows the Tanunda Historical Trail Markers. Pick up a brochure at the visitors centre or download a copy. Dogs need to be kept on a leash.
Dog-Friendly Parks in the Barossa Valley
Dogs are allowed at most local parks in the Barossa region, although check the local signs for whether they need to be on leash. However, there are also two dedicated dog parks in the Barossa Council area.
The dog park closest to the heart of the valley is the Nurioopta Dog Park on Penice Road. Further south is the Williamstown Dog Park, part of Queen Victoria Jubilee Park. Both dog parks are fenced, have dog bag dispensers and bins.
Dog-Friendly Dining in the Barossa Valley
Don't visit the Barossa Valley without stopping in at Maggie Beer's Farmshop. While dogs aren't allowed inside the shop stocking Maggie's famous range of products (from quince paste to verjuices to sauces), they are permitted outside on a leash, but shouldn't be left unattended.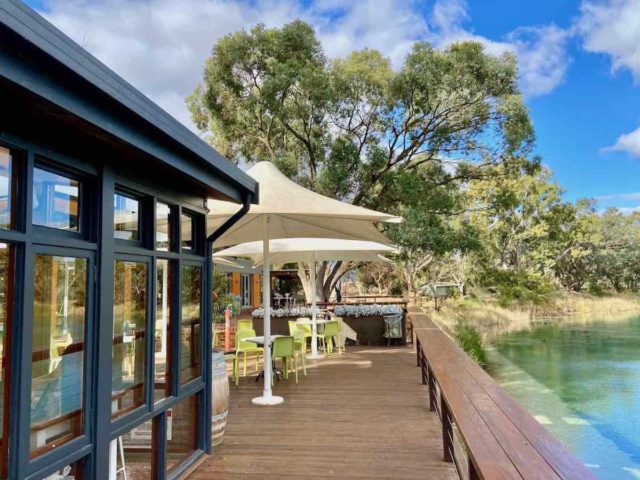 Enjoy a cheese and dukkah platter out on the deck overlooking the dam, a glass of wine in hand, with your pup at your side. Water bowls are providing to keep thirsty dogs hydrated. Alternatively, enquire about lunch next door at The Eatery (bookings essential).
Another wonderfully dog-friendly cafe in the heart of Tanunda is Red Door Espresso. Open for all-day breakfast and lunch from Tuesday to Saturday, the cafe has a focus on local produce plus is fully licensed, with an extensive list of local wines and beers to select from. Pets are welcome on the front verandah or in the garden courtyard, accessed through the rear red gate.
Also in Tununda, head to Barossa Valley Brewing. Open daily from noon, there is a restaurant onsite serving up a range of pizzas and mains, with plenty of outdoor tables. Alternatively, head to Stein's Taphouse in Nuriootpa on Friday and Saturday nights, as well as lunch daily. With an extensive range of craft beer on tap and casual meals, pet dogs are welcome to join you on the two large verandahs.
On Saturdays, pets are allowed in the outside areas of both the Barossa and Mount Pleasant Farmers Markets.
Dog-Friendly Accommodation in the Barossa Valley
Note: This post contains affiliate links, which means I may receive commission if you make a purchase using the links. See my full disclaimer.
The majority of caravan parks in the Barossa Valley area permit pets on sites. Gawler Caravan Park permits dogs on all sites and in selected cabins. When staying in cabins, there is a maximum of two pets permitted, for an additional charge of $15 per pet per night.
Another pet-friendly caravan park in the Barossa Valley is Discovery Parks – Barossa Valley. Walking distance to the centre of Tanunda and conveniently close to Barossa Valley Brewing, pets are permitted in selected Standard and Economy cabins, as well as on powered and unpowered sites. For human kids there's a large water park and swimming pool.
Alternatively, there are a pair of pet-friendly rooms available at the Barossa Weintal. Centrally located in Tanunda, your dog will be provided with a bed, bowls and treats. There is an additional charge of $50 for one night or $80 for two nights, payable on arrival. Contact the hotel directly for enquiries.
Head Next To