Renmark, Berri and the surrounding Riverland region is a great destination to visit in South Australia with your dog. From dog-friendly accommodation and cafes to parks, walks and sightseeing ideas, find about about what to do when visiting Renmark with a dog.
Note that following the floods of 2022-23, some of the below businesses have been affected. Double check what is currently open and make sure you support them once they can re-open!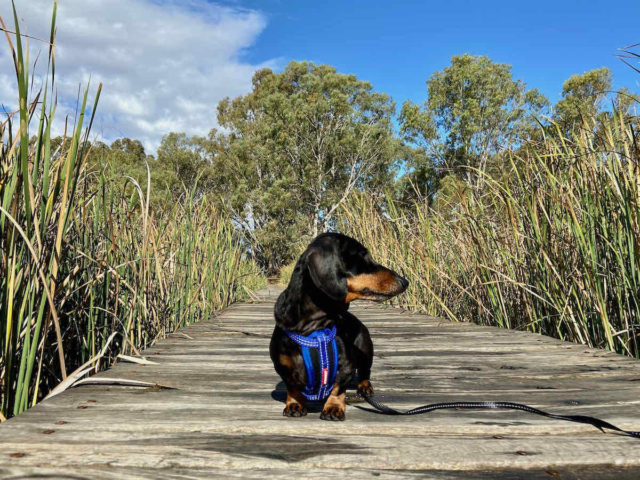 Dog-Friendly Sightseeing around Renmark
There's plenty of dog-friendly sightseeing options in and around Renmark and the Riverland region.
1. Explore the Renmark Waterfront
The town of Renmark lies right on a bend in the Murray River and it's a must to visit its beautiful waterfront area. There's a lovely park and waterfront walk. Plus the PS Industry, an historic paddle steamer, is normally moored out the back of the visitors centre.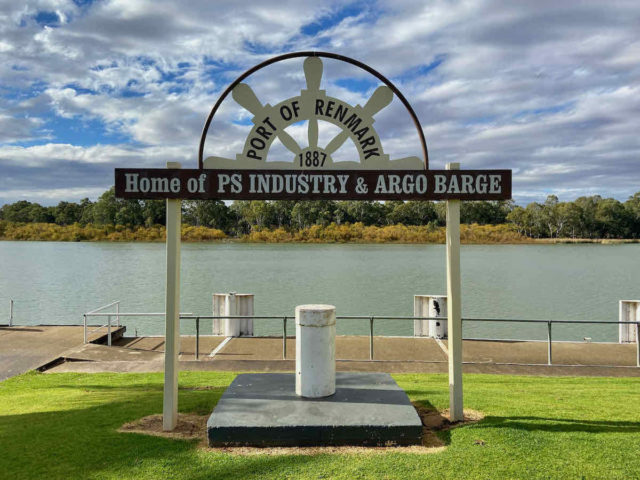 Just be warned that after dark, this stretch is also known as "Possum Parade". Best to visit with your pup during the day, and always keep them on a leash.
2. Visit a Murrary River Lookout
There's a number of terrific lookouts located along the Murray River, that give you a great perspective of this mighty river. One of the best lookouts close to Renmark is the Heading Cliff Lookout, about a 15-minute drive north of the town.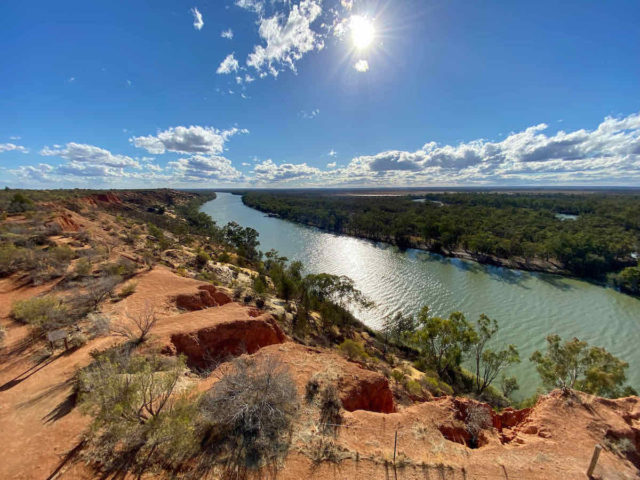 Note that the lookout is located in a nature reserve where 1080 baits are used, so keep your dog on a short leash and possibly use a muzzle. Alternatively, we carried our small dog over to the metal lookout structure, that you can climb for the best vantage point.
Another great lookout spot to visit is Big Bend, the largest bend in the Murray River. Big Bend Lookout is located a 90-minute drive west of Renmark, south of the towns of Swan Reach and Blanchetown, high up on a riverside cliff.
3. Visit the Woolshed Brewery
If you visit the Heading Cliff Lookout, just 5 minutes up the road is the Woolshed Brewery in Wilkadene. This dog-friendly brewery has plenty of outdoor tables looking out over the river, with plenty of shady trees, too, and is the perfect spot to while away an afternoon. Just keep in mind it's closed on Mondays and Tuesdays (meaning we missed out on visiting).
4. Hire a Dog-Friendly Houseboat
A popular holiday alternative around Renmark is to hire a houseboat, whether for a weekend or a week, and just because you have a dog doesn't mean that you have to miss out.
There are multiple dog-friendly houseboat companies located in Renmark and Paringa. One of the options is Riverfun Houseboats, with pets permitted on a selection of their houseboats by prior arrangement. Enquire directly to find out which of their 11 houseboats are currently pet-friendly and get the okay to bring your pet along.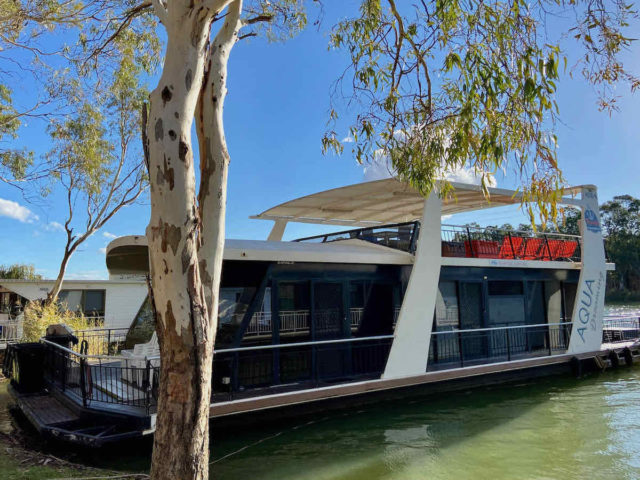 For more details on dog-friendly houseboat companies located in the region, check out my guide to dog-friendly houseboat rentals. Note that some companies only allow dogs on the outside deck.
5. Visit a Dog-Friendly National Park
While most national parks in Australia strictly prohibit dogs from visiting, that's not the case with a handful of national parks in South Australia, including one near Renmark.
A number of sections of the Murray River National Park allows dogs – the recently added Paringa Paddock, Lyrup Flats, Kingston-on-Murray and the old Rodeo Grounds area at Katara­p­ko. Dogs are only allowed on a leash, no longer than 3m long, unless they are confined to a motor vehicle, trailer or vessel.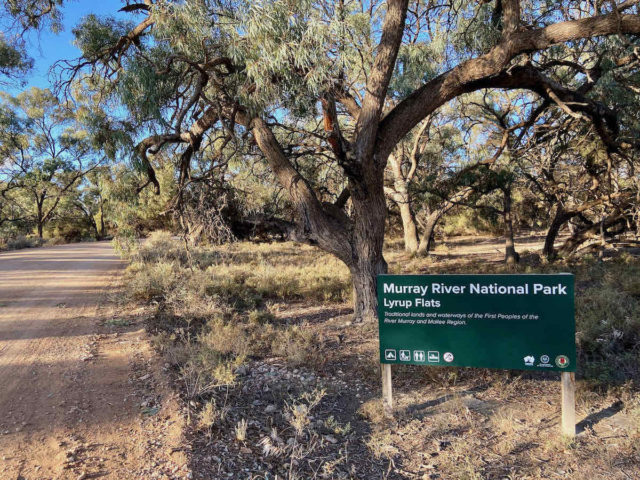 Paringa Paddock is located in between Renmark and Paringa, to the south side of the highway. The best way to access the walking tracks is through the tunnel under the highway near the BIG4 Renmark Riverfront Holiday Park.
Lyrup Flats lies in between Renmark and Berri, on the northern side of the river from the small town of Lyrup, accessed by a free ferry. There's multiple camping sites, with cheap, basic camping, only some of which have toilets.
Kingston-on-Murray is a wetlands area with a newly developed network of trails adjacent to the town of the same name, while the Katara­p­ko section is southwest of Berri. See the linked map for the area where dogs are permitted.
Note that dogs are still prohibited in the other parts of this national park, i.e. Gurra Gurra and Bulyong Island.
6. Visit a Winery
While the Riverland region may not have the same prestige as famous wine growing regions such as the Barossa Valley and Coonawarra, there's certainly plenty of wine grown in the region, and you're likely to have drunk plenty of it!
A number of the wineries have cellar doors open to the public. The popular Banrock Station cellar door, with its wetlands walk, is unfortunately not dog-friendly (with plenty of signs stating this in the carpark).
A fabulous dog-friendly option used to be Caudo Vineyard, west of Waikerie and a 70-minute drive from Renmark. Tables could be booked and the winery was also accessible by boat. However, the winery is currently closed indefinitely following the 2022-23 floods.
7. Buy Local Fruit
It's not just wine that's grown in the Riverland region, but fruit, and plenty of it! It's not a proper visit to the Riverland without a stop at one of the many roadside fruit stalls that dot the region. Stop off at one of them with your dog by your side. We stopped at one of the stalls on the Old Sturt Highway heading west from Berri.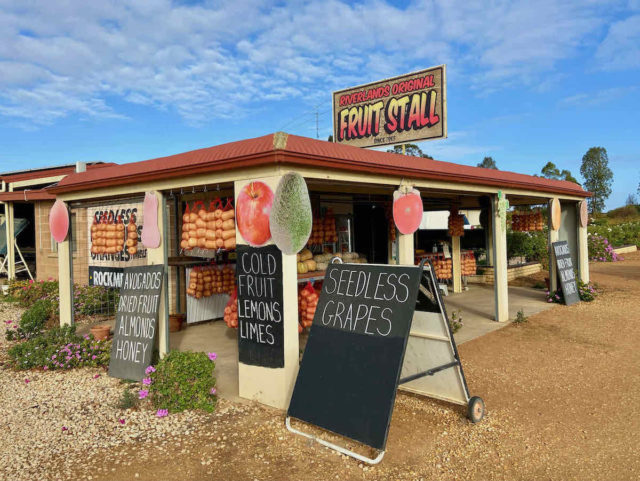 8. View the Silo Art
There's two beautiful examples of silo art in the region around Renmark, with dogs allowed int he viewing areas. The closest one to check out is in Paringa, just east across the Murray. Both sides of the two silos are painted with scenes about the Murray River lifestyle.
Don't also miss checking out the silos in Waikerie, a 50-minute drive west of Renmark towards Adelaide. While one silo is decorated with a more abstract design, the other silo is beautifully painted with a Regent Parrot.
9. Visit the Paringa Community Museum
While visiting the silos in Paringa, you'll probably also notice the entrance to the Paringa Community Museum. This small volunteer-run museum has a collection old machinery, and on leash dogs are welcome. The museum is open Monday, Wednesday and Friday, between 10am and 3pm, and there is just a small entry fee.
12. Visit the Loxton Pioneer Village
Not far from Renmark is the Loxton Pioneer Village, about a 30 minute drive south past Berri. Over 45 recreated buildings and exhibits along the banks of the Murray tell the story of the region's early settlers.
While not previously allowing dogs other than service animals, pets are now welcome on enquiry, so reach out and see if your dog is given permission to visit. Plan to spend the whole day and take a picnic lunch to enjoy on the grounds.
Dog-Friendly Walks in Renmark & Berri
If you're looking for a dog-friendly walk around Renmark, the local tourism brochure at the time of my visited had a long list of bush walks and nature trails in the region, nearly all that were dog-friendly.
Close to Renmark, head to Paringa Paddock for a variety of walks, varying in length from 4.3 to 7.5km. The best spot to park to access the walks is on the northern side of the highway, near the BIG4 caravan park, then take the tunnel under the highway.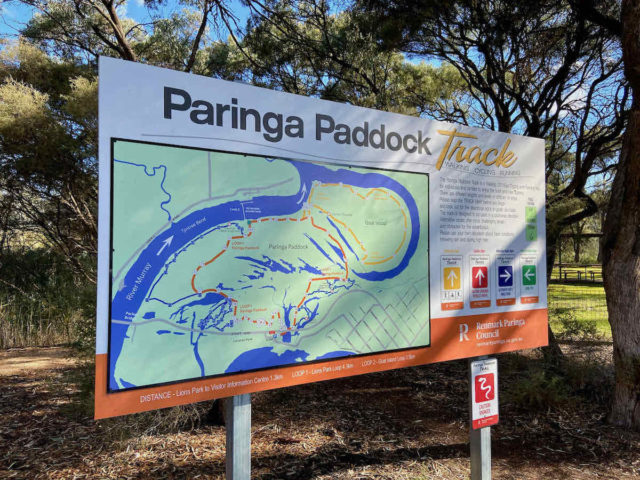 While in the area, it's also worthwhile walking along the short boardwalk on the Murray River side of the carpark, a pretty spot that's popular for photographs and spotting birdlife.
At Berri, there's a 2.8km loop walking trail leading from the Berri Marina to Martins Bend Reserve, the Lion Allan Thurmer Recreational Trail. The walk follows the bend in the river and passes through some beautiful wetland areas, and can be completed from either end.
Dog-Friendly Parks in Renmark & Berri
Renmark has a great fenced off-leash dog park. Located on the corner of Paringa and Seventeenth Streets, the park is fully fenced, with areas for both puppies and small dogs, and all other dogs. Drinking water, benches and even some pipes are provided.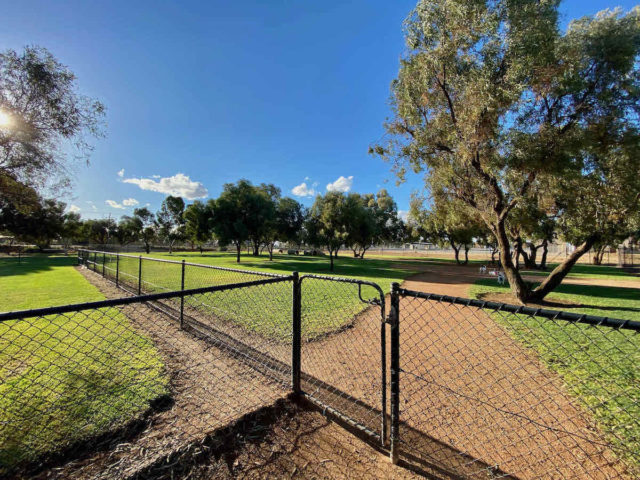 Berri is also home to an off-leash dog park, at the Colin Jennings Apex Park. The park is also fully fenced and provides a drinking water bowl, but doesn't have a separate area for small dogs.
Dog-Friendly Dining in Renmark & Berri
There's plenty of dog-friendly cafes scattered around Renmark. Most cafes with outdoor tables welcome dogs to join you, although it's best to check in advance.
One of the most dog-friendly cafes in Renmark is Cinnamon Grove on Ral Ral Avenue. The cafe has a beautiful garden setting. With a sign declaring that they "love welcoming your 4 legged friend", they just ask that you ask permission before letting them off their leash.
I've also heard lots of recommendations for River Jacks Cafe in Berri. Located right on the waterfront, there's plenty of outdoor tables. The cafe is open for both breakfast and lunch daily.
Dog-Friendly Accommodation around Renmark
One of the best dog-friendly accommodation options around Renmark is the Riverbend Caravan Park. This very popular pet-friendly caravan park is located a few kilometres east of town on the banks of the Murray River, next to the Paringa Bridge. They genuinely love pets and as well as welcoming pets on all sites, year-round, they also have two pet-friendly cabins, complete with their own enclosed yard. Book well in advance for these cabins!
Note that the park has been temporarily closed since December 2022, but plans to re-open in April 2023, in time for Easter.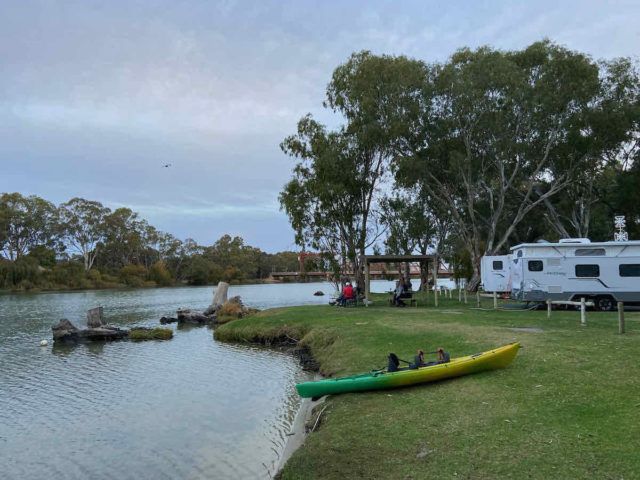 Two other more basic dog-friendly camping options nearby are the national park campsites at Lyrup Flats, plus a campground at Martins Bend Reserve, near Berri. We spent a night at the latter for just $5, payable to the onsite caretaker.
Note that the Lyrup Flats campsites are currently closed, with no planned reopening date. It is likely it will take months for the campsites in the park to reopen, with access for day use being prioritised. The Martins Bend Reserve is also currently closed, and will also likely take months to reopen.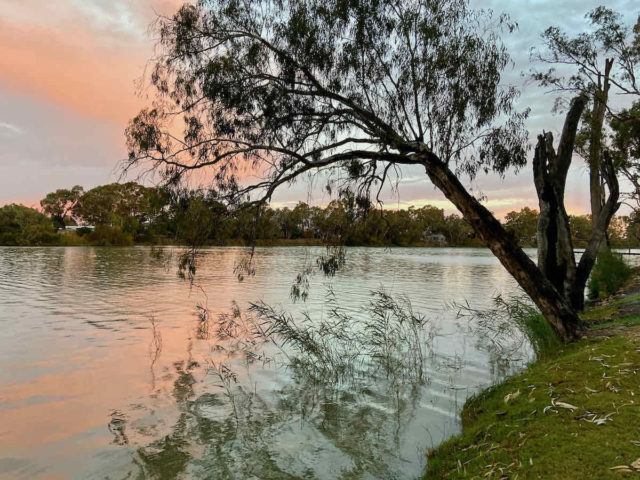 Head Next To