While Adelaide may be one of the smaller cities in Australia, there's still no shortage of dog-friendly options available in the South Australia capital. If you're visiting Adelaide with your dog, here's my top recommendations for dog-friendly things to do, plus where to dine with your dog and pet-friendly accommodation in Adelaide.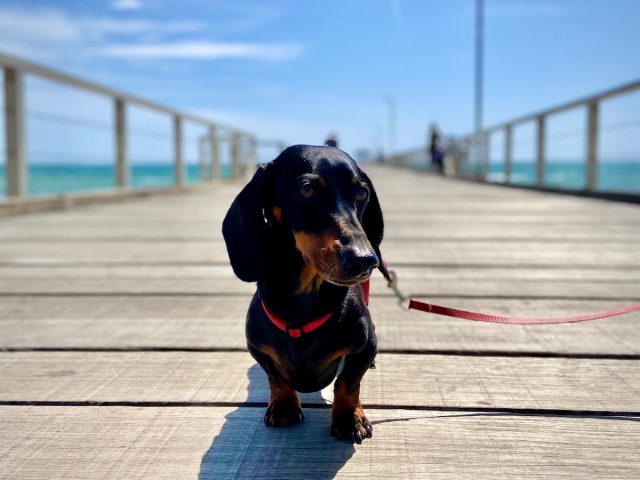 Dog-Friendly Sightseeing in Adelaide
If you're visiting Adelaide with your dog, I recommend checking out some of these great dog-friendly places in Adelaide to enjoy a fun time together.
1. Head to Glenelg or Henley Beach
Adelaide has plenty of great beaches lining the western edge of the city. Glenelg is one of the most popular, thanks to its tramline (although dogs are not allowed on board). I also enjoyed the quieter surrounds of Henley, further north.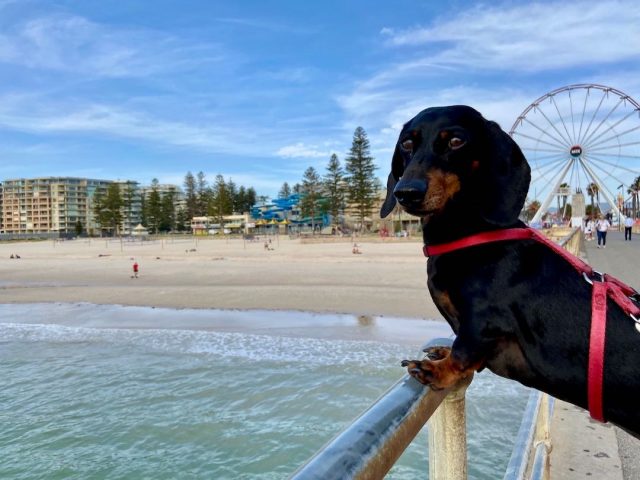 Both of these beaches have lovely white sand, lots of dog-friendly outdoor dining, and beautiful sunsets over the water. They're a great destination during the day
Even better, the rules for dogs on beaches in Adelaide are quite relaxed, making the beaches in Adelaide some of the most dog-friendly beaches in an Australian city. There's plenty of dog beaches in Adelaide!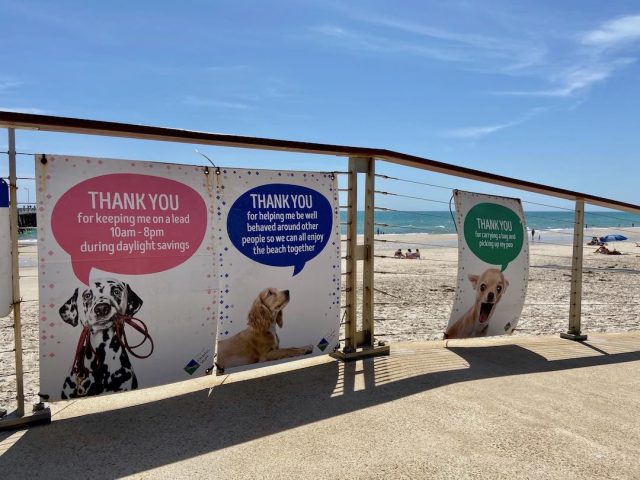 For most beaches in Adelaide, the main rule is dogs need to be on a leash between 10am and 8pm while daylight saving is in operation (roughly October to early April). This applies both in the City of Charles Sturt (in between Semaphore Park and West Beach) and City of Holdfast Bay (from Glenelg south to Seacliff).
During these hours in summertime, dogs are still allowed on beaches, but they need to be on a leash. Outside of these hours and during winter they are allowed off-leash, except around playgrounds. Also make sure to clean up after your dog any time of year.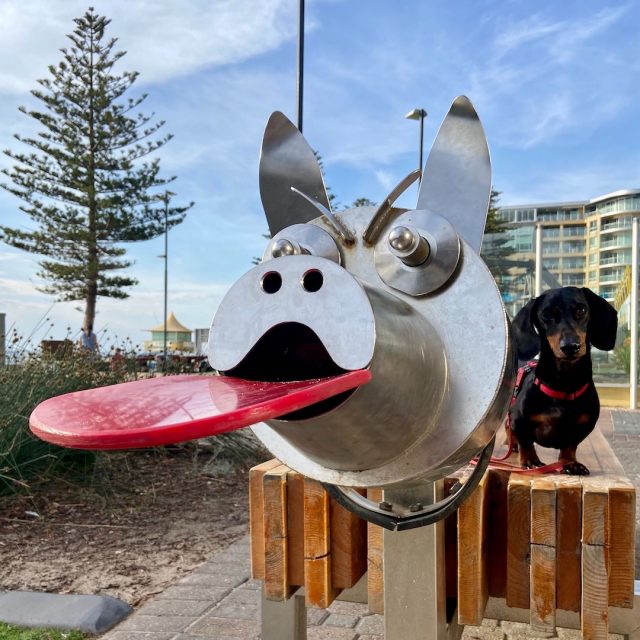 2. Visit the Pigs in Rundle Mall
In the centre of Adelaide is Rundle Mall, the main shopping strip in the city. The most famous sculpture in the mall is "Mall's Balls", but my favourite was the innocuously titled "A Day Out', a few blocks to the west.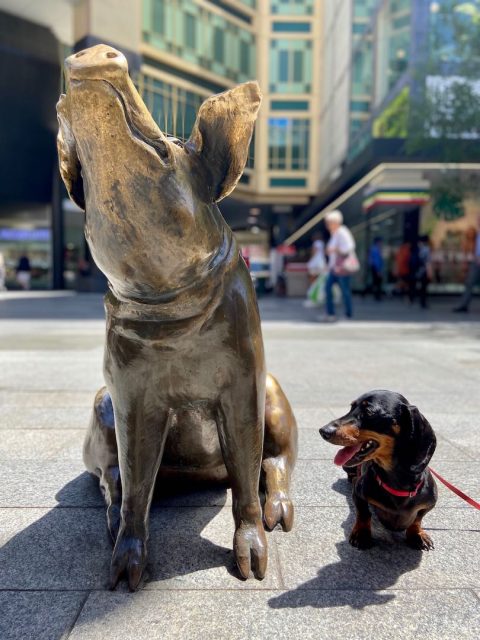 A group of life-size bronze pigs, including one scrambling up onto a bin, they're a fun group of sculptures to check out and take some photos along with your pups. Just make sure you keep your dog on a lead though and stay out of the shops – it's window shopping only for pups.
3. Walk along the River Torrens
On the northern side of the CBD, in between Rundle Mall and the Adelaide Oval, lies the River Torrens, or Karrawirra Parri to use its Aboriginal name. It's a great spot to head for a walk with your pup, checking out the famous Oval from the outside.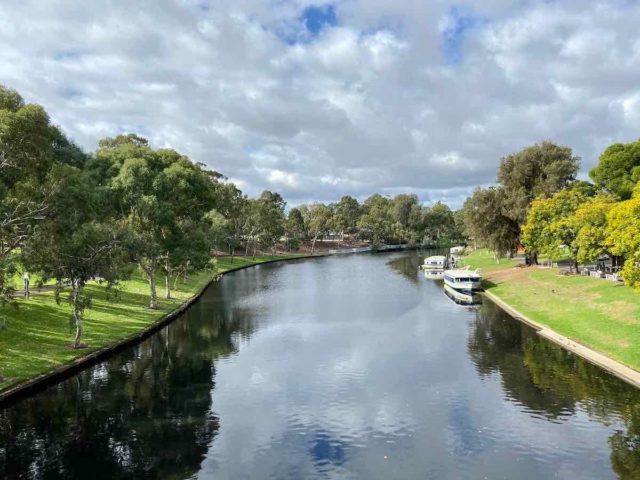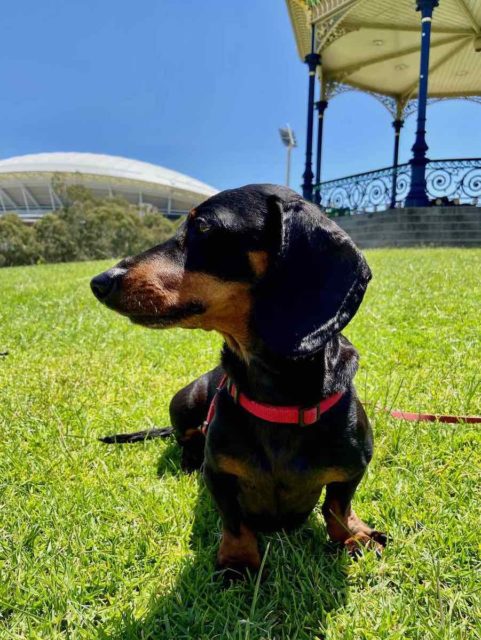 While we were visiting, the Festival Plaza precinct was under renovation, but there's still plenty of open grass parks to stroll through with your dog, part of Adelaide Park Lands. Just make sure they're kept on a leash, especially near roads.
4. Visit Himeji Garden
On the opposite side of the Adelaide CBD, in the southern expanse of parklands, is a secret gem, Himeji Garden. This Japanese-style garden is a gift from Adelaide's sister city, Himeji in Japan. Containing a delightful pond and even a Zen rock garden, the garden is small but a relaxing and beautiful spot to visit, with free entry.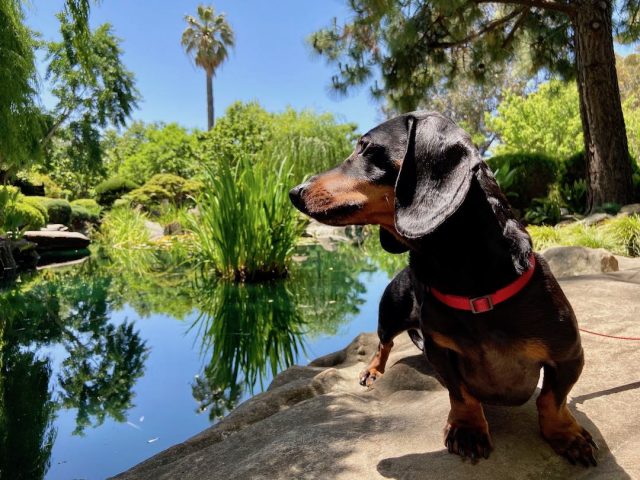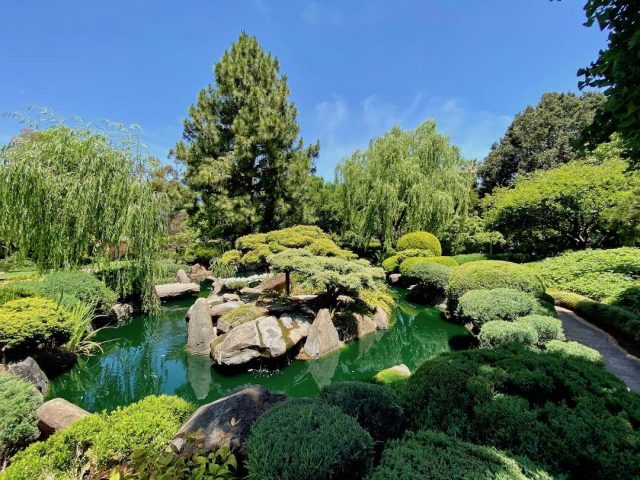 Just like the rest of the Adelaide Park Lands, dogs are allowed inside, with just the usual rule of leashes being required. It's best suited though to quiet, well-behaved dogs, who can respect the peacefulness that other visitors are seeking out.
5. Take a Day Trip to Hahndorf
It wouldn't be a visit to Adelaide without visiting some of the famous wine regions that surround it. Just 30 minutes east of the city in the Adelaide Hills wine region is the cute town of Hahndorf. With German roots going back to its founding in 1839, this town was recently named the most dog-friendly town in all of South Australia.
To find out about the dog-friendly businesses in Hahndorf, check out the listing on their website. (It would also be handy if there were some stickers on the doors of businesses, but maybe in the future.)
One of the top things to do in Hahndorf is to enjoy the hearty German cuisine at the many restaurants and cafes lining its main street. Most venues have large outdoor dining areas, great for enjoying a meal with a well-behaved pup. Two highly-rated, dog-friendly options are The Haus and Hahndorf Inn.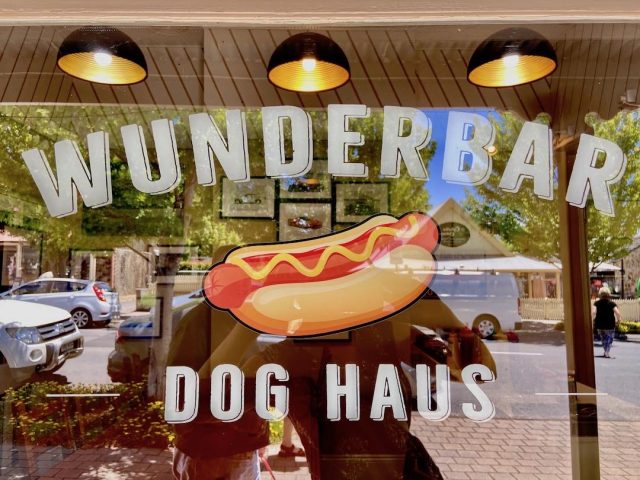 We went for a lighter option with a visit to the Wunderbar Hot Dogs with its German hotdogs. There's a range of hotdogs on offer featuring Kransky sausages, including a Schnitzel option! I choose the German Dog option with plenty of sauerkraut. There's tables out the front or enjoy a take-away hot dog.
And what about wine you ask? There are multiple shops that offer wine tasting along with other local goods – just ask if dogs are allowed to join you.
Alternatively, a 15-minute drive away is Bird in Hand Winery, one of the dog-friendly wineries in the Adelaide Hills. I know for certain that they offer some superb wines, plus I've been told that dogs are welcome to join your for a tasting in the shaded courtyard area. Note however that the cellar door is closed during 2022 for renovations.
Also just a short drive outside Hahndorf is the Balhannah Dog Park. This huge dog park is the perfect place to let your dog off-leash, with a creek running along one side of it also great for doggy swims during the warmer months.
7. Go Hiking in the Hills
There's a large number of dog-friendly hiking options close to Adelaide, whether on the outskirts of Adelaide or in the Adelaide Hills.
On the southeastern edge of Adelaide is Belair National Park, one of South Australia's dog-friendly national parks, with its many hiking trails that permit dogs on leash. The nearby Brownhill Creek Recreation Park also allows dogs on a leash, as well as the smaller Blackwoods Forest Recreation Park and Shepherds Hill Recreation Park.
Close to Stirling in the Adelaide Hills is the Woorabinda Bushland Reserve. Perhaps follow the self-guided walk around Woorabinda Lake. Heading further east to Mt Barker, you can hike to the summit of Mt Barker itself with your pup, or for a flatter walk follow the trails through the Laratinga Wetlands.
Dog-Friendly Parks in Adelaide
There's no shortage of dog-friendly parks in Adelaide, with a wide swathe of parkland in particular surrounding the CBD and North Adelaide, where dogs are usually allowed on a leash.
For off-leash dog options, there are multiple fenced dog parks. When we visited Himeji Garden on the south side of the city, just across the road is the superb Pityarilla Dog Park, with a pair of enclosed spaces for large or small breeds. Both parks are nicely grassed, contain double gates, water and a shelter, and of course poo bags and bins.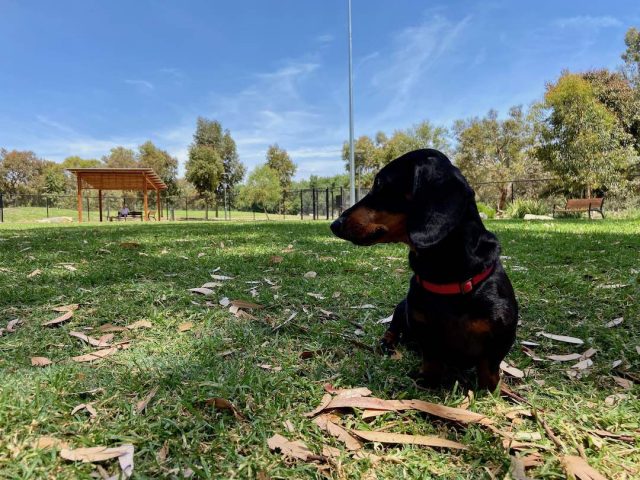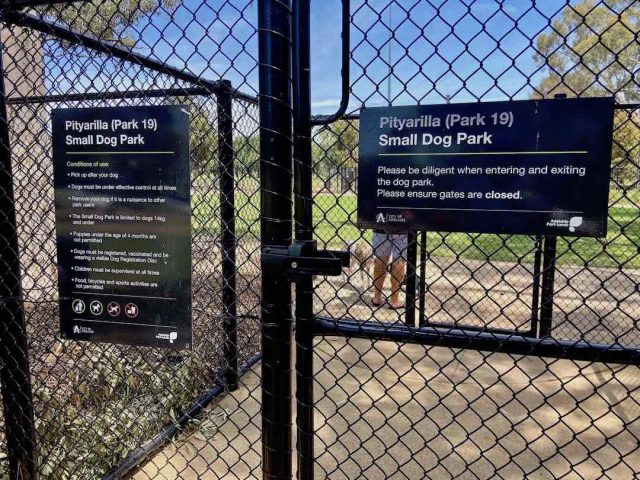 Alternatively, on the eastern side of the city head to Willow Bend Reserve, part of the River Torrens Linear park. The reserve is a popular dog walking spot and includes an off-leash exercise area.
Dog-Friendly Transport in Adelaide
If you're visiting Adelaide with your dog, it's best if you have your own vehicle for transport, because dogs and other pets are not allowed on public transport in Adelaide.
If you're travelling to Adelaide without your own car, read up on pet-friendly car rentals in Australia. Unfortunately, GoGet no longer operates in Adelaide.
Dog-Friendly Dining in Adelaide
There's a wide range of dog-friendly dining options in Adelaide, whether you're looking for something in the city centre or along the beaches, a great destination to head to enjoy a sunset over the water. Plenty of cafes even put out water bowls for dogs, or just ask if one can be supplied.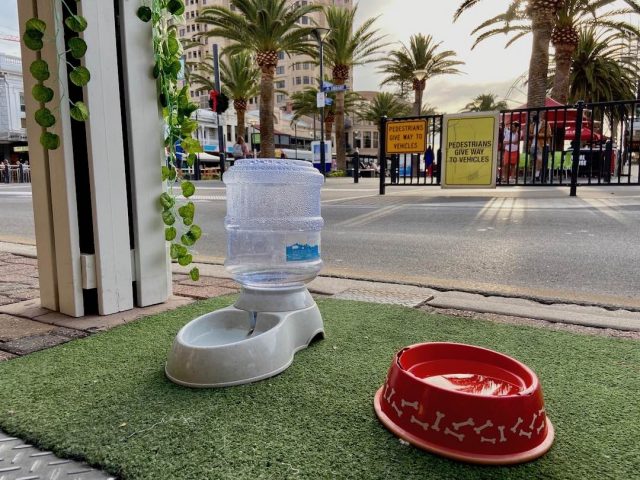 While visiting Henley we enjoyed coffees and drinks at Malobo, a dog-friendly cafe right on Henley Square with beach views. The cafe is open all day long, with lots of options on their breakfast, lunch and dinner menus. Just next door is their sister venue Hermanos Cubanos, with a fabulous range of Cuban sandwiches, and of course a large outdoor area.
Alternatively, just around the corner at Henley Beach is Bacchus Bar. As well as waterfront views, this bar and restaurant has leash-clips at the outdoor tables, water bowls and dog muffins on the menu. It's open for dinner from Thursday to Sunday, plus lunch on the weekend.
If you're in the city with your pub, head to the Havelock Hotel (or The Havey as it's known to locals), in the southeast of the CBD. This pub is very pet-friendly, with its own pet menu (check out the Doggie Buddha Bowls), along with dog blankets and water top ups on offer. There's plenty of sheltered under-cover seating.
Also close to the CBD is Little Bang, a dog-friendly brewpub that has been recommended to me by multiple people but I still haven't made it to. With 21 taps offering up their range of crafty brews and a range of guest beers, plus a tasty menu of food, dogs are allowed in the outside area out the front.
Another destination that also caters for your dog is the Lamb Spit BBQ in Semaphore. Ask about their Doggy Dinner Lamb, a yiros option just for dogs, containing plain lamb, without any marinade to upset dog stomachs.
For more dog-friendly options throughout Adelaide and South Australia, search the listings at takemetoo.
Dog-Friendly Accommodation in Adelaide
Note: This post contains affiliate links, which means I may receive commission if you make a purchase using the links. See my full disclaimer.
No matter your budget, there's some terrific dog-friendly accommodation options available in Adelaide.
For starters, if you're after a more luxurious stay, consider the Mayfair Hotel. This five-star property is located in the heart of Adelaide, in a heritage-listed, renovated building overlooking Rundle Mall.
Pets at the Mayfair are treated to the Luxe Pets package. Available in Deluxe King Rooms and Superior Queen Access Rooms, up to two dogs or cats are permitted, up to 20kg each, with larger dogs at the manager's discretion. For an additional fee of $150 per pet per night, your pet will be treated to their own bed, food and water bowls, wet and dry food and a toy.
For something a little more affordable, check out the Adelaide Inn in North Adelaide. This 4-star hotel with an outdoor swimming pool has multiple pet-friendly rooms available.
Note that only selected Deluxe Queen & Single with Courtyard rooms are pet-friendly – look for "pet-friendly" in the room name to ensure one is available. An additional pet fee of $50 per night is charged, but your pet is provided with a large bed, bowls and access to the outdoor area.
If you're travelling with your own caravan or tent, instead camp by a dog-friendly beach at the Brighton Beachfront Holiday Park. Located on the southwestern edge of Adelaide, the park now welcomes pets year-round.
Choose between camping with your dog on one of the pet-friendly powered sites or stay in a pet-friendly cabin. Selected Seaside cabins (sleeping two) and Budget cabins (sleeping four) are pet-friendly. Double check any pet regulations in advance, before making a booking. Managers approval is required and there is a limit to the number of pets permitted.
Head Next To
Inspired? Pin this to your Pinterest board!