While Adelaide may be one of the smaller cities in Australia, there's still no shortage of dog-friendly options available. If you're visiting Adelaide with your dog, here's my recommendations for dog-friendly things to do, where to stay and where to eat around Adelaide.
Where to Stay with Your Dog
Even before we started planning our trip to Adelaide, I stumbled across the Marley & Me BnB, thanks to Instagram. Named after the loveable story of the "world's worst dog", Marley & Me BnB is Adelaide's premier pet-friendly B&B and I knew we had to stay there.
The B&B is located not far from the centre of Adelaide in the suburb of Marden and has been set up for people travelling with pets in mind. Stepping into the living room, there's a plush bed for smaller dogs, couch topper for enjoying the TV together and a dog treat pouch plus picnic blanket for dog walks behind the door. Not to mention plenty of dog-related artwork on the walls!
Though of course most dogs will make a beeline for the treats left out for them in the kitchen. Also in the freezer are packets of gourmet dog food for your pup. (One is complimentary for your stay, and there is an honesty system for additional packets.)
The kitchen itself is large and has everything you could possibly need for human meals, including plenty of breakfast supplies, plus oils, sauces and more. And of course, there are dog bowls, leashes and harnesses in the bottom of the pantry.
There's a small size backyard fully-enclosed, perfect for relaxing in or just doing doggie business, along with twin kennels in the yard for more independently minded dogs to stay in. While Schnitzel was very interested in the kennels, of course he slept inside.
In the master bedroom is a unique wooden bed, set low to the ground and perfect for even small pets to claim morning cuddles. There's also a second bedroom with another queen-size bed, on the other side of the bathroom with shower and separate bath.
We found the entire property to be very comfortable for our stay. There's plenty of space for parking one or more cars, a Woolworths supermarket just up the road, a wi-fi connection, and reverse-cycle air-conditionings and ceiling fans to keep you cool on warm Adelaide summer days.
Your hosts Missy and Anton can also organise dog-sitting, dog-photography sessions and more.
Looking for more pet-friendly accommodation? Check out my range of dog-friendly places to stay in South Australia
Dog-Friendly Cafes & Restaurants in Adelaide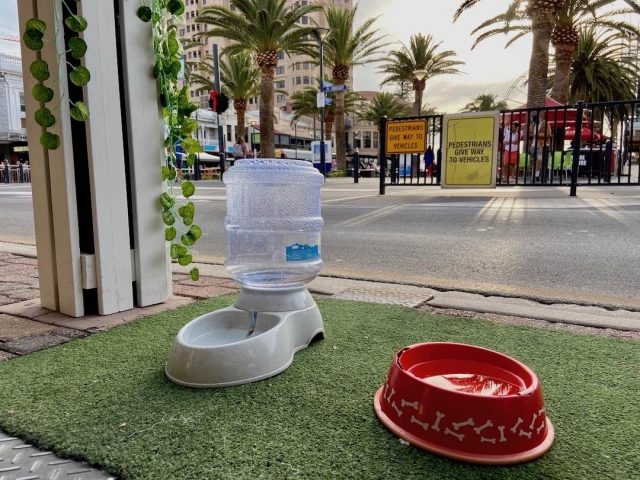 Thanks to having a full kitchen and plenty of supplies, not to mention a supermarket just up the street, it was easy to self-cater for part of our stay in Adelaide. But there's also lots of dog-friendly cafes in Adelaide.
While visiting Henley we enjoyed coffees and drinks at Malobo, a dog-friendly cafe right on Henley Square with beach views. The cafe is open all day long, with lots of options on their breakfast, lunch and dinner menus. They even have their own Instagram account for visiting dogs, @dogsofmalobo! Just next door is sister venue Hermanos Cubanos, with a fabulous range of Cuban sandwiches, and of course a large outdoor area.
We were hoping to also make it to Lamb Spit BBQ in Semaphore, but didn't quite make it, as they have special yiros options just for dogs. The packs contain plain lamb, without any marinade to upset dog stomachs, in sizes ranging from small ($5.00) to large ($8.00).
Another option to consider is the Havelock Hotel (or The Havey as it's known to locals), in the southeast of the centre of Adelaide. This pub is very pet-friendly, with its own pet menu (check out the Doggie Buddha Bowls), along with dog blankets and water top ups on offer. There's plenty of sheltered under-cover seating.
For more dog-friendly options throughout Adelaide and South Australia, search the listings at takemetoo.
Dog-Friendly Parks in Adelaide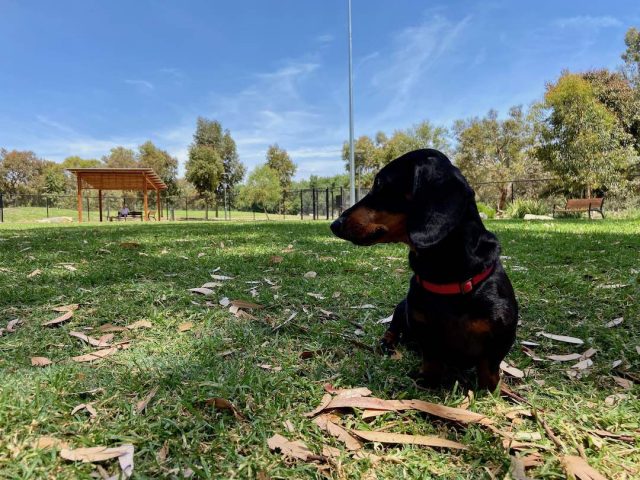 There's no shortage of dog-friendly parks in Adelaide, with a wide swathe of parkland in particular surrounding the CBD and North Adelaide, where dogs are usually allowed on a leash.
For off-leash dog options, there are multiple fenced dog parks. When we visited Himeji Garden on the south side of the city, just across the road is the superb Pityarilla Dog Park, with a pair of enclosed spaces for large or small breeds. Both parks are nicely grassed, contain double gates, water and a shelter, and of course poo bags and bins.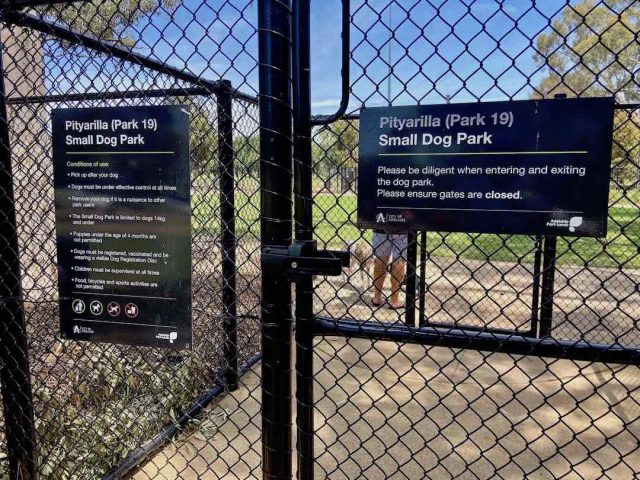 If you're staying at Marley & Me BnB, head a little further north along Lower Portrush Road to the river. Turn off left onto the paths in Willow Bend Reserve, part of the River Torrens Linear park. This is a popular dog walking spot and includes an off-leash exercise area.
Dog-Friendly Transport in Adelaide
Unfortunately, dogs and other pets are not allowed on public transport in Adelaide. It's best if you have your own vehicle for transport, including if you're staying at Marley & Me BnB. If you're travelling to Adelaide without your own car, read up on pet-friendly car rentals in Australia.
I also recommend checking out GoGet, which allows pets in their vehicles as long as they are in a pet carrier and the vehicle is kept clean. There are multiple pods located at Adelaide Airport, plus in the CBD and North Adelaide. Some of the vans have been designated pet-friendly, as pets without a carrier can be carried, with dog hammocks and cleaning products supplied.
Dog-Friendly Sightseeing in Adelaide
If you're visiting Adelaide with your dog, I recommend checking out some of these great dog-friendly places in Adelaide to enjoy a fun time together.
1. Head to Glenelg or Henley Beach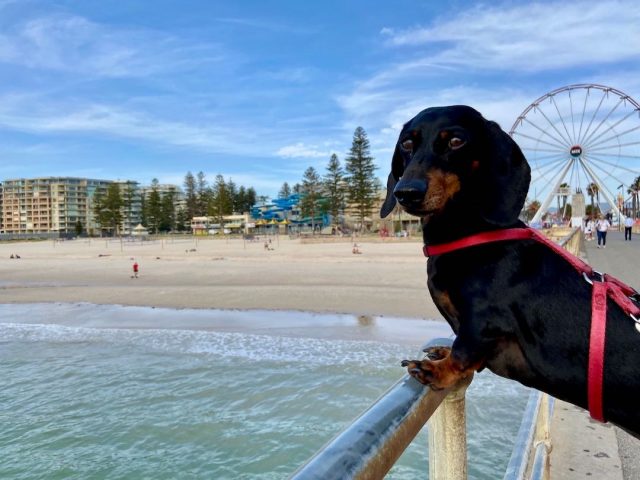 Adelaide has plenty of great beaches lining the western edge of the city. Glenelg is one of the most popular, thanks to its tramline (although dogs are not allowed on board). I also enjoyed the quieter surrounds of Henley, further north. Both of these beaches have lovely white sand, lots of dog-friendly outdoor dining, and beautiful sunsets over the water.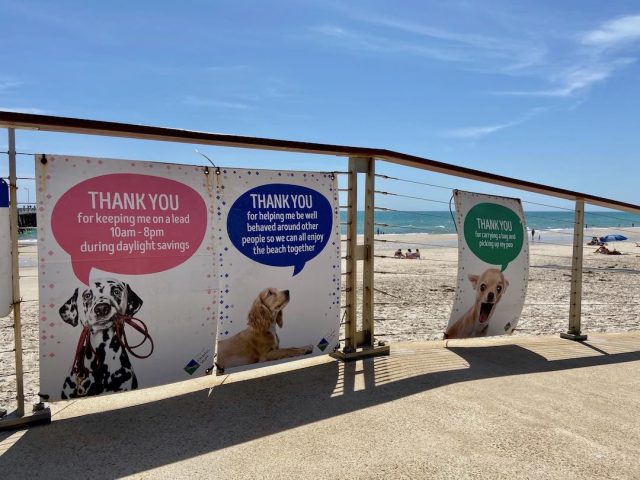 Even better, the rules for dogs on beaches in Adelaide are quite relaxed, making the beaches in Adelaide some of the most dog-friendly beaches in an Australian city.
For most beaches in Adelaide, the main rule is dogs need to be on a leash between 10am and 8pm while daylight saving is in operation (roughly October to March). Dogs are allowed on the beaches as long as they are on a leach during these hours. Outside of these hours and during winter they are allowed off leash. Just make sure to clean up after your dog.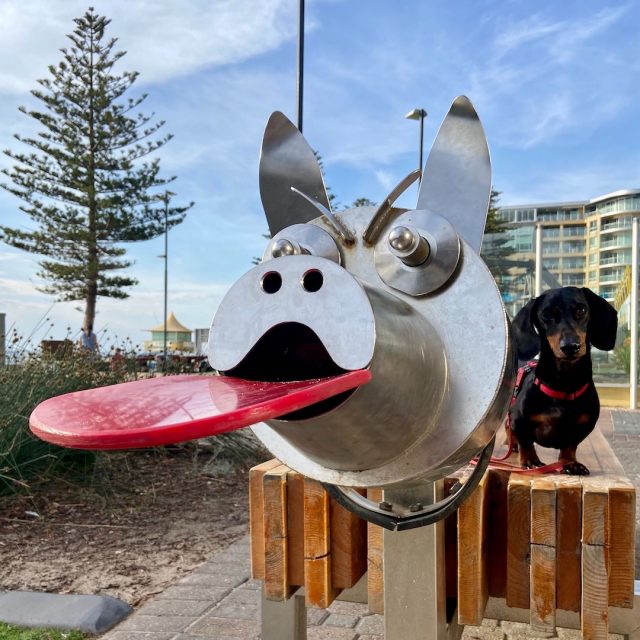 2. Visit the Pigs in Rundle Mall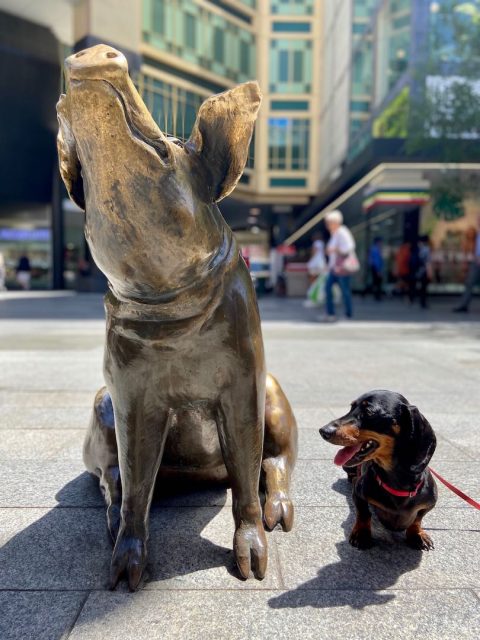 In the centre of Adelaide is Rundle Mall, the main shopping strip in the city. The most famous sculpture in the mall is "Mall's Balls", but instead head for the sculptures a few blocks west with the innocuous title "A Day Out".
A group of life-size bronze pigs, including one scrambling up onto a bin, they're a fun group of sculptures to check out and take some photos along with your pups. Just make sure you keep your dog on a lead though and stay out of the shops – it's window shopping only for pups.
3. Walk along the River Torrens
On the northern side of the CBD, in between Rundle Mall and the Adelaide Oval, lies the River Torrens, or Karrawirra Parri to use its Aboriginal name. It's a great spot to head for a walk with your pup, checking out the famous Oval from the outside.
While we were visiting, the Festival Plaza precinct was under renovation, but there's still plenty of open grass parks to stroll through with your dog, part of Adelaide Park Lands. Just make sure they're kept on a leash, especially near roads.
4. Visit Himeji Garden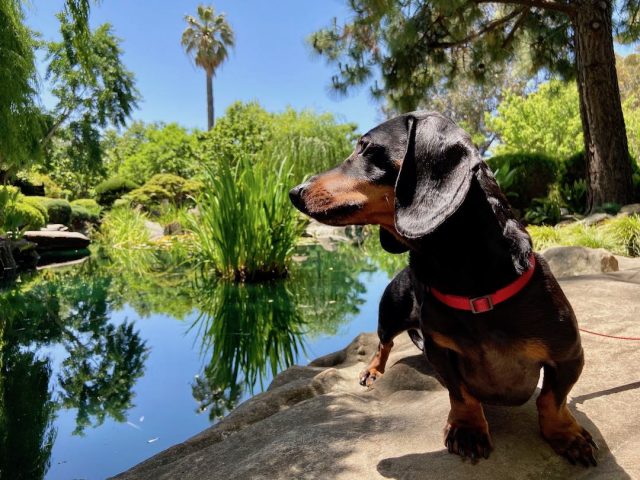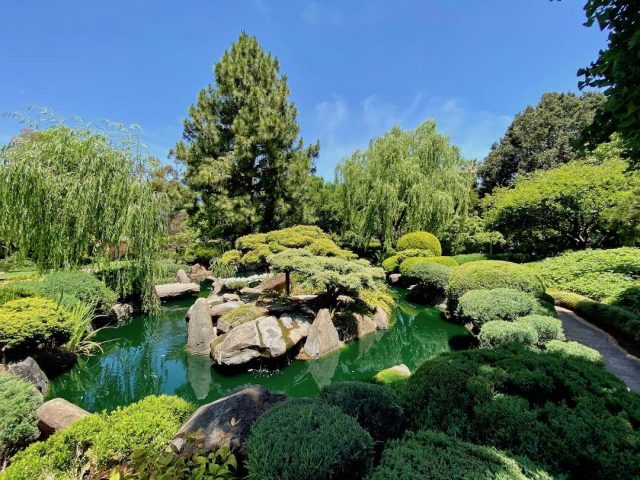 On the opposite side of the Adelaide CBD, in the southern expanse of parklands, is a secret gem, Himeji Garden. This Japanese-style garden is a gift from Adelaide's sister city, Himeji in Japan. Containing a delightful pond and even a Zen rock garden, the garden is small but a relaxing and beautiful spot to visit, with free entry.
Just like the rest of the Adelaide Park Lands, dogs are allowed inside, with just the usual rule of leashes being required. It's best suited though to quiet, well-behaved dogs, who can respect the peacefulness that other visitors are seeking out.
5. Head to Little Bang Brewing Company
Located in Stepney just northeast of the CBD, Little Bang welcomes dogs in their outdoor area. During November they even had an exhibition of dog photos on their walls. There's also 21 taps offering up their range of crafty brews and a range of guest beers, plus food on offer.
Unfortunately when we visited Adelaide it was a Monday and Tuesday, the two days of the week that the Little Bang Brewing Company is generally closed, but we've been recommended this brewpub by multiple people!
6. Day Trip to Hahndorf
It wouldn't be a visit to Adelaide without visiting some of the famous wine regions that surround it. Just 30 minutes east of the city in the Adelaide Hills wine region is the cute town of Hahndorf. With German roots going back to its founding in 1839, this town has been named the most dog-friendly town in all of South Australia.
To find out about the dog-friendly businesses in Hahndorf, check out the listing on their website. (It would also be handy if there were some stickers on the doors of businesses, but maybe in the future.)
One of the highlights of a visit to Hahndorf is enjoying the hearty German cuisine at the many restaurants and cafes lining its main street. Most venues have large outdoor dining areas, great for enjoying a meal with a well-behaved pup. Two highly-rated, dog-friendly options are Haus and Hahndorf Inn.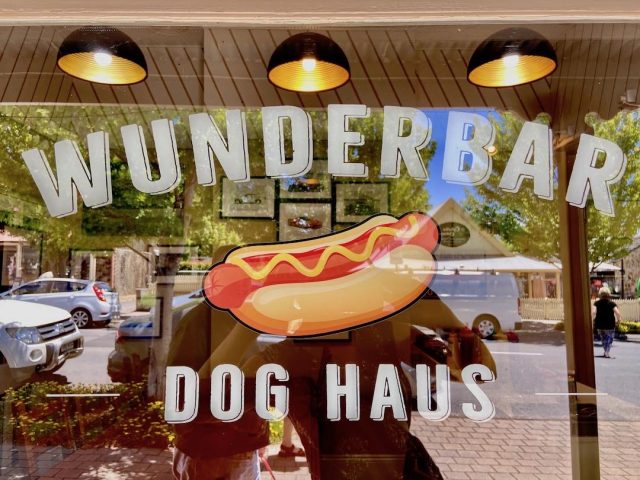 We went for a lighter option with a visit to the Wunderbar Dog Haus with its German hotdogs. There's a range of hotdogs on offer featuring Kransky sausages, including a Schnitzel option! I choose the German Dog option with plenty of sauerkraut.
And what about wine you ask? Some of the shops in town offer up wine tasting, just ask if dogs are allowed. Not far away from Hahndorf is Bird in Hand Winery, one of the dog-friendly wineries in the Adelaide Hills. I know for certain that they offer some superb wines, plus I've been told that dogs are welcome to join your for a tasting in the shaded courtyard area.
Note: The author received media rates at Marley & Me BnB. However, all opinions are entirely her own.
Inspired? Pin this to your Pinterest board!