South Australia is home to lots of excellent dog-friendly campsites, including many low-cost and free campgrounds. There were plenty of options when I road tripped around South Australia with my dog in a campervan!
When travelling in South Australia with your dog, take your pick from these spots for dog-friendly camping in South Australia, from the beaches of the Eyre Peninsula to the outback Flinders Ranges.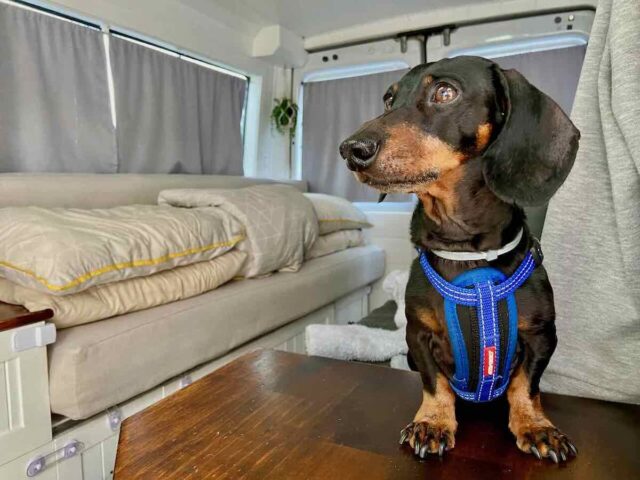 #1 Rawnsley Park Station, near Hawker
A great spot to camp with your dog in outback South Australia is Rawnsley Park Station. Wonderfully situated to explore the Flinders Ranges, this station is located 37km north of Hawker just off the Wilpena Road.
Take your pick from the powered sites and secluded unpowered bush campsites offered by the station. There's no need to be self-contained, with an amenities block and camp kitchen close by, making this an easy option for first-time campers. There's even a restaurant and pet-friendly cabins close by, plus a swimming pool for the summer months.
Recent campers at Rawnsley Park Station have reported that dog sitting is available, for if you're wanting to explore the parts of the Flinders Ranges located within the national park. Alternatively, check out my guide to the dog-friendly sightseeing options in the Flinders Ranges.
#2 Parachilna Gorge, near Blinman
For a more rustic experience, a great spot for dog-friendly camping in the Flinders Ranges without spending a cent is Parachilna Gorge.
There's a number of bush camping spots located about halfway along the Parachilna Gorge Scenic Drive in between Parachilna and Blinman, with no fees applying. It's a beautiful spot to really enjoy the rugged scenery of the region!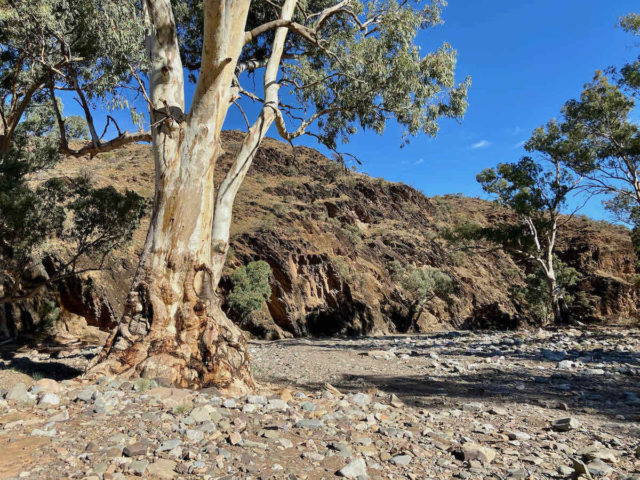 Note that you'll need to be self-sufficient, with not even any toilet facilities at the camping spots. While the road is unsealed, it's fine for 2WD vehicles most of the time – you can ask about the latest conditions at the Blinman Mine Booking Office.
#3 Walkers Rocks Campground, near Elliston
The Eyre Peninsula is home to countless dog-friendly beach campsites, many of them run by local councils and charging just a small fee, although the fees have generally increased in recent years. While many of the sites are best accessed by 4WD along rough access roads, we camped at the Walkers Rocks Campground.
The Walkers Rocks Campground is located about 12km north of Elliston, on the western side of the Peninsula. Although the 3km access road is unsealed, it was in good condition, at least at the time of our visit, meaning it was fine in our 2WD campervan.
The campground is located next to a beautiful beach with some great fishing. Although the beach was also in the news for the wrong reason in 2023 following a fatal shark attack on a surfer – be wary. In any case, during our stay in winter we just walked along the shore with our dog.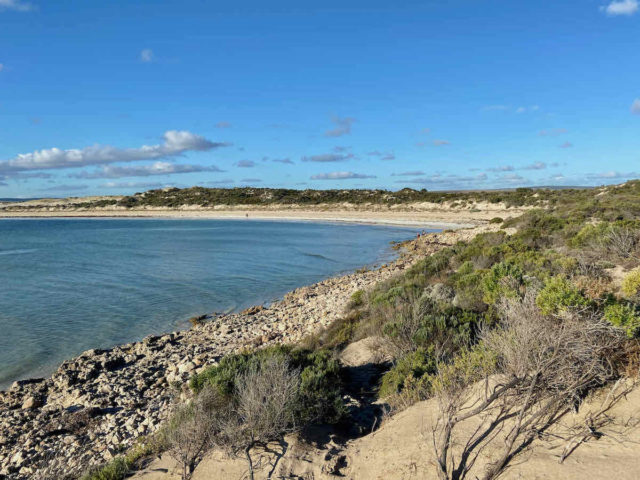 The campground has a wide range of sheltered sites to choose from, along with clean toilets and a cold shower. Note though that the fee has increased from $10 per vehicle at the time of our stay, to $20 per night now.
#4 Perlubie Beach, near Streaky Bay
Another pet-friendly camping spot on the Eyre Peninsula I've heard lots of praise for is Perlubie Beach. This campground is about 20km north of the town of Streaky Bay, although it's mainly 4WD access only, although I've recently read that a few sites are accessible with 2WD.
It's a must to make a booking if you want to camp here, with a fee of $20 per night replacing the previous donation system (and probably stopping the previous overcrowding). While there are toilets, if you are camping you are required to be self-contained and provide your own. Note that no water is available.
In return, you can camp right next to a beautiful beach. Other visitors have commented on the stunning beach, with calm, shallow waters and brilliant white sand. Make sure you keep your dog on leash in the carpark, around the beach shelters and camping areas.
#5 Fitzgerald Bay, near Whyalla
On the other side of the Eyre Peninsula we camped for the night for free at Fitzgerald Bay. There's a number of low-cost sites around Point Lowly to the north of Whyalla, but we headed further north to this free campsite.
There are two free campsites around Fitzgerald Bay – Shingle Beach Ridges and Fitzgerald Bay North. We choose the latter to stay in our small campervan, but caravan set-ups will probably appreciate the flat expanse of Shingle Beach more. Note that the few final hundred metres of the access road to Fitzgerald Bay North is unsealed.
In any case, we loved that despite being free, there were flushing toilets provided and it was a short stroll across to the beach. I've also heard recent reports that there's even Wifi available at the site!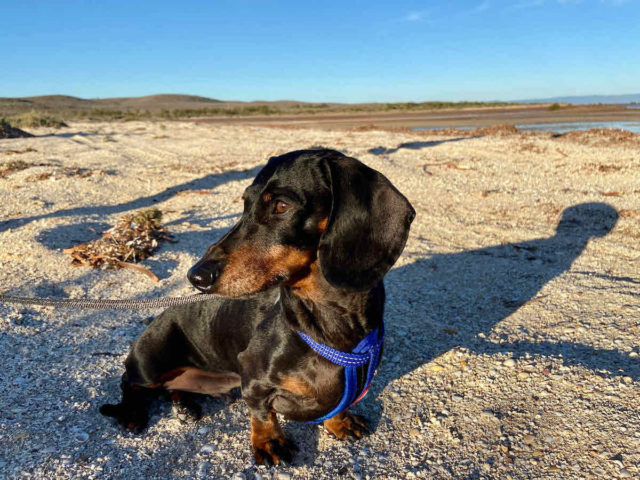 #6 Lyrup Flats Campground, near Renmark
South Australia is home to some of the only dog-friendly national parks in Australia, including the Murray River National Park. While dogs aren't allowed everywhere in this national park, one of the areas you can visit with a dog is the Lyrup Flats section, including dog-friendly camping in the campground, as long as your dog is kept leashed.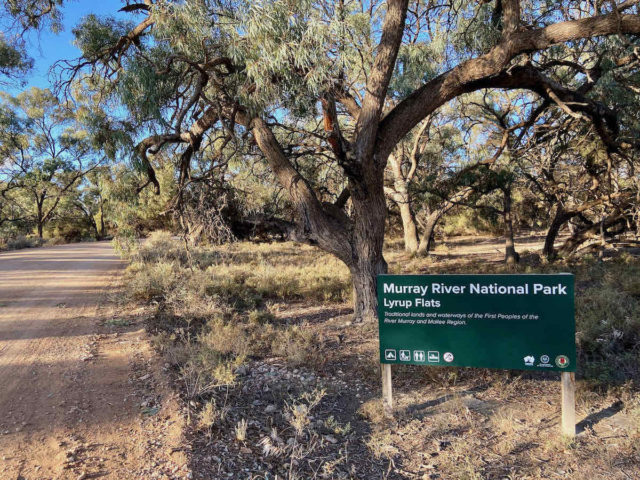 It's best to book and pay for campsites in advance at Lyrup Flats. The website provides details on each site, including the maximum number of guests, distance from the amenities (which can be a drive!) and whether it is accessible to 2WD during dry weather. (Skip camping here with a 2WD after rain.)
The facilities on offer are basic, with just long-drop toilets. However, most of the campsites are situated along the banks of the Murray River, with water access for canoeing and other activities, and prices are low. It's only about a 10 minute drive out of Renmark.
#7 Martins Bend Reserve, near Berri
Another terrific low-cost campground along the Murray River is the Martins Bend Reserve, just outside of Berri. Camping here costs just $5 per night, payable to the onsite caretaker, with a maximum stay of seven nights.
The campground has an amenity block with flushing toilets, along with free electric BBQs and other picnic facilities. Note though that the water onsite is not drinkable, so stock up before driving here. We also found many campsites are quite muddy after rain.
It's a beautiful spot though on the banks of the Murray. There's also a great walking trail that you can follow from the reserve into Berri, terminating at the marina. Allow about 30 minutes for the walk. Make sure you keep your dog on a leash at the reserve.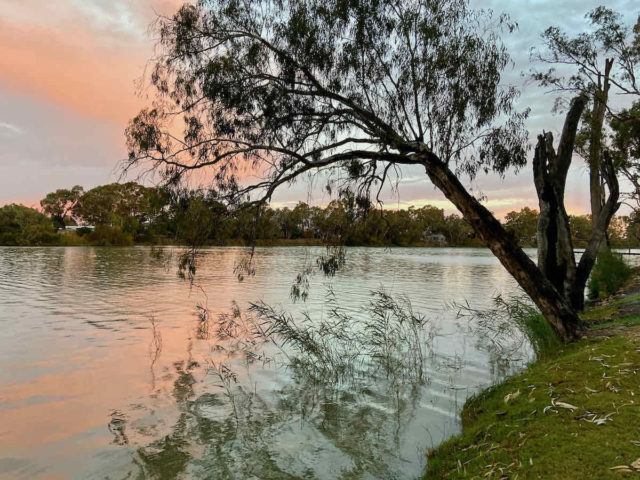 #8 Rocky Paddock Campground, Mt Lofty Ranges
The state forests in South Australia are home to a number of great dog-friendly campgrounds. One of the most popular is the Rocky Paddock Campground in the Mount Crawford Forest, located in the northern Mt Lofty Ranges, about an hour's drive north of Adelaide.
Camping is only permitted at this campground between 1st April and 30th November – during the warmer months no camping is permitted due to the fire risk. Note also that fires in the fire pits provided are only allowed between 1st may and 31st October, not in April or November.
There are 30 designated campsites that need to be booked in advance online, with a fee of $18.70 per vehicle per night. Basic facilities are provided, including hybrid toilets, picnic tables and rainwater that is not suitable for drinking. Dogs are allowed on a leash, but check for any signs about baiting.
You May Also Like