Western Australia is home to some spectacular dog-friendly campsites, whether you're wanting to stay in a caravan park or camp for free. When travelling around Western Australia with your dog, keep these camping sites in mind.
Pet-Friendly Caravan Parks in WA
Luckily, the majority of caravan parks in Western Australia allow dogs to stay with you these days, at least when you're camping in your own caravan or tent. Although there are still some parks that don't allow dogs, so it's always best to check before hand.
While travelling around Western Australia with our dog, these dog-friendly caravan parks that we stayed at particularly stood out, whether for being extra dog-friendly, having great facilities or being in excellent locations.
Southern Stars Park, Dunsborough
One of the most dog-friendly caravan parks in all of Western Australia is Southern Stars Park at Dunsborough. The perfect base for exploring the Margaret River region and southwestern WA, at this park dog owners are actually encouraged to bring their pets.
One of the stand-out options at this park are the fenced sites, with both powered and unpowered fenced sites available for an additional charge. Park your caravan or pitch your tent inside the fence, then forget about needing to keep your dog on a leash on your site.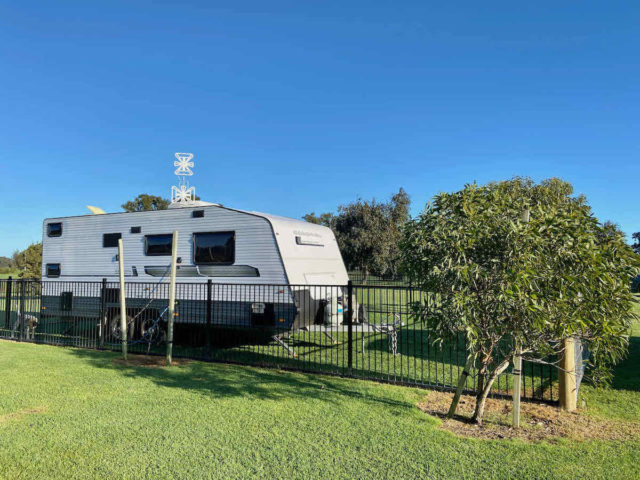 Other pet-friendly facilities include the fenced off-leash area for all canine guests, plus the list of local dog-sitters provided, in case you'd like to go somewhere that dogs aren't allowed.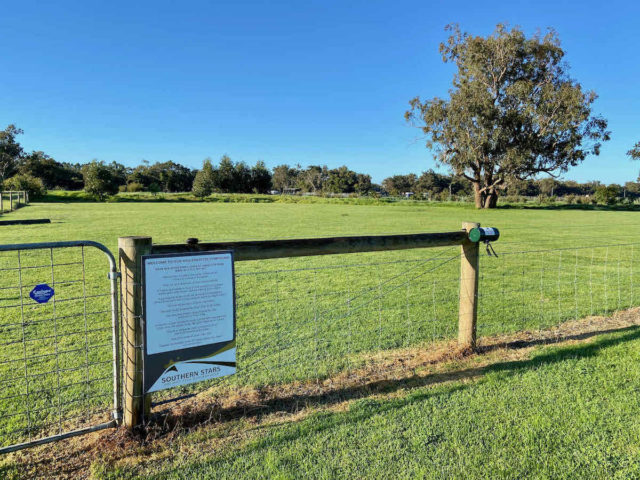 There's also terrific amenities for humans, including a large camp kitchen, indoor lounge and ensuite-style bathrooms. Not to mention everything is new and modern, plus the owners and managers are very friendly! Up to two pets are permitted per site.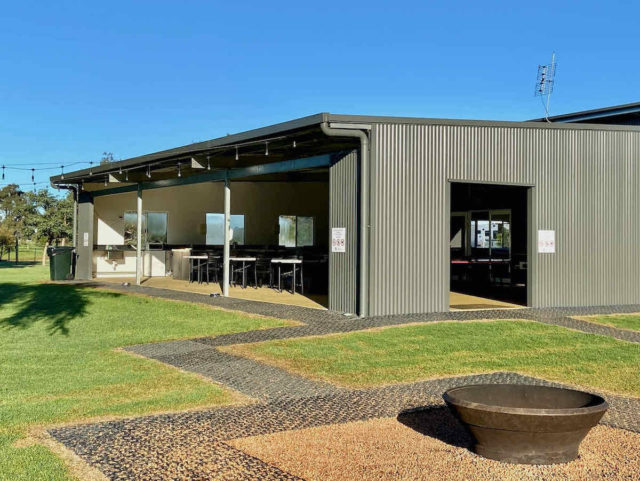 Monkey Mia Dolphin Resort
One of my favourite dog-friendly destinations in Western Australia is Monkey Mia. There's a mixture of off-leash and on-leash dog beaches in the area, plus you can take your dog along on a catamaran cruise or go kayaking. Not to mention you can stay right on the beach, metres from the daily dolphin feeding, at the RAC Monkey Mia Dolphin Resort.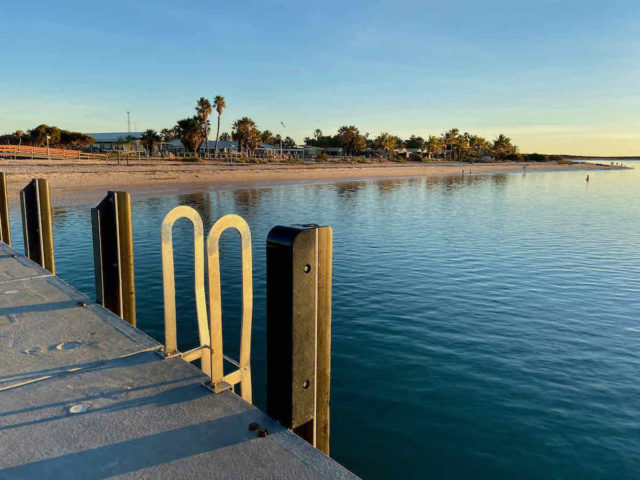 Pets are allowed to stay with you at the resort on both powered and unpowered campsites, although not inside the many room and villa options. The resort facilities are top notch, with a brilliant camp kitchen, multiple swimming pools and multiple dining options on site, also perfect for happy hour drinks.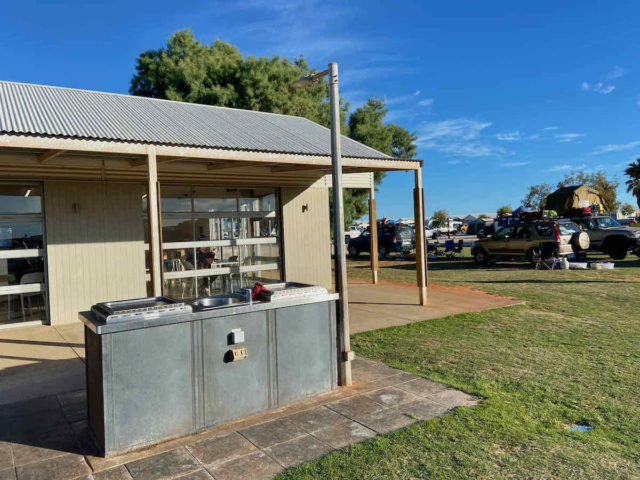 However, our dog's favourite part of staying at Monkey Mia Dolphin Resort was taking walks along the beach (with on-leash dogs allowed on the beach alongside the resort), and digging in the sand.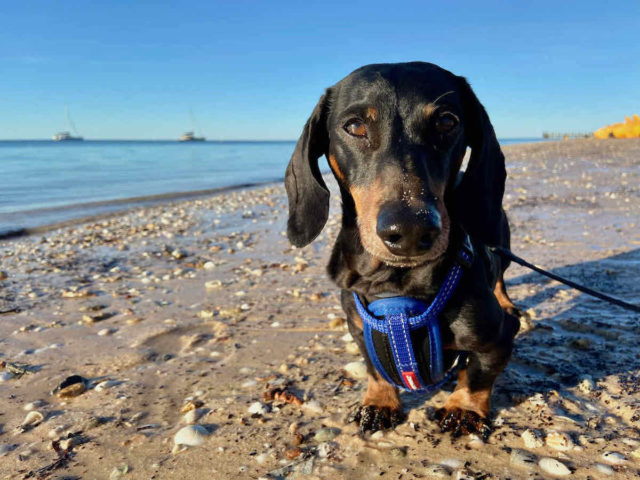 Lake Argyle Resort & Caravan Park
Another excellent resort that welcomes pets in northern Western Australia is the Lake Argyle Resort & Caravan Park. The resort is best known for its famous Infinity Pool overlooking Lake Argyle, which naturally pets aren't allowed to join you in, but there's plenty of other dog-friendly things to do.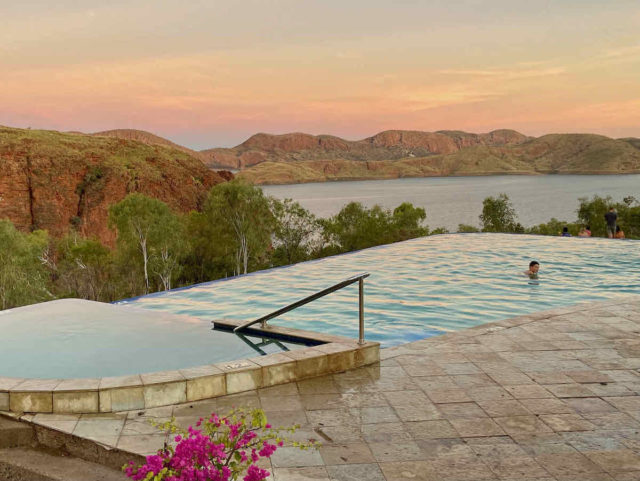 The resort permits up to two pets per site, with both powered and unpowered sites available, kept nicely grassed with the lake water. At the time of my stay, a deposit of $20 was taken, but I believe this may now be $100.
A percentage of sites are able to be booked in advance, generally snapped up months in advance for the peak season. For the remaining sites, it's best to arrive early in the morning and queue. When staying in July 2021, we arrived at about 9:30am after departing Kununurra and were allocated our unpowered site about 12:30pm.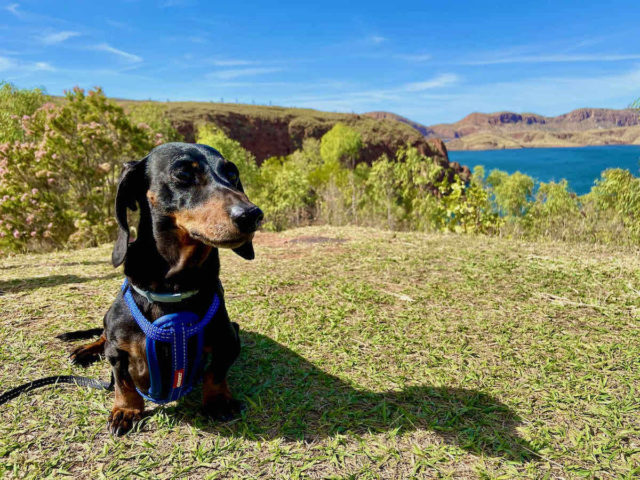 For a pet-friendly swimming spot, take the steep route down the hillside from the resort to the pontoon below, where I spotted some dogs swimming in the lake water. There's also a number of other walking trails available, with dogs on leash welcome. Or perhaps hire anything from a pontoon boat to a kayak from Lake Argyle Cruises, with all equipment pet-friendly.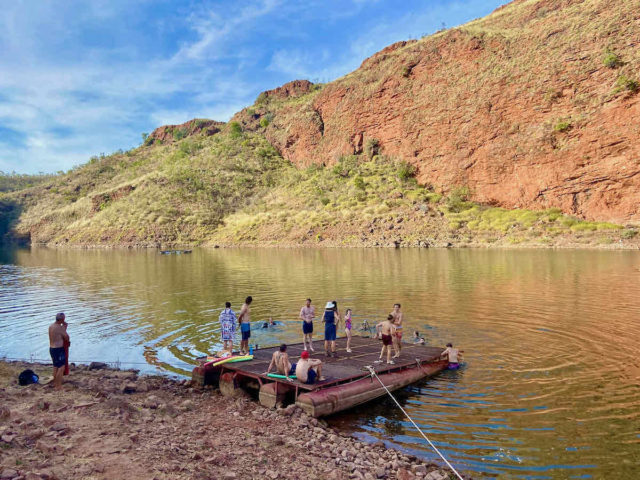 In the evenings at Lake Argyle Resort, there's often live music on the lawns or at the beer garden. Dogs are permitted at a few of the tables at the edge of the beer garden.
Fremantle Village
I'm not always the biggest fan of caravan parks in large cities, but I enjoyed our stay at the Fremantle Village and recommend it for other travellers in campervans or with a roof-top tent.
The caravan park, located just a kew kilometres south of the Fremantle CBD, has a park within the park just for campervans and roof-top tents. Each of the paved parking spots is surrounded by grass and has its own picnic table, plus there's an adjacent camp kitchen and BBQ area. It's surprisingly friendly for a city caravan park.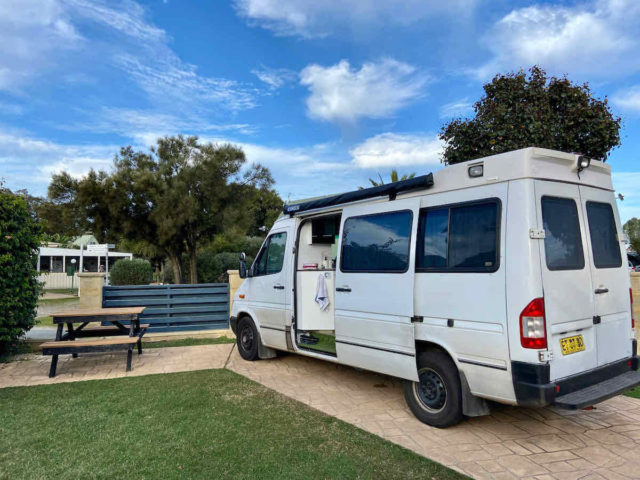 The park is also within walking distance of the North Coogee Dog Beach, where dogs are permitted off-leash all day long. We found the Fremantle area in general to be quite dog-friendly. The South Fremantle Dog Beach is very popular. Or enjoy a beer at Little Creatures Brewery or just take a walk through the historic port streetscape.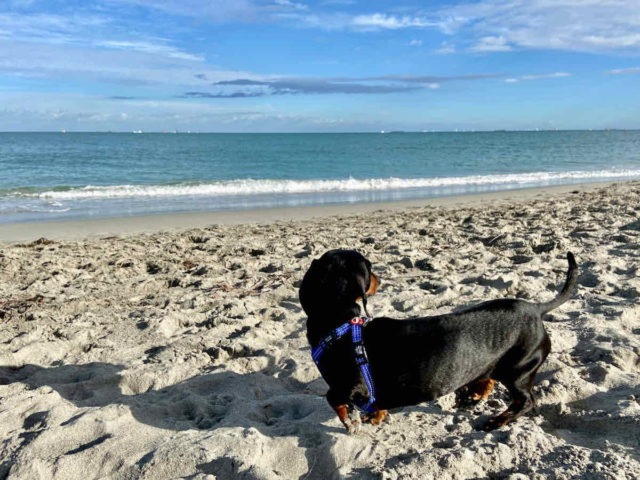 More Dog-Friendly Caravan Parks in WA
Some other caravan parks in Western Australia that are particularly dog-friendly include:
Banksia Tourist Park, Perth: This park is located on the eastern side of Perth, close to the Swan Valley. While a little expensive if you just want a site, there's an excellent selection of pet-friendly cabins, ranging from basic to deluxe. There's also an on-lead dog exercise area plus you can book doggie day care.
Broome's Gateway Pet Friendly Caravan Park & Lodge: Located 20 minutes out of town, this caravan park was originally the only pet-friendly park near Broome. The park has a fenced off-leash exercise area. Double check if the day kennels and pet-sitting service are still available. Just note that there are no powered sites.
Discovery Parks – Carnarvon (previously Wintersun Caravan & Tourist Park), Carnarvon: Pets are allowed on sites and in selected cabins at this caravan park in Carnarvon. The park also has a fenced off-leash area at the rear of the park.
Tasman Holiday Parks – Albany (previously Albany Gardens Tourist Park), Albany: One of the best dog-friendly options in the southern city of Albany, as well as being pet-friendly on sites, there's also three pet-friendly chalets. I've also heard recent reports of a dog sitter being located on site – enquire at reception.
Town Caravan Park, Kununurra: Make an advance booking for this caravan park, the most pet-friendly option in Kununurra, during the dry season. There's a dog play pen onsite, plus a pet sitter during this peak period.
Dog-Friendly Free & Cheap Camping Sites in WA
Western Australia is also home to some excellent free and cheap camping sites, many of which are dog-friendly, at least when they're located outside of national parks. However, like other states of Australia, there is a growing tendency for fees to be charged.
Some of these camp grounds are only accessible by 4WD, certainly not 2WD campervans or caravans, plus some sites also require you to be fully self-contained, with your own toilet, shower and both grey and black water tanks.
The ones I've chosen here are all easily accessible by 2WD, close to sealed roads, plus don't require you to be self-contained, with at minimum pit toilets provided. Two of these sites are free, while the others have small fees.
Cosy Corner East, near Albany
One of the best formerly free camping sites in Western Australia, that's accessible to 2WD vehicles and doesn't require you to be self-contained, is the Cosy Corner East Campground, a 25-minute drive west of Albany or east of Denmark. However, as of 2023, fees are now charged – $15 per night for up to two adults and two children, or $10 for concession card holders including seniors.
Despite the introduction of fees, during peak season it can still be hard to nab a spot, with no bookings accepted. Don't pay for a site until you ensure you have one reserved. However, we had plenty of sites to choose from when we stayed during winter.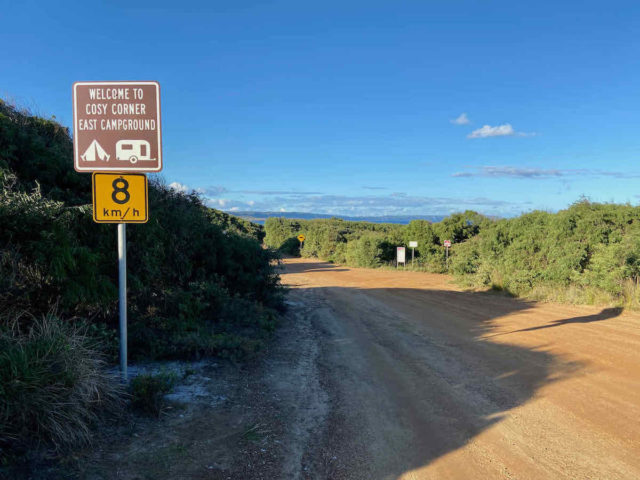 The campsite is located in a beautiful location, right next to an off-leash beach where we spotted dolphins swimming. Access is largely by sealed road, with just a final 500m unsealed, but still fine for 2WD vehicles.
The sites are quite sheltered and private, at least in the upper section designed for caravans. There's also a lower section only for tent camping. Pit toilets are provided, although top up with drinking water back in Albany. Note that during the peak season, from November to April, there is a seven-night limit.
Ngumban Cliff Rest Area, near Fitzroy Crossing
Due to the long driving distances in Western Australia, many of the roadside rest areas permit short stays of up to 24-hours, to help break up your drive. These sites are also always free.
This brochure lists the rest areas along all major highways, including whether they are a 24-hour rest area. Dogs are permitted at these rest areas, but must stay on-leash, particularly as 1080 baiting frequently occurs in Outback WA.
One of our favourite rest area stays was a Ngumban Cliff Rest Area, just over an hour's drive east of Fitzroy Crossing. We had actually been recommended Mary Pool Rest Area by other travellers, but Ngumban Cliff was a more convenient spot to stay, and we're glad we stayed there.
The best part of camping at Ngumban Cliff is that you're at the top of the cliffs, with beautiful views of the surrounding landscape, particularly at sunset. We experienced our favourite WA sunset while camping here!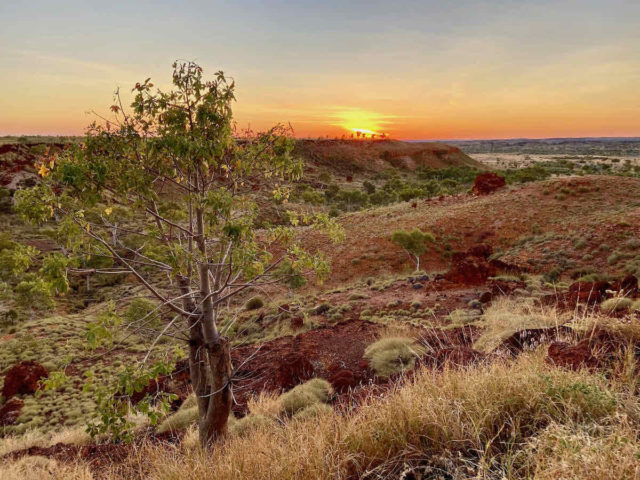 The facilities are basic but adequate, with sheltered picnic tables, pit toilets (bring you own paper) and a dump point provided. There's plenty of room for a large number of vehicles. It's just a short drive off the highway, but there's not too much traffic overnight.
Miaree Pool Rest Area, near Karratha
Another popular 24-hour rest area in Western Australia is Miaree Pool Rest Area, less than an hour south of Karratha on the North West Coastal Highway.
The rest area is situated next to the lovely Miaree Pool, a freshwater waterhole that's a lovely swimming spot. The water was a bit chilly when I stayed during July, but I still had a quick dip, and I'm sure swimming-loving dogs would love to do the same, particularly during the hotter months of the year.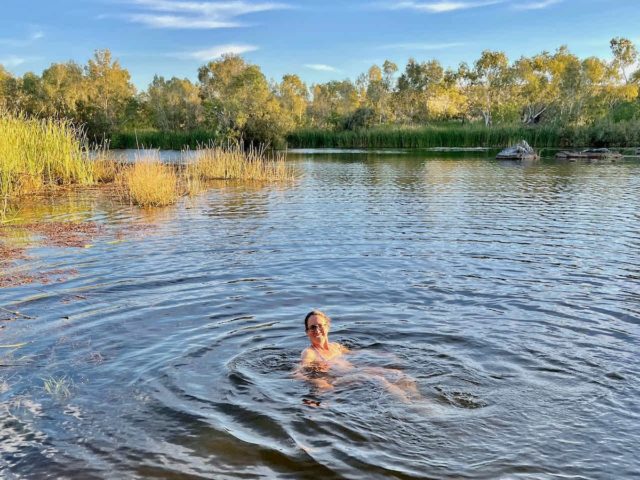 The best waterside camping spots are only accessible by 4WD. They're also popular with locals, so are often camped out, particularly on weekends. The main parking area next to the pit toilets isn't that large, but can still fit a fair number of caravans. It's best though to have levellers, with even flat-ish spots difficult to find. We still recommend it as the best roadside rest area along this stretch of the NW coast.
Big Brook Arboretum, Pemberton
Another campsite that isn't free but still cheap is the excellent dog-friendly campsite at Big Brook Arboretum, near Pemberton in southwestern WA. This basic campground is located in the Big Brook State Forest, with a small fee charged for camping – $11 per adults per night, $7 for concession card holders and $3 per child. Dogs are free, but need to be leashed.
This campground can accommodate a small number of tents, camper trailers, campervans and caravans. Picnic tables, barbecues and toilets are provided, although no running water, with no bookings possible. During peak season there are camp hosts on site.
Note that the access road is unsealed, but well maintained. It's a wonderful spot to camp surrounded by the tall trees of the Arboretum.