When travelling in South Australia with a dog, you'll find that there's plenty of caravan parks that are pet-friendly and welcome your dog to stay with you. However, there are some caravan parks that are extra dog-friendly, with extra facilities, whether dog-friendly cabins, off-leash dog parks or dog washes. Check out my selection of the best dog-friendly caravan parks in South Australia…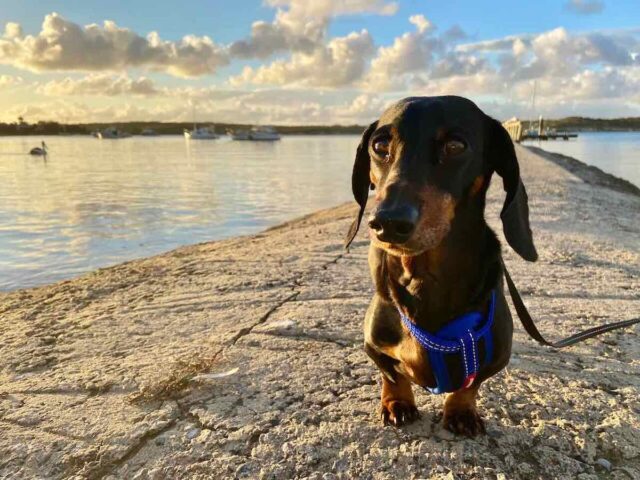 #1 Pine Country Caravan Park, Mt Gambier
One of the most dog-friendly caravan parks in all of SA is the Pine Country Caravan Park in Mt Gambier. This caravan park is loved by dog owners for its extra dog-friendly features.
As well as being permitted on sites year round, the caravan park is also home to two dog-friendly cabins, with up to two pets permitted in each. Both of the cabins have their own private fenced yard for your dogs, with the larger cabin also having an outdoor kennel. Plus both have dog bowls inside.
Best of all, all dogs staying at the park have somewhere they can run around off-leash, with the park having its own large off-leash dog park onsite. When making a booking, notify the reception in advance you'll be bringing at pet.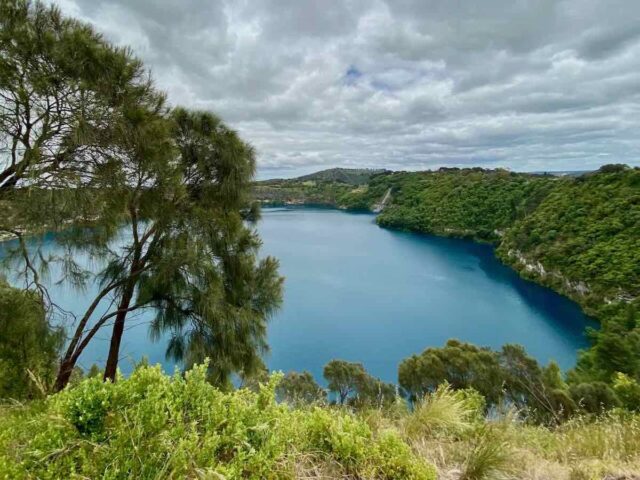 #2 Limestone Coast Caravan Park, Mt Gambier
Mt Gambier is quite a dog-friendly place to stay with your pup, with multiple caravan parks around the town offering off-leash dog parks, in addition to the facilities around town provided by the council.
Another pet-friendly caravan park in Mt Gambier to choose from is the Limestone Coast Tourist Park, just east of town. This park has its own well-maintained, fully-enclosed dog off-leash area.
While the park doesn't offer any pet-friendly cabins, pets are allowed to stay in the enclosed alcoves of their One Bedroom Holiday Units. Pets are also welcome to stay on sites, with all powered sites having their own ensuite.
#3 Whyalla Caravan & Tourist Park, Whyalla
One park that I've been hearing excellent reports about recently is the Whyalla Caravan & Tourist Park. This park recently had a change of managers, who have been making some terrific upgrades to the park, including for dog owners staying at the park.
Recently, an excellent off-leash dog exercise area was built at the caravan park. The dog park is a wonderful spot with a mixture of green grass and bark and plenty of agility equipment. There's also a shady table and seat for owners.
In addition, both the One Bedroom and Two Bedroom Cottages at the park are now pet-friendly. Both cottages are affordably priced and located in a quiet spot at the rear of the park. Note that an additional charge of $15 per night applies for pets.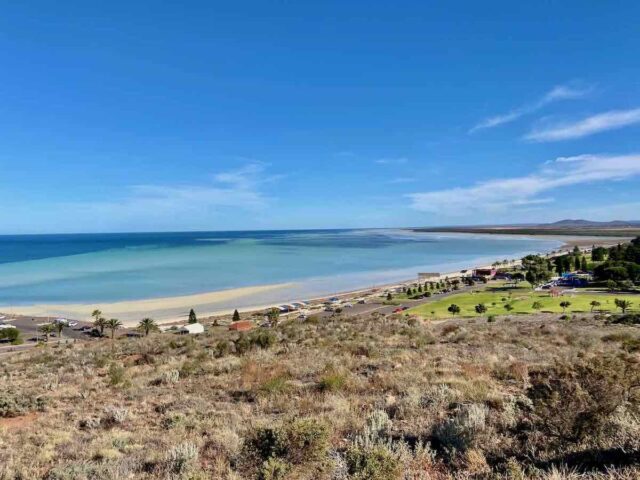 #4 Riverbend Caravan Park, Renmark
The Riverland region of South Australia is a wonderfully dog-friendly part of the state to explore. When I visited, we stayed at the Riverbend Caravan Park in Renmark, a wonderfully pet-friendly caravan park right on the banks of the Murray River.
This caravan park welcomes pets on all sites year round, including during school holiday periods. Ini addition, the park is also home to two pet-friendly cabins. Both cabins have a fully fenced yard, perfect for a worry-free stay, with up to two pets allowed in both cabins.
The park is a just a short drive from the many attractions of Renmark, including plenty of dog-friendly walks. Or just spend your days relaxing at the park next to the river with your dogs.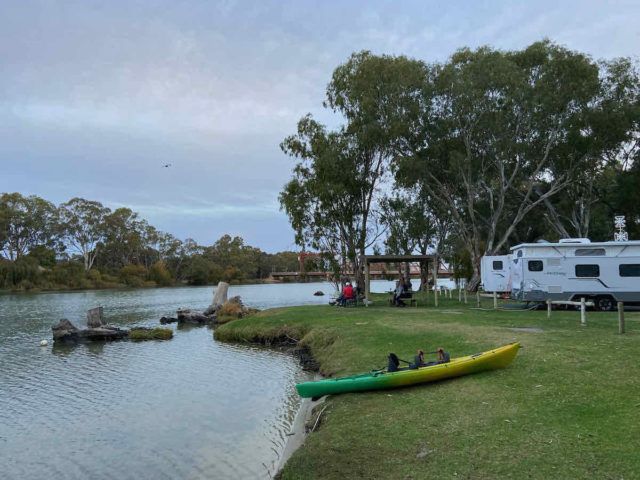 #5 BIG4 Naracoorte Holiday Park, Naracoorte
The BIG4 Naracoorte Holiday Park is a popular park to stay in eastern South Australia, particularly for families, thanks to excellent facilities including the onsite Tiny Train, mini golf course, adjacent swimming lake and more.
But dog owners haven't also been overlooked. Pets are welcome to stay on campsites, with a dog wash provided at one of the laundry blocks. Additionally, there is a pet-friendly cabin at the park.
The pet-friendly cabin is a studio cabin that can sleep two, with its own ensuite. The porch is fenced, perfect for relaxing outside with your pup by your side. Note that you need to advise the park in advance that you'll be bringing a pet.
#6 Adelaide Beachfront – Discovery Parks, Adelaide
An excellent dog-friendly caravan park in Adelaide to stay at with your dog is Discovery Parks – Adelaide Beachfront. This park is located in Semaphore Park, not far from Port Adelaide.
One of the best features of the park is its beachfront setting, next to Semaphore South Beach. Dogs are allowed on the sand all day long, although they need to be leashed between 10am and 8pm during daylight savings time – the rest of the time they can be off-leash. The caravan park is also a short drive from the new Semapaw Park, a fenced dog park.
In addition to allowing pets on sites, pets are also permitted in selected Standard 1 Bedroom and Standard 2 Bedroom Cabins – just look for the options listed as "Pet Friendly" on the website. Both cabins include a basic kitchen and bathroom, with the former ideal for couples, while the latter is suited for families.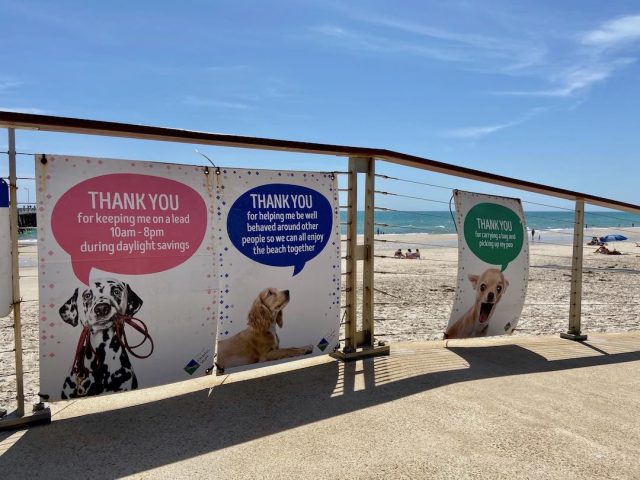 #7 Morgan Riverside Caravan Park, Morgan
Morgan is another town located along the Murray River, about a two hour drive from Adelaide. Consider making a booking at the pet-friendly Morgan Riverside Caravan Park.
Recently re-opened after renovations following the floods, the unpowered sites at this park are completely waterfront. You can hire kayaks, SUPs, tinnies and more from the park – enquire whether your pet is allowed onboard.
As well as allowing pets on sites, there is also a pet-friendly cabin. One of their standard cabins, up to two pets are allowed, with a $50 bond deposited on arrival. Note that these cabins don't have an ensuite, but they're very affordably priced. There's also a handy dog wash for all dogs at the park.
#8 BIG4 Stuart Range Outback Resort, Coober Pedy
Coober Pedy is a surprisingly dog-friendly place to visit in South Australia, not to mention one of the only towns along hundreds of kilometres of highway – an overnight stay in Coober Pedy while driving along the Stuart Highway is a given.
While there's the option to stay underground for the night, including with your dog, also consider staying at the BIG4 Stuart Range Outback Resort. This pet-friendly caravan park in South Australia welcomes pets on both powered and unpowered sites, although not in any of their apartments.
In addition, the park is home to an on-site dog wash. Just to thing to clean them up after desert adventures!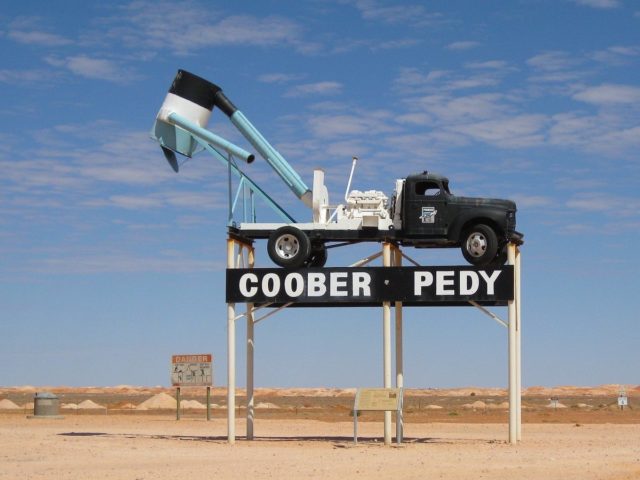 #9 Ceduna Shelly Beach Caravan Park, Ceduna
A popular park to stay at near Ceduna, where we stayed before crossing the Nullarbor with our dog, is the Ceduna Shelly Beach Caravan Park. Located a few kilometres south of town, the park is situated on 55 acres of natural coastal reserve with plenty of beach frontage.
One of the best things about the park is the many on-leash dog walks you can take. Choose between walks on the beach or the walking track that has been established through the dunes – ask at reception for a map.
In addition to allowing pets on sites, pets are also welcome in their dog-friendly one-bedroom cottages, that also sleep up to four human guests. Each of the cottages has an enclosed courtyard area and house-trained pets are allowed inside, with one pet allowed per cottage.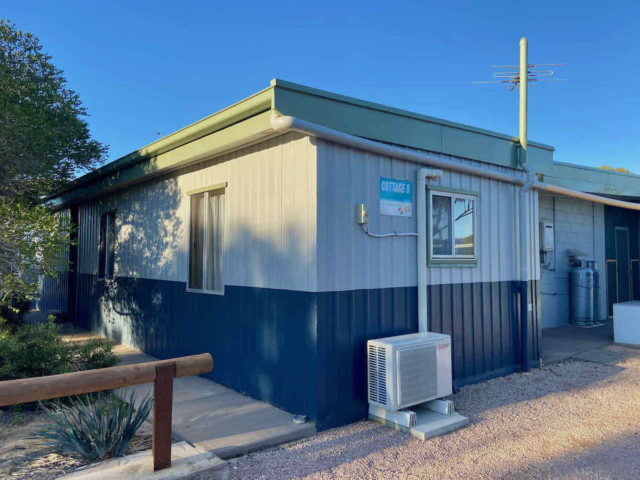 You May Also Like