When I recently visited Canberra with my dog, I was surprised by how dog-friendly the city is. Sure, I didn't try and take my dog inside of parliament house or the many museums that pepper the city. But there's so many dog-friendly things to do, not to mention dog-friendly hotels. If you're visiting Canberra with a dog, read on to find out about the best dog-friendly options in the capital city of Australia.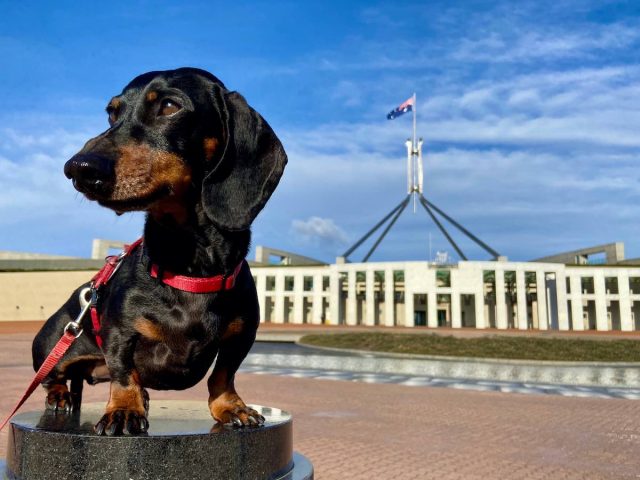 Dog-Friendly Sightseeing in Canberra
What really surprised me during our visit to Canberra with our dog was how many popular sightseeing stops in Canberra are dog-friendly. If you're heading to Canberra with your pup, add these to your itinerary.
#1 Visit Parliament House
Just as humans can walk on the lawns in front of Parliament House, dogs are also allowed access to this space, sometimes dubbed "The Great Verandah". For the ultimate Canberra dog-selfie, get a photo of your dog outside the front of Parliament House.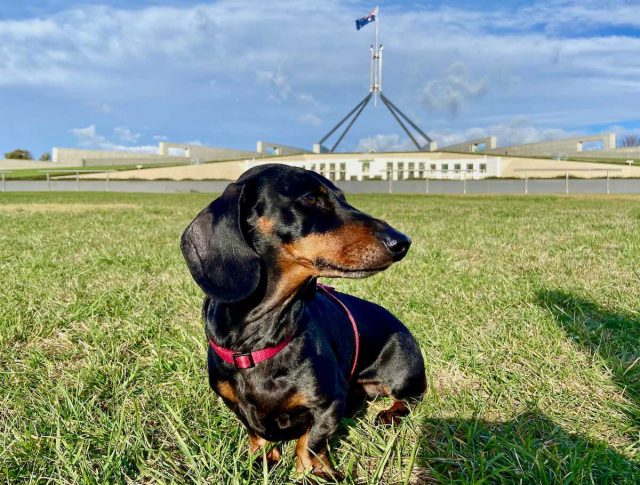 The whole Parliamentary Zone, extending from Parliament House down to the shores of Lake Burley Griffin, contains many important buildings, and is fine to walk through with your dog. Check out Old Parliament House, the National Library, the Portrait and National Gallery and the International Flag Display.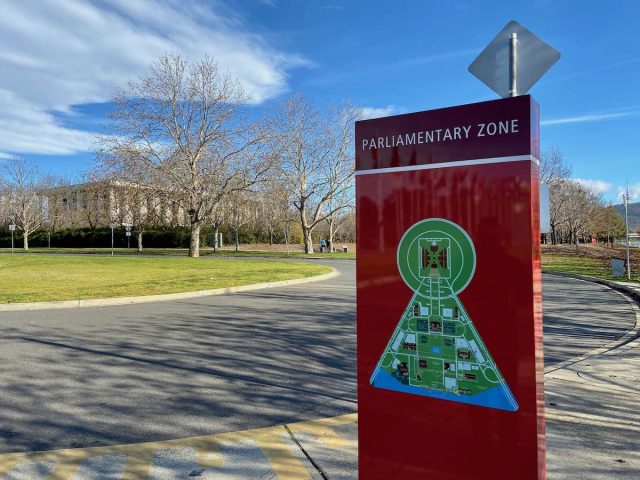 #2 Explore the War Memorials
Across the lake is the Australian War Memorial. While naturally dogs cannot visit the interior of this important memorial with your dog, it's fine for them to explore its exterior, including multiple tanks and statues.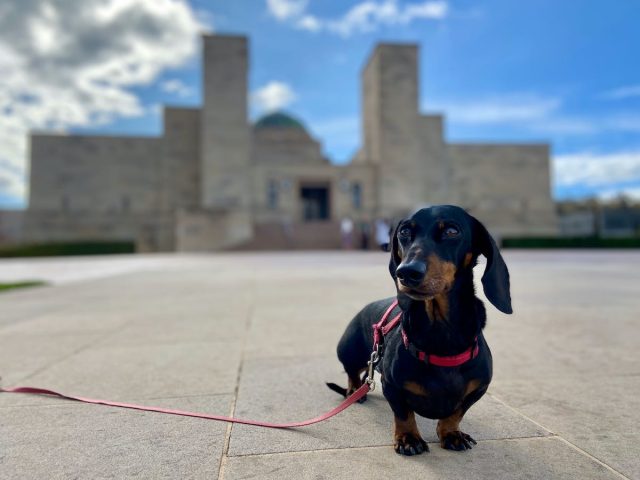 Perhaps also walk along Anzac Parade with your dog, viewing the many other memorials that line this road.
#3 Take in the Views from Mount Ainslie
To appreciate the unusual layout of Canberra, designed by Walter Burley Griffin, head to the summit of Mount Ainslie. One of the tallest peak that surrounds Canberra, Mount Ainslie lies at one end of the axis that extends through Parliament House to the Australian War Memorial. There's also some great signs at the lookout illuminating the history of the city's design.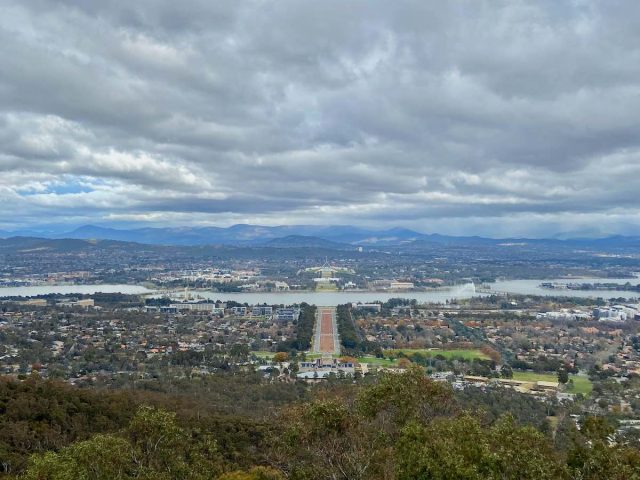 The easiest way to reach the summit of Mount Ainslie is to drive up, with a carpark at the top. However, it's also possible to walk up to the summit through the Mount Ainslie Nature Reserve, with a walkway starting behind the War Memorial. Dogs are welcome in the reserve on a leash, for more details of the walk see here.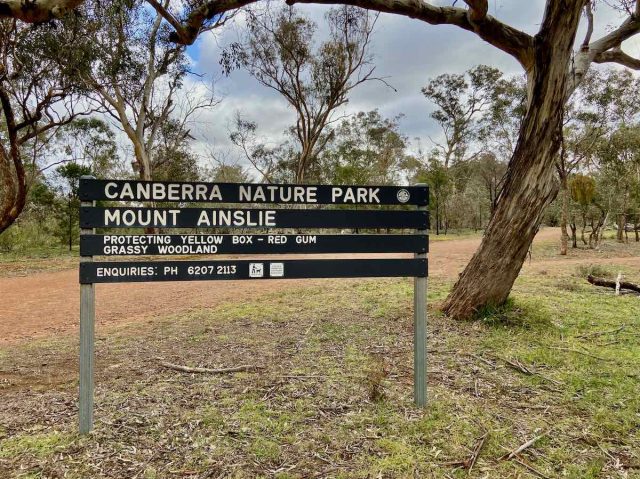 #4 Stroll Through the NGA Sculpture Garden
While dogs are naturally not allowed inside the National Gallery of Australia, the same restrictions don't apply to the Sculpture Garden outside. We checked for signage, discovering none except for a warning asking for cyclists to take care, but of course keep your dog on a leash.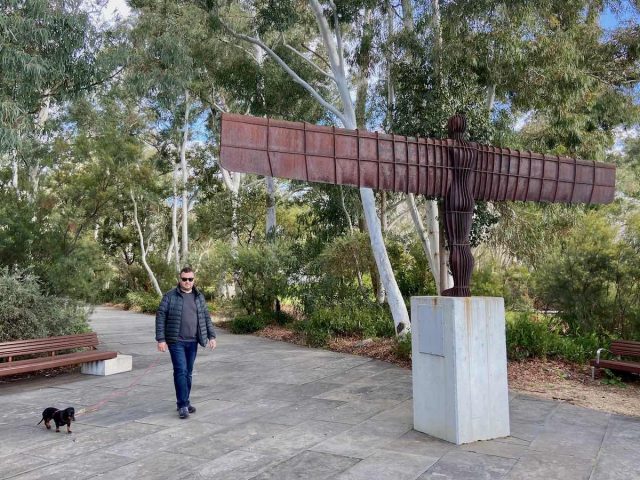 The Sculpture Garden contains 30 works by both Australian and International sculptors from the 19th, 20th and 21st centuries. One of the most famous works is a partial edition of Rodin's The Burghers of Calais.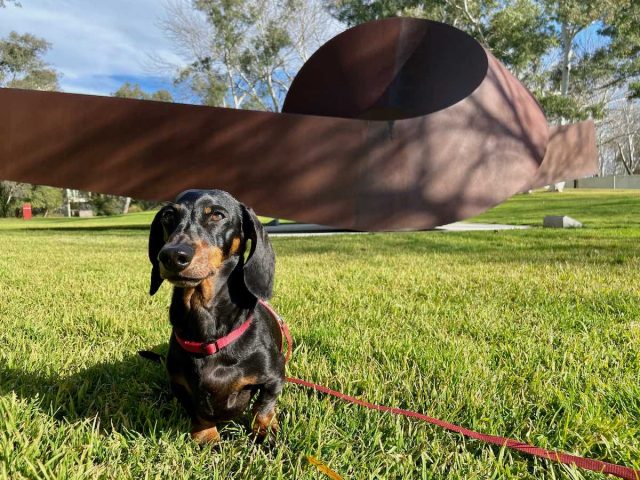 Perhaps enjoy a wander through the Sculpture Garden as part of a longer walk along the shores of Lake Burley Griffin, perhaps walking the 5km length of the Bridge to Bridge Walk (see below).
#5 Head to the National Arboretum
The National Arboretum on the western edge of Canberra is a rather new addition to the city. It was established in 2005 following the devastating bushfires of 2003 that swept through the area, opening to the public in 2013. But as trees take a long time to mature, it still looks quite young, except for a few older sections.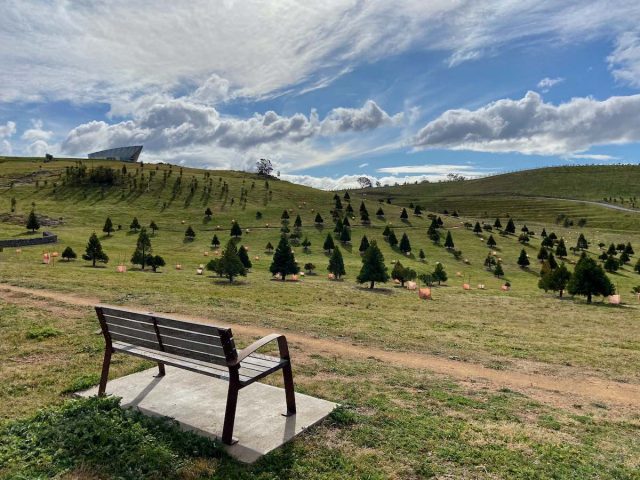 One of the most popular spots at the moment are the Himalayan Cedars, one of the older sections of the Arboretum, planted just over 100 years ago. The trees are mainly planted in monocultures, so the plantings of deciduous trees are sure to look special during Autumn.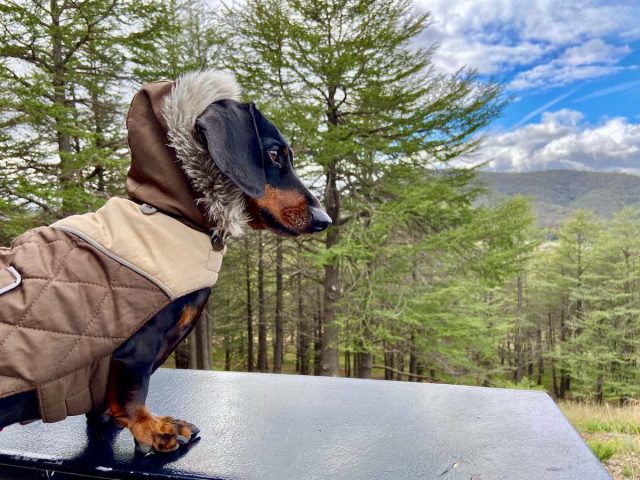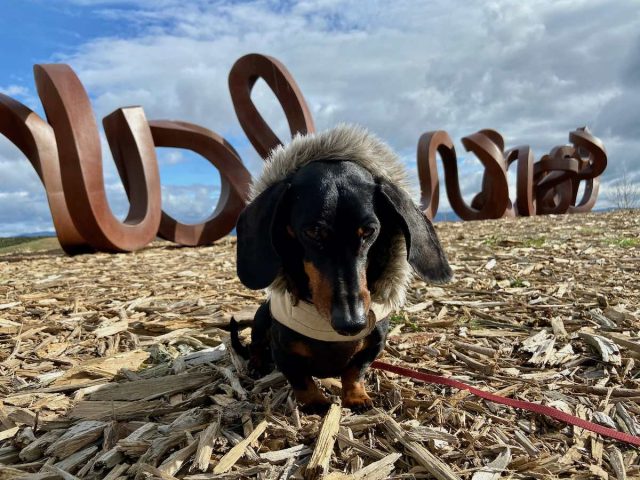 There's a huge number of walking trails throughout the Arboretum, over 20km in total. Dogs are welcome on all trails, but keep them on a leash and bring your own poo bags. Dogs are just not allowed inside the Village Centre, the POD Playground and the National Bonsai and Penjing Collection.
Entry to the National Arboretum is free, although there is a fee for parking next to the Village Centre.
#6 Taste the Local Wine
The Canberra wine region is renown in Australia as a cool-climate wine region producing quality wines. Many wineries have a cellar door open to the public, with dogs often welcome.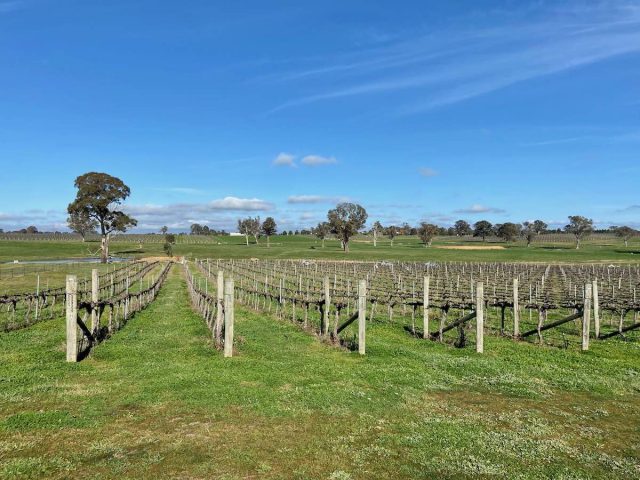 A number of the wineries are located near Lake George, on the road from Sydney. I've previously stopped off at the dog-friendly Lerida Estate, who make some fine rosés. There's also an on-site cafe with an excellent lunch menu, perfect for a dog-friendly lunch stop on the way to or from Canberra.
This time we headed over to the Murrumbateman area, to the northwest of Canberra, on the way to Yass. We enjoyed a tasting at Shaw Wines, the largest winery in Murrumbateman, who have a beautifully modern cellar door. Dogs are allowed outside on the terrace, but not inside the winery where seated tasting usually take place during the winter months.
Another option close by is the Murrumbateman Winery, a more rustic kind of cellar door. Well-behaved dogs are welcome to visit, including inside, where they might meet resident wine dogs, Mollie.
Merry Heart CBR has put together a list of the most pet-friendly cellar doors in Murrumbateman, ranked by pet-friendliness. Alternatively, contact Merry Heart CBR to book a dog-friendly guided winery tour to wineries in the area, leaving someone else to do the driving!
#7 Sniff the Flowers at Floriade and Tulip Top Gardens
Canberra is famous for its annual Floriade Festival, a month long Celebration of Spring held during September and October. The centrepiece is the ornate flower displays in Commonwealth Park, in between Lake Burley Griffin and the CBD.
Dogs are able to join in the fun, with generally the final day of the flower displays in mid-October designated as a Dogs' Day Out. As well as exploring the flowers, there are usually plenty of fun dog events. Double check the program when it's released to confirm the date and what's happening this year.
Around the same time of year, Tulip Top Gardens in Sutton opens to the public for about a month. These beautiful gardens are located just off the Federal Highway, the main route from Sydney to Canberra, just before you cross the border into the ACT. Best of all, leashed dogs are welcome to join you any day.
#8 Play in the Snow
As the coldest capital in Australia, a few falls of snow is typical most winters in Canberra. But to be guaranteed of enough snow to play in, the closest spot to head is Corin Forest, 45 minutes south of the centre of Canberra.
Corin Forest operate a snow play area, with a combination of snowguns and snowmaking machines generating plenty of snow cover every day. An entry fee applies and bookings are advisable.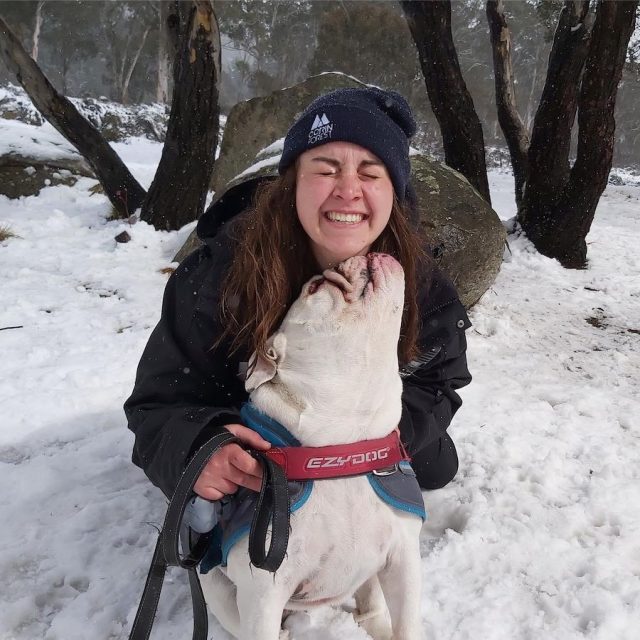 While their picnic area is dog-friendly, generally the snow play area is not open to dogs. However, they host a handful of designated Snow Dogs sessions each September. It's best to check their Facebook page and website closer to the time (usually late August) to find out the date and make a booking.
#9 Head Out on the Lake
Lake Burley Griffin lies at the centre of Canberra. So experiences the city from a different perspective and get out on the lake. With your dog of course!
GoBoat offers electric picnic boats for hire from Trevillian Quay in Kingston. With no boat license required and hire periods from just an hour available, it's an easy yet affordable way to enjoy some time on the water with your dog. There's even the option to add on a grazing box. I've rented one of their boats in Sydney and can attest to their quality!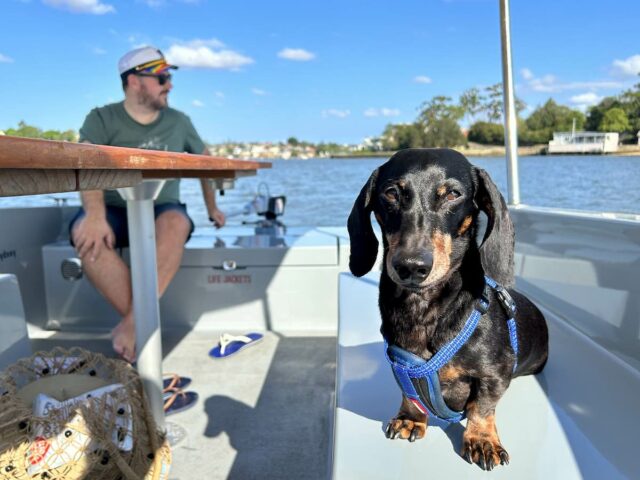 Another option are the paddle boats from Capital Paddle. Launching from Regatta Point close to the Canberra CBD, explore the lake under your own paddle power, with dogs welcome to join you. Just note it closes over the winter. During the summer months it is open most weekends, depending on the weather.
Dog-Friendly Walks in Canberra
There's no shortage of dog-friendly walks around Canberra, before for a fun adventure with your pup except for during the hot days of summer.
For starters, there are multiple walking and cycling paths around Lake Burley Griffin. A total of 30km of paths are divided into the Western, Central and Eastern Loops, with dogs permitted on most of them. The most notable exception is the section of the Eastern Loop that passes through the Jerrabomberra Wetlands Nature Reserve.
The most popular dog-friendly option is the Central Loop, otherwise known as the Bridge to Bridge Walk, as it loops in between the Commonwealth Avenue Bridge and Kings Avenue Bridge. Along the way it passes popular sights such as the Captain James Cook Memorial water jet, Commonwealth Park, the International Flag Display and the National Gallery of Australia Sculpture Garden. Use this self-guided walking tour brochure along the way.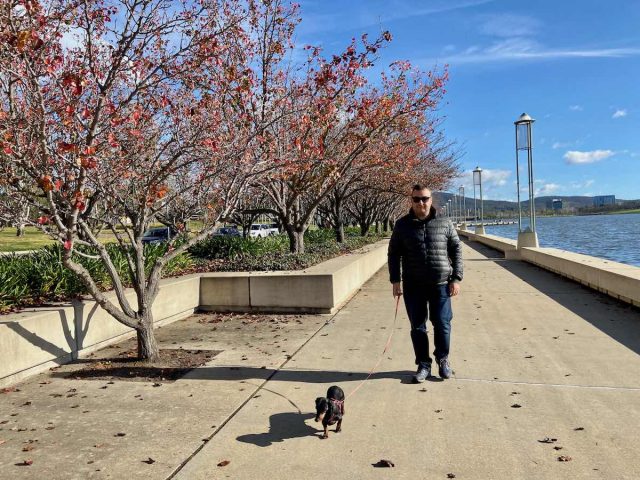 While dogs need to stay on leash on the Bridge to Bridge Walk, a great off-leash walk in Canberra is the Shepherds Lookout Walk in the Woodstock Nature Reserve. Starting from a small carpark near the end of Stockdill Drive in the Belconnen area, it's a 600m walk to the lookout over the Murrumbidgee River.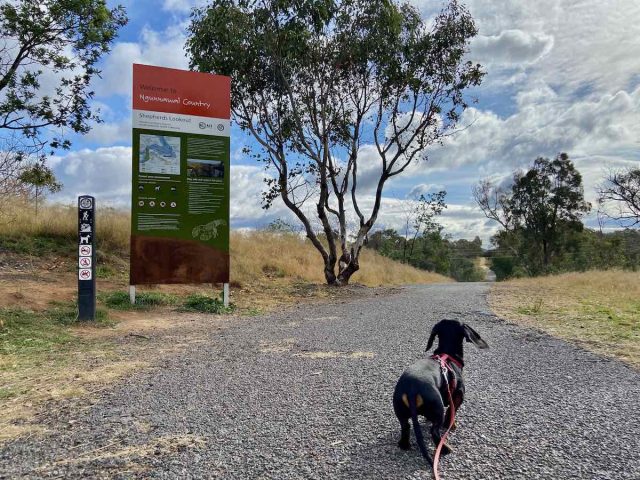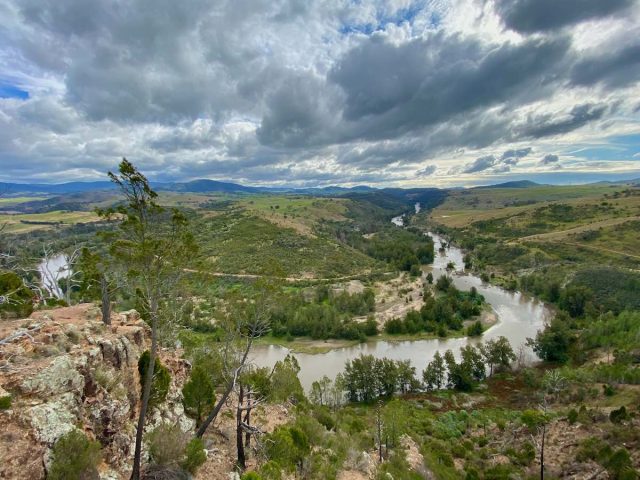 Return by the same route or the slightly longer loop. While dogs are allowed off-leash on this track, they are prohibited from the rest of the nature reserve.
Other on-leash dog walking options around Canberra include the Farrer Ridge Nature Reserve Walking Trails, the walking trails in Mount Ainslie Nature Reserve including the Mount Ainslie Summit Track, and the 20km of walking trails in the National Arboretum.
Dog-Friendly Parks in Canberra
Around the Canberra area there are seven fenced dog parks. They're located in:
Belconnen (Lake Ginninderra Dog Park)
Greenway (Mortimer Lewis Drive at Lake Tuggeranong)
Yarralumla (Weston Park)
Forde (Amy Ackman Drive)
Casey (Springbank Rise)
O'Connor (Fairfax Street)
Duffy (Warragamba Avenue)
For further details, check out the City Services webpage. There's also this handy map highlighting all off-leash dog areas in the ACT, plus prohibited areas. (Click on Dog Exercise Areas in the upper left of the map to display the highlighting.)
On our visit to Canberra, we checked out the Yarralumla Dog Park, in Weston Park. It's quite large, with separate fenced areas for small and large dogs, which we always appreciate for our Miniature Dachshund, Schnitzel. Inside are water taps and benches to sit on. Be warned that much of it is dirt, so it will be muddy after rain.
Just outside of Canberra if you're passing through Queanbeyan, also check out Barkley Dog Park in Googong. This large and rather wild park is a delightful spot for adventurous dogs, and even features a dam. It's located just off Grazier Road with a handy carpark next to it.
Dog-Friendly Swimming in Canberra
While Canberra is far from the coast, there are still plenty of options for dogs to swim during the hot summer months. (When we visited on a cold winters day, it was definitely not a consideration!)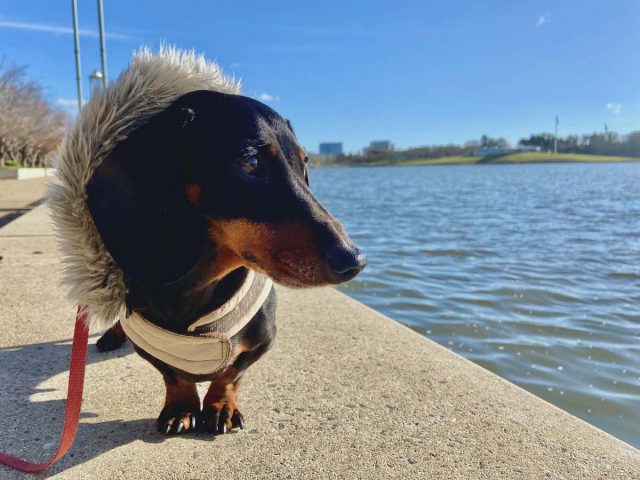 Around the lakes of Canberra, dogs are prohibited from public swimming beaches and must remain on-leash in most areas, but there are seven designated dog swimming beaches. These are located at:
Gordon (Point Hut Pond)
Greenway (Lake Tuggeranong)
Yarralumla (Orana Bay and Kurrajong Point Beach in Weston Park)
Gungahlin (Yerrabi Pond)
Belconnen (Lake Ginninderra and Diddams Close)
Another option that I've heard plenty recommendations for is to head to the Murrumbidgee River, outside of the city.
Dogs are allowed off-leash in the Uriarra Recreation Reserve Area, including the Uriarra East, Uriarra West and Swamp Creek picnic areas. There's plenty of welcoming water holes to cool down in. Dogs are also allowed off-leash on the western riverbank of the Point Hut Crossing recreational area.
Pet-Friendly Transport in Canberra
If you'd prefer to leave your car behind when travelling around Canberra, luckily Canberra and the ACT are now more pet-friendly when it comes to public transport, as least for small pets.
Pets were initially only allowed on the new light rail line that runs between the CBD and Gungahlin Place, but they are now also allowed on buses, with permission from the driver. However, pets need to travel in a secure pet carrier, so it's really only practical for small pets. Check out the full rules.
Dog-Friendly Dining in Canberra
There's plenty of dog-friendly dining options in Canberra, whether it's brunch and a coffee or a locally brewed beer that you're after.
One of the best dog-friendly cafes in Canberra is the Local Press Cafe on the Kingston Foreshore, perfect to combine with a walk along the banks of Lake Burley Griffin. The cafe specialises in fresh and natural wholefoods, along with cold pressed juices.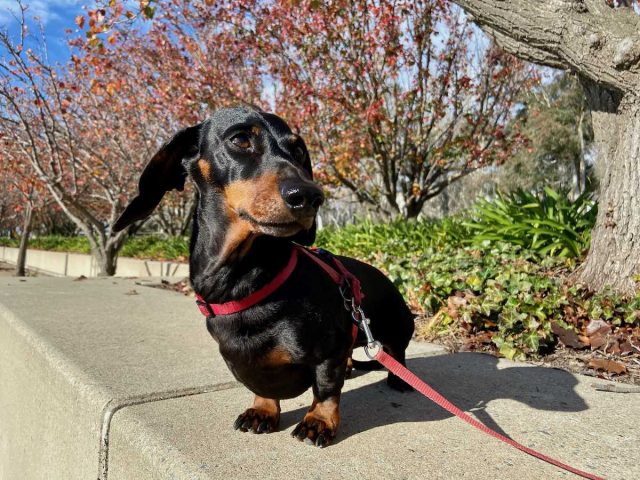 Alternatively, head to The Cupping Room, in the centre of Canberra. Brought to you by the Ona Coffee team, Canberra's largest speciality coffee roaster, they're serious about their coffee, plus serve up brunch seven days a week. Try to have your pup snapped for their Instagram page.
We wrapped up our day in Canberra with a visit to Snapper & Co, at the Southern Cross Yacht Club in Yarralumla. Voted Canberra's best fish and chips, put in a takeaway order then sit on the outdoor tables or spread out on the lawns for a picnic with your pup. The fish on my fish burger was large, delectable chunks!
If you're after a pub dinner with your pup, a great spot to head to is the Kingston Hotel. With a large beer garden, leashed dogs are welcome to join you outside, where they can even select from their own doggie menu and be brought a bowl of fresh water.
Capital Brewing Co is also dog-friendly at their Fyshwick Taproom, both inside and out. Enjoy a beer from their core range or special releases. Plus brodburger have a permanent food truck in the taproom serving up burgers and hot dogs.
Alternatively, if gin is more your style, check out the Tipsy Bull. The home of gin in Canberra, with over 230 varieties, dogs are allowed at the outdoor tables. Their restaurant also offers up friendly, fine-ish dining, perfect for sharing.
Dog-Friendly Accommodation in Canberra
Note: This post contains affiliate links, which means I may receive commission if you make a purchase using the links. See my full disclaimer.
In the last couple of years a growing number of Canberra hotels, both old and new, have put out a welcome mat (plus usually a treat) for four-legged guests. If you're heading to Canberra, there's a wide variety of dog-friendly hotels to choose from.
Abode Hotels have multiple hotels dotted around Canberra. Currently, their Belconnen, Gungahlin, Kingston, Murrumbateman and Narrabundah hotels welcome pets. (Skip staying at the Tuggeranong or Woden locations if you have a pet.)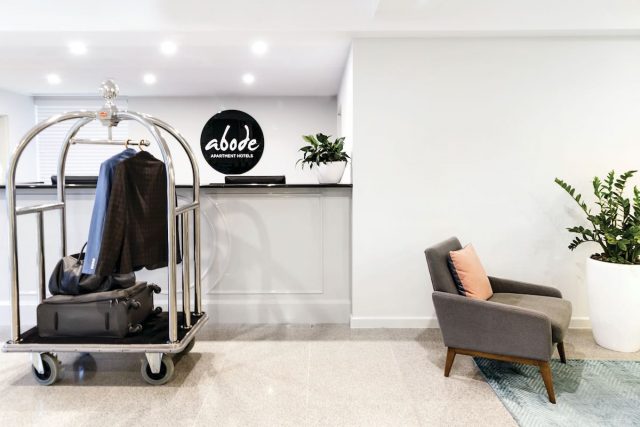 All rooms in the Abode Hotels are self-contained, with a small kitchenette, always a handy option when you're travelling with a pet and the weather turns miserable. To book a pet-friendly room, select the Pet Package on their website. Note that you should bring your own pet bed, and if you have a second pet (up to two are permitted per room) an additional charge applies.
In particular, I've heard excellent feedback about Abode Narrabundah, with all pet-friendly rooms having access to a dog run.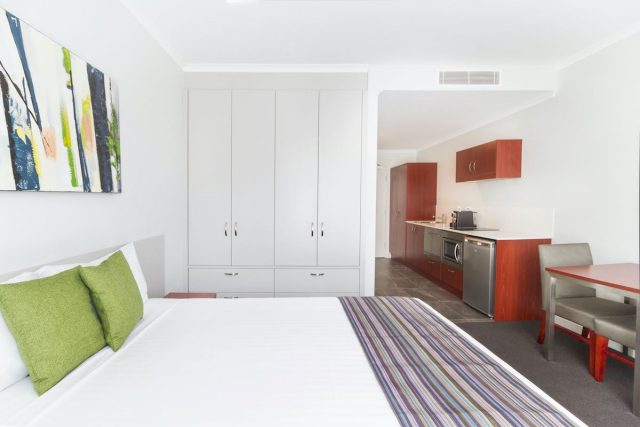 For a more luxurious stay in Canberra, consider the Ovolo Nishi. This five-star luxury boutique hotel is located in Canberra's CBD, near Commonwealth Park. With artistic touches, including restored vintage furniture and original artworks in each room, your dog is also treated in style when you select a V.I.Pooch package.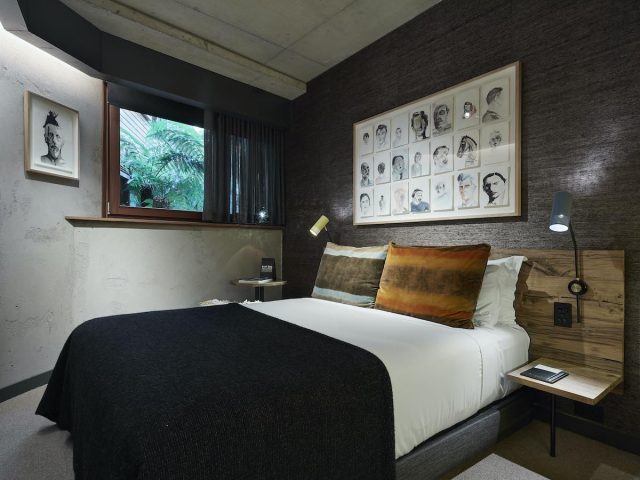 The V.I.Pooch package at Ovolo hotels includes a bed and bowls for your pup, along with a "Doggy Bag" containing specially designed dog toy and treats. There's also pet-friendly staff on hand to provide assistance when needed.
Another luxury pet-friendly hotel in Canberra is the glamorous QT Canberra. Book a Pup Yeah! package and your pup will enjoy a designer dog bed for the night, as well as their own mini-bar (full of treats!) and in-room dining menu. Enquire about the option of dog walks and grooming. There's a size limit of 20kg, and an additional $150 cleaning fee applies.
Two more pet-friendly hotel options in Canberra are the Mercure Canberra and the Pacific Suites Canberra. At the heritage-listed Mercure, there are dedicated pet-friendly rooms, each with a private courtyard. They also offer the option to book pet sitters and there are no size limits. The Pacific Suites features two pet-friendly floors and accepts pets up to 50kg. There is no additional fee for pets, just a deposit.
If you'd prefer to stay at a caravan park, the most dog-friendly option around is the Capital Country Holiday Park, located just before you cross the border on the road from Sydney. They have four "dog freedom sites", powered sites which are fully fenced, as well as two dog-friendly bungalows. The regular powered and unpowered sites also permit dogs.
Alternatively, we also stayed not far from Canberra in the town of Bungendore, at the Bungendore Showground. While the facilities are basic, there's a friendly caretaker and powered sites are just $25 per night or unpowered sites $15. Just over 35 minutes from the centre of Canberra, make sure you visit the local Wood Works Gallery.
Head Next To
Inspired? Pin this to your Pinterest board!