If you're looking for somewhere to head along the NSW coast with plenty of dog-friendly beaches, look no further than Batemans Bay! Along the stretch of coastline north and south of the town, from South Durras to the Moruya River, there's twelve beaches that are off-leash all day long, plus plenty more timeshare options.
With a wide range of dog-friendly accommodation, Batemans Bay makes for a great dog-friendly getaway from Canberra (only 2 hours away) or Sydney (under 4 hours drive). Find out more about what to do when visiting Batemans Bay with a dog…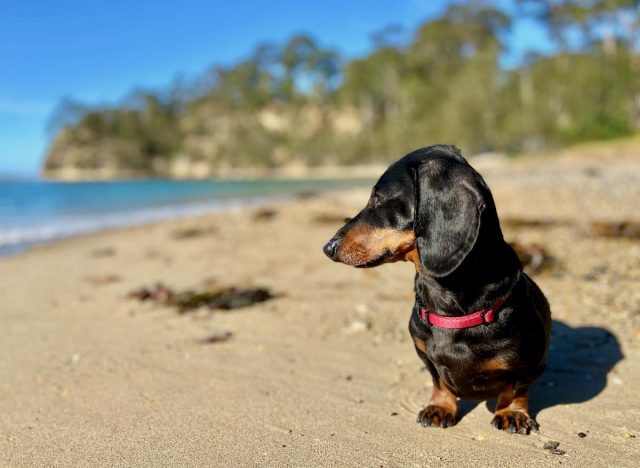 Dog-Friendly Beaches in Batemans Bay
There's no shortage of dog-friendly beaches in the Batemans Bay area: the 40km stretch of coastline from South Durras to the Moruya River has no less than twelve 24-hour off-leash beaches!
There's even more dog-friendly beaches if you want to count the timeshare beaches. With the timeshare beaches in the Batemans Bay area, during the summer months dogs are not allowed on the beach between 9am and 5pm. But between 1st May and 31st October, dogs are allowed on the beach all day long.
As we last visited the region during the winter, there was a huge number of off-leash beaches we could have visited. But we decided to stick to the year-round off-leash beaches, comparing them all to determine which ones are the best. Our favourite beaches included, from north to south:
Durras Main Beach: A long and wide beach with golden sand about 20 minutes drive north of Batemans Bay in South Durras. The surf can be rather rough, but it's a lovely stretch for off-leash frolics. The dog-friendly section starts from south of the caravan park, north to the headland. (If you want to stay longer, the Big4 South Durras Holiday Park allows well-mannered small dogs, generally under 10kg, on a handful of sites.)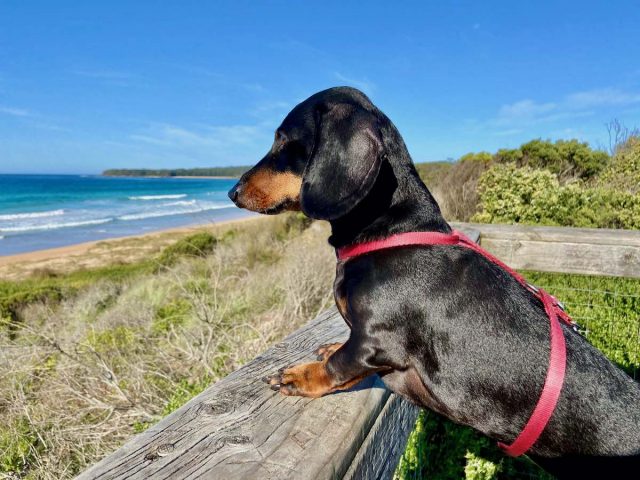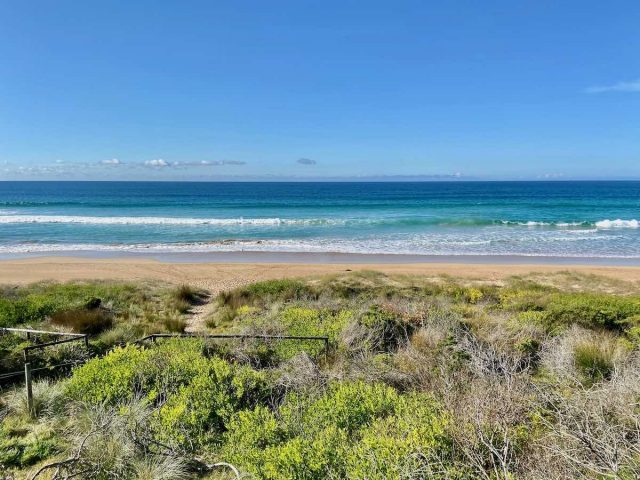 Sunshine Bay Beach: About 5km south of Batemans Bay, look out for the sign "Sunshine Cove" while driving along Beach Road. A beautiful and tranquil spot, the beach is fairly small, but big enough for some off-leash explorations and a calm spot for swimming. (A couple went snorkelling during our visit.) Our dog, Schnitzel, loved sniffing along the shoreline.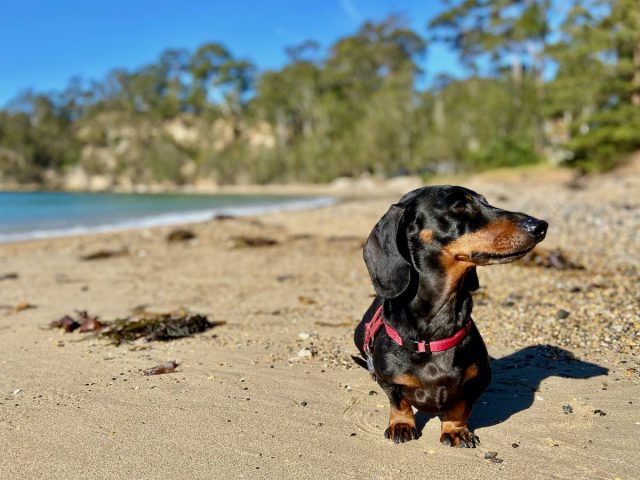 Wimbie Beach: One of my favourite beaches in the Batemans Bay area, this is a gorgeous and very calm beach. It's also well removed from the road, so you can feel safe about allowing your dog off leash. Dogs are also allowed off-leash on the adjacent reserve and headland.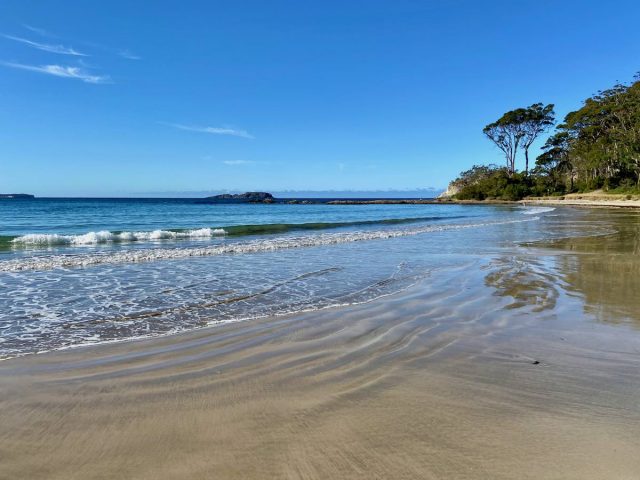 Circuit Beach: This beautiful and secluded beach at Lilli Pilli is surrounded by bush, which luckily escaped the recent bushfires. However, there's very limited parking, so it's probably best to head elsewhere on busy days.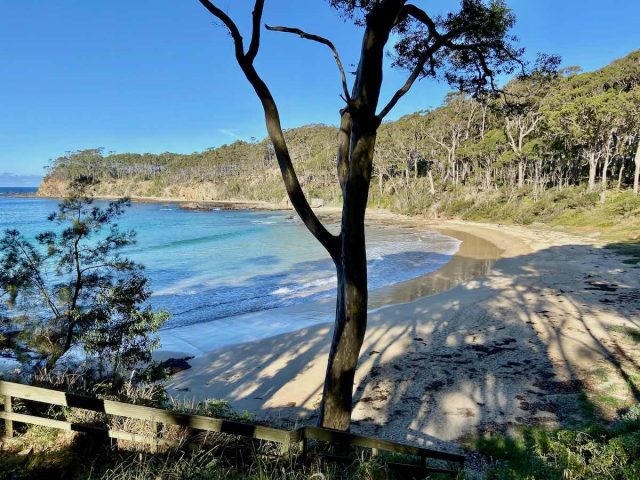 Tomaga River Beach: The off-leash area is very large, extending to both the ocean beach and river beach on either side of the long spit. Park near the boat ramp and then take your pick between the two, or walk all the way around the spit. Note that dogs are not allowed on Cove Beach north of the headland.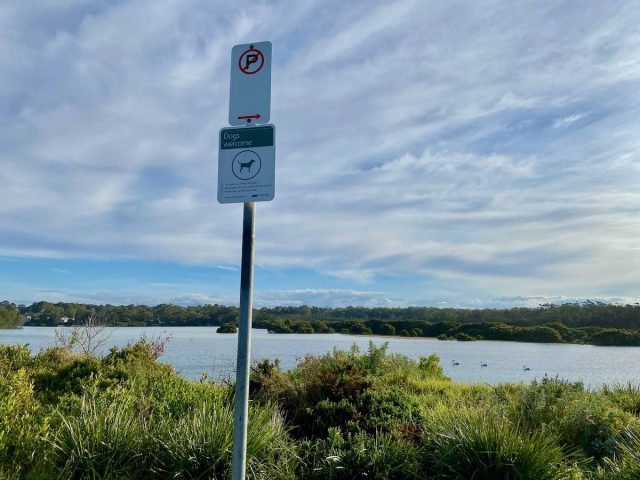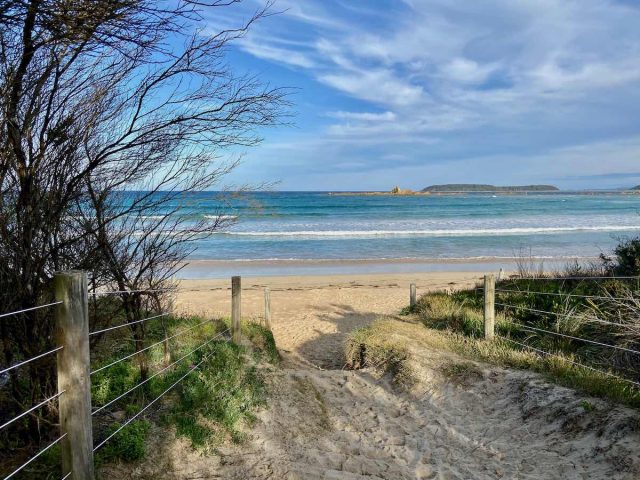 Broulee Beach: A lovely wide beach, especially at low tide, that was quite calm when we visited. Dogs are allowed in between the Frances Street access point and the nature reserve around Broulee Island. (Dogs are not permitted to join you in venturing across to the island.)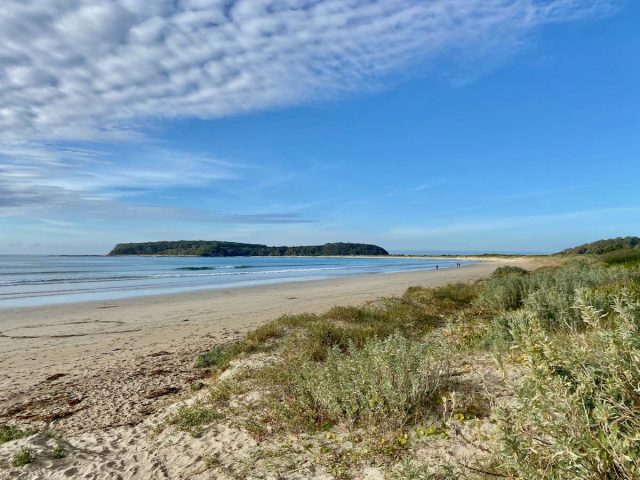 Bengello Beach: This is one of the largest off-leash beaches around, stretching for over 6km! Dogs aren't allowed on the northernmost section, but are allowed from McNee Street south to the North Head campground. Just one caveat – if horses are being ridden on the beach, dogs need to stay on leash nearby.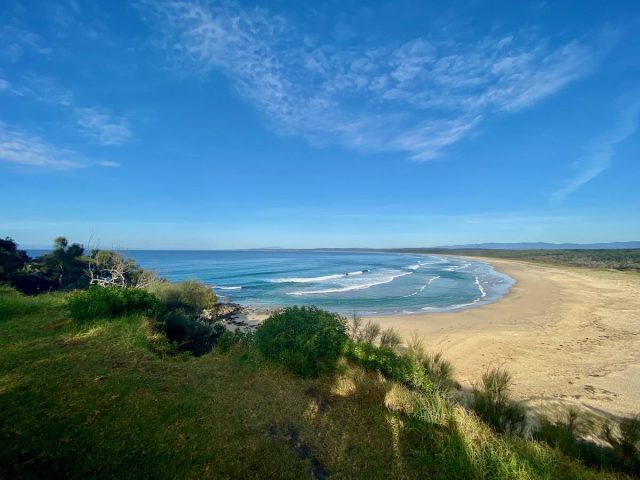 For a full listing of off-leash, timeshare and prohibited beaches, check out the Eurobodalla Shire Council website and this document.
Dog-Friendly Parks in Batemans Bay
In addition to being allowed off-leash at many beaches, there are also four reserves around Batemans Bay where dogs are allowed off-leash. Dogs are allowed off leash at:
The grass reserve in Nelligen next to the tennis courts
Surf Beach Reserve in Surf Beach, except during Pony Club and authorised events. (Although dogs are prohibited from the actual beach, as well as the playground area.)
Tomaga River Reserve in Mossy Point, on the southern side of the Tomaga River, from the boat ramp west to Connells Close
Ryans Creek Reserve in Moruya, east of Riverside Park (past the cattle grid)
For further details, see the maps on this page.
Dog-Friendly Sightseeing Around Batemans Bay
While visiting Batemans Bay, there's a few extra spots I recommend you check out.
#1 Stroll Through Historic Mogo
The small historic town of Mogo is located about 10 minutes south of Batemans Bay and is a great stop. The bushfires of 2019/2020 swept through the northern end of town and I was worried that much was lost, but luckily most of the town was saved.
Go for a wander along the main street and check out the shops selling a mix of lollies, homewares, crafts, vintage wares and gifts. (Stick to browsing the racks outside with your dog, unless you have the go ahead from staff to enter.) Plus make sure you stop by the dog-friendly Grumpy & Sweethearts cafe (see below).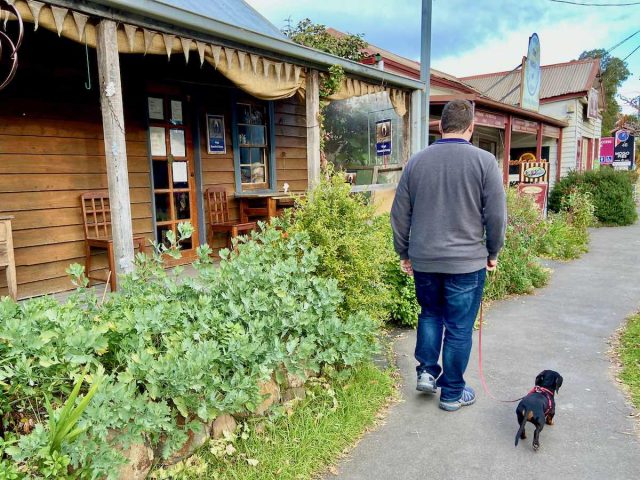 (If you're happy with getting a pet-sitter for the day, also consider heading to Mogo Wildlife Park. This privately owned zoo is a magnificent attraction, with an impressive collection of exotic animals, including white lions and many primates, that were kept safe from the bushfires engulfing the area.)
#2 Stop in Braidwood
If you're driving in between Canberra and Batemans Bay, a great place to stop about halfway in between the two is the town of Braidwood. This historic town has a great selection of cafes, antiques stores and galleries in its old buildings lining the main street.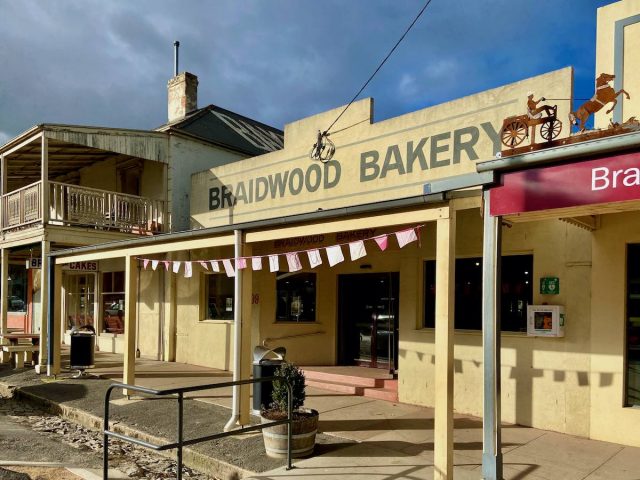 #3 Follow the Coastal Headlands Walking Trail
In Batemans Bay itself, keep an eye out for the Batemans Bay Coastal Headlands Walking Trail. This trail between Observation Point in Batehaven and Malua Bay is due to be complete in 2024, with some sections already place. Dogs will be allowed on the trail, except when it runs along beaches where dogs are prohibited or timeshare restrictions apply.
Dog-Friendly Cafes in Batemans Bay
One of the most dog-friendly cafes around Batemans Bay is Grumpy & Sweethearts, on the main street of Mogo. There's a huge outdoor area that is partially covered. (Just ask the staff to let you through if the outdoor gate is closed.) Water bowls are provided and there's lots of attention and sometimes even treats from the staff members.
We enjoyed some cake and coffee in the afternoon sun, but there's also plenty of reasonably priced toasties and sandwiches, as well as more substantial lunch options.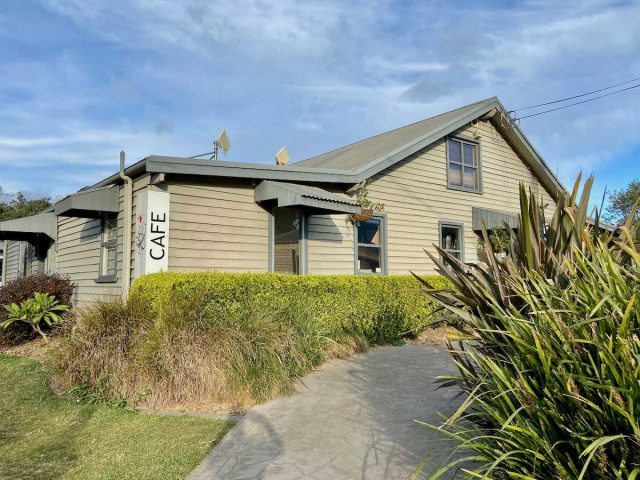 In the centre of Batemans Bay, a great waterfront cafe and restaurant to head to is Starfish, the oldest restaurant in town. Open daily for a late breakfast, lunch and dinner, menu is heavy on seafood. There's also a long list of wood-fired pizzas available both during the day and evening, and it's fully licensed. Dogs are welcome at the outdoor tables.
Further along the waterfront, also consider heading to Southern Catch, the casual alfresco seafood outlet next door to the more upmarket JJ's at the Marina. (Note that dogs are no longer permitted on the deck at JJ's.) Dine on the picnic tables or takeaway your meal to enjoy elsewhere along the bay.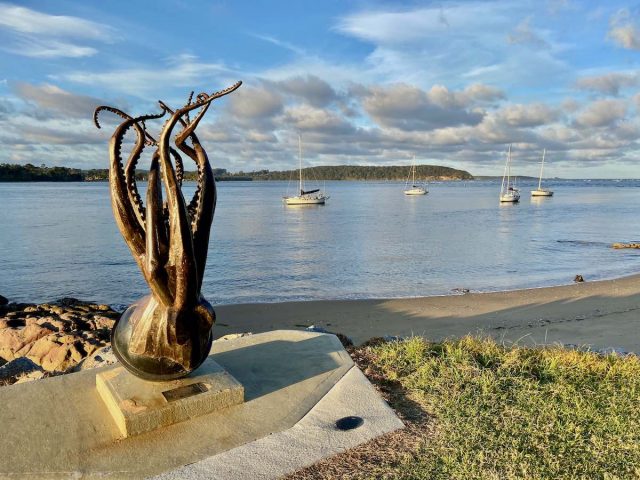 Alternatively, for breakfast, lunch or just coffee any day of the week, head to Mossy on Pacific. This popular cafe in Mossy Point offers a colourful all-day menu, plus Barista-made coffee from Guerilla Roasters. Dogs are welcome at the outdoor tables.
Dog-Friendly Pubs in Batemans Bay
If you're staying south of Batemans Bay, don't miss visiting the Broulee Brewhouse. Located just metres from North Broulee Beach and with plenty of pet-friendly outdoor tables, the brewhouse is open for lunch and dinner from Wednesday to Sunday. As well as their own locally brewed beers, they have a kitchen serving up tasty bites from burgers to Mexican.
Further south in Moruya, the Moruya Waterfront Hotel is indeed waterfront, with a dog-friendly beer garden on the banks of the Moruya River. It's a tranquil spot to enjoy a meal or just a drink. It's also right next down to the dog-friendly Riverbreeze Caravan Park.
Dog-Friendly Accommodation in Batemans Bay
No matter what your preferred accomodation style, there's plenty of dog-friendly accommodation options in Batemans Bay.
Note: This post contains affiliate links, which means I may receive commission if you make a purchase using the links. See my full disclaimer.
Pet-Friendly Hotels in Batemans Bay
The Abode hotel chain, which has multiple pet-friendly properties around Canberra, also has a coastal location, Abode Malua Bay. The hotel is located 15 minutes south of the centre of Batemans Bay, near the timeshare off-leash Malua Bay Beach. All rooms are self-contained with their own kitchenette.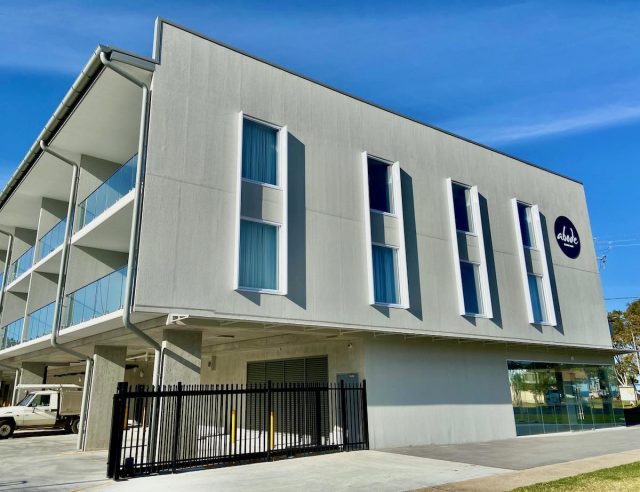 When booking, make sure you note that you will be staying with a pet. Up to two pets are permitted per booking, for an additional charge of $50 per pet, per night.
Recently opened boutique motel The Isla also has one pet-friendly room available, a King Courtyard room. You will need to book directly, with a $100 cleaning fee applying per dog per stay, and only smaller, short-hair dogs allowed. Rooms at the revamped retro motel feature king-size beds and Nespresso machines with St Ali coffee pods.
Pet-Friendly Caravan Parks in Batemans Bay
While some caravan parks around Batemans Bay only allow dogs during off-peak periods or not at all, luckily some of the caravan parks allow dogs all year round.
This is the case at the pet-friendly BIG4 Batemans Bay Beach Resort, where we stayed for the night. The park allows dogs on both sites and in selected two-bedroom cabins, although the number of pet-friendly sites and cabins is limited over the peak Christmas and Easter periods. Direct bookings are required, plus a pet deposit for cabin stays.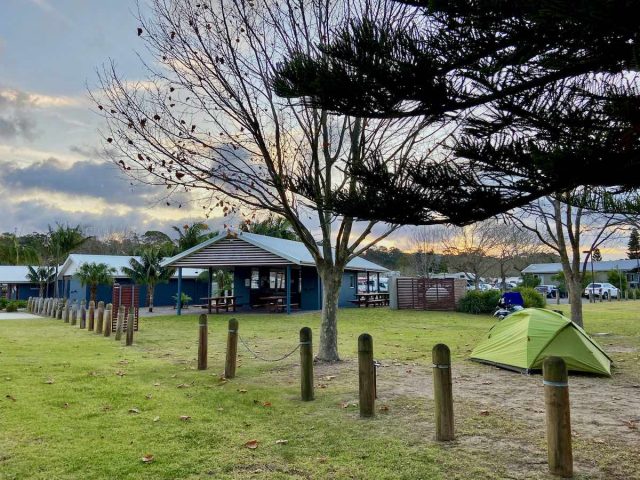 What we loved about the BIG4 Batemans Bay Beach Resort is that it's located next to the off-leash Corrigans Beach, with direct access from the campsites. It's not my favourite dog beach around, but it's close to town so a popular spot during the morning and evening. The caravan parks also has lots of facilities for all the family, including a pool and mini golf.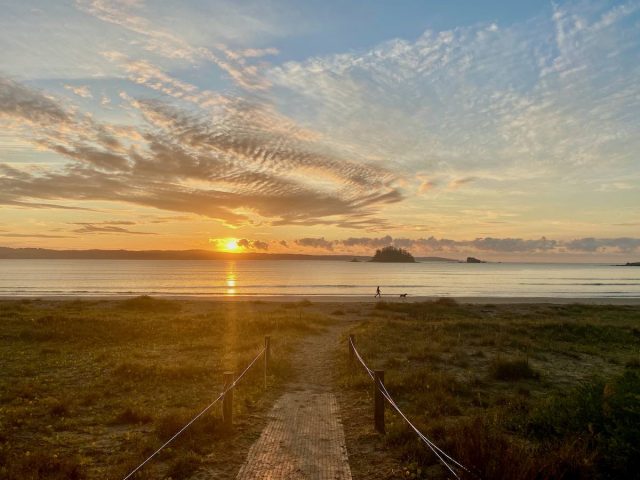 Another caravan park just south of Batemans Bay that allow dogs year round is the Barlings Beach Holiday Park. As well as being allowed on camping and caravan sites, pets are also allowed in Islander Cabins, Beach Comber Cabins and Tomakin House. According to their pet policy, there is a limit of one pet per cabin with an additional charge of $50 per stay, plus a $100 pet bond (which may also apply to sites).
Previously, only small to medium size dogs were permitted, but this is no longer stated in their policy, although final discretion lies with the manager. Advance bookings are required over the phone. There is an off-leash dog run on site, plus a pet washing machine. Plus the park is adjacent to a time-share off-leash dog beach.
Pet-Friendly Holiday Rentals in Batemans Bay
Head to Long Beach on the northern side of Batemans bay and stay at The Dans. This spacious, luxurious beachside house that can accommodate up to seven guests is just metres from the off-leash beach and two SUPs are even included for your use.
Up to small two dogs are permitted. Dogs are allowed inside, but use the provided blankets if they go on the sofa and keep them off the beds. The yard is fully fenced and secure.
A simpler holiday cottage nearby is Wren's View Lodge at Maloneys Beach. Sleeping up to six, the cottage backs onto the Murramarang National Park and is close to the time-share dog-friendly Maloneys Beach, where you might even spot kangaroos on the sand. The backyard is fully enclosed.
Head Next To
About the Author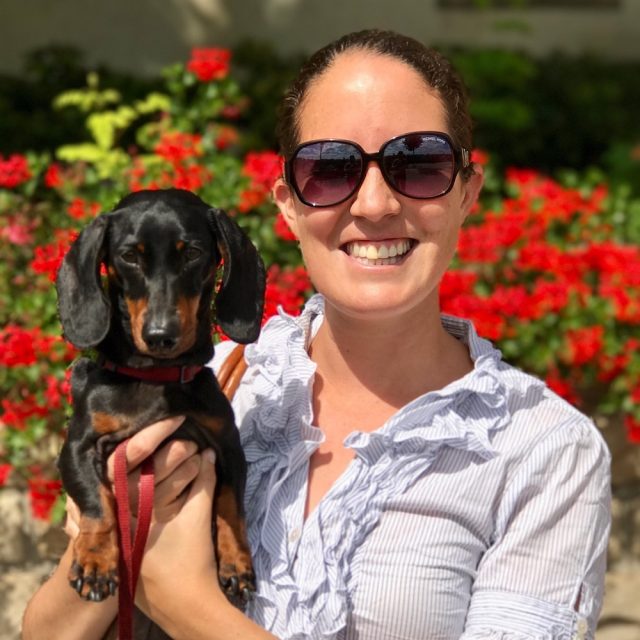 Shandos Cleaver is the founder of Travelnuity: Dog-Friendly Travel. She has travelled extensively with her Miniature Dachshund, Schnitzel, including to 33 countries across Europe, every state and territory of Australia except Tasmania, and 10 of the United States. She's passionate about providing inspiration and information to others wanting to travel with their dogs, whether close to home or internationally.
Inspired? Pin this to your Pinterest board!