If you're planning to head to the Central Coast with your dog, you're be happy to discover that there's plenty of dog-friendly options available. Situated so close to Sydney on the NSW coast, the Central Coast is great for either a dog-friendly day out or quick getaway.
Check out these dog-friendly beaches, walks, parks, cafes and places to stay on the Central Coast…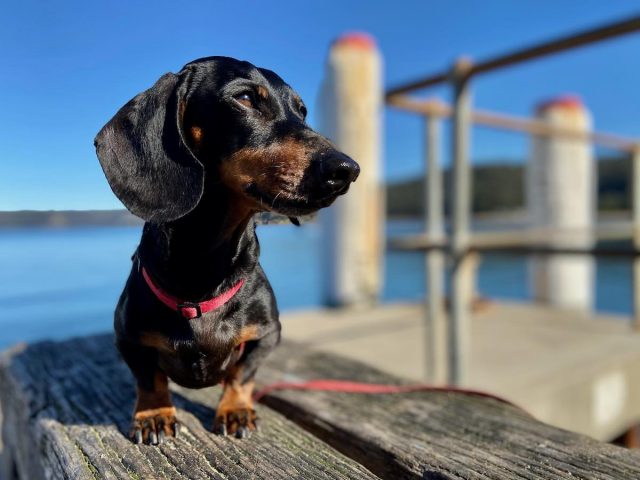 Dog-Friendly Beaches on the Central Coast
The Central Coast is home to a huge number of beaches, and luckily many of them are dog-friendly. For a full list of the dog-friendly beaches, check out my complete guide. Some of the most popular options include, from south to north:
Patonga Beach: The small village of Patonga is tucked away on the southern outskirts of the Central Coast. The main stretch of Patonga Beach is off-leash 24/7, from the jetty to the Meroo Avenue boundary sign. The waters of the lower Hawkesbury River are calm and clean.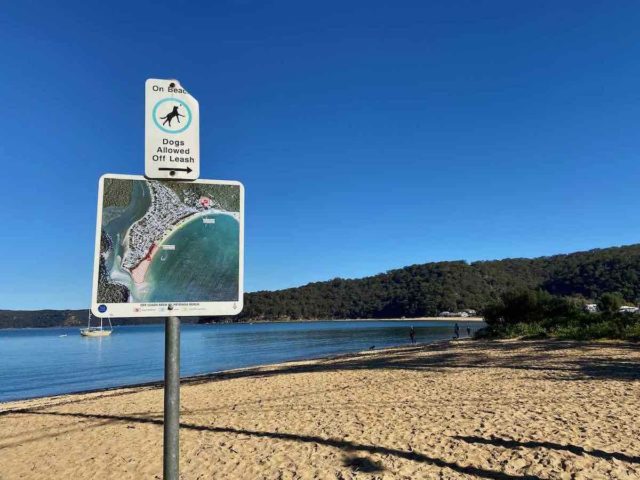 Umina Beach: The southern end of Umina Beach is a very popular dog beach on the Central Coast. The off-leash section is in between the Berrima Crescent Car Park and the beach access track opposite Umina Beach Skate Park. While I've come across some suggestions that dogs are no longer allowed on the beach, it's still listed on the council website. Perhaps double check the signage.
Copacabana Beach to Macmasters Beach: This peaceful beach with golden yellow sand is off-leash to the south of the patrolled area. Check out the signs for the access points that allow dogs. It's great to walk across to the northern half of Macmasters Beach, past the lagoon. Dogs commonly swim in the lagoon, but be wary of pollution after rain.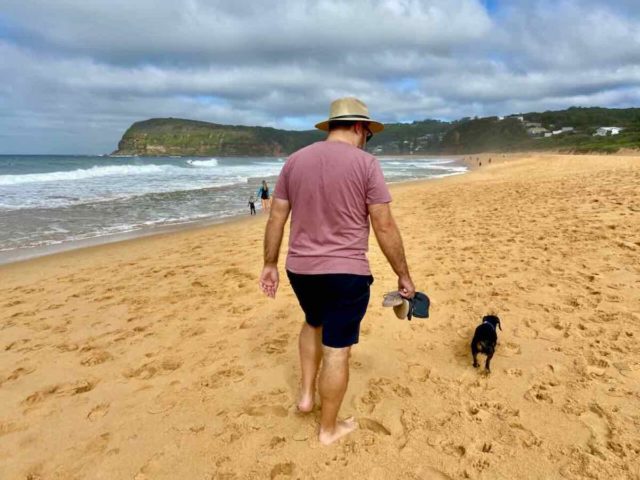 Avoca and North Avoca Beaches: There's an off-leash area at Avoca and North Avoca Beaches surrounding the lagoon that lies in between the two beaches. Only a short section of Avoca Beach is off-leash, north of the Shark Tower, while the off-leash section of North Avoca Beach extends to the View Street beach access. There's a handy carpark off Ficus Avenue next to the lagoon, next to the "Dogs of Avoca Park" pin on Google Maps.
Shelly Beach: This large surf beach is equally as popular with local dog owners and surfers when the swell is up. On Google Maps, search for "North Shelly Beach Dog Beach". The off-leash section extends from the beach access stairs, where there's plenty of free parking, south to the northern beach access walkway off Shelly Beach Road, adjacent to the golf course.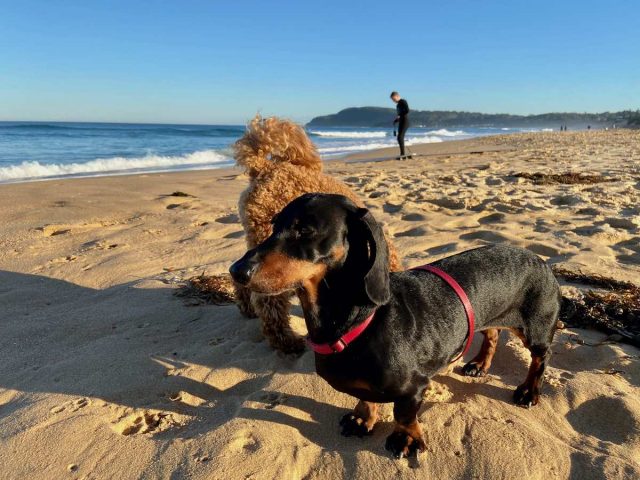 Budgewoi Beach: A spectacularly rugged yet beautiful beach close to Lake Munmorah, also known as Lakes Beach, this beach has a large off-leash area to allow dogs to run free to their heart's content.
Dog-Friendly Walks on the Central Coast
Just inland from the Central Coast are a number of state forests that offer up dog-friendly bushwalking opportunities.
The most popular option is the Strickland State Forest, just north of Gosford. The forest contains multiple walking tracks, most around 2km long. During our visit we hiked the Arboretum Track, a 2.3km hike through one of Australia's oldest arboretums, include a fun swinging bridge.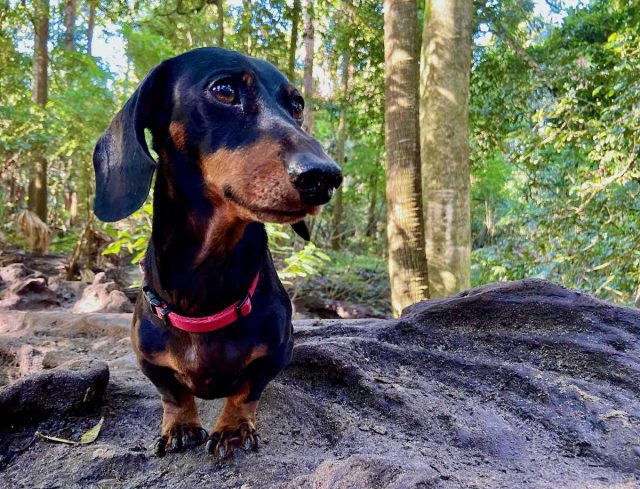 Dogs are not required to remain on a leash, but need to stay under your control. The standard protocol is you put your dog back on a leash when you spot other dogs.
Note that the final road into Strickland State Forest is unsealed. It's about 2.5km down to the lower carpark, or 1.5km to the Banksia Picnic Area. I'd skip driving to the lower carpark in a 2WD after heavy rain, although the road to the Banksia Picnic Area should be fine. Be warned that the walking tracks in the lower section are frequently muddy.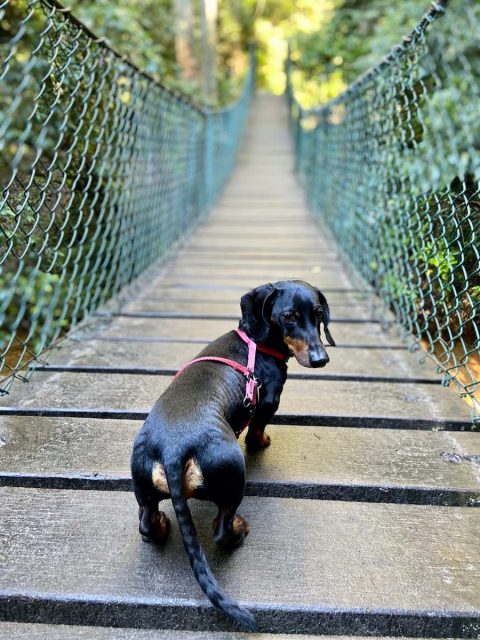 If you'd prefer a short coastal walk, a great spot to head is Terrigal Haven, the headland on the southern side of Terrigal Beach. Adjacent to the off-leash dog exercise area are a number of footpaths, including one leading up to the tall vantage point of the Skillion. During June and July, it's a must to stop at the lookouts and try and spot whales migrating past.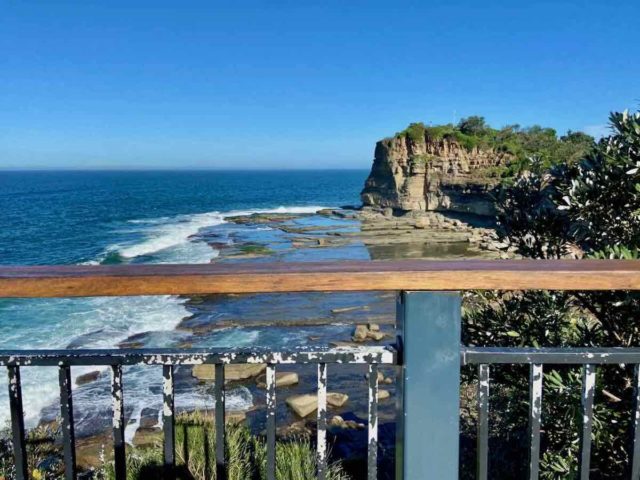 Dog-Friendly Parks on the Central Coast
There's a large number of parks that allow dogs in the Central Coast region to choose from.
One of the best options is the Tuggerah Dog Park, on the eastern side of Tuggerah. Here there's three large fenced area, including an area for small dogs. Plus there's a fun obstacle course, although unfortunately no poo bag dispenser or bins. Make sure you clean up after your pup!
Another handy spot, conveniently close to the motorway, is the Kariong Dog Park, at the Mount Penang Parklands. While dogs are not allowed in the Mount Penang Gardens, keep driving a few hundred more metres to this off-leash dog park. A large grassed paddock with a dam and plenty of space for a large number of dogs, it's technically fenced, but nothing that would stop any dog, so keep a close eye on them.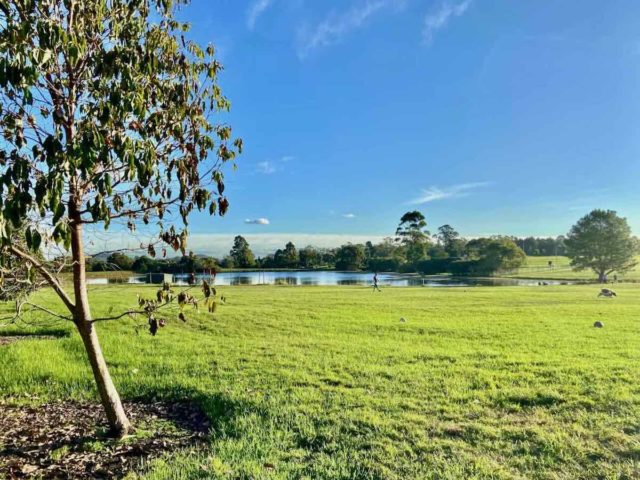 Alternatively, head to the southern end of Terrigal Beach, to Terrigal Haven. The unfenced off-leash park on the headland makes for a great walk with your dog, complete with views across Terrigal Beach and the chance of spotting whales during winter. Combine with an on-leash walk to the nearby Skillion.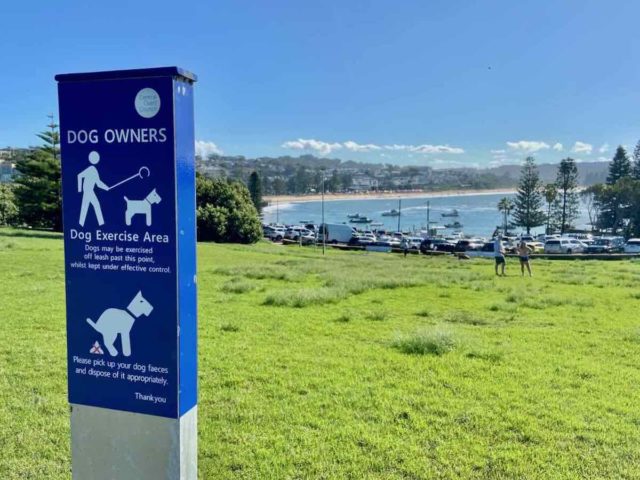 For a complete listing of dog-friendly parks in the Central Coast region, check out this listing, which nows provides maps for all locations.
Dog-Friendly Dining on the Central Coast
There's plenty of dog-friendly cafes and restaurants to dine at on the Central Coast. Most places with outdoor seating will welcome well-behaved pups on a leash, although it's always best to double check.
One particularly dog-friendly cafe is Kindred Spirits Cafe, in the village of Yattalunga. As well as an extensive menu of beverages and bites for humans, they have a special dog menu. Choose between puppychinos and doggolattes, "woofles" and stuffed cow hooves. There's also a pet boutique onsite.
(Note: As of February 2023, the cafe has temporarily closed while it is relocating, with the new location and facilities to be announced.)
On a recent day out with our pup, we enjoyed a wonderful beachside lunch at the Point Cafe at Avoca Beach. Located at the southern end of the beach (be careful not to let your dog onto the sand here), there's a number of dog-friendly outdoor tables to the side of the cafe, under the Norfolk Pines. (Just be warned it's dirt underfoot.) Open daily for breakfast and lunch, the prices are a little expensive, but the food is excellent, they offer wine and beer, and the views delightful.
Another great option, especially for a day trip, is The Boathouse Hotel Patonga. This hotel is from the same operators as the ever-popular Boathouse Palm Beach and Balmoral Beach, and is located opposite the off-leash dog beach in Patonga. Its large outdoor area with water views is dog-friendly. Alternatively, there's also a take-away outlet adjacent, with decent prices.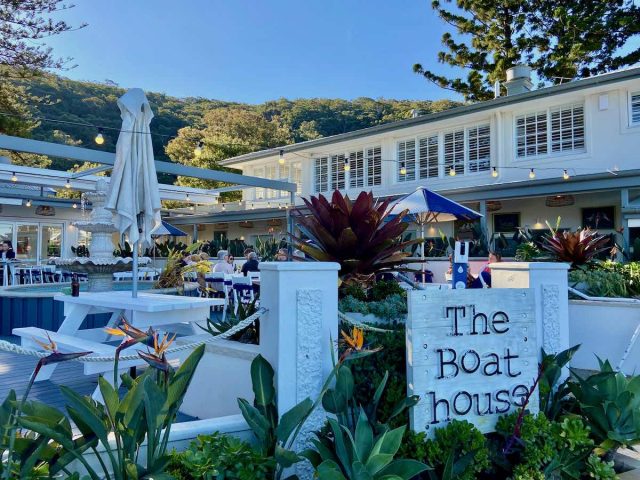 Another gorgeous spot that I've got on my list to try is the Bamboo Buddha Cafe and Nursery in Holgate, just north of Erina. This beautiful cafe is set in a serene Bali-style garden, and offers a vegetarian and vegan menu, ranging from burgers to curries. It's open from Wednesday to Sunday.
For more options, head to the strip of cafes with outdoor seating at Long Jetty or The Entrance, or else dine next to the beach at Munchas Cafe at Shelly Beach. Dogs are also allowed in the large shaded outdoor seating area with views across to the beach at Terrigal Hotel near Terrigal Beach.
Dog-Friendly Breweries and Wineries on the Central Coast
If you're a lover of craft beer, there's a number of dog-friendly breweries on the Central Coast that you should check out.
The highly-rated Bay Road Brewery in Gosford has an outdoor seating area with cover from the sun and rain where pups are welcome. It's best to book, as it can get busy, and on weekends a rotating list of food trucks pull up out the front.
At Block 'n' Tackle Brewery in Kincumber, dogs are permitted inside, although they need to be kept on a leash and you should sit near the door.
Alternatively, head to Firescreek Winery, just down the road from Bamboo Buddha Cafe. This organic property makes a variety of fruit, flower and herb wines. Enjoy a complimentary tasting with your dog on a leash, either in the outdoor area or inside the cellar door.
Dog-Friendly Accommodation on the Central Coast
There's a wide range of dog-friendly accommodation on the Central Coast to suit all styles and budgets.
Note: This post contains affiliate links, which means I may receive commission if you make a purchase using the links. See my full disclaimer.
Pet-Friendly Caravan Parks on the Central Coast
If you're looking a pet-friendly caravan park on the Central Coast to camp with your dog, it's best to head to the northern part of the region. While the caravan parks down south in Patonga and Pretty Beach are sadly not pet-friendly, about half of the parks between Shelly Beach and Budgewoi accept pets, although some only seasonally.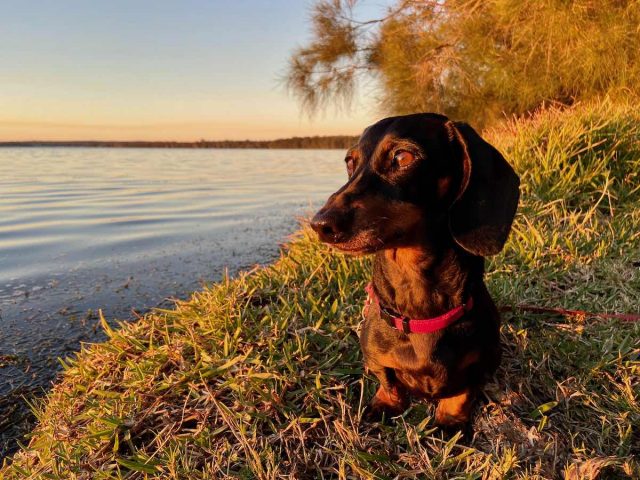 Two great options that are pet-friendly year round are Toowoon Bay Holiday Park and Budgewoi Holiday Park. Toowoon Bay Holiday Park is ocean front and just north of the off-leash section of Shelly Beach. Run by the Central Coast Council, the park includes a resort style pool and plenty of entertainment for the kids. There are no pet-friendly cabins, but selected sites permit pets.
Further north is Budgewoi Holiday Park, also run by the Central Coast Council. Located on Lake Munmorah, it's also not far from the dog-friendly Budgewoi Beach. This parks also permits pets on selected sites, but not in cabins. A huge caravan park, it was quiet when we visited in Winter, but is likely bustling in summer.
Pet-Friendly Hotels on the Central Coast
If camping is not your style, a great pet-friendly yet affordable hotel to stay at is the Buccaneer Motel in Long Jetty, just south of the Entrance. Billing itself as a truly pet-friendly hotel, both dogs and cats are welcome in any of the double, twin or family rooms (which all feature tile flooring).
There is an additional charge of $25 per pet per night. The motel is very close to the off-leash section of Shelly Beach.
Alternatively, the Mecure Kooindah Waters has one pet-friendly room. A One Bedroom Apartment with a full-sized kitchen and living room, the room has large glass sliding doors that open directly up to the golf course, just one of the on-site amenities at the golf and spa resort. Advance bookings are essential directly through reception.
Pet-Friendly Holiday Homes on the Central Coast
There's also a large range of holiday homes on the Central Coast, many suitable for larger family groups. I recommend booking early as only a small percentage accept pets.
A fabulous looking property tucked into Pearl Beach is The Greenhouse Retreat. With two separate buildings, it can accommodate up to 8, whether an extended family or up to 4 couples. There's a wonderful swimming pool, plus it's just about a one-minute walk from the beach, which is dog-friendly at the northern end. Double check the rules for dogs before booking.
Another pet-friendly property is Pawtopia in Umina Beach. Up to two dogs are welcome, in the four-bedroom holiday home. Near the beach, a row boat, canoe, surf ski and surf boards are available for the use of guests. Dogs are allowed inside, just not on the furniture or beds. Note that the backyard fronting onto the creek is unfenced.
You May Also Like
Inspired? Pin this to your Pinterest board!