Derived from the Aboriginal word meaning "place of pink seashells", Cronulla is a terrific beachside destination in Sydney. Located on the southern edge of Sydney in the Sutherland region, find out more about visiting Cronulla with your dog, including the best dog-friendly beaches and other fun things to do with your dog.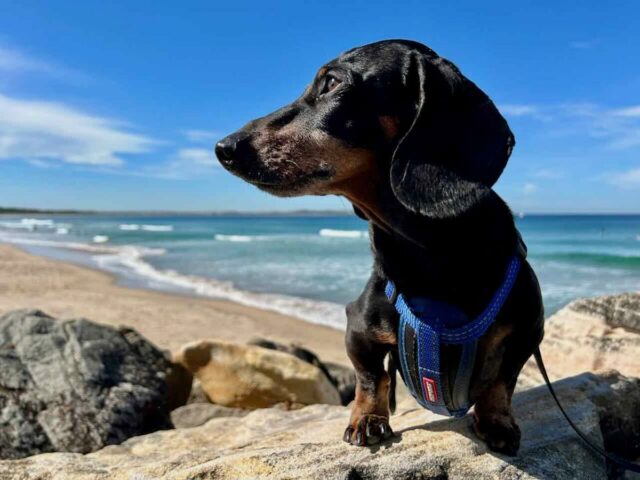 Dog-Friendly Beaches in Cronulla
There are two great dog-friendly beaches close to Cronulla. The closest dog-friendly beach is Greenhills Dog Beach, also known as Cronulla Dog Beach.
Located just north of Wanda Beach, the off-leash dog exercise area is located between Gates 1 and 5 on Greenhills Beach. On Google Maps, search for "Greenhills Beach Off Leash Area".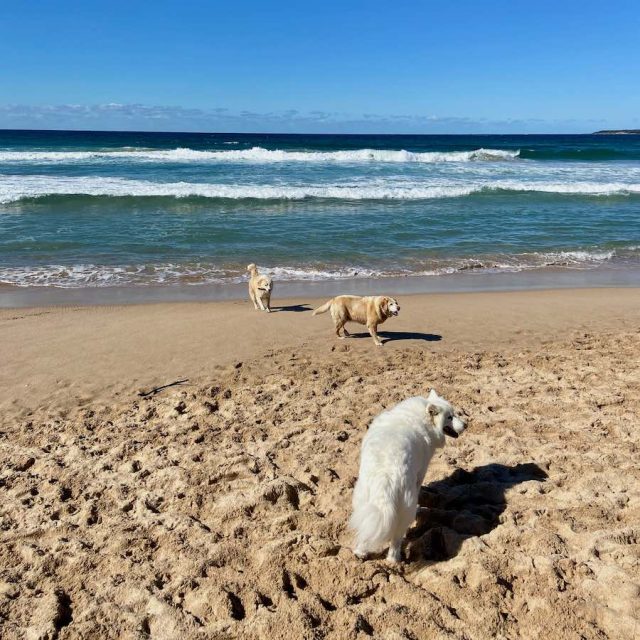 This dog beach is the only dog-friendly ocean-facing beach in all of Sydney, so it's very popular with dogs, especially adventurous dogs who like to paddle in the waves.
Unfortunately though, dogs are only allowed on the beach part of the day – before 10am and after 4pm, or after 3pm outside of daylight savings time, although some extensions have been trialled.
Luckily, there's a second dog-friendly beach close to Cronulla, Silver Beach in Kurnell, or the Kurnell Dog Beach. Located inside of Botany Bay, the waters here are calm, so it's great for smaller and less confident dogs. Best of all, dogs are allowed at this beach all day long, with no time restrictions.
On other beaches in the Cronulla area, dogs are prohibited, even if they are leashed. Dogs are also prohibited from Gunnamatta Bay Baths and the Wanda Sand Dunes.
Find out more about visiting Greenhill Beach and Silver Beach with your dog
Dog-Friendly Parks in Cronulla
There's not many options to let your dog off-leash around Cronulla, if you don't want to deal with sandy paws afterwards. Throughout the entire Sutherland Shire, there are only four off-leash dog parks.
The closest off-leash dog park to Cronulla is the Helena Street Dog Park in Kirrawee, a 15 minute drive west of Cronulla. The park is also known as the Kirrawee Dog Off-Leash Park. Dogs are allowed off-leash in this fenced park all day long, except when it is locked overnight between 10:30pm and 4:30am.
When we visited in August 2023, major works were underway at the park, including a new walking path and seating. Previously, there were two separate sections for large and small dogs – hopefully is retained.
Around Cronulla, dogs are allowed on-leash in most parks, including Cronulla Park, Gunnamatta Park, Shelly Park, Oak Park and Tonkin Oval Cronulla Park.
More Dog-Friendly Things to Do in Cronulla
In addition to hitting the beach, there's a number of other fun things that you can do with your dog around Cronulla. Consider ticking one or more of these off your list for a fun dog-friendly day out…
#1 Follow the Cronulla Beach Walk
A scenic walk around the Cronulla Peninsula that you can do with your dog is the Cronulla Beach Walk. This shared path starts near Greenhills Beach at the Wanda Beach Surf Life Saving Club and then continues south along the foreshore to Bass and Flinders Point and the entrance of Port Hacking.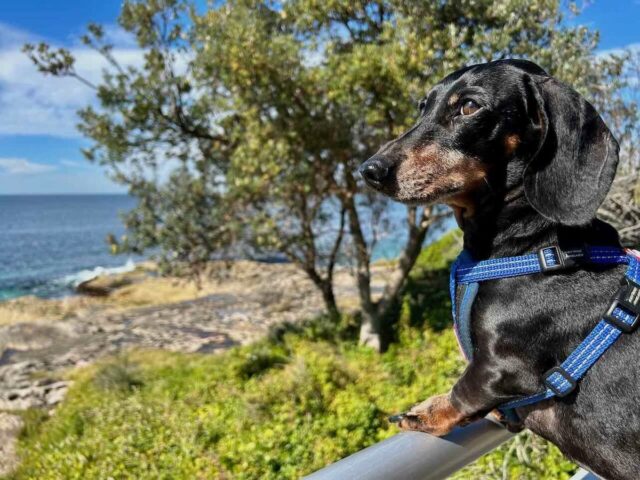 The entire walk is 4km long in one direction, but it's also possible to just walk part of it. For instance, the southern section starting at Cronulla Park and meandering along the cliffs of the peninsula is about 2.4km long. On sunny days, parking is often easiest at the southern end of the walk, with access from multiple streets.
Along the way, dogs are allowed on-leash in multiple parks, including Cronulla Park, Shelly Park and Oak Park, which are popular for picnics. Return by the same route, or detour over to the other side of the peninsula and walk partially through Gunnamatta Park.
#2 Take the Ferry to Bundeena
The small village of Bundeena is located on the northern edge of the Royal National Park. It's a long drive back via the Princes Highway to reach Bundeena by car, but instead there's the option of taking the ferry across Port Hacking.
Run by Cronulla Ferries, the ferry operates roughly hourly and takes 25 minutes in each direction. Dogs are allowed on board, as long as they're leashed, for no extra charge.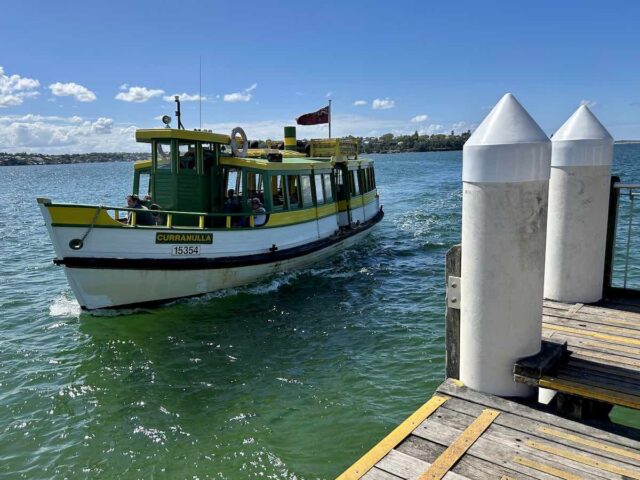 It's possible to stay onboard for the return trip, without disembarking in Bundeena, for an hour-long cruise out on the harbour. Alternatively, alight in Bundeena and spend some time exploring the village with your dog.
While dogs are not allowed to venture into the national park that surrounds Bundeena, there are two dog-friendly beaches in Bundeena.
The better option is the long sandy stretch of Hordern Beach, just a short walk from the ferry wharf. Dogs are allowed off-leash on the beach all day long between May and August. However, they are prohibited from the beach on weekends and public holidays over the summer.
On weekdays between September and April, they are allowed off-leash before 8:30am or after 4:30pm, but need to stay leashed during the day.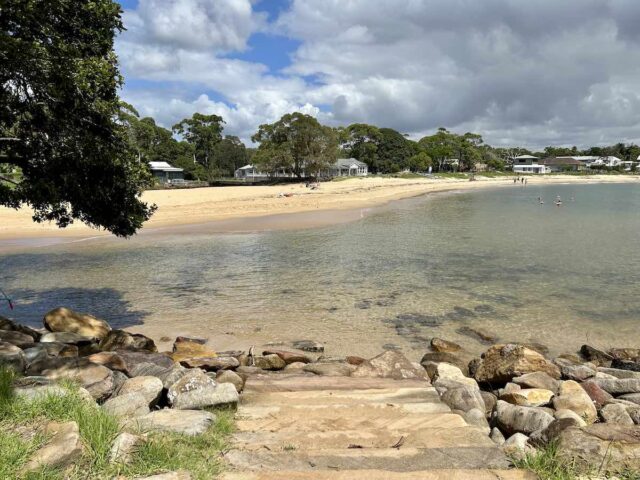 The small Gunyah Beach right next to the ferry wharf only allows on-leash dogs at certain times – either before 8:30am or after 4:30pm between September and April, or all day long during the wintery months from May to August.
Head slightly up the hill along Brighton Street to the cluster of cafes in Bundeena, and grab takeaway or enjoy a meal at the outside tables, after checking with staff that your dog is welcome.
#3 Head to Boat Harbour Park
If you have a 4WD, for a more adventurous afternoon with your pup, head to Boat Harbour Park. This privately owned 4WD park provide access to a 2km stretch of beach on the Kurnell Peninsula, just a few kilometres north of Cronulla.
Pet dogs are welcome to join you for your adventure on the sand, with both one-day and season passes available. Note though that on Sundays and public holidays between October and Easter, access is limited to season pass holders only, with a ballot held for particularly busy days.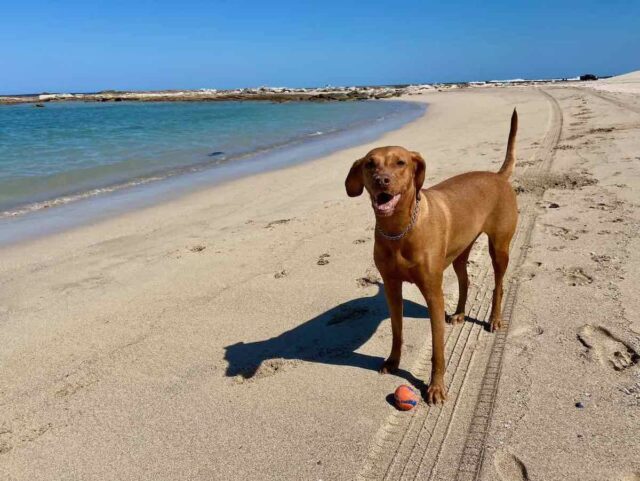 Dog-Friendly Cafes in Cronulla
An excellent dog-friendly cafe in Cronulla is Next Door Cronulla. With a wonderful location next to North Cronulla Beach, it's also right next to the Cronulla Beach Walk. Next Door is open daily for brunch and lunch, plus on Friday and Saturday evenings for dinner, and is fully licensed.
Bookings are not possible during the day, but we only had to wait about five minutes for an outdoor table with our pup on a sunny Saturday. There were plenty of dogs next to tables and waiting with their owners for take-away coffees, and staff will bring out a water bowl if requested. For something decadent, try the Black Forest Waffles.
If visiting Greenhill Beach with your pup, just a short walk from the carpark is Top Shop at Wanda, on the corner of Mitchell Road and Links Avenue. Open daily for breakfast and lunch, except for on Sundays when it closes early, dog owners report receiving a warm welcome. You can pre-order on the website.
Alternatively, if you're visiting Kurnell with your pup, head to Cook @ Kurnell Cafe. A popular spot with local dog owners, the cafe serves up breakfast and lunch from Wednesdays to Sundays. The cafe is also licensed.
Dog-Friendly Pubs in Cronulla
Dogs are welcome to join you at the outside tables at the popular Northies Cronulla, close to North Cronulla Beach. Alternatively, head to Hairyman Brewery, not far away in Caringbah. The brewery is also home to regular food trucks on weekends and dogs are welcome to join you, as long as they are kept leashed
Dog-Friendly Accommodation in Cronulla
If you'd prefer to stay longer in Cronulla with your pup, make a booking with Quest Cronulla Beach. It's ideally situated cross the park from North Cronulla Beach, above Northies Cronulla.
Dogs are allowed in selected self-contained apartments, which range in size from studios to two-bedroom apartments. Also onsite is an outdoor swimming pool, spa and sauna. Enquire directly for their latest dog rules and to make a booking with your pet.
Another fabulous option is the Wanda Inn on Airbnb. This one-bedroom house can accommodate up to five guests, including on the fold-out sofa, and is pet-friendly. There's a small fenced courtyard, plus it's just a short stroll to Greenhills Dog Beach, which allows off-leash dogs early morning and late afternoon.
You May Also Like