There's nothing more relaxing than getting out on the water on a boat cruise, especially when the sun is shining and the commentary is entertaining. But just because you have a dog, doesn't mean that you should miss out. I've uncovered seven dog-friendly boat cruises around Australia, many that I've personally taken with my dog.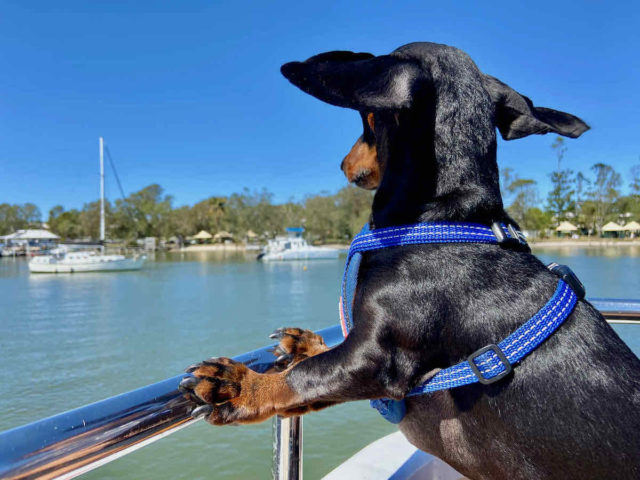 If you're also interested in other types of boat trips that you can take with your dog in Australia, I've included details of pet-friendly ferries that you can catch to Queensland islands, plus dog-friendly boats available for rent in Australia.
1. Board a Paddlesteamer in Echuca
One of the most iconic boat cruises in Australia is riding on an historic paddlesteamer on the Murray River. Echuca in particular is famous for its paddlesteamer cruises, and luckily some of the paddlesteamers are dog-friendly, with your pup welcome to join you for the trip.
I recommend booking a one-hour cruise with Echuca Paddlesteamers. They operate multiple cruises operate daily, on board various paddlesteamers, including some built right on site. We cruised on board the PS Alexander Arbuthnot.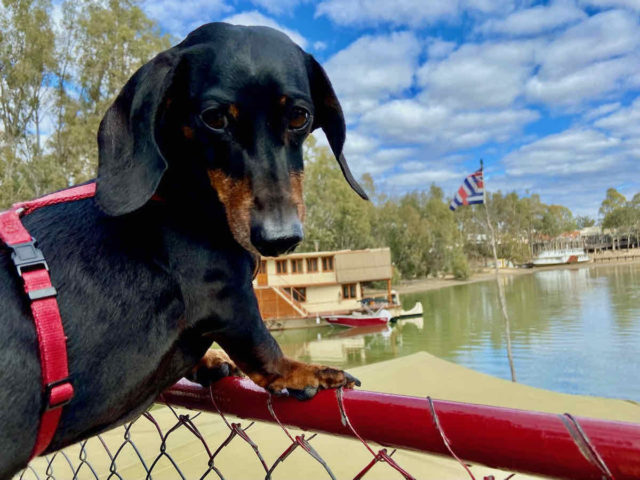 Dogs are welcome to join you for free (they just need to be with a responsible adult) and receive their own cute 'K9 Cargo Ticket'. On board our boat there were no restrictions on where dogs could go, with a resident dog occupying the warm spot next to the engine.
Note that dogs are not allowed onboard any of the lunch or dinner paddlesteamer cruises.
2. Cruise on a Catamaran at Monkey Mia
While travelling around Australia with our dog we found Monkey Mia to be an extra dog-friendly destination. As well as being allowed on many beaches and to view the daily dolphin-feeding, well-behaved dogs are also welcome on board the catamaran cruises run by Perfect Nature Cruises on the Aristocat 2.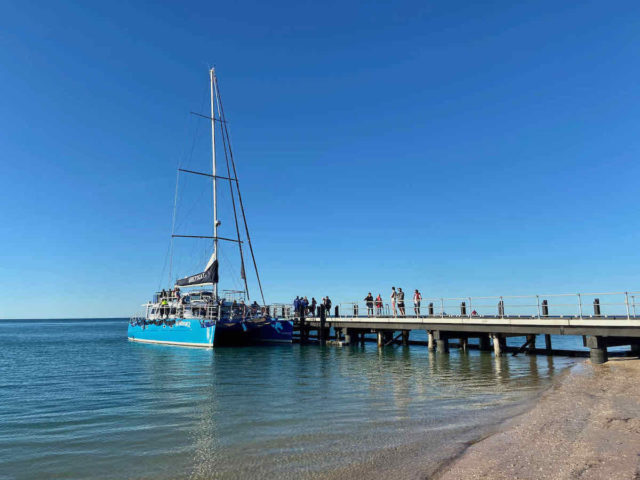 We went on the morning wildlife cruise on the Aristocat 2, a 2.5 hour cruise out on the bay to see the local wildlife. We were lucky to spot a range of wildlife despite visiting in winter, including a mother and child dugong pair, plus a large loggerhead turtle.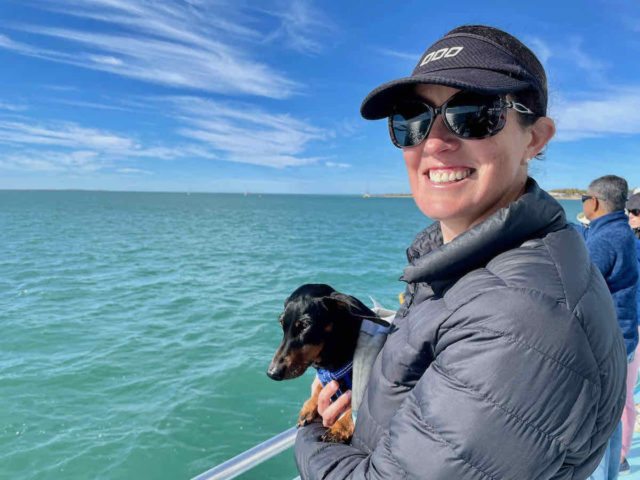 During our cruise it did get bumpy for awhile, due to the morning wind and the crew's efforts to find some wildlife for us to see. A more laidback, leisurely option is the 1.5 hour sunset cruise, when the water is generally calmer.
Dogs cruise for free on board the Perfect Nature Cruises. I recommend taking your dog to toilet before boarding, plus bringing a water bowl and bottle of water for your pup on the longer cruises.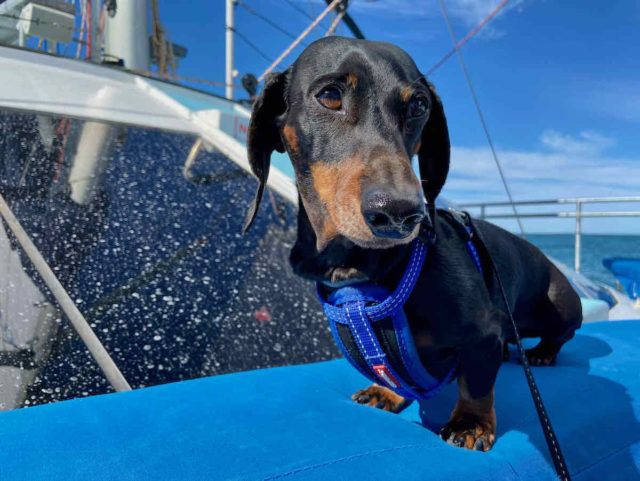 3. Spot Crocs on the Daintree River
For a different kind of wildlife experience, take your dog onboard a crocodile-spotting cruise on the Daintree River. I was surprised to discover that its traditional for many of the local boat owners to bring along their dogs, and at least one company, the Daintree River Cruise Centre, offers dog-friendly cruises.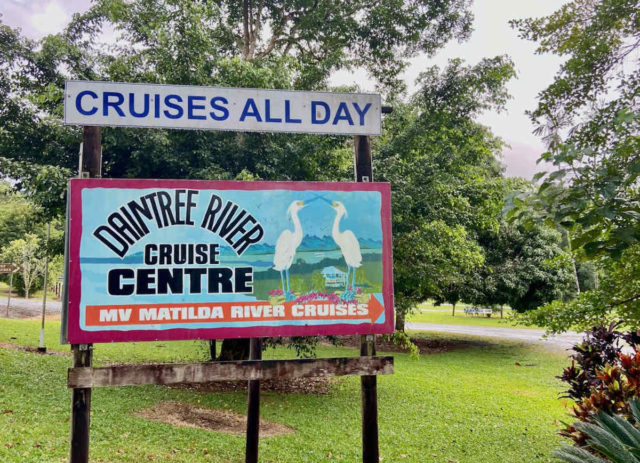 The cruises depart from the southern bank of the Daintree River, a 90-minute drive north of Cairns, with no need to board the Daintree Ferry across to Cape Tribulation. The cruises operated by the Daintree River Cruise Centre last about 60-90 minutes, depending on the weather conditions, with the chance to spot a variety of local birdlife, as well as crocodiles.
If you're interested in bringing your dog along, it's important that you call up the cruise centre and advise them in advance, so that you dog can be accommodated.
4. Ride the Brisbane River Ferries
While the above cruises have a set itinerary, with everyone boarding and disembarking at the same time, it's also possible to put together your own dog-friendly cruise on the Brisbane River thanks to the Brisbane River ferries and CityCats permitting dogs on board.
Best of all, this also extends to the CityHopper service, a free ferry that runs in between the North Quay and Sydney Street ferry terminals, taking in the main sights of inner city Brisbane. The service runs roughly every half hour, stopping at four extra terminals in between.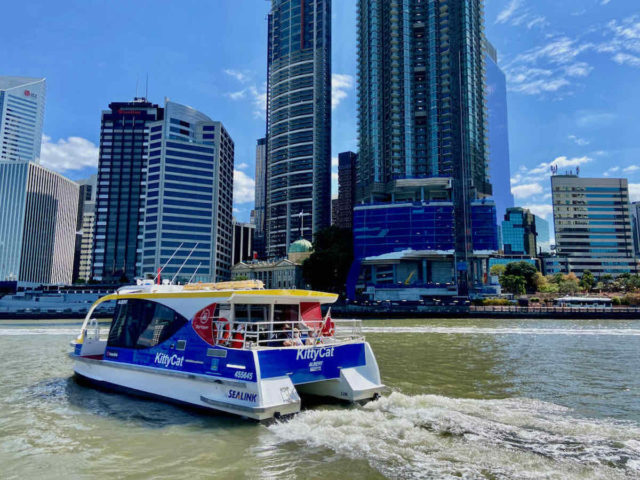 A full one-way trip takes 40 minutes, or stay on-board for a 90-minute return trip. It's fun to combine a ferry trip with a walk along the New Farm Riverwalk or a stroll through the Brisbane City Botanic Gardens.
Note that there are some restrictions to apply for dogs. Firstly, dogs are only permitted outside of peak hours, between 6:00am and 8:30am then 3:30pm and 7:00pm on weekdays. It's best to go for a ferry ride with your dog between 8:30am and 3:30pm, or anytime on the weekend. Your dog will also need to be leashed and muzzled, unless they're in an enclosed carrier, and sit on the outside deck.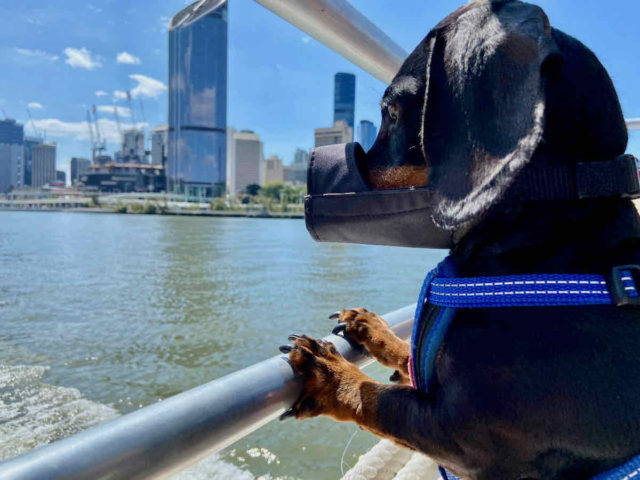 In Sydney, it was also possible up until recently to board the city's ferries with your dog. However, during 2021, the ferries started to crack down on pets on board, enforcing the rule that only pets in carrier bags are permitted, with no larger dogs outside of carriers allowed, even if wearing a muzzle.
5. Head Out on Port Stephens
While dogs outside of carrier bags may no longer be allowed on Sydney ferries, there's no such restrictions on the Tea Gardens Ferry up the coast. Well-behaved dogs are allowed on these ferries that cross Port Stephens in between Nelson Bay and Tea Gardens, with no charge for dogs.
The ferry journey takes about an hour each way, with 30 minutes spent crossing the bay, then 30 minutes up the Myall River. Dolphins are frequently spotted, with a 95% success rate.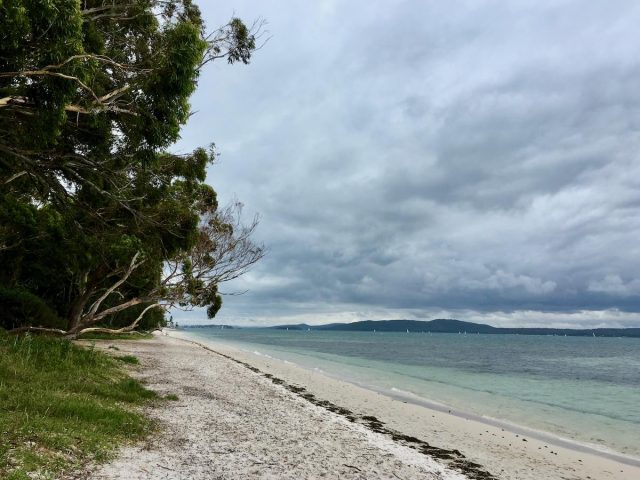 With the timetable varying depending on the time of year, most ferry trips from Nelson Bay will involve a sot at Tea Gardens. Perhaps head to the dog-friendly Tea Gardens Hotel for lunch. The final trip back from Tea Gardens is usually timed to coincide with sunset. The ferry runs daily, except during bad weather.
6. Cruise Along the Noosa River
The best way to experience the pretty Noosa River on the Sunshine Coast is to get out on a boat, and the easiest option is boarding the Noosa Ferry. Unfortunately larger dogs are not allowed on board, but if you've got a smaller dog that can sit on your lap, your pup is permitted to board at extra charge, except for on the sunset cruises.
The ferry runs approximately every half an hour between Tewantin and Noosa Heads. It's $25 for a return journey along the entire length, or $15 for a return trip between Noosaville and Noosa Heads. There's also a number of other ticket options.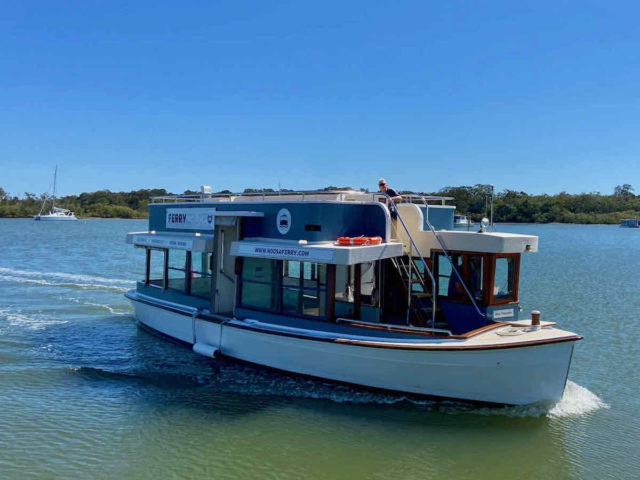 On a sunny day, it's glorious sitting up on the open-air top deck. When the ferry arrives at Noosa Heads or Tewantin, it's possible to remain on board for the return journey, or alternatively disembark and stretch your legs for awhile.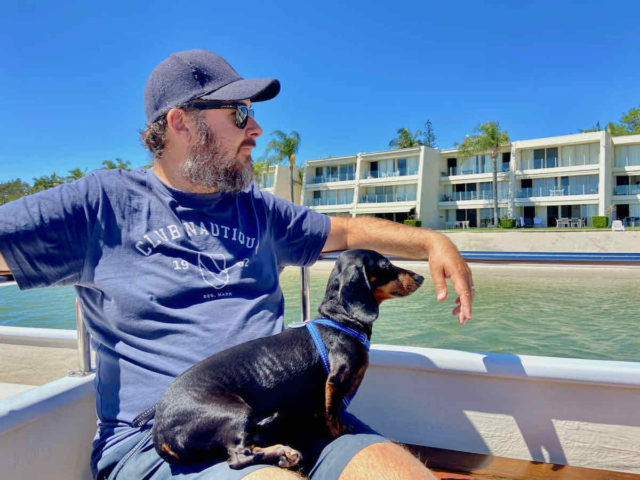 At Noosa Heads I recommend getting off and walking over to Noosa Spit and the popular off-leash dog exercise area and beach.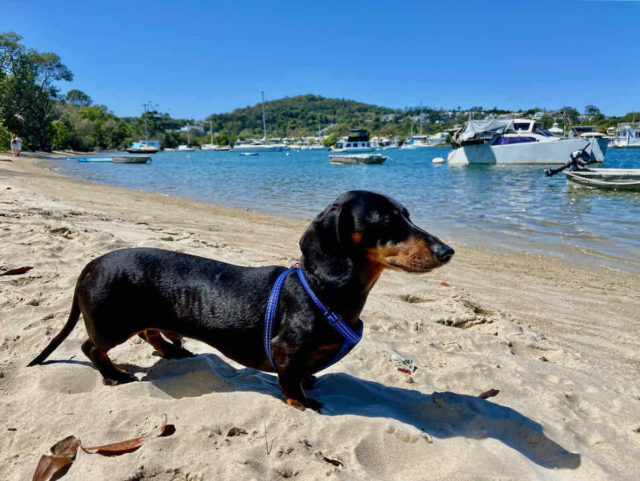 7. Enjoy a River Cruise in St George
For a different kind of river cruise in Queensland, head 500km west of Brisbane to St George. There you can take a dog-friendly cruise with Sandytown River Cruises on the Balonne River.
Their 2-hour cruises generally depart daily at 4pm. You're welcome to bring your own drinks and nibbles, the perfect accompaniment for a relaxing sunset cruise. There's no additional charge for pets, who are usually quite content on the stable, comfortable boat.
Or Catch a Ferry to a Queensland Island
There's no shortage of dog-friendly boat cruises available in Queensland, but there's also another type of boat trip that you can take with your pup in Queensland: the ferries out to dog-friendly islands. While the main focus of these trips is getting to the island, it's still a scenic ride along the way.
Three of the best dog-friendly island trips by ferry in Queensland are to Magnetic Island, Great Keppel Island and North Stradbroke Island. For the 20-minute trip to Magnetic Island from Townsville, there's the option of both a car barge and passenger-only ferry. Muzzles are required on dogs outside of cars.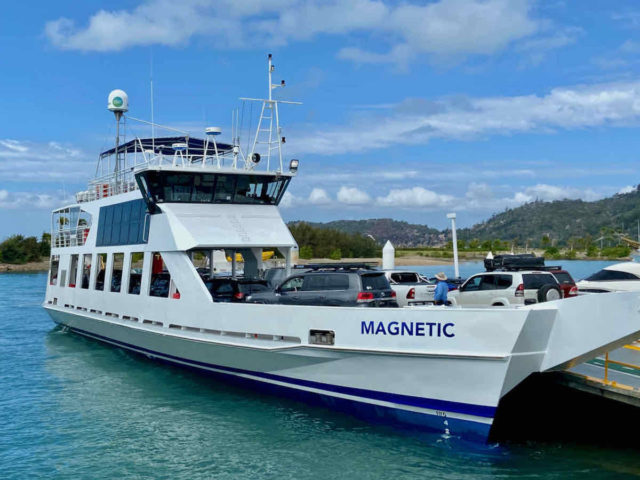 North Stradbroke Island also offers both passenger-only and car ferries. The passenger ferry, also known as a water taxi, takes only 25 minutes, while the car barge is a 50-minute trip. Muzzles are also required on these ferries outside of cars.
The ferries across to Great Keppel Island are a more relaxed affair, with no muzzle required on our 30-minute ferry trip. One of the catamarans does charge a small fee for dogs, depending on size, while dogs travel for free on the other ferry trips.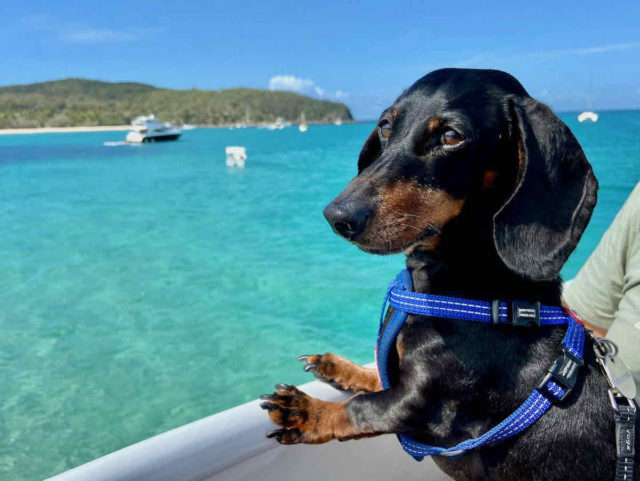 Read my guide to visiting these dog-friendly islands in Queensland, with further details of the ferries to the islands.
Or Hire Your Own Boat
If you'd prefer to be behind the steering wheel of the boat and set your own itinerary, instead consider hiring a dog-friendly boat.
Many companies that hire out small boats permit dogs to join you on board; after all, they'll probably be cleaned out after being used for fishing or swimming. Some companies state on their websites that pets are allowed on their boats or contact them directly to find out.
GoBoat hires out picnic boats in Brisbane, Canberra, Melbourne and Sydney, with no boat license required. Email them in advance to see if you can reserve a suitable dog life-jacket. In Sydney, check out Sydney Boat Hire, who offer various options depending on whether or not you have a boat license. Alternatively, there's multiple dog-friendly boat hire companies along the Noosa River on the Sunshine Coast, including O Boat Hire, who also hire out kayaks and SUPs.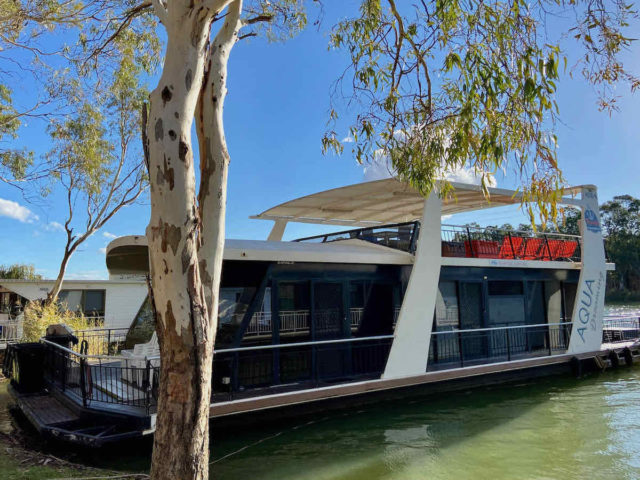 If you'd prefer to spend a longer time on your boat, including sleeping on board, look into hiring a pet-friendly houseboat. While not all houseboat companies permit pets on board, and usually only selected vessels are pet-friendly, there are options available across South Australia, Victoria and New South Wales. Check out my guide to dog-friendly houseboats in Australia.
You May Also Like