The Northern Territory is one of the most spectacular regions of Australia to visit, from the wetlands of Kakadu to the desert monolith of Uluru. But what's is like to travel in the Northern Territory with a dog? While it isn't the most dog-friendly region of Australia, it's still possible to see the sights and travel with your dog with some adjustments.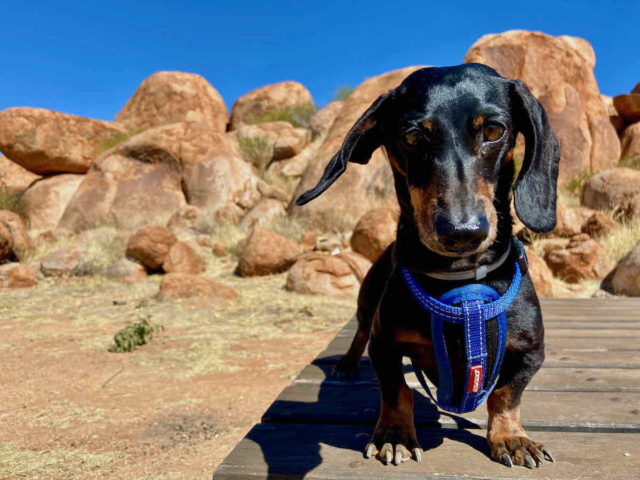 Note: This post contains affiliate links, which means I may receive commission if you make a purchase using the links. See my full disclaimer.
Dog-Friendly Holiday Ideas for Northern Territory
While many of the top sights of the Northern Territory are located within national parks, there's still some impressive places that it's possible to visit along with your dog. Make sure you add these to your Northern Territory bucket list when travelling with a dog.
1. Gaze Upon Uluru
Uluru, previously known as Ayers Rock, is located within the Uluru-Kata Tjuta National Park, where dogs are strictly not allowed. However, it's still possible to visit the vicinity with your dog, with pets permitted on campsites at the Ayers Rock Campground at the nearby resort township of Yulara.
While you'll likely want to organise some local pet sitting (see more below) to explore this wonder up close, including the sunrise and sunset lookouts, the walk around the base of Uluru and a road trip to nearby Kata Tjuta, make time to enjoy a sunset with your dog at your side.
There's a couple of lookouts around Yulara outside of the national park, that you can visit with your dog. On the hill at the centre of Yulura is Imalung Lookout, or alternatively head slightly further out to Ewing Lookout. While the views aren't as spectacular as from closer in, they're still magnificent spots to watch the sun set over Uluru with your dog by your side.
2. Visit the Devils Marbles (Karlu Karlu)
Uluru isn't the only impressive rock formation in the Northern Territory. Further north in the centre of the Territory, about 400km north of Alice Springs, are the Devils Marbles, or Karlu Karlu. Located just off the Stuart Highway, which runs the length of the Territory, it's a must-stop destination on road trip along the Stuart Highway.
The granitic boulders are located in the Karlu Karlu / Devils Marbles Conservation Reserve, which has limited access for dogs. Dogs are permitted within the carpark and the day-use areas, but not on the walking trails or at the campsite. Luckily, some boulders are located right next to the carpark and day-use area, meaning that you can see them and take some photos with your dog still at your side.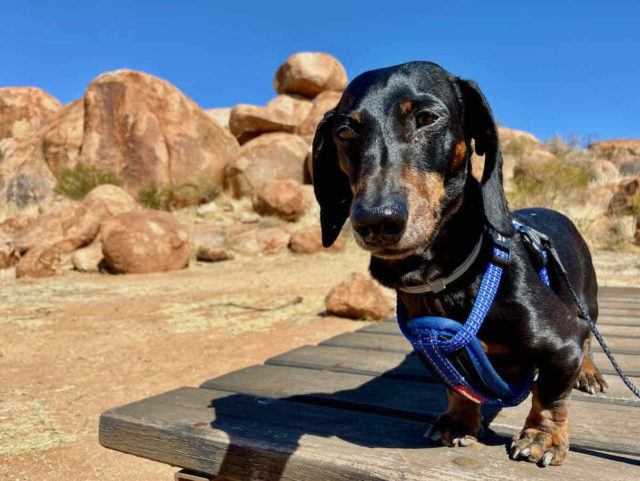 Ideally, if you're travelling with someone else, take turns to stay at the carpark and walk one or two of the short walks starting from the main carpark (only 10-20 minutes per walk). There's a sheltered picnic table and an information shelter (even with limited wifi) for the person staying behind.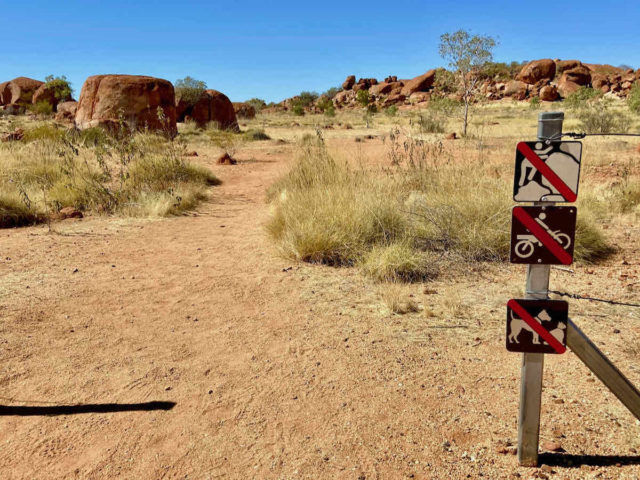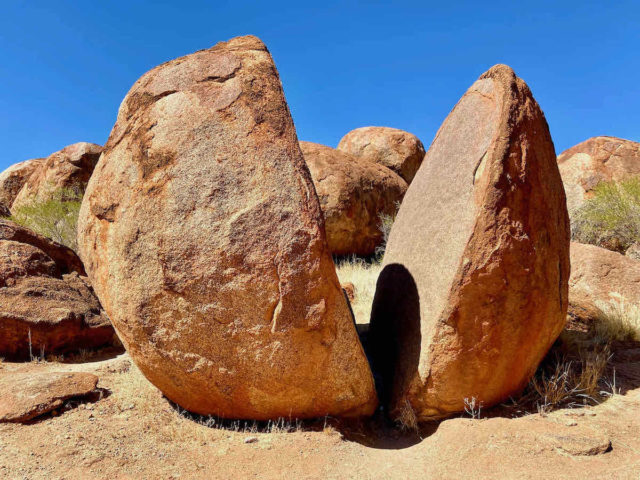 As the adjacent campsite doesn't permit dogs, instead head 10km south to the Devils Marbles Hotel in Wauchope. While dogs are not permitted inside the motel rooms, they are allowed in the caravan park and beer garden.
3. Stop at the Daly Waters Pub
Another iconic place to stop on a road trip through the Northern Territory is the Daly Waters Pub, about 600km south of Darwin. One of the most colourful and well-known pubs in the Australian outback, its exterior and interior are decorated with colourful paraphernalia and souvenirs from past visitors.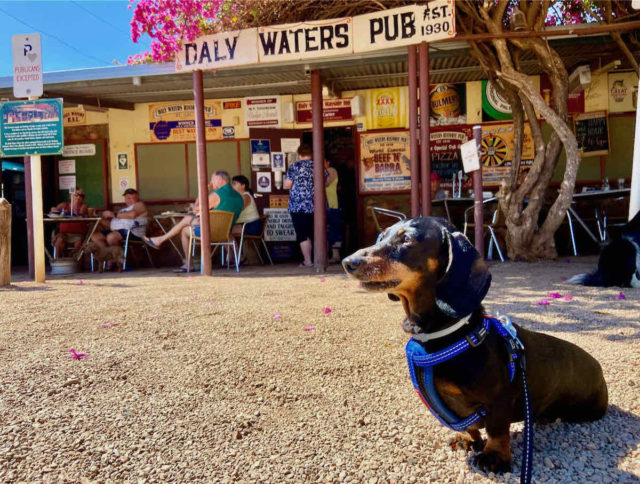 We didn't find the pub as dog-friendly as expected, with dogs not permitted in the beer garden, only at the tables out the front (nearly all occupied by dogs and their owners during the lunchtime we visited!) We were however impressed with the quality and prices of their burgers and beers.
It's also possible to spend the night at the Daly Waters Pub, with dogs permitted in the adjacent caravan park, plus also in three of the motel rooms and one cabin for an extra fee (just keep them off the bed). For camping during the peak season, it's advisable to arrive by lunchtime to have a chance to grab a site, at least for powered sites.
As well as a beautiful looking pool that we didn't sample, there's also some historic sites to check out around Daly Waters. The aviation complex is home to the oldest airport hangar in the NT, with no restrictions on dogs joining you for a wander through the site. Also nearby is the historic Stuart Tree.
4. Stroll Through the Darwin Botanic Gardens
The northernmost destination of a Northern Territory road trip is Darwin, a small city that I found surprisingly dog-friendly, with some great dog-friendly sightseeing options and off-leash parks. One of our favourite spots that we visited with our dog were the George Brown Darwin Botanic Gardens.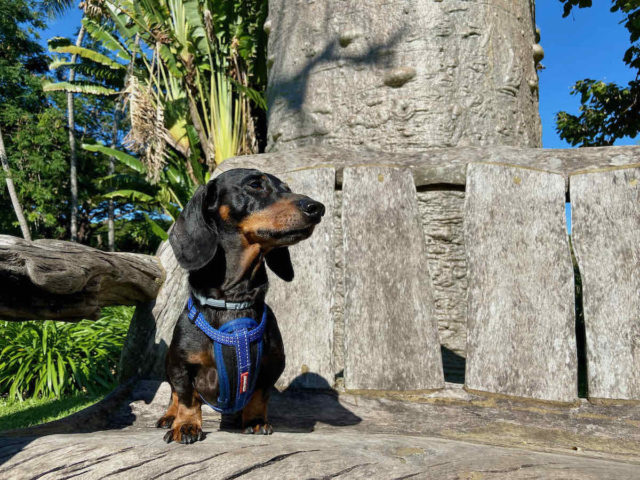 Located just outside of the city centre and not far from Mindil Beach (which permits dogs except in the park during the famous food markets), dogs are incredibly allowed off-leash in the Darwin Botanic Gardens. Just make sure you keep your dog under control and it doesn't disturb other visitors, so this privilege isn't taken away.
The gardens are a wonderful spot to escape the harsh tropical sun and go for a shady walk, particularly along the Rainforest Loop and in the adjacent Shade Forest. Other highlights include the Cycad Garden and Dinosaur Trail.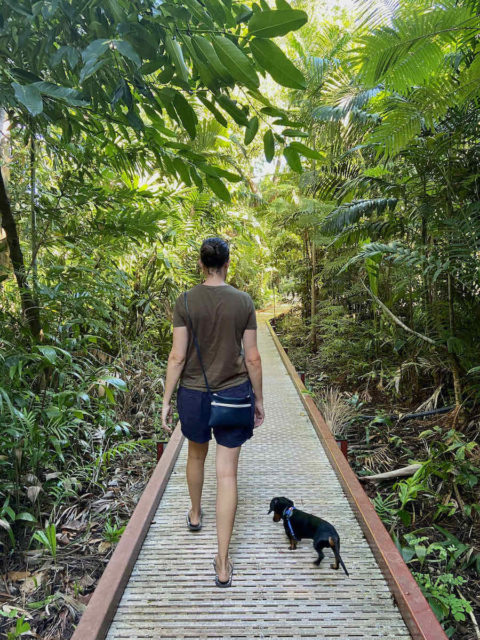 If you want to stay longer, stop in at Eva's Cafe in the gardens, open daily for breakfast, lunch or just a coffee or cold drink. There's two huge outdoor dining areas, both in front and behind the cafe, with dogs welcome to join you.
5. Visit Marlow Lagoon Dog Park
After visiting every mainland state and territory with my dog, I'm convinced that the Marlow Lagoon Dog Park is one of the best dog parks in Australia, not just in the Northern Territory. Make sure you visit this dog park during your time in the Top End!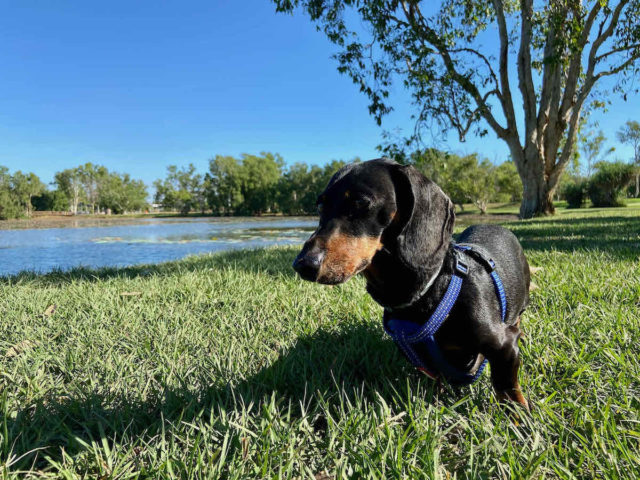 Located in Palmerston City, south of Darwin proper, the huge dog park is located on the northern side of Marlow Lagoon. When driving in, turn right and head towards the BMX track.
Despite its size, the Marlow Lagoon Dog Park is still fully fenced. There's also not just one fenced area, with three smaller fenced areas for smaller and quiet dogs, alongside the huge area along one side of the lagoon. There's also a range of agility equipment, plus a BBQ and picnic table in the main area, and plenty of shade and water.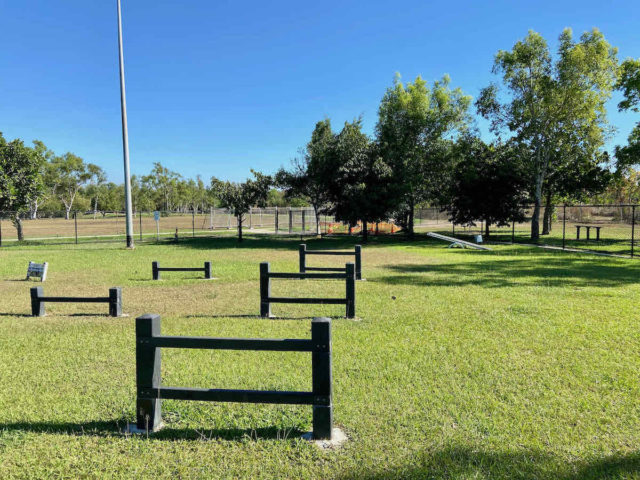 During my visit in 2021, there was a sign warning of the possibility of an estuarine crocodile in the lagoon. Locals said to disregard this, however, following recent reports of a crocodile nest near Palmerston, I would be wary of allowing your dog to swim in the lagoon, at least before checking the latest signs and with other local dog owners.
Check out more of my recommendations for the best fenced dog parks in the NT.
Dog-Friendly Regional Guides
For more ideas on dog-friendly sightseeing, parks, dining and accommodation, check out my additional dog-friendly guides for the Northern Territory:
Organising Dog Sitting in the Northern Territory
Many of the most famous attractions in the Northern Territory are located within national parks, which is problematic if you're travelling with a dog. In order to still see some of these famous sights, I recommend organise pet sitting at times for your dog.
Dog Sitting Near Uluru
There is generally at least one person offering pet-sitting at Yulara for visitors heading into Uluru-Kata Tjuta National Park, although the actual person has changed multiple times in the last couple of years.
It's best to enquire at the Ayers Rock Campground or the visitors information centre for the latest contact details and book in advance. Alternatively, find someone else staying at the campground with dogs and take turns looking after each other's pets.
Dog Sitting in Alice Springs
I've regularly heard recommendations for Pawz N Clawz Pet Accommodation, located within Alice Springs. With accommodation options for dogs, cats, small pets, birds and even reptiles, these kennels are best for multi-day stays. Rates are based on the number of calendar days your pet stays.
Note that it's best to book well in advance, and you'll like find the kennels completely booked out during the popular Christmas, Easter and winter school holidays. There's also usually some pet sitters available in Alice Springs on Mad Paws for either daycare or overnight sits.
Dog Sitting in Katherine
During our visit to Katherine, we left our dog at a pet resort for the day so that we could visit both Katherine Gorge and Edith Falls in Nitmiluk National Park.
We used and highly recommend Rellams Pet Retreat. We were very happy with their personalised service, plus their prices are quite reasonable and they are conveniently located on the road to Katherine Gorge.
Another option to consider near Katherine are Taggerty Kennels, located on the highway north of town.
Dog Sitting Near Kakadu and Litchfield
If you're heading to Kakadu National Park or Litchfield National Park, there's plenty of pet kennels and sitters available within Darwin.
One option with plenty of five-star reviews and other recommendations is Helga's Pet Resort. Located in Virginia to the south of Darwin, not far north of the Kakadu Highway turn-off, they offer day, overnight and longer stay options for dogs, cats and other pets. All accommodation is air-conditioned.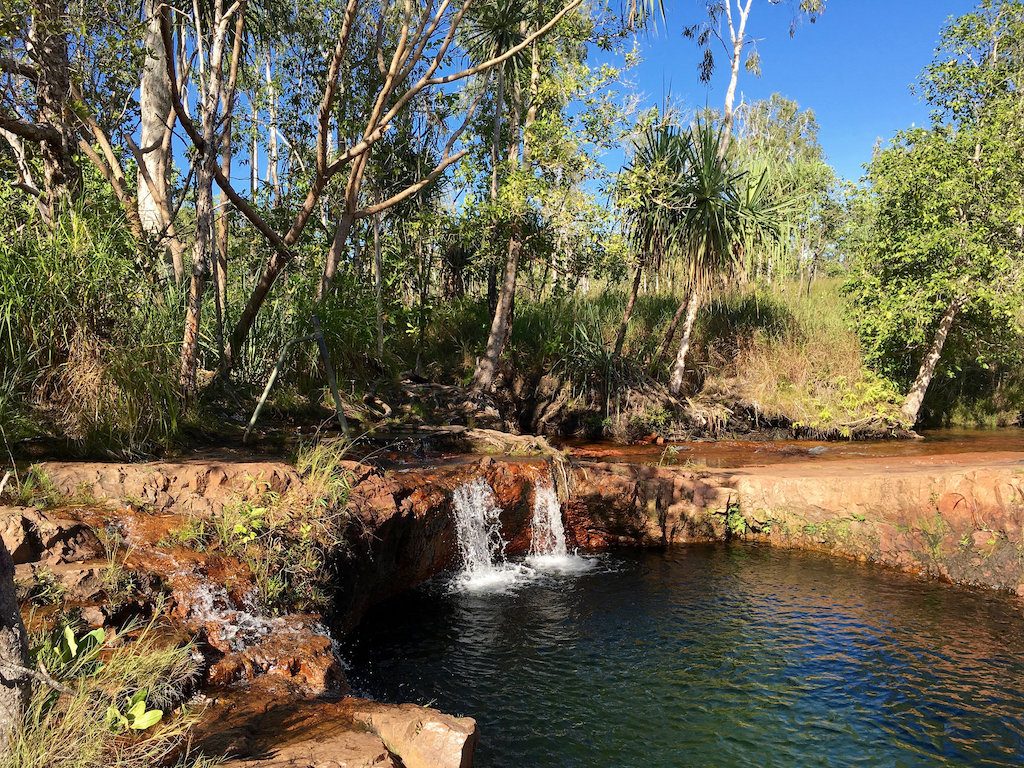 Another option closer to the centre of Darwin is Hanrob Pet Hotels Darwin, previously known as the Furry Godmother Pet Resort. It's located next to Darwin Airport.
Dog-Friendly Accommodation in the Northern Territory
Note: This post contains affiliate links, which means I may receive commission if you make a purchase using the links. See my full disclaimer.
There's a wide range of dog-friendly accommodation in the Northern Territory. Many of the best campgrounds, outside of national parks, permit dogs, while a growing number of motels and cabins also offer pet-friendly rooms. It's advisable though to book in advance, as usually only a limited number of rooms are pet-friendly.
In Darwin, a luxurious option to consider is the Mercure Darwin Airport Resort. Located adjacent to the international airport and with resort-style facilities, enquire about their Pampered Pets Package.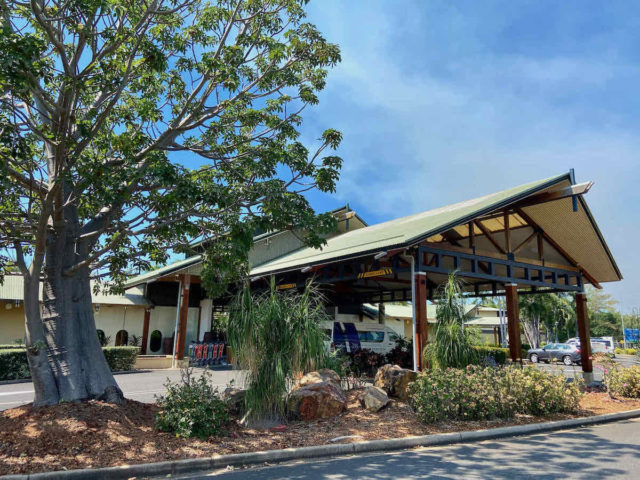 Alternatively, if you have your own caravan or campervan, head further south to the Tumbling Waters Holiday Park at Berry Springs. I was recommended this park multiple times, but didn't have a chance to check it out.
As well as their own licensed restaurant, there's plenty of free activities on offer. Generally only small dogs in caravan are accepted, with discretion used for larger dogs. Contact them in advance to apply for acceptance.
For more dog-friendly accommodation options in Darwin, check out my dog-friendly guide to Darwin.
In Alice Springs, one of the best dog-friendly accommodation options is the Alice on Todd Apartments. There are multiple studio and one-bedroom apartments in which pets are permitted, all of which are located downstairs and have fully fenced private back yards. Make sure you request a pet-friendly room.
Dog bowls and a welcome pack are provided, plus sometimes beds or a kennel. House-trained dogs are permitted inside, but not on furniture, with multiple pets considered and no size restrictions.
If you're intending to camp in the Alice, book into the Heritage Caravan Park. All sites and cabins are pet-friendly, at least for friendly pets. There's a huge fenced off-leash dog exercise area, plus a K9000 dog wash for washing off that red dust.
Close to Litchfield National Park, consider staying at Litchfield Tourist Park. They have a pet-friendly tiny house, the Dog House, with pets allowed inside and an enclosed verandah with gate. There's even the option to leave your pet behind while visiting the national park, with staff regularly checking on your pet.
In Mataranka, a great spot to stay is Bitter Springs Cabins & Camping. The park is just a 5-10 minute walk from the beautiful Bitter Springs. While pets are not permitted at the springs, part of Elsey National Park, pets are welcome at the park except for in the cabins. I recommend staying in the unpowered sites at the back of the park, which are lovely and shady.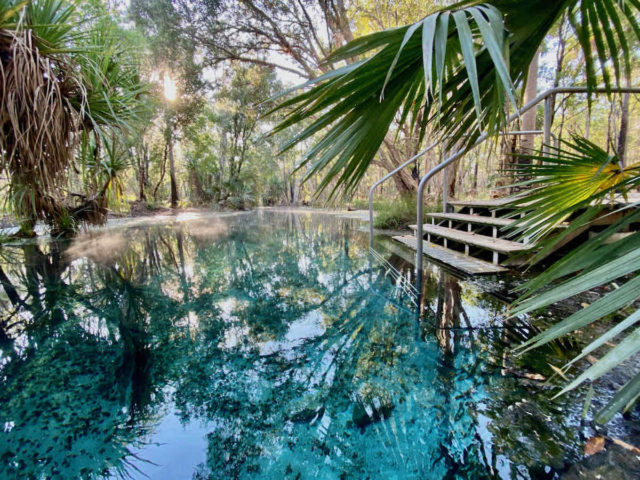 Also check out my recommendations for dog-friendly accommodation in Katherine in my dog-friendly guide to Katherine.
Keeping Your Dog Safe in the Northern Territory
There's multiple dangers for dogs in the Northern Territory that you may not be familiar with back home.
For starters, across the entire Northern Territory, you need to be wary of Ehrlichiosis, a tick-borne disease that can be fatal if left untreated. For more information, see the NT government website.
To prevent your dog catching Ehrlichiosis from a tick bite, make sure you use tick prevention treatment. Even if your dog already receives a monthly chew, the best advice is to also use a tick collar, such as the Seresto collar (available both for puppies and small dogs and medium and large dogs), which kills ticks even quicker. Make sure you also check your dog for ticks daily, plus keep them out of long grass.
Another disease to be wary of is leptospirosis. This disease is usually spread by rat urine, and is present in many rural areas of the Northern Territory, including around Darwin, Daly River and Katherine, especially during the wet season.
Consider having your dog vaccinated for leptospirosis. There are multiple variants – check with your vet that you dog is vaccinated for the correct one. Also be extra vigilant about stopping your dog drinking from puddles.
In the northern half of the Northern Territory a larger creature to be wary of are estuarine crocodiles, also known as saltwater crocodiles or salties. These are a real danger in most Top End waterways. Pay attention to the warning signs, and don't let your dog in or close to water where there are salties. If in doubt, still keep your dog out of the water.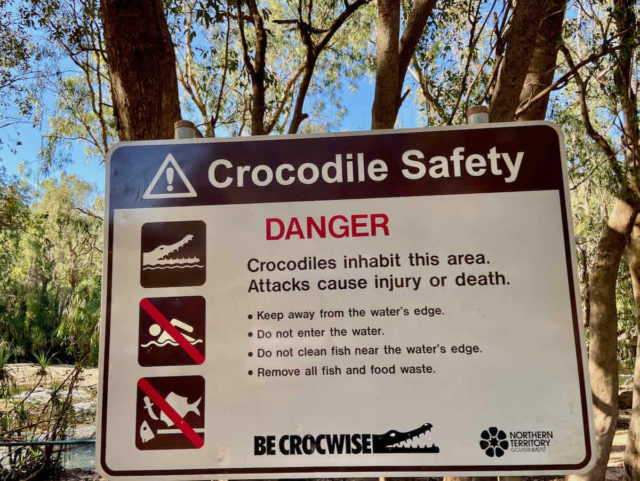 One more problem around the Top End are cane toads, that can be poisonous to dogs. We didn't spot any cane toads around during the dry season when we visited, but if you do spot cane toads, it's best to keep your dog on a leash.
Finally, particularly during the wet season, it can be quite hot and oppressive in the Northern Territory. Keep a careful eye on your dog if the temperature is high, and make sure they have plenty of cold water and somewhere to stay cool, such as air-conditioning or a cooling mat.
You May Also Like