One of the best ways to travel with your dog in Australia is in your own caravan or campervan, or perhaps camping in a tent. However, a downside is that you need to always keep your dog on a leash when outside your van or tent, whether your dog is relaxing at your site or taking a quick bathroom break in the middle of the night.
An alternative is to lug around your own fencing set-up, which is usually bulky and heavy, not to mention far from escape-proof for many dogs. A better alternative is to stay at one of the increasing number of caravan parks in Australia that fenced enclosures for their guests with dogs.
Check out these extra dog-friendly caravan parks located all around Australia that offer fenced sites, whether fully fenced campsites or a private fenced pen on the site. Additionally, I've also included some parks with fenced cabins and an extensive list of caravan parks with off-leash dog parks onsite.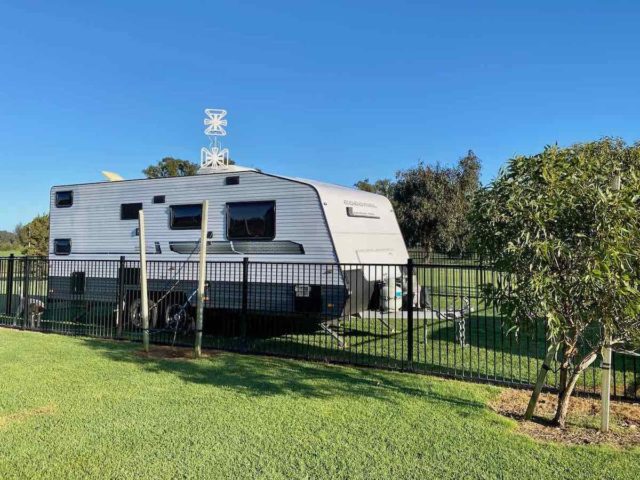 Southern Stars Park, Dunsborough, WA
The first time I even saw fenced campsites for people travelling with pets was at Southern Stars Park in Dunsborough. This dog-friendly caravan park is located just a short drive north of the popular Margaret River region.
Southern Stars encourages dog owners to bring their pets on holiday. As well as a fenced off-leash dog park for all canine guests, they also offer a handful of fenced powered and unpowered sites, for a higher nightly rate.
These sites are large enough for you to set up your caravan or pitch your tent inside, along with your vehicle. Once set up, you no longer need to keep leashing your dog at your site.
The caravan park is also great for human guests, with excellent amenities including a large camp kitchen, enclosed lounge and ensuite-style bathrooms, all very new and modern. It's a terrific place to stay while visiting the wineries and attractions of southwestern WA.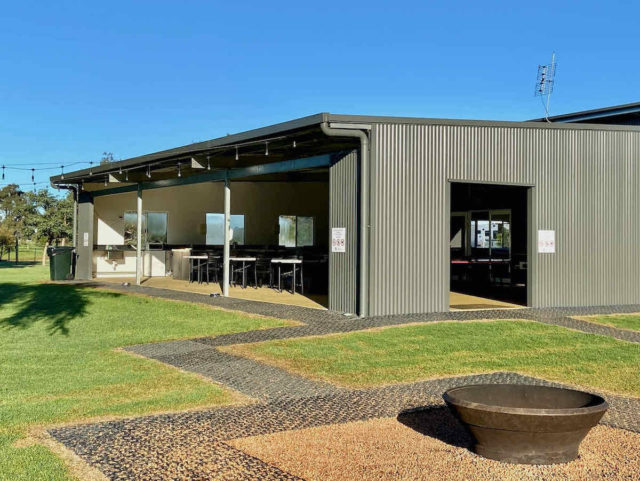 Best Friend Retreat, Tarra Valley, Victoria
One of the most dog-friendly places to stay in Victoria, in fact across all of Australia, is Best Friend Retreat. Located amongst the rainforest of the Tarra Valley in southern Victoria, it's a 2 1/2 hour drive southeast of Melbourne.
There's a range of accommodation options onsite for dog owners, from dog-friendly cabins to regular campsites, but also individually fenced caravan and camping sites. These vary in size but are generally large enough for both your van and vehicle. Make sure you book in advance for these popular sites.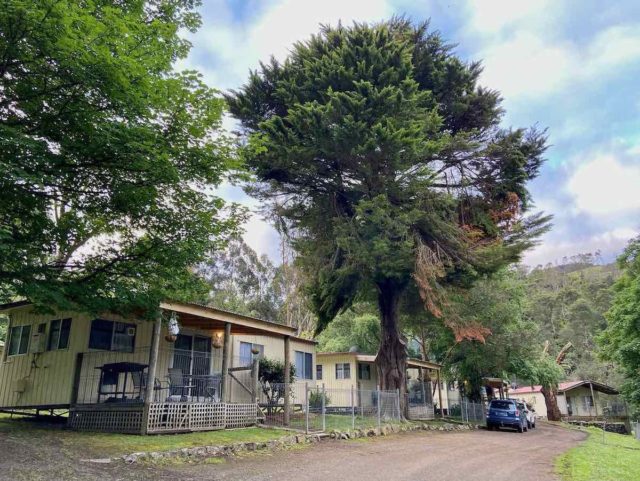 Also on site are six fenced off-leash areas for dogs, meaning there's always somewhere you dog can go off-leash, even if they're timid. One of the areas has agility equipment, while another has a giant ball for dogs to play with. Plus there's a hydro-bath hut to freshen up at the end of a busy, muddy day.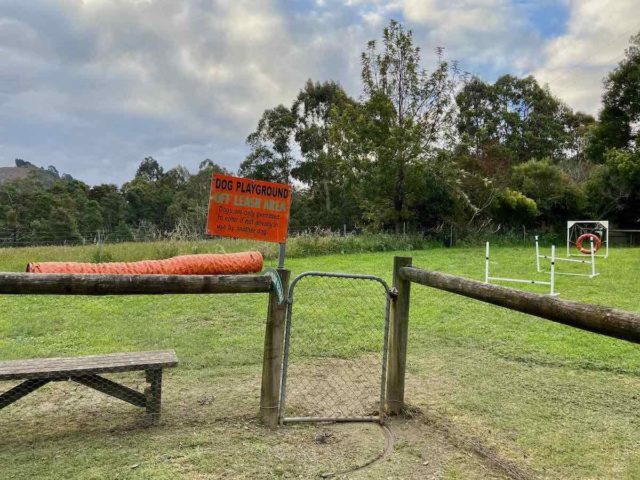 With limited mobile and wi-fi reception in the area, it's a great retreat for the whole family. Note that the park is best accessed from the south, from the town of Yarram, although the windy, narrow route south from Traralgon is a scenic adventure for smaller vehicles.
BIG4 Ballarat Windmill Holiday Park, VIC
Another dog-friendly caravan park in Victoria is the BIG4 Ballarat Windmill Caravan Park, a 15-minute drive away from the centre of Ballarat.
While dogs are not permitted on most sites at the park, there are four specially designated pet-friendly caravan and camping sites in BIG PAWS, the pet-friendly precinct. Each of these powered sites are fully enclosed with double gates that enclose your van and vehicle, along with a side gate for regular coming and going. There is also a dog-friendly camp kitchen and toilet facility.
Alternatively, you could also book Dogwood, the two-bedroom dog-friendly cabin. Dogs are allowed inside, although not on the furniture. There is an enclosed verandah plus a private dog run, along with dog bowls and toys provided.
Best of all, the BIG4 Ballarat Windmill Holiday Park is continuing to make improvements to their pet-friendly facilities. The latest addition is a pet-friendly billabong area at the rear of the park, where both humans and dogs can have a splash in a natural setting. The parks also has plenty more amenities for humans, including an indoor swimming pool, indoor play area and jumping pillow for the kids.
Acacia Caravan Park, Ararat, VIC
About an hours drive west of Ballarat is the small town of Ararat, where there are also fenced camping sites available for you to stay with your pet.
Close to the centre of town, the Acacia Caravan Park has at least five large fenced powered sites. Each grassy site has a sturdy fence with a rolling gate and is spacious enough for both a caravan and a vehicle, along with plenty of room for yourself and your dogs.
The park is an ideal base for exploring the Grampians region and the Pyrenees Ranges. Alternatively, explore the historic town or enjoy the facilities onsite, including a solar-heated swimming pool and a dog wash.
It's possible to book the fenced sites online in advance, or else give the park a call, including to check their full pet policy. There are also dog-friendly cabins at the park, with and without ensuites.
Capital Country Caravan Park, Sutton, NSW
The Capital Country Caravan Park is located just before you cross the border into the ACT on the highway from Sydney, about a 20-minute drive outside of Canberra.
Dogs are welcome to stay with you on all powered and unpowered sites, plus in two of the bungalows that accommodate up to four guests. Additionally, there are also four dog freedom sites.
Each of the dog freedom sites is a powered site that has been securely fenced. The sites vary in size, suitable for parking vans from 22 foot up to 42 foot long, with your vehicle generally parked outside the gate, unless you have a smaller van or campervan.
Be sure to book well in advance for these sites, particularly during holiday periods, as they are quickly snapped up. The park also has plenty of great facilities from putt putt to a swimming pool.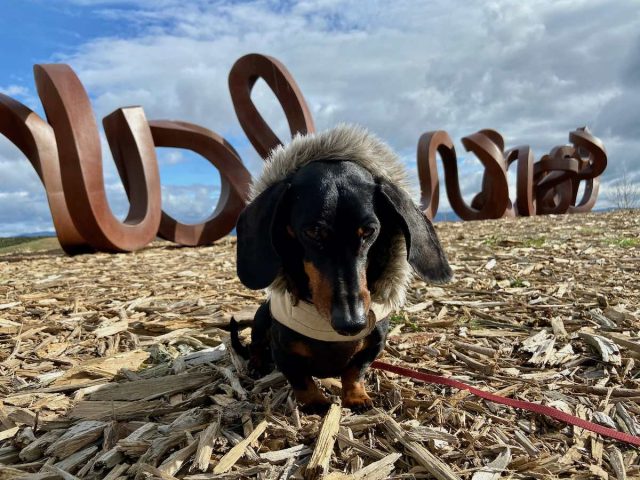 Reflections Holiday Parks Evans Head, NSW
For a beachside getaway with the whole family, head to Reflections Holiday Parks Evans Head, located in the small coastal town of Evans Head, midway between Ballina and Yamba on the Far North Coast of NSW.
Dogs are welcome to join you at the park most of the year, except for selected peak periods including over Christmas, Australia Day Weekend, Easter and the Spring school holidays. Pets are permitted on selected sites in the Riverside precinct – call the park directly to make a booking with your pet.
In particular, request one of the sites with their own dog enclosure. These five shade, powered dog-friendly sites have their own private dog pen at the rear of each site, the perfect spot to sit and relax with your pup.
There's plenty of on-leash walking paths along the river and around town. While the nearby patrolled beach doesn't allow dogs, it's only a few minutes drive to the off-leash Airforce Beach. There's two dog baths at the park for sandy pups.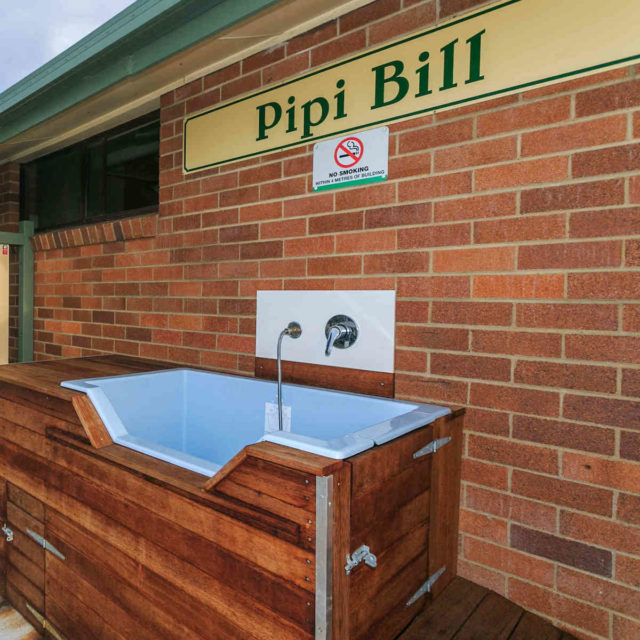 The Summit 1770, Agnes Water, QLD
The Summit 1770 is one of the most dog-friendly places to stay in all of Queensland. Located just outside of Agnes Water, it has been developed specifically with dog owners in mind.
Up on the summit of the hill three gorgeous dog-friendly one-bedroom cottages, while closer to the entrance is the recently developed caravan park, with a mixture of powered and unpowered sites.
At the time of my visit in 2021, there were two fenced dog runs available to all guests, a large one just opposite the amenities block, plus a smaller one up next to the sunset viewing spot. However, there are also now some individually fenced dog runs, with three of the powered caravan sites having a private 3m by 3m fenced dog pen behind them.
Also enquire about the option to attend a dog training workshop, held by the owner Chris, or head out stand-up paddleboarding with your pup.
Wyandra Caravan Park, Wyandra, QLD
The small town of Wyandra in western Queensland is not exactly a place I'd expect to find fenced pet-friendly sites at the caravan park. After all, this town between Charleville and the NSW border has a population of under 100 and the caravan park doesn't even have a website, although you can check out some photos on this site.
A combination post office, general store and caravan park, there are at least two drive-through sites that are fully fenced, so that you can let your dog off their leash. As of early 2023, regular sites were only $20 and pet-friendly sites a bargain at $25.
The park is nicely decorated, including with many rustic remnants, and there's quite a bit to see around town, following the Wyandra Heritage Trail, as well as a dog-friendly pub down the road.
Dog-Friendly Cabins with Fenced Yards
Prefer to stay in a cabin? Pet-friendly campsites don't have a monopoly on fencing, with a number of fenced pet-friendly cabins on offer throughout Australia. These are just some of the dog-friendly cabins with a fenced area:
Best Friend Retreat, Tarra Valley, VIC – Multiple dog-friendly cabins with fenced yards at this extra dog-friendly park
BIG4 Ballarat Windmill Holiday Park, VIC – Book the Dogwood cabin with its own private dog run
BIG4 Bendigo Holiday Park – Their Dog-Friendly Deluxe Cabin has a fenced and gated deck
BIG4 Tasman Holiday Parks – Bendigo – Both the Pooch Pad and the Dog House have their own enclosed yard
Coral Coast Tourist Park, Carnarvon, WA – The pet-friendly Park Home sleeps two adults and has a private fenced courtyard for your pet
Daylesford Holiday Park, Daylesford, VIC – The Daylesford Holiday Park has one pet-friendly cabin, the Bark Royal, with a small fenced yard, accessed through a dog door (suitable for small dogs)
Ingenia Holidays White Albatross, Nambucca Heads, NSW – The pet-friendly standard studio cabins have a fenced grassed courtyard
Killarney View Cabins & Caravan Park, Killarney, QLD – Their new dog-friendly cabin has its own fenced yard
Lake Albert Caravan Park, Meningie, SA – One pet-friendly budget cabin with its own yard, available since the March long weekend 2023, with possible plans for a second
Litchfield Tourist Park, Rum Jungle, NT – The Dog House has a fully enclosed verandah with gate, and even the option to leave your pet behind while you visit the nearby national park
Riverbend Caravan park, Renmark, SA – Two fully self-contained pet-friendly cabins with fenced yards
NRMA Dubbo Holiday Park, NSW – Three pet-friendly cabins with a fenced yard and kennel
Pine Country Caravan Park, Mt Gambier, SA – Two dog-friendly cabins with fenced yards
Tathra Beachside, Tathra, NSW – All four of the pet-friendly cottages have a fenced yard, while only the verandah is enclosed on the pet-friendly villas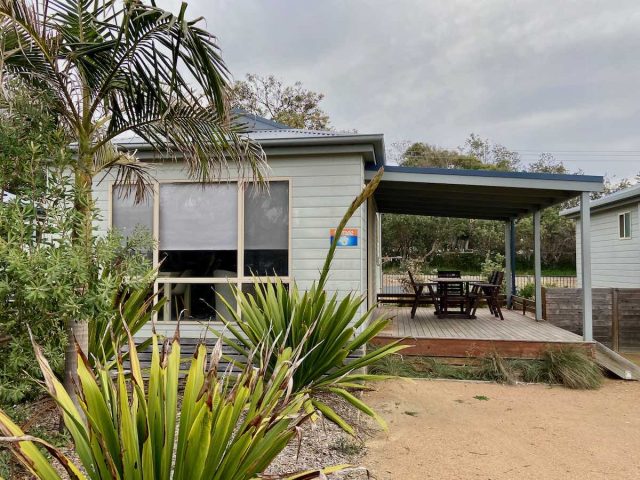 Waikerie Holiday Park, SA – One pet-friendly cabin with its own small fenced outdoor area
Caravan Parks with Off-Leash Dog Parks
An increasing number of caravan parks are also offering off-leash dog parks within their grounds, recognising this is a great way for the many dogs staying at the parks to enjoy some time off-leash, while staying on-leash in the rest of the park.
While not comprehensive, these are just some of the caravan parks around Australia with off-leash dog parks, listed by state. For more details on each, see my complete guide to Caravan Parks in Australia with Off-Leash Dog Parks.
Caravan Parks with Off-Leash Dog Parks in NSW
Ballina Beach Nature Resort
BIG4 Opal Holiday Park, Lightning Ridge
BIG4 Saltwater Yamba
Blayney Tourist Park
Discovery Parks – Forster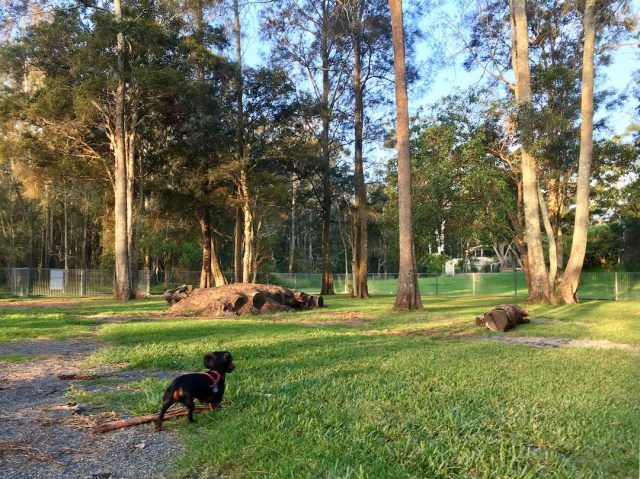 Double D Caravan Park, Peak Hill
Goulburn South Caravan Park
Holiday Haven Ulladulla
Ingenia Holidays Broulee
Ingenia Holidays Byron Bay
Ingenia Holidays Merry Beach
NRMA Dubbo Holiday Park
Pyramid Holiday Park, Tweed Heads
Reflections Holiday Parks Hawks Nest
Reflections Holiday Parks Lennox Head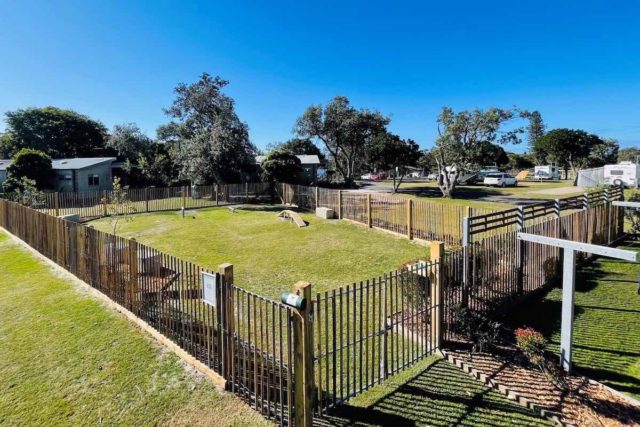 Caravan Parks with Off-Leash Dog Parks in Northern Territory
Coolalinga Tourist Park
Heritage Caravan Park, Alice Springs
Noonamah Tourist Park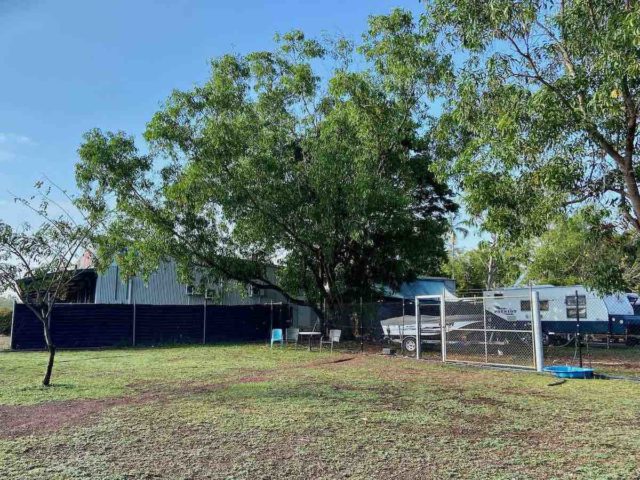 Caravan Parks with Off-Leash Dog Parks in Queensland
BIG4 Gold Coast Holiday Park
BIG4 Ingenia Holidays Cairns Coconut Resort
Goondiwindi Holiday Park, Goondiwindi
Mycow Bakers Creek Caravan Park, Mackay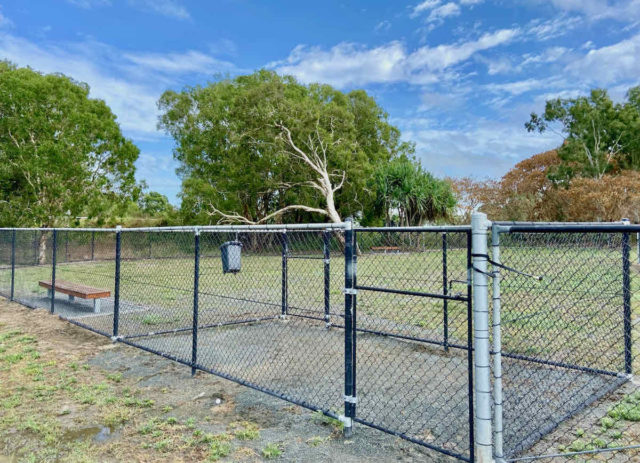 Poona Palms Holiday Park, Poona
The Summit 1770, Agnes Water
Townsville Tourist & Lifestyle Village
NRMA Treasure Island Holiday Resort, Biggera Waters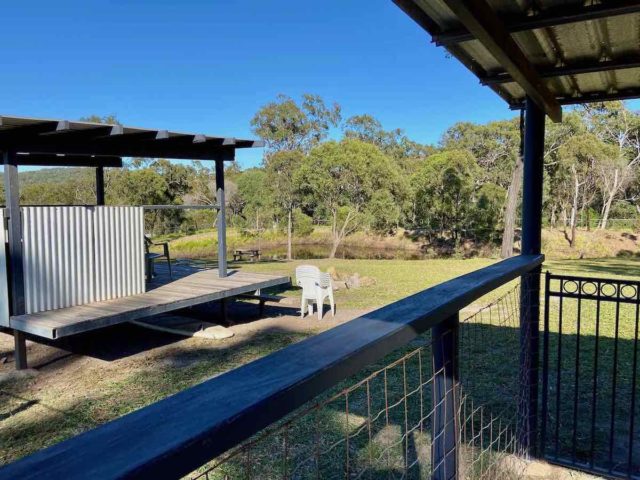 Caravan Parks with Off-Leash Dog Parks in SA
Kalganyi Holiday Park, Mt Gambier
Limestone Coast Caravan Park, Mt Gambier
Pine Country Caravan Park, Mt Gambier
Whyalla Caravan & Tourist Park
Caravan Parks with Off-Leash Dog Parks in Victoria
Best Friend Retreat, Tarra Valley
BIG4 Ballarat Windmill Holiday Park
BIG4 Borderland Wodonga Holiday Park, Wodonga
Crystal Brook Tourist Park, Doncaster East
Eldorado Tourist and Residential Park, near Geelong
Gum Tree Caravan Park, Port Fairy
Heathcote Queen Meadow Caravan Park
Kerang Caravan Park, Kerang
Portland Tourist Park, Portland
Prime Pet-Friendly Tourist Park, Lakes Entrance
Rich River Tourist Park, Echuca
Yarrawonga Riverlands Tourist Park
Caravan Parks with Off-Leash Dog Parks in WA
Big Valley Campsite, Margaret River
Broome's Gateway Pet Friendly Caravan Park & Lodge
Crystal Brook Caravan Park, Perth
Kingsway Tourist Park – Perth, Madeley
Southern Stars, Dunsborough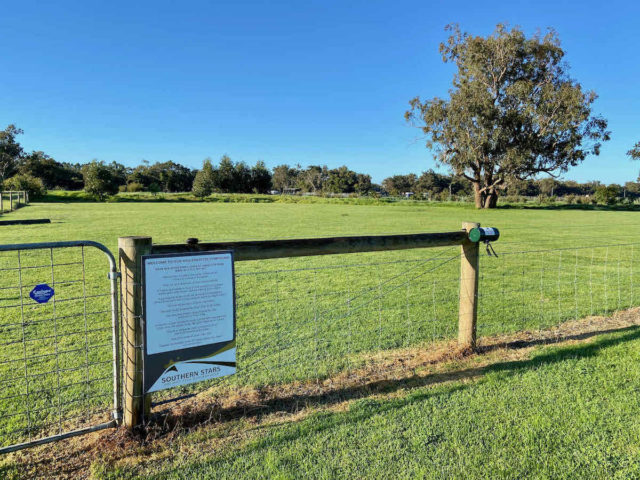 Tom Price Tourist Park
Town Caravan Park, Kununurra
Discovery Parks – Carnarvon (previously Wintersun Caravan & Tourist Park), Carnarvon
You May Also Like
About the Author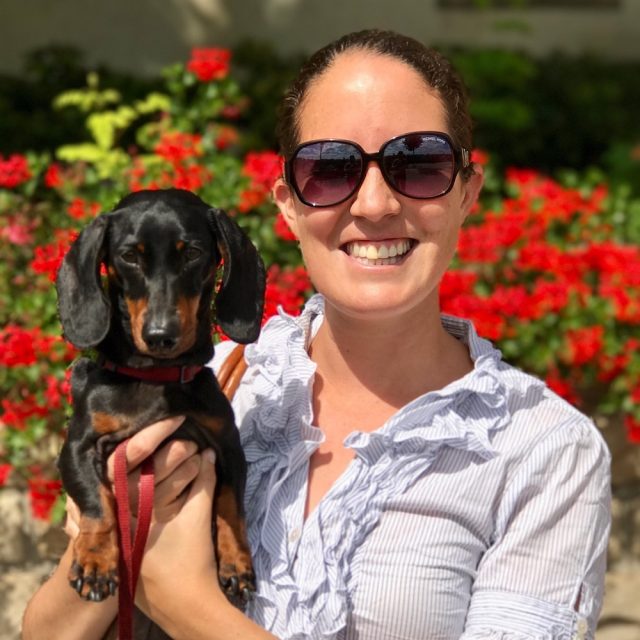 Shandos Cleaver is the founder of Travelnuity: Dog-Friendly Travel. She has travelled extensively with her Miniature Dachshund, Schnitzel, including to 33 countries across Europe, every state and territory of Australia except Tasmania, and 10 of the United States. She's passionate about providing inspiration and information to others wanting to travel with their dogs, whether close to home or internationally.